Wondering how to track the source or medium of a lead after they submit a lead generation form? To assess the value of your lead generation campaigns, it's imperative to know the lead source.
By setting up lead source tracking on your site, you gain insight into which marketing campaigns drove the most number of leads. In this article, we'll show you how to set up lead source tracking in Google Analytics.
Why Set Up Lead Source Tracking?
As a marketer, you'd want to promote your lead generation campaigns on various marketing channels. Let's say that you want to promote your campaigns on Facebook, Twitter and through a banner ad, and also want to track which marketing channel drive the most form submissions.
The best way to figure it out is by setting up lead source tracking on your site. Once you identified your most profitable channel to promote your campaigns, you can use your marketing budget accordingly to yield the best results.
Tracking Lead Generation in Google Analytics
Tracking form conversions can be tedious and time consuming. Every time you publish a lead generation form, you'll need to configure a goal on your Google Analytics account and place an extra tracking code on your website. This can be even more tedious if you place lead generation forms on all over your sites in different locations.
The easiest way to set up lead generation tracking in Google Analytics is by using MonsterInsights. It will automatically track all your form conversions as events, without having you to mess with code and manual goal setup.
All you need to do is to install and activate the MonsterInsights Forms addon, and it just works out of the box with any contact form plugin without any configuration on your Analytics account.
After you installed the MonsterInsights plugin and connected it with Google Analytics, go to Insights » Addons and click Install under the MonsterInsights Forms addon.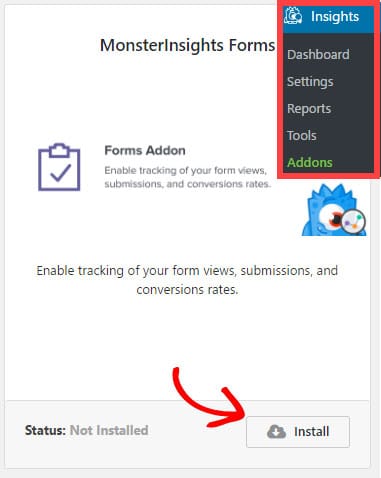 Once the plugin is installed, the button will change to say Activate. Go ahead and click the Activate button to make sure the addon is active and ready to use.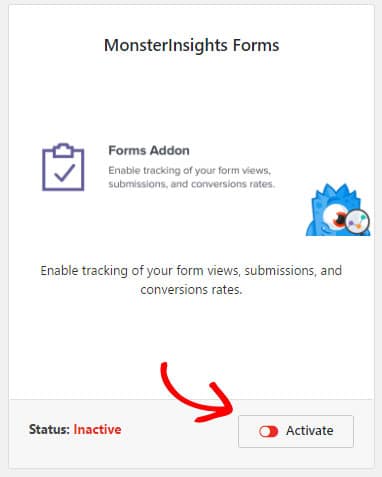 You can view your form conversions by logging into Google Analytics account and navigating to Behavior » Events » Overview and then clicking on form on the right.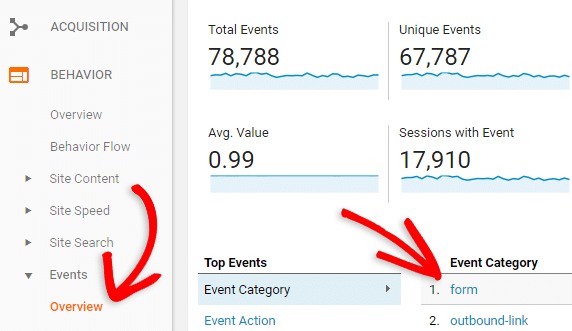 You can then, click on Event Label to understand how well each of your lead generation forms is performing on your site.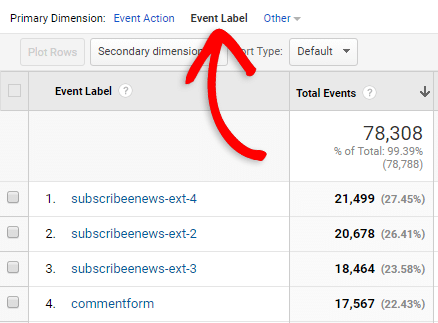 For a more detailed guide on tracking your form conversions, read how to track your form conversion in Analytics.
Lead Source Tracking in Google Analytics
Now that you've set up lead generation tracking in Google Analytics, you might want to see which source drove the most leads to your site, and which campaign is the most profitable.
Google Analytics can't always accurately track the source of your marketing campaigns. For example, depending on browser issues, sometimes Google Analytics fails to identify the source of your organic search traffic and mark it as direct traffic.
Aside from lead source tracking, you might also want to understand which campaign from the same source is attracting the most leads. For instance, if you promote your email list both organically on Facebook and through a Facebook ad, you might want to know which campaign drove the most leads.
To better track the source and identify your campaigns, you can build a custom URL for each campaign with UTM parameters.
UTM parameters, also known as UTM codes are little snippets of text added to the end of your URL to help you better track your marketing campaigns. MonsterInsights offers a built-in UTM code builder right in your WordPress dashboard so you can easily set up your lead source tracking.
Here's an example of a custom URL with UTM parameters.
http://www.example.com/store?utm_source=facebook&utm_medium=facebook_ad&utm_campaign=
promote_email_list
The bold part in the above URL is UTM parameters. When your subscribers click on the link, Google Analytics can easily identify the source, medium and campaign and track its performance.
For example, from the UTM parameters in the above URL, Google Analytics can identify the following details of the campaign.
Source: Facebook
Medium: Facebook ad
Campaign: Promote email list
You can create your custom campaign URL with MonsterInsights by navigating to Insights » Tools.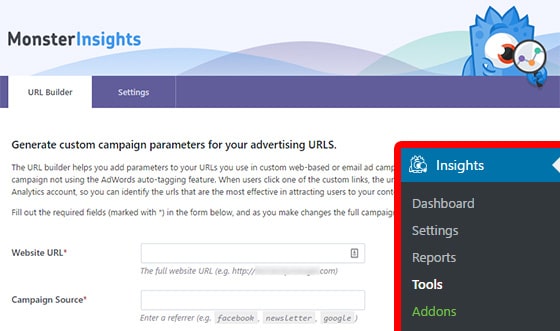 Then, you can specify your website URL and other campaign information in the URL builder. When you're done entering your campaign information, scroll to the bottom to get your new URL. You can also use on-the-fly URL shortening with goo.gl within the dashboard.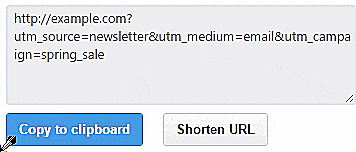 For more details on creating custom URL with UTM codes, read our marketing campaign tracking in Google Analytics tutorial.
Once you built the campaign URL, you can use it in your lead generation campaigns. To find your marketing campaigns in Google Analytics, go to Acquisition » Campaigns » All Campaigns.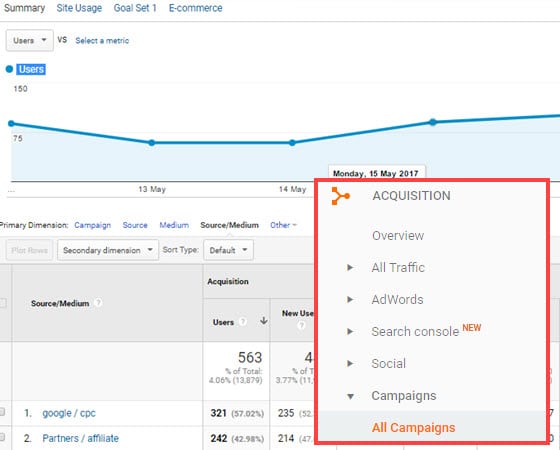 That's it!
We hope this guide helped you set up lead source tracking in Google Analytics.
You can even use MonsterInsights' URL builder to track your offline marketing campaigns in Google Analytics.
Don't forget to follow us on Twitter and Facebook for more Google Analytics tutorials.