How much does a website cost in 2023? While how much it costs to build a website differs a lot based on which platforms and addons you choose to use, a basic, self-hosted WordPress website could cost as little as $115 per year.
It's difficult to put a price tag on a website, though, as it depends on your budget and the goals you've set for your business. That said, in this article, we'll show you how much does it cost to build a website from scratch and which tools you can use to stay on budget, while still making room for growth.
In this article, we'll cover:
Let's get started.
Which Tools Will You Need to Build a Website?
When it comes to creating a website, you don't have to hire professional web designers and developers with technical knowledge. There are many tools available on the web that you can use to easily build a DIY (do-it-yourself) website.
However, if you don't select the right tools, you'll be spending money on things you don't need.
That's why we've put together a list of tools and their prices to help in calculating how much a website costs. Here are 3 things you'll need no matter which type of website you're building:
Domain name
Website builder
Web hosting
Domain Name
A domain name is the web address of your website that users type into their browsers, like www.yourdomain.com or www.MonsterInsights.com. It's also the URL that appears in search results when people look up your website.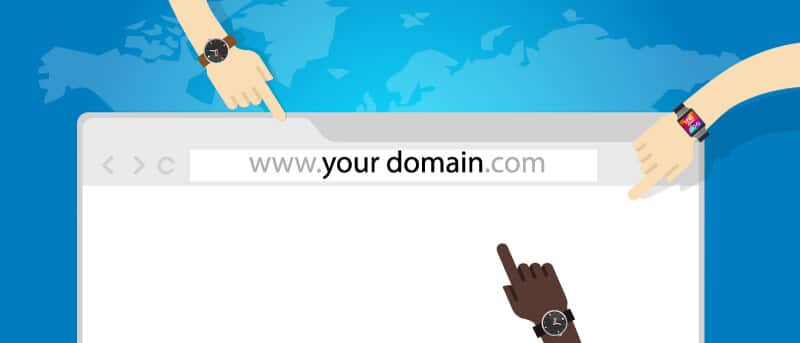 Once you've selected a domain name, it's time to get it registered (purchase it).
When you're selecting a domain name, it's important to pick the right extensions as well, such as .com, .org, .co, or .net.
Most websites choose to use .com or .org.
And do remember, since your domain name registration lasts one year (or however long you purchase it for), you'll have to renew it. You must remember to renew your domain name, because if you let it expire, someone else could purchase it.
Website Builder
After choosing and purchasing a domain name, it's time to use a website builder to create your website. It doesn't matter if you're a beginner or an expert with tons of experience — using website builders makes it super easy to create a website.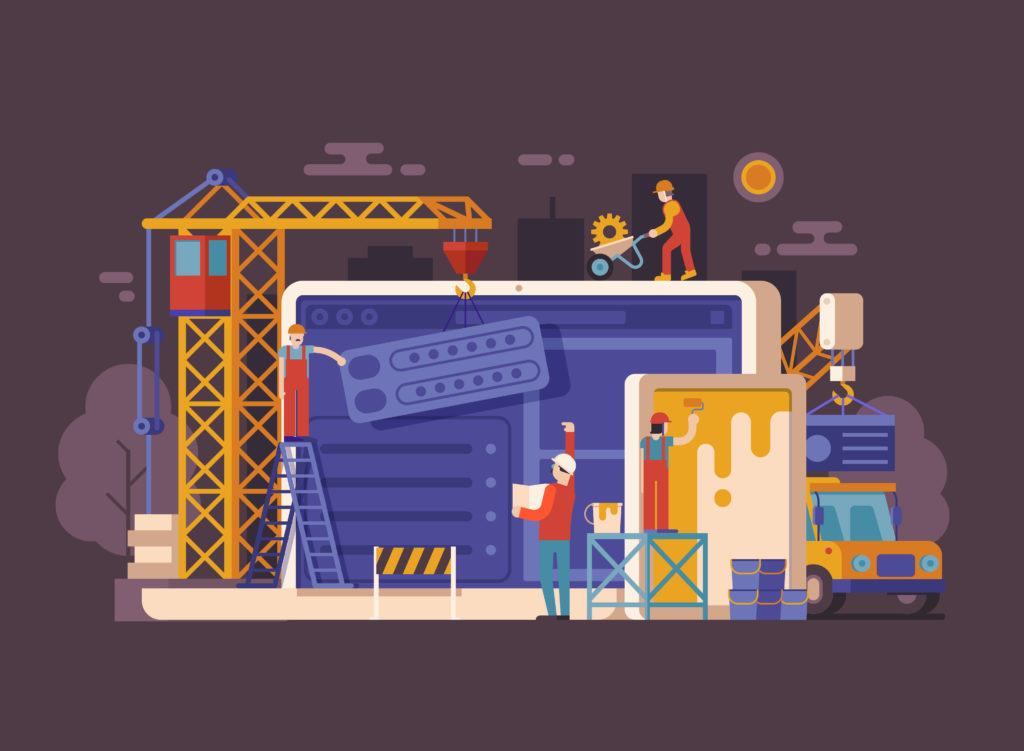 Using a website builder offers many customization options and lets you make a website that looks and functions the way you want. It also helps to add important features like plugins and SEO tags.
There are different website builders you can use:
WordPress.org – WordPress is open-source, 100% free, and all you need is a domain and web hosting to get started. We recommend that you use WordPress as it's very easy to use, it powers more than 40% of all websites on the internet, and it gives you complete control of your website. Need eCommerce? Use WordPress and WooCommerce or Easy Digital Downloads to create an amazing eCommerce website that'll help you reach your business goals.
Shopify – Shopify is a good option for building an eCommerce website. It offers attractive themes (free and paid), an easy interface to set up a storefront and shopping cart, and easy management your store.
Web.com is one of the original and most popular website builders for small business. Since 1999, they've helped 3 million customers build a website at a very low price. It comes with an intuitive drag and drop builder and tons of ready-made website templates to get you started quickly.
There are many other options you can check out, including Squarespace, BigCommerce, and Wix. We definitely recommend WordPress, though, as the first choice!
Web Hosting
A big part of how much does it cost to build a website is your web hosting service. Web hosting is the place where you store all your images, videos, files, and other website content. Imagine it as a home for your website.
Let's say a user wants to view your website and types in the domain name in the browser. The user is then directed towards the web hosting server where all your website content is stored.
Plus, it's through web hosting's internet connectivity that your website is available to users around the clock and anyone can access it from anywhere.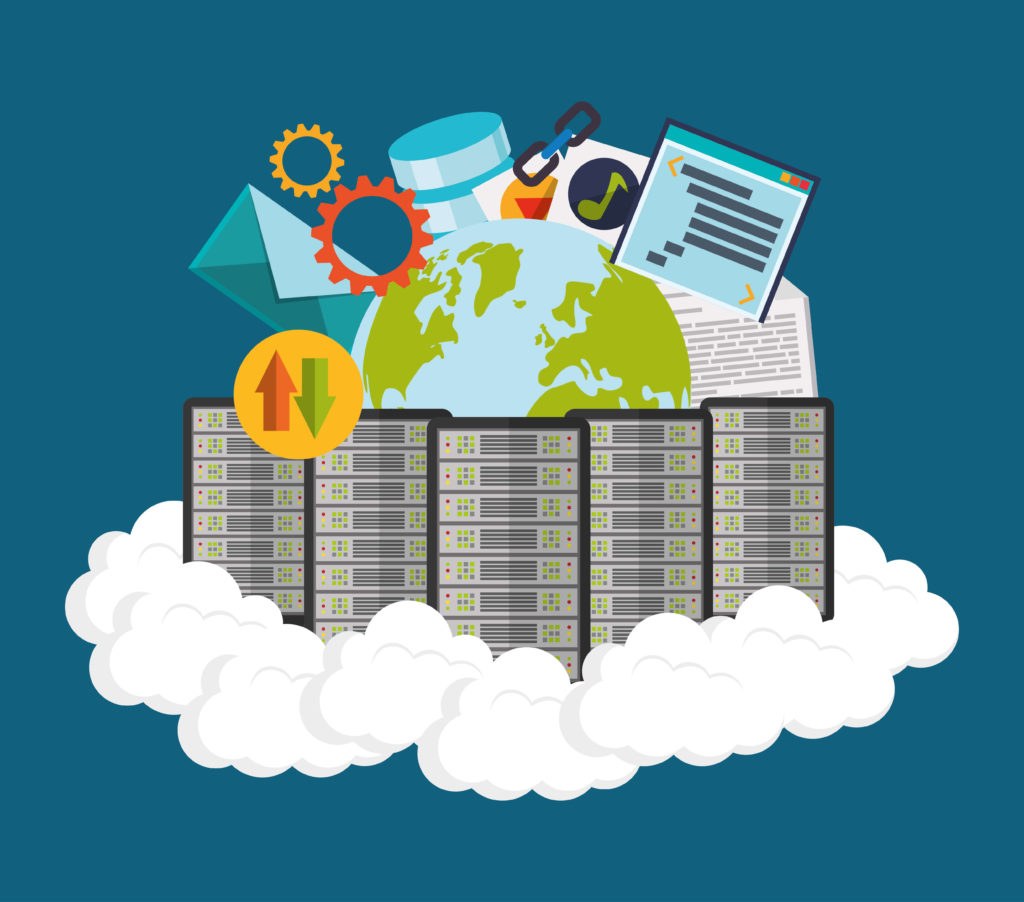 When you're building your website, you'll come across different types of web hosting services. These include shared hosting, managed hosting, cloud hosting, and more.
So which type of web hosting should you choose? Let's take a look at the most common types.
Shared Hosting
Shared hosting is where your website shares a web server with many other websites. You can think of it as renting an apartment in a building.
The benefit of using shared hosting is that it's affordable and very easy to manage your website, domain, and emails.
If you have a small business, personal blog, or a website that has low traffic, then shared hosting is great for you to get started.
On the downside, shared hosting tends to be not as fast or secure as managed hosting.
You might experience website downtime with some shared hosting services and slow loading pages due to slow server response time. The security features are also not always super strong, as a security mistake on another website could cause harm to your website as well.
That said, not all shared hosting services are bad. Here are a few good ones:
Bluehost – Best Shared Hosting Option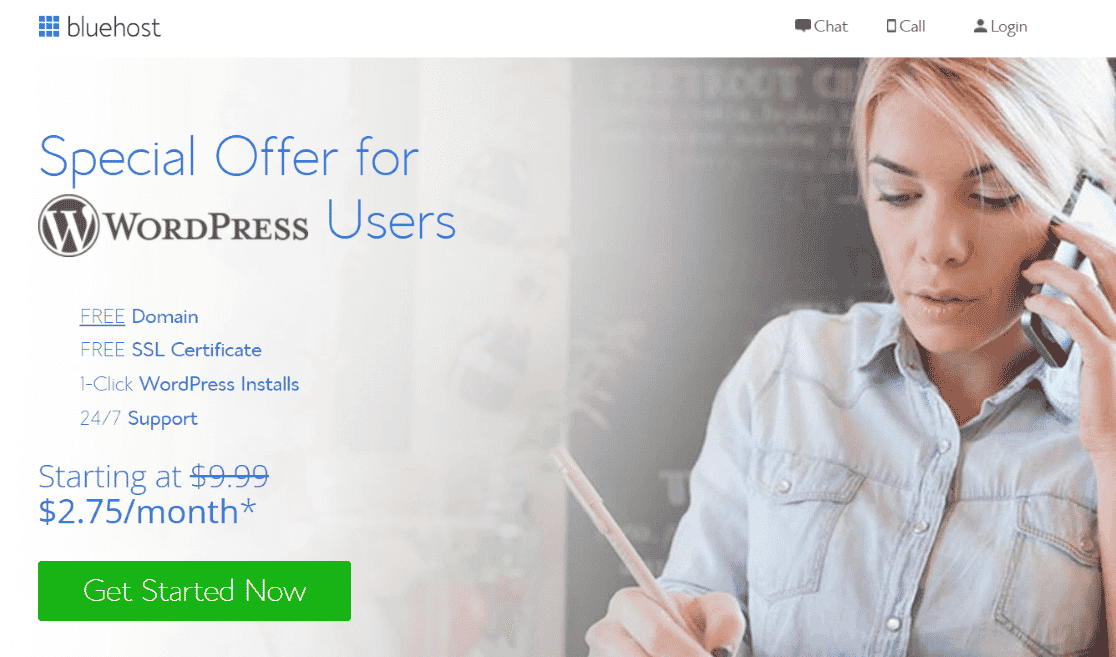 Bluehost is one of the oldest and most popular shared hosting services. Even WordPress officially recommends it. Bluehost is excellent for first-time website creators or small business owners.
And if you're concerned about how much a website costs, then Bluehost is inexpensive and filled with exciting features like:
A free domain for one year
Free SSL certificate
Free business emails
Very easy to use with its cPanel interface
24/7 customer support
One-click installation for WordPress websites
Managed Hosting
Managed hosting is where a managed hosting company takes care of all your web hosting requirements.  Think of it as having a house for your website accompanied by a chauffeur, security team, maids, and maintenance crew.
Managed hosting is more powerful and different from shared hosting. The managed hosting company will handle your WordPress website's security, updates, and backup files and data.
Most companies also provide dedicated or premium customer support, so you can reach out and resolve any problem at any time.
Although managed hosting has its perks, it typically has a higher hosting cost compared to shared hosting. It's only available for WordPress websites, and some companies can restrict you from using plugins that could slow down your website.
That's why this type of web hosting is more suited for medium to large-scale businesses, websites with a lot of traffic, or companies looking for an enterprise web hosting service.
WP Engine – Best Managed Hosting Option
WP Engine is a popular managed WordPress hosting company. It will keep your WordPress website fast and secure by looking after its health and performance. Some amazing features offered by WP Engine include:
Customizable WordPress themes
Automated SSL certificates
Daily website backup
Auto security updates
24/7 customer support through live chat, phone, and tickets
Now that you know about the tools you'll need, let's look at how to estimate the cost of building a website.
Plan and Estimate the Cost of Building a Website
Before you jump into creating a website, it's important to plan the process based on your goals, or you'll risk overspending.
Here are a few questions you should ask before starting so you can estimate how much a website will cost to build for you:
1. Which features do you need?
It's important to know the features you want on your website. We suggest that you write them down because they help you identify the actual cost.
Some features might require a premium plugin, and others may need to go through the development process. That's why if you have a list of features ready, you can prioritize those that are important and save cost.
Think about features like:
2. Should you hire a professional designer or use a pre-built theme?
The quickest and easiest way of getting started is to use a pre-built theme. There are many themes offered by different website builders that will help save costs.
But if you want a website to look and work a particular way, do remember that website design and development cost can be extremely high, especially if you go for a custom-built website.
You would need to hire a professional to develop a custom website that works the way you want. The average cost of hiring a professional web developer could vary between $20 to $100 per hour.
That said, you can often get the look you want by selecting a theme that integrates with a page builder, or by grabbing a tool like SeedProd that you can use to easily design your website from top to bottom! No experience necessary.
3. Do you have enough budget to start?
After listing the features you want, deciding which premium plugins you need, and finalizing the website design, it's time to double-check your budget.
Many website projects fail because they overspend and exceed their planned budget. That's why it's important to list out your costs and make sure you're staying within your budget.
Once you've answered these questions, it's time to build a website. To help you out, we've broken down the costs into the following sections:
How much does a website cost to build for small businesses
What's the cost of building an advanced website
How much does a website cost if it's an eCommerce store
How Much Does It Cost to Build a Website for a Small Business?
A simple website for small businesses can cost you between $100 and $500 to build. But this cost could increase depending on your goals. A custom-built website with lots of features can have a cost as high as $30,000 or more.
To get started with a website for your business, you'll need a domain name and web hosting. The cost of a domain is usually around $14.99 per year, and web hosting is around $7.99 per month. Put them together and you're looking at $110.87 per year cost to build a website.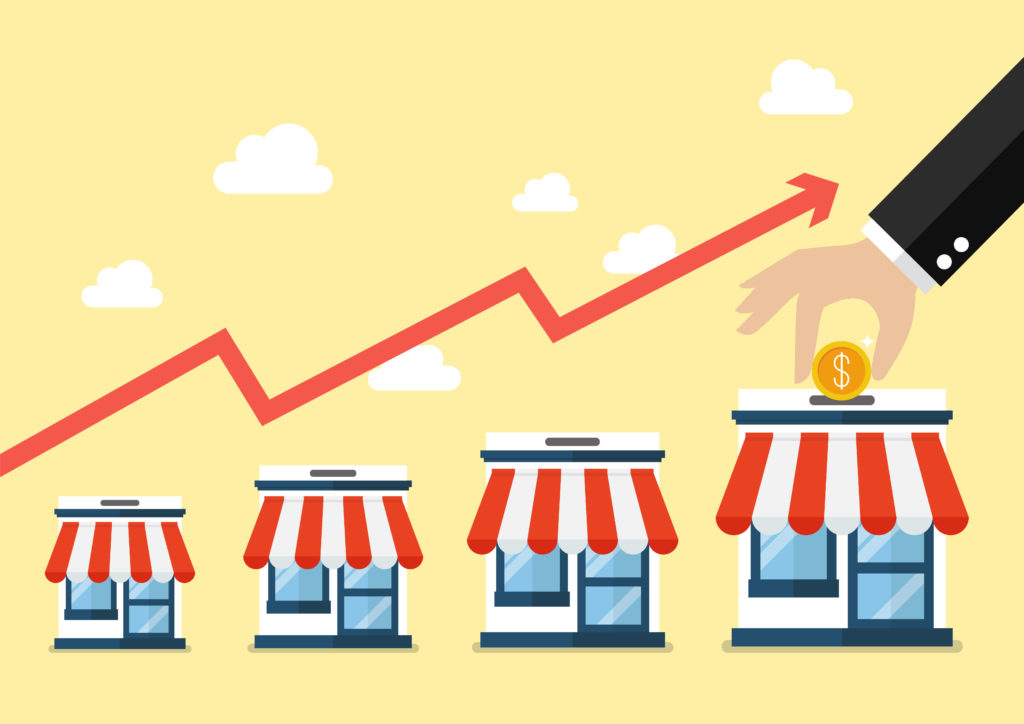 Since this cost can be expensive for many people, we've made a deal with Bluehost to offer our users a free domain, free SSL certificate for extra security, and over 60% off on web hosting.
As we mentioned earlier, Bluehost is the best-shared hosting option and also recommended by WordPress. With its amazing features and low prices, you can save costs while creating a website.
To save more website building costs, you can get hold of free WordPress plugins and a free theme. Here are some free plugins available in the WordPress repository.
Marketing
Performance
Security
How Much Does It Cost to Create an Advanced Website?
Over time, your website will grow, and to keep up with increasing visitors, you'll need to add more features. This will increase your cost as advanced features will require premium plugins and may require shifting to a more powerful web hosting service.
You can continue to use Bluehost, but with an advanced website, we suggest using a managed hosting service like WP Engine or moving to SiteGround (GoGeek plan).
SiteGround will cost you a bit more than Bluehost, but their GoGeek plan comes with premium features such as faster performance, more web storage space, staging capabilities, and it can easily handle up to 100,000 visitors per month.
When building an advanced website, consider using a premium theme for your website. Almost every website builder like WordPress offers paid themes that have extra built-in features, provide priority customer support, and gives your website a more professional look.
As for plugins, here are some premium WordPress plugins you can use to grow your website.
Marketing
Website Design
Emails
Security
These are just some of the premium plugins you can use, as there are many more. That said, the overall cost of creating an advanced website is between $500 to $1000 per year, depending on how many plugins you use on your website.
What's the Cost of Building an eCommerce Store?
If you're planning on running an online store and thinking that it's going to cost millions of dollars, then you're wrong. Starting an eCommerce store is very easy, and you don't have to run your wallet dry.
It's even easier and cheaper than starting an actual physical store. And by going online, you can reach a much broader and global audience.
To build an eCommerce site, you will need a domain name and web hosting, just like any other website. Since you'll be starting fresh, we recommend using Bluehost WooCommerce plan.
With Bluehost WooCommerce plan, you get attractive features to start and grow your online store. Here are some of its features:
Free domain for one year
Free SSL certificate to secure your online payments
Storefront themes
Pre-installed WooCommerce with WordPress
Dedicated IP address
24/7 dedicated customer support
For plugins, you can use the free plugins we listed earlier under the section for creating a website for small businesses. You can even add premium WooCommerce plugins for added features and help grow your store.
So, the overall cost of starting an eCommerce store is around $190 per year. However, this could go up as you start using premium plugins and extensions.
Tips to Avoid Overpaying When Building a Website
Overspending while creating a website is very easy, and it could lead to your website's downfall, even before it starts. That's why it's important to stay within your budget. Here are some tips that can help you:
Start small and then grow your website. Use free themes and plugins to begin and spend on premium stuff later as your website gets bigger.
Stay within your budget by prioritizing important features. It's easy to be attracted by a feature you saw on another website and then spend money on website development costs, only to find out it's of no use.
Optimize your website for a great user experience. No matter how small your website is, make sure it runs fast and smooth on all types of devices.
And that's it!
We hope you liked our detailed blueprint on how much does it cost to build a website. If you want, you can also check out our guide on why your business needs Google Analytics.
Not using MonsterInsights yet? What are you waiting for?
And don't forget to follow us on Twitter, Facebook and YouTube for more helpful reviews, tutorials, and Google Analytics tips.