Are you wondering why your business needs Google Analytics to grow and become successful? Understanding how site visitors behave once on your website, learning what your best site content is, and finding out where users come from is crucial to scaling your business and expanding your brand's reach.
In this article, we'll share with you some of the most compelling reasons why your business needs Google Analytics starting right now.
1. It's Free
Everyone likes free online tools designed to help their business grow. And, it just so happens Google doesn't charge you to use Google Analytics.
Even if you never dive into every metric you can track within your Google Analytics account, and only check out standard data such as bounce rates, number of users, and average session durations, you'll at least know what's happening on your website most of the time.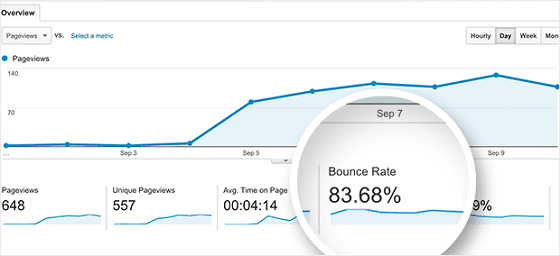 And, you never know, it may inspire you to learn a little bit more about Google Analytics every time you log on.
2. It's Easy to Use
One of the greatest things about using Google Analytics is that it automatically collects all the data you could possibly need to improve your website when it comes to driving more traffic to your eCommerce store, increasing conversions, helping your email marketing efforts, and much more.
Better yet, if you use MonsterInsights, the best Google Analytics plugin on the market today, you'll find that seeing the most important data to your business' growth is right in the WordPress dashboard for you to view.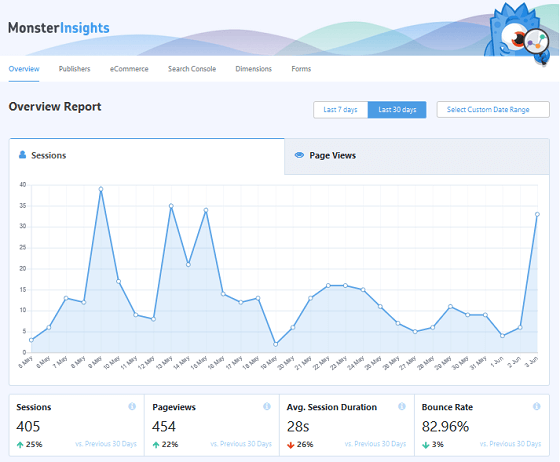 And this is just the Overview Report. You can also access your site's most popular landing pages, user demographics and interests, your eCommerce shops' conversion rates and revenue numbers, and even the top 50 Google search terms bringing people to your site so you can improve your SEO rankings, without ever leaving your website.
3. Data Collected is Customizable
Another great benefit of using Google Analytics to help grow your business is that you can customize the data that's collected.
In other words, you can do things like:
And, when paired with MonsterInsights addons such as eCommerce Tracking, Forms Tracking, and Google Optimize, you can monitor sales, check on form conversions, and even A/B test your site to make sure your visitors are getting more of what they want.
4. It Helps Your Site's SEO
There are many ways Google Analytics helps boost your site's SEO.
For example, Google Analytics can:
Track the demographics and interests of your highest converting site visitors and target them with email campaigns to boost sales
Help mobile web pages load faster than ever and improve the user experience by enabling Google AMP using the MonsterInsights AMP addon
Give you the chance to submit new content for indexing, fix malware and spam issues, and find out which search queries send the most traffic to your site by setting up Google Search Console
Track keywords data to find helpful metrics like clicks, impressions, CTR, and even average search result position
But, one of the best ways to help you with your SEO efforts is to set up site search tracking in WordPress.
In other words, let Google Analytics track what terms your site visitors are putting into your website's search box to see if your search engine results are matching up to what users think they'll find once on your site.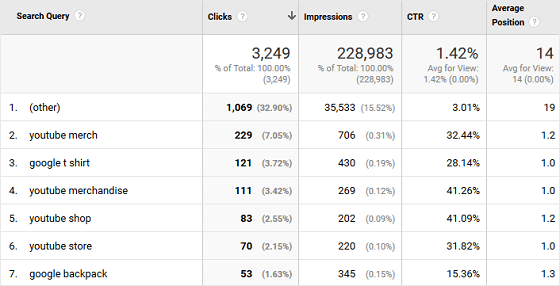 Then, check in Google Analytics to see how many clicks and impressions each search term is getting. Plus, check the CTR and average position of each term.
5. Access Lots of Documentation
In addition to all the helpful tutorials we provide on using Google Analytics and MonsterInsights to help your business grow and succeed, Google does a great job of giving users easy access to lots of documentation for those times you need help or simply want to learn more.
6. It Saves You Time
As a business owner, finding the time to pour over all your site's Google Analytics data is tough to do, no matter how important the data might be.
Luckily, there are ways to save time and still get helpful metrics about your website that will help you boost conversions, drive traffic, and increase sales.
A great example of this is the ability to set up custom alerts.
By setting up custom Google Analytics alerts, you won't have to monitor Google Analytics every day if you don't want to. You will, however, be notified immediately when something out of the ordinary happens on your website.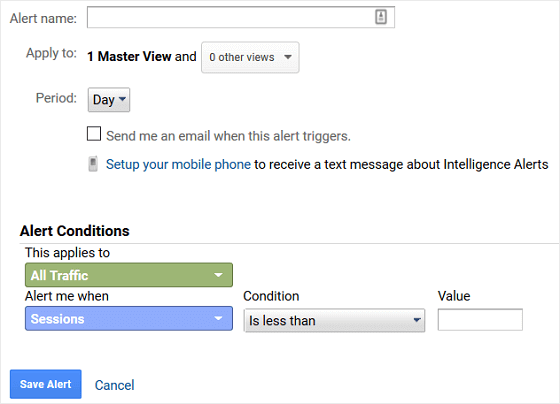 For example, a spike in traffic may trigger an alert that a piece of content is going viral. This is vital information that you'll need to know, no matter how much time and effort you want to put into analyzing your site's metrics.
In addition, you can have performance reports emailed to you on a regular basis. These reports will outline the data that's most important to you.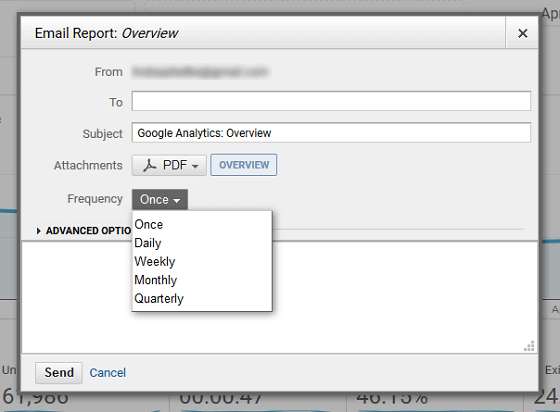 And there you have it! Six of the most compelling reasons why your business needs Google Analytics starting right now.
So, what are you waiting for? Get started with Google Analytics, and the most powerful Google Analytics plugin, MonsterInsights, today.
And don't forget to follow us on Twitter and Facebook for more helpful Google Analytics tips.