Did you know that there are 4 types of goals in Google Analytics designed to help you make improvements to your website and grow your business?
Just like you have overall goals for you business, you should have some for your website, too. Knowing how your site is doing and what visitors are clicking on is essential to growing your traffic.
For example, here are a few really popular questions people have that can be answered with goal tracking:
What percentage of visitors are clicking my "Request a Quote" button?
How many people are downloading my eBook?
What percentage of visitors are filling out my "Contact Us" form?
How many people are signing up for my newsletter via my website's signup form?
What percentage of visitors are looking at 3 or more articles before leaving?
How many people click added an item to their cart?
How many people made it through the checkout process to complete a purchase?
How many people are clicking the link to my partner site?
Video Tutorial
Watch our video on the 4 Google Analytics goal types, or read on below.
What Are the 4 Google Analytics Goal Types?
Every interaction you track on your website can be broken down into one of these 4 Google Analytics goal types:
Destination
Duration
Pages/Screens per session
Events
Let's take a look at what each of these goal types are and what kinds of metrics we can measure with them.
1. Destination Goals
Destination goals track when a visitor arrives on a specific page while on your website. This goal type is perfect for tracking how many people land on your thank you pages, order confirmation pages, add to cart pages, or whatever pages you want to count as a conversion.
If you're planning to use a destination goal to track form submissions, install MonsterInsights to skip ALL of the setup you'd otherwise have to go through. Yep, all you have to do is grab MonsterInsights at the Pro level and turn on the Forms addon.
With one click, MonsterInsights will track submissions on ALL your forms, plus create Google Analytics events for each form. Then, you can access a full Forms report right in your WordPress admin.

It's as simple as that!
If you'd like to go a step further and create Goals based on those events MonsterInsights made for you, read How to Create a Goal in Google Analytics to Track Conversions.
If you have an ecommerce website, you might use destination goals to track metrics like how many add to carts and how many checkouts were completed. To create these, set up a Destination goal and input the URL where users land after adding to cart or checking out.
This is also data you can access within your MonsterInsights reports. If you're using the Pro license, activate the eCommerce addon to see all kinds of metrics related to your store, including add to carts and completed transactions.


For more on eCommerce tracking, read How to Set Up Google Analytics Ecommerce Tracking in WordPress (The Easy Way).
2. Duration Goals
This type of Google Analytics goal is simple. With it, you can create a conversion based on how long site visitors stay on your website before leaving. This is good for tracking user engagement on your site.
If you'd rather just keep an eye on your website's engagement without creating a goal, the MonsterInsights plugin will give you that data at a glance. Just log in to your WordPress dashboard and head to Dashboard » Insights to see important engagement metrics like Average Session Duration and Pageviews.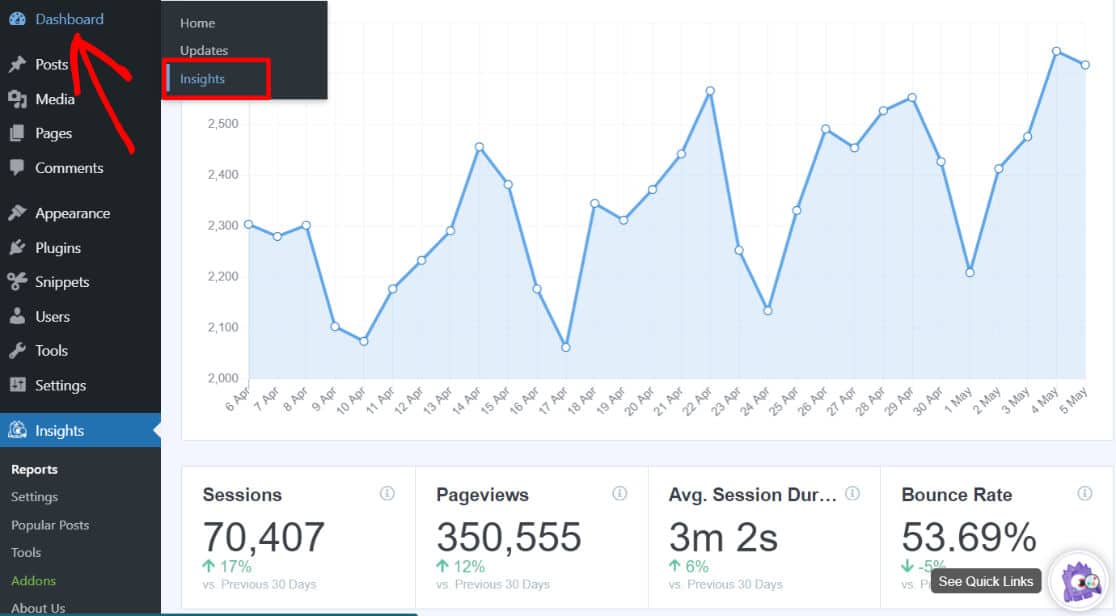 For more session duration data, upgrade your MonsterInsights plugin to the Plus license or higher to access the Publishers report. There, you'll see how your average session duration changes based on what page your visitors land on: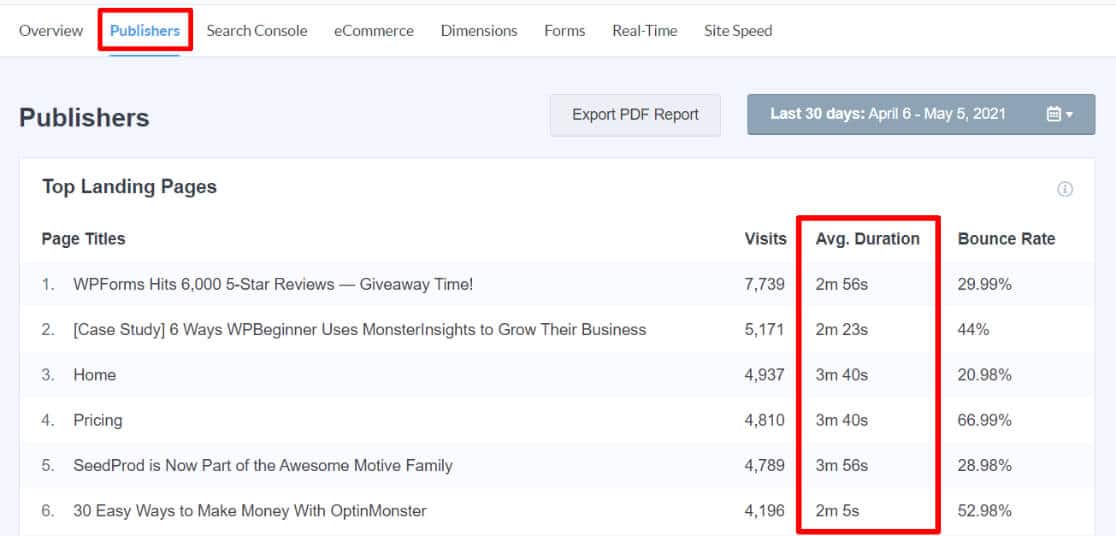 If you want to learn how to set up a Duration goal, read How to Create a Goal in Google Analytics to Track Conversions.
3. Pages/Visit Goals
Pages per Visit is another easy goal to set up in Google Analytics. Rather than track how much time site visitors spend on your website, this Google Analytics goal tracks the number of pages each site visitor navigates to before leaving.
Again, this is great for measuring site engagement, as well as pinpointing sections of your website that may need improvements.
To find your pages per visit metrics by landing page, head to your Top Landing Pages report in MonsterInsights (screenshot above) and click the View Full Top Landing Pages Report button to open Google Analytics: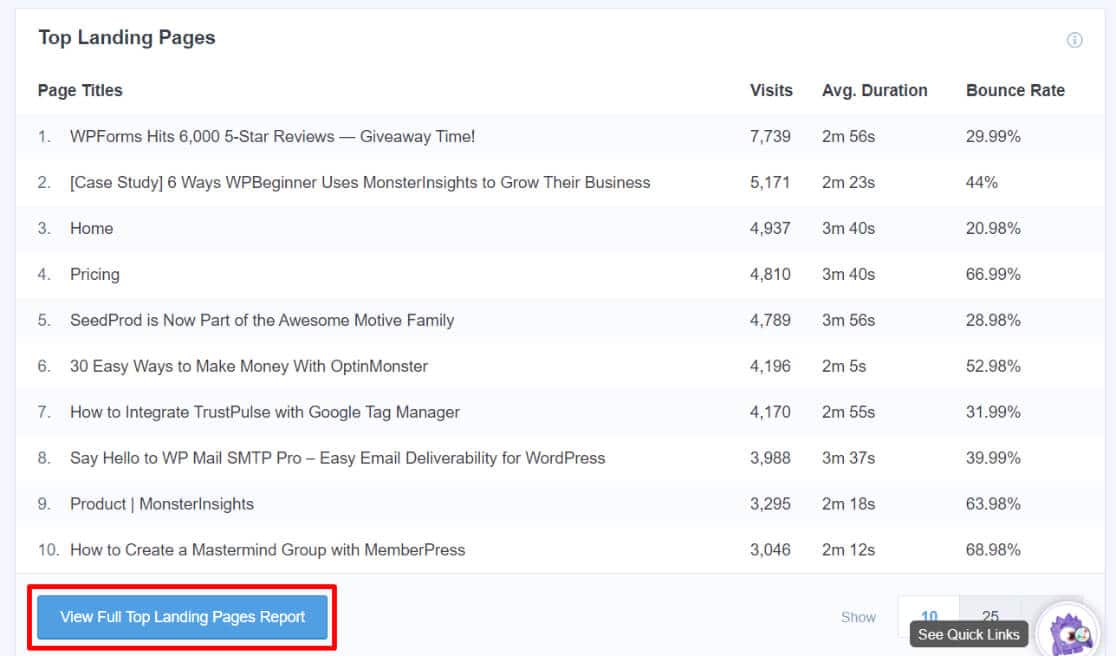 You'll then be able to see how many pages your users are visiting, organized by which page they land on: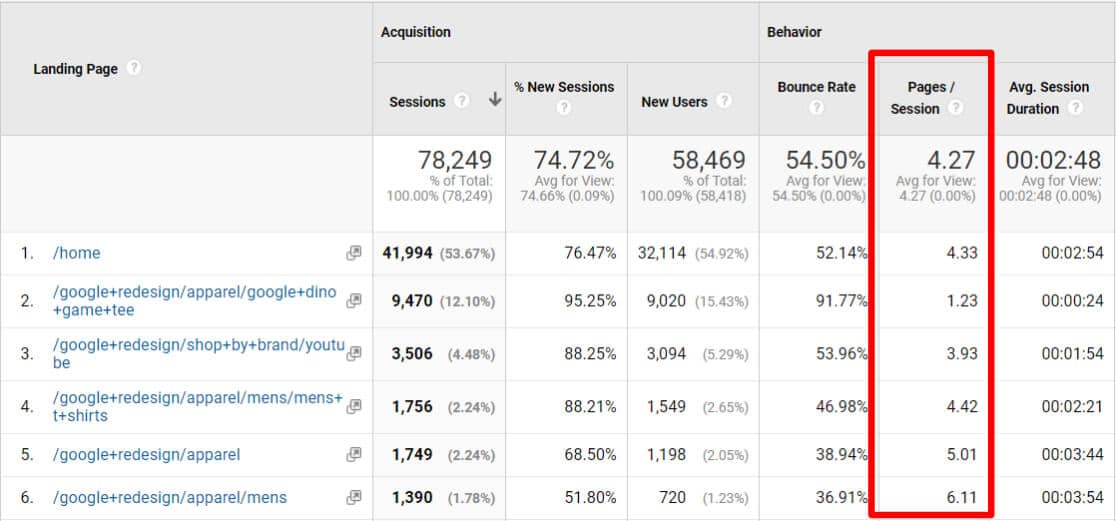 If you want to learn how to set up a Pages/Visit goal, read How to Create a Goal in Google Analytics to Track Conversions.
4. Event Goals
Events are helpful for tracking user interactions on your website that Google Analytics does not normally record.
For example, you can't track the following interactions in Google Analytics by default:
Form conversions with no thank you page
Clicks on outbound links
Button clicks
Downloads (such as PDFs)
However, by setting up a Google Analytics event, you can begin tracking these types of interactions.
Or, you can install MonsterInsights in a few simple clicks to track several different events without any further setup.
Once installed, MonsterInsights will track all clicks on outbound links, form submissions, and downloads automatically.
The Top Outbound Links report, available to MonsterInsights users at the Plus level, is automatic and doesn't require any setup. It automatically tracks each click to any site you link to! This includes any phone number or email links you have on your site, too.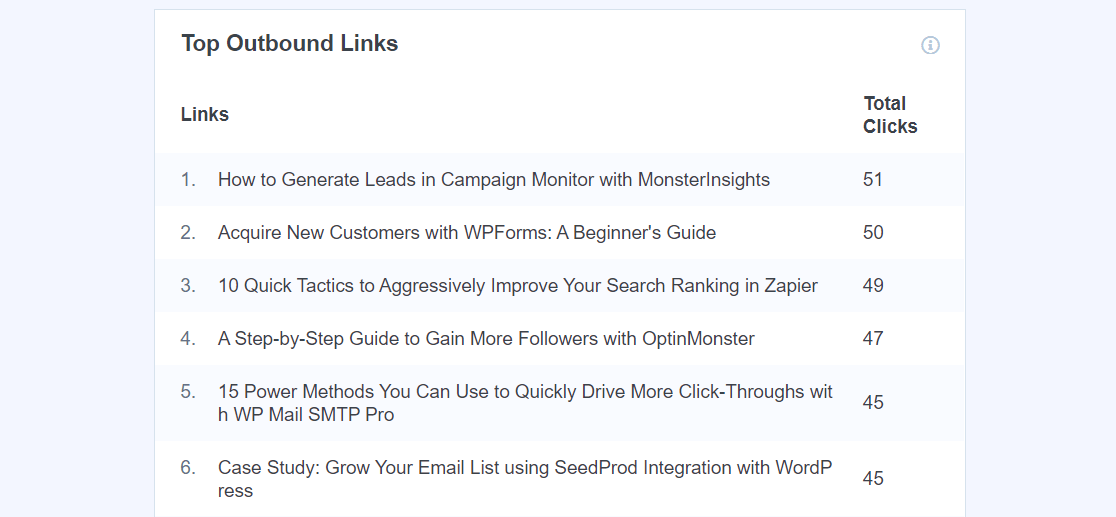 If you use affiliate links on your site, you can also easily track those in MonsterInsights without using Google Analytics goals. Just fill out your links paths to track the label, link, and total clicks: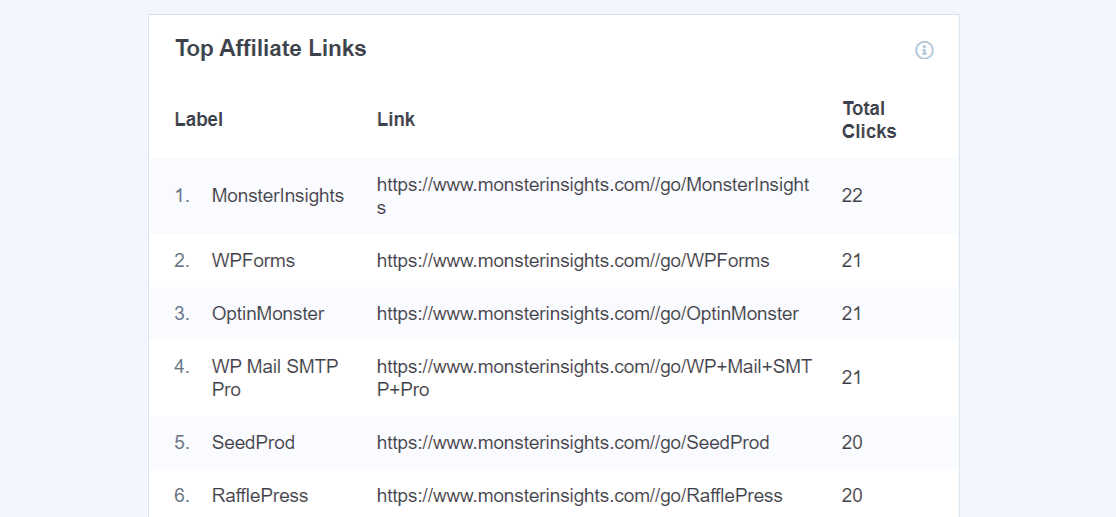 Download tracking is also automatic. You can customize which file extensions (.pdf, .docx, .xlsx) you'd like to track, then it does all the work for you.

Another event website owners love to track is scroll depth. How far down the page are your visitors scrolling? MonsterInsights helps to set up scroll tracking events in Google Analytics. It triggers these events as users scroll 25%, 50%, 75%, and 100% down a page. This is automatic at the Plus level. No setup required!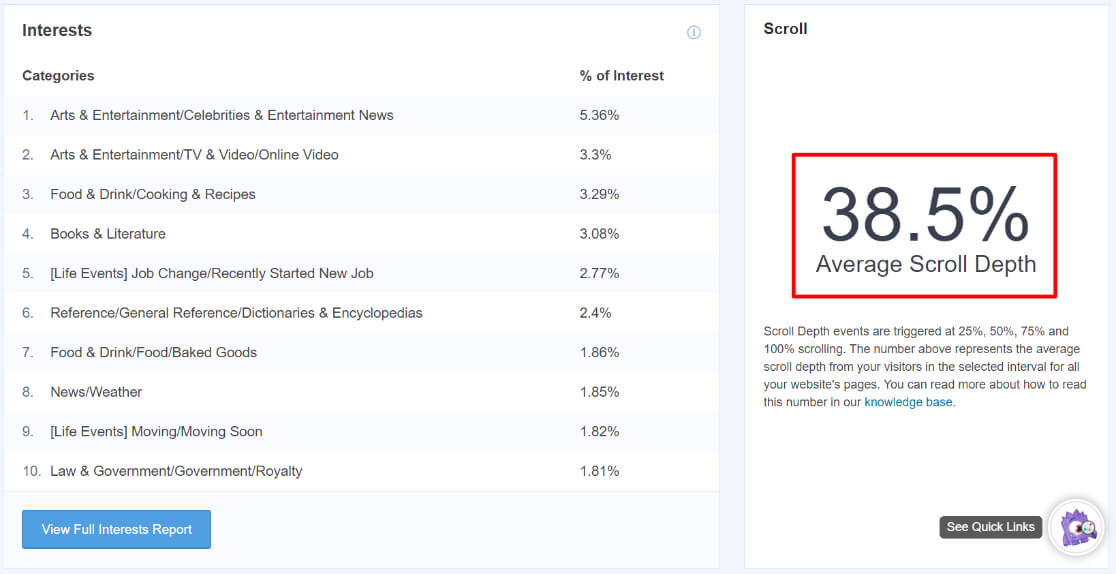 If you have some other buttons you'd like tracked as well, you can set those up to be included in your MonsterInsights tracking. To learn how to do this, read How to Set Up Google Analytics Custom Events Tracking in WordPress.
Install MonsterInsights for Huge Goal Tracking Shortcuts
Using MonsterInsights can majorly reduce the time you spend creating goals. It tracks a whole list of events right out of the box, and you can set up Goals to go with those events if you prefer.
Get Started with MonsterInsights Today!
The more interactions on your website that you can track that relate to generating revenue, the better. For more ideas on what to track in Google Analytics to help grow your business, check out our article on the 7 Most Important Google Analytics Metrics Every Business Should Track.
And don't forget to follow us on Twitter, Facebook and YouTube for more helpful Google Analytics tips.