Are you wondering how to boost your organic search rankings and get more traffic using SEO analytics and reporting?
With the right SEO analytics, you can measure your website's current SEO success and come up with informed ways to drive more traffic and continue growing your business.
In this article, we'll show you which Google Analytics SEO reports are the most important when it comes to measuring your website's organic traffic, and give you some tips on how to use the same reports to drive even more traffic.
SEO Analytics Video Guide
What Exactly is SEO Analytics and Reporting?
SEO analytics and reporting means using analytics to view or create reports that indicate how well your SEO strategies are working. If your SEO is really dialed in, that means you should be seeing:
Steadily increasing organic search traffic as you publish more content
Steady or rising conversion rates, indicating you're attracting the right kind of visitors
A good average engagement time, meaning people are sticking around and reading your content or visiting more pages
A site speed that's fast enough to keep visitors from bouncing due to frustrating slowness
Now that you know what SEO analytics and reporting is, let's take a look at our top growth tips using those SEO reports.
5 Growth Tips Using SEO Analytics and Reporting
1. Watch Your Overall Organic Traffic
How much traffic you're getting from search engines is our top SEO analytics report to keep an eye on. It's one of the very best indicators of your SEO success!
To find this report, open your Google Analytics and head to Reports » Acquisition » Traffic acquisition, then scroll down to the table to find your organic search traffic for the time period you have selected: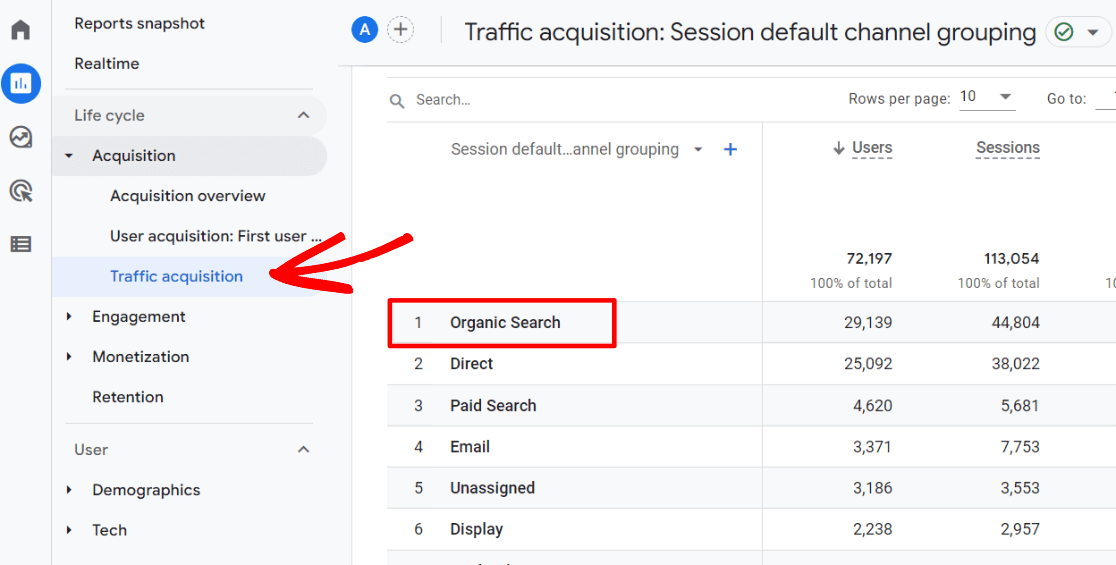 Want to take an even closer look at that organic search traffic? Let's break it down by the pages your organic traffic landed on.
To do that, click the small blue plus sign:

In the dropdown, choose Page/screen » Landing page + query string: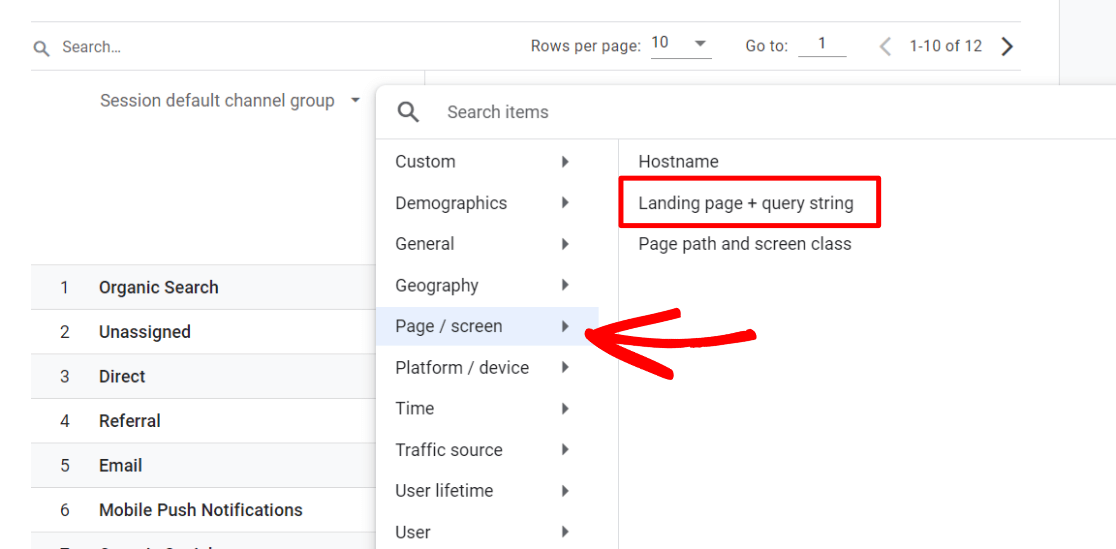 Now, type "organic" into the search box so that you're only looking at your organic landing pages: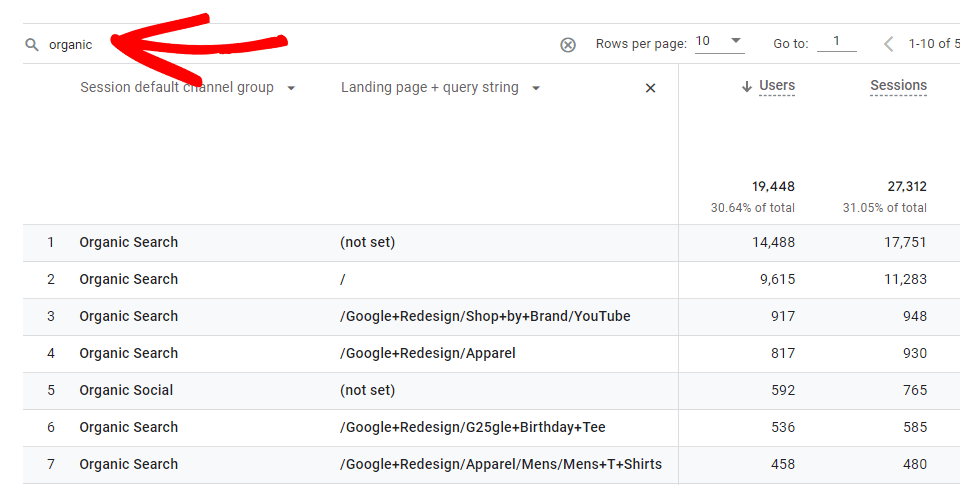 This report is a great one for analyzing how well your SEO efforts are working for each of the landing pages.
Are you a WordPress user? Make sure to install MonsterInsights at the Plus level or above to see your overall organic search traffic right inside your WordPress dashboard: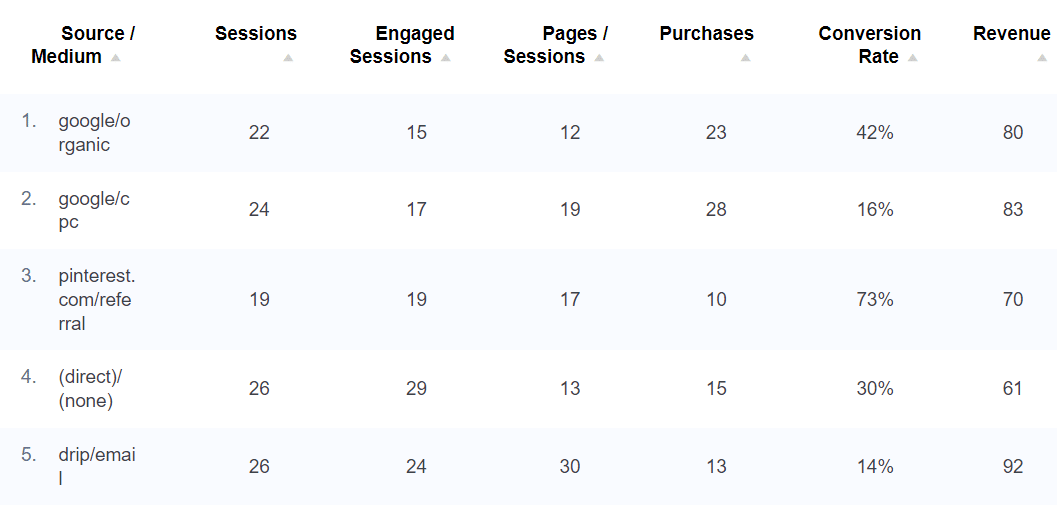 2. Watch Your Average Engagement Time
It may seem obvious, but many people don't monitor the amount of time visitors spend on their site.
However, average engagement time is really a good indicator SEO report metric because it shows whether you're bringing in the right kind of traffic (and that you have engaging content).
In Google Analytics 4, you can find your overall average engagement time metric right in your Engagement » Overview report: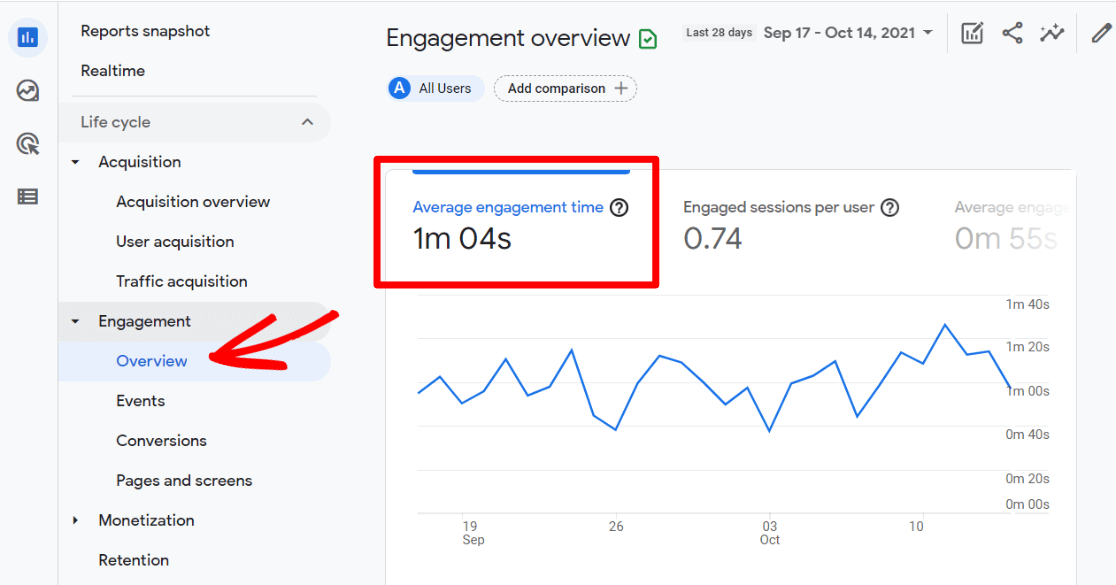 You also have the option of looking at your average engagement time depending on which page was landed on. This is also really a great SEO analytics metric! Just head to your Engagement » Landing pages report and find the Average engagement time per session column.
To dial down even further into your organic traffic's engagement on the Landing pages report:
Click the blue plus sign
Add Traffic source » Session medium to your report
Type organic in the search bar and hit Enter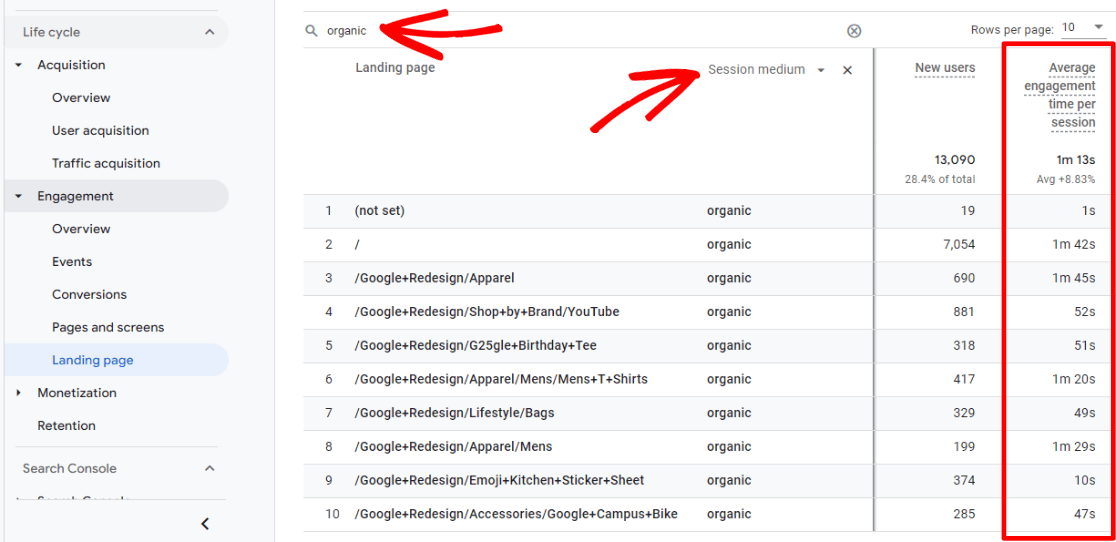 Now, take note of any pages that have a low average time. Take a few moments and think about what might be leading to that low time per session. A few of the most common problems include:
Wrong search intent. If a user comes to your site expecting one thing and you give them another, chances are they won't stick around. Look at other results in Google that are on the same subject and see what they have that you might be missing. You might need to refocus your content, add a video, or change your post to a listicle or comparison post, for example. Read more about search intent via OptinMonster.
Content isn't scannable. Readers like to scan content to find what they're interested in. Make sure you use bullet points and numbered lists, have helpful headings, and maybe even use a table of contents if the article is long.
Page targets the wrong keyword. This goes hand-in-hand with search intent. It's really important to perform keyword research before choosing to write about something, because you need to take a look at what other keyword phrases are related, and what sort of content is ranking for each one.
Page doesn't use internal links. Using internal links within your content is one of the best ways to keep your traffic flowing from page to page.
Your call to action isn't strong. What action do you want your users to perform after they land on your page via organic search? Make sure it's abundantly clear what the next step should be.
Spend some time on all of the above points and see if your times increase over time!
3. Find Opportunities with Google Search Console
The Queries (keywords) report in Google Search Console is an awesome SEO analytics and reporting tool. Not only can it show you the Google keywords that users are clicking on to visit your website, but it can also help you find opportunities for search terms that you could work on to rank better for.
For example, open Search Console and head to the Search results » Queries report (make sure to add CTR and position to the graph by clicking on them above):

Or, WordPress users can access this report in MonsterInsights: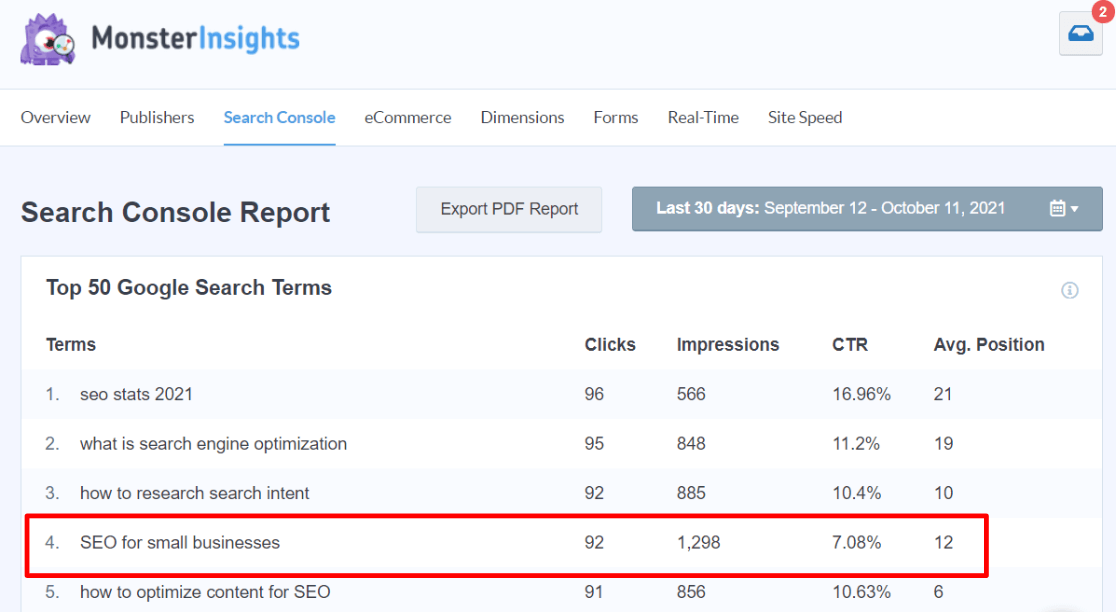 Look for terms that:
A) Have the most impressions, but low clicks
B) Have a low CTR (click-through-rate)
C) Are almost ranking on the first page of search results (position 10 and up)
In our example, "SEO for small businesses" is close to ranking on the first page of results and could be doing much better in terms of CTR.
To boost the CTR and position of the page that's ranking for that term, we can:
Review the other sites that are ranking for the term and make improvements to our page based on our findings.
Make sure we're matching search intent. People searching "SEO for small businesses" are likely looking for very actionable tips and guides, so that's what we should be delivering.
Tweak the title and meta description of that page to better entice users to click.
Build internal contextual links and off-page links to that page.
4. Review Mobile Use
Your website will never be SEO friendly if it's not mobile friendly. Period.
In Google Analytics 4, find your devices report under User » Tech » Overview. Scroll down to the Users by Platform/device category card and click View platform devices.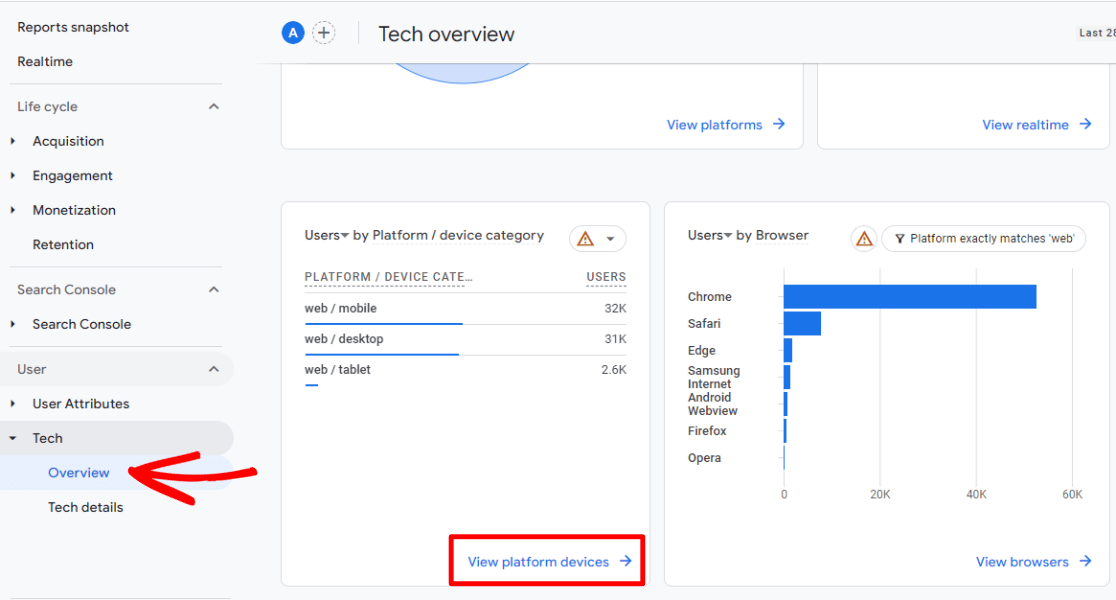 Let's dig a little deeper to see how those mobile users are behaving on our site.

In this report, you can see not only what percentage of your visitors came via mobile, but also how many of them were engaged and how many conversions and events they completed.
How do your mobile numbers compare to your desktop traffic? Keep in mind, it's likely that mobile users use your website differently than desktop users. It's pretty common for mobile numbers to be lower than desktop ones. However, that doesn't mean mobile numbers should be super low.
Are mobile users having difficulty navigating your site? If they're leaving much sooner than desktop traffic and not converting into leads, it might be time to troubleshoot your website on mobile.
After all, if visitors on mobile are leaving too quickly, that can affect your SEO rankings. Mobile friendliness and user experience are both SEO signals that are affected by a subpar mobile experience.
Keep in mind if you're using the MonsterInsights plugin, you can check out your Overview Report any time to see the basic Device Breakdown of your site visitors: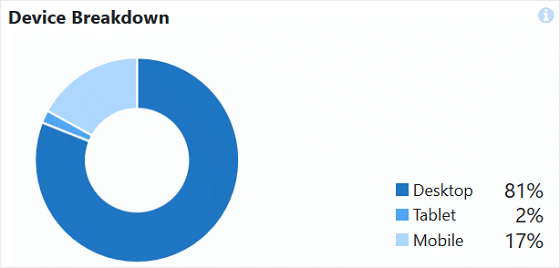 5. Keep a Watchful Eye on Site Speed
In 2021, site speed became a bigger deal to Google than ever before with the addition of Core Web Vitals to their ranking factors. Mobile site speed was already a ranking factor, and had been for a couple years, but Core Web Vitals made speed even more important.
Slow websites lead to a poor user experience, and Google is all about making sure searchers have the best possible experience. So, having a slow website can be very poor for SEO.
MonsterInsights users can access an up-to-the-minute site speed report at any time, right in their WordPress dashboard.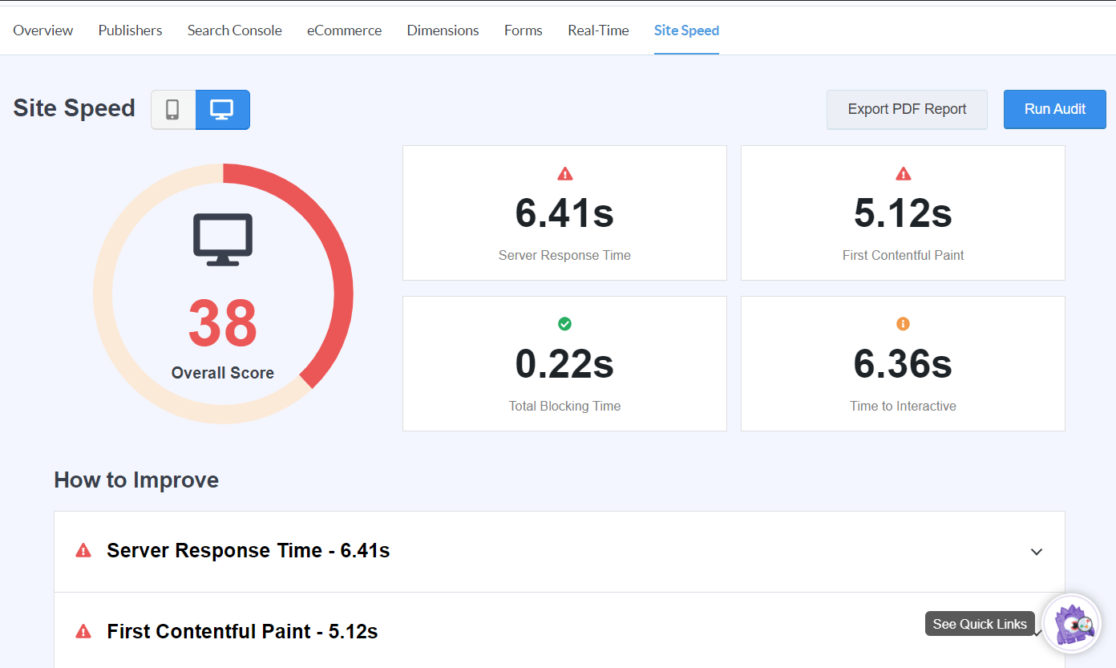 If you don't have MonsterInsights, we recommend the Google PageSpeed Insights tool to check both your mobile and desktop website speed on a regular basis.
If you're a WordPress user, check out our article on 17 Easy Hacks to Speed Up Your WordPress Site Performance.
And there you have it! These unique SEO analytics and reporting tips can be used to ensure your site's content is showing up in search results for the right people so your business can grow.
If you want to learn more about how to utilize the power of SEO in Google Analytics, check our guide to Google Analytics SEO hacks for increasing organic traffic.
And don't forget to follow us on Twitter, Facebook and YouTube for more helpful Google Analytics tips.