Are you new to WordPress and looking for the best WordPress tutorials for beginners?
If so, you're going to love our list!
WordPress is hands-down the best platform to build your website on. It can look and feel complicated at first, but with a few helpful guides and tutorials, you can get your website set up and running in no time.
Let's start with a few general WordPress tutorials for when you're first getting set up.
Video Overview
WordPress Tutorials: Getting Started
Looking for that beginner tutorial that'll get you started with setting up your WordPress website? Here are the best ones to start with.
Ready to dive into creating your site using a step-by-step tutorial? WPBeginner is the best one out there. It walks you through everything from choosing a domain name and getting your hosting set up to customizing your site with plugins and beyond.
WPBeginner has been around since 2009 and is the top resource for those looking for guidance on anything to do with WordPress.
Get started with WPBeginner's Ultimate Guide now.
Another great resource for earning WordPress is…WordPress! They've got some tutorials that are definitely worth taking a look at.
On the WordPress.com Learn site, you can find everything from really beginner stuff like configuring your basic settings and choosing a theme to slightly more advanced concepts like adding widgets and getting the word out about your new site.
Get started with WordPress.com Learn now.
If you'd prefer to just watch one long video to learn everything you need to know about WordPress, freeCodeCamp has a pretty popular one you can watch for free.
The video is an hour and 45 minutes long and goes over everything you need to know, from choosing a host to creating pages and posts.
However, we wouldn't recommend looking at too many of the other videos by freeCodeCamp if you're a beginner. They're a great resource for those learning coding, but you probably don't need to scare yourself with that if you're just learning WordPress!
Watch freeCodeCamp's video now.
WPBeginner's WordPress 101 video tutorials will teach you how to create and manage your own site(s) for free. You do need to sign up for free for access, but then you can view a whole list of videos that go over everything you need to know when setting up a WordPress site.
The videos are single videos, instead of one long one, so you can choose the one you need to see. Like WPBeginner's written guide, the videos go through all the steps you need to know when setting up your site.
Get free access to WPBeginner's video tutorials now.
Niche/Next Step Tutorials & Blogs
Once you have a basic WordPress site set up, you're going to be looking for more beginner tutorials on other topics that are more specific to your website or branch out further to next steps in website ownership.
Here are a few next-level, but still beginner tutorials and sources to check out.
5. MonsterInsights: Google Analytics
To track your website's traffic, you'll want to install Google Analytics. The hands-down easiest way to do this in WordPress is to use the MonsterInsights plugin.
Read How to Add Google Analytics to WordPress (The RIGHT Way).
Once you have Google Analytics set up and running, visit the MonsterInsights blog for a lot more tutorials on all sorts of different things you can do with Google Analytics on your WordPress site.
Here are a couple of the great Google Analytics tutorials you'll find on the blog:
Want to try MonsterInsights before you buy? Try out our free version.
6. All in One SEO: Search Engine Optimization
Want to attract more traffic by mastering SEO basics? Then All in One SEO is the resource for you!
All in One SEO is the best SEO plugin for WordPress. It can help you do a whole bunch of things to rock your SEO on your WordPress site, including creating a sitemap, adding titles and meta descriptions to your pages and posts, optimizing your content with keywords, and much more.
The AIOSEO blog is a fantastic resource on SEO in WordPress. Here are a few examples of the tutorials you'll find there:
Looking for a free SEO plugin? Try the free version of AIOSEO.
7. WPForms: Forms
Whether you need a simple contact form or forms that are more complicated, check out WPForms, the best forms plugin for WordPress.
For tutorials on everything you can think of regarding forms, visit the WPForms blog. Learn how to create survey forms, create forms that can accept payments, how to add newsletter signup checkboxes to your forms, and much more.
Here are a few examples of tutorials you can find on their blog:
Use the free version of WPForms to make a simple form or two, or upgrade if you need forms with more features.
8. OptinMonster: Conversion Rate Optimization
How do you get visitors to your site to take action? OptinMonster is the best lead generation plugin for WordPress, and it can help you capture those leads from visitor who wouldn't have converted otherwise. Use their drag-and-drop editor to create an irresistible offer, then show it to your visitors at just the right time.
For tons of tutorials on how to get more conversions on your WordPress site, how to create winning email campaigns, and much more, visit the OptinMonster blog.
Here are a few examples of the WordPress tutorials you'll find at OptinMonster:
Try OptinMonster for free with their free version.
9. SeedProd: Landing Pages
SeedProd is the best landing page and website builder plugin for WordPress. Use their drag-and-drop builder to create any kind of page you need, whether it's a landing page, a coming soon page, an opt-in page, or something else.
SeedProd posts a lot of different WordPress tutorials on landing pages and beyond on their blog.
Here are a few examples of tutorials you'll find from SeedProd:
Want to create a landing page for free? Check out the free version of SeedProd.
Bonus: WordPress for Beginners Community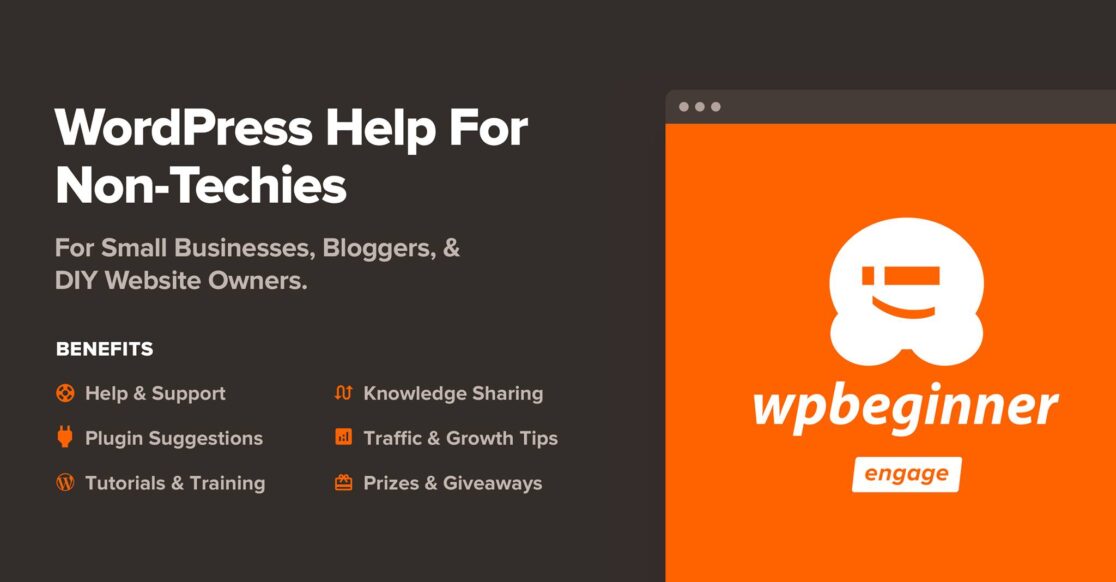 Want to join a whole community of people building and working on WordPress websites? You're in luck! WPBeginner has an exclusive Facebook group called WPBeginner Engage where you can not only talk to others, but get your WordPress questions answered by experts.
To join, request to join WPBeginner Engage on Facebook.
That's it!
We hope you found some helpful WordPress tutorials to help you build, maintain, and optimize your WordPress website.
Want to find the best plugins for your site? Check out 45 Best WordPress Plugins (Most are FREE).
Not using MonsterInsights yet? What are you waiting for?
And don't forget to follow us on Twitter, Facebook and YouTube for more helpful reviews, tutorials, and Google Analytics tips.