Wondering how to set up WordPress redirects?
Setting up a redirect on WordPress is actually pretty easy, if you're using the right tools. It's also really important for your WordPress SEO to redirect pages that have moved or are broken links for other reasons!
In this article, we'll take a look at the different types of redirects, talk about why WordPress redirects are so important for SEO, and walk through a step-by-step tutorial about how to set them up.
What are WordPress Redirects?
WordPress redirects are used when you want to redirect traffic pointed at a specific URL to a different URL. This might happen because you have a broken link, or it could be that you're getting rid of a piece of content on purpose and you need to direct any traffic that's coming to that link somewhere else.
For instance, let's say you have an old blog post with some facts in it that just aren't right anymore, and you'd like to get rid of it. Hold on! Google likely has the link to that post crawled and indexed, and it's possible you have internal links on your site that also lead to it. If you just delete it, you'll create a troublesome 404 (not found) error.
Redirects to the rescue!
With a redirect, you can tell your site to send traffic to a different link when the old one is clicked. So, choose where you want that traffic to go, set up a redirect, then go ahead and delete that old content.
What are the Different Types of Redirects?
There are several different types of redirects, but in this article, we'll go over the two you're most likely to use.
301 Redirect
A 301 redirect is the one you'll most likely use the most often. It tells search engines that your content has moved permanently. This helps search engines drop your old link in favor of your new one. A 301 redirect also sends the "link juice" (PageRank authority) from your old URL to your new one.
Use a 301 redirect when you're fixing 404 errors, or when you're deleting or redirecting old content to new content.
302 Redirect
A 302 redirect is similar to a 301 redirect, except it tells search engines that the move is temporary instead of permanent. So, the search engines will keep your link indexed, along with indexing the new one. Then if you remove the redirect, the old link should still have its PageRank intact.
Use a 302 redirect for temporary situations, like if you need to take a page down for a while to update or redesign it, then put it back up at the same URL as before.
Related: 10 Best WordPress Coming Soon & Maintenance Plugins
Why are Redirects Important for SEO?
Redirects are important for SEO because broken links can confuse search engines, leading to negative impacts on your search engine rankings. If the search engine can't find a bunch of your pages where your content is supposed to be, it might decide to rank you lower overall because of your site's less-than-awesome user experience.
So, fixing your broken links helps your site's user experience, which can help you rank better in search engine results.
How to Find Broken Links & 404 Errors
Want to check and see if you have any harmful broken links or 404 errors on your site already? There are a couple quick and easy ways to find out if you have broken links.
MonsterInsights
First, you can use MonsterInsights. MonsterInsights is the best Google Analytics plugin for WordPress, and it has a whole bunch of really awesome features that'll help you set up, monitor, and understand Google Analytics.
Using MonsterInsights, you can run a report that'll include any broken links, plus where they were found.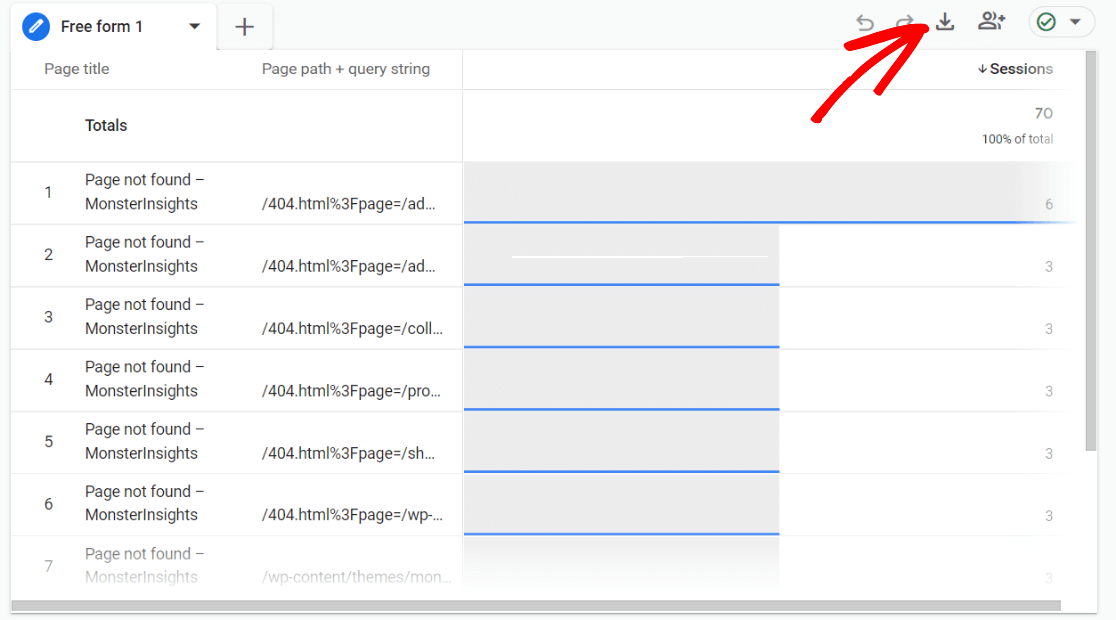 For a full tutorial on finding your broken links with MonsterInsights, check out How to Find 404 Errors & Broken Links in Google Analytics 4.
Search Console
You can also find broken links using Google Search Console. Just head to Index » Pages, then click on Not found (404):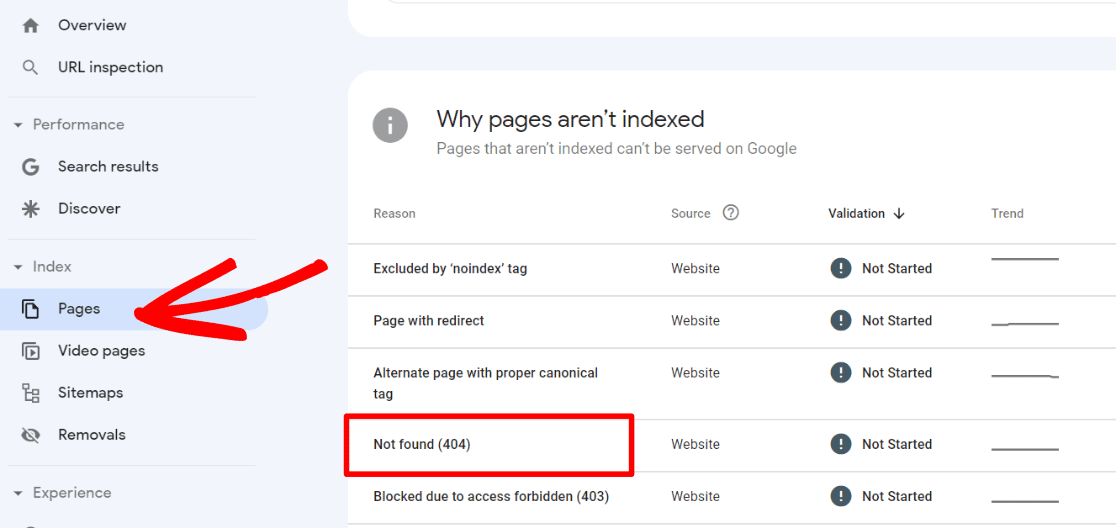 Then, scroll down to the Examples list. Here's where you'll find your broken links:

For more information about each link, including where the page is linked from so you can fix it, click on one of the links and click Inspect URL:

Now, find the Referring page to see where your broken link is: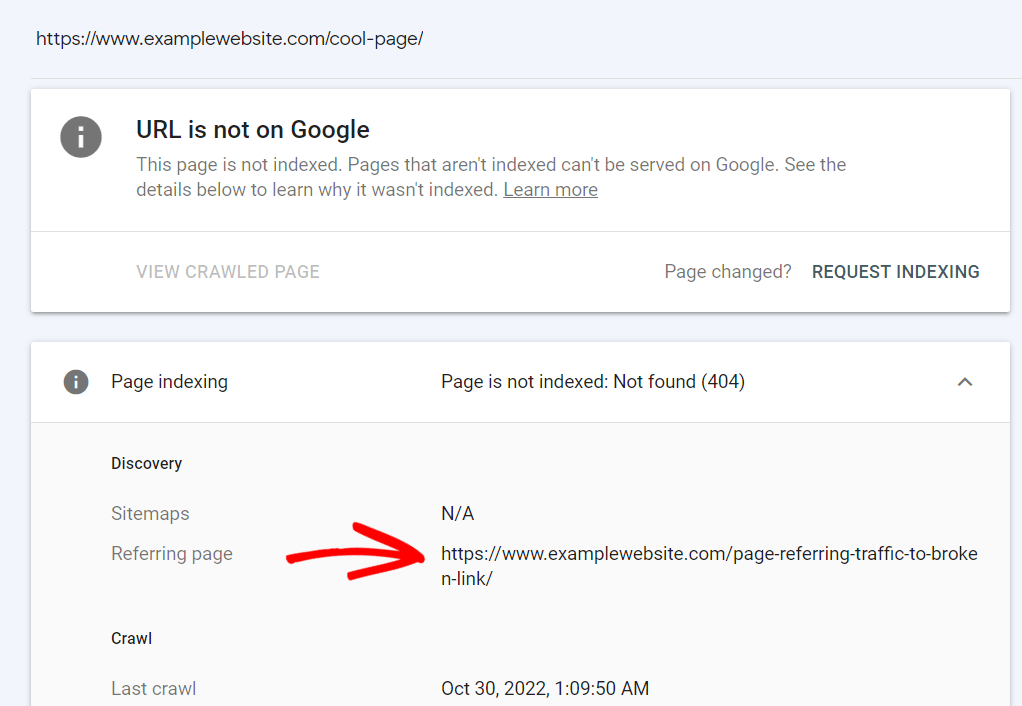 How to Set Up WordPress Redirects
Now that you know what your broken links are, you'll want to set up redirects for them (as well as fix the links on your pages).
There are several different ways you could set up WordPress redirects, but we're going to take you step-by-step through our favorite (easy) way to implement redirects: with All in One SEO (AIOSEO).
All in One SEO is the best SEO plugin for WordPress and can help you improve your search rankings in a whole bunch of ways, including by setting up redirects.
With AIOSEO Pro, you'll get many features that'll make managing and rocking your SEO much easier, including:
Redirection manager
Advanced SEO modules
Schema markup
Local SEO
Image SEO
Internal link assistant
404 error log
And much more!
You'll need AIOSEO Pro to get Redirection Manager. Get started now.
Now, let's jump into our tutorial.
Step 1: Install the All in One SEO Plugin
The first step is to add the All in One SEO plugin to your WordPress website at the Pro level or above. Then, head to the Downloads tab in your account to download it plugin: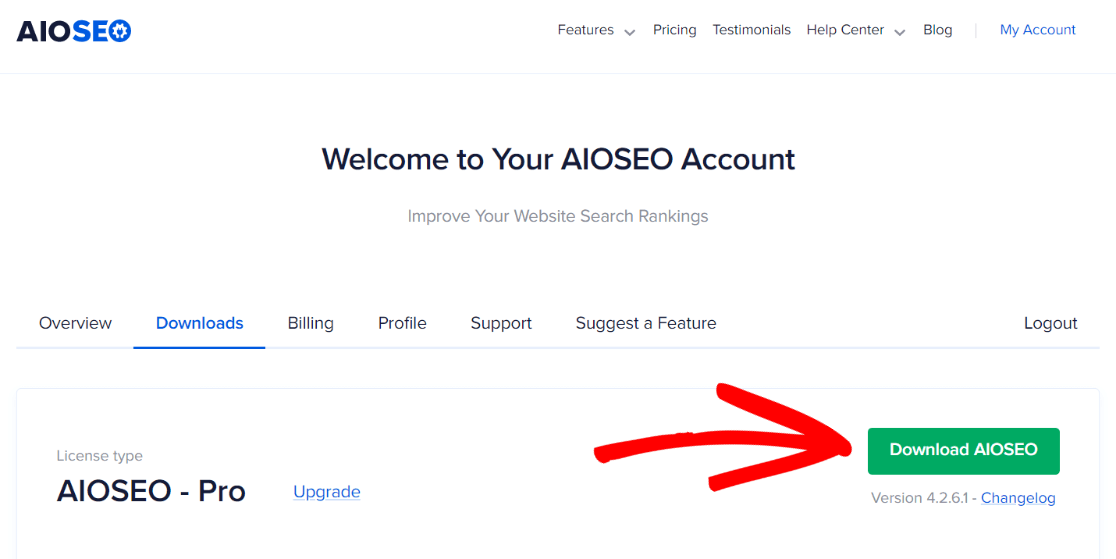 Then, head to your WordPress admin, then Plugins » Add New and click the Upload Plugin button at the top of the page:

Now, upload the AIOSEO plugin file:

After the install is complete, activate the plugin:

Finally, go through the AIOSEO setup wizard to get the basics set up. For more help getting started with AIOSEO, check out their Beginners Guide for All in One SEO.
Step 2: Add a Redirect
To add your first redirect and fix your 404 error, head to All in One SEO » Redirects, and stay in the Redirects tab at the top: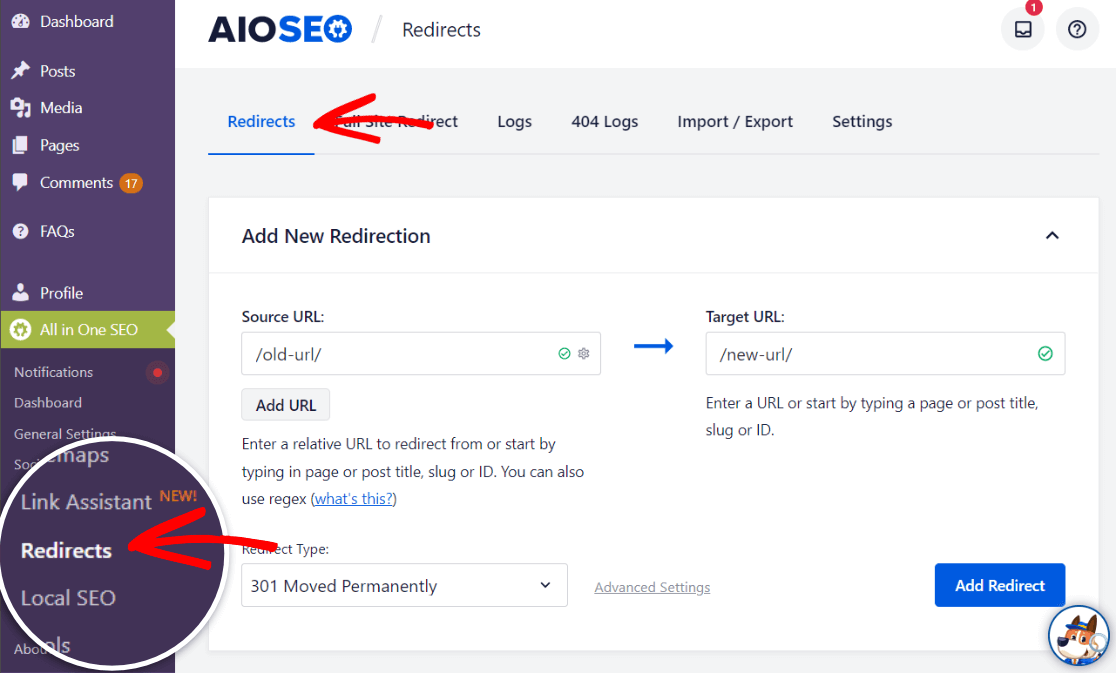 Then, put in the Source URL, which is the URL that's throwing the 404 error that you want to redirect. In the Target URL box, put in the URL you'd like that old link to go to instead: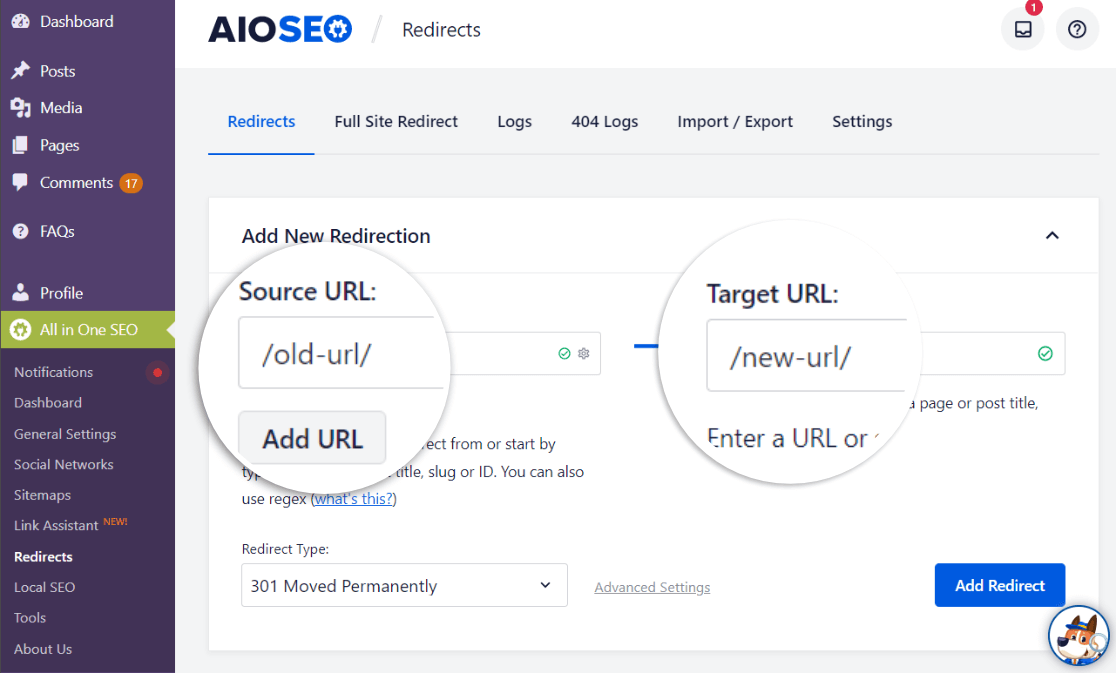 Finally, choose the Redirect Type (you'll primarily use 301) and click Add Redirect.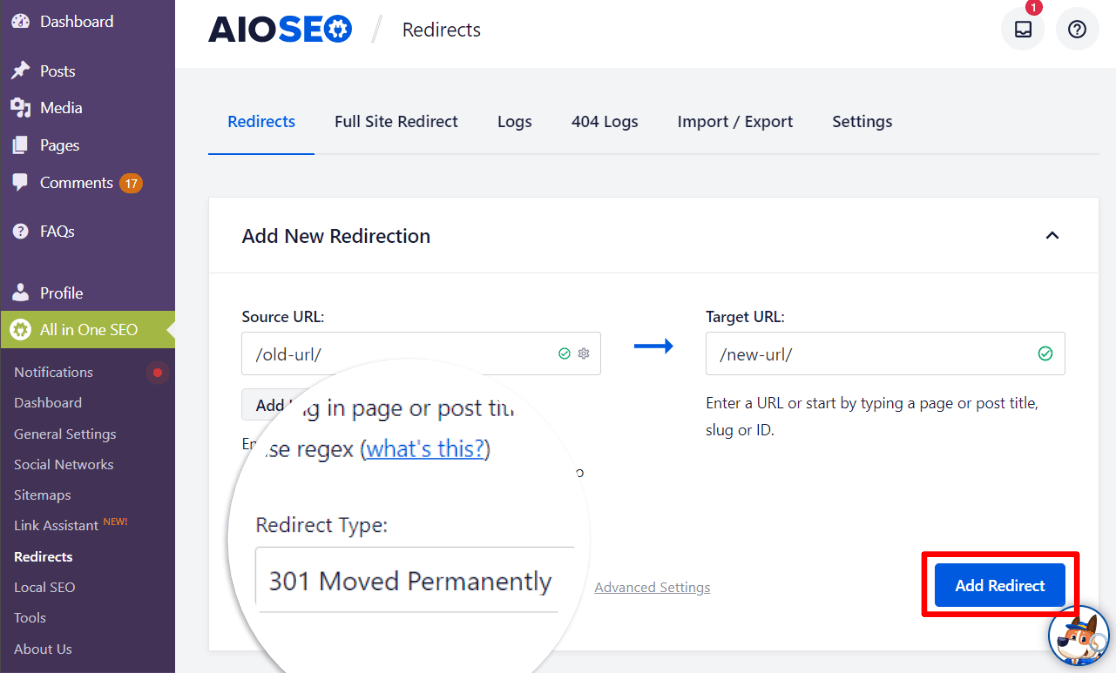 That's it! You've just redirected your broken URL to a working one and made a small step toward improving your search rankings and overall SEO.
For a really in-depth look at AIOSEO's Redirection Manager, read How to Redirect a Page or Post in WordPress (The Easy Way).
BONUS: Track SEO Performance with MonsterInsights
MonsterInsights is the best Google Analytics plugin for WordPress, and it can help you track whether the SEO updates you're making are having an impact on your traffic and sales or other conversions.
With MonsterInsights, you can track all your most important stats right inside your WordPress dashboard, plus easily set up advanced tracking with a couple clicks.
A few key features are:
Get started with MonsterInsights today!
If you liked this article, we bet you'd also like How to Track Link Clicks in Google Analytics 4 and WordPress.
And don't forget to follow us on Twitter, Facebook and YouTube for more helpful reviews, tutorials, and Google Analytics tips.