Are emails part of your marketing strategy? Do you think email marketing is not worth the effort?
Then you should know that with email marketing, you can generate a 4,400% return on investment (ROI).
Still not convinced?
In this article, we've put together mind-blowing email marketing statistics everyone should know.
You can see from these stats how email is still the king when it comes to attracting and retaining customers.
Let's kick things off with some general email marketing stats.
Email Marketing Usage Statistics
Email is here since the dawn of the internet. It's one of the most popular channels of communication that's used throughout the world.
To give you an idea about how quickly email users have grown over the years, consider this: As of 2018, there were 3.8 billion global email users, and this number will grow to 4.4 billion by 2020.
That said, 281 billion emails were sent and received in 2018. This figure will increase to 347 billion by 2023. Staggering isn't it!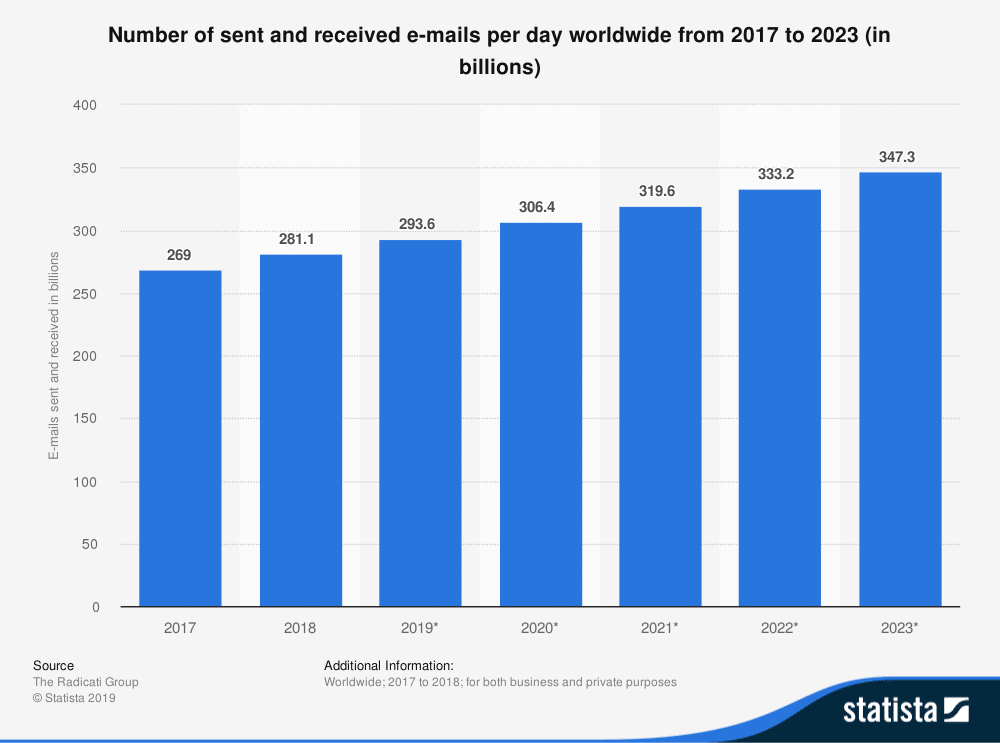 One of the reasons for this explosive growth is that people tend to check their emails first compared to going through their social media feeds or reading the news.
A study by OptinMonster revealed that 58% of users' first check of the day is to read emails followed by search and social media.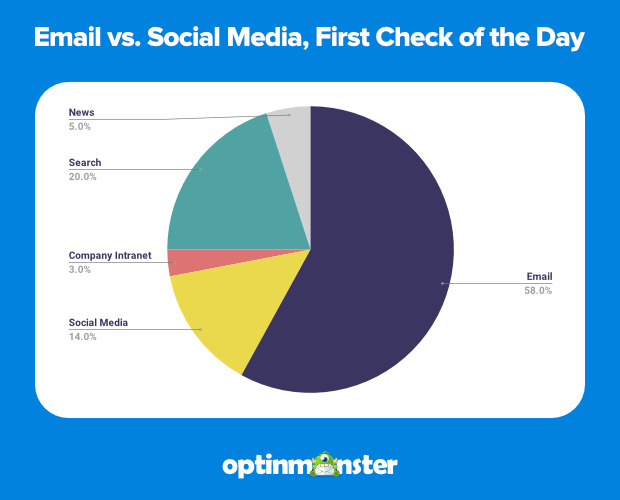 It further answers another important question: is email marketing effective?
Emails bring in more engagement than social media. They have an open rate of 22.68% across all industries. While the overall engagement of Facebook, Twitter, and Instagram combined is only 0.58%.
McKinsey & Company also did a study and found that emails are 40 times more effective than social media. And the buying process is 3 times faster with emails compared to social media.
One reason why emails are so popular is that they are easily accessible across all devices, especially on mobile.
Mobile Email Marketing Statistics
Did you know that there are roughly 3.7 billion mobile users in the word? So, it's no surprise that people prefer using their smartphones to read emails.
In fact, we found a mobile marketing statistic that shows email opens on mobile is 62%, followed by desktop with 28% and webmail services with 10%.  Even Google states that 75% of Gmail users use mobile to view their emails.
This means that if you're going to run an email marketing campaign, you have to make sure that your emails work on mobile devices. That's because 42.3% of users will delete an email if it's not optimized for mobile.
As for the most popular email client, Gmail leads the way with a 30% market share. But it's closely followed by Apple iPhone and then Outlook.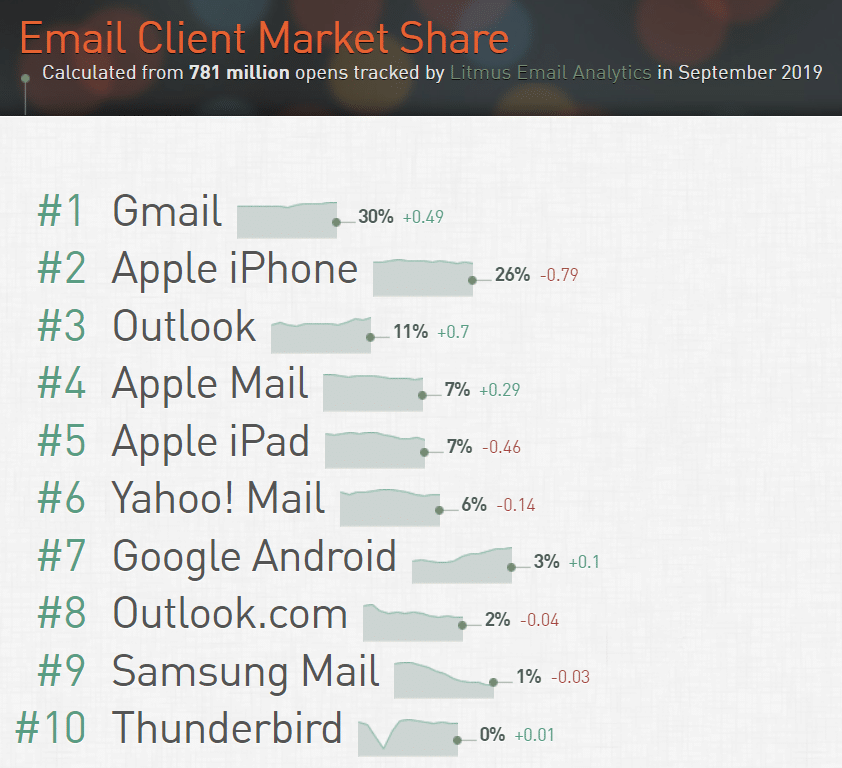 Another interesting stat that you should know is that you have a 65% higher chance of getting a click if a user reads an email on their mobile phone and then reads the same email on desktop.
From a B2C perspective, getting clicks is highly important, as we'll take a look in the next section.
B2C Email Marketing Statistics
If you're in the B2C business, then you're in for a treat. Email marketing is a highly effective tool for capturing leads, engaging visitors, and converting them into sales.
Don't believe us? How about we let the stats do the talking…
For starters, welcome emails can grow your revenue by 320% compared to other promotional emails. Even 59% of marketers agree that email is one of the largest sources of return on investment for them. And 80% of professionals say that email marketing helps them retain customers.
From a consumer's point of view, most people prefer to receive promotional messages through emails than social media.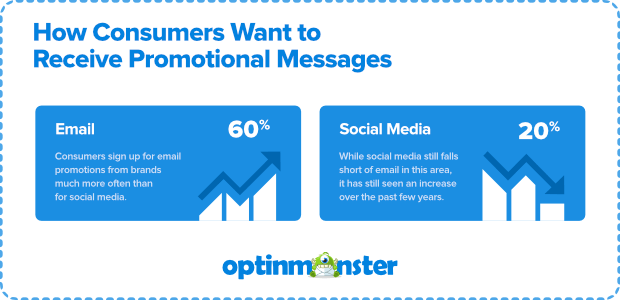 If you're running an eCommerce store, then sending out shopping cart abandonment emails can boost your conversion rates. For instance, a study found that emailing customers 1 hour after they've abandoned the cart and left your site can covert 6.33% of online shoppers.
While sending out an email within the first hour is effective, Omnisend found that sending out 3 abandonment emails can result in 69% more orders.

Another important statistic shows that 82% of businesses use email marketing automation tools like Constant Contact and Drip. And it's not just restricted to B2C, but B2B companies also automate their emails.
As you can see, emails are useful for B2C companies, but their impact on B2B is more intense. Let's look at some B2B email marketing statistics.
B2B Email Marketing Statistics
Email marketing in B2B is very different from B2C. According to the Content Marketing Institute, 83% of B2B marketers use email newsletters for their content marketing efforts. And 79% of marketers in B2B found emails to be a more successful content distribution channel.
It shows that if you're planning on converting leads, then newsletters are important for B2B. That said, the click-to-open ratio in B2B is 23% higher than B2C email marketing. Even the click-through rate (CTR) for B2B email campaigns is 47% higher than B2C campaigns.
As for B2B open rates across industries, non-profit leads the way with 20.39%. It's followed by the agriculture, forestry, and fishing and hunting industry with 20.13% open rate.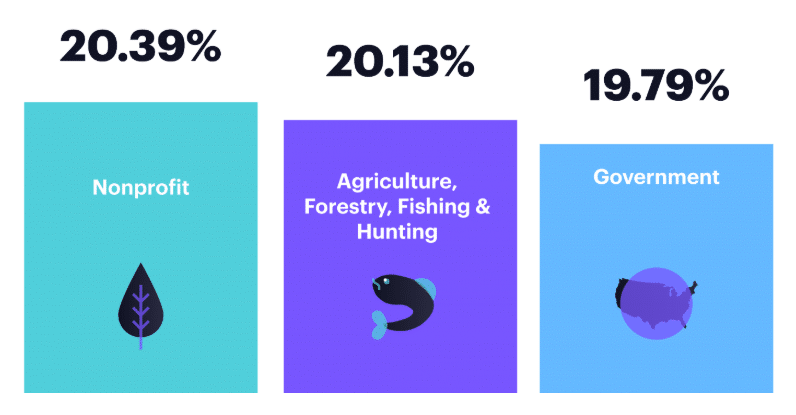 B2B email marketing statistics reveal the importance of emails for the success of your business. At this point, you may ask us, how can we further enhance our email marketing efforts?
The answer is simple, send personalized emails.
Email Personalization Statistics
According to Statista, 67% of marketers plan to use data for better personalization to increase their sales, engagement, and retain customers.
In email personalization, you can add information like your subscriber's first name, city, or company in the emails to make it appear as if you're directly talking to them.
As a result, you will see an improvement in CTR by 14%. Personalized emails are also effective in increasing customer engagement, and they can increase your conversion rates by 6 times.
When you personalize the subject line of an email, your open rate will increase by 26%. And with more email opening, marketers found an increase of 760% in email revenue.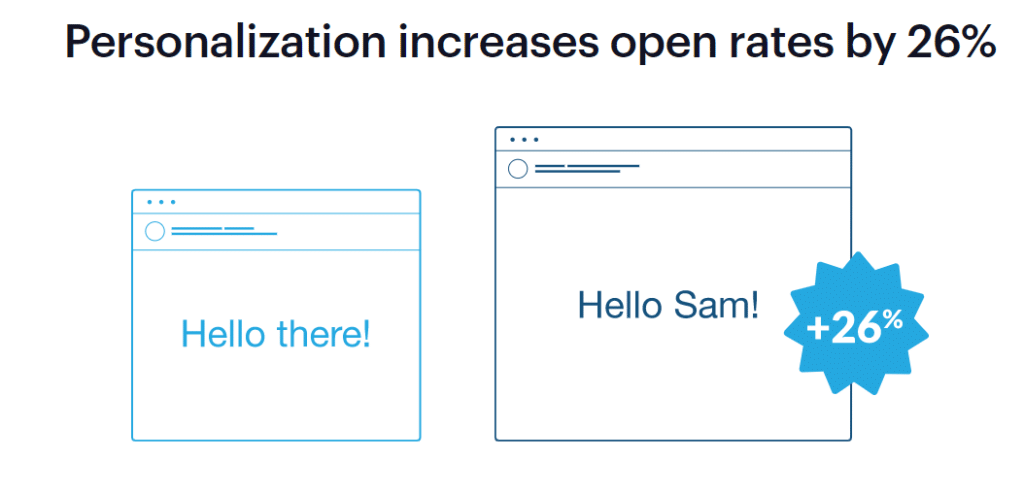 Other ways of personalizing emails are through segmentation, demographics, and working on capturing the interest of your subscribers.
For capturing interest, plugins like MonsterInsights can be useful. In its Publishers report, you can view the different interests of your visitors and then craft emails accordingly.
And for sending out personalized emails, marketing automation tools play a big role. By setting up workflows, marketers can send out personalized emails to the right people at the right time. As a result, you can increase your revenue by 58%.
With emails being at the heart of digital marketing strategies, what does the future hold for email marketing?
In Conclusion: What's the Future of Email Marketing?
One thing is for sure, email is far from dead. If you've gone through all the statistics in this guide, then you can see the power of email marketing.
What lies ahead is that email will become more interactive. You'll see more storytelling and widgets that help marketers interact with their leads.
User experience will be of high importance. As you saw earlier, mobile email marketing is effective, and if you don't optimize your emails, then you risk the chance of losing subscribers.
Email personalization will also be critical for providing amazing user experience.
And that's it.
We hope you liked our article on mind-blowing email statistics everyone should know. You can also check out our article on conversion rate optimization stats and beginner's guide to Google Analytics.
Don't forget to follow us on Twitter and Facebook for more helpful marketing and Google Analytics tips.