Want to learn some Google Optimize best practices to grow your business by improving your conversion rates?
Google Optimize is a simple yet powerful tool that can help you make changes to your website that drive growth. Easily run A/B tests to find out what's working on your site, and what can be improved.
In this article, we'll share some great Google Optimize best practices for making the most out of your A/B tests.
Video Review

Watch our video for a review of our Google Optimize best practices, or read on below.
What is Google Optimize?
Google Optimize is a free tool from Google that you can use to run A/B tests on your website, without needing to know how to code. All you have to do is install the code on your website, then create a test.
With Google Optimize, you can make changes to your site that increase conversions. Simply publish a test, then watch the results to find out if the change would help. If not, just don't make the change!
Top Google Optimize Best Practices
1. Use Google Analytics Data & Connect Google Optimize
Before you launch into testing, you'll want to have some data to work with. Google Analytics will give you the data you need to choose which pages or posts to test, how long to run your tests for, whether to run your test on desktop or mobile, and more.
Then, Google Optimize connects seamlessly with Google Analytics, so data from your tests can be found easily in your Google Analytics dashboard.
To make gathering data in Google Analytics and connecting to Google Optimize as easy as possible, use MonsterInsights, the best Google Analytics plugin for WordPress.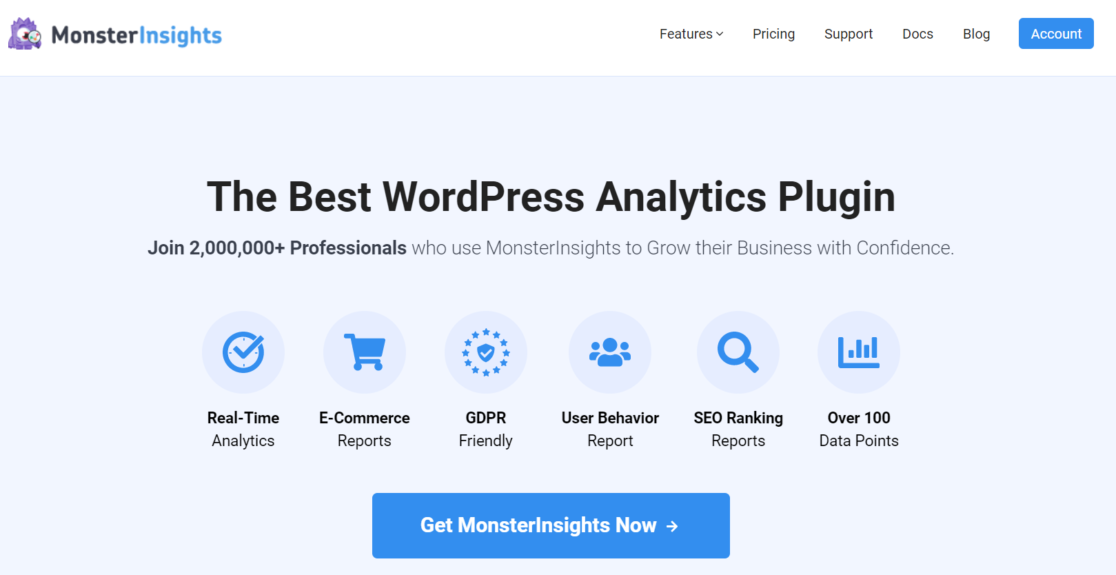 MonsterInsights is the best Google Analytics plugin for WordPress because it allows you to easily connect your WordPress site with Google Analytics (without hiring a developer or write any code).
With the click of a button, you can set up sophisticated tracking features such as event tracking, eCommerce tracking, form tracking, custom dimension tracking, outbound link tracking, and more.
Plus, with the MonsterInsights Google Optimize addon, you can connect Google Optimize to your site and get started testing right away.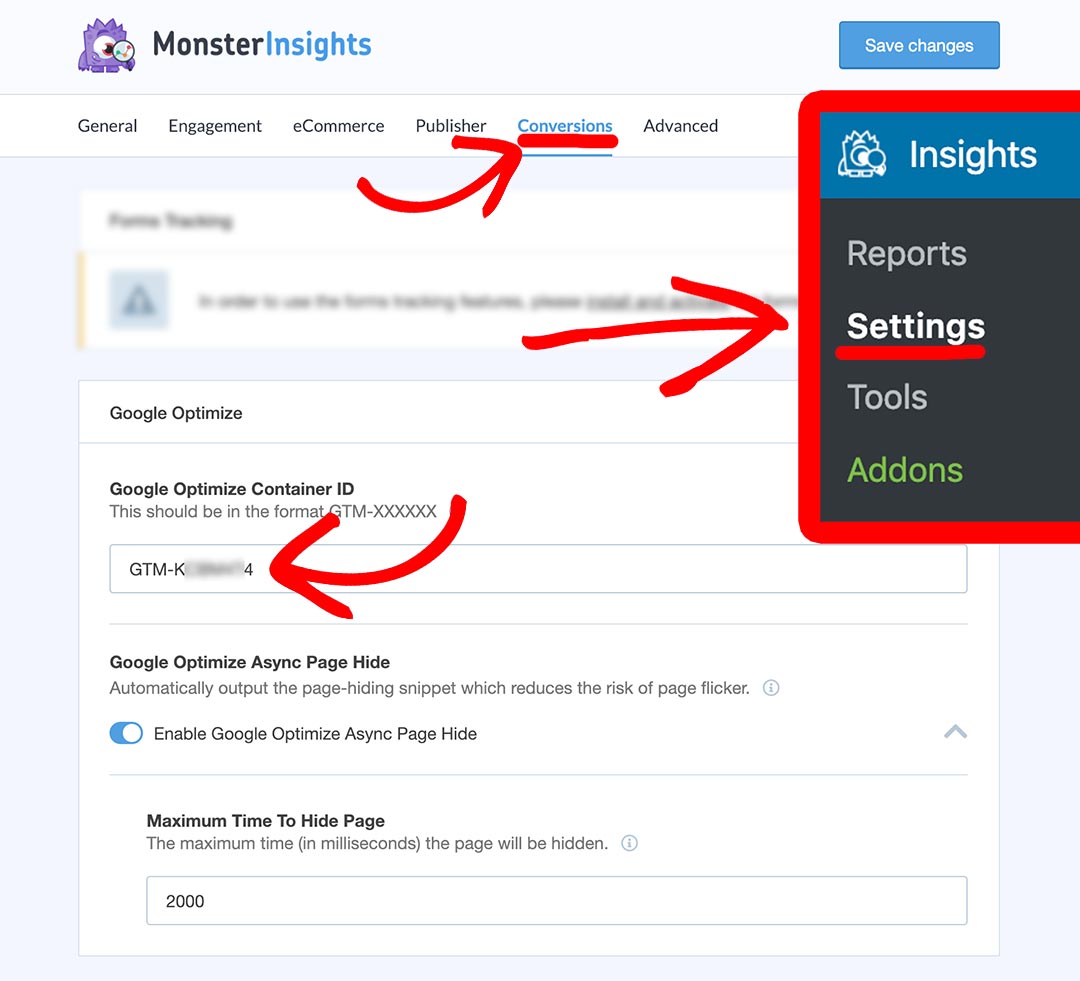 For a full tutorial on setting up Google Optimize using MonsterInsights, read how to set up Google Optimize on your website.
If you're looking for the basics on running A/B tests, we have a simple step-by-step guide on how to use Google Optimize to run A/B tests for free for you to check out.
Okay, now that you have Google Analytics data collected and Google Optimize set up, let's jump into how to make it work the best for you and your business.
2. Watch Sample Size
If you're going to run A/B tests on your website using Google Optimize, one best practice is to make sure you have enough site traffic coming to the page you want to test. This is the only way you'll get good results.
You don't want to waste time making changes to a web page that doesn't have many views.
The key is to target your most viewed web pages, since they have the potential to increase your conversions the most. In general, you want pages with 1,000+ pageviews per month for the best testing.
To see which pages are getting the most views, hop on over to your WordPress dashboard, and check out the MonsterInsights Overview Report. If you scroll down, you'll see a list of your website's 50 most popular posts and pages.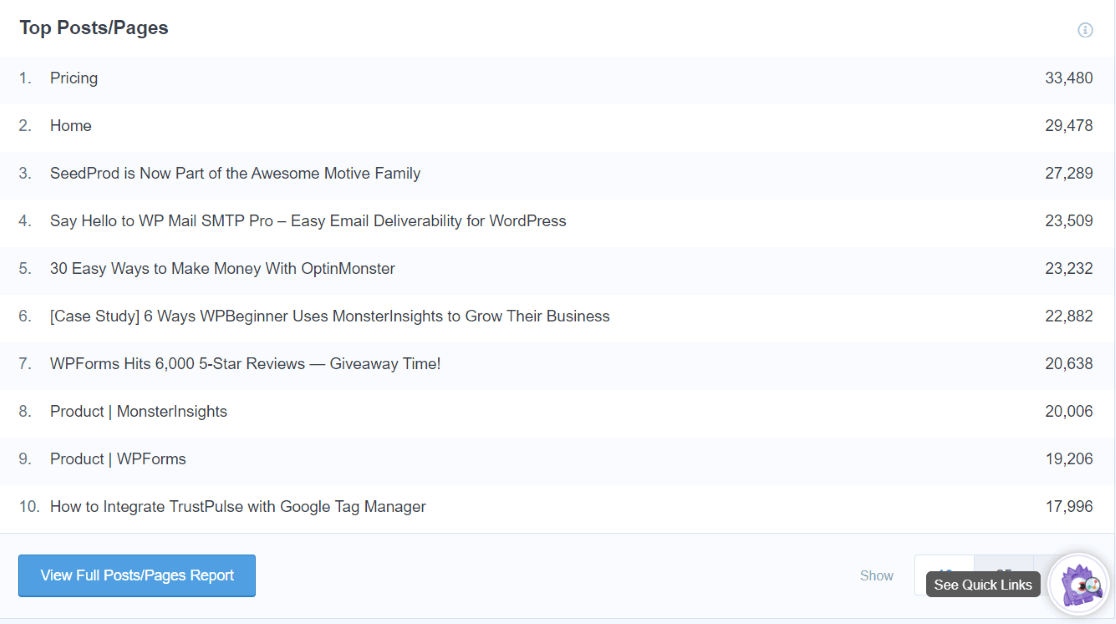 If you have the Plus license or higher, you'll also be able to access the Publishers report in your MonsterInsights dashboard. In that tab, you'll find a list of your top 50 landing pages: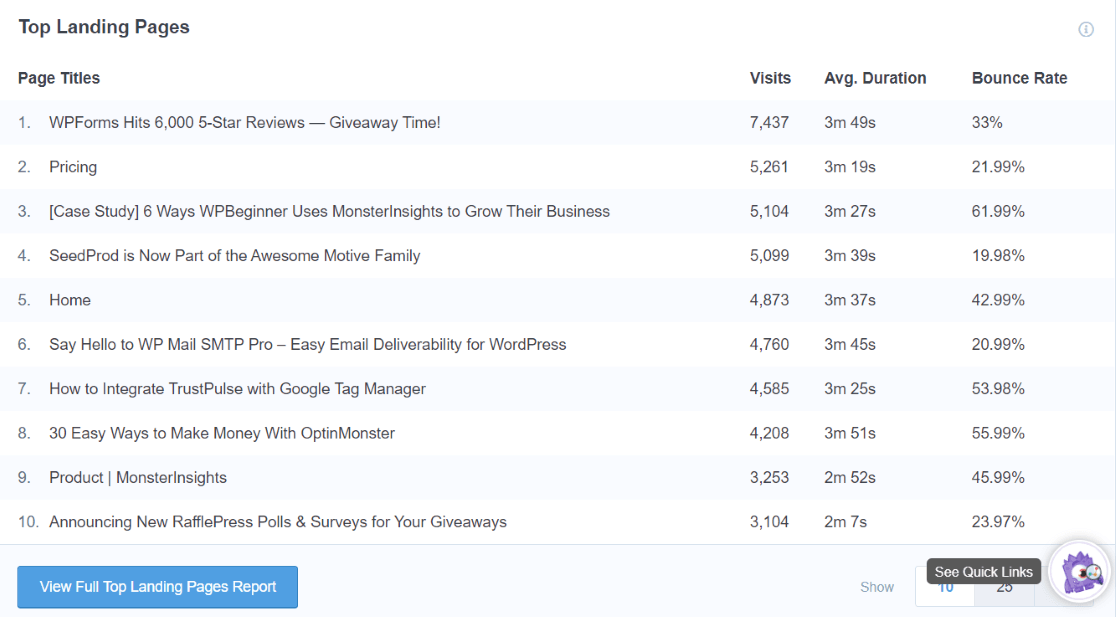 Note that both of the above reports give you the last 30 days of data by default. To edit your date range, click the gray button at the top of the reports:

Together, these two reports will help you determine which pages and posts have the most traffic, and you might want to run an A/B test on first.
3. Test the Right Things
The point of A/B testing using Google Optimize is to find out ways you can get more conversions and, therefore, grow your business. But there's more to split testing than randomly choosing an element to change and seeing how it affects site visitor behavior.
Begin with your pages at the top of your landing pages or top pages reports. Which ones have an element that could really impact your number of conversions? Popular choices for things to test are call-to-action (CTA) buttons, forms, headings, and images.
When you run a test, Google Optimize will give you the number of clicks and conversions for each version of your page.
But, how do you know how many clicks or form submits you're getting before running an A/B test?
You can use MonsterInsights to gather this data. To track form conversions, all you need to do is install the plugin at the Pro level. MonsterInsights will track form submissions for you with no further setup! You'll then get a report like this:

To see CTA clicks, you'll need to use custom events. Install MonsterInsights at the Plus level to use our Enhanced Link Attribution feature. For a step-by-step tutorial on how to set this up, read How to Set Up Google Analytics Event Tracking in WordPress.
Want more ideas for what to test on your website beyond CTAs and forms? For an extensive list of ideas, check out this list of 60 A/B testing ideas you can run today to boost conversions.
4. Use Multivariate Tests to Test Landing Page Versions
One standard Google Optimize best practice is that you only test one page element at a time. That way, you can zero in on exactly which changes are increasing your conversion rate.
However, Google Optimize is also great for running a multivariate test.
This type of split testing is when you test multiple variants on the same page to see which version converts the best.
For instance, in a standard A/B test, you might test whether your CTA performs better if it says "Start Now" versus "Start Today". In a multivariate test, you could test those two text variants, but you might also choose a couple different colors, plus change what the banner says at the top of the page.
This diagram shows how a multivariate test works. In this example, the user is testing three different images (A, B, and C) and whether an H1 heading performs better or an H2. Google Optimize tests each combination of your multiple tests to see which ones work the best: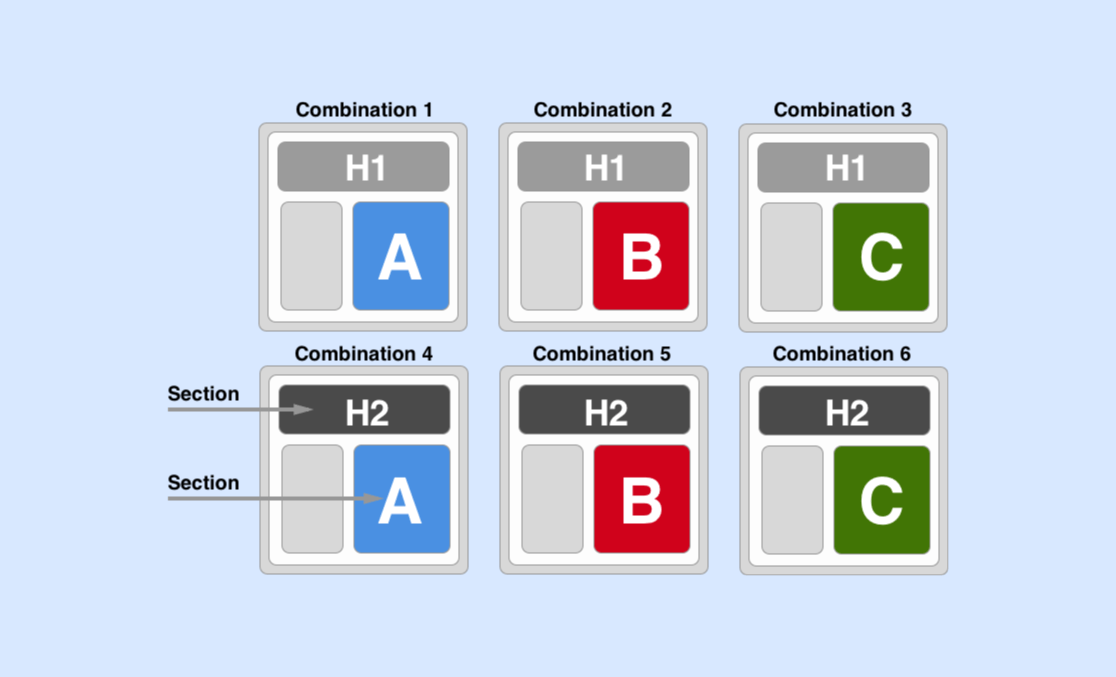 Multivariate tests are great for landing pages because they have clearly defined calls to action, minimal page elements, and easy-to-measure results. This makes creating the test easier to do, because it's more obvious what you can test.
For instance, test things like:
Form lengths
Images
Headline copy
Call-to-action button copy, color or placement
One thing to keep in mind is that the more elements you test at once, the longer you'll need to run the Google Optimize test to make sure you get the very best results.
Also, keep in mind that you can use Custom Link Attribution in MonsterInsights to track clicks on your CTAs at all times. With these events set up, you'll be able to see clicks on your CTAs reported right in your WordPress dashboard, in the Top Outbound Links report.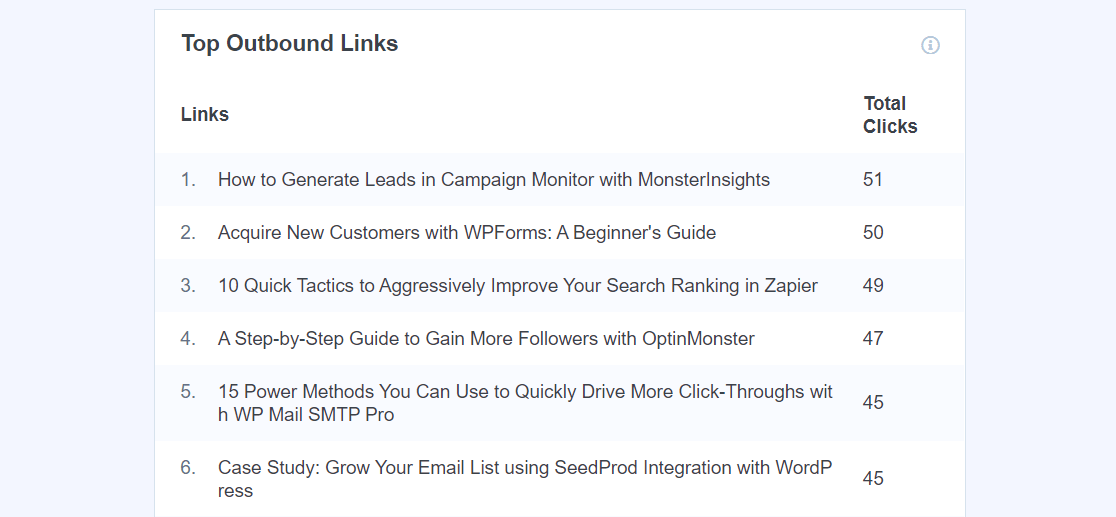 For the full, step-by-step tutorial on how to do this, read How to Set Up Google Analytics Event Tracking in WordPress.
5. Don't Make Mid-Test Changes
One of the biggest mistakes you can make while A/B testing is changing things halfway through the test.
It's easy to get excited about incoming results. And it's tempting to want to implement those changes right away, or start testing new ideas that you have.
If you don't get the testing duration right, and you start making changes too early, you'll end up adding variants to your test that skew the results. There'll be no way to know which elements are having a positive affect on site visitors, which are turning them away, and which are not relevant.
In general, a test should run for at least one to two weeks. Don't be tempted to make changes while it's running!
6. Never Stop Testing
Okay, so you've successfully run your first A/B test using Google Optimize. Congratulations!
But don't stop there.
Once you know what works on your website, and what people are looking for once they land on your site, you can start creating new A/B tests to see if you can make things even better. Just be sure to record your results so you can keep track of changes, results, and site data.
To easily keep an eye on your data and look for new testing ideas, use MonsterInsights. Not only will the plugin help you keep an eye on your analytics all in one place, but it'll make form tracking, CTA click tracking, outbound link click tracking, scroll depth tracking, and much more super easy to set up.
Get Started with MonsterInsights Now
And don't worry if your test doesn't produce positive results. That's okay! That's the whole point of testing, to find what works and what doesn't.
And there you have it! You now have some Google Optimize best practices to help you boost your conversions and grow your business.
If you want to run an A/B test that involves 2 separate web pages to see which one converts the highest, be sure to check out how to easily create a redirect test using Google Optimize.
Want to make sure you track all link and button clicks in Analytics? Read How to Track Link Clicks in Google Analytics (Step by Step).
And don't forget to follow us on Twitter, Facebook and YouTube for more helpful reviews, tutorials, and Google Analytics tips.