Are you have a hard time deciding between MonsterInsights vs. Yoast SEO? Both are among the most popular WordPress plugins in the world.
But often, people don't realize they are used for different purposes.
MonsterInsights makes it super easy to use Google Analytics and helps you uncover the data that matters for your business.
On the other hand, Yoast SEO helps you optimize your website for search engines and boost organic traffic.
In this article, we'll compare MonsterInsights vs. Yoast SEO and show you when it's better to use both plugins.
What is Yoast SEO?
Yoast SEO is one of the top SEO plugins for WordPress. It provides a wide range of features and helps you get more traffic from search engines.
You can use it to optimize your blog posts for search engines, write content that's easy to understand, and improve your keyword rankings.
Not only that, but Yoast SEO takes care of a lot of technical SEO in the background, so you don't have to edit code or hire an expert to optimize your website. For example, you can create and submit an XML site map to Google, so the search engine can easily find your content and index them.
Besides that, you can set up redirects on your WordPress site and fix broken URLs. It also offers features to make sure your content appears properly on social media.
Here are some of the benefits of using Yoast SEO:
Create an XML sitemap for Google
Enter SEO title and meta description for blog posts
Add noindex tags to posts and pages
Hide media attachments from Google search results
Get suggestions for improving content
Set up canonical URLs
Enter data to show in Google Knowledge Graph
Enable Breadcrumbs
Optimize your content for the right keywords
Edit your content appearance for social media
…and more
What is MonsterInsights?
MonsterInsights is the best Google Analytics plugin for WordPress.
Over 3 million professionals use MonsterInsights to grow their business with confidence. Some of these include companies like Microsoft, Bloomberg, FedEx, PlayStation, and WPBeginner.
With MonsterInsights installed on your site, you can set up Google Analytics and advanced tracking in just a few clicks. There's no need to edit code, and you don't have to spend several hours learning how to use Google Analytics to find the data you need. The plugin takes care of it for you!
Let's look at some of the features and reasons why you should be using MonsterInsights.
8 Reasons to Use MonsterInsights on Your Site
Let's face it, Google Analytics isn't easy to understand. Even if you spend a week learning how to use the tool, you'll be only scratching the surface and won't be able to use the tool to its full potential.
This is where MonsterInsights comes in handy. It helps you uncover insights about your visitors through its dashboard reports and automatically setting up tracking on your website. You no longer have to rely on best guesses to make business decisions.
Here's why it's important to use MonsterInsights on your WordPress website:
1. Set Up Google Analytics Without Editing Code
When it comes to setting up Google Analytics on your website, you'll have to enter a tracking code. Now, that's simple if you're a developer and know your way around the website code. But for beginners, it can be challenging.
MonsterInsights solves this issue by adding the tracking code to your site's header without the need to touch a single line of code. By following the steps in its setup wizard, you'll be tracking your visitors' behaviors and website performance in an instant.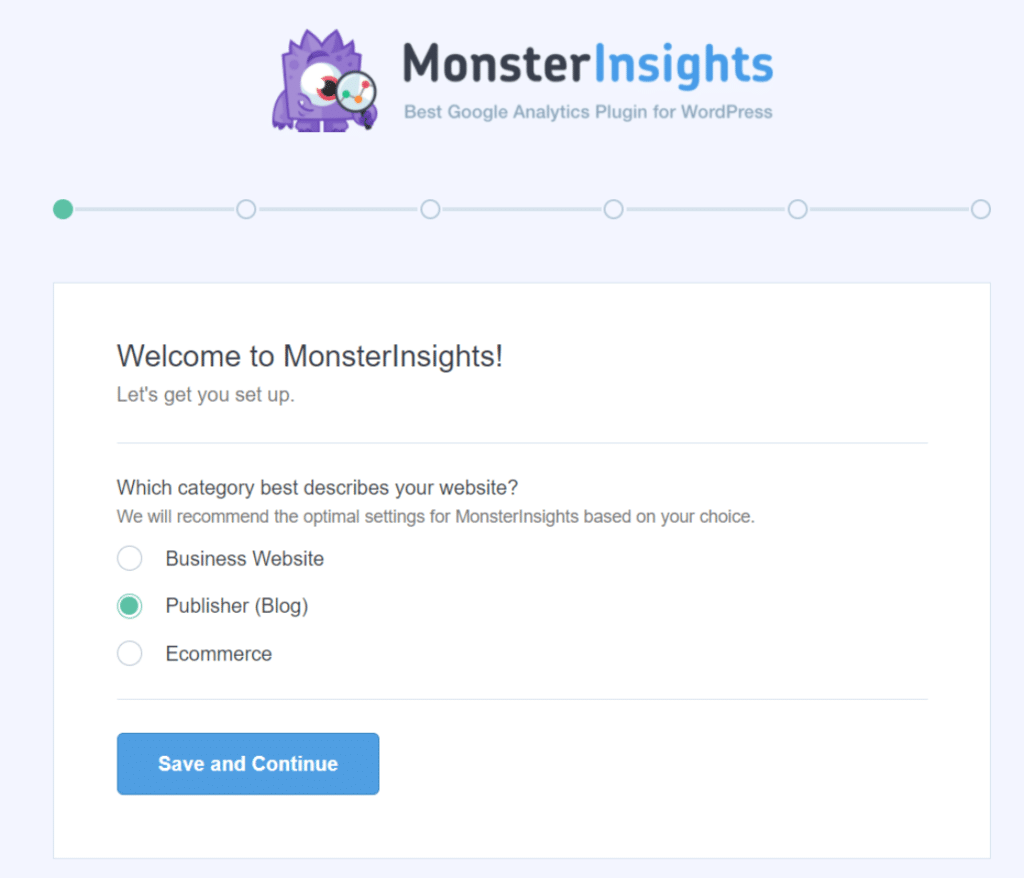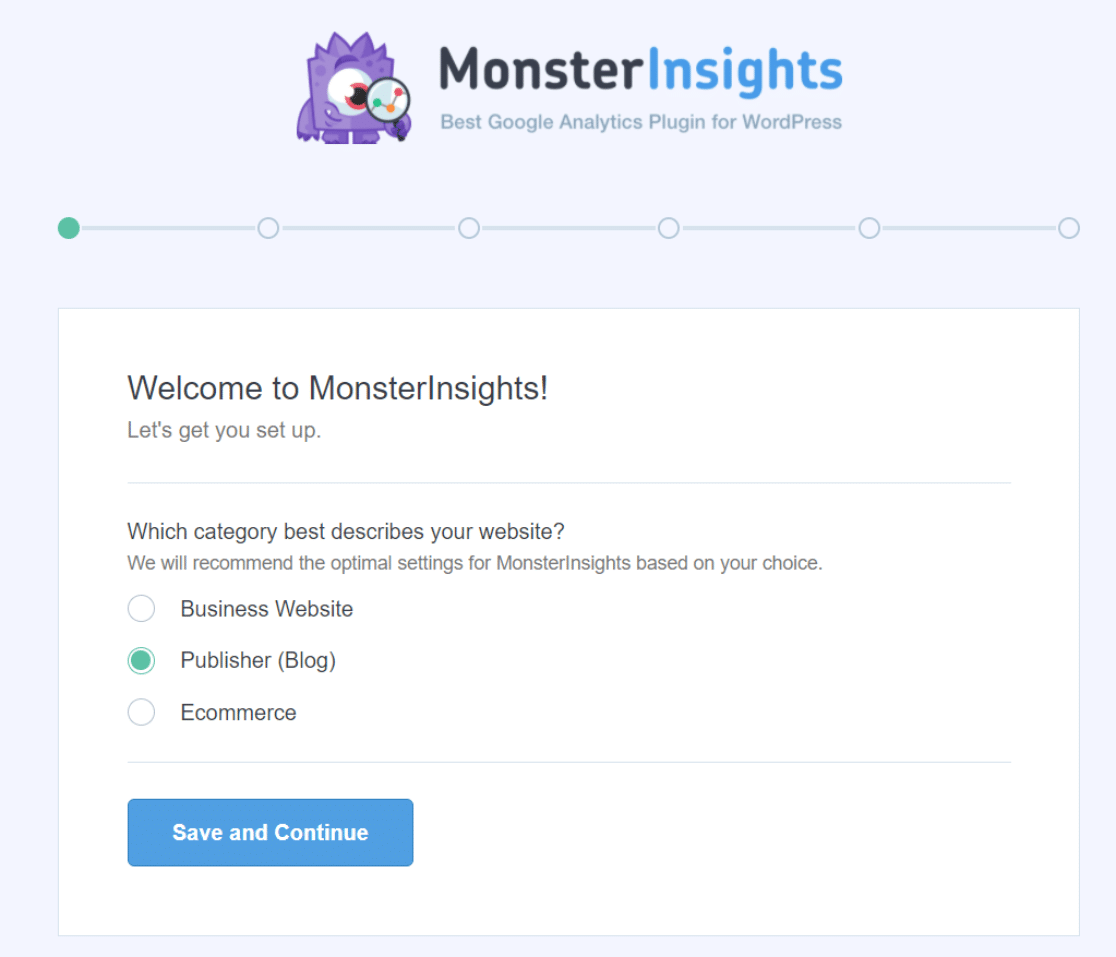 And the best part is that if you decide to update or change the website theme in the future, there's no need to enter the tracking code again. MonsterInsights will take care of it!
Follow our step-by-step tutorial on how to add Google Analytics to your WordPress site.
2. See Google Analytics Data Inside WordPress
Once you've added the tracking code, it's time to look at the data in Google Analytics. While it may sound simple, using Google Analytics can be overwhelming.
That's because you have to dig around multiple reports to find what you're looking for. Most beginners don't even make it this far.
But with MonsterInsights dashboard reports, there's no need to worry about going through different Google Analytics reports. The plugin brings all your important data right inside your WordPress admin area in really easy-to-understand reports.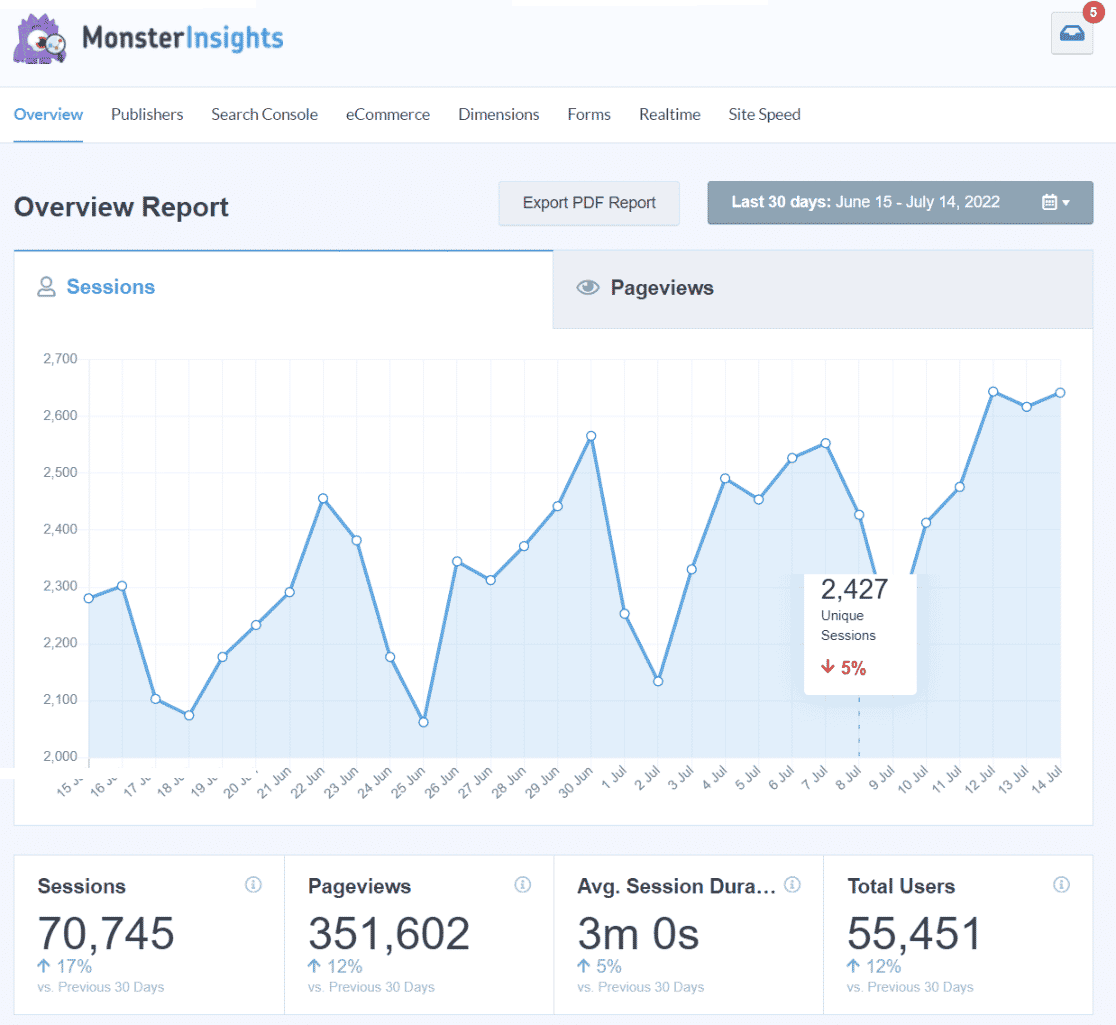 Using MonsterInsights reports, you can see your site's performance, track link clicks, find your most popular content, and much more at a glance, without having to leave your website.
3. Uncover Insights with Custom Dimensions
Another benefit of using MonsterInsights is that you can uncover additional insights about your visitors through custom dimensions.
By setting up custom dimensions, you're able to track metrics that Google Analytics doesn't offer by default. For instance, you can track your most popular authors, best publication time, find out which categories people like the most, and more.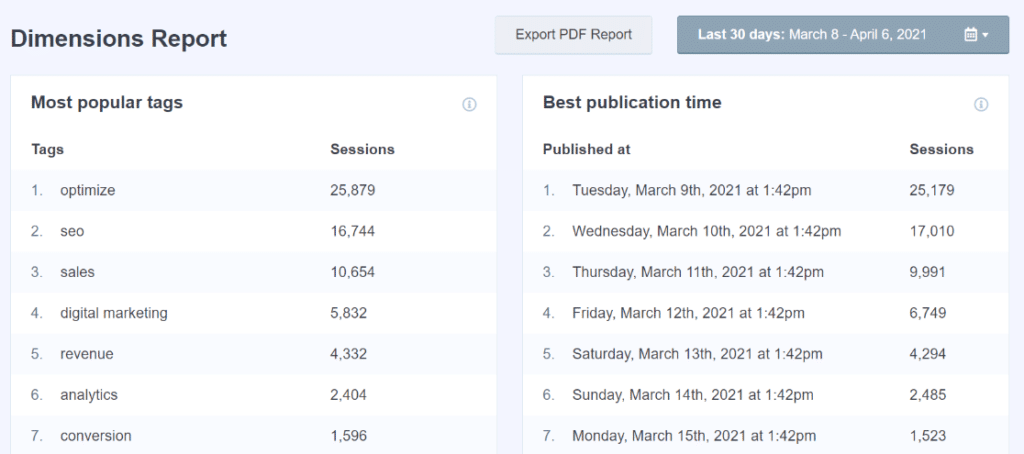 And the best part is that if you're using Yoast SEO on your site, you can track the most popular focus keyphrases and SEO scores in MonsterInsights.
4. Optimize Your Site for the Right Keywords
MonsterInsights can help you see which search terms people use in Google to find your website. By connecting Google Analytics with Google Search Console, you can view your top-performing keywords in Google search results.
And with MonsterInsights Search Console report, you can view them inside your admin area. The report shows the top 50 search terms, their number of clicks, impressions, click-through rate (CTR), and average position.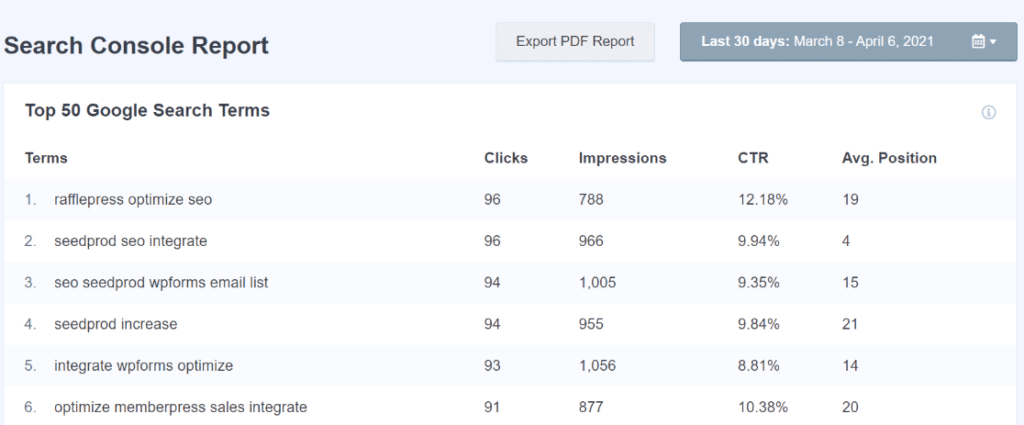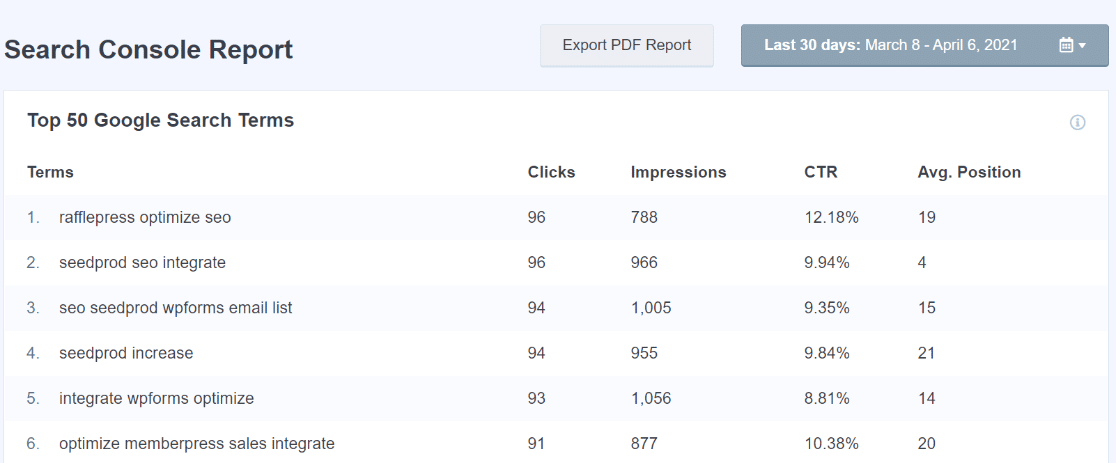 Using the report's data, you can find out which search terms are ranking on the first page on Google and use them to uncover new keyword ideas.
Or you can identify low-hanging fruit and optimize search terms that are close to reaching the top 10 and boost their rankings.
5. Track Form Conversions
Do you know how your forms are performing on your website?
MonsterInsights let you track form conversion and submissions in Google Analytics. Using its Forms addon, the plugin will track all WordPress forms and show their performance insides your WordPress admin area.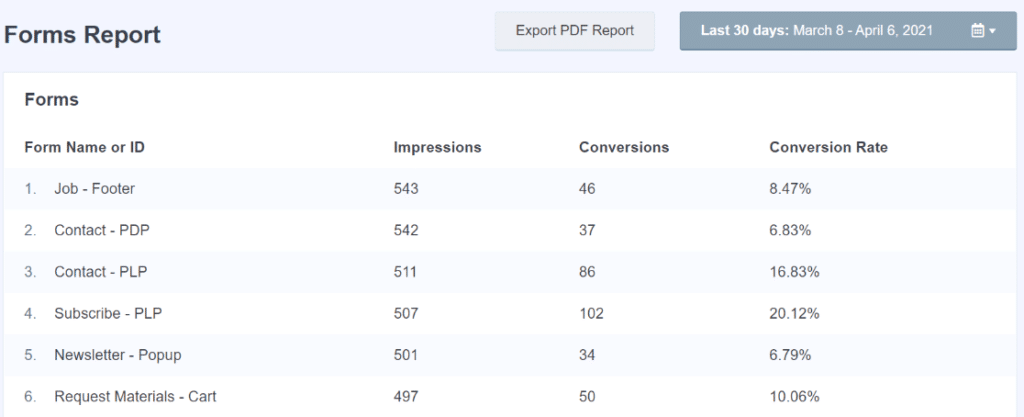 The report shows the number of impressions, conversions, and conversion rates for each form. This helps to identify which forms are converting more and which aren't.
For example, if you're running a lead generation campaign, then the report helps track your marketing campaign's performance by showing the number of form conversions.
6. Enable eCommerce Tracking
MonsterInsights makes it easy to set up eCommerce tracking in WordPress. In just a few clicks, you can track your eCommerce store's performance.
There's no need to pay thousands of dollars to a developer or edit code to track eCommerce in Google Analytics.
All you have to do is use the MonsterInsights eCommerce addon to set up tracking in an instant. And using the eCommerce report, you get to see the conversion rate, transactions, revenue, average order value, top products, and more at a glance.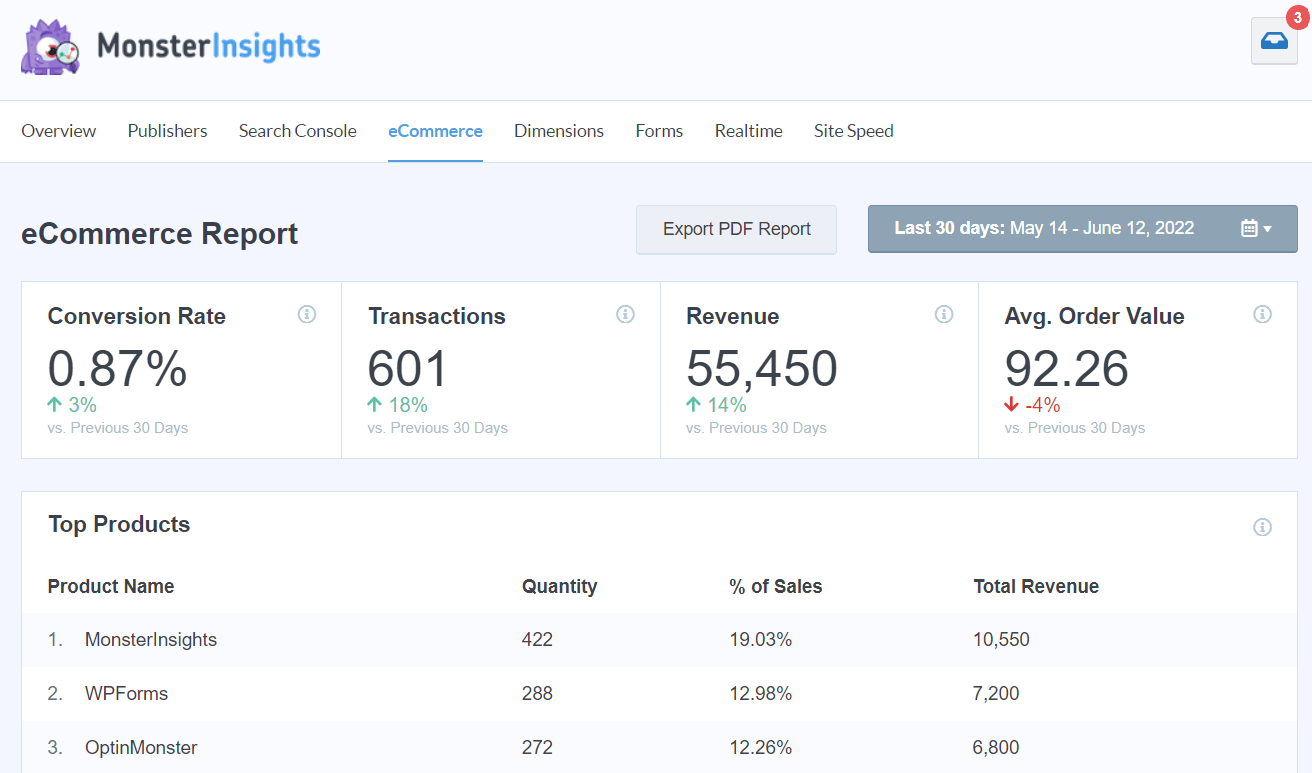 7. Automatically Track Link Clicks
Did you know that tracking link clicks and button clicks are extremely easy with MonsterInsights?
The plugin automatically sets up event tracking in Google Analytics and tracks different links on your website. For instance, you can track…
Affiliate Links – MonsterInsights will track affiliate links right out of the box. Simply define a path and label for the link, and the plugin will take care of the rest.
File Downloads – You can automatically track different file downloads like PDFs, eBooks, documents, spreadsheets, video and audio files, and more with MonsterInsights. It even lets you add different file extensions you want to track.
Outbound Links – If you've got links to other websites in your content, MonsterInsights can track them and show which outbound links people click the most.
Media Clicks – Are your visitors watching your embedded videos? Find out with the MonsterInsights Media addon.
Telephone and Mailto Links – MonsterInsights will track telephone links and email address link clicks in WordPress and show how many times people click on it to reach out to you.
Custom Links – Besides automatic link tracking, you can even track custom links in MonsterInsights.
8. Other of Powerful Addons
Aside from the eCommerce addon and Forms addon, MonsterInsights also offers other powerful addons that help you better understand your website audience.
For instance, if you're worried about complying with data regulations like GDPR, then its EU Compliance addon can come in handy. It automates a lot of the processes and helps you meet the requirements of the privacy regulations.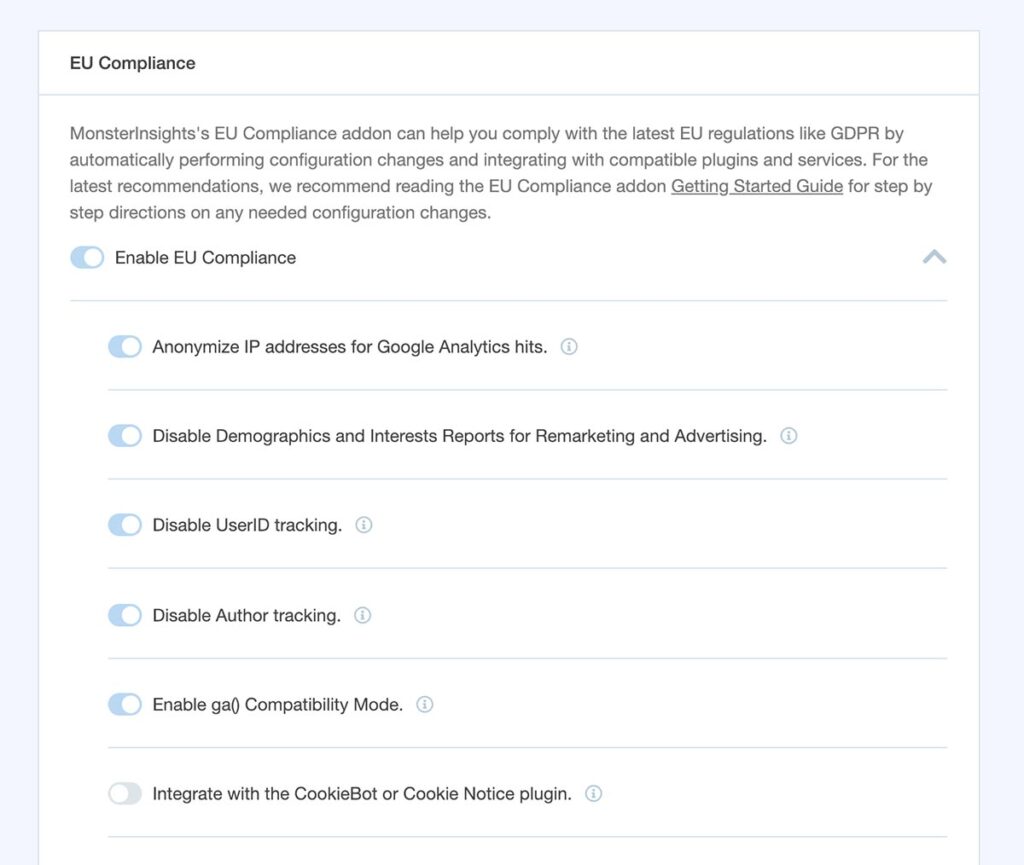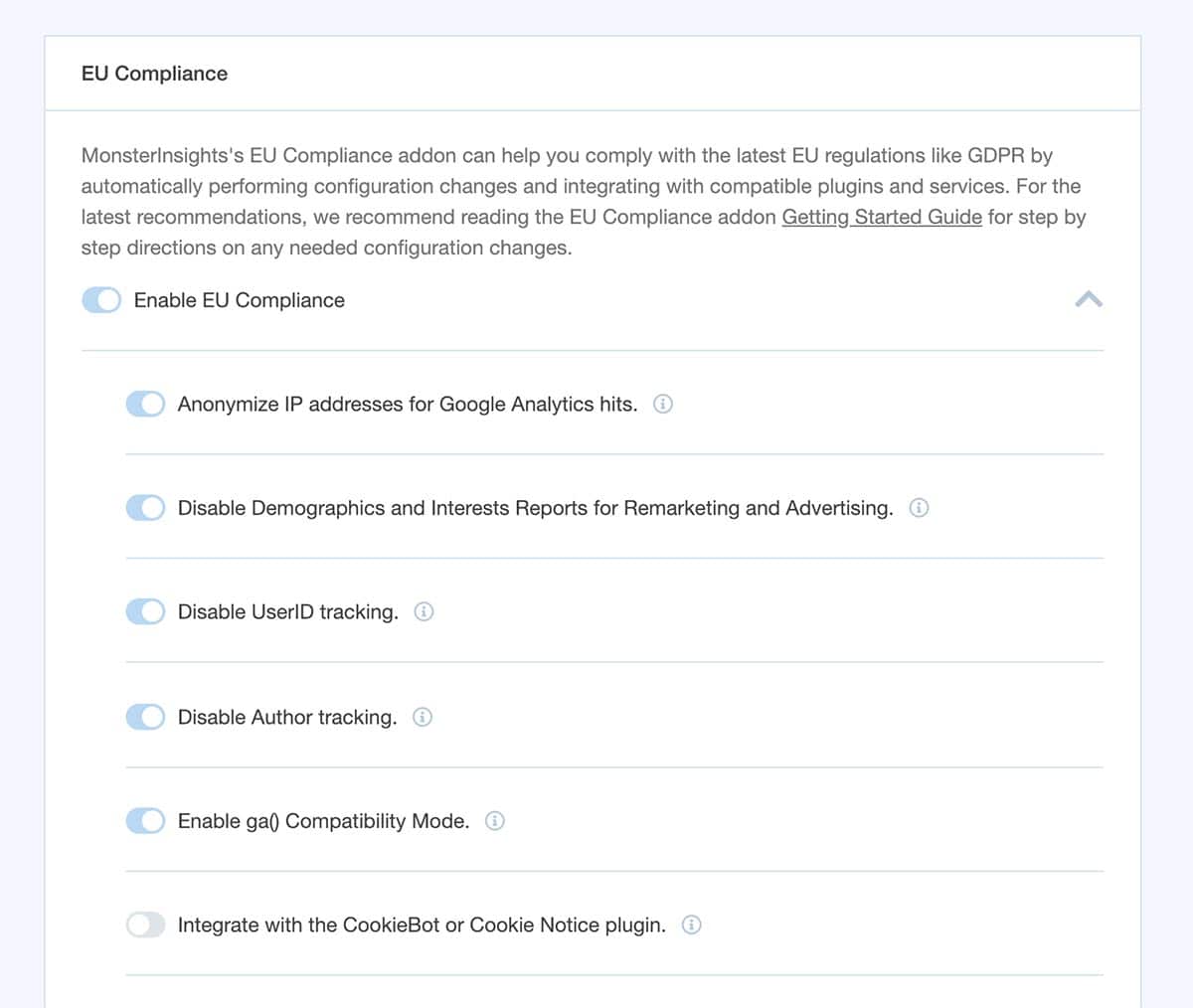 Other than that, you can also see important metrics for each post/page inside your WordPress dashboard with the Page Insights addon.
MonsterInsights vs. Yoast SEO – Which One to Use?
Now that you've gone through the features and benefits offered by MonsterInsights and Yoast SEO, you might be wondering which plugin to choose.
Since both offer different features and benefits, it wouldn't make sense to use one over the other. Therefore, we recommend using both on your website as they reveal interesting insights about your visitors. Or, make sure to also check out AIOSEO as an alternative to Yoast.
And that's it!
We hope you liked our MonsterInsights vs. Yoast SEO comparison. If you found this article helpful, do check out our post on MonsterInsights vs. Google Analytics – What's the Real Difference.
And don't forget to follow us on Twitter, Facebook and YouTube for more helpful reviews, tutorials, and Google Analytics tips.