Are you having trouble listing your site on Google or Bing? If search engines can't find your website, they won't rank your webpages.
But what if we told you there is a way you can help search engines discover your website and index it.
In this article, we'll show you how to submit website to search engines. But before we get to that, let's look at the importance of submitting a website.
Why Do You Need to Submit Website to Search Engines?
Imagine a situation where you spend countless hours performing keyword research, writing great content, and then optimizing it for search engines, only to find out that they can't find the page.
It would be devastating to see all that hard work go down the drain.
Google, Bing, Yahoo, and other search engines are built to discover your website automatically. And they do that through web crawlers, which crawl the internet to find new websites, links leading to existing pages, and then index them into a directory.
But at times, it takes a lot of time for search engines to index your site and show it as search results.
And if your site is new, then it could take weeks or months to see them appear in SERPs (search engine page results) because there aren't many links for the crawler to follow and index a webpage.
This is where manually submitting a website or a page to search engine comes in handy. You're not only helping the search engine to find your website, but you're also helping it figure out which pages are important.
Now, are you ready to learn how to submit a site to Google?
How to Submit a Website to Google?
You can submit your website to Google with just a few steps using Google Search Console. It is a free tool that you can use to see how your website performs on Google search.
With the help of Search Console, you can identify keywords your site is ranking on, fix bugs, view backlinks, the click-through rate (CTR), and submit your site to search engine.
Do note that before using the tool, you'll need to configure Google Search Console with your website.
After setting up Search Console, the next thing you'll need is an XML sitemap. It contains a list of important pages and helps search engines to navigate through your website.
You can follow our step by step guide on how to create a sitemap in WordPress to get started.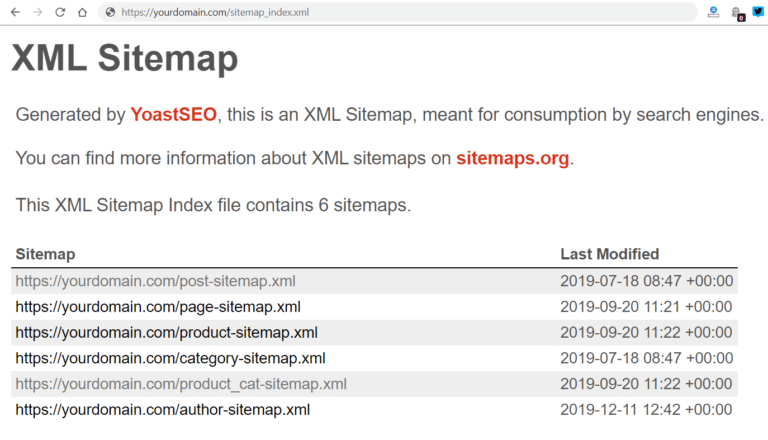 Once your sitemap is up and running, you can check by adding sitemap_index.xml at the end of your domain. Your sitemap URL would look something like this:
https://www.yourdomain.com/sitemap_index.xml
The next step is to submit this URL in Google Search Console. Login using your Google account and then navigate to Sitemaps, which is in the options on your left.
Now, enter the URL of your sitemap and click Submit. And that's it, Google will now crawl your website.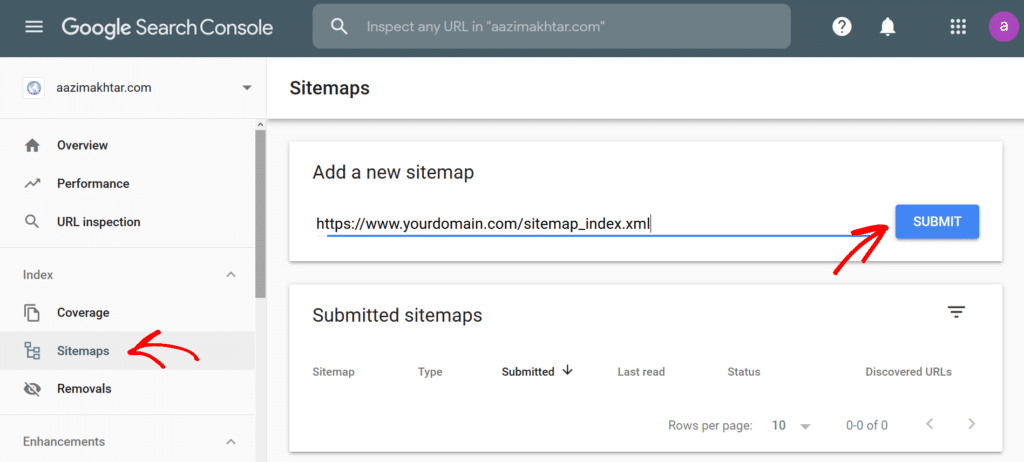 While sitemaps are for your entire website, what if there is an individual page you want to submit to Google?
Using the URL inspection option in Google Search Console, you can see if a specific page is crawled and indexed by the search engine.
Just enter the URL of your page and see it is on Google. If it isn't, then you'll see a notification saying the URL is not on Google. To fix this issue, click Request Indexing and your page will be submitted to Google.

You can even use this tool for submitting existing pages. If you've recently updated the page, you can enter them in the URL inspection feature for indexing the new changes.
How to Submit Website to Bing and Yahoo?
Bing is another popular search engine and allows users to submit websites manually. The process is very simple and straightforward.
Bing offers a webmaster tool that you can use to index any webpage on the search engine.  To use the tool, follow these steps:
Step 1: Log in to Bing Webmaster Tool
Step 2: Enter the URL of your website in My Sites option and click Add.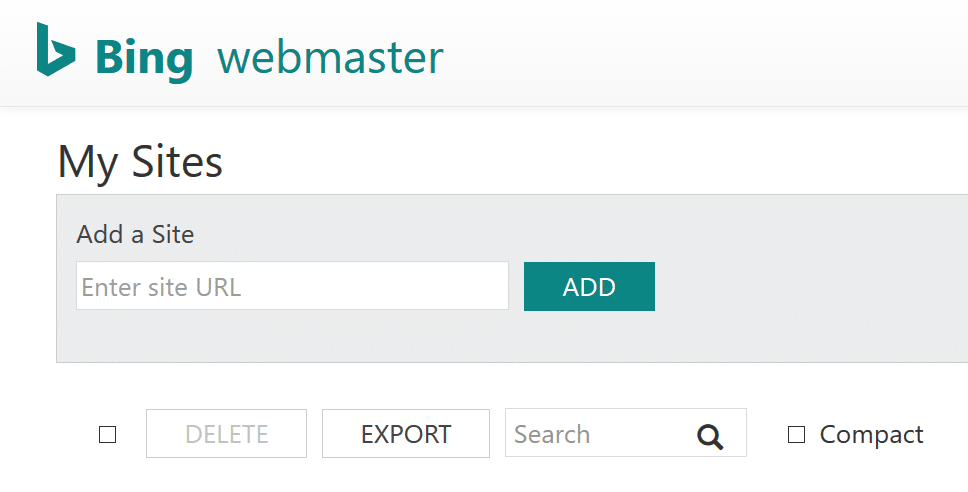 Step 3: Now add the sitemap of your website and select All Day under the option for when do you receive the most traffic to this site.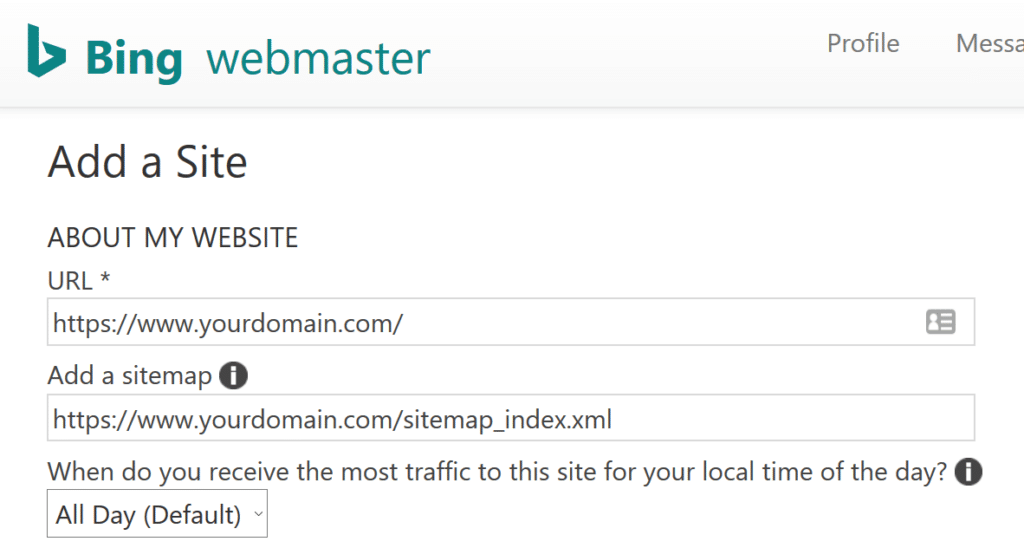 Step 4: Scroll down and enter your personal details like name, email address, job role, company, industry, address, city, country, and more.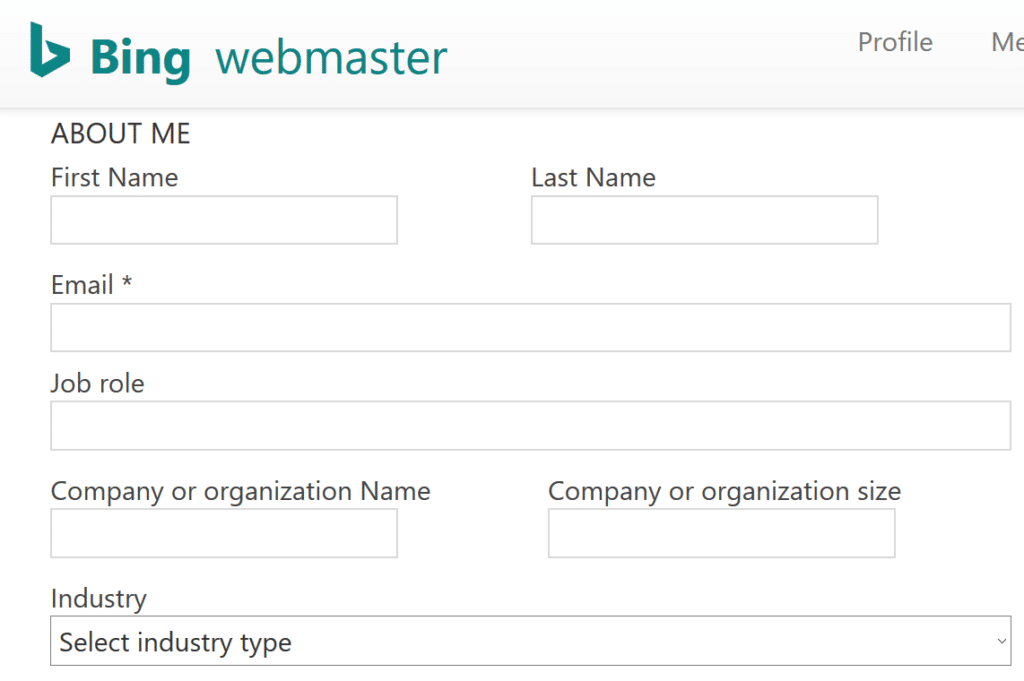 Step 5: Configure your Contact Preference as the search engine will notify you about any issues with crawling, indexing, malware, or sitemaps.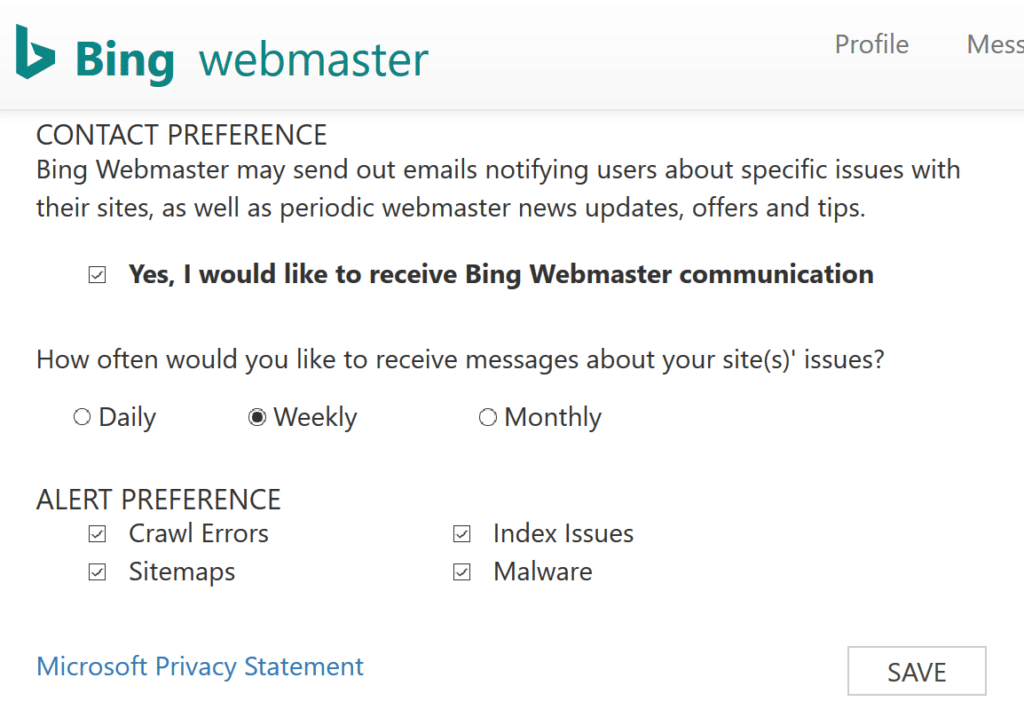 Once you're done, click Save. Your website is now submitted to Bing. And since Yahoo is powered by Bing index, when you submit a site to Bing, you're also submitting it to Yahoo.
How to Submit Your Site to DuckDuckGo?
If you're using DuckDuckGo as a primary search engine for your website or your clients, then sadly there isn't a way to submit your site for indexing.
DuckDuckGo doesn't offer any manual method where you can enter your sitemap or webpage URLs for indexing. It relies on search results from other search engines and then automatically indexes websites.
So, a good practice for crawling and indexing your site on DuckDuckGo is by submitting it on Google and Bing. When it appears on these search engines, DuckDuckGo will then show your site on it's SERPs.
Final Words – Does Indexing Mean Higher Rankings?
With that, you've made it to the end of the tutorial. By submitting a website, you can see quick results for your SEO activities.
You can also view any other errors that might be standing in the way of a search engine and stop it from indexing your pages.
However, do note that by submitting your website for indexing doesn't mean you'll immediately rank in the top 10 search results.
That's why it's important that you satisfy other ranking factors, so search engines like Google can place your page at the top.
We hope you liked our article on how to submit a website to search engines. If you want, you can check out our guide to Google Analytics for publishers.
And don't forget to follow us on Twitter and Facebook for more helpful tips and tricks for boosting your organic traffic.