If you've recently looked for an SEO plugin for WordPress, you probably noticed that All in One SEO (AIOSEO) and Yoast SEO are both very popular. At first glance, they seem really similar. So how can you choose which one is best for your site? If you pit All in One SEO vs Yoast, which one wins?
To help you make that choice, we're going to compare both of these top SEO plugins right now. We'll take a look at how easy they are to set up and use, their features, prices, and more so that you can make the right decision.
All in One SEO vs Yoast: A Comparison
We'll compare AIOSEO vs Yoast in the following categories:
We'll compare the free versions of the plugins for the first three categories, but then we'll take a look at the Pro versions for additional features and pricing.
Let's dive in.
Ease of Setup
Setting up a plugin with a lot of features can sometimes be pretty difficult and time-consuming. If the plugin is a good one, though, it should be easy.
Let's look at setup for All in One SEO first.
When you first install AIOSEO, you're presented with the option to go through their setup wizard, watch a video about how to set it up, and/or view a written setup guide: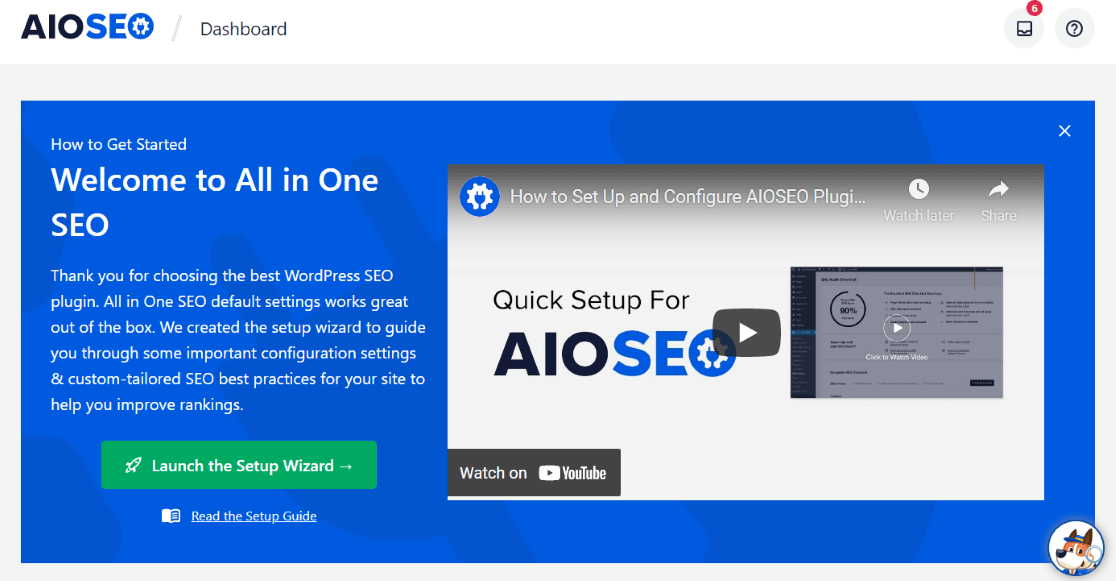 The Setup Wizard walks you through all the steps you should take first when setting up your site for SEO success: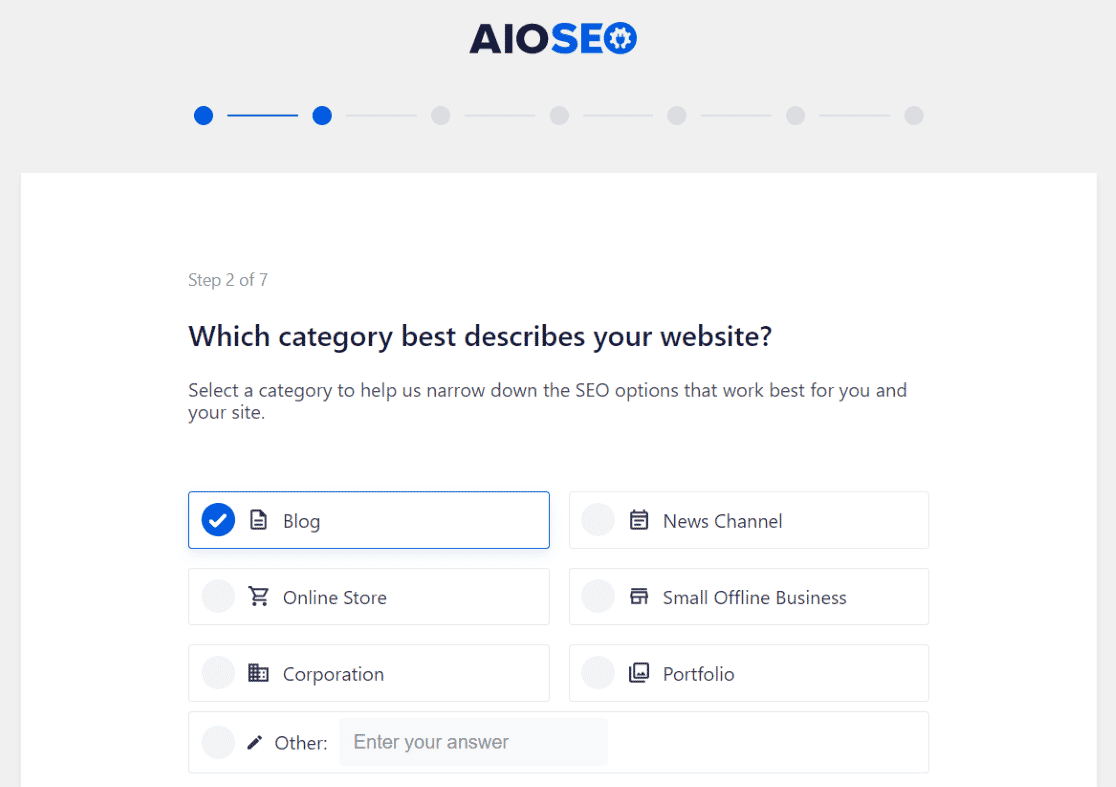 Through the wizard you'll go through:
Importing data from another SEO plugin, like Yoast (autodetected)
Choosing your site's category
Writing your home page's title and meta description
Choosing whether you're a person or organization and uploading any logos
Choosing a default social sharing image
Adding links to your social media profiles
Turning on any extra features you want beyond an optimized search appearance and sitemaps
Choosing whether or not you want your site indexed right away, and if a sitemap should be generated
Choosing whether you want SEO recommendations sent to your email address
Entering your license key if you've decided to purchase AIOSEO Pro
Once you've gone through the wizard, you're set up with the basic SEO settings for your site and ready to begin optimizing your pages and posts.
Now, let's look at setup for Yoast.
When you first install Yoast SEO, you'll get a message about going through the Yoast SEO first-time configuration:

Instead of an immersive setup experience like AIOSEO, you'll just be navigated through a few steps in your WordPress admin: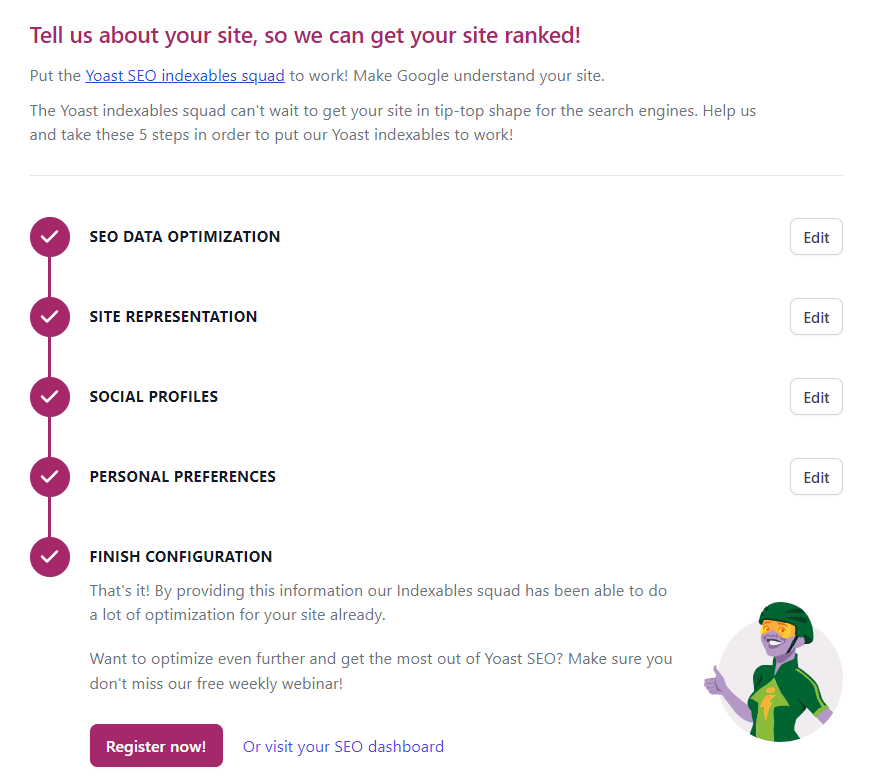 You'll go through similar setup steps to AIOSEO, including:
Choosing whether you're a person or organization and uploading any logos
Connecting social profiles
Whether you want Yoast to collect data and send you emails
Yoast also runs your site through something called SEO Data Optimization, which they describe as: "Our indexables will immediately improve technical issues without you needing to do anything!". In short, they'll store your metadata in a separate database to help speed up your site and help Google crawl it.
So, while both plugins help you get set up, AIOSEO does take you through a few more steps (like setting up your home page title and description) and shows you a list of the features you might like to have if you're ready to pay for Pro.
Ease of Use
Both plugins are similar in terms of how easy they are to use. Both have a navigation in the WordPress sidebar with tabs inside the plugin.
For example, here's what Yoast's Search Appearance settings looks like: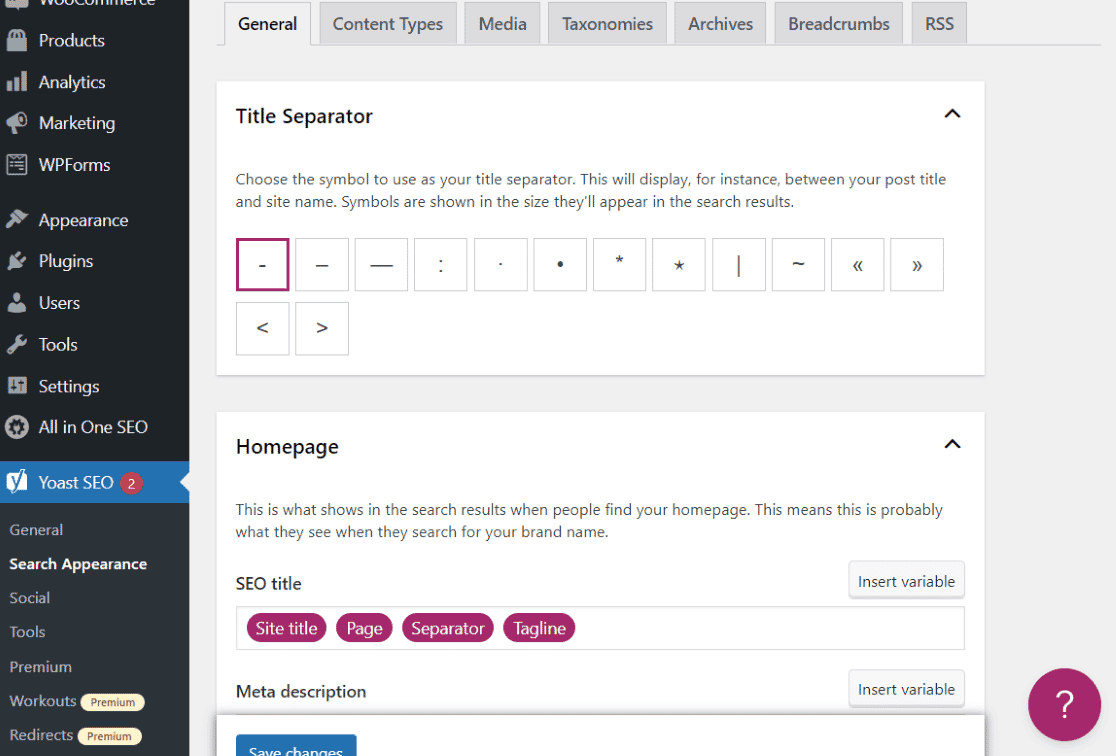 And here's AIOSEO's Search Appearance settings: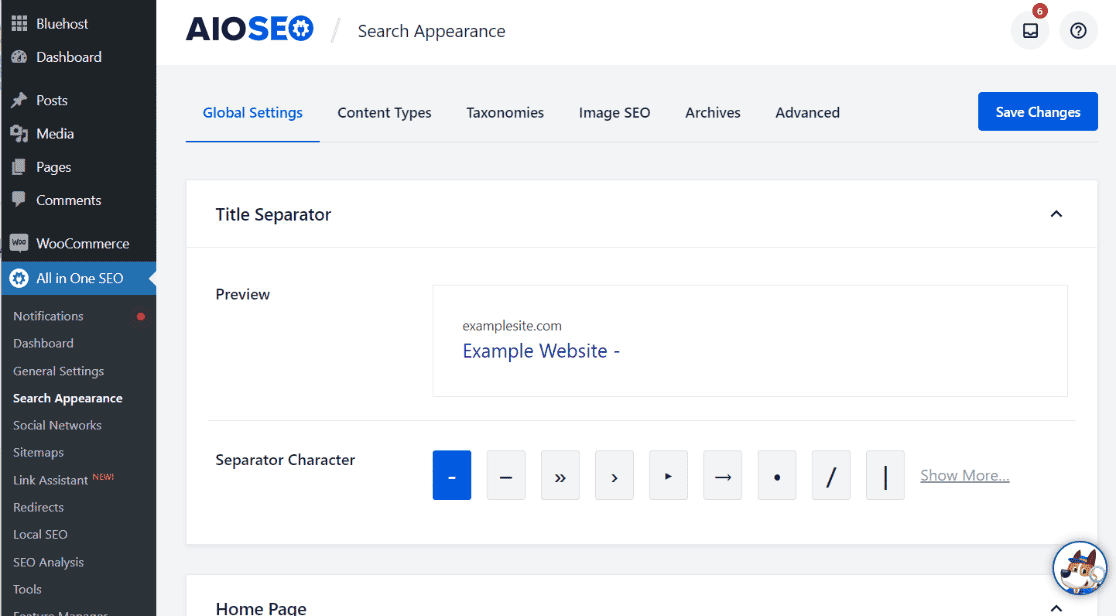 So, they're both pretty similar in terms of how easy they are to navigate and use, with tabs and ways to edit your settings.
On-page Optimization
The on-page optimization portions of these plugins is what you'll be using on a day-in and day-out basis as you publish content, so it's definitely an important feature to check out.
Let's look at Yoast's on-page optimization features first.
First, you'll see 4 tabs: SEO, Readability, Schema, and Social. The SEO and Readability tabs give you a rating based on your overall score for your content. It'll be either green, yellow, or red.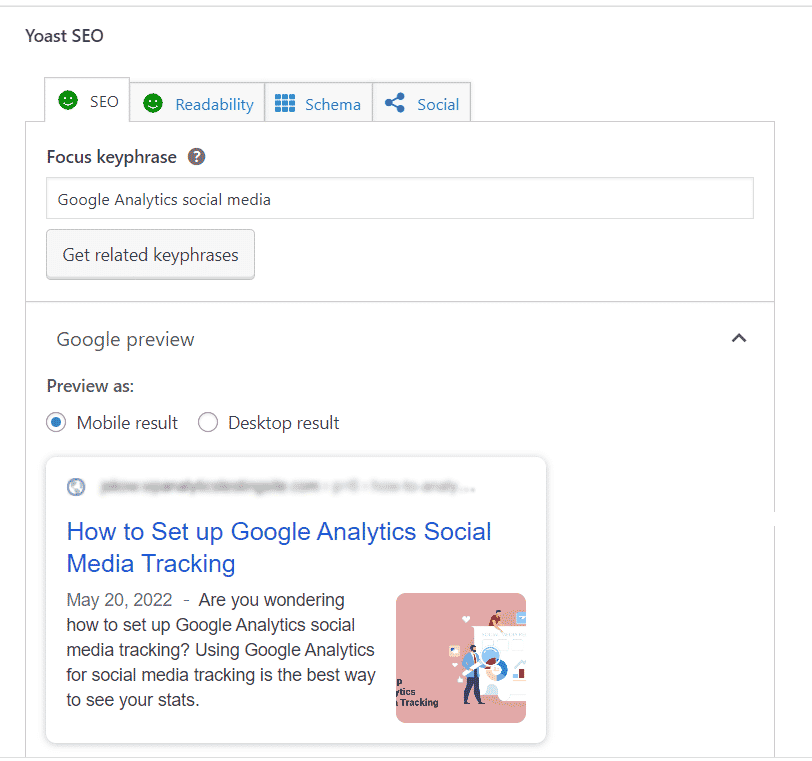 Below the Google snippet preview, you'll be able to edit your title and meta description: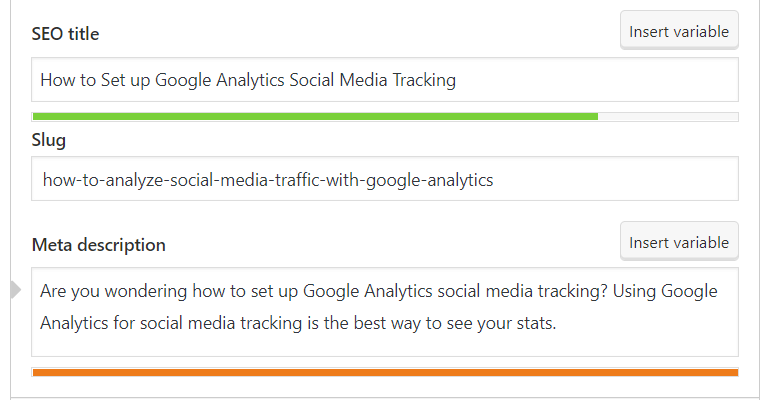 Once you get those filled out, expand the SEO Analysis box to get suggestions to improve your content: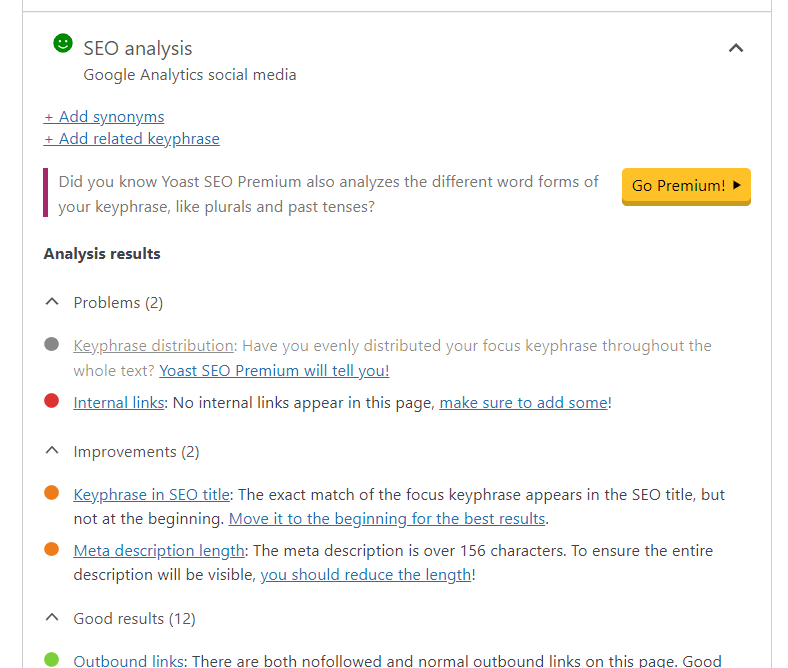 In the schema tab, you can choose your schema type from the list, if applicable: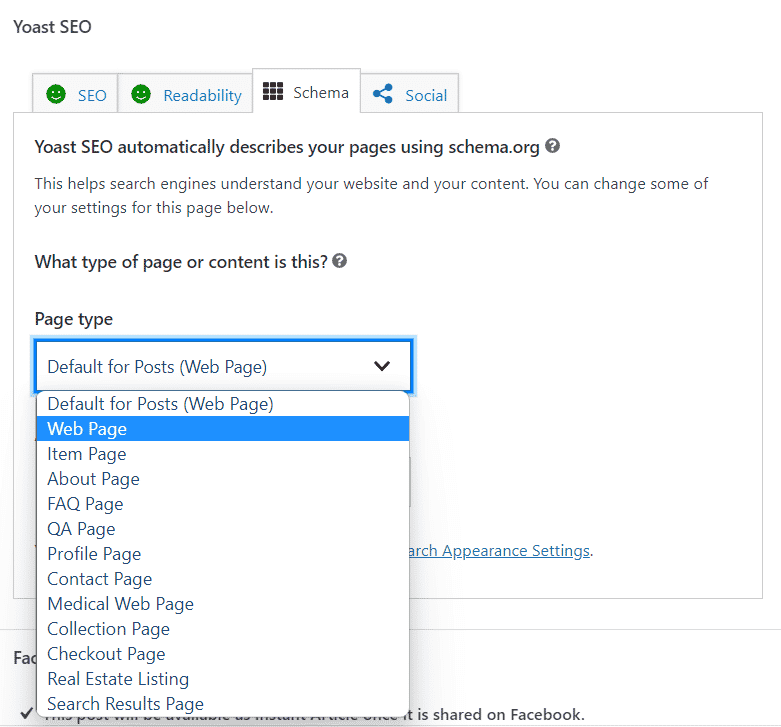 And in the social tab, you can choose your Facebook sharing title, image, and description, and your Twitter sharing title, image, and description.
While the green smiley face indicates we've done a good job with our SEO and readability, it makes us feel like we don't need to look at improvements, then, since the light is green. Otherwise, this section is pretty easy to use and understand. The links within the suggestions are a nice touch.
Now we'll check out AIOSEO's on-page optimization features.
This is, in our opinion, where AIOSEO shines over Yoast (besides its extra features, which we'll get to in a moment). It starts out similarly, with setting up your title, meta description, and focus keyphrase.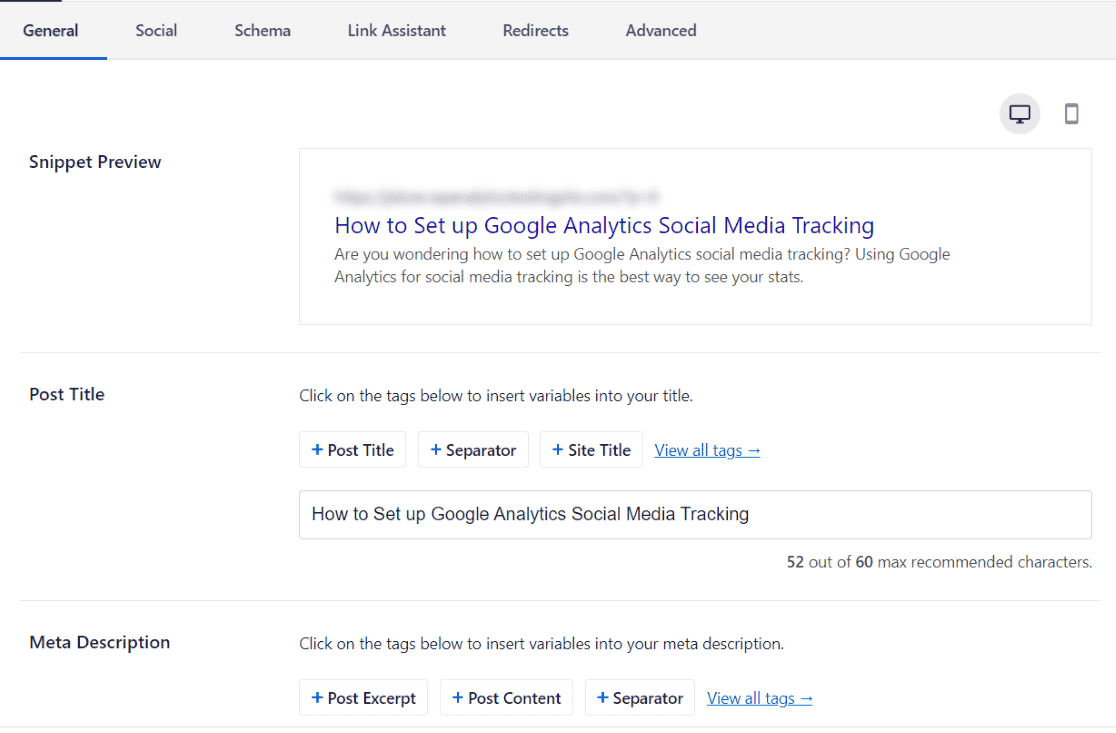 Then, your on-page SEO suggestions are broken down into two sections: focus keyphrase suggestions and overall page suggestions. You'll see in our focus keyphrase suggestions screenshot that, instead of getting just a colored happy face, you get a score that gives you a better idea of how many improvements you'll be able to make: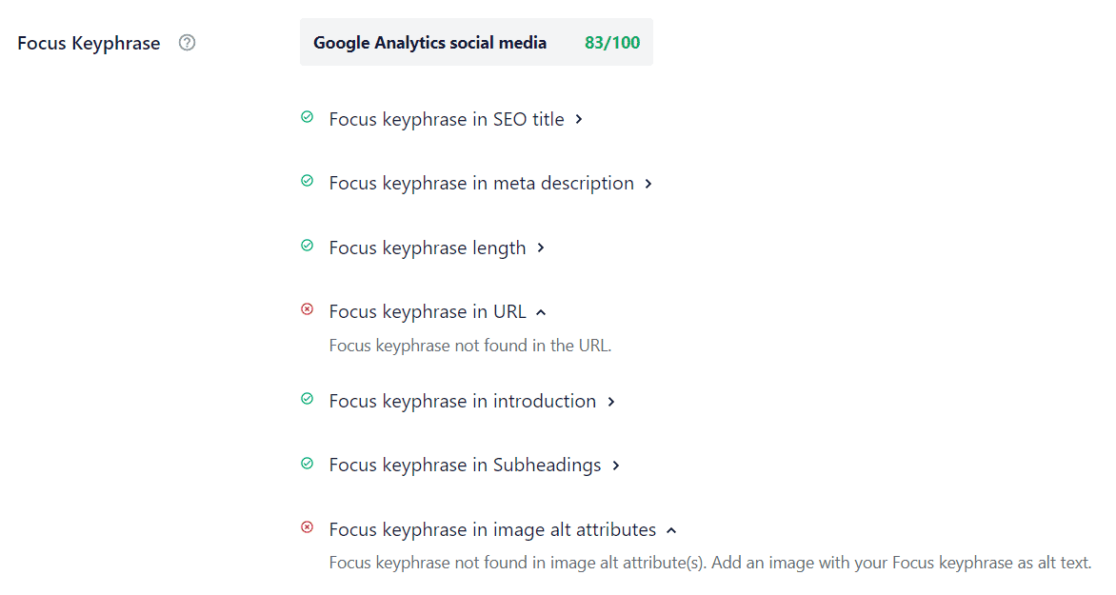 We like this approach because it helps you see more clearly how much you can improve. We also like AIOSEO's notification area above the page/post settings, because it shows your overall numerical score instead of a green, yellow, or red light like Yoast: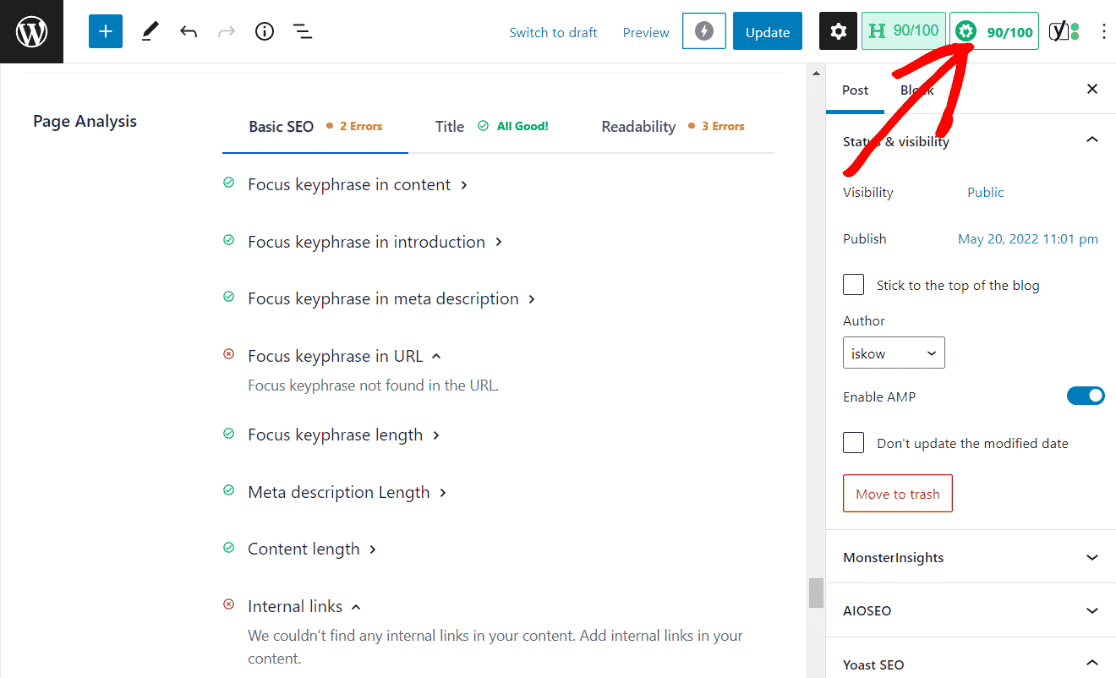 AIOSEO also has Social and Schema tabs, where you can preview and change how your post will look when shared and choose any Schema you need to add. However, AIOSEO's Schema tool is for Pro users only.
Additional Features
Now, let's take a look at some of the additional features you'll get if you pay for the pro version of Yoast or All in One SEO.
Yoast's Pro features include:
Access to Yoast's SEO Workouts – programs that walk you through fixing internal links and other critical SEO things
Internal linking tools
Redirect manager
Extra structured data support
Google and social media sharing previews
AIOSEO's Pro features include:
Can Yoast create a video sitemap or a news sitemap, or help with WooCommerce SEO? Yes, but each of those is a separate plugin with a separate cost.
Pricing
The free versions of both plugins are pretty comparable in terms of which features you get. but they differ when it comes to pricing for pro features.
Yoast's Premium version is priced at $99 for one year.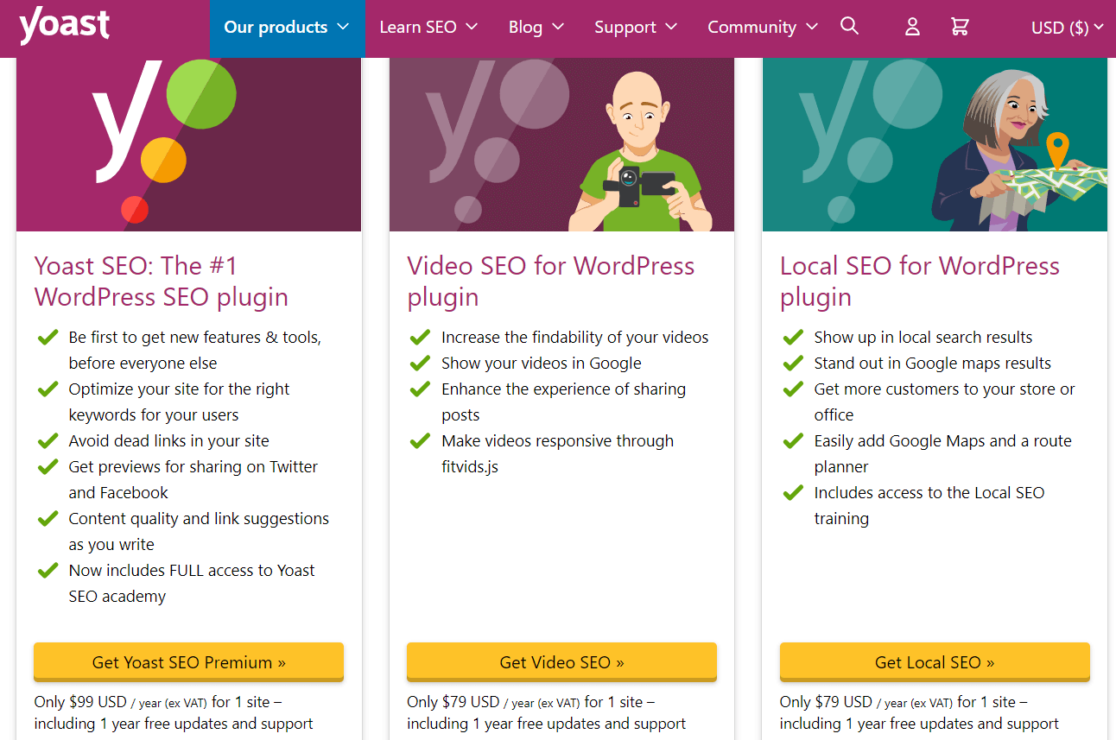 Then, depending on any other features you need, you can grab the appropriate extra plugin. Each of the add-on plugins are $79 per year: video SEO, local SEO, WooCommerce SEO, and news SEO. You do not need Yoast Premium to use any of the add-on plugins. If you do want it, though, you can get any of the add-ons plus Premium in a bundle for $145 per year.
All in One SEO's pricing is more straightforward, with 4 different pricing levels. Each level adds access to more tools and features.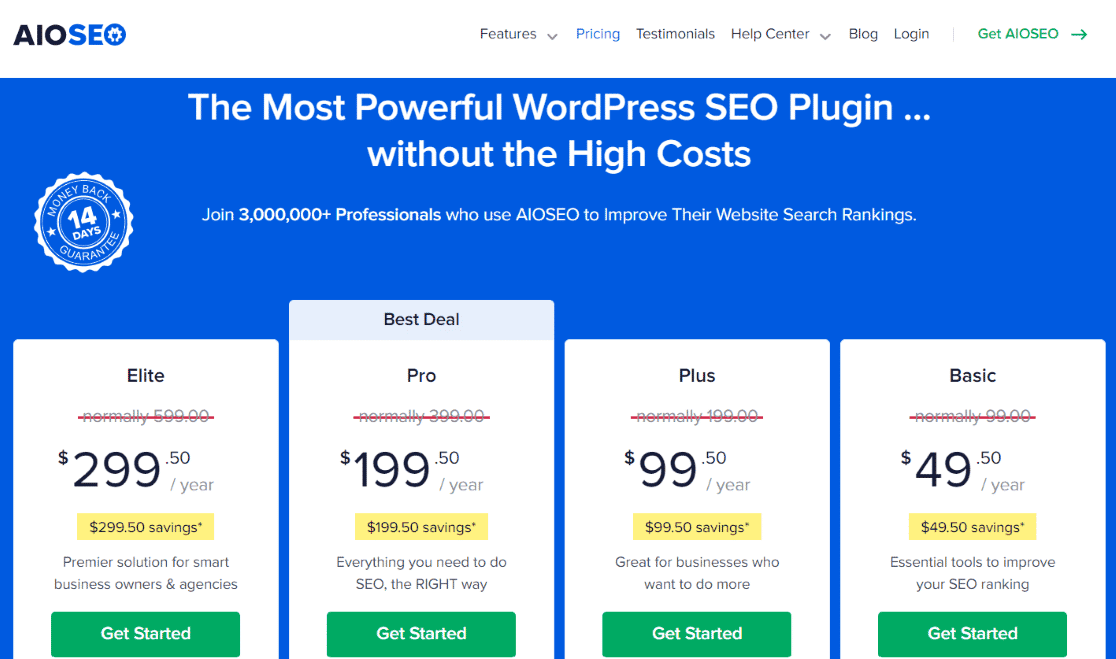 The Basic plan is $49 for one year and includes all the base features plus a few extras like WooCommerce SEO, TruSEO analysis, and smart schema markup. The Plus plan is $99 per year and adds the local SEO module and the image SEO module. The Pro plan is $199 per year and adds the redirection manager, video sitemap, priority support, a news sitemap, and the Internal Link Assistant tool. The last level, Elite, is for agencies and owners of up to 100 sites.
Conclusion: Which is Better, AIOSEO or Yoast?
While the right plugin for you will always depend on your needs and budget, in a head-to-head comparison, All in One SEO is better than Yoast.
We like AIOSEO's SEO score that includes a number, rather than just a green light. Their Internal Link Assistant tool is also more robust that Yoast's internal link "workout" that you can go through to build some links. The plugin looks more new and modern in WordPress, and although it has tons of features, it's not a bloated plugin.
Get started with AIOSEO now! Or, give the free version a try.
That's it! We hope you learned about Yoast and AIOSEO and were able to choose the right SEO plugin for your site.
If you liked this article, we think you'd also be interested in reading The Biggest WordPress SEO Mistakes + How to Avoid Them.
Not using MonsterInsights yet? What are you waiting for?
Don't forget to follow us on Twitter, Facebook and YouTube for helpful Google Analytics tips, best plugin lists, reviews, and more.