Are you having trouble writing eye-catching SEO title tags for your website? Before a user clicks on your link, the first thing they'll notice is your SEO page title.
That's why creating good title tags is important for any website. It not only gets people to click on your page, but also sends a positive signal to search engines, making it essential for SEO.
In this article, we'll show how to create a killer SEO title tag. We'll go over some of the best practices that you can follow to make SEO title writing easier. We'll also look at a few examples.
What is an SEO Title Tag?
A title tag is an HTML element that defines the title of your page to search engines and users. It appears on search engine result pages (SERPs) as clickable links and as headlines when you share your post on social media.
Here's an SEO title tag example: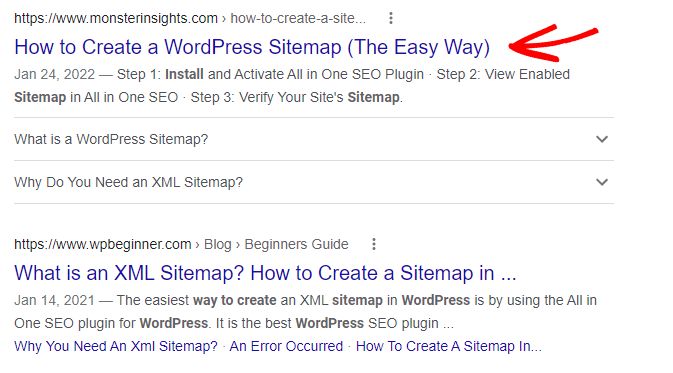 Your title tag is the first thing that will catch the eye of searchers, in Google or any search engine. It provides users a quick look at what they can expect from your page. So, it's important to grab their attention and get them to click on your link.
Title tags also play a significant role in SEO and help you rank higher.
Why are Title Tags Important for SEO?
If you can get your title tags right, you'll increase your click-through rate (CTR). And high CTR can help with higher rankings.
Among the 200 ranking factors of Google, one of them is CTR. The search engine will improve the ranking of a page for a particular keyword if it's getting more clicks in the SERPs.
The second reason why SEO titles are necessary is that they tell search engines what the page is about. By including a keyword in the title tag, you're telling Google the topic of your content.
A focus keyword in your title also helps to catch users' attention. It tells them that your page is about exactly what they're looking for.
The third reason for title tags being crucial for SEO is that different websites and social media networks will use them as headlines if your posts and pages are shared there.
Title Tag vs H1: What's the Difference?
Now, most people confuse title tags with H1 tags because the title on your page will often be an H1, but it's not the SEO title tag.
It's a common practice across industries to keep them similar as it provides consistency. It reduces the chances of any confusion when a user clicks on the result in the search engine and views the same title right there on your page.
However, there is a difference between title tags and H1 tags.
Title tags are shown in search engine results and at the top of the browser tab.

You can also view title tags in the source page of any website. They can be found in the head section and they look like this:

On the other hand, the H1 is the main heading you would see on the page: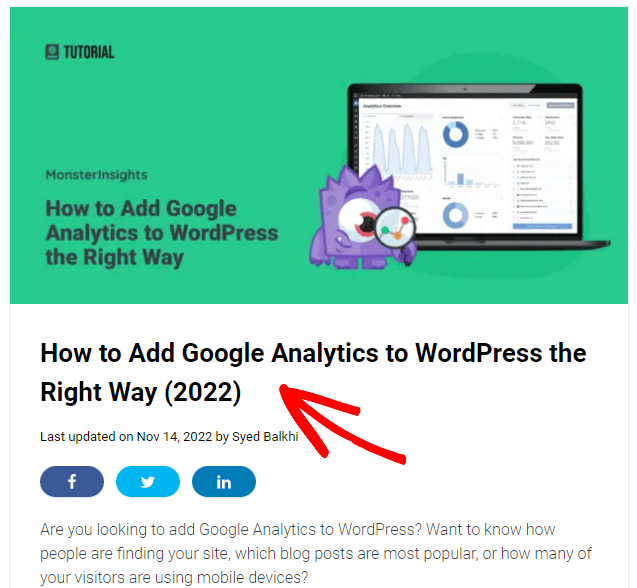 Are you ready to create killer title tags? Follow these best practices.
Best Practices for Creating an SEO Title Tag
Many website owners find it difficult to come up with attention-grabbing title tags. But with these tips, you can master the art of creating appealing titles.
1. Place Your Focus Keyword at the Start
The first best practice is to place your focus keyword near the beginning of the title tag. That's because it helps in getting your users' attention when they scan search results looking for a solution to their search query.
Most people are just skimming search results. So, if you add your focus keyword at the start, the first thing users will notice is the keyword. As a result, it will increase your chances of getting a click.
2. Match the Search Intent in Your Titles
Including a keyword in the title tag used to be an important ranking factor for Google, but that has changed over time.
Now, it's vital to get the search intent right, and SEO titles to play a huge role in that.
Search intent or keyword intent is what searchers really want. Are they looking for information about a product? Do they want to visit a website? Or do they want to buy the product?
Getting the search intent of your content right is essential if you want to rank high on Google. And you can start to get the intent right with your titles.
To understand what the keyword intent is for your focus keyword, enter the term on Google and look at the results on the first page. You'll see a pattern on how the titles are written and what they're about, and then you can write your SEO title tags the same way.
For instance, if you search for the best laptops for students on Google, the top results will have a buying intent. The titles for each result match that intent.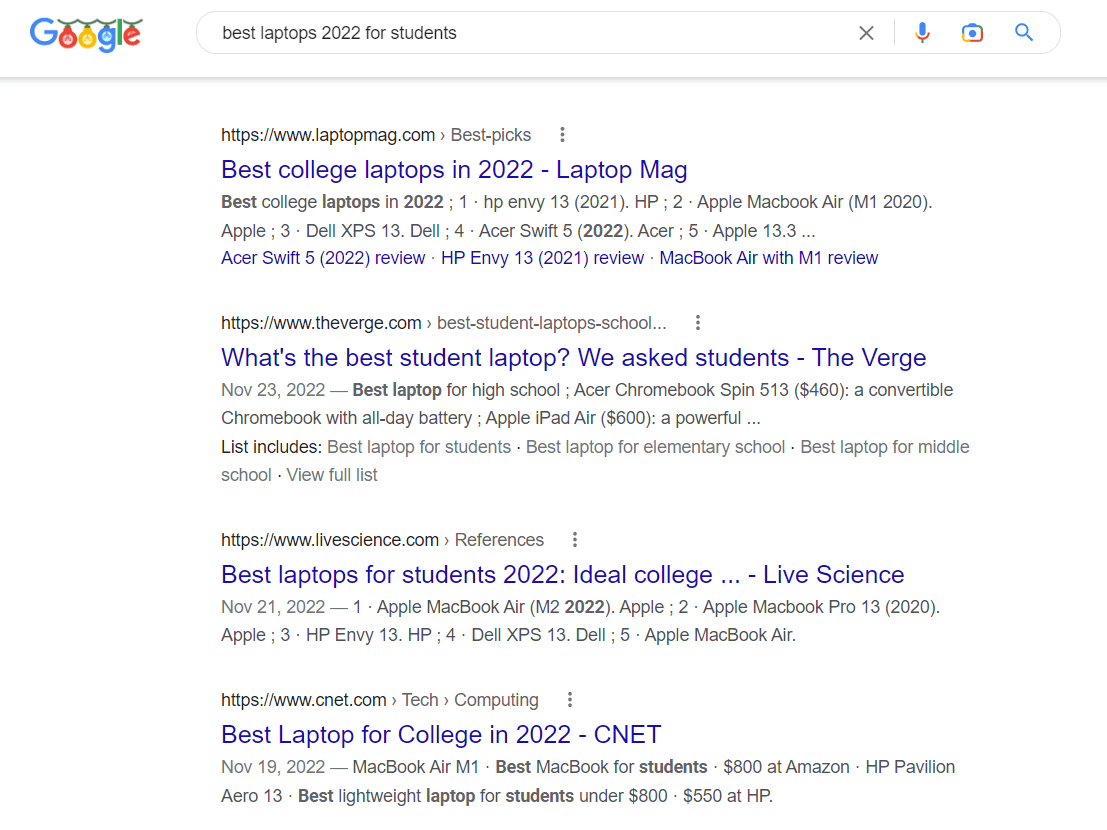 Another way of looking at the intent is through SEO plugins and tools. These tools will show you the top SERPs for any keyword. You can then use them to craft your own title tags with the same intent.
3. Use Power Words to Add Emotions
Once you've got your focus keyword and understood its intent, you can use power words in your title tags to trigger emotions and stand out from others.
Power words use psychological responses to makes your titles irresistible for users. You can add words like bargain, frenzy, giveaway, or skyrocket to capture greed.
Similarly, if you want to spark curiosity then you can use words like astonishing, interesting, strange, and unexplained.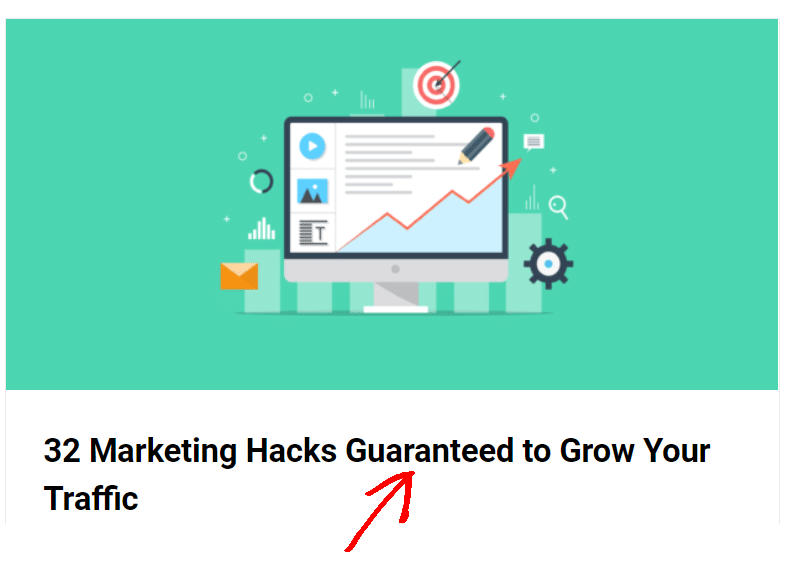 And if you want to establish trust then words like ensured, authentic, guaranteed, and certified work well in title tags.
To test your titles and find out if they pass the test, use the MonsterInsights Headline Analyzer.
For more on power words, check out 700+ Power Words That Will Boost Your Conversions.
4. Keep Your Title Tags within 60 Characters
When it comes to writing your SEO headlines, we often come across a question – how long should a title tag be for SEO?
One of the best practices for creating a title tag is to keep it within 60 characters (with space), so search engines don't cut it off from the end.
If you do exceed the length, then the search engine will use an ellipsis (…) at the end. This could make your titles sound incomplete or it could overlook valuable information.
The exact length of titles is usually described in pixels and is generally within 600 pixels. But with different letters taking up different pixel space, it's recommended that you keep your titles to 50 to 60 characters at max.
5. Create Unique Titles for Each Page
Since you'll have many pages on your website, it's important to create unique titles for each page to differentiate them from each other.
Unique titles help you avoid any confusion of duplicate content between you and the search engine. By giving each page a different title tag, you're helping Google give it a relevant name on SERPs.
It also helps with the user experience of your site, especially if you have an eCommerce store. Different titles provide better navigation to visitors, as they can find different products and services on your website.
How to Measure Your SEO Title Tags
Now that you know some of the best practices for creating an enticing title, how do you know will it work or not?
This is where MonsterInsights can help you out!
With its headline analyzer tool, you can get instant feedback and data to improve your SEO title tags. And the best part is that you don't have to leave your website. That's because you can test your title inside your WordPress editor.
When you enter a title, just hit the headline analyzer button. It will show you a score on a scale of 1 – 100 for your title.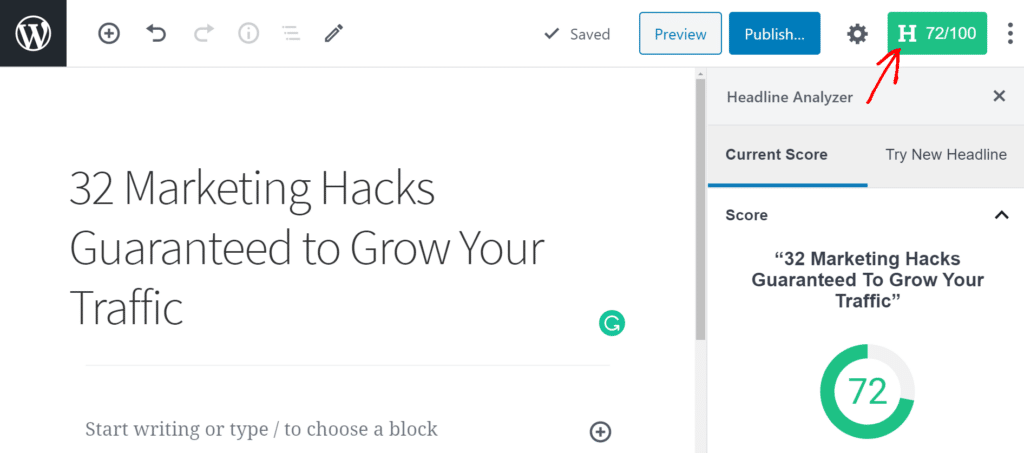 Next, scroll down and look at Can Be Improved section. Here the tool looks for power words and emotion words in your copy. Like we mentioned earlier, it's a good practice to include words that trigger an emotional response.
With the headline analyzer tool, you can look for these words and add them if they're missing.
And since SEO titles have to be within character limits, the tool checks for character count and word count.
You can then use the feedback to see if your headline doesn't exceed the limit. Otherwise, search engines might truncate them.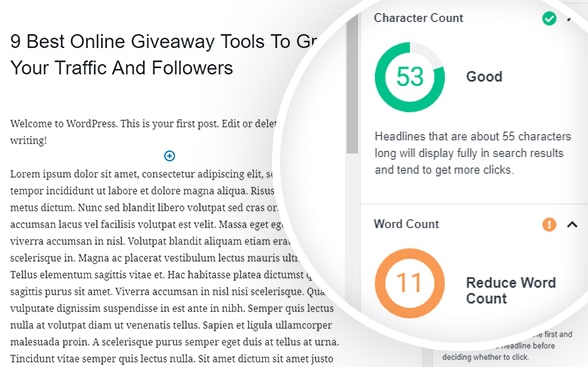 To get hold of the Headline Analyzer tool, make sure you have a MonsterInsights Plus or higher license.
And that's it for this post!
Using the best practices described in this post, you can come up with attractive headlines and help boost your traffic.
We hope you liked our article on how to create a killer title tag for SEO. You can also go through our guide on the Top 11 Important Google Analytics Metrics to Track.
And don't forget to follow us on Twitter, Facebook and YouTube for more helpful Google Analytics tips.