Do you want to learn how to modify your WordPress search results page?
Using a WordPress custom search results page helps your visitors easily navigate your site to find what they're looking for. This leads to more conversions and a better user experience for your customers!
In this article, we'll show you how to easily customize your search results page in WordPress without touching a single line of code.
Before we dive in…
Why Modify Your Search Results Page in WordPress?
Every WordPress website includes a default search feature. The problem is that it's not very good. It'll often return no results even when there are multiple matches that would answer the visitor's search query.
It's also slow, requires a page load, and can hurt your WordPress website's speed if multiple users are searching at once. There has to be a better way…
Luckily, there is! We'll show you the easiest way to customize your WordPress search results page to achieve a faster search feature with more helpful search page results and a better user experience.
Ready to learn how? Let's get started.
How to Edit Your WordPress Search Results Page
We'll show you how to change the search feature on your WordPress website, along with some of the best search customizations you'll want to start using on your site today.
Step 1: Install SearchWP
With powerful, easy-to-use features, SearchWP is the best WordPress search plugin available for customizing your website's search page results.
The plugin gives you total control, allowing you to replace the default WordPress search block with a faster, more accurate, and better search system that's packed with features.
SearchWP integrates easily with all WordPress themes and popular drag-and-drop page builders. It excels at optimizing search speed by automatically indexing your content in the background and providing default pagination.
Plus, it doesn't require you to replace your search page template files or forms. You can easily use your new custom search function in common places like the header, sidebar, homepage, search widgets, and more, in only a few steps.
Here are some of SearchWP's key features:
Live Mode and Fuzzy Search: Show search results in live mode instead of the inconvenient default, which opens results on a separate page. Use fuzzy search to return partial matches and help visitors find what they're looking for, even if they make a typo.
Control Search Results: Exclude pages that you don't want to appear in search results. Or, give specific content a higher priority to promote pages and make it easier for visitors to find them.
Searchable Custom Data Types: The native WordPress search system only searches for titles and content in posts and pages. With SearchWP, you can expand the search to include custom fields, taxonomies, database tables, shortcodes, media, and more.
Track Searches: Automatically collect data on your website visitors' search activity to help you better understand and meet your audience's needs.
Multiple Search Engines: Use multiple search engines with different settings simultaneously. This helps you show your visitors more relevant search results by using search forms for specific categories.
Search PDFs and Documents: Enable WordPress to search for content within PDF files and other static documents.
eCommerce Support: Seamless integration with popular eCommerce platforms improves the shopping experience and makes eCommerce metadata discoverable in search results.
Ready to take your WordPress search results page to the next level? Head to SearchWP's pricing page to get started!
Grab the license level that's best for you. We recommend SearchWP Pro for access to more advanced WordPress custom search features like eCommerce support, visitor insights and metrics, custom fields, and more, but the Standard premium version will still give you an impressive amount of customizations.
After you've purchased a license, you'll first need to install and activate the plugin. If you need help with this step, here are instructions for installing a WordPress plugin.
Next, you'll need to activate your license key. From your WordPress dashboard, navigate to SearchWP » Settings. Paste your license key in the box (found in your SearchWP account or purchase confirmation email), and press Verify Key.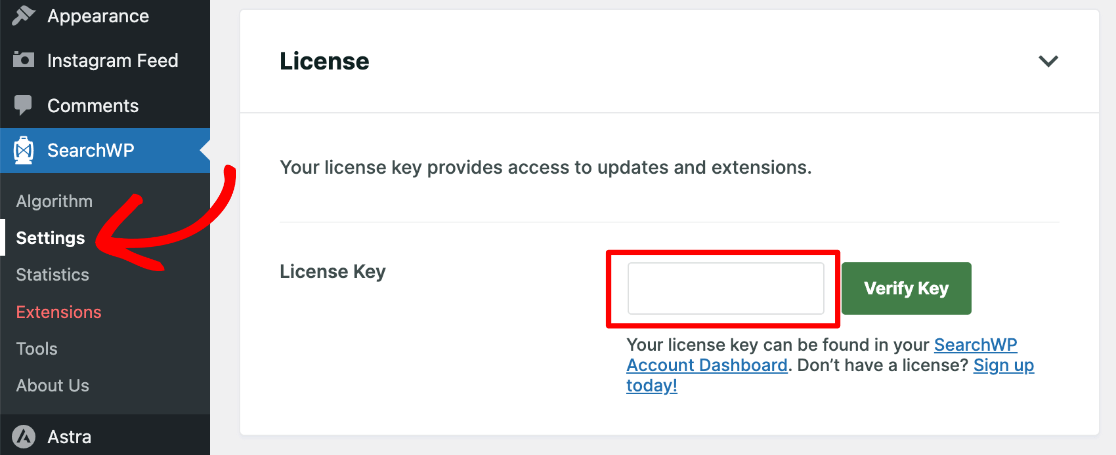 Next, we'll show you how to change your search results page in WordPress with SearchWP and customize it to your liking.
Step 2: Choose Search Settings
Just under the License section on the same screen, scroll down and you'll see General Settings.
Here, you can toggle on or off certain search preferences like enabling Partial Matches (Fuzzy Searches), highlighting search terms in the results page, and more.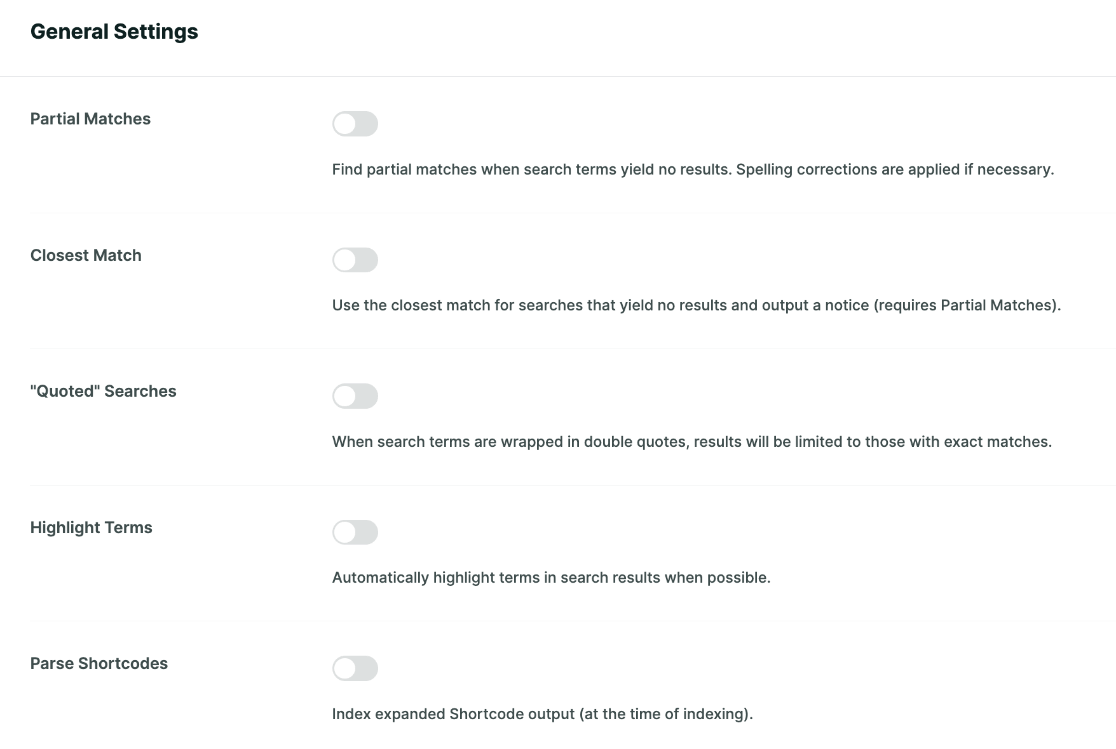 For more details about each setting in this section, check out SearchWP's explanations. After you've selected your preferences, we'll move on to customizing your search engine.
Step 3: Configure Custom Search Engine
Now you'll want to navigate to SearchWP » Algorithm to set up your first custom WordPress search.
Here, you'll see that the plugin has already created a new Default search for you, but it's not indexing yet. There are lots of settings on this page that you'll want to go through and customize.
First, you can click Sources & Settings to choose which source types to include for searches. For example, you might want to add Comments to your search sources.
To customize each source type, adjust the settings below it. Attributes are the types of content that are used for each source. In our case, the first listed source is Posts, and its attributes are Title, Content, Slug, and Excerpt.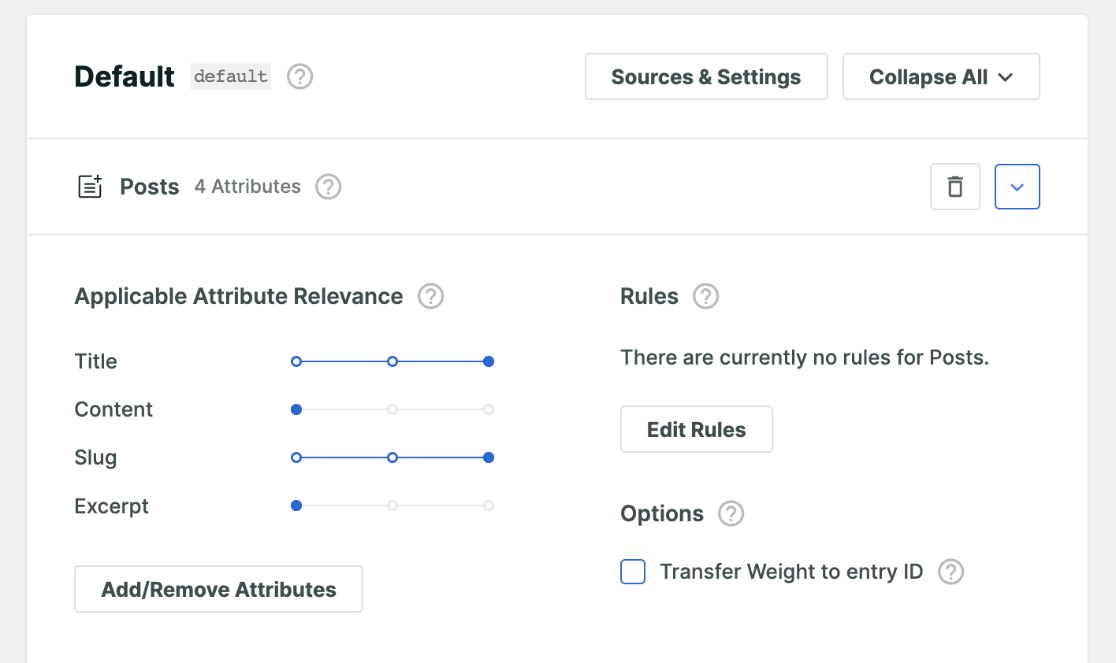 We can use the sliders under Applicable Attribute Relevance to change how much weight each attribute is given. The search engine will consider attributes with more weight to be more relevant.
Use the Add/Remove Attributes button to manage the attributes for each source, add custom fields and taxonomies, or delete content types that you don't want to include for that source.
For example, we decided not to include PDF Metadata or Image EXIF as attributes for Media sources.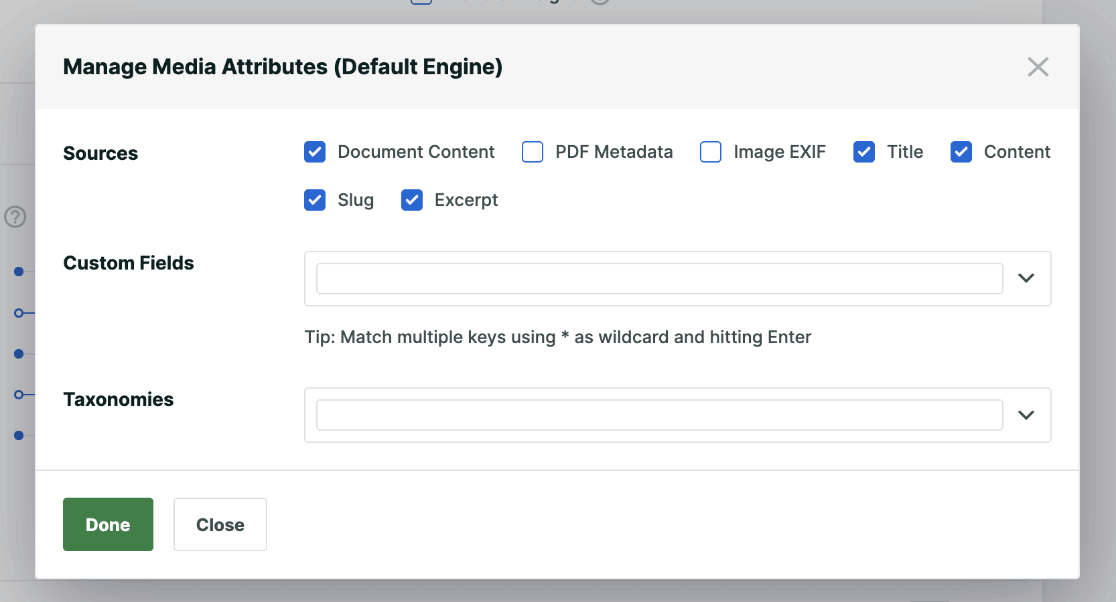 The Edit Rules button under each source allows you to customize it even further. For example, we could add new rules so that our WordPress search results page only includes post types that were published after a certain date and have a "Tutorial" tag.
You can check out SearchWP's instructions for search engine configuration to get more detailed information about all of the available search engine settings on this page. You can also learn about using Global Rules to fine-tune your search results with synonyms and stopwords.
After you've customized the search settings for each source type, press the green Save button towards the top right. SearchWP will begin indexing your content according to the parameters you set.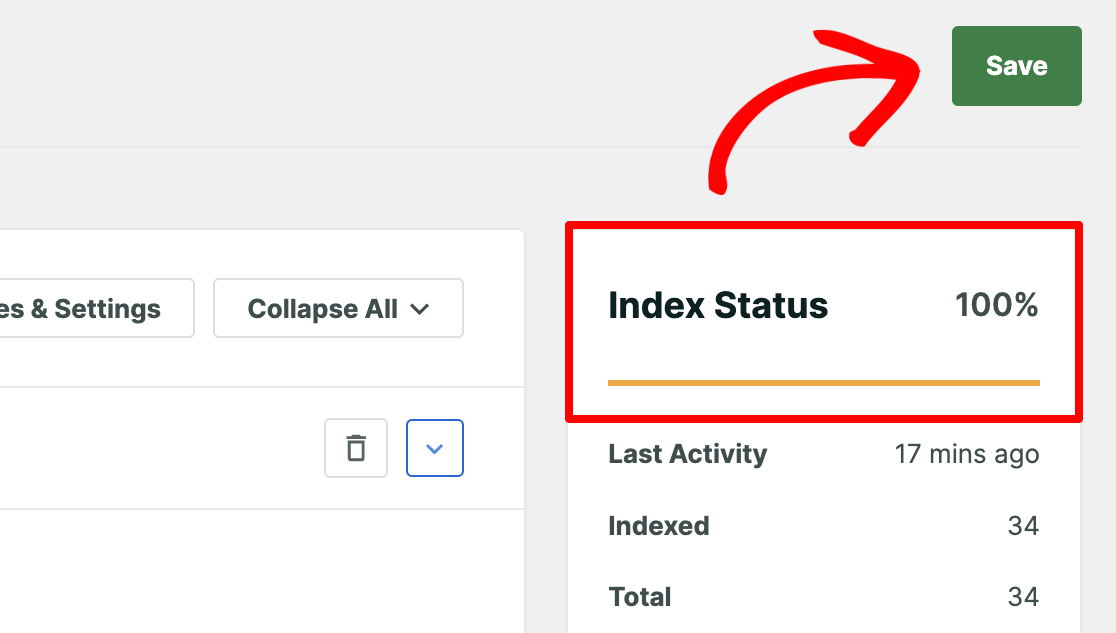 When the Index Status says 100%, your WordPress custom search query is set up, and it will automatically replace the default WordPress search feature.
Feel free to go ahead and try it if you have a search form on your site!
Don't have a search box on your site yet? See SearchWP's 4 ways to add a search bar to your website!
Step 4: Customize WordPress Search Results Page
Next up, we'll show you how to modify your WordPress search results page and take advantage of some of SearchWP's advanced features to achieve better, more custom search results.
To get started, head to SearchWP » Extensions. Here, you'll see all the available addons for your license level. The extensions provide tons of really awesome features, so we'll go over some of the most popular ones.
Show Autocomplete Search Results Instantly
Do you want to show search results as soon as a visitor starts typing?
With SearchWP, you can easily do this by using the live Ajax search extension, a feature you're probably familiar with seeing on search engines like Google and Bing.
From the Extensions page, find the one titled Live Search and press Install.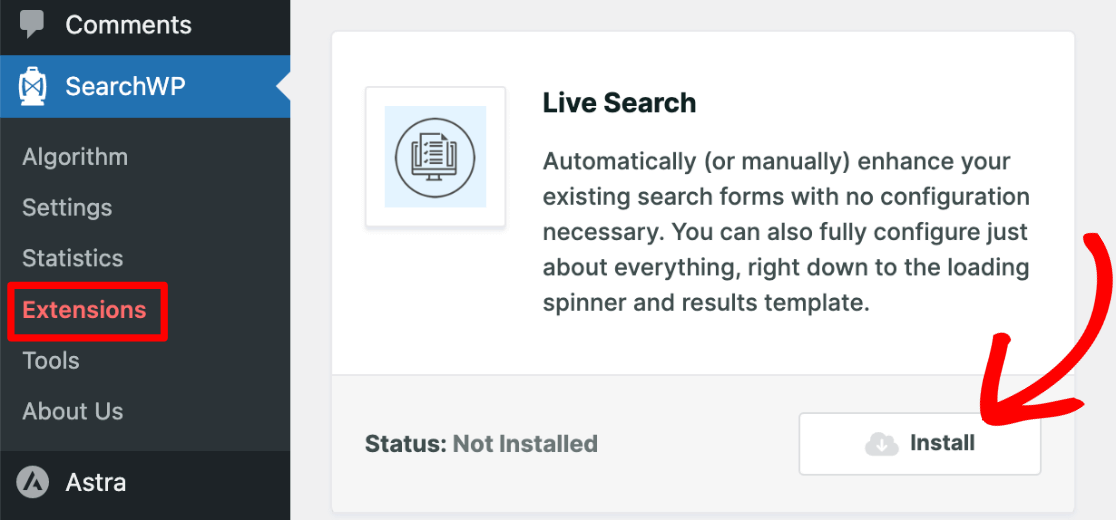 As soon as the extension is activated, it'll automatically start working on your site. Begin typing a query in the search bar on your WordPress website to test it out!

If you need more help with live mode, check out this tutorial for adding live autocomplete search.
Promote Specific Content on Your WordPress Search Results Page
Do you want to prioritize certain content in your WordPress search results page? It's a great way to promote content that increases conversions, such as lead-generating pages, sales pages, and high-revenue blog posts.
From the Extensions page, find the one titled Custom Results Order and press Install.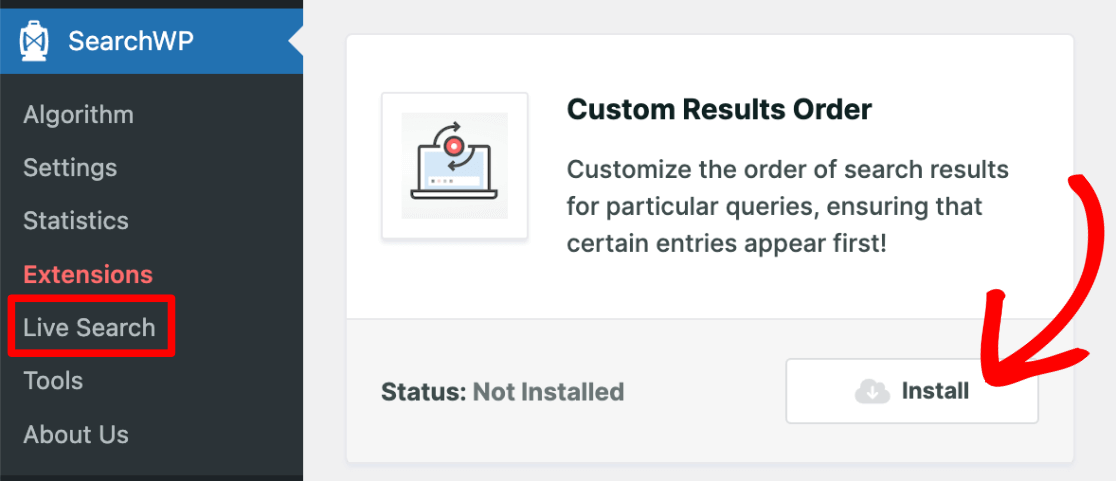 After it's activated, navigate to Search WP » Statistics to see which search terms are popular on your site. (If you've just installed the plugin, you may want to wait until more data is collected here.)
Look for popular keyword queries that you'd like to use to promote a particular piece of content on the search results page. Once you have your ideas, head to Search WP » Algorithm and click the tab at the top for Custom Results Order.
Next, type a keyword and press Add Search Query to see the normal order of results. To promote a specific content piece, or multiple, use the Promote to Top button next to each page or post.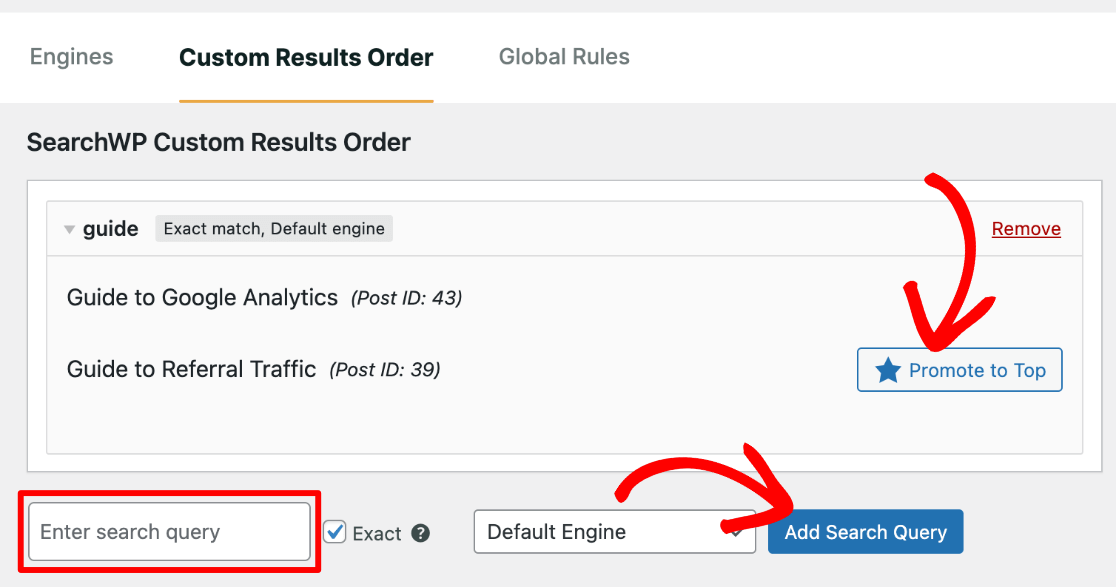 That's all you have to do to modify the search results order in WordPress and prioritize specific content! For more help with customizing order, head to this tutorial on prioritizing specific search results.
Add eCommerce to Your WordPress Custom Search
SearchWP comes with seamless WooCommerce and Easy Digital Downloads integration to improve the WordPress search results page for your online store.
As we've done previously, click to Install the correct addon for your eCommerce site from the Extensions page, either WooCommerce Integration or EDD Integration.
Now, head to SearchWP » Algorithm and click Sources & Settings (like we did previously in Step 3). You'll now see Products as an option under Sources. Tick the checkbox to add it as a source, and press Done.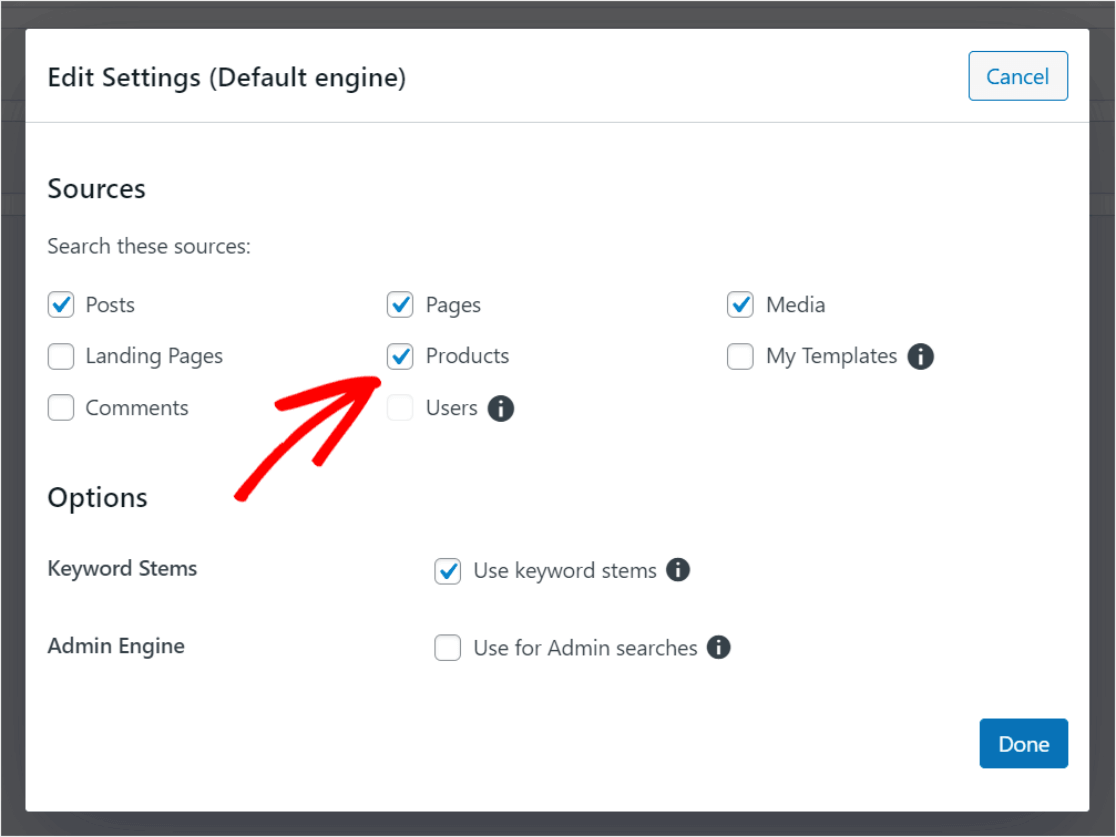 You can change the settings and attributes for products in the same way that we customized our other sources. When you're done, remember to click Save in the top right!
For detailed help with setting up WooCommerce product search and more ways to customize your WooCommerce search results, check out: How to Make a Smart WooCommerce Product Search.
Congrats! You've successfully learned how to modify your WordPress search results page.
FAQs + More Search Customizations
SearchWP is an advanced search plugin with way too many features and customizations to cover in one post. We've highlighted a few of our favorites, but you'll quickly realize how much more it can do when you start using it for your own search results page in WordPress.
Get started with SearchWP today! 
Here are answers to some common questions and more helpful tutorials from SearchWP to make your WordPress search system even more customized.
Does SearchWP work with WordPress page builders?
Yes, you can use popular page builders like SeedProd, Elementor, Divi Builder, and more while customizing your search results in the same way we did!
Are advanced custom fields (ACF) searchable with SearchWP?
Yes, and it's a great way to make it easier for visitors to find the content they're looking for! Check out: How to Include ACF Fields in WordPress Search.
Can I make multiple custom search forms in SearchWP for things like reviews, recipes, deals, etc.?
Absolutely, it's really easy to create multiple WordPress search engines for custom post types and other areas of your site. Check out: How to Add Multiple Search Forms to Your WordPress Site (No Coding).
Will SearchWP show shortcodes in my WordPress site's search results?
Yes, you can customize the plugin to include shortcodes so that visitors can search for content like galleries, charts, and anything else that was inserted with a shortcode. Check out: How to Include Shortcode Results in WordPress Search.
Can I use SearchWP to exclude specific content from my WordPress search results page?
Yes, it's easy to control what content you want to be included in your custom WordPress search results by excluding individual content or using bulk filters. Check out: How to Exclude Pages from Site Search Results in WordPress.
How can I show related content on my WordPress custom search results page?
Use the Related extension in SearchWP to display related content in your search results.
Can I make a custom search in WordPress without a plugin?
You can, but making any major improvements would require strong coding skills in CSS, HTML, and PHP. Any mistakes can break your site, so even small manual changes in the search.php file are not recommended unless you're already very comfortable editing core theme files. That's why we recommend using SearchWP to easily make your custom search.
Well, that's it for now! We hope you enjoyed learning how to use a custom WordPress search results page to create a powerful, personalized search system for your site.
If you enjoyed this article, you'll definitely want to learn How to Set Up Site Search Tracking in WordPress (Step by Step).
Not using MonsterInsights yet? What are you waiting for?
Don't forget to follow us on Twitter, Facebook, and YouTube for the best WordPress tutorials and Google Analytics updates.