Do you want to grow your sales with eCommerce email marketing?
According to Growcode, conversions via email outperform both social and organic search traffic, and they're even twice as high as organic search.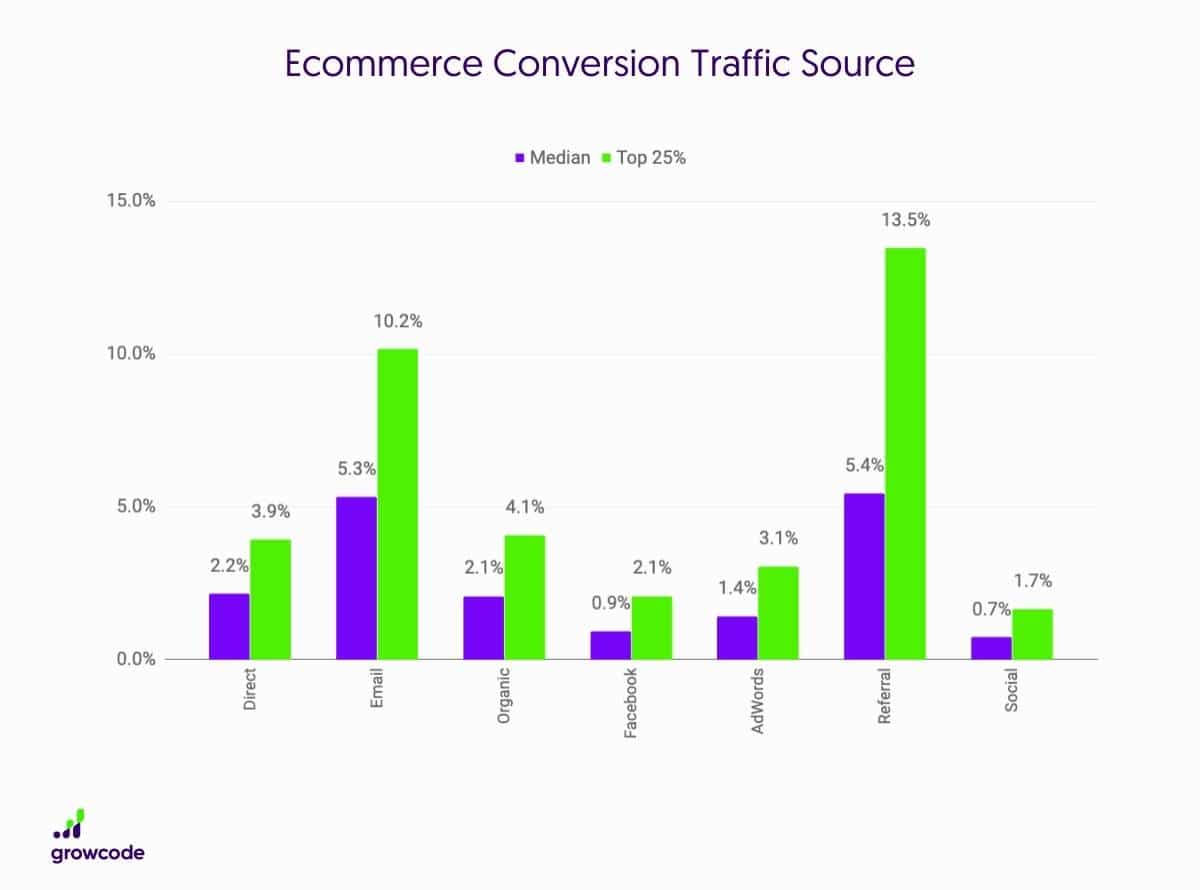 With the right eCommerce email marketing strategy, you can build an engaging relationship with your customers and grow sales.
In this article, we'll show you 5 eCommerce email marketing best practices you can follow to grow your sales through this profitable channel.
1. Use Email Automation and Personalization
Your customers are being bombarded with promotional emails every day. If you want your emails to get noticed and clicked, you'll need to make them stand out from the rest.
Email personalization is one of the most important eCommerce email marketing best practices. It can mean the difference between emails that get noticed and clicked, and emails that are skipped right over.
It's impossible to manually personalize all the emails you send out to your customers. So, automation is the secret sauce to email personalization.
Let's take a look at two of the best ways to personalize emails.
Email Segmentation
Classify your leads into distinct groups based on your subscribers' specific characteristics, like onsite behavior, interests, or email preferences. You can then send out emails addressing that characteristic.
For example, you can segment your subscribers based on their brand preferences. When a new item is available to purchase under that brand, you can notify your customers by sending an email.
Or, you could segment based on which category of products a subscriber is interested in. For instance, Gap subscribers can choose different categories to subscribe to: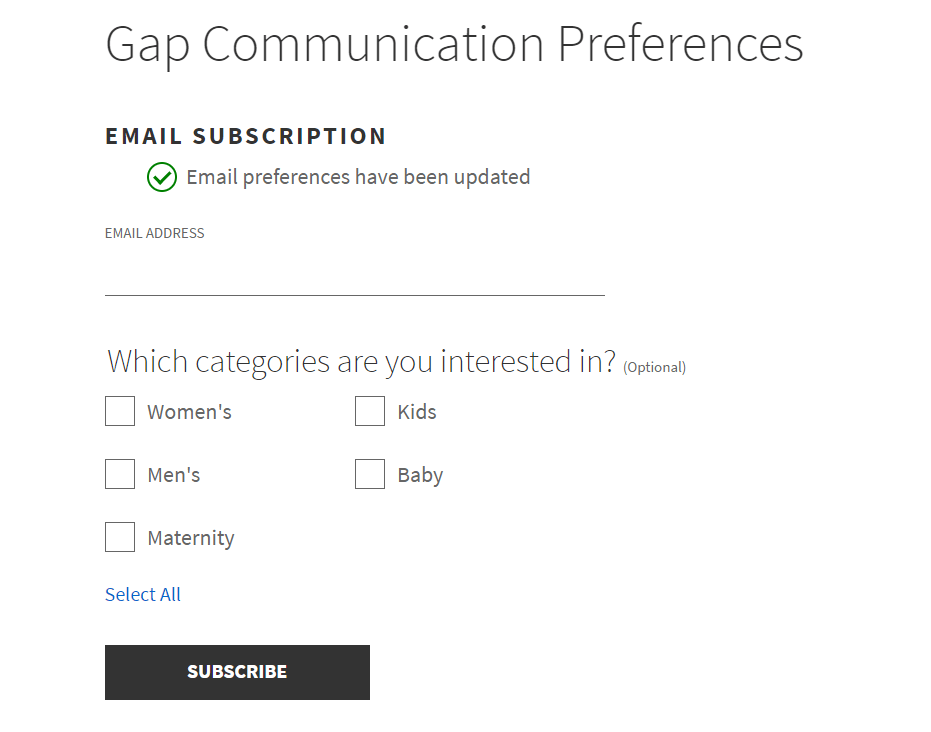 Learn more about other ways to segment your leads automatically.
Behavioral Trigger Emails
Set behavioral trigger emails tailored to different onsite customer actions. These could be an order confirmation, a follow-up to subscribing, or delivering a digital product.
These seem simple, but they're really essential. Start paying attention to all of the trigger emails you get when you're interacting with online stores and take note of what they do and what information they offer.
Here's a simple order confirmation: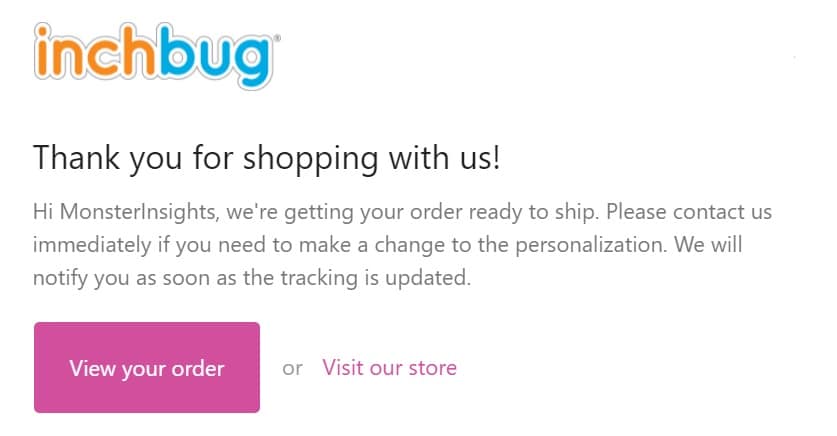 REI sends a coupon in their signup confirmation email: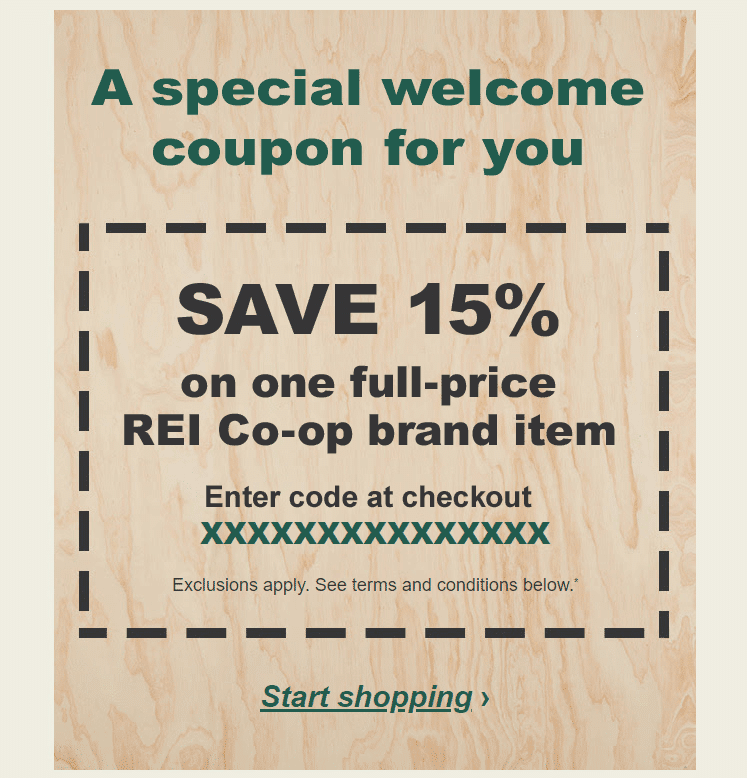 It's been shown that marketing automation like this yields a 34% increase in revenue. It's time to try it for your store!
2. Increase Average Order Value
One of the easiest ways to generate more revenue from your store is to entice your customers to spend more money when they make a purchase. This increases the average order value (AOV) of your store.
The average order value is a metric that tells you the average value of ecommerce transactions in your online store.
If you're a MonsterInsights user, you'll find your Average Order Value in your eCommerce report:

One way you can increase the Average Order Value of your online store is to offer free shipping thresholds, like Old Navy does, and promote it in your eCommerce email marketing blasts: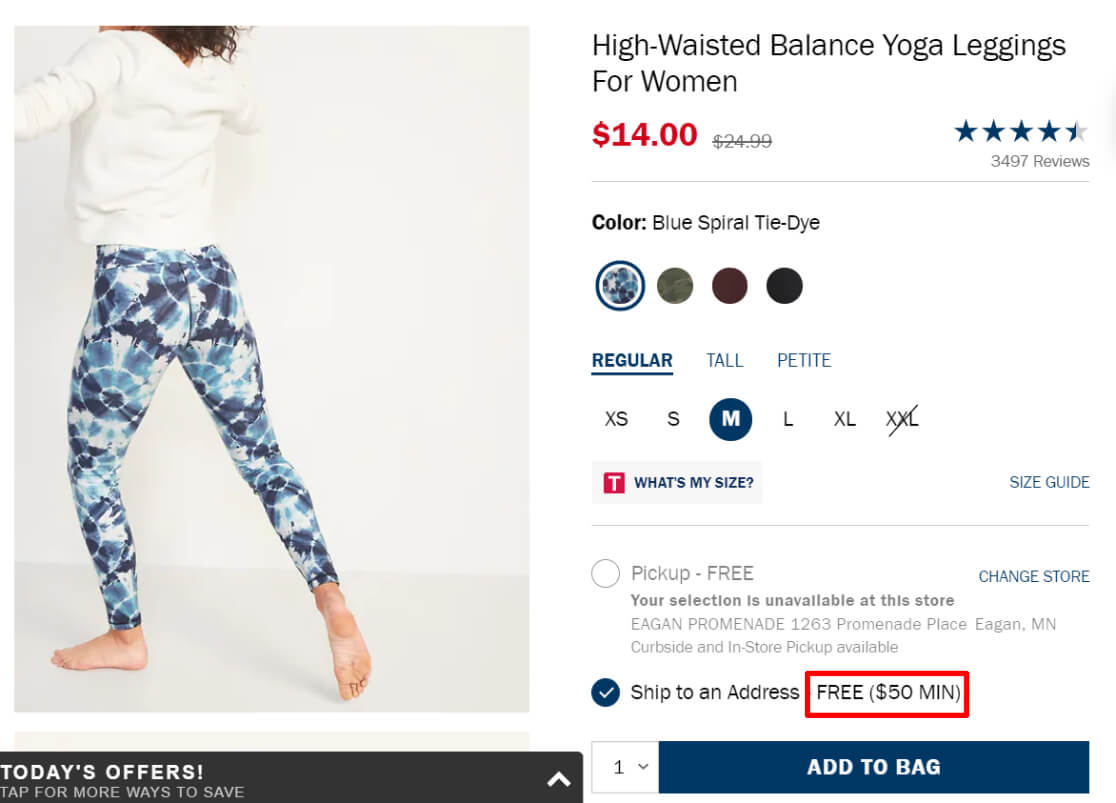 Or, offer a special discount to certain customers at a minimum spend threshold, like Fiverr does in this offer: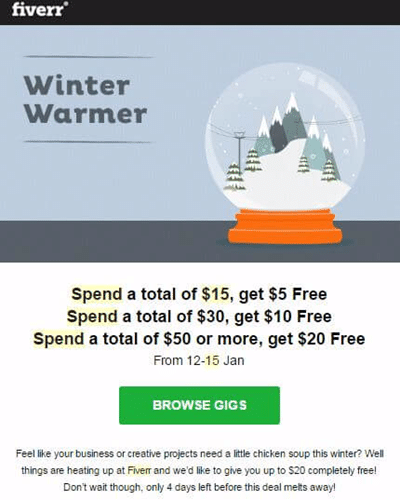 You could also segment your customers based on their spending habits and craft a series of emails to encourage them to spend more on your store.
3. Send Abandoned Cart Emails
Without a doubt, shopping cart abandonment is the single largest obstacle for eCommerce retailers to overcome. The average online shopping cart abandonment rate across online stores in all industries is about 69.8%.
Notifying your customers about their abandoned carts is a great way to persuade them to complete the checkout.
Here's an example from the retailer Jane.com: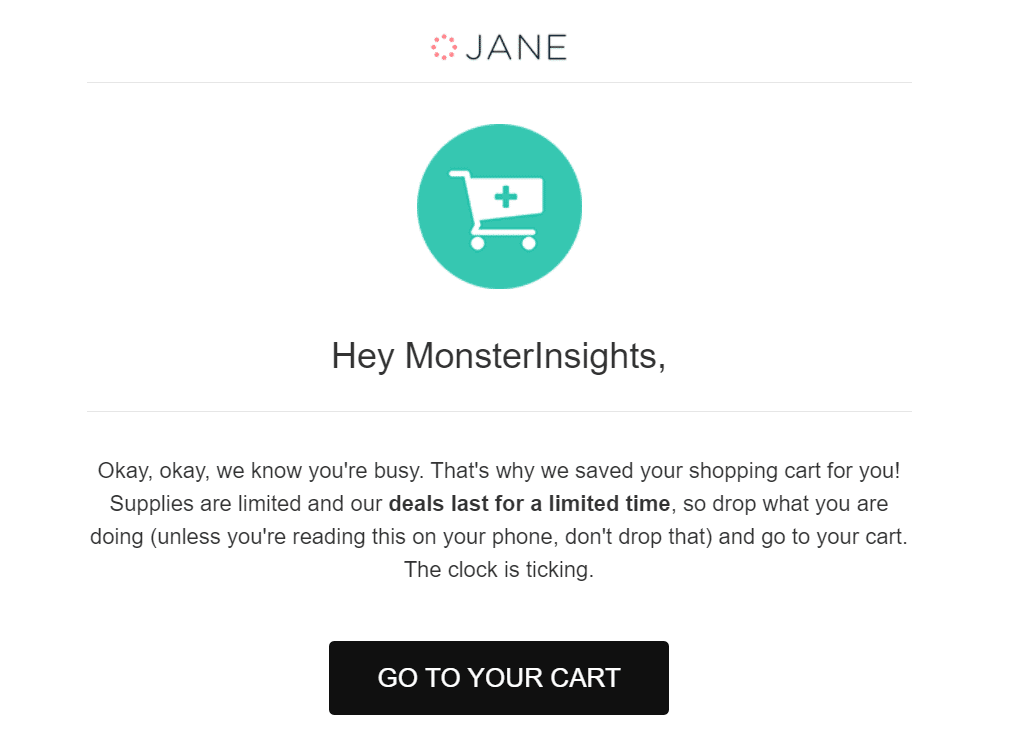 Notice how "deals last for a limited time" is bolded to really stand out to the customer and grab their attention.
Abandoned cart emails are proven to recover some of the revenue that would have otherwise been lost. Many eCommerce merchants send follow-ups 3 to 5 days after an abandoned cart.
Before you can track the shopping cart abandonment metric for your store, you'll have to enable eCommerce tracking. Do that in just a couple clicks with MonsterInsights.
4. Customer Loyalty Emails
Loyal customers are worth up to 10 times as much as their first purchase.
Creating a loyalty program is one of the best ways to encourage repeat purchases and increase customer loyalty to your brand.
If you have an eCommerce loyalty program, you need to make it incredibly easy for your customers to realize the value of it by sending a series of emails.
You can start by sending a warm welcome email to your customers when they join the program, like Starbucks does here:

For the best results, it's vital to show them how easy it is to step forward in the program and what specific action they need to take for getting more rewards.
5. Create a Win Back Email Campaign
It's easier to sell to your existing customers than to new ones. In fact, existing customers are 50% more likely to try new products and spend 31% more, on average, compared to new customers.
However, only 20% of first-time online buyers will ever make a second purchase. That means that if you don't have a retention strategy in place, chances are you're losing repeated sales.
Creating a win back email campaign is a great tactic to re-engage your lapsed customers with your emails. On average, win-back emails have an open rate of 29%.
To entice inactive users to open your email, you may use emotionally charged subject lines, like "We miss you". Here's a great example from Carter's, with a coupon offer to come back and shop.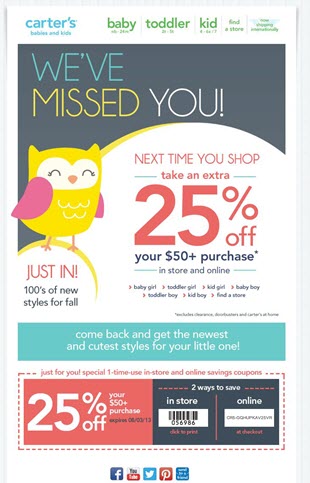 A win back is not a one-time event. Instead, it's in your best interest to create an automated series of emails to boost re-engagement with your emails.
Bonus: 5 Great eCommerce Email Marketing Tools
To have the most successful eCommerce email marketing campaigns, you need the right tools. Here are 5 we highly recommend!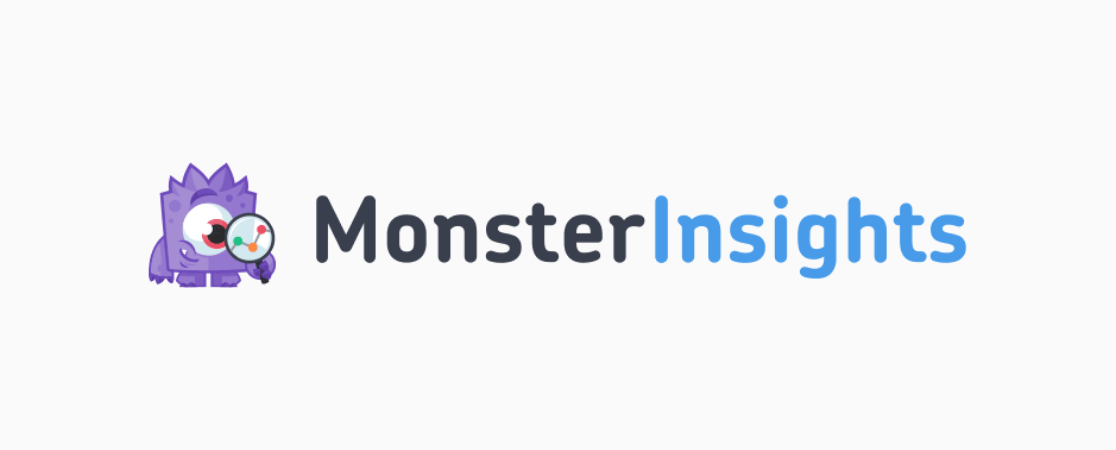 You can't work on increasing your numbers until you actually know what they are. Right? That's why finding the stats that matter on your WordPress website is so important.
MonsterInsights is the best Google Analytics plugin for WordPress. The plugin makes it incredibly easy to connect Google Analytics with your site, plus see  straightforward, uncomplicated reports about your traffic, including the traffic coming from your email marketing campaigns.
Besides bringing the most important metrics from Google Analytics right into your WordPress dashboard, MonsterInsights makes ecommerce setup, form submission tracking, link click tracking, and more very easy.
Get Started with MonsterInsights Today!
Remember when we talked about behavioral email triggers at the beginning of this post? Sometimes, those emails have a hard time getting through to your customers' inboxes.
The main reason behind this problem is that your mailing system is not configured correctly. For example, if you're using WordPress, then the problem occurs because its default PHP mail() function is not configured correctly by most hosting services.
So, the solution to this problem is to use an SMTP service that configures email authentication properly for you. For WordPress sites, that's WP Mail SMTP.
You can't market to an email list until you actually have a list of emails. That's where OptinMonster comes in.
OptinMonster is the most powerful lead generation software available on the market. It helps you convert your website visitors into subscribers to grow your email list faster.
OptinMonster comes with highly effective features including its signature feature, Exit-intent technology. It's a smart behavioral technology that monitors the movement of your site visitors and prompts them with a targeted campaign at the exact moment they're about to exit your site.
You can use this feature to reduce cart abandonment and increase sales in your eCommerce store.
Aside from using OptinMonster to grow your email list and reduce abandoned carts, you can also use it to upsell or cross-sell customers, boost engagement with list segmentation, increase pageviews, and more.
Constant Contact is a popular email service provider (ESP) that helps you grow your email list, connect with subscribers, and easily manage your contacts.
Constant Contact has one of the highest deliverability rates on the market, so you can be sure your business emails and broadcasts are delivered to subscribers.
If you don't have an account with them yet, sign up for your risk-free Constant Contact account today. They offer a 1-month free trial, so you can test the software before you decide if it's the right tool for you.
PushEngage is the best push notifications plugin for WordPress. You can skyrocket your eCommerce sales and conversions by sending targeted messages to your customers and inform them about new products or flash sales.
The plugin also offers a cart abandonment notification feature. So, you can notify people about any items that they might have added to their carts but didn't purchase.
And it even lets you test your push notifications through A/B tests, create Drip campaigns, set up opt-in triggers, and much more.
We hope this guide helped you learn some eCommerce email marketing best practices to boost your sales.
If you enjoyed this article, you may also read these eCommerce customer retention strategies, and our tips on growing your email list.
If you're using WooCommerce, make sure to check out How to Set Up WooCommerce Conversion Tracking in Google Analytics.
And don't forget to follow us on Twitter, Facebook and YouTube for more helpful guides and Google Analytics tips.