Do you need a more powerful way to track user activity and engagement on your site?
That's exactly what Independent Financial Group (IFG) was looking for when the company began using MonsterInsights.
In this case study, you'll discover how MonsterInsights can help you better understand site visitors and how they interact with your website.
Meet Independent Financial Group
Independent Financial Group offers investment and insurance services to financial advisors. They also provide resources such as newsletters, research, events, videos, and more to financial advisors through a special member area of their website.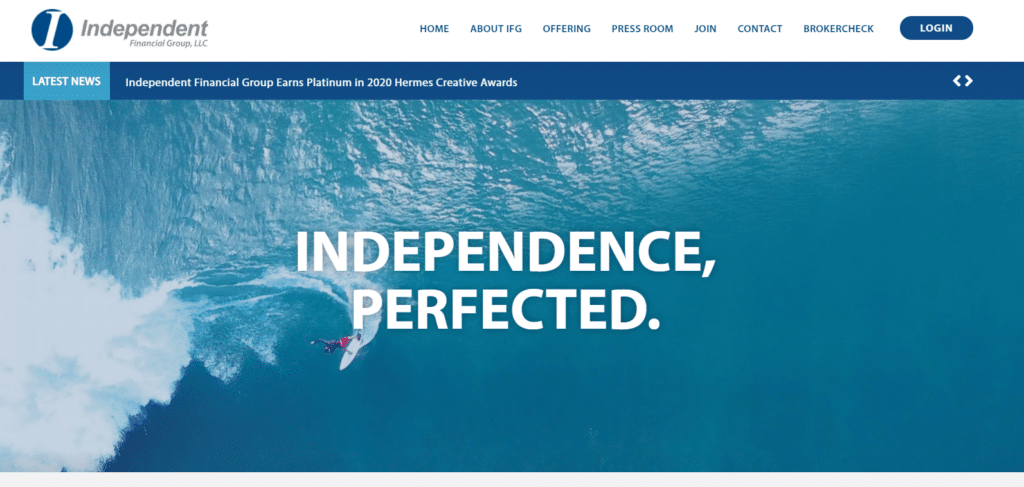 How Independent Financial Group Uses MonsterInsights
Independent Financial Group wanted to find a way to track engagement and video plays with known users on their website. The goal was to use that information to improve their content strategy and create a better user experience.
Finding the right tool to track logged in user engagement was harder than they expected. At one point, they were even told it would cost over $20,000 to custom-build one.
They knew there had to be an easier and less expensive solution. So, they turned to MonsterInsights.
Logan Brown is a Communications Specialist at Independent Financial Group. He reached out to the MonsterInsights support team for help.
After he explained what the company wanted to do, the support team pointed him to the exact solution they were looking for: MonsterInsights UserID Tracking. This feature provides valuable insight into the activity of logged-in users and tracks the movements they make within a website.
With the support team's help, Independent Financial Group set up UserID Tracking using MonsterInsights. They also linked Google Analytics to the Vimeo account they use to host videos.
Results
Independent Financial Group started seeing results almost right away!
Now they can easily see how users engage with their website. This has helped them:
Identify specific content users are engaging with, when, and for how long
Follow up with users through offline methods
Be more strategic about the content they make and promote
Understand the personalities and interests of their users
Best of all, Independent Financial Group could see where users struggled while on the site. This helped them figure out which pages could be changed to make them easier for users to navigate.
As Logan notes:
"Bold design has a place, but in this instance functionality and ease of use are most important."
Summary
Independent Financial Group was looking for a way to track logged-in user activity and video views to fine-tune their marketing strategy and improve user experience on its website.
After contacting the MonsterInsights support team, they were able to set up MonsterInsights UserID Tracking and link their Vimeo account to Google Analytics. Tracking user experience on their website has allowed them to connect with and better serve the financial advisors they work with.
"Being able to track the activity of logged-in users is a game changer, specifically the integration with Vimeo. Now we can see what videos users engage in real-time and for how long. We can literally email or call them asking what they thought and what questions they have."

Logan Brown, Communications Specialist — Independent Financial Group, LLC
Click here to see all of the features that make MonsterInsights the most powerful and user-friendly WordPress analytics plugin on the market!
Not using MonsterInsights on your site yet? Get started with MonsterInsights today!