Are you brainstorming blog post ideas? Your Google Analytics traffic reports are great sources of inspiration to find new blog post ideas. In this article, we'll show you how to get brilliant blog post ideas from Google Analytics.
3 Ways to Get Brilliant Blog Post Ideas from Google Analytics
1. Search Console Report
The Search Console report in Google Analytics shows you the actual search queries used in Google search to find your website. This means that they are the search terms that triggered impressions and clicks for your site.
By analyzing the search queries report, you can get insights about the exact intention of your audience when they land on your site.
In order to view your search console reports in Google Analytics, you'll need to integrate your Google Analytics account with your Search Console account first.
If you haven't enabled the Search Console integration, here's our step by step guide on how to configure your website Search Console.
Once you have connected the Google Search Console to your Google Analytics account, you can find the Search Queries report by navigating to Search Console » Queries.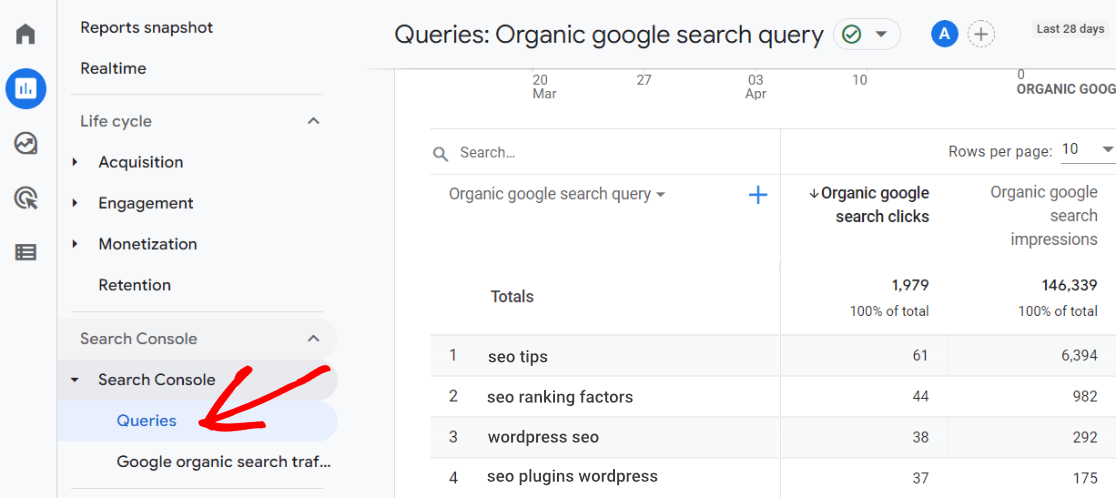 If you have a Plus or Pro license of MonsterInsights, then you can see your search queries right inside the reports section of MonsterInsights in WordPress.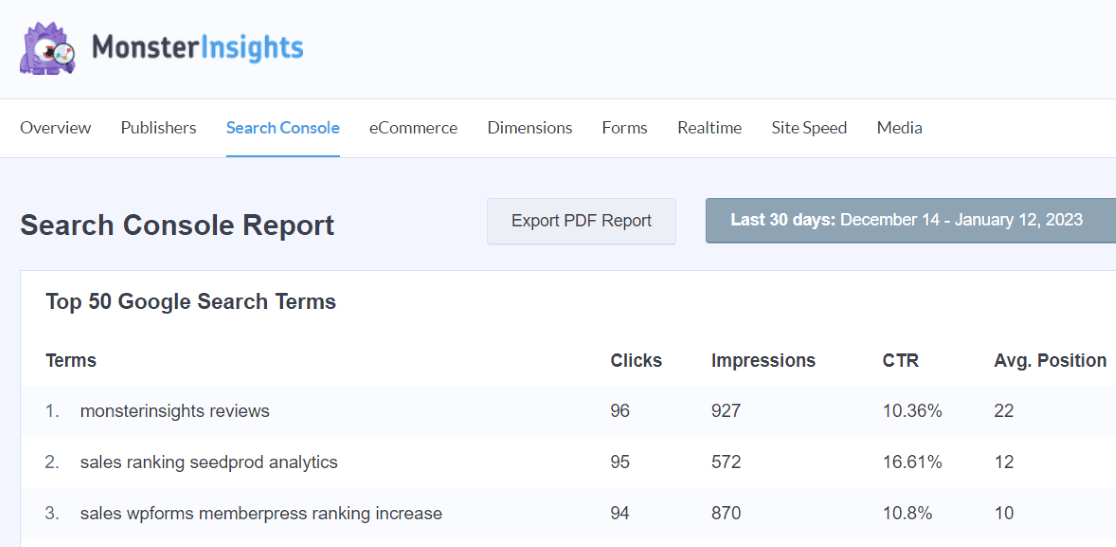 Seeing the keywords for which people are already coming to your site helps you to find out what type of content people are generally interested in.
Once you know the top search queries for your site, you can research the same topics and find more blog post ideas related to them. By doing so, you can create a whole series of content on your top organic keywords and drive more traffic to your site.
There are four different types of keyword intent.
Navigational: Where users search for a particular website.
Informational: Where users search for the answer to a question.
Investigational: Where users search for information that may eventually lead to a transaction.
Transactional: Where users are ready to buy.
Let's take a look at an example of how digging through search queries report can help you to come up with blog post ideas.
Imagine that you're an affiliate marketer who makes a living online by earning commissions by referring products to your readers. As an affiliate marketer, to make most out of your blog posts, you might want to rank for keywords that are investigational.
For instance, if someone is looking to buy a laptop bag and searches the best laptop bags, then this would be an investigational keyword. This way you can help your readers find the information, like the review of a product that may eventually lead to a transaction.
In your search queries report, if you can't find queries that are investigational, you might want to come up with blog post ideas focusing on that particular keyword set.
If you want to learn more about keyword research, read keyword research 101: choosing the right Terms for Google.
2. Find Your Popular Blog Topics
Finding your most popular blog posts is one of the best ways to get future content ideas for your blog. You can look at your popular blog posts to see the type of content that is already working on your blog. Once you figure that out, you can come up with similar content ideas for your blog.
With MonsterInsights, you can easily discover your most popular blog posts right in your WordPress dashboard. To find the report, you just need to navigate to Insights » Reports and find the Top Posts and Pages section by scrolling down your page.

3. Popular Post Categories/Tags
Want to know which posts and categories are most popular on your blog? Identifying your most popular categories or tags is helpful to generate future blog post ideas that come under the same categories or tags.
By default, Google Analytics doesn't allow you to track the popularity of your blog categories and tags. To start tracking them, you need to enable custom dimensions tracking on your site. MonsterInsights allows you to track 9 types of custom dimensions including Category and Tags.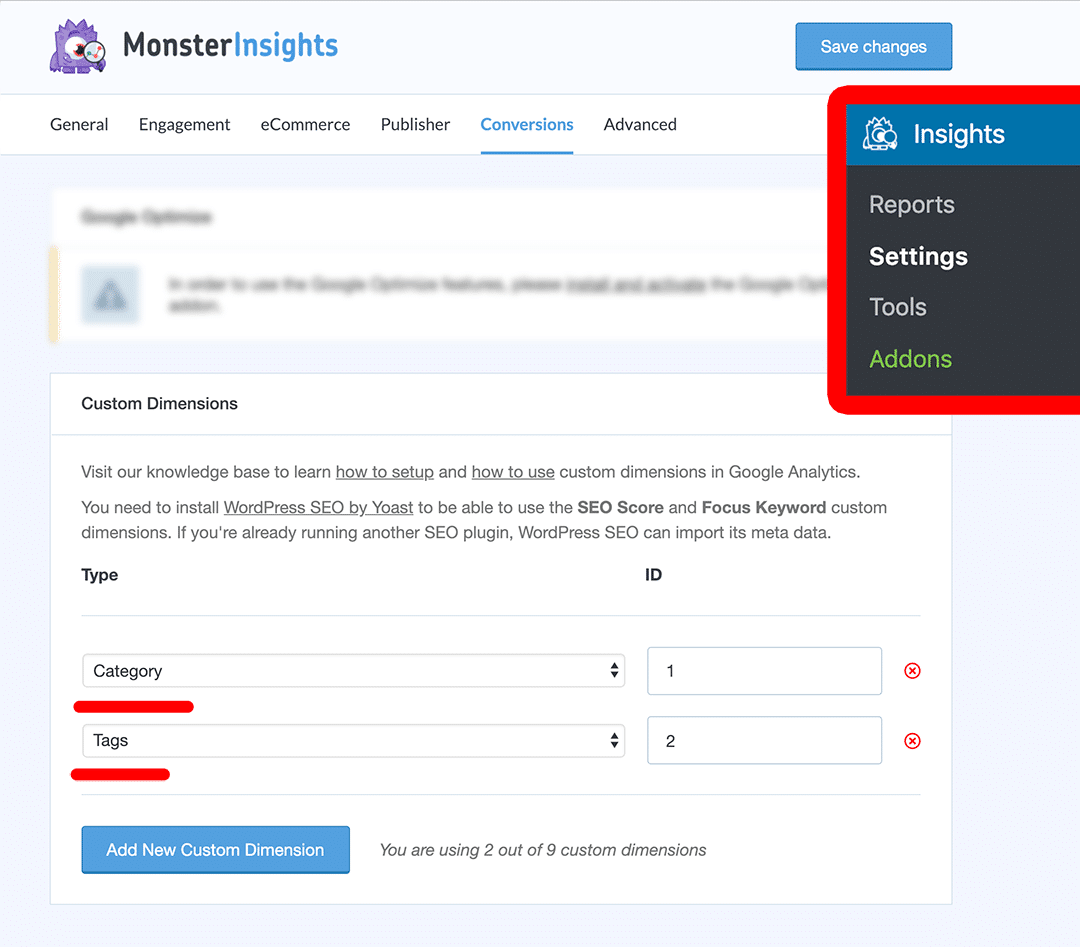 For more details, you can learn how to track blog categories and tags in Google Analytics.
That's it! We hope this article helped you identify blog post ideas from Google Analytics.
If you're a publisher looking to drive more organic traffic, you might want to set up Google AMP on your site.
And don't forget to follow us on Twitter and Facebook for more Google Analytics tutorials.