Looking for the best WordPress search plugins to make your website's search work much better for your visitors?
While WordPress comes with a functioning search, there are many websites that could definitely benefit from better search. Sites that have a lot of content or products, or sites with custom fields, for instance, need a better search solution for their users.
Thankfully, there are some really great search plugins for WordPress out there that you can install to take your search to the next level, and allow your users to actually find what they're looking for on your site.
In this article, we'll go over the best WordPress search plugins out there.
How to Choose a WordPress Search Plugin
The first thing you should do when selecting a plugin is write down exactly what you need your search plugin to find on your site. That way, you can make sure the plugin you choose is going to work well for your unique site structure.
For instance, does your website use custom fields? Maybe you run a food blog, and you need a search that can find recipes based on certain custom fields like cuisine type, how long the recipe takes to make, or whether it includes chicken.
Or, maybe you've got a WooCommerce site that uses custom taxonomies to describe your products. You need those taxonomy results to be included in your search!
Once you know for sure what you need your search plugin to do, it'll be easier to choose one from our list.
With that, let's dive in.
Our Favorite WordPress Search Plugins
SearchWP is the best search plugin for WordPress. It solves so many of the problems you find with WordPress's built-in search! It also has a lot of extra features in the Pro license that we love.
For instance, not only can SearchWP search and find content in documents, custom post types, your media library, custom fields, shortcode output, and much more, but it can also give you really comprehensive analytics on how your visitors are using search, and what they're finding.
SearchWP also integrates with many other plugins, such as WooCommerce, bbPress, WordPress Multisite, Easy Digital Downloads, and more.
Top SearchWP features include:
Automatic integration with WordPress's native search
Configure multiple, individual search engines
Keyword stemming
PDF and Office document indexing
Advanced Custom Fields support
WooCommerce integration
Pricing: SearchWP starts at $99 per year.
Get started with SearchWP today!
Ivory Search is the best free WordPress search plugin. With almost 1,000 5-star reviews, it's a well-loved plugin by its users. It's easy to use and has enough features for better, basic search, including the ability to search shortcode contents, files, and WooCommerce products.
This search plugin lets you create an unlimited number of search forms, configured individually. Create as many as you need!
Top Ivory Search features include:
Inverted, index-based search
Search shortcode contents
Search images, files and attachments
Search WooCommerce products
Basic search analytics
Uses AJAX search
Exclude specific content from search results
Pricing: Ivory Search is free.
Get started with Ivory Search today!

Relevanssi is another pretty popular free search plugin for WordPress. It can search categories, tags, and custom fields, although searching documents is a feature available only in their Premium version.
Top Relevanssi features include:
Search results sorted by relevance, not date
Ability to match partial words, even if spelling isn't correct
Create custom excerpts that show where the hit was made, with the search terms highlighted
Multisite friendly
Index custom post types and custom taxonomies
Index the contents of shortcodes
Pricing: Relevanssi is free, but you can purchase their premium version if you need more features for $109/year.
Get started with Relevanssi today!
ElasticPress is a little bit different from the other plugins on our list. This search plugin is actually a hosting service that connects to your WordPress site to sift through and serve search results quickly. This is ideal for large sites and stores.
Top ElasticPress features include:
Instant autosuggest
Faceted product browsing for WooCommerce
Weighting dashboard so you can choose what's shown first
Create your own facets
Related posts module
Pricing: ElasticPress starts at $79 per month.
Get started with ElasticPress today!
Advanced Woo Search is a WooCommerce-specific WordPress search plugin. Specifically designed for WooCommerce, this plugin helps store owners serve up search results that better serve their customers.
Top Advanced Woo Search features include:
Search all products in your store
You can search in your product's title, content, excerpt, categories, tags, ID and SKU
Use a shortcode or widget to place your search bar anywhere
Results contain a product image and price
Smart ordering/weighting of results
Pricing: Advanced Woo Search is free.
Get started with Advanced Woo Search today!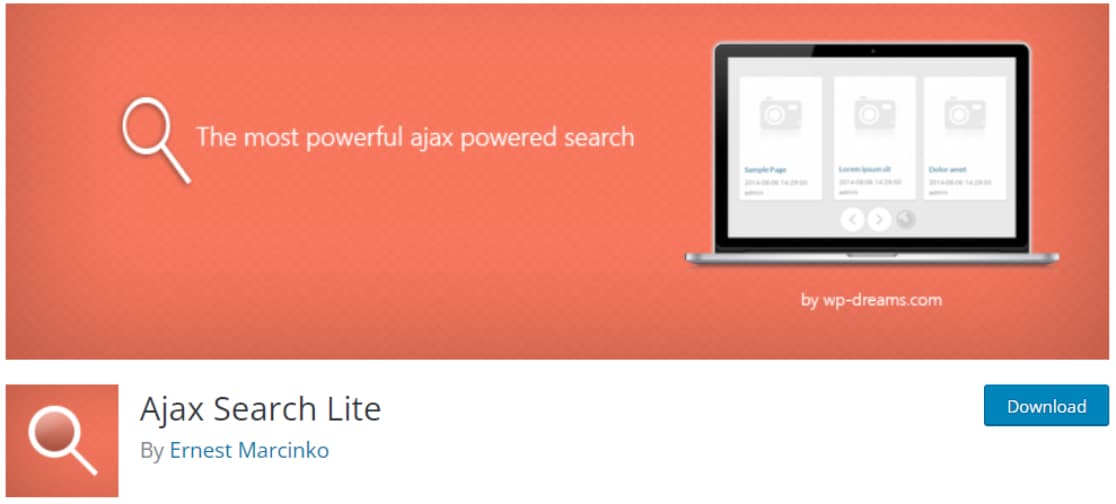 Ajax Search Lite is a free WordPress search plugin that provides a "live search" powered by AJAX. This basically means that, when a user starts typing in the search bar, a dropdown of live results appear as he or she types. The plugin also replaces your native WordPress search with a more powerful and complete search engine.
Top Ajax Search Lite features include:
Search in posts, pages, and custom post types
Works with WooCommerce products
Search in title, description, excerpt, categories and tags and any custom fields
Custom filter checkboxes for categories and post types
Images in search results
Pricing: Ajax Search Lite is free.
Get started with Ajax Search Lite today!
WP Extended Search is another search plugin for WordPress that promises to be lightweight, so it won't slow down your site. It's also a good one for customizing your default search behavior.
Top WP Extended Search features include:
Easily customize your default search behavior and create multiple search settings
Search in post meta, author names, categories, tags, and custom taxonomies
Include or exclude any public post type
Compatible with WooCommerce
Exclude old content from search results
Customize the number of posts to display on the search results page
Pricing: WP Extended Search is free.
Get started with WP Extended Search today!
The last plugin (but not least) on our list, FiboSearch is another WooCommerce-specific plugin that uses Ajax to give your searchers a great search experience. This plugin is really popular on wordpress.org, with over 1,300 5-star ratings. Get advanced search with live suggestions.
Top FiboSearch features include:
Search by product title, long and short descriptions, and SKU
Show product description and price in live dropdown results
Show SKU in dropdown results
Special mobile search mode for better UX
Embed your search form using a shortcode or widget, or as a menu item
Group instant search results by type
Pricing: FiboSearch is free.
Get started with FiboSearch today!
That's our list!
We hope you found the best WordPress search plugin for your site. Our top pick is SearchWP because of its long list of powerful features, great support, addons, and integrations.
Looking for more amazing WordPress plugins? Check out 45 Best WordPress Plugins to Download Now (Many FREE).
Not using MonsterInsights yet? What are you waiting for?
And don't forget to follow us on Twitter, Facebook and YouTube for more helpful reviews, tutorials, and Google Analytics tips.