Do you want to learn what your visitors are looking for on your site? Then, you need to enable site search tracking on your WordPress site. In this article, we'll show you how to set up site search tracking in WordPress.
What Is Site Search Tracking?
If you've got a WordPress site with lots of valuable content, you might want to provide a search box on your site that enables your visitors to look for what they want. To get insights into what your website visitors are looking for, you need to enable site search tracking in Google Analytics.
A few benefits of enabling site search tracking in Google Analytics are:
Identify exactly what your visitors are looking for on your site.
Find new topic ideas for your blog.
Find the relevant keywords your visitors used on your site. You can use them in your marketing campaigns for better ROI.
Optimize the user experience of your website by restructuring your content on your site.
How to Track Site Search in WordPress
Step 1: Install MonsterInsights
The first thing you need to do is to install MonsterInsights on your site. MonsterInsights is the best Google Analytics plugin for WordPress. The plugin makes it easy to add Google Analytics to WordPress and track tons of different user interactions on your site.
Step 2: View Settings in Google Analytics
Sign in to Google Analytics account and choose the site in which you'd like to enable search tracking.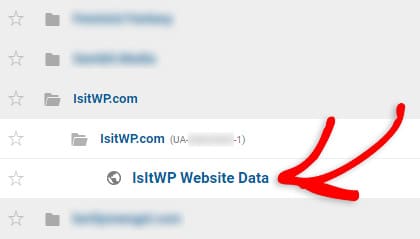 Then, click the Admin option.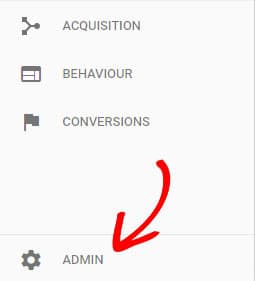 Then, click View Settings.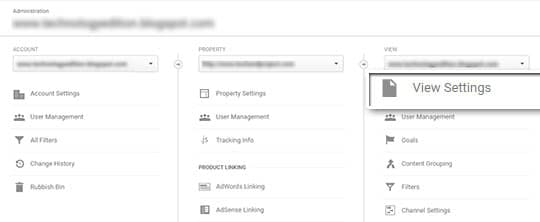 Step 3: Enable Site Search Tracking
Now scroll down to the Site Search Settings heading. Click the slider to turn the Site search Tracking on. Then, just below the slider, you'll see a field to enter a Query parameter.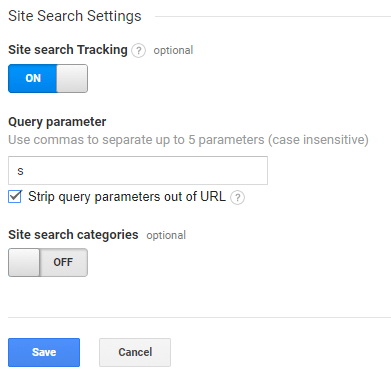 The "query parameter" is the letter that appears in your site's URL before the search terms. For most WordPress sites, the query parameter is the letter "s." You can test this by searching on your site and checking the URL.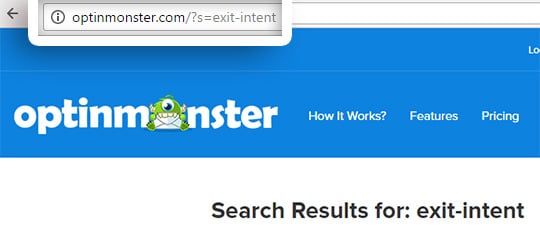 In the example above, you can see the URL is http://optinmonster.com/?s=exit-intent, meaning "s" is the query parameter. In your URL, the letter that comes after the question mark and before the equals sign is your query parameter.
Step 4: Check "Strip Query Parameters"
Be sure to check the box that says "Strip query parameters out of URL."
If this option is not selected, Google Analytics will start splitting up tracking for each visited page. For example, you might start to see separate listings for mysite.com/page?s=1, mysite.com/page?s=2, etc.
When you tell Google Analytics to strip the query parameters out of your URLs, it will just track all of those visits together as mysite.com/page. But, you'll still be able to see your internal searches when viewing your site search data.
When you're finished entering your settings, be sure to click the Save button.
How to Find Site Search Terms Data in Google Analytics
After enabling site search on your site, you can go to Behavior » Site Search » Search Terms in your Google Analytics profile to view your site search terms data.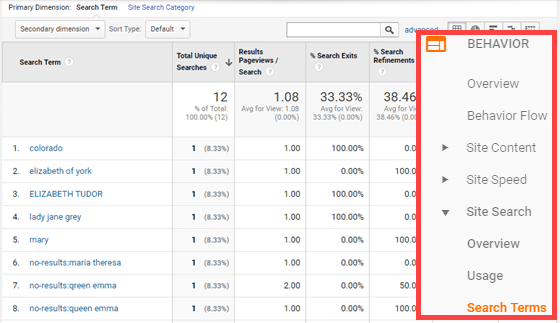 If no results are produced while searching on your site, those terms will be shown as no-results:keyword. Take a look at the screenshot below.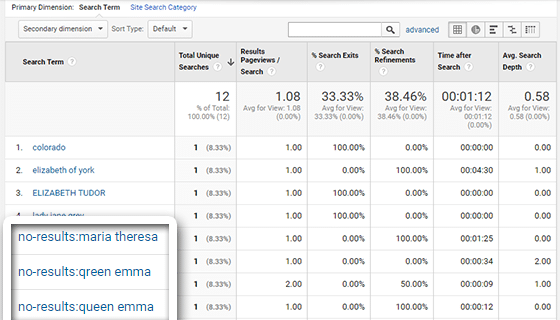 That's it!
We hope this article helped you set up site search tracking on your WordPress site.
To enhance the WordPress site search feature on your site, you can use any of these 12 WordPress search plugins. Looking for more ways to brainstorm content ideas for your blog? Learn how to collect brilliant content ideas using Google Analytics.
And don't forget to follow us on Twitter and Facebook for more Google Analytics tutorials.