Want to get more traffic on WordPress this year? Getting more traffic to your blog or website is the first step to increasing subscribers, revenue or sales, so doing what you can to bring in that extra traffic is a great first step.
It's really easy to get overwhelmed, though, by all the different things you can do to bring in more traffic. And not every tactic will be right for you! So, we're breaking our post into sections with a few ideas in each section. Try tackling just one thing at a time before moving onto another.
First, Gather Data
Before you start working on driving more traffic to WordPress, you'll want to have some data about your website's performance so you can measure your success. The easiest way to do that in WordPress is with MonsterInsights. We'll be using some screenshots from MonsterInsights in our tutorial, and use it to help us put together some traffic-driving tactics.
MonsterInsights is the best Google Analytics plugin for WordPress. It allows you to easily connect your WordPress site with Google Analytics so you can view all the data that matters most right in your WordPress dashboard.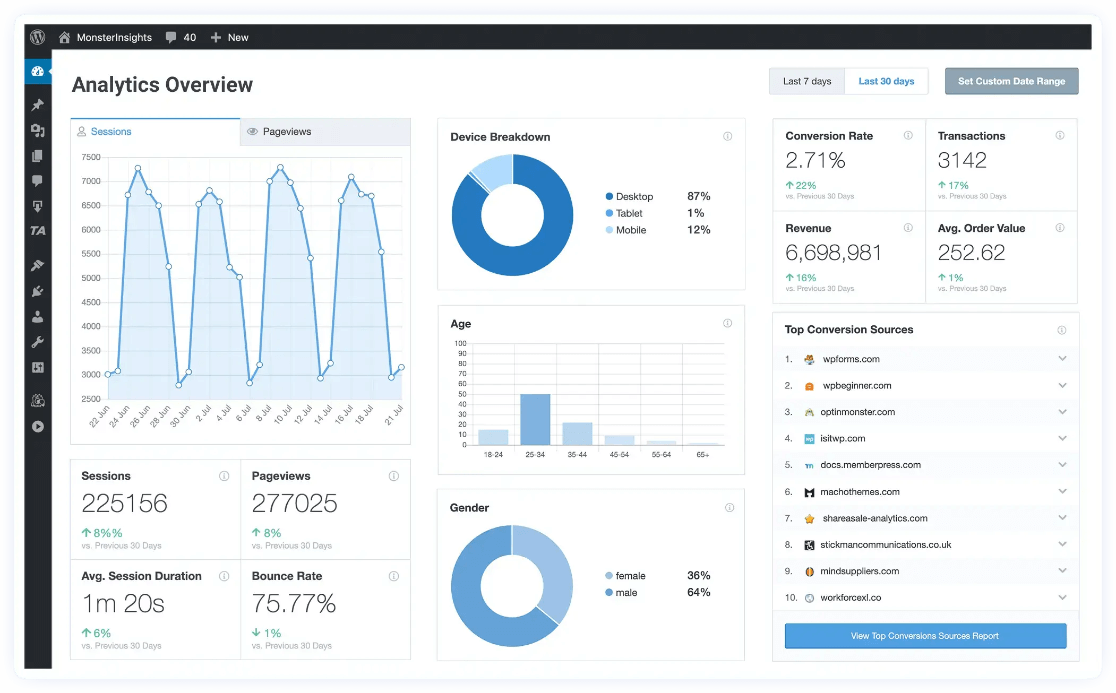 Plus, with the click of a button, you can set up sophisticated tracking features such as event tracking, eCommerce tracking, video tracking, form tracking, custom dimension tracking, outbound link tracking, and more.
If you're not ready to purchase a license, you can start with the lite version.
With that, let's dive into our ideas to get more traffic on WordPress!
Ideas for Generating More WordPress Traffic
To make this post easy to navigate, we've broken down our ideas for getting more traffic into sections based on the marketing channel. Use our handy links to jump to the section you're most interested in!
Let's dive in.
SEO Ideas
1. Perform Keyword Research
Before you start any other SEO tactics, it's important to research the keywords you want to target with your content. If you don't research them, you might unknowingly target a keyword that doesn't have the search volume you thought it might, making your content way less effective than it could be at bringing in traffic.
The basic steps of keyword research are:
Take a look at your current analytics to see what's the most interesting to your audience already, or what you're already ranking for. Maybe you could expand on the topic.

Brainstorm a list of possible keyword phrases you think your audience is interested in. Visit competitors or similar websites for inspiration.
Use Google search and a keyword research tool to determine search intent, search volume, and related search terms.
For a full keyword research tutorial, check out How to Do Keyword Research for SEO: Quick-Start Guide.
2. Set a Focus Keyphrase
In general, each page or post on your site should be built around one main search term, with some related terms (commonly referred to as LSI keywords) in the content. That main search term is called your Focus Keyword or Focus Keyphrase.
While you don't want to overuse your keyphrase (that's called keyword stuffing), you do want to make sure it appears in your headline, URL, meta title and description, in your content headlines, and your image alt tags. That's a lot to remember and to check, so we very highly recommend using the best SEO plugin for WordPress: All in One SEO (AIOSEO).
AIOSEO makes optimizing your content so much easier with their Focus Keyphrase and page analysis. Just enter your keyphrase to find out how you can better optimize your content!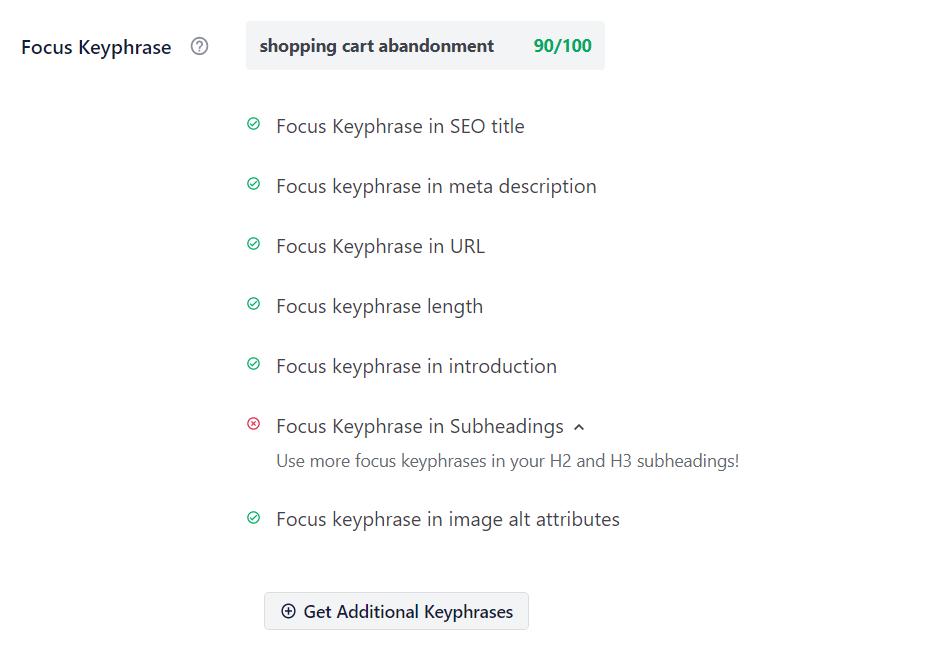 AIOSEO has more WordPress SEO tools and features, too, like XML sitemaps, rich snippets, social media integration, and more.
You can even integrate AIOSEO with MonsterInsights to see your most popular Focus Keyphrases: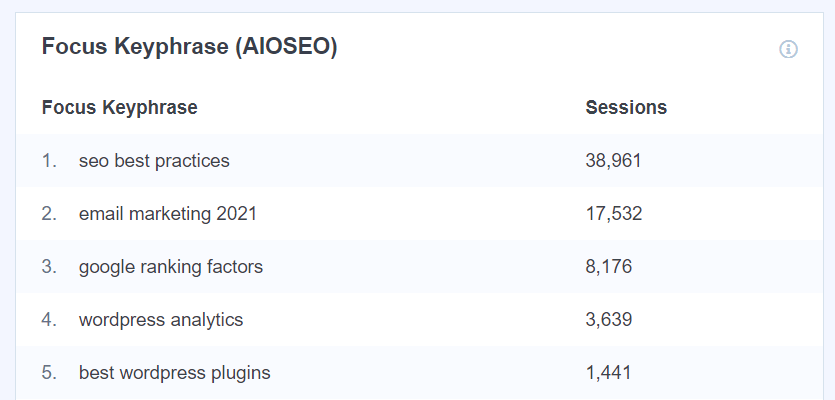 Get started with AIOSEO today!
3. Headlines
An optimized and compelling headline is the first thing a potential site visitor will see, so it has to be good. It should:
Want to find out if your headline is good? Use the MonsterInsights Headline Analyzer to quickly get some tips for making it stronger. If you have a Plus license or higher, you can analyze your headline from right inside your WordPress editor: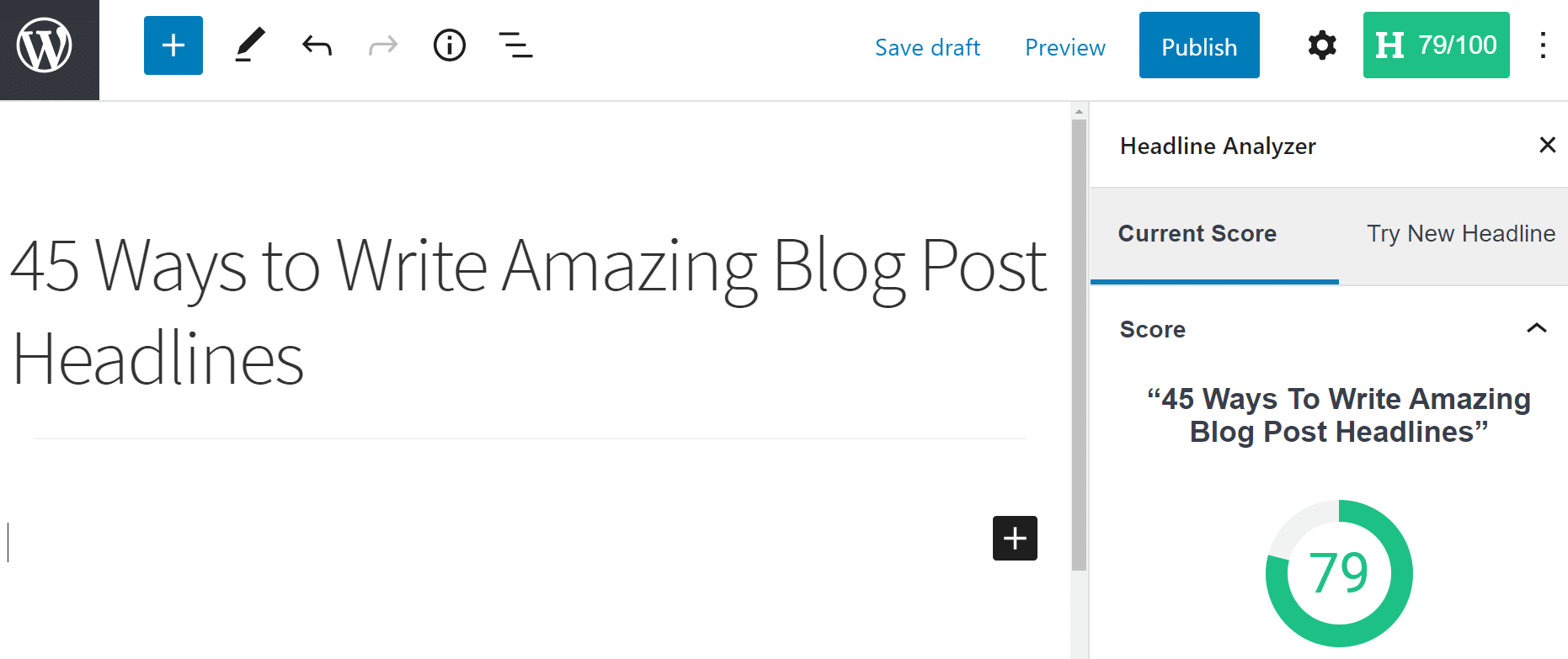 For more headline writing advice, check out How to Write a Headline: 7 Best Practices.
4. Connect Google Search Console
Google Search Console is an essential tool for SEO. It can tell you a whole bunch of really important things, like:
This is a tool that simply cannot be missed. If you're a MonsterInsights user, you can have your Search Console Search Terms report right inside your WordPress dashboard: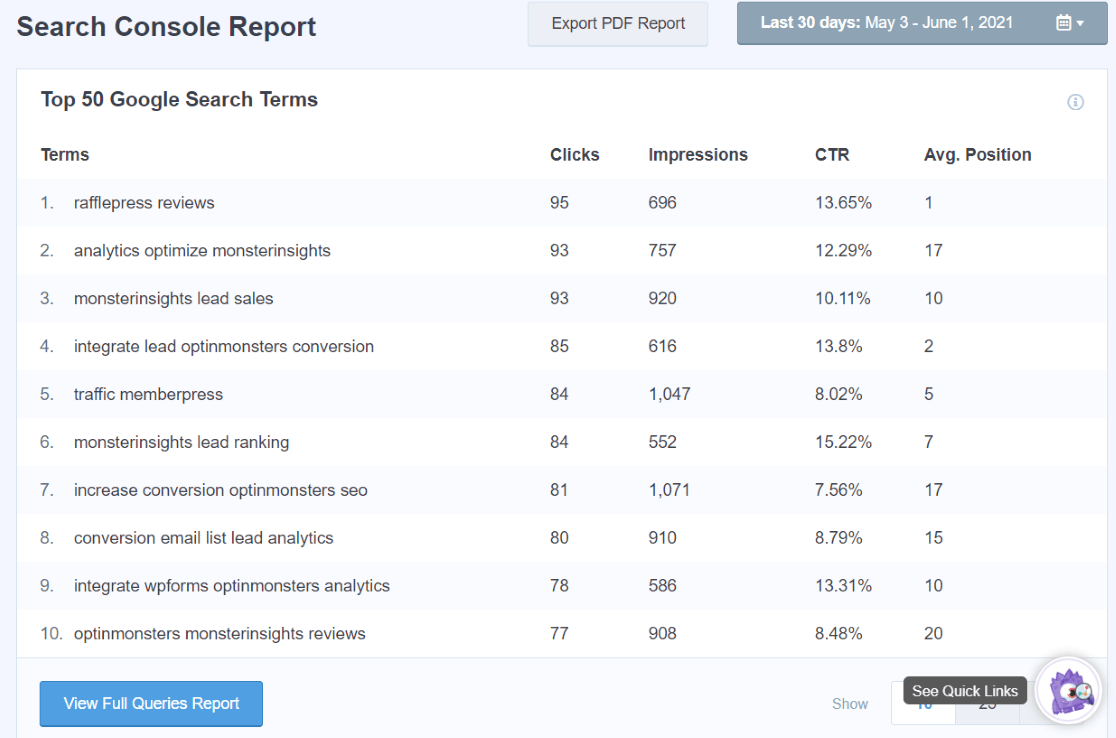 For a full tutorial on connecting Search Console to your site, read How to Add Google Search Console to WordPress and Analytics.
5. Build Internal Links
Internal links are links within your own content that link to another page on your site. They're important because not only can they give your website visitors a natural way to browse your site, but they can also help your content rank better in search.
You don't want to overdo your internal links, but up to a couple per paragraph is just fine.
To make building internal links ridiculously easy, check out AIOSEO's Link Assistant tool: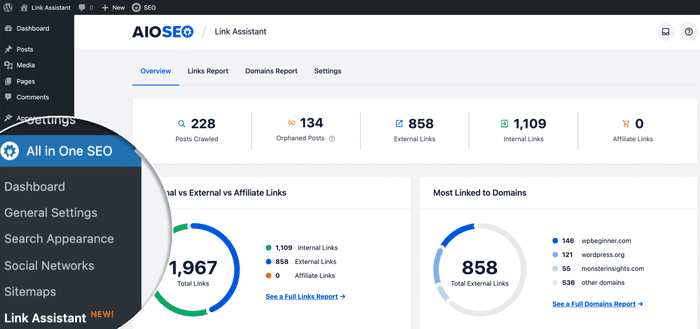 For more on building internal links, check out How to Add WordPress Internal Links to Improve Your SEO.
6. Speed
An important but often overlooked aspect of SEO is your site's speed. A slow website can not only make your visitors leave prematurely, but it can also make your site rank lower in search results. Yikes!
To monitor your site's speed, you can use the Site Speed report in MonsterInsights: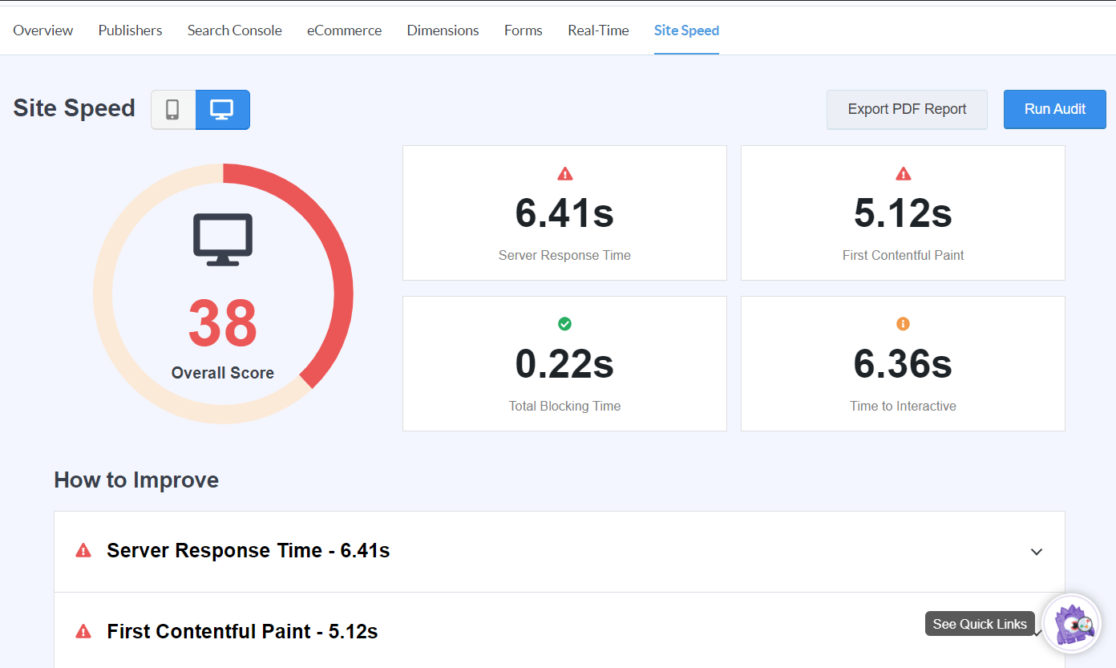 Website running slowly? Check out 17 Easy Hacks to Speed Up Your WordPress Site Performance.
Content Ideas
While performing keyword research should help you come up with a few content ideas, here are some tips for coming up with even more targeted ideas.
7. Competitor Research
Taking a look at what your competitors (or similar sites) are up to is a good way to come up with ideas for your own site. There are a few ways you can do this.
The first way is just to visit their sites, scroll through some of their content, and take notes about which topics it would make sense for you to cover, so you can perform keyword research.
The second way is to use a tool like Semrush to get a glimpse into not only what content is on your competitor's site, but also which of those content pieces are ranking well in search.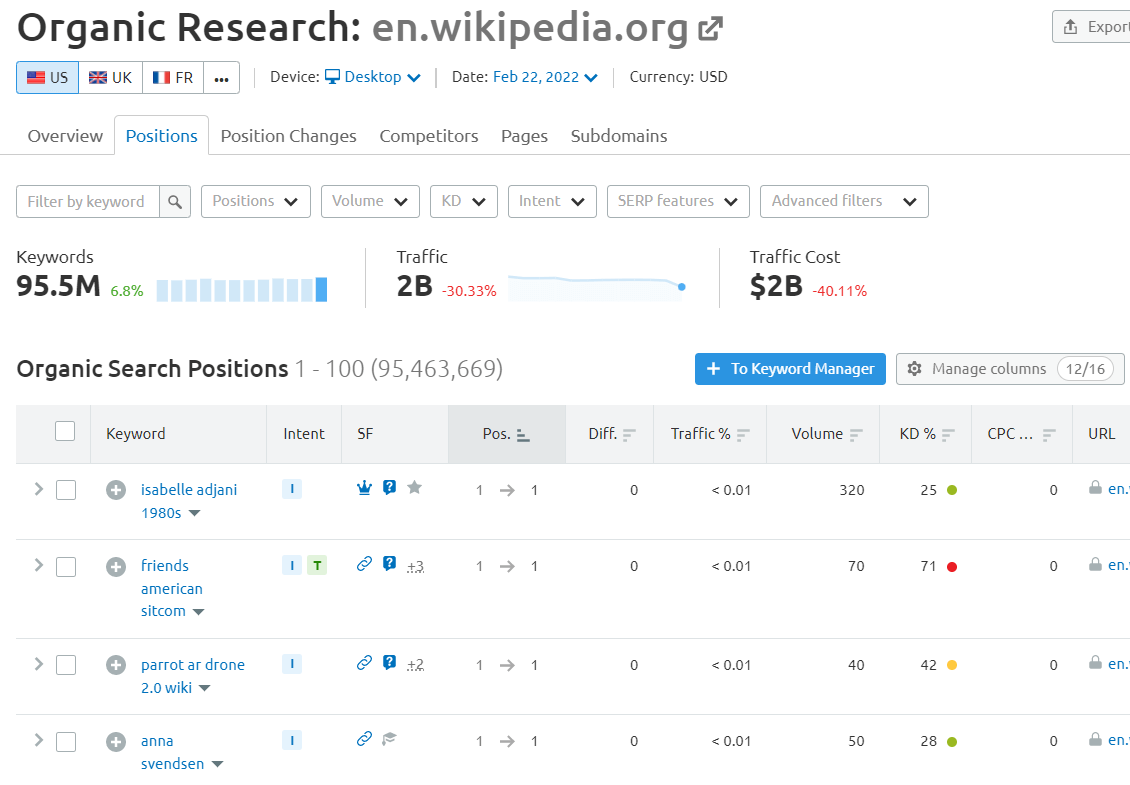 For a tutorial on competitor research, read How to Spy on Your Competitors and "Ethically" Steal Their Traffic.
8. Repurpose Content
If you already have quite a few posts on your site, you might be able to repurpose (or reuse) your content.
For instance, let's say you have an article just like the one you're reading now, about how to get more website traffic. The post is a pretty popular one on your site. How can you further take advantage of this great piece of content you've written?
You could:
Or, let's say you have a piece of content that you think is really good, but it's not getting the rankings or traffic that you thought it might. In this situation, you could try performing keyword research again, tweaking or rewriting the article to better align with your research, and publishing it fresh.
For more ideas, read 35 Brilliant Ways to Easily Repurpose Content and Boost Traffic.
9. Add FAQ
Another way to boost a piece of content is to add Frequently Asked Questions (FAQ) to it. This is a great way to help your content rank better for both your focus keyword and related terms.
For ideas about what questions to answer, run some searches and check the People Also Ask box:

Also check the suggested searches box at the bottom of the page: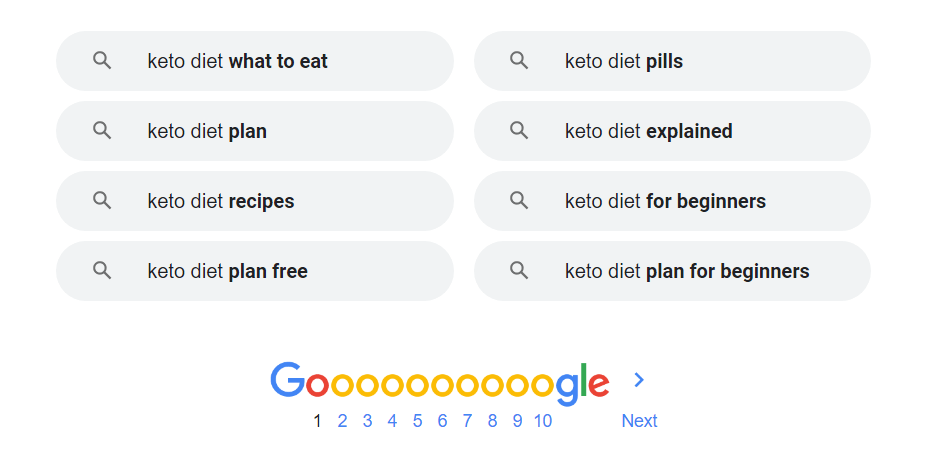 To really increase your chances of ranking, add FAQ schema. For a tutorial on using the All in One SEO plugin to easily add FAQ schema, check out How to Add FAQ Schema in WordPress [The Easiest Way].
Social Media
10. Integrate with Your Website
The first thing you can try to get more traffic to your website using social media is to fully integrate it into your website. There are a few ways to connect your site with your accounts:
Embedding your social media feed onto your website can help you gain followers, which means more people will see your posts and (hopefully) click through to your site in the future.
11. Make Sharing Posts Easy
If you want site visitors to share your posts and help grow your following, you need to make it incredibly easy to do. The best way to make social sharing easy is with a plugin.
Our favorite plugins for the job are Social Warfare and AddToAny.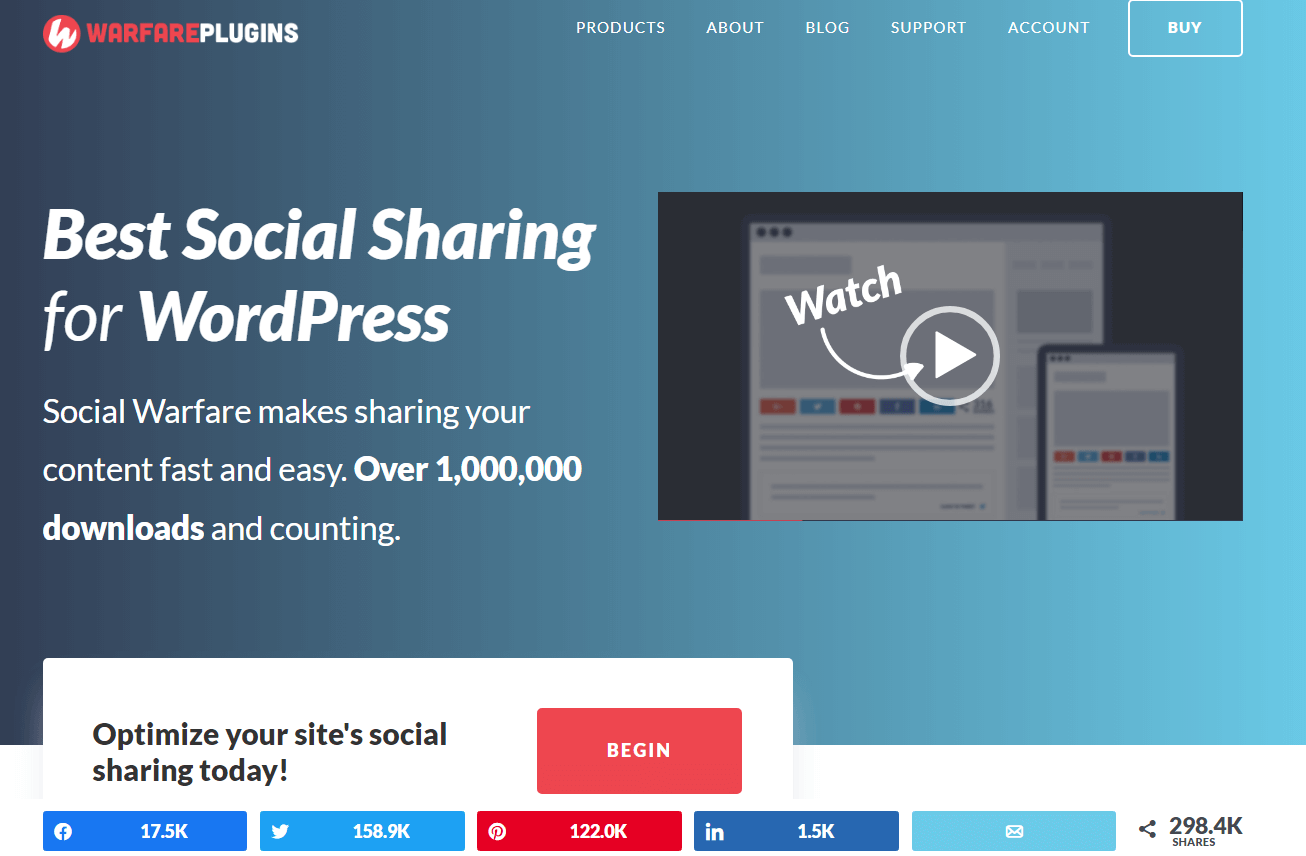 For more of our favorite social media plugins to help with sharing, check out 10 Best Social Media Plugins for WordPress.
12. Run Viral Giveaways
Another great way to increase your social media followers and website visitors is to run giveaways. We've got the best tool for the job: RafflePress.
RafflePress is an easy-to-use WordPress plugin for creating drag-and-drop giveaways. Give everyone entering the giveaway the option to get extra entries for following you on social media and watch those followers grow!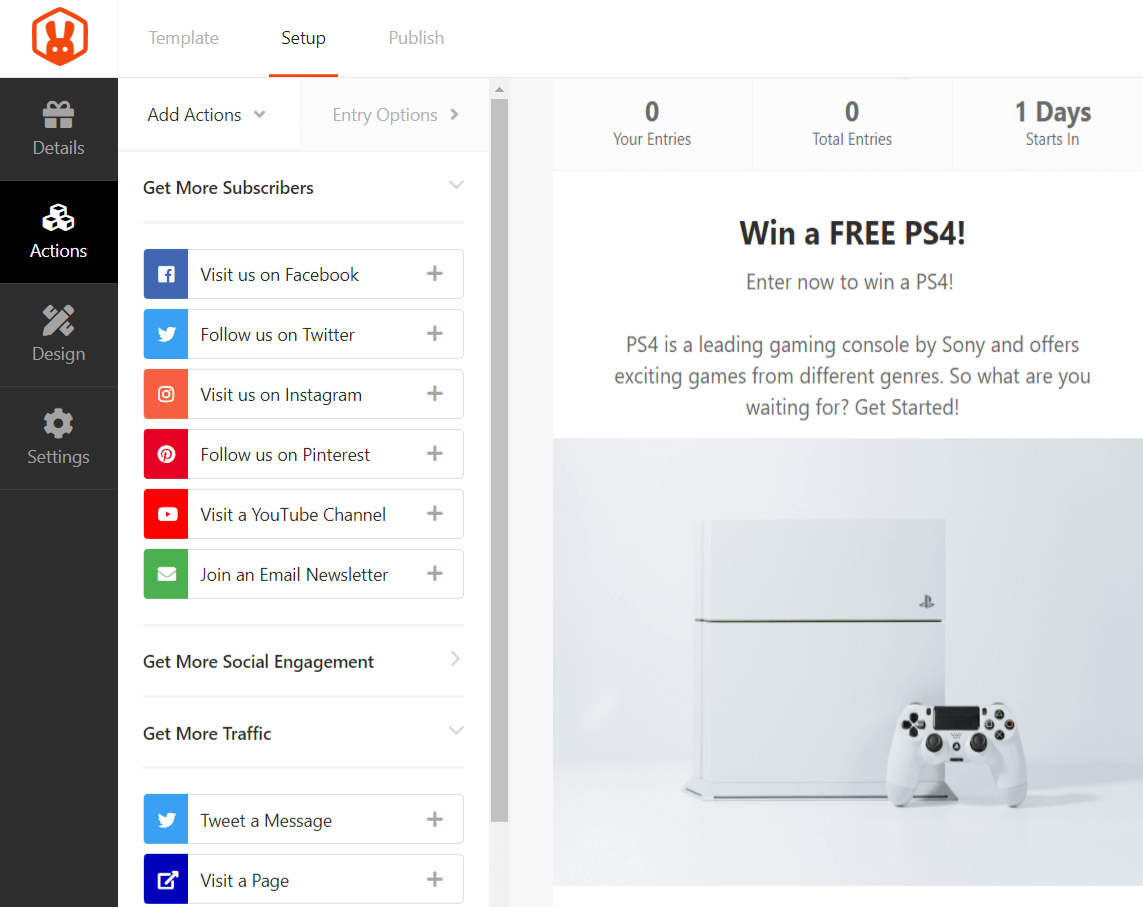 Get started with RafflePress today!
Referrals & Returning Traffic
13. Grow Your Email List
Email marketing is one of the very best ways to grow your business. Collecting email addresses is so important! Your email marketing audience likely consists of people who have signed up for emails, made a purchase, or interacted with your business already in a different way. So, they're awesome, qualified leads and an engaged audience!
To build and continue growing that audience, there's one tool we recommend: OptinMonster.
OptinMonster is the most powerful conversion optimization toolkit in the world. Build pop-ups, slide-ins, spin-the-wheel campaigns, and much more to engage with your visitors and capture their information.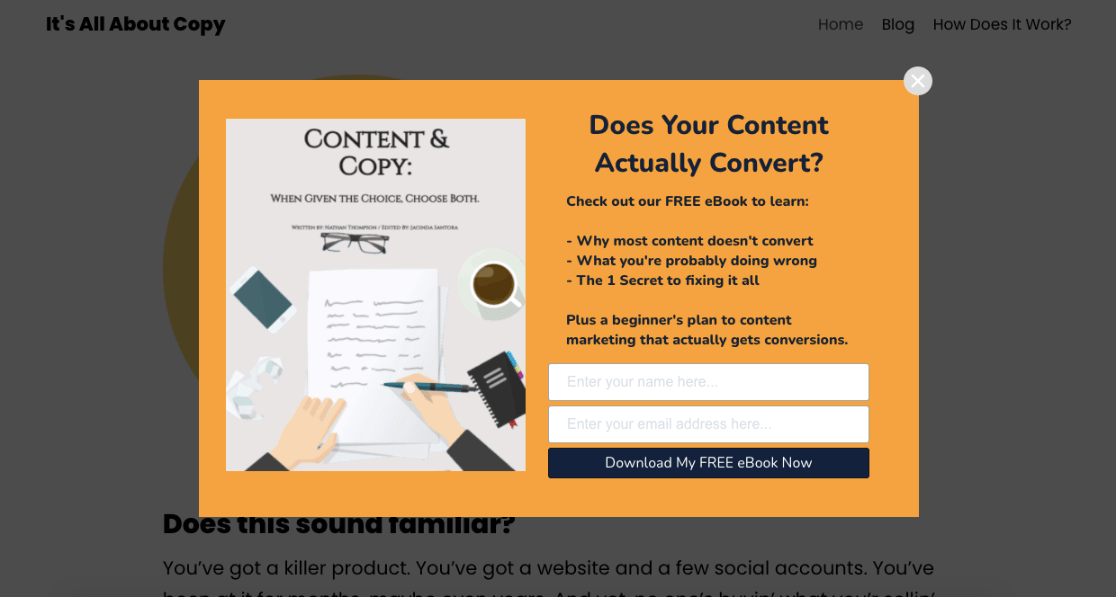 Get started with OptinMonster today!
14. Email Marketing
Alright, so you've captured email addresses. Now what?
Email marketing can be intimidating, but don't let that deter you. Read some email marketing advice and best practices, set up your first campaign, and go from there.
If you haven't set up an email marketing account yet, our recommendation for a provider is Constant Contact. Choose from hundreds of templates to get started designing your campaigns, track your campaigns with comprehensive reporting, and send up automated campaigns.
Get started with Constant Contact today!
15. Push Notifications
Push notifications can be such a powerful, high-converting marketing channel. The only way to get onto your push notification list is to click a button to allow them, so you know that anyone signed up for your notifications is genuinely interested in what you have to share.
To send push notifications to your subscribers, we highly recommend using PushEngage.
PushEngage is the best push notification software for the web. Use it to alert your subscribers about new content, new products, sales, videos, abandoned carts, or anything that makes sense for your business.
With PushEngage, you can send automatic notifications, set up a drip campaign, try some A/B testing, and more.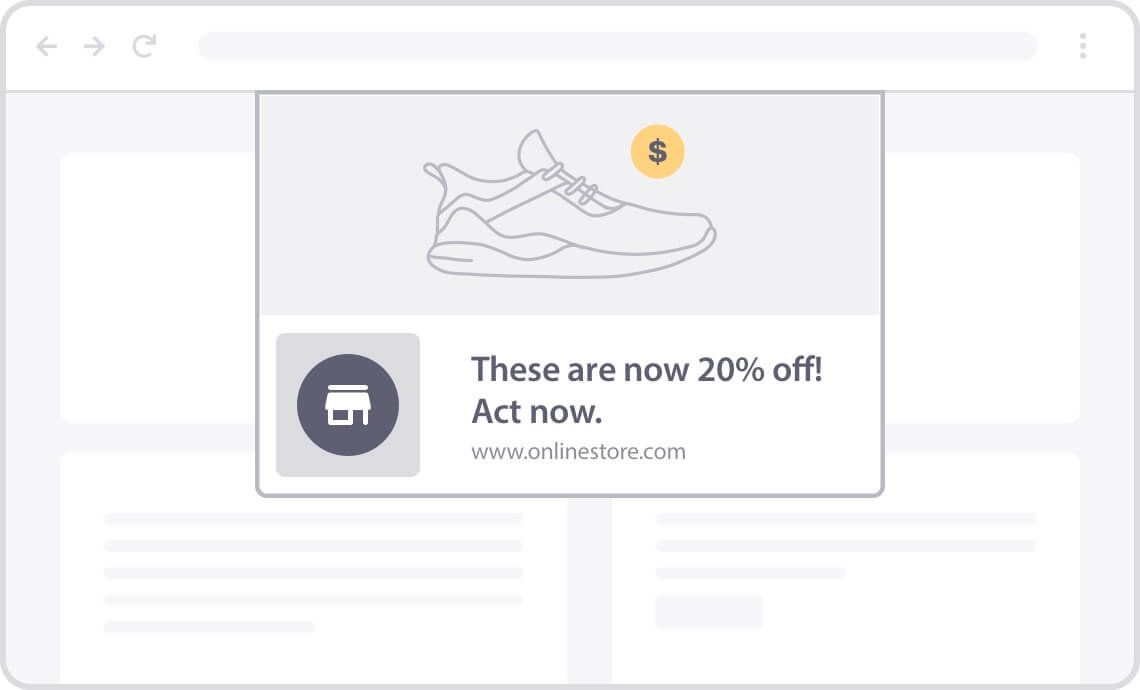 Get started with PushEngage today!
16. Partner with Referrers
Do you know which other websites are linking to yours? Are any of them sending some referral traffic your way?
If you're a MonsterInsights user, quickly find your referral traffic right in your Overview report: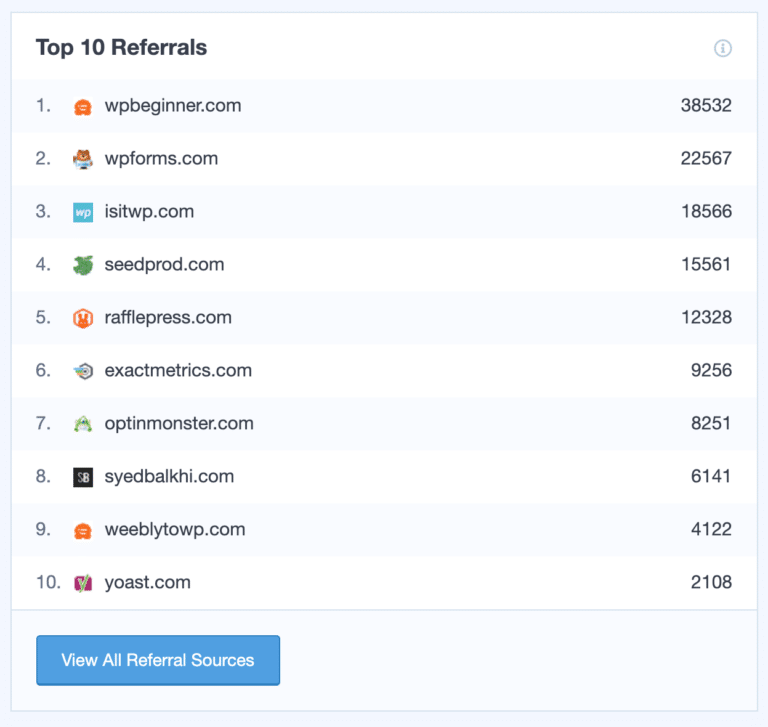 If you've got a couple referrals there who are sending you some traffic, it would be a good idea to reach out to them to see if they want to do some further collaborating. They might want to link to another piece of your content, or maybe exchange a guest post of some kind.
17. Link Building
Link building can be hard to do, but it can be very impactful. Creating backlinks to your site not only can send you referral traffic, but also improve your SEO and search engine rankings.
One fairly easy place to start is with forums. Make sure to read all rules so you don't get banned for including a link to your site, but many forum sites like Quora do allow some linking. Forum links aren't as good for SEO, but they can definitely send traffic.
For more link building ideas, read How to Get Backlinks (15 Quick and Simple Strategies).
That's the end of our list!
Of course, there are other marketing ideas out there that can help you increase the traffic to your site, but these are all a great place to start.
Want to know how users are finding your site in search results? Read How to See the Google Analytics Keywords for Your Website.
Not using MonsterInsights yet? What are you waiting for?
And don't forget to follow us on Twitter, Facebook and YouTube for more helpful reviews, tutorials, and Google Analytics tips.