Do you want to boost conversions on your site?
Conducting Google Analytics A/B tests on your site to understand what works best for your audience can really help you increase conversions.
Don't worry if you don't have the budget or resources for an enterprise-level A/B testing solution. Google Optimize is a free A/B testing and personalization product, which is the perfect solution for small and medium-sized businesses like yours that need powerful testing.
Best of all, it's built right on top of Google Analytics, so you can start using your Analytics data to conduct A/B tests and improve conversions on your site right away.
We'll walk you through how to use Google Optimize to perform A/B testing for free.
Google Analytics A/B Testing With Google Optimize
To conduct an A/B test on your site with Google Optimize, you'll need to connect your site to both Google Analytics and Google Optimize.
MonsterInsights is the only Google Analytics plugin that helps you easily connect Google Optimize to your site and conduct A/B tests hassle free.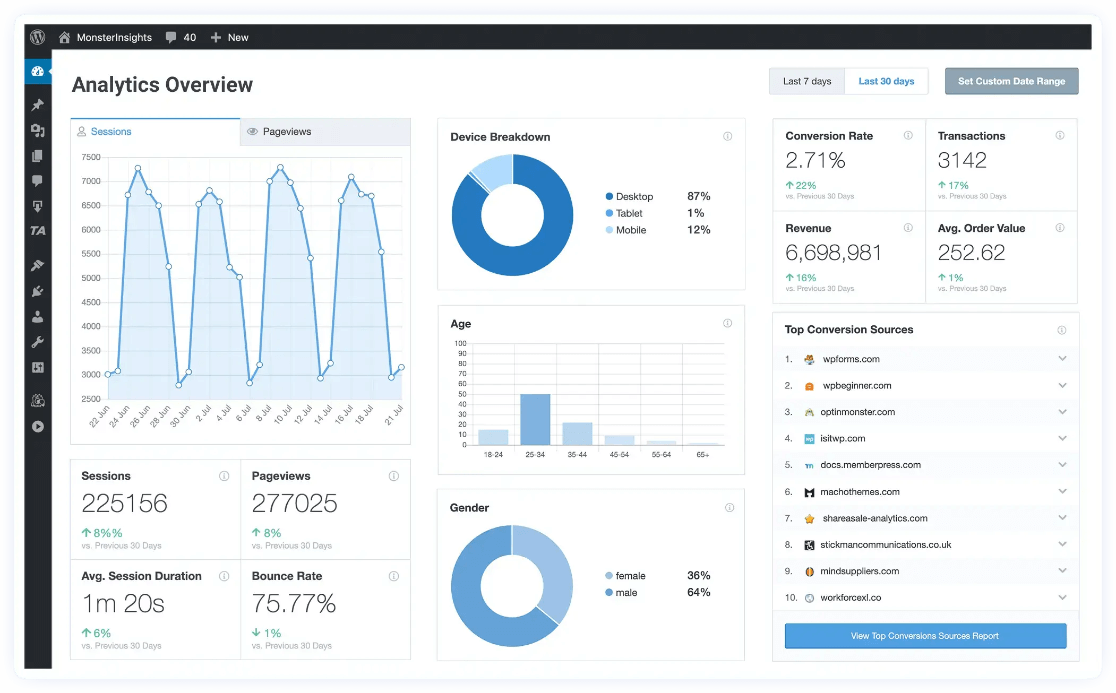 On top of that, MonsterInsights provides a whole host of tools for website owners to use for website analytics and optimization. A few of those are:
Easy, code-free enhanced ecommerce setup and reporting
Form conversion report
Outbound click report
Scroll tracking
Category and tag tracking
And more! Check out the full feature list.
To set up Google Optimize in WordPress, download and install MonsterInsights at the Pro level, activate the Google Optimize addon, then put your container ID in the box:
For a full step-by-step guide on setting up Google Optimize, read how to set up Google Optimize in WordPress.
Don't have MonsterInsights Pro? Follow the instructions for the Google Optimize Installation from Google.
After the setup, you'll also have to install the Google Optimize extension in your Chrome browser. This extension enables you to use Optimize visual editor to create test variants on your site by tweaking text, images, layouts and more.
Create Your First A/B Test
For the sake of this example, let's make our test simple. We'll be testing whether improving the headline of our landing page by explicitly asking our users to take action will boost our conversion rate.
Original headline: Download the Definitive Guide to Google Analytics eBook
Variant headline: [INSTANT ACCESS] Subscribe to the Newsletter and Download the eBook
To create the test, head over to your Google Optimize account and choose the right property in which you want to conduct an A/B test.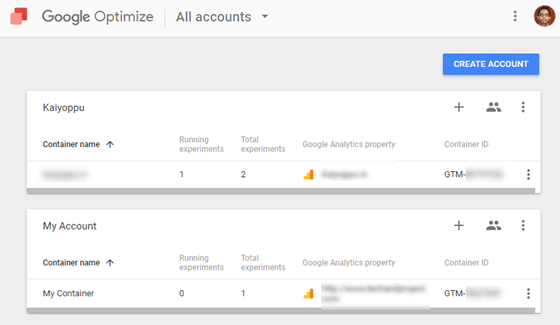 Then, click on the Create Experiment button.
You'll now be asked to name your experiment, enter the URL where you want to conduct the test and choose the type of experiment.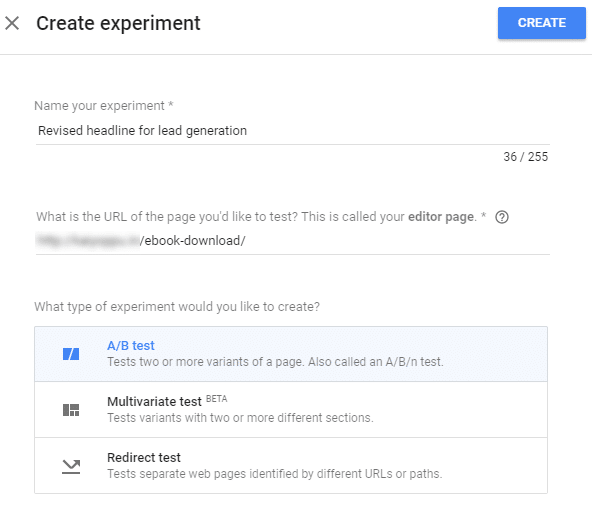 If you want to create a simple test variant by using the Optimize visual editor, choose A/B test. If you want to test multiple variables, choose Multivariate test. If you prefer to create variants by duplicating your content with separate URLs without using the Optimize visual editor, you may use Redirect test.
For a more in-depth look at these different kinds of tests, check out Multivariate Testing vs. Split Testing: Which Should You Use?
Create a Test Variant
Google Optimize allows you to create a test variant using the Optimize visual editor powered by the Chrome extension.
To start creating a test variant, click Create Variant. In the window that pops up, specify the name for the variant and click Add.

You can now see that a new variant is added, but we haven't modified the content yet. To make modifications, click on Variant 1.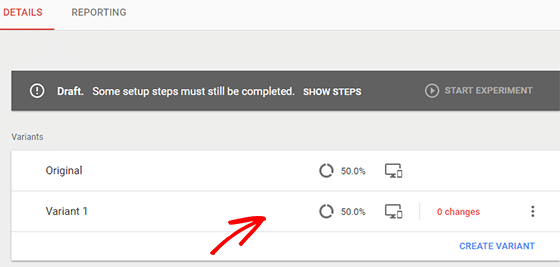 You'll now be redirected to your landing page where you can make any tweaks using the visual editor. As we want to modify the headline, right click on it and then choose Edit text.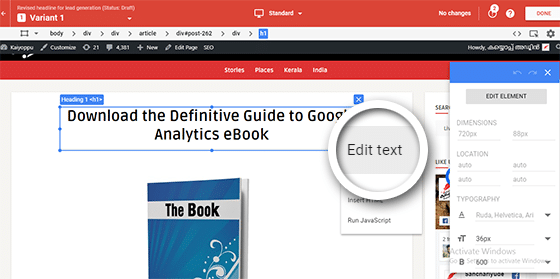 Next, change the text and Save the editor. Then, click Done to return to your Optimize account.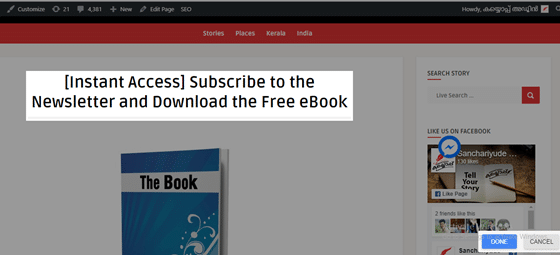 Set Up Objectives and Hypothesis
Next, scroll down the page and find the Objectives tab.

In this tab, you'll have to connect your account to your Google Analytics goal by clicking Add Experiment Objective.
If you don't have any Google Analytics goals created, log into your Google Analytics to create an Analytics goal to track conversions from your Optimize test.
In our example, as we want to test whether changing the headline will boost newsletter signups, let's create a Google Analytics goal to track form conversions.
Next, specify your test description and hypothesis.
If you're just getting started with A/B testing, chances are you'll be tempted to simply write the test description and skip the hypothesis. Don't skip writing a clear hypothesis. Formulating a clear hypothesis is essential to keeping you honest down the line when you review the results.
Here are the description and hypothesis we'll be using in our example:
Description: Promote a newsletter via a Facebook campaign
Hypothesis: If we explicitly ask our users to subscribe to the list in the headline, then we'll increase our conversion rate.
Now, click the Targeting tab and specify how many people who visit your site should be included in the test. You can also specify when the result should be triggered, like on page load or a custom event.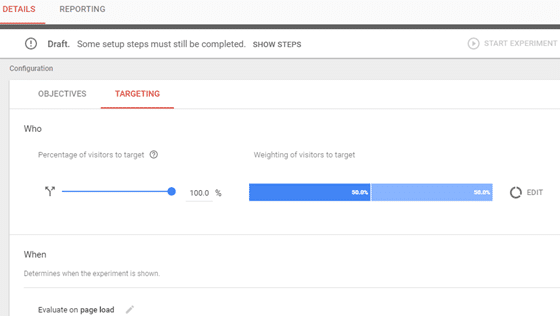 Once they're all set, you can click on Start Experiment. Then, in the modal popup that appears, click on Start.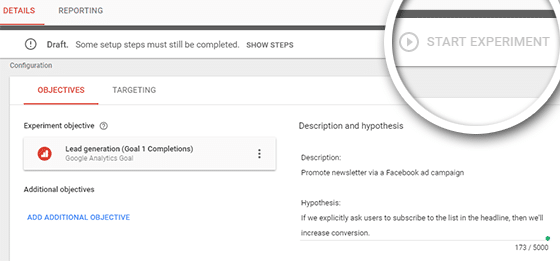 Congrats!
You've just started an experiment to further understand what resonates with your audience. It is advised to run an A/B experiment for at least two weeks before reviewing the results. After gathering enough data, Google will declare a winner.
We hope this guide helped walk you through how to conduct your first Google Analytics A/B testing experiment with Google Optimize.
A/B testing a landing page is a great tactic to boost your conversions. If you promote your landing page through Google AdWords, you should use Google Analytics for AdWords conversion tracking.
For more on using Google Optimize, read 6 Google Optimize Best Practices to Boost Your Conversions.
And don't forget to follow us on Twitter, Facebook and YouTube for more helpful Google Analytics tips.