Looking for the best WordPress FAQ plugin to use for putting FAQ on your website?
Adding an FAQ page or section on your website is an awesome way to address frequently asked questions that your customers or prospects might have.
One thing you MUST know about adding FAQ to a website is this: You might be able to get your questions and answers to appear in Google's search results. This can be a really awesome way to make your website stand out in search results and improve your SEO!
When your search result has extra content (called a "rich snippet"), your chances of ranking higher and bringing in more organic traffic are better than the other results on the page.
To get rich snippets like a FAQ listing, you'll need to use code called schema.
So, in this article, we'll list out the best FAQ plugins for WordPress, but we'll also talk about the importance of using FAQ schema and tell you about our favorite plugin that can handle both posting your FAQ and using schema.
What is FAQ Schema?
FAQ schema is some extra code you can add to your webpage to show Google that the page has frequently asked questions on it, and possibly show them in search results in an accordion style:

Searchers can expand a question to read the answer: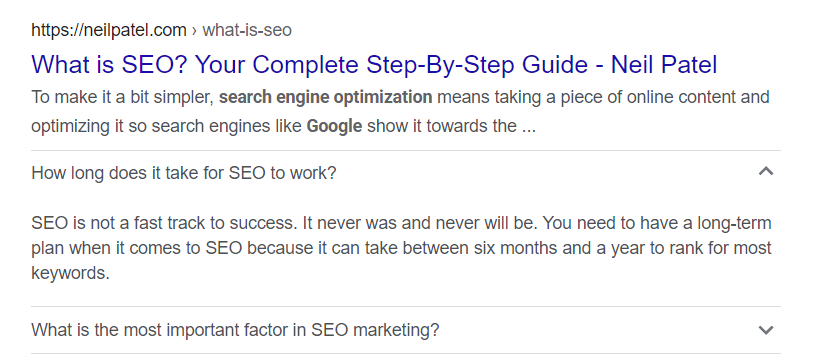 While adding FAQ schema doesn't guarantee that your questions and answers will be pulled into search results, it's still an excellent SEO tactic to try. Even if your FAQ isn't pulled into your search result, using schema is still a great way of telling Google what kind of content is on your page.
The Best WordPress FAQ Plugin (With Schema)
If you want to set up your FAQ page and have Schema automatically applied, there's one plugin that stands out above the rest: All in One SEO.
All in One SEO is the best SEO plugin for WordPress. With AIOSEO, you can easily set up a FAQ block in your Gutenberg editor that will automatically apply schema to your questions and answers.
Simply add the FAQ block to your page or post and input your questions and answers.

Your FAQ will inherit its styles from your post, but you can also change some styles by expanding the FAQ Options panel in your sidebar: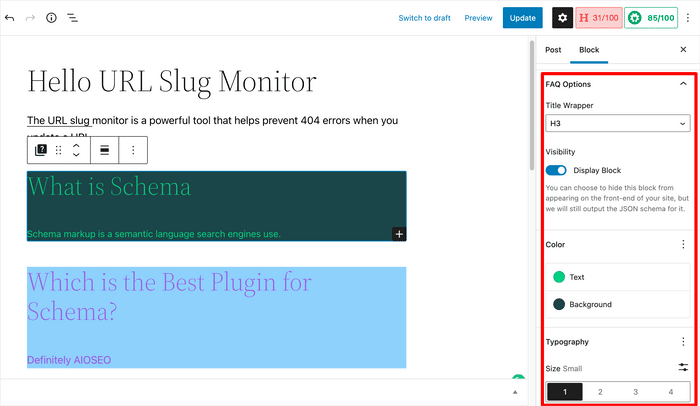 You can also add FAQ schema without adding content to your page. Just add it in the AIOSEO settings below the content area:

Plus, if you choose AIOSEO for your WordPress FAQ plugin, you'll also get a whole bunch of other WordPress SEO tools and features to bring in more organic traffic.
For instance, AIOSEO will add a field to every post and page in your WordPress editor where you can include your focus keyphrase. Once you type it in, the plugin will scan your content and give you suggestions for how to improve it to make it more SEO friendly.
More AIOSEO features include:
Pricing: AIOSEO starts at $49.50 per year.
Get started with AIOSEO today!
More Good WordPress FAQ Plugins
Looking for a FAQ plugin without all the SEO features that AIOSEO has? Let's take a look at some good ones.
Heroic FAQs is a WordPress FAQ plugin that's easy to use, doesn't involve any coding, and can be customized to match the theme of your site. One of the cool features of this plugin is that it allows you to use videos in your answers. So, if you have a great video that answers the question, go ahead and embed it!
More Heroic FAQs features include:
Drag-and-drop interface
Supports rich content like images, blockquotes, lists, video and more
5 included styles
Optimized to look good and work on any device
SEO markup with Schema
The con of this plugin is that it comes bundled with Heroic KB (knowledge base) only, so you have to purchase a license for the whole product.
Pricing: Heroic FAQs comes bundled with Heroic KB, which starts at $149 per year.
Get started with Heroic FAQs today!
Easy Accordion is the best free WordPress FAQ plugin with 175 5-star reviews. It's responsive to any device, includes an easy drag-and-drop editor, and you can use it to create multiple FAQ accordions easily.
More Easy Accordion features include:
Create unlimited FAQ accordions
Drag and drop sorting
Unlimited color and styling options
Lightweight and easy to use
Widget supported
Schema markup
Pricing: Easy Accordion is free.
Get started with Easy Accordion today!
FAQ by 10Web is another popular WordPress FAQ plugin that comes bundled with 10Web's big plugin bundle of over 50 plugins. It comes with 5 default themes or the ability to create your own, and is easy to use.
More FAQ by 10Web features include:
Responsive for any size screen
Includes a search bar to allow users to search FAQ
Assign categories and authors to FAQ
Add Facebook and Twitter buttons so users can share your FAQ
Pricing: FAQ by 10Web comes bundled with 10Web's other plugins, starting at $85.
Get started with FAQ by 10Web today!
The Tribulant WordPress FAQ Plugin is another of the best premium FAQ plugins for WordPress. What makes this plugin unique is the ability for users to submit questions on the front-end of your site, so you can answer questions that aren't included in your FAQ.
More Tribulant WordPress FAQ Plugin features include:
FAQ search bar
Choose whether users have to be logged in to submit a question
Translation ready
Categorize FAQ into groups
Simple to use
Pricing: Tribulant WordPress FAQ starts at $34 for one year of updates.
Get started with Tribulant WordPress FAQ today!
Ultimate FAQ is another free WordPress FAQ plugin that works well for creating a basic FAQ section or page. It has over 300 5-star ratings and can be installed on your site using a Gutenberg block or shortcode.
More Ultimate FAQ features include:
Create unlimited FAQ
Categorize your FAQ with categories and tags
Responsive accordion layout
FAQ grouping options
Ability to import FAQ from a spreadsheet
FAQ Schema markup
Pricing: Ultimate FAQ is free.
Get started with Ultimate FAQ today!
That's our list of the best FAQ plugins for WordPress! We hope you found the one that'll work best for your unique site.
If you liked this post, you might also like to check out 45 Best WordPress Plugins to Download Now (Many FREE).
Not using MonsterInsights yet? What are you waiting for?
And don't forget to follow us on Twitter, Facebook and YouTube for more helpful reviews, tutorials, and Google Analytics tips.