Want to track the performance of a certain email or ad campaign, or find out how many visitors you get from a certain link? It's easy when you add custom campaign variables, called a UTM code, to your URLs. In this guide, we'll show you how to create campaign URLs with UTM codes in MonsterInsights.
Tracking Performance of the URLs in Your Marketing Campaigns
Let's say that you're sending out an email newsletter about a spring sale, and you want to track the performance of that email campaign. To measure the performance of that email, you want to track how many visitors you get from a certain link in your email.
The easy way to do this is to add a bit of special code, called a "UTM code," to your URL.
When you do that, Google Analytics knows to separately track website visitors who used those links. This way you can easily get analytics reports on how each link is performing.
With MonsterInsights, you can easily create URLs with UTM tracking codes right in your WordPress dashboard.
Creating Campaign URLs with UTM Codes
Before we get started, you'll have to install the MonsterInsights plugin on your site and connect it to Google Analytics.
To create campaign URLs with UTM codes, navigate to Insights » Tools. You can now see the URL builder.
In the URL builder, you can enter the website URL and other campaign information. Except Website URL and Campaign Source, all other fields are optional.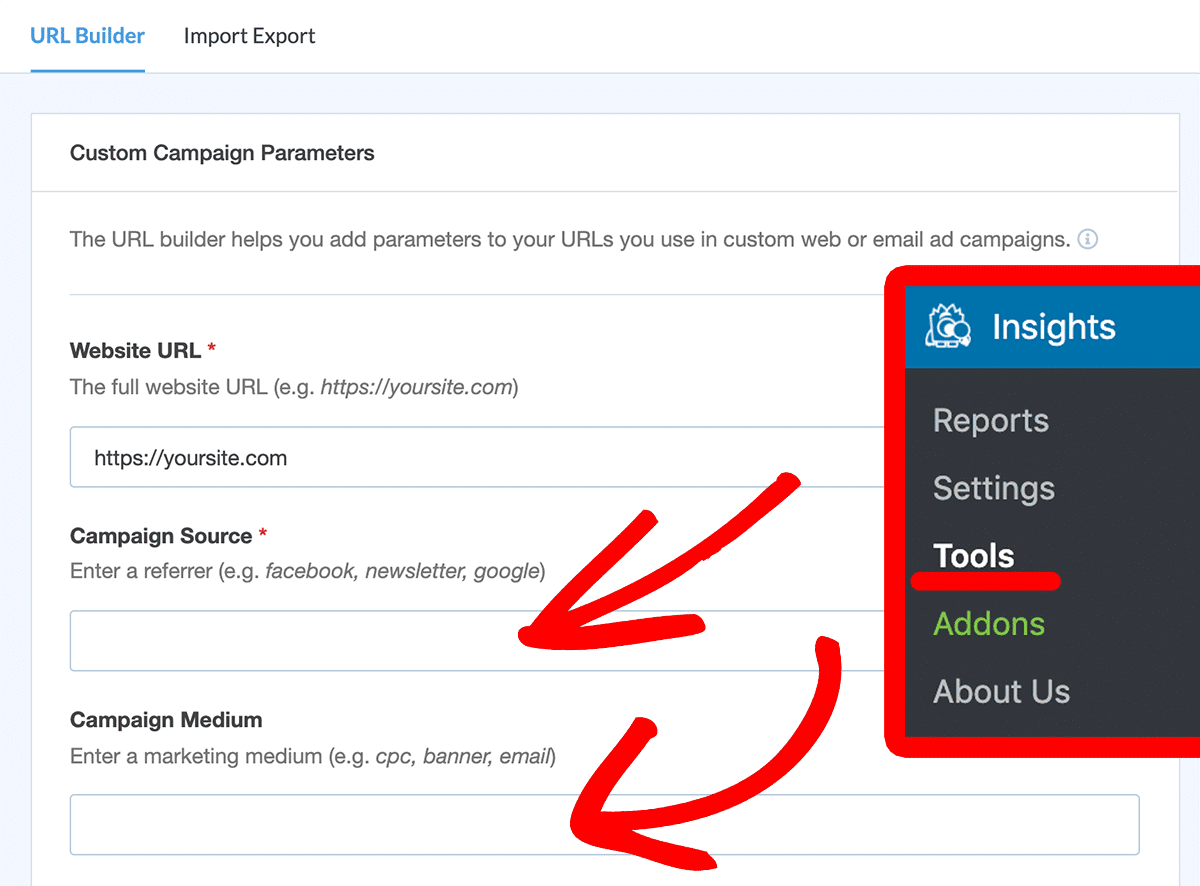 Website URL: In this field, you can enter the website URL you want the link to go to.
Campaign Source (utm_source): Enter the source of your traffic such as search engine, newsletter name, etc.
Campaign Medium (utm_medium): You can enter the medium where the campaign URL will be used such as email, ads, etc.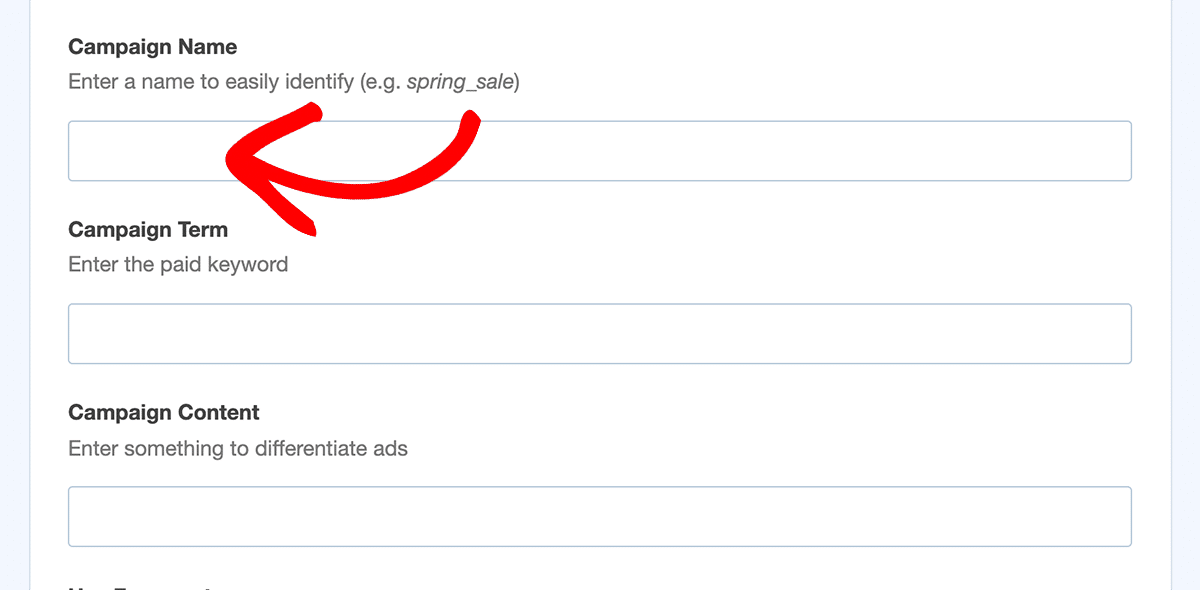 Campaign Name (utm_campaign): You can enter a specific name to identify the marketing campaign. Example: spring_sale
Campaign Term (utm_term): This optional field is a good idea to use if you're running a paid search campaign. It identifies the keywords of your ads. Example: running+shoes
Campaign Content (utm_content): You can use this field if you're A/B testing the performance of your campaign. This optional parameter is used to differentiate ads that point to the same URL. Example: logolink or textlink
Use Fragment: When you check this box, your UTM codes will be built using fragments instead of queries (for example, http://www.example.com#utm_source=google instead of http://www.example.com?utm_source=google). This method isn't recommended, but available for those who prefer it.
When you're done entering your campaign information, scroll to the bottom to get your new URL. You can also use on-the-fly URL shortening with goo.gl within the dashboard.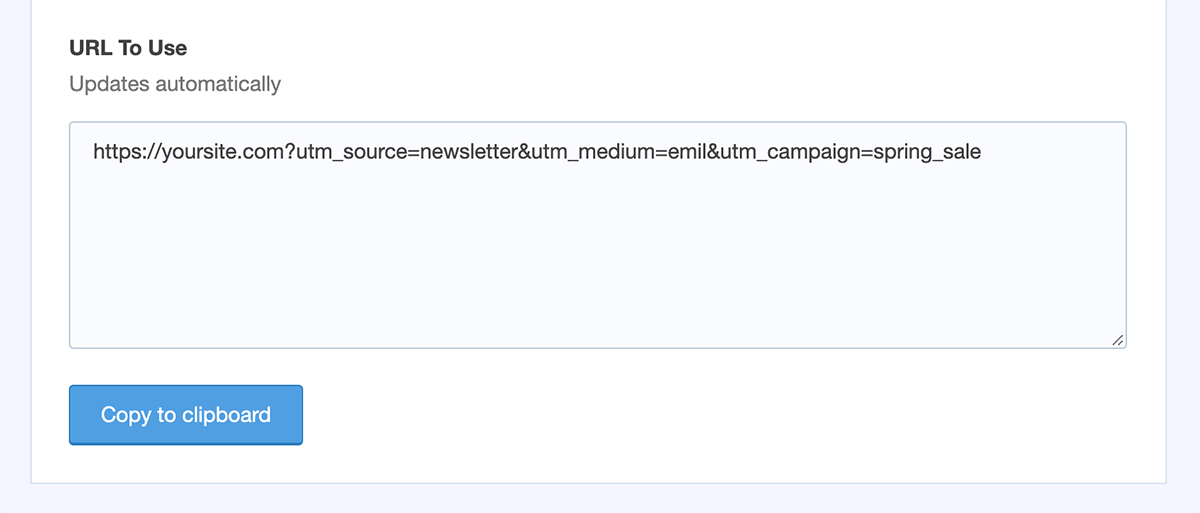 Once you built the campaign URL, you can use it in your marketing campaigns. This way, you can track the performance of your campaigns in Google Analytics.
Want to track your eCommerce sales data? You can check out our guide on how to enable eCommerce tracking in Google Analytics.