Are you wondering how to rank your website in the top positions on Google? If so, then you must have come across the term "domain authority".
For anyone working on SEO (search engine optimization), it's important to know that domain authority is not one of the Google ranking factors itself, but the tactics you might use to increase your domain authority can also improve your SEO and positive ranking signals.
In this article, we'll go over what actually domain authority is, how important it is for ranking your website, and how can you boost it.
We'll go over:
What is Domain Authority?
Domain authority (DA) is a ranking metric that you can use to predict how well your website will rank on search engines.
It's created by Moz and assigns a score from 1 to 100. So, if your website has a high score, it means it has a greater chance of performing well in search engine page results (SERPs).
Another way of looking at domain authority is that it shows the relevance of your site with respect to your industry or a specific topic. So, it's a measure of the strength or authority of your domain in terms of rankings.
But don't confuse domain authority and page authority, as there's a slight difference between the two.
Domain authority shows your entire domain's (and subdomain's) ranking strength. While page authority looks at the ranking ability of individual pages.
With that, what domain authority score should you target?
What Is a Good Domain Authority Score?
There are many factors that go into calculating domain authority. But to give you an idea, websites like Google, Apple, or Microsoft will have a high DA (between 95 and 100).
On the other hand, if your website is new, then your DA will be low (possibly between 10 to 20).
You should also know that it's easier to improve your site's DA if it's between 20 to 30 than if it's between 70 to 80.
Here's a look at what each domain authority score means:
Below 30 is poor
30 to 40 is below average
40 to 50 is average
50 to 60 is good
60 to 70 is very good
Above 80 is excellent
An important point to remember is that DA is not a Google ranking signal, but it may help you predict your website's performance in search results.
So, it's better to use it for comparison with other websites around yours in the SERPs and then try to increase your DA.
How is Domain Authority Calculated?
When it comes to calculating domain authority, different tools use their own methodology. As for Moz, it uses over 40 different factors to give you a DA score.
But the most important factors include:
MozRank – This counts the number of websites linking to a web page. It also looks at the quality of these websites that are linking to yours.
Link Profile – This includes the internal and external links from your web page. So, if your post links to high authority websites and also get linked back by other reputable sites, then you would get a good score.
Root Domains – When it's looking at your link profile, Moz also looks at the number of unique backlinks. Let's say you have 100 links but  they're from a single website. Moz will consider this as 1 root domain. So, it's important to get backlinks from different websites.
MozTrust – Moz checks the trustworthiness of websites linking to your page. For instance, if you get a link from a university webpage, governmental site, or a large organization site then you'll get a high score.
Site Structure and User Friendliness – For achieving a high DA, you need to make sure that your site structure is easy for search engines like Google to use for crawling your pages. And you also have to provide a great user experience to your visitors.
Now, are you ready to learn how to build domain authority?
How to Increase Domain Authority
As you start to work on boosting your website's domain authority, you should remember that it's a long-term strategy. Here are some ways you can increase your site's DA:
1. Acquire High-Quality Backlinks from Authority Sites
As you probably noticed, backlinks play a huge role in calculating domain authority. Not only that, but backlinks are one of the most important ranking factors.
A study by Ahrefs showed that 55.24% of websites don't get any organic traffic, since they don't have any backlinks.
Therefore, it's safe to say that you need high-quality backlinks.
There are tons of ways you can get backlinks to strengthen your link profile. To start, you can look at your top referral sources and then find similar sites for backlink opportunities.
And for WordPress users to uncover your top inbound link sources, you can use MonsterInsights. It's the best WordPress Google Analytics plugin and shows you detailed reports on your dashboard.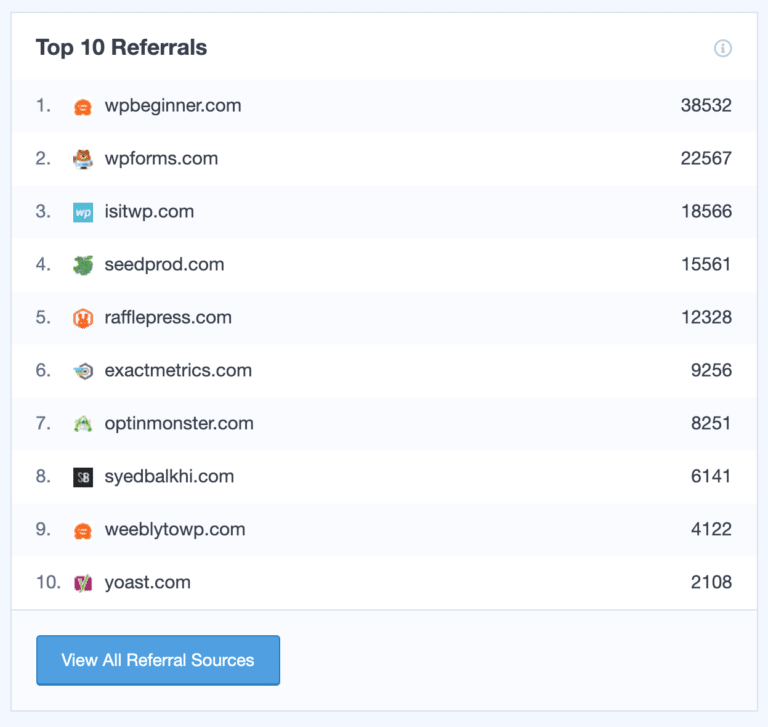 You can also ethically spy on your competitors, look at their backlink sources, and then try to acquire links from the same websites. Another easy way of securing links from high-quality websites is through guest posting.
For more details, follow our 15 actionable tips on how to get backlinks.
2. Create Killer Content That's Link Worthy
The second way to increase your domain authority is by creating great content that's link-worthy. Why should your content be amazing?
Well, if people find your posts helpful, they'll start to share it with others. This increases your chances of getting backlinks from high-authority websites, like education institutes or governmental bodies.
And with links from different sites, you'll also boost your root domains. All of which will contribute towards securing a high DA.
Now, you can create multiple content types such as articles, lengthy guides, videos, infographics, podcasts, slides, and more.
But a great place to start is by looking at the most popular pages on your site. This way you can create similar topics and content types.

3. Audit Your Site and Remove Bad Links
While inbound links are vital for your website's DA and rankings, having bad links can lead to more harm than good.
Links that are from a spammy website can decrease your website's domain authority. And in some cases, it can even lead to a penalty from Google.
To keep that from happening, you should audit your site for toxic links and remove them as quickly as possible. You can use different SEO tools to identify harmful links by going through a complete link profile of your website.
And if you can't remove those links, you can use Google Search Console to disavow or ignore those links. As a result, Google's crawler won't take into account any unnatural or spammy backlinks when indexing.

4. Optimize Your Website Structure and User Experience
Remember, one of the factors in calculating domain authority is your site's structure and its user-friendliness.
With a proper structure, search engines can easily crawl your web pages and index them in search results.
To help search engine crawlers, you can create a sitemap in WordPress. A sitemap contains all your important pages and assists search engines to navigate through your site with ease.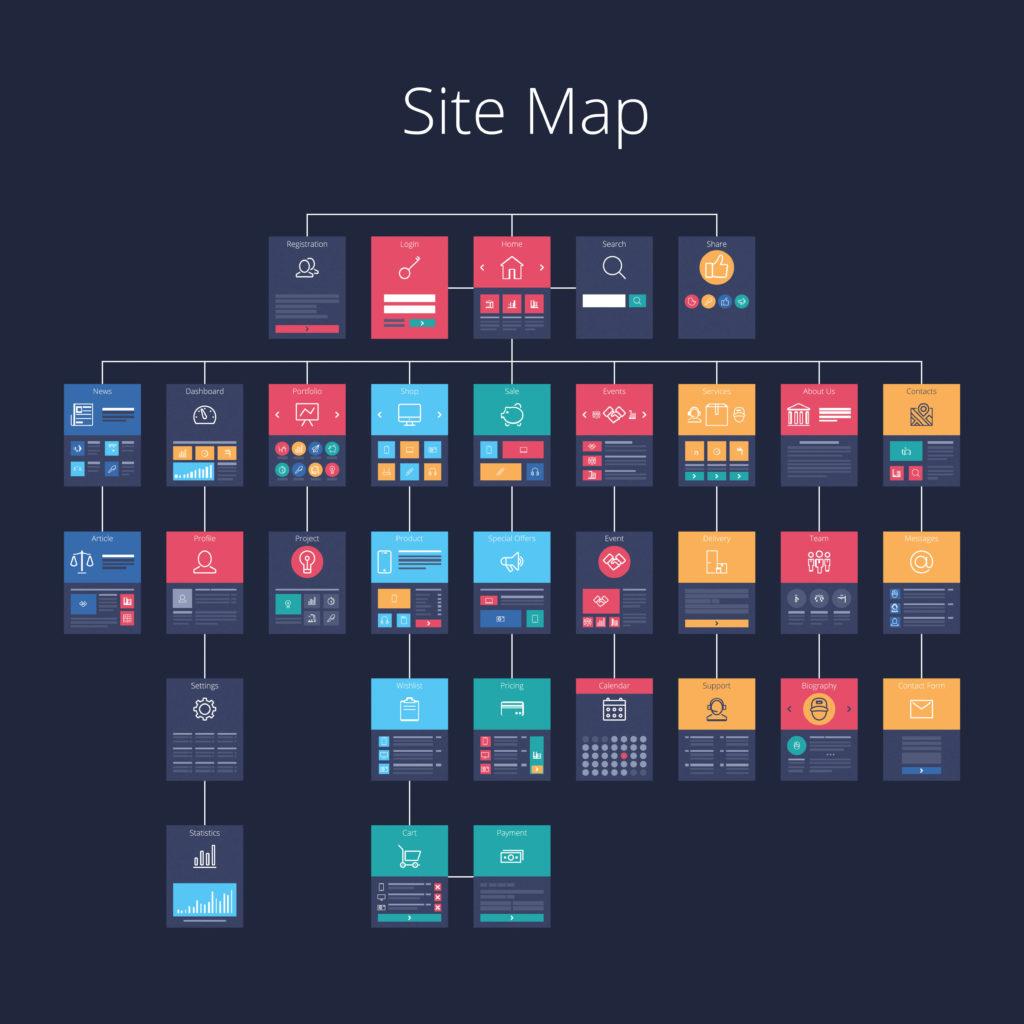 As for improving your site's user experience, you should start by focusing on optimizing it for mobile.
Google is mobile-first, which means it will look at how well your website performs on mobile first. So, it's important that your site functions properly on mobile devices and loads quickly.
Then, you must ensure that your site is safe. You can do that by getting SSL certificates and moving your site to HTTPS. You can also get hold of the best WordPress security plugins like Sucuri, which offers many features like a web application firewall.
5. Improve Your Internal Links
Another way of improving your site's user experience is by focusing on your internal link structure. With links directing users to other informative webpages on your site, you can keep your visitors engaged.
Internal links also make it easier for search engine bots to crawl your website, which helps in indexing your pages.
Another benefit of having a proper internal link structure is that it passes link juice from one page to another.
Link juice is an SEO term that refers to the value of a page passed to other webpages. It gives a vote of confidence to the search engine, as more links pointing towards a page show that it's trustworthy. All of this adds up to boosting domain authority.
To improve your internal linking strategy, you can use a plugin like All in One SEO.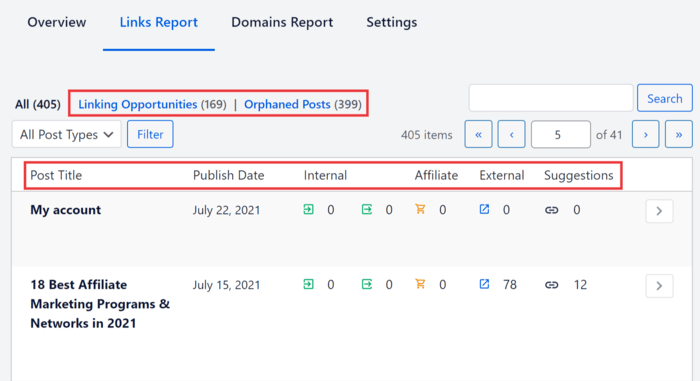 AIOSEO's Link Assistant addon will automatically generate an internal links report for your site and offer suggestions of relevant pages you can link to.
How Do You Check Domain Authority?
Now that you know how to increase domain authority, here are some tools to check the DA of your website.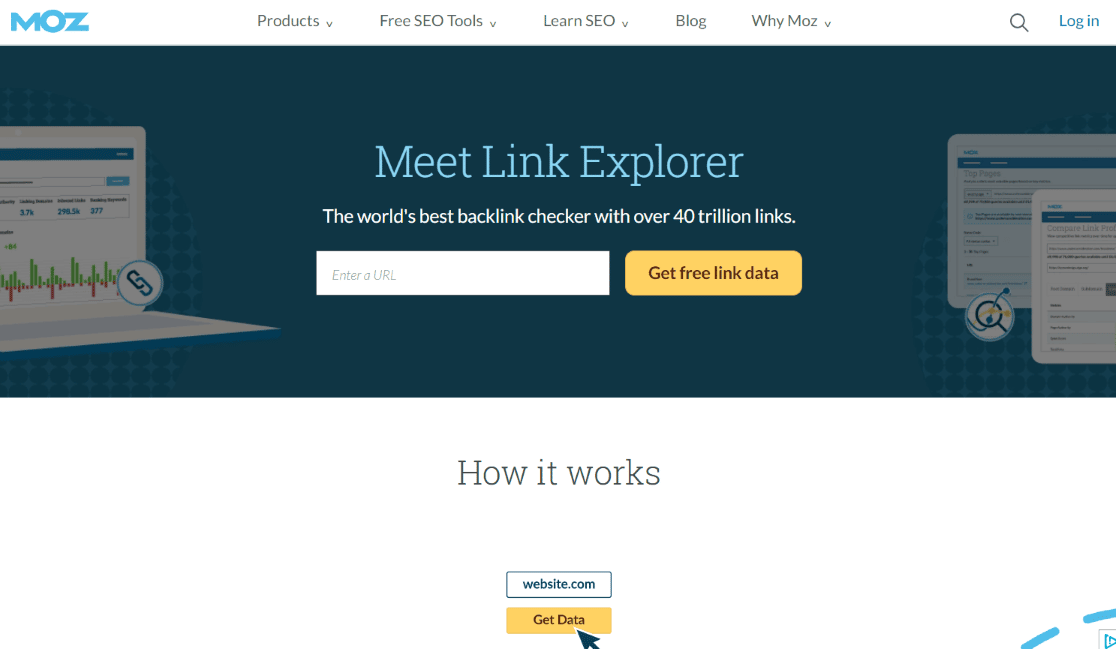 Moz Link Explorer lets you check the domain authority of any website. Simply enter the URL of your website or your competitors and view the domain authority.
The tool even provides information about the number of unique backlinks, root domains, and number of keywords ranking for a specific domain.
And if you scroll down, you can see more reports such as top followed links to this site, top pages, top anchor text, and more.

Ahrefs is one of the best SEO tools in the market and another domain authority checker that you can use to find the DA of a website.
Do note that Ahrefs calls it Domain Rating, but it's the same as domain authority.
Another point you should note that it uses its own algorithm and factors for calculating the DA. So, you might see a difference in scores if you compare it with Moz or any other tool.
SEMrush is a popular tool among many SEO professionals and it also provides data about the domain authority of a website.
To view the DA of your website or your competitors, go to Backlinks Analytics in SEMrush. In the Overview tab, you can view the Authority Score (which is domain authority).
With that, you've made it to the end of the guide. So, how long does it take to see your DA rise?
Wrapping Up
One thing you should remember is that you can't control your site's domain authority. All you can do is put the pieces in the right place, so your DA increases steadily.
Another point to note is that it takes time to bring up the domain authority, as it won't happen overnight. So, set out a long-term strategy and use the points we've explained to increase your DA.
We hope you liked our article on domain authority: what it is and how you can boost it. You can also go through our guide on the most important Google Analytics metrics every business should track.
Not using MonsterInsights yet? What are you waiting for?
And don't forget to follow us on Twitter, Facebook and YouTube for more helpful Google Analytics tips.