Looking for the best WooCommerce analytics and reports plugins?
With the right analytics plugin, you'll be able to see all the most important stats for your WooCommerce store. When you know the stats that matter, you'll be able to make decisions that'll grow your store.
The WooCommerce reporting plugin you choose should be able to show you the data that you need to make those important decisions. So, we've listed out the top 6 analytics plugins for you. Let's go!
MonsterInsights is the best Google Analytics plugin for WordPress and WooCommerce. It allows you to easily connect WooCommerce with Google Analytics so you can view all the data that matters most to your store right in your WordPress dashboard.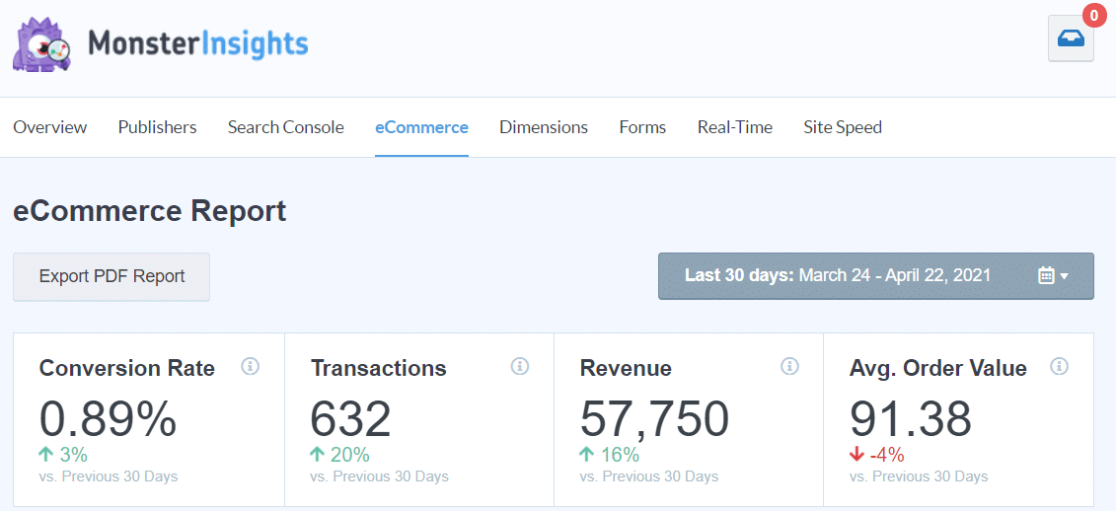 Plus, eCommerce tracking through Google Analytics and MonsterInsights is set up with the click of a button. You can also set up sophisticated tracking features such as event tracking, form tracking, custom dimension tracking, outbound link tracking, media tracking, and more.
Key features:
Ecommerce metrics tracked inside WordPress include revenue, average order value, adds to cart, removals from cart, top products with their total revenue, top conversion sources, and more
Comes with a Popular Products widget you can use to display your most popular products
Goes beyond WooCommerce-specific metrics to provide you with other metrics that matter to your business
Google Ads conversion tracking for WooCommerce
Easily set up many other tracking options, like form tracking, affiliate link tracking, media tracking, and even more conversion tracking
Get started with MonsterInsights today!
Conversios.io is a Google Analytics plugin that's made for WooCommerce and Google Shopping users. So, it focuses heavily on the reports that matter most for eCommerce businesses, plus it integrates Google Shopping.
Key features:
Ecommerce conversions report
Product placement performance report
View-to-cart and view-to-conversion ratios
Audience and behavior reports
Connect and run Google Shopping campaigns
Conversios.io is free, but more advanced reports are available in the Pro version starting at $19 per month.
Get started with Conversios.io today!
Actionable Google Analytics for WooCommerce, available on Envato, is a reporting plugin for WooCommerce that helps you set up Enhanced Ecommerce (in Universal Analytics) and gives you a few other functionalities that can help you make decisions about your store.
This plugin is by the same company behind Conversios.io.
Key features:
Enables 9 enhanced eCommerce reports in your (Universal) Google Analytics account
Links up with Google Merchant Center
Manage shopping feeds from your WordPress admin
Links up with Google Ads for conversion tracking
Tracks custom dimensions including stock status, product discount, payment method, add to cart button position, and more
Get started with Actionable Google Analytics for WooCommerce today!
Product Sales Report for WooCommerce is a great analytics tool for finding out how your products are performing. It breaks down your sales by individual products so you can really dive into how each specific product is doing.
Your report is really customizable. You can include which products appear in the report, plus you can choose which columns your report has. Available columns include product ID, SKU, name, quantity sold, gross sales, product category, and more.
Then, once you've set up the report the exact way you want it, you can run it right inside your WordPress dashboard, download it, and send it to anyone else who needs to see it.
Key features:
Customizable columns
Break down your whole store's sales by product
Downloadable CSV reports
Get started with Product Sales Report for WooCommerce today!
Booster for WooCommerce is a plugin with 100+ different addons that you can turn on for your WooCommerce store. So, there are a ton of different things that this plugin can do.
For the purposes of our article, we'll be taking a look at the WooCommerce Reports addon. This fairly simple addon can just help you generate more reports for your store.
Reports this plugin adds to WooCommerce:
Product Sales
Monthly Sales (with currency conversions)
Customers by Country
Customers by Country Sets
All in Stock with Sales Data
Understocked Products
Overstocked Products
Please note, you will have to purchase the Elite bundle for the reporting addon.
Get started with Booster for WooCommerce today!
Metorik is a platform separate from WordPress that you can connect to your store for a whole bunch of different features and benefits. This platform goes beyond reporting and also includes email marketing, abandoned cart reporting and segmenting, cost and profit reports, and more.
Here are some of the key reporting features:
Custom report dashboards
Quickly see your cashflow and then drill-down into who is making your orders, when they are ordering, and how much they are spending
Reports on revenue, profit, orders, refunds, devices, sources, and more
Individual customer pages
100s of reports and KPIs
You can try Metorik for free, but after that, pricing is based on how many sales you make per month.
Get started with Metorik today!
That's our list of the best WooCommerce analytics and reports plugins for WordPress! We hope you found the best tool for your store. We recommend MonsterInsights as the number 1 reporting plugin, since the extra features really make it shine.
Here are a few more WooCommerce articles we think you'd like:
29 Best WooCommerce Plugins for 2022 (UPDATED)
11 WooCommerce SEO Tips to Boost Your Traffic and Sales
How to Set Up WooCommerce Google Ads Conversion Tracking
How to Make a WooCommerce Site GDPR Compliant
And don't forget to follow us on Twitter, Facebook and YouTube for more helpful Google Analytics tips.