Have you ever wished you had one place where you could keep track of everything you're doing to gain more traffic and sales, so that you can easily see what's working?
With MonsterInsights 8.15, now you can keep track of all of those important marketing notes right inside your WordPress dashboard.
Our new Site Notes tool is here to give you a new, convenient place to take notes about new blog posts, marketing campaigns, website updates, and more to see what's the most effective.
Track Marketing Wins with Site Notes
Have you ever seen a spike in your traffic and wondered what caused it? Is that the day you sent that promo email? What day was it that you published that blog post and posted social media updates?
Or maybe you're looking for a better way to keep track of your marketing campaign analytics, so that you can see at-a-glance if your campaigns are actually working.
Enter the new MonsterInsights Site Notes tool! With Site Notes, you'll be able to find the answers to all of your campaign date questions with tracking right inside your WordPress dashboard. Simply take a note right on your traffic graph to record what you did that day that might affect your traffic.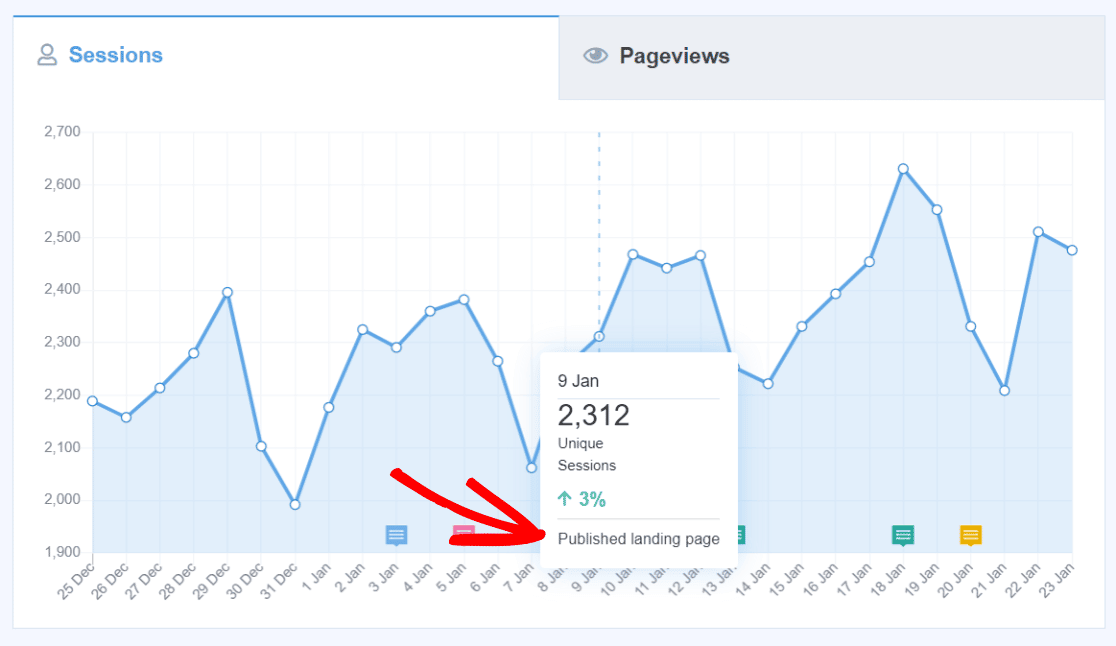 Keep notes on anything, including:
Emails you sent out
Social media posts you made
Ads you ran
New posts you published
Landing pages you published
Updates to SEO elements (like the meta title tag) you made
Design updates you made
And anything else you can think of!
With the MonsterInsights Site Notes tool, you'll never be searching through your notebook, email, social profiles, or site update logs again to figure out if your actions caused an increase in traffic.
A List of Notes, Right Where You Need Them
When you're taking a look at your site's performance in your MonsterInsights dashboard, you'll not only see your site notes on the graph, but you can also open them in a list right in the Overview report: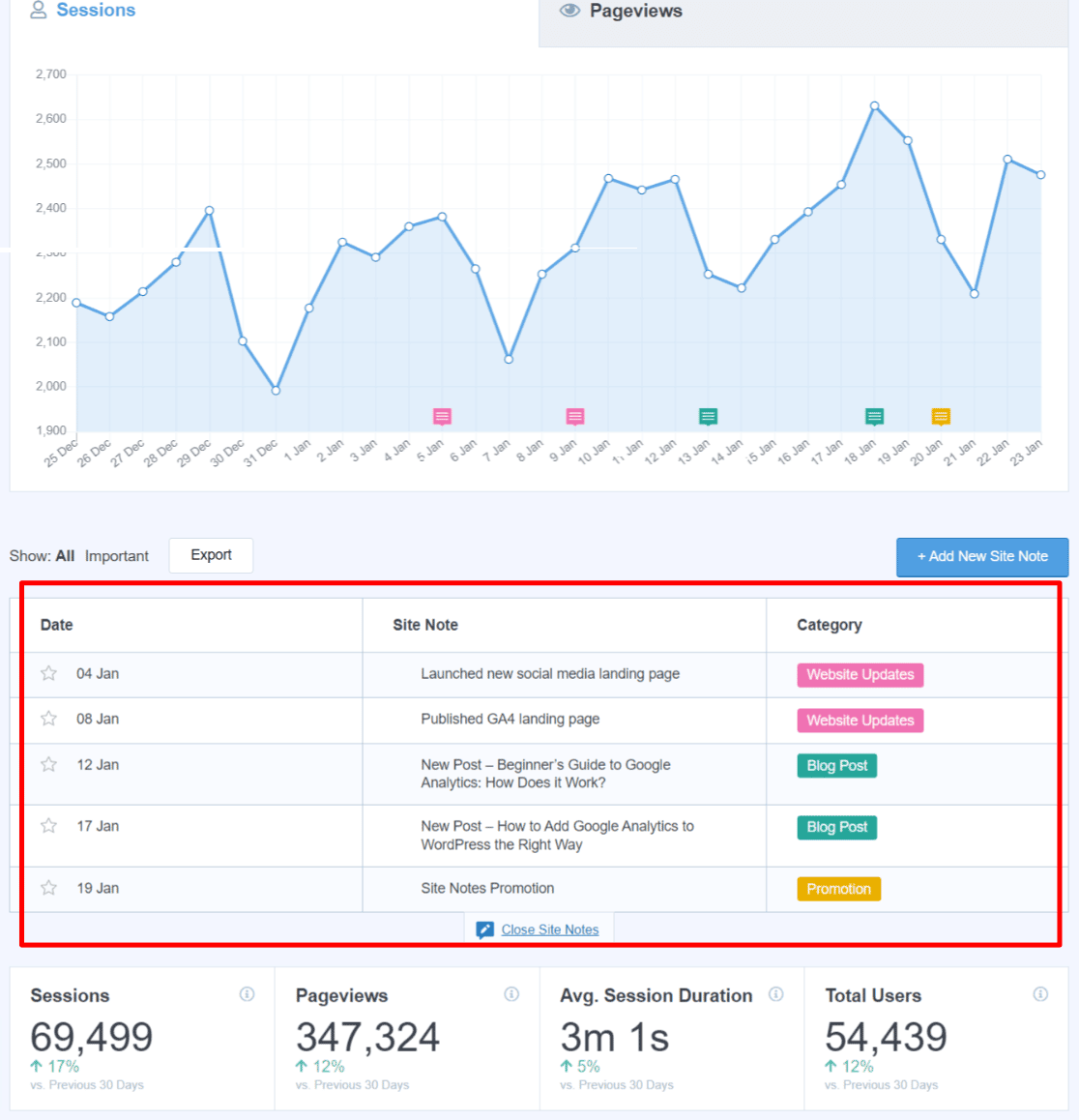 Easily add a new note right from there, or click the Export button for a one-click CSV export.
Want to edit your categories or manage your notes? Head to Insights » Site Notes:
Create Notes Automatically When Publishing
Want to make a note whenever you publish a new post or page? We made note creation super simple by adding the option right into your sidebar on page and post editing screens: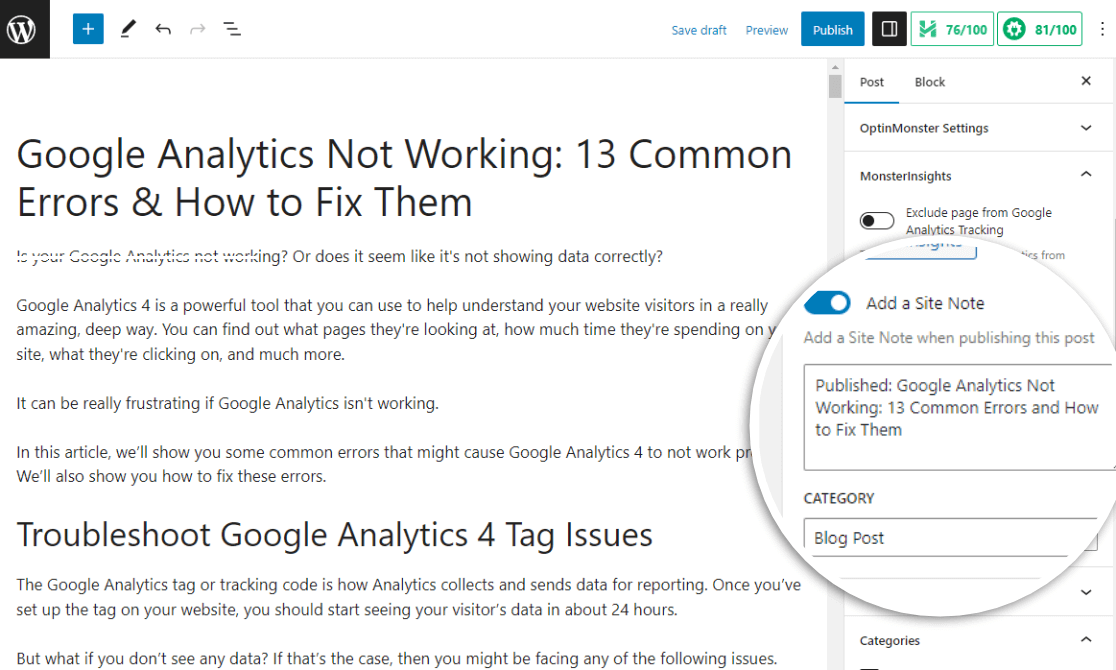 Simply click the switch, modify the note if you want, and choose a category. Then, when your page or post is published, a site note will automatically be created.
Organize Site Notes Your Way
For MonsterInsights Plus users and up, you're in control of the categories your notes are organized in. Create as many (or as few) as you want.
To organize your categories and notes, head to the Categories tab. Click the button to add a new category any time!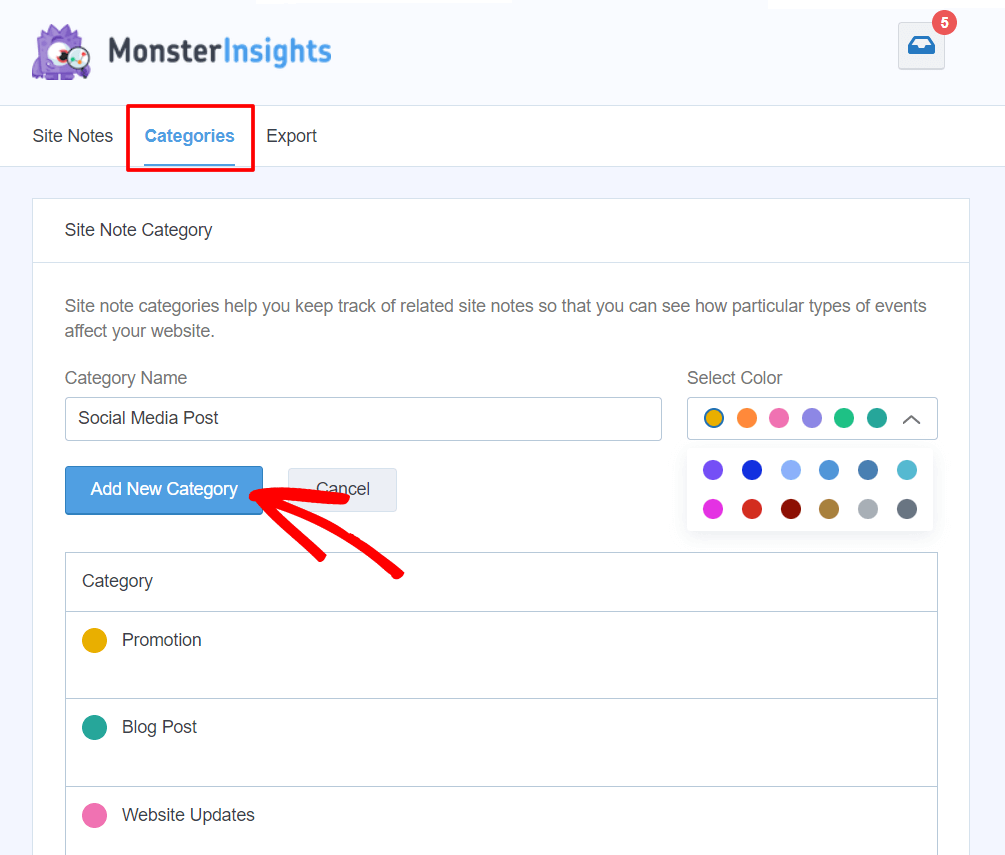 We hope you love Site Notes!
As always, we welcome any feedback you might have on Site Notes and any new features you'd like to see.
For more Site Notes details, check out Meet the Best Marketing Tracker Tool for GA4 + WordPress.
Not using MonsterInsights yet? What are you waiting for?
And don't forget to follow us on Twitter, Facebook and YouTube for more announcements, reviews, tips, and helpful Google Analytics tips.