Are you looking for a WordPress popular posts plugin to display your most viewed, most commented on, or most shared posts on your website? Or, do you want to curate a list of "popular" posts?
Popular posts plugins allow you to display your best content anywhere on your site and help visitors easily find new articles.
It also increases user engagement and keeps people on your site longer. But with so many plugins available, which one should you choose?
In this article, we'll compare some of the best WordPress popular posts plugins and help you select a tool that best suits your needs.
Why Do You Need a WordPress Popular Posts Plugin?
Have you ever created a killer piece of content but after some time, it gets buried under too many other blog posts?
A WordPress popular posts plugin helps in increasing the visibility of your best content. You can display your popular posts within your other blog posts, in the sidebar, or at the end of a page so users can easily find new content.
And with more people visiting your top articles, you've got a higher chance of boosting user engagement and conversions. Besides that, it also provides a great opportunity to add internal links to your posts and improves your SEO score.
Now, are you ready to look at some of the best popular post plugins for WordPress?
MonsterInsights is the best WordPress popular posts plugin. It's effortless to use and doesn't require touching a single line of code to show your best content.
The plugin offers pre-built templates and a lot of options to customize the popular post widget. You can preview the templates before selecting one for your website.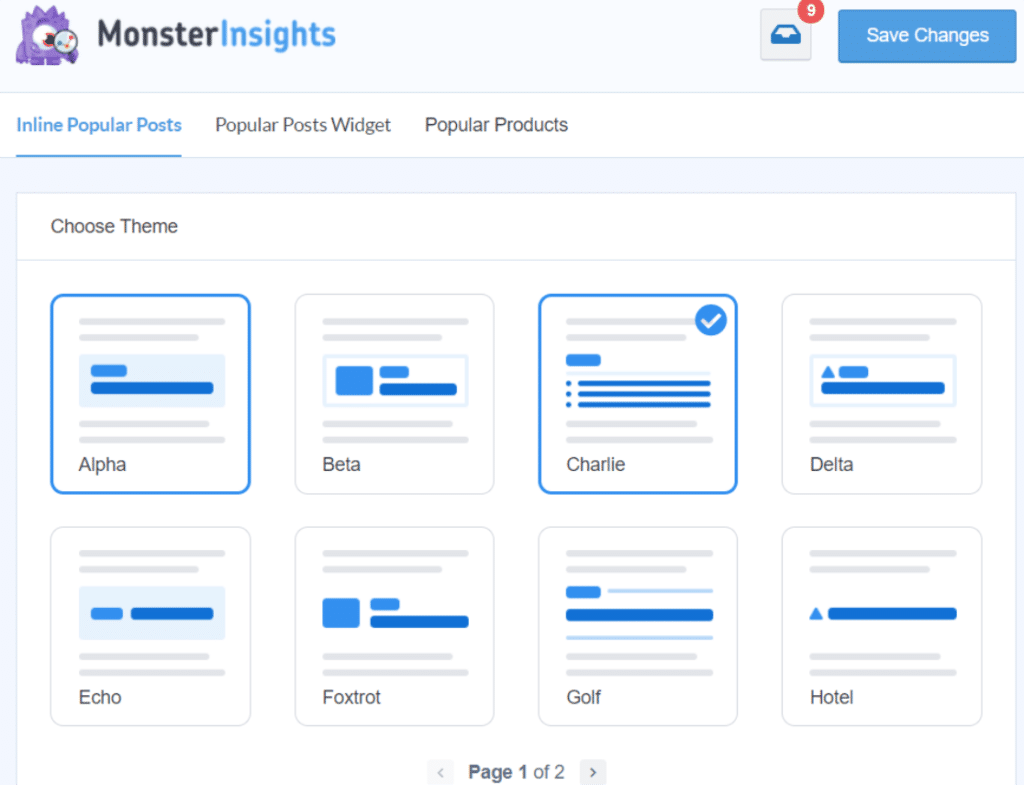 Using MonsterInsights, you get 3 options to display your top-performing content. You can use its Inline Popular Posts to show different articles within a blog post.
If you select the Popular Posts Widget option, you can show articles at the end of your article or in the sidebar.
And if you've got an eCommerce store, then using the Popular Posts option, you can showcase your best products anywhere on your online store and increase sales.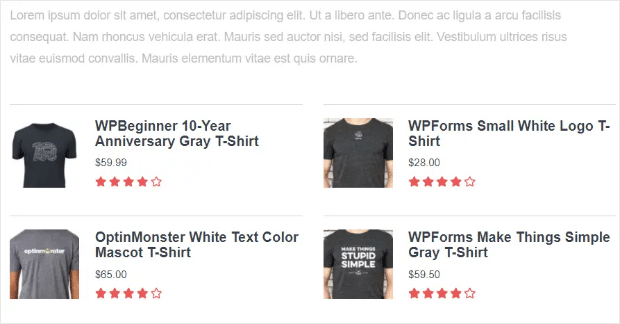 Once you've selected a template, you can change the style and design to match your website's theme. For instance, the plugin allows you to edit the color and size of the title, label, background, and icon.
And when it comes to displaying popular posts, MonsterInsights sorts posts based on the number of comments, the share count, or lets you manually select articles to display in the widget.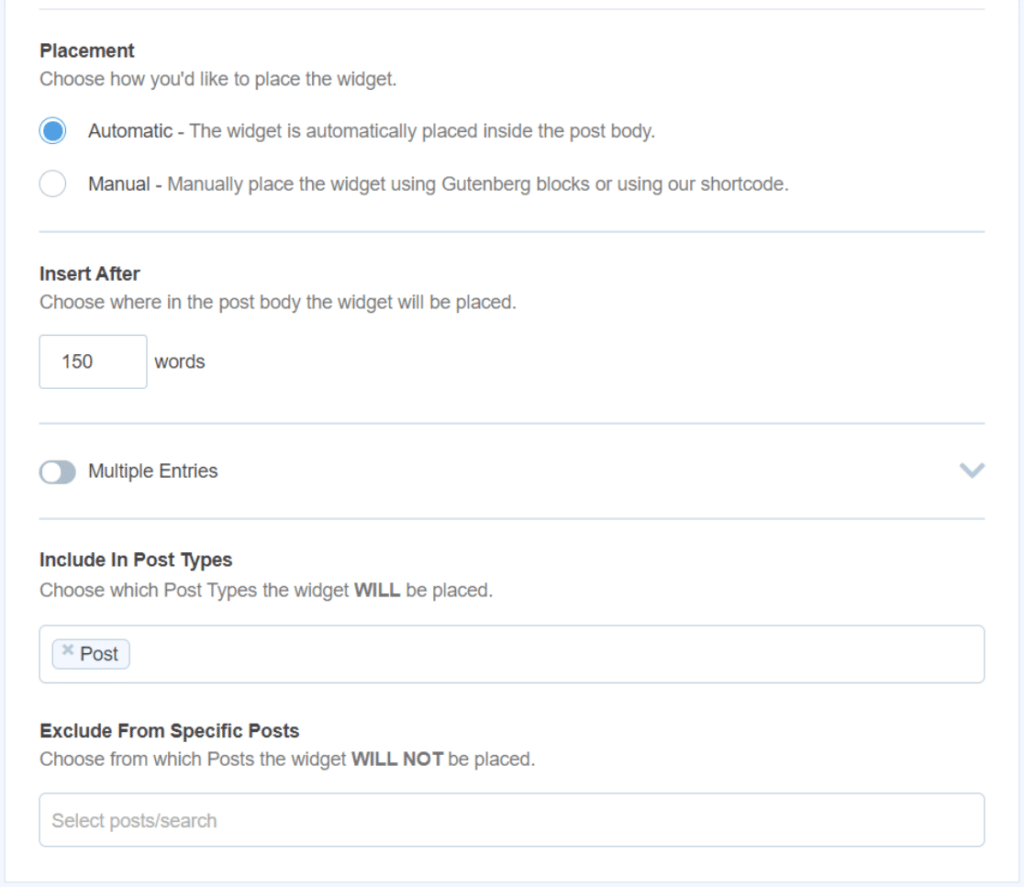 MonsterInsights will also automatically curate articles for you if you've set up a Post Type custom dimension in Google Analytics. It will automatically add the top 5 posts from the past 30 days from Google Analytics.
You can check out our step-by-step tutorial on how to display your most popular posts in WordPress.
WordPress Popular Posts is another top WordPress plugin to show your top articles. It has over 300,000 installs and is a free WordPress plugin.
With WordPress Popular Posts, you get to show content based on comments, the number of views, or average views per day. It even lets you sort trending posts within a specific date range, such as the last 24 hours or the last 7 days.
The plugin offers pre-built templates, and there are different options for customizing the popular posts widgets. You can even apply your own layouts and show thumbnails of your posts.
One of the plugin's standout features is the ability to create multiple popular post widgets, each with its own settings. For instance, you can create a widget for popular products, popular reviews, popular tutorials, etc.
Relevant is the next popular posts plugin on our list. It's free to use and helps to display your featured articles, popular posts, related posts, and latest posts. The plugin is user-friendly and using its different options, you can customize the popular posts widget instantly.
With Relevant, you get to show popular posts before and after content and sort content based on pageviews and comments. If you want to show related posts, then the plugin sorts articles based on categories, tags, title, and meta keyword.
There's also an option to show additional information about your posts, including date, author, reading time, feature image, and excerpt. Besides that, the plugin lets you change the title and number of posts, edit background colors, and more.
Top 10 Popular posts plugin for WordPress is packed with features and lets you show your top article with ease. It offers a sidebar widget to show popular posts and different customization options to change the widget's look and feel.
For instance, you can change the style using the pre-built options or add your own custom CSS classes. It also auto extracts the first image on your post and creates a thumbnail to show in the popular post widget.
Using the plugin, you can display as many posts as you want and sort them by page views. There's also an option to show page view count for each post using shortcodes, select posts from a specific period, and exclude posts from certain categories.
Besides that, it works with different caching plugins like WP Super Cache and W3 Total Cache. What this means is that it will take fewer resources to run and reduce server load times. However, you don't get an option to connect Google Analytics to see how many people actually click on the popular posts.
Display Posts is a free WordPress popular posts plugin that's minimalistic in nature and offers a lot of flexibility. You can display any trending article in the popular post widget using shortcodes.
While shortcodes provide a lot of room for customization, it can be tricky for beginners to start using the plugin out of the box. However, the best thing about Display Posts is that it offers detailed documentation and tutorials.
You can filter posts by category, show articles based on comments, integrate with ShareCount to display your most shared content and sort the list however you like. The plugin also lets you display thumbnails, excerpts, and a lot more.
WP Tab Widget is a lightweight and fast WordPress popular posts plugin. It uses AJAX and only loads content when needed so that you won't feel any delay in your website load time.
The plugin shows top content based on comments, tags, page views, and recent posts in a single popular post widget. You can change the order by prioritizing any tag you want the plugin to sort top content.
There are also different customization options like show the number of comments, excerpts, date, and more. You can show any number of articles you want in the widget. The plugin also offers a Pro version with more features like pre-built designs and drag and drop builder.
Which WordPress Popular Posts Plugin is the Best?
Now that you've gone through our list, you might be wondering which plugin is the best. We recommend MonsterInsights because it offers lots of features, multiple themes to choose from, and different customization options.
With MonsterInsights, you also get advanced tracking features and the ability to curate top posts from Google Analytics using custom dimensions automatically. Not only that, but you can uncover insights about your audience through its dashboard reports.
And that's it!
We hope you liked our article on the best WordPress popular posts plugins. If you want, do check out our article on the best WordPress plugins every business needs.
Not using MonsterInsights yet? What are you waiting for?
And don't forget to follow us on Twitter, Facebook and YouTube for more helpful WordPress and Google Analytics tips, reviews and tutorials.