Are you having trouble setting up cross-domain tracking in Google Analytics? If yes, then you're not alone.
Many website owners that have multiple domains find it hard to correctly configure cross-domain tracking. That's because it involves coding and tweaking the analytics code.
And if you mess up the code, then you'll get errors or inaccurate data of their visitors. So, is there an easier way?
In this article, we'll show you how to set up cross-domain tracking in Google Analytics without the need for coding. But first…
What is Cross Domain Tracking in Google Analytics?
Cross-domain tracking is when you want to add two or more websites in a single Google Analytics account and want to see how people use your domains.
For instance, consider a situation where you have an eCommerce store (mystore.com) and a blog (myblog.com) on two separate domains. Now a user visits your blog website, then goes to your eCommerce store, and then returns to your blog post.
By default, Google Analytics will count the user 3 times. But since you want to see their behavior across each of your sites and want them to be counted as a single session, you'd need cross-domain tracking.
It helps you get accurate data about your visitors and how they interact with multiple websites. You can then use these insights to make decisions to grow your business.
Now, are you ready to set up cross-domain tracking? Let's start…
Set Up Google Analytics Cross-Domain Tracking
When it comes to setting up cross-domain tracking in Google Analytics, it's not as straight forward. And if you're a beginner then it can be overwhelming, especially if you're not a developer.
That's because it involves creating custom tracking codes with Analytics and adding it to your website. Creating custom codes can be difficult to get right. There are chances that you might make errors, which can lead to messing up your tracking.
This is where MonsterInsights can help you out. It's the best WordPress plugin for Google Analytics. You can add Google Analytics to your WordPress site and set up cross-domain tracking without any coding using the plugin.
With that, just follow these steps to set up tracking.
Step 1: Setting Up Cross Domain Tracking in MonsterInsights
The first step is to add your domains to MonsterInsights cross-domain tracking settings.
But before you do that, make sure that Google Analytics and MonsterInsights are both set up on both/all of your domains and they have the same tracking ID. That way you can see reports under the same Analytics account.
If not, then follow our simple guide on how to properly set up Google Analytics in WordPress.
Next, add your domains in MonsterInsights. To do that, go to your WordPress dashboard and then click on Insights » Settings » Engagement.
Now navigate to Cross-Domain Tracking and click Add domain.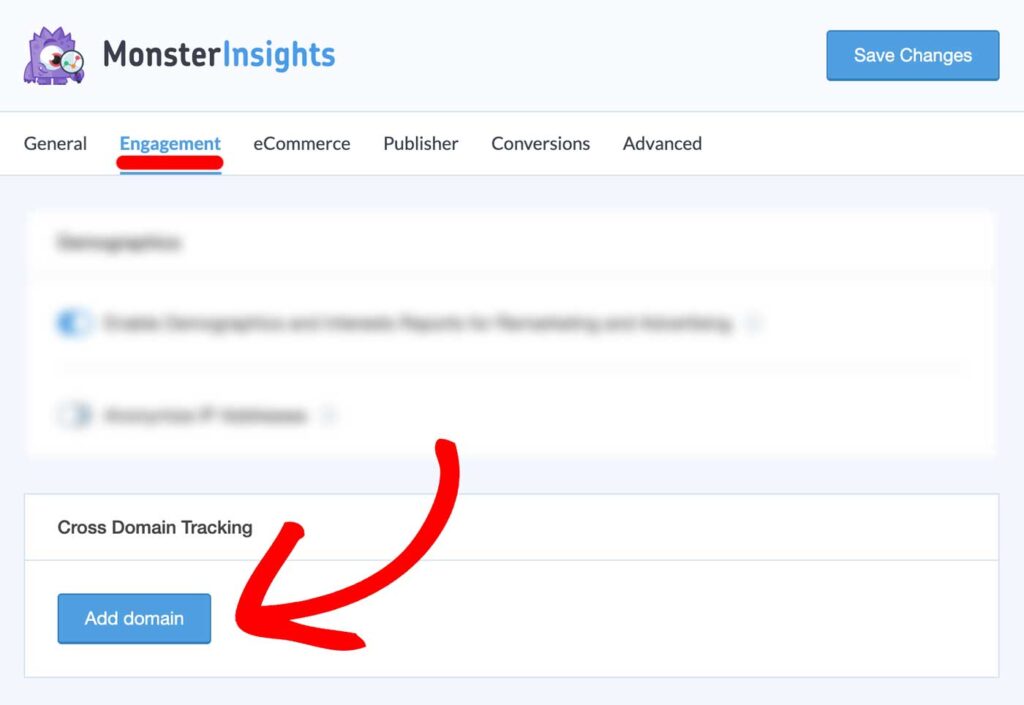 Enter the domains you want to include in cross-domain tracking. If you have more than one domain, then click Add domain to enter another websites.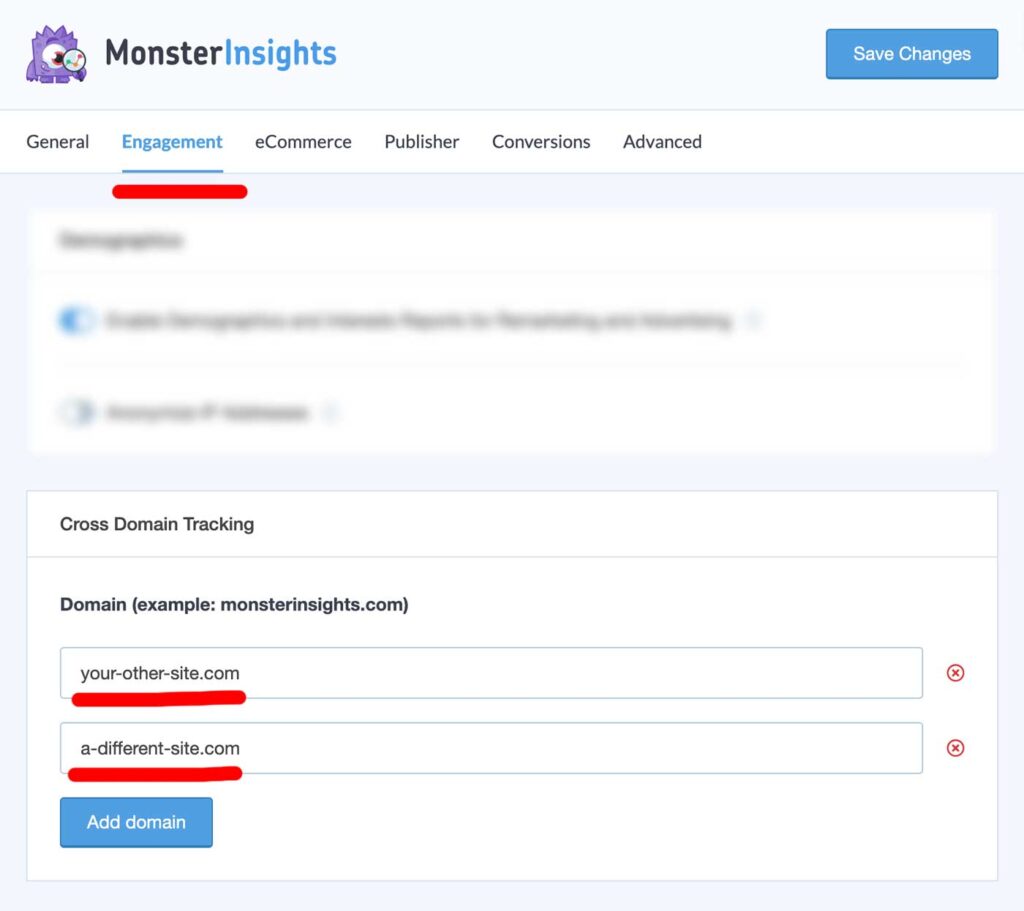 Once you've added your other websites, go ahead, and click Save Changes.
Step 2: Check Source Code for Cross-Domain Tracking
The next step is to verify that you've successfully set up cross-domain tracking on all your website. To do that, you can view the source code of your site and look for a custom tracking code.
Here's what a custom code for Google Analytics should look like: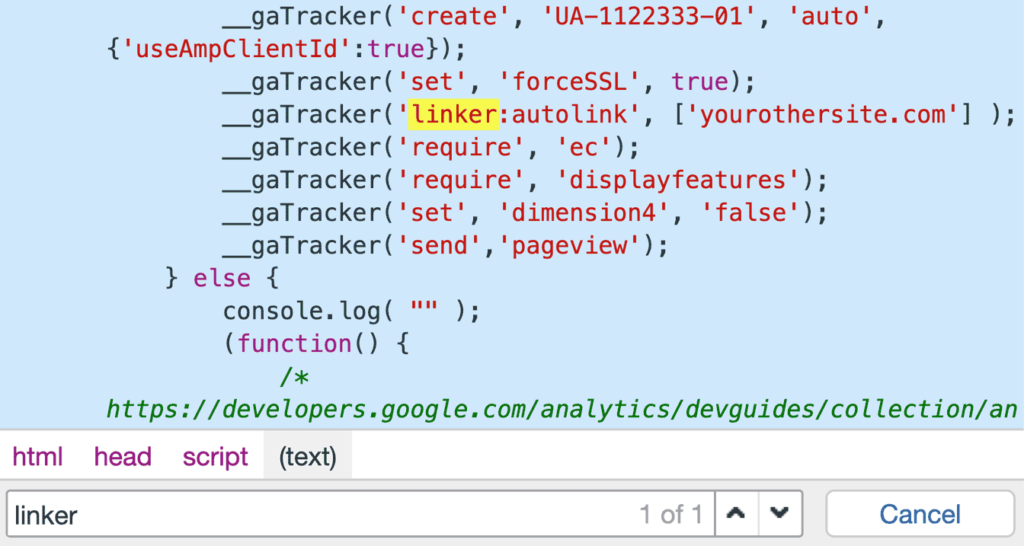 If you see the code on all your websites, then you've correctly added for cross-domain tracking.
Step 3: Add Your Domains to Referral Exclusion List in Google Analytics
After you've verified that your cross-domain tracking is working properly, the next thing you should do is add your domains to the referral exclusion list in Google Analytics.
That's because it ensures that multiple sessions aren't triggered when users interact with two or more of your domains. This way your visitors aren't recorded as different users in Google Analytics, and you get accurate data of your visitors' behavior.
To add your websites to the referral exclusion list, login to your Google Analytics Account. Then go to the Admin section, which you can see in the bottom left corner with a gear icon.
Next, click on Referral Exclusion List under the Property Settings column.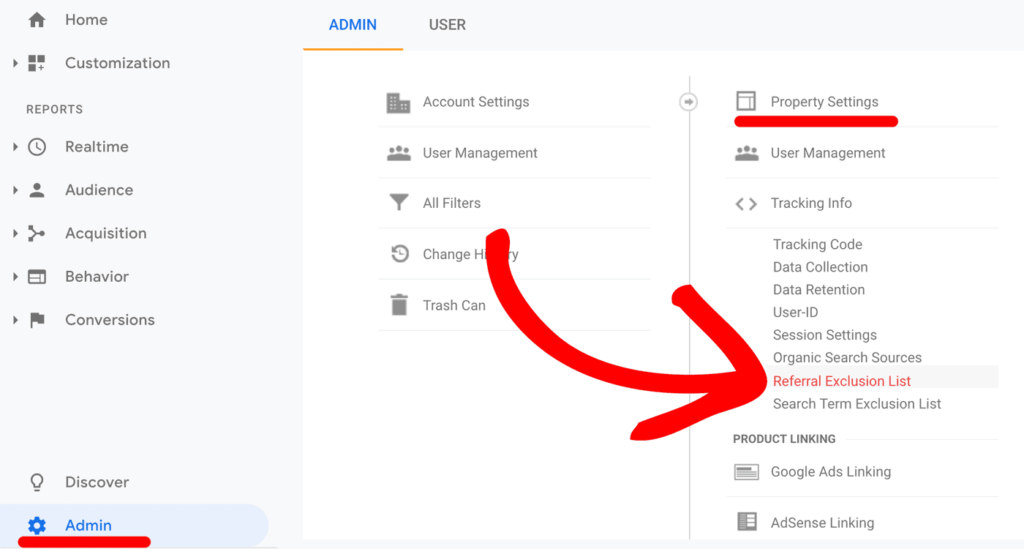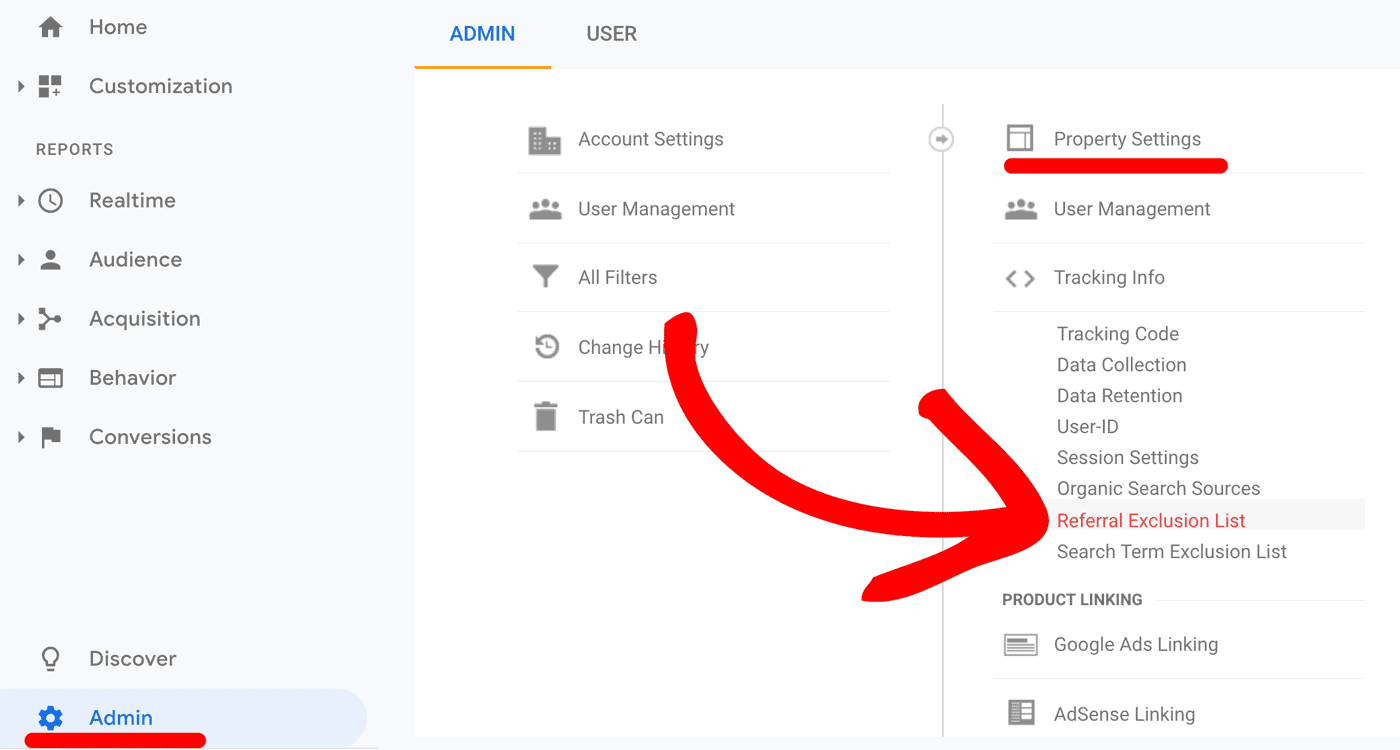 Click + Add Referral Exclusion to add your domain.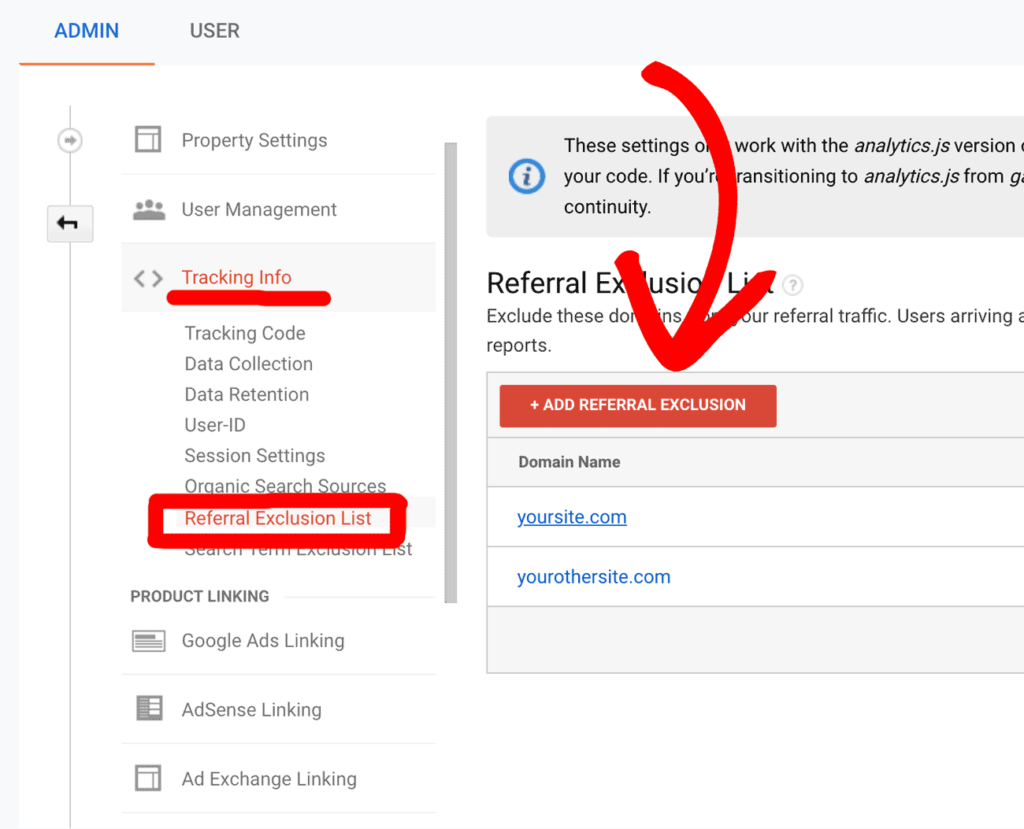 Now enter the URL of your domain and click Create. Do make sure that you don't enter any subdomains (mywebsite.com/blog).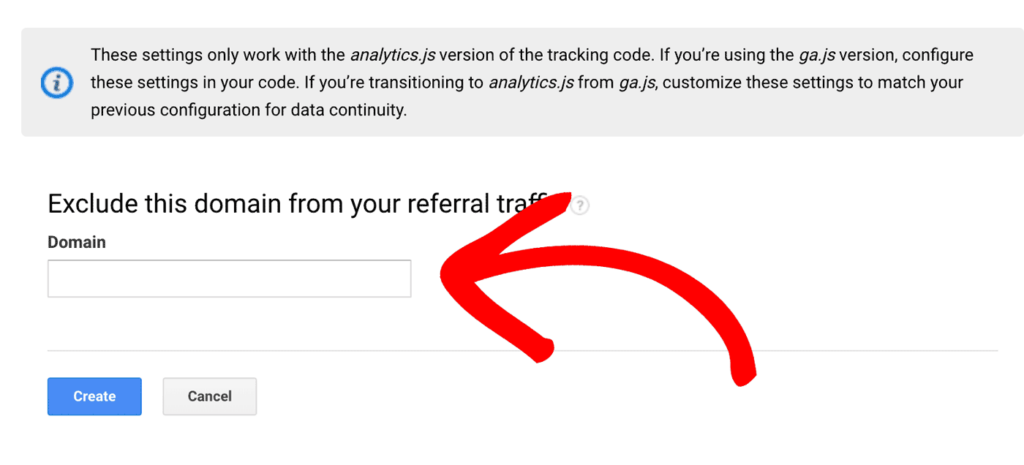 Your websites should appear in your Referral Exclusion List in Google Analytics.
And that's it!
You can now accurately track your visitors across multiple domains and count them as a single session in your Analytics reports.
Using the data, you can see how they interact with your websites, which links they click, and how you can boost your site's performance.
With that, we hope you liked our guide on how to set up cross-domain tracking in Google Analytics. You can also check out our tutorial on how to track user engagement in WordPress.
Don't forget to subscribe to our newsletter follow us on Twitter and Facebook for more helpful Google Analytics tips.