Are you wondering if you should use Google Site Kit?
Google Site Kit is a free plugin that lets you integrate different Google services with your WordPress website. You can then view a small amount of the data inside your WordPress dashboard from these services.
In this article, we'll give you an expert review of Google Site Kit. We'll also go over a better alternative to Google Site Kit that provides more actionable insights for your business.
Table of Contents
What is Google Site Kit?
Google Site Kit is a WordPress plugin by Google that connects multiple of their tools and services to your website, and provides basic reports for some of those tools in your WordPress dashboard.
The tools you can set up in WordPress with Site Kit are:
Google Analytics – Google Analytics shows how users interact with your website, how they found your website, what they're doing while they're on your site, and more.
Google Search Console – Using Google Search Console, you can see which keywords people use to find your website, which helps you improve your search engine rankings. This tool is also used for finding and fixing different bugs and errors.
AdSense – This is Google's ads network. Make money when visitors click on the ads inserted into your site.
PageSpeed Insights – Check your website's loading speeds on desktop and mobile devices, and make changes to reduce their load time.
Google Tag Manager – Helps you track different marketing tags on your website, but it requires coding to implement and track those tags. (There are no reports in Site Kit for Google Tag Manager.)
Google Optimize – Conduct experiments on your site by A/B testing different pages to improve conversion rates. (There are no reports in Site Kit for Google Optimize.)
What Can You Do with the Google Site Kit Plugin?
Using the plugin, you can get basic data about your visitors, how they use your website, and how they find your site on the web.
Also, Site Kit helps you integrate a list of other Google tools with your website without the need for editing the source code.
While some features of the plugin are nice, it really doesn't provide much for reporting, and doesn't help you set up any of their tools – it just connects them to your site. That's where some Site Kit alternatives, like MonsterInsights, have an advantage. But we'll dive into that more later.
With that, let's look at different features of Google Site Kit in detail.
The Good: Google Site Kit Features and Reports
With Google Site Kit, you can view different reports in your WordPress dashboard. These aren't super detailed and they don't provide an in-depth understanding to make quick decisions, but you can use them to get an overview.
Some of the key reports of Google Site Kit include:
All Traffic
When you connect your Google Analytics with Google Site Kit, you'll get a report for All Traffic. It shows you different traffic sources that people use to visit your site. These include:
Organic: People who use search engines to find your site
Referral: When users click a link from another website to land on your site
Direct: These are visitors that enter the URL of your website in the web browser or have bookmarked your site
Social: Visitors from social media profiles and feeds
Email: Visitors that click on a link in an email that links to your site

Search Traffic
The Search Traffic report by Google Site Kit shows the impressions and clicks your website got over the last 28 days. It combines data from Google Analytics and Search Console to present you with the report.
From the report, you can see how many people viewed your website (impressions), how many clicks you got, the number of unique visitors, and how many goals were completed (if you have goals set up).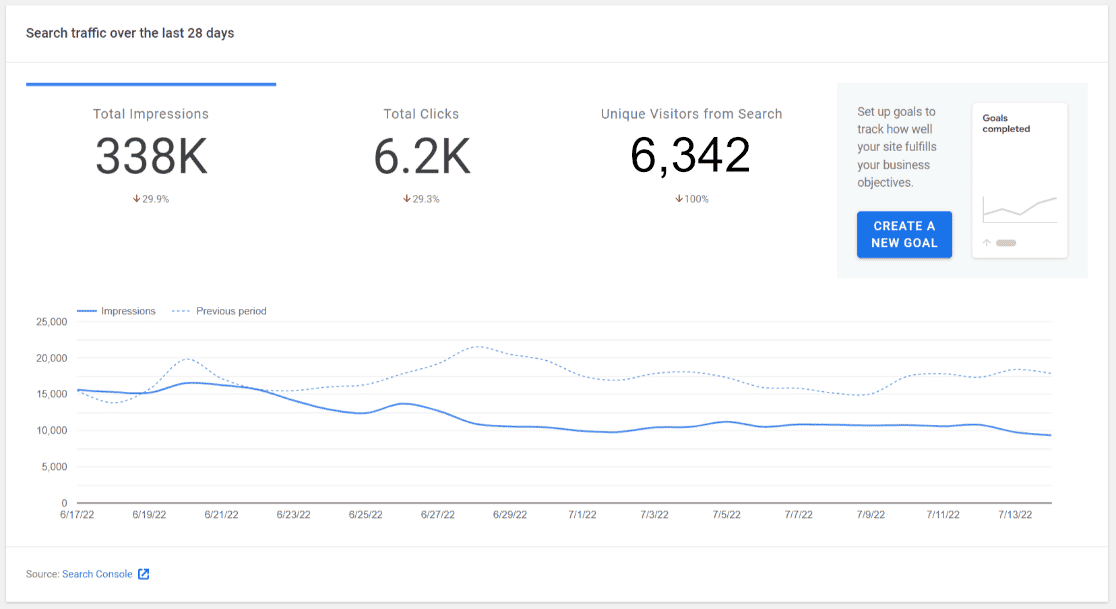 Top Search Queries
If you're wondering what search terms people use to find your website, then this is the report you should look for. It gives you the top search queries for your site, so you know which keywords are ranking on the first page of Google. You can then use the data to improve your search rankings.
The next report in Google Site Kit also shows the most popular content on your website. It displays pages that get the most traffic.
Speed
Using the Speed report from Google Site Kit, you can improve your website's loading speed. It integrates the Google PageSpeed Insights tool in your WordPress website, so you can view its performance on desktop and mobile from your dashboard.
You'll see your scores for the three speed metrics Google uses to calculate your Core Web Vitals score. You can toggle from mobile to desktop results, and check In the Lab vs In the Field metrics.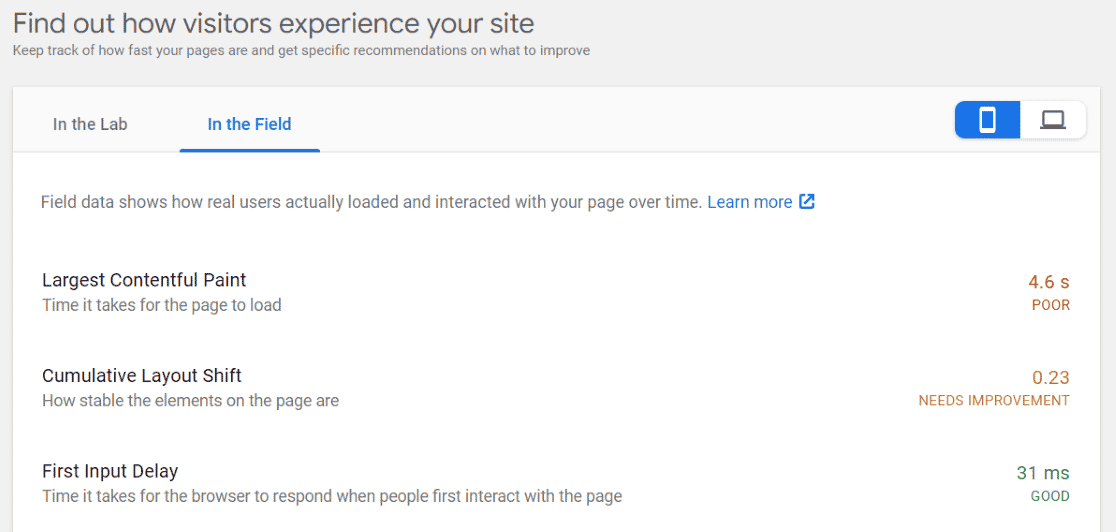 This data is valuable for your developers, as they can use it to find ways to increase the load time of your website.
AdSense
The last report that Google Site Kit shows is AdSense. It provides you an overview of your site's overall Google AdSense performance. If you're using AdSense to monetize your website, then this report is important for you.
It shows the estimated earnings for the past 28 days. Using the AdSense report, you can also view your ad impressions, earnings per thousand pageviews (RPM), and page CTR (click-through rate).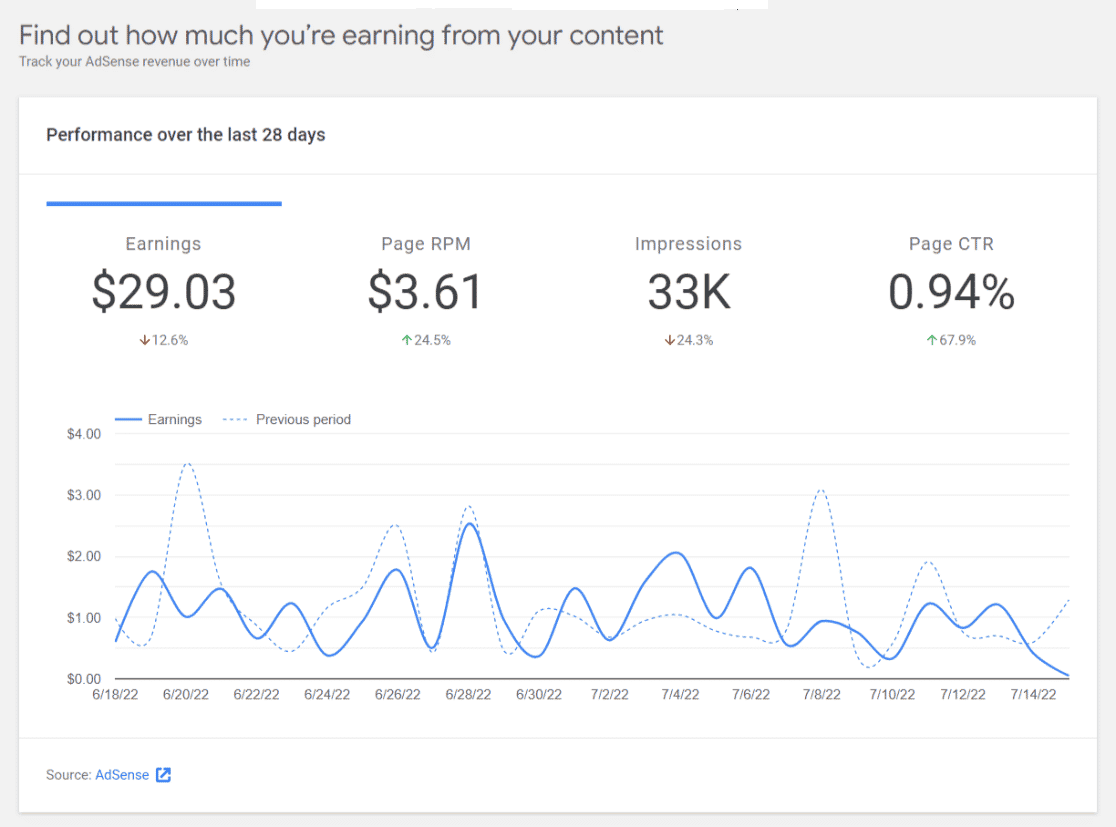 The Bad: Shortcomings of Google Site Kit
Now that you know the key reports and benefits of using Google Site Kit, let's look at some of its limitations.
No Google Analytics 4 Reports
Google Site Kit will connect your site with Google Analytics 4, but it will not bring any of that data into your Google Site Kit dashboard – not even the basic overview report that it provides for Universal Analytics. If you connect with Google Analytics 4, that report will be all zeros and you'll need to open Analytics to view any data.
Insufficient Data to Make Decisions
For starters, the reports Site Kit provides you with are good for a quick summary and to keep track of your site's performance, but you don't really get actionable insights that you can use to make business decisions.
You'll have to be an Analytics expert to drill down the data from different Google tools and then find out what's happening on your website. This would take a lot of time and you may need to hire a professional.
GDPR Compliance
GDPR or General Data Protection Regulation is a data protection law in the EU to safeguard user's privacy. So, if you're operating in Europe, then you'll have to comply with GDPR.
And to do that, you'll need to get consent from the user to track their information in Google Analytics. If they decline, then you'll have to anonymize IPs, disable demographic tracking, disable user IDs and other types of tracking.
With Google Site Kit, you cannot automatically disable tracking, hide IP addresses, and have to manually set up GDPR compliance – which will require coding.
No eCommerce Metrics
If you have an eCommerce store or have multiple forms on your website, then sadly Google Site Kit won't be of much use.
It offers no integration for automatic tracking of different eCommerce metrics on your website. For instance, it will not show you the revenue or the average order size of your online store. You also cannot see your top-performing products using Google Site Kit.
In addition, Google Site Kit doesn't track different forms on your website. Let's say you have a contact us form or an order form on your website and you want to know how many people are submitting them – this is where you would need an alternative to Google Site Kit.
So, is there a way you can overcome these limitations? Let's take a quick look at a Google Site Kit alternative.
MonsterInsights – The Best Google Site Kit Alternative
When it comes to finding data about your website and getting actionable insights to grow your business, then nothing beats MonsterInsights.
It's the best WordPress plugin for Google Analytics and overcomes all the shortcomings of Google Site Kit.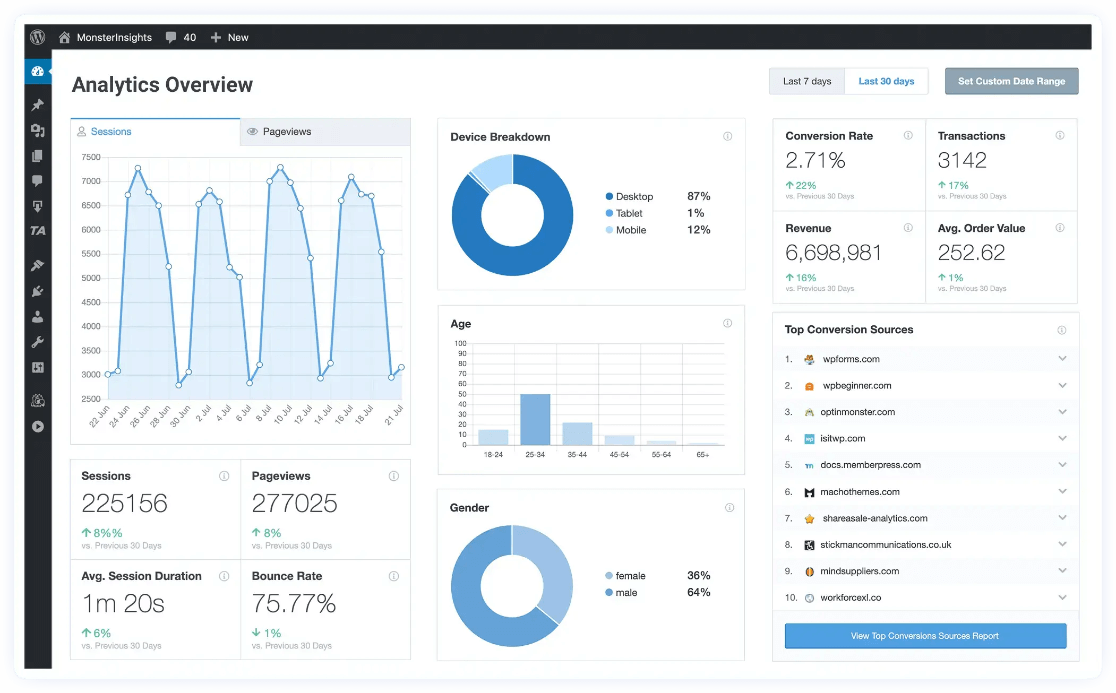 What makes MonsterInsights better than Google Site Kit? Let's go over some of the ways MonsterInsights is a better Google Analytics plugin.
MonsterInsights vs Google Site Kit
How does Google Site Kit compare to MonsterInsights? Let's take a look at some of the features of both of them.
Reports That Offer Actionable Insights
With MonsterInsights, you get far more than the reports that Google Site Kit has to offer, and they're more detailed and useful. You don't have to be an expert to understand the reports since they are designed for new business owners in mind.
For instance, in the Overview report, you get overall data about your site like the number of sessions, pageviews, average session duration, and total users.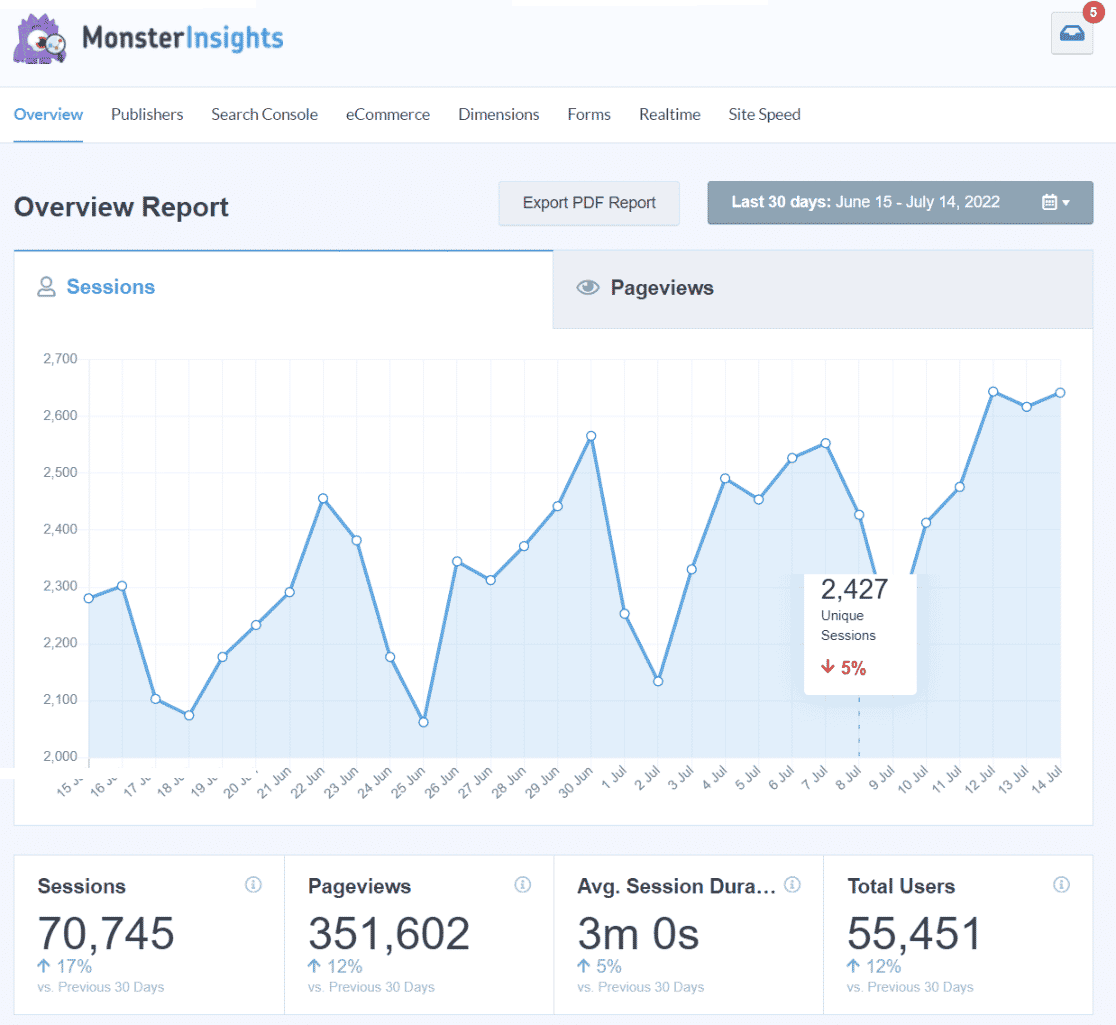 It also shows you the top referral sources and countries that send the most traffic. You can use this data in different ways. For instance, with the top referral report, you can find new partnership opportunities to grow your traffic.
And with top countries report, you can geotarget visitors with different marketing and promotional campaigns. You can also create content for users from your top regions to make more money.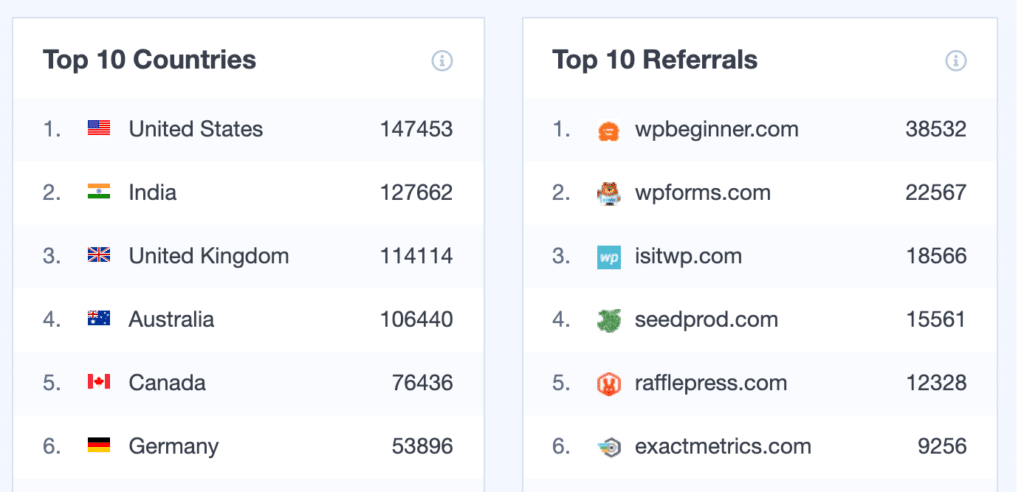 MonsterInsights also offers other reports like Publishers report where you can view your top exit pages, outbound links, top download links, demographics, and user's interests. It also connects with Search Console and brings a list of your top keywords right into your WordPress dashboard.
If it's Google Site Kit vs. MonsterInsights for included reports and stats, MonsterInsights is the clear winner.
For more on what's included in the MonsterInsights dashboard, check out The Ultimate Guide to MonsterInsights Dashboard Reports.
Track eCommerce Performance
Do you want to know how well your online store is performing? Then with MonsterInsights, you can track your conversions with ease. With the eCommerce addon, you see the conversation rate of your store, the number of transactions, revenue, and average order size.
That's not all. You can also see your top-performing products, the total items added to cart and removed from cart, and more.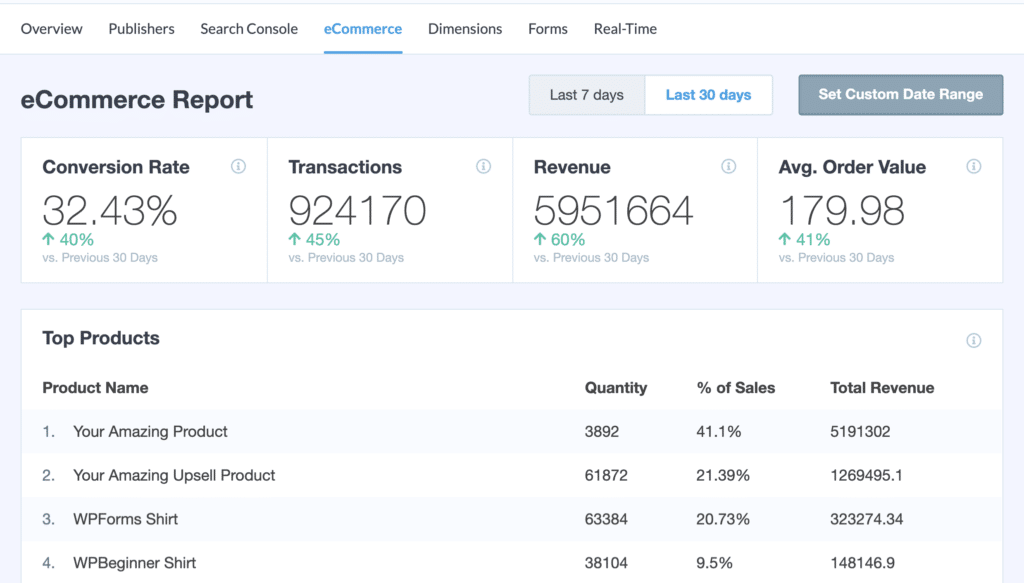 Here's a complete guide for tracking eCommerce performance using MonsterInsights.
Form Conversion Tracking
Another benefit of using MonsterInsights vs. Google Site Kit is that you can automatically track form conversions on your website – no additional setup required.
The Form Conversion Tracking addon by MonsterInsights makes it super easy to track all types of forms on your site. It supports popular form plugins for WordPress and all you have to do is install the plugin, activate the addon, and let MonsterInsights take care of the rest.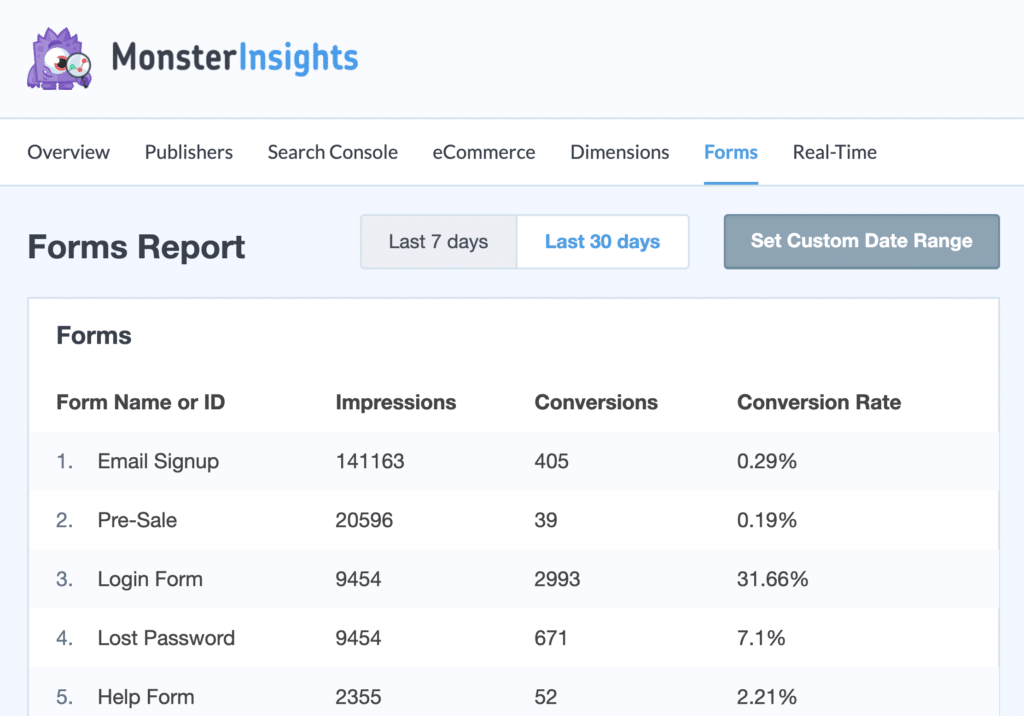 Easily Make Your Site GDPR Compliant
MonsterInsights makes up for another feature that Google Site Kit lacks – GDPR compliance.
It offers a simple EU Compliance addon which you can use to disable tracking and anonymize user information. By default, you cannot anonymize IPs on its own. But MonsterInsights makes it super simple and automates the process.
Simply enable the option to hide IP addresses from Google Analytics, disable demographics, user ID tracking and more, you can comply with the regulation, that too without any coding,
You can read our complete guide on GDPR and MonsterInsights for more information about making your site compliant in the EU.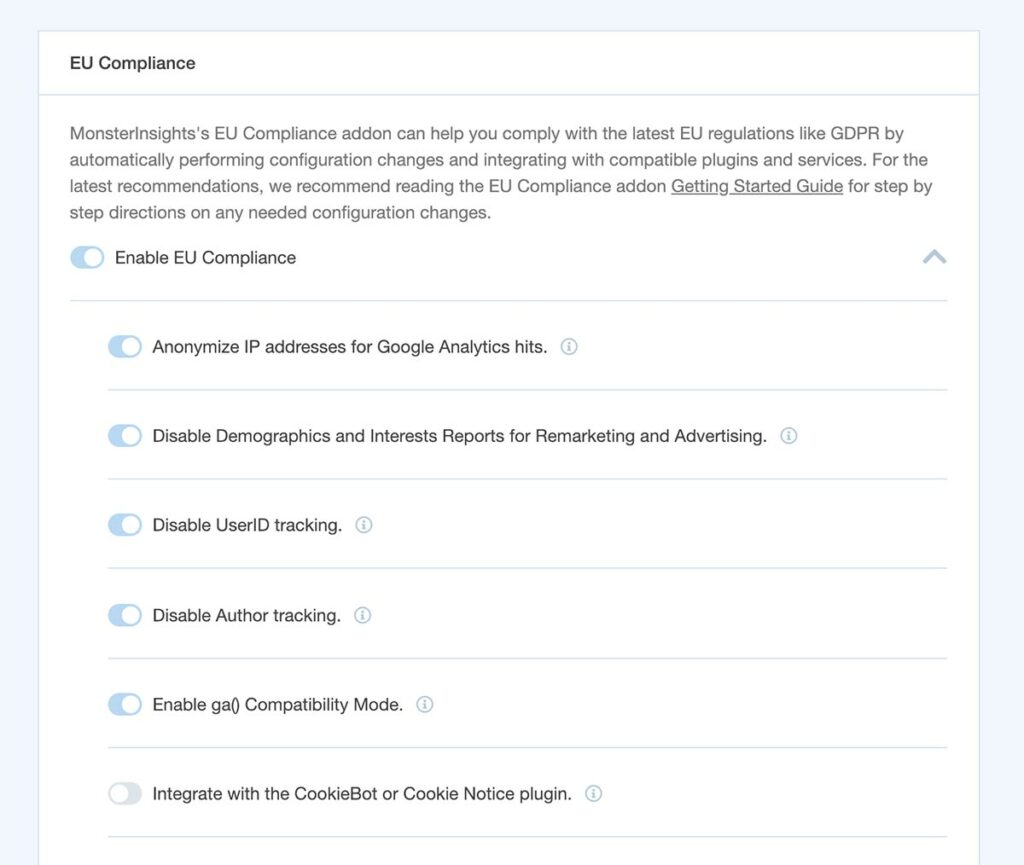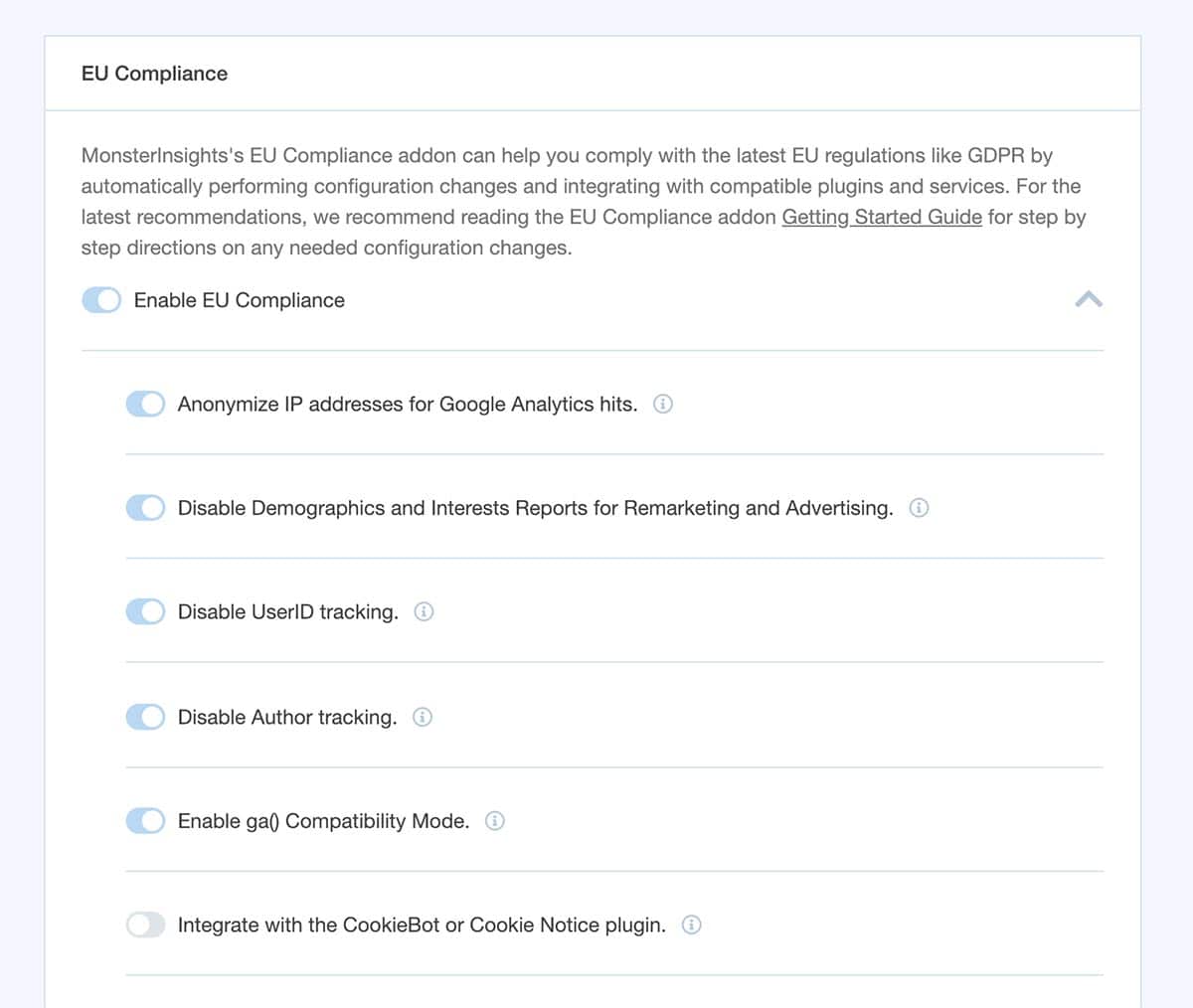 Google Site Kit is a plugin that provides easy integration of different Google tools for WordPress users. However, it has many limitations. For a lot more data and helpful features, we recommend using MonsterInsights. When comparing Google Site Kit vs. MonsterInsights, MonsterInsights is the clear winner.
We hope you liked our Google Site Kit review. You also take a look at our guide on how to track user engagement in WordPress using Google Analytics and a detailed MonsterInsights review.
And don't forget to follow us on Twitter, Facebook and YouTube for more helpful reviews, tutorials, and Google Analytics tips.