Do you want to see how your AdSense campaigns are performing in Google Analytics?
With MonsterInsights, you can easily set up AdSense analytics on your site, so you can optimize your ads to boost revenue.
In this guide, we'll show you how to link AdSense to Analytics and view your performance reports.
Why Should You Track AdSense Performance?
Monetizing your website with AdSense is one of the easiest ways to make money online. Tracking the performance of your AdSense ads gives you comprehensive data about how your visitors engage with your ads. With MonsterInsights ads tracking, you can…
Track the click-through rates (CTRs) of your ads
Identify the most optimal location to maximize your revenue
Find and remove low-performing ads to boost CTRs
Video Tutorial
Don't want to watch the video? Then check out our written tutorial in the next section.
How to Link AdSense to Google Analytics
Before you can find the AdSense performance report in Google Analytics, you'll have to connect your AdSense account with your Google Analytics account.
And the easiest way of doing that is through MonsterInsights.
It's the best Google Analytics WordPress plugin that makes it very easy to set up tracking and link AdSense without editing code or hiring a developer.
Plus, you get advanced tracking features out of the box like file downloads, eCommerce tracking, outbound link clicks, and more. The plugin also shows important data from Google Analytics inside your WordPress dashboard.
Once MonsterInsights is up and running on your WordPress site, follow these steps to connect AdSense.
Step 1: Install and Activate MonsterInsights Ads Addon
First, you'll need to install and activate the MonsterInsights Ads addon on your WordPress website. To use the addon, you'll need a MonsterInsights Plus or higher license. 
MonsterInsights Ads addon is the easiest way to track the performance of AdSense ads on your site.
You can install the addon by going to Insights » Addons and navigate to Ads. Now click the Install button and the addon will automatically activate.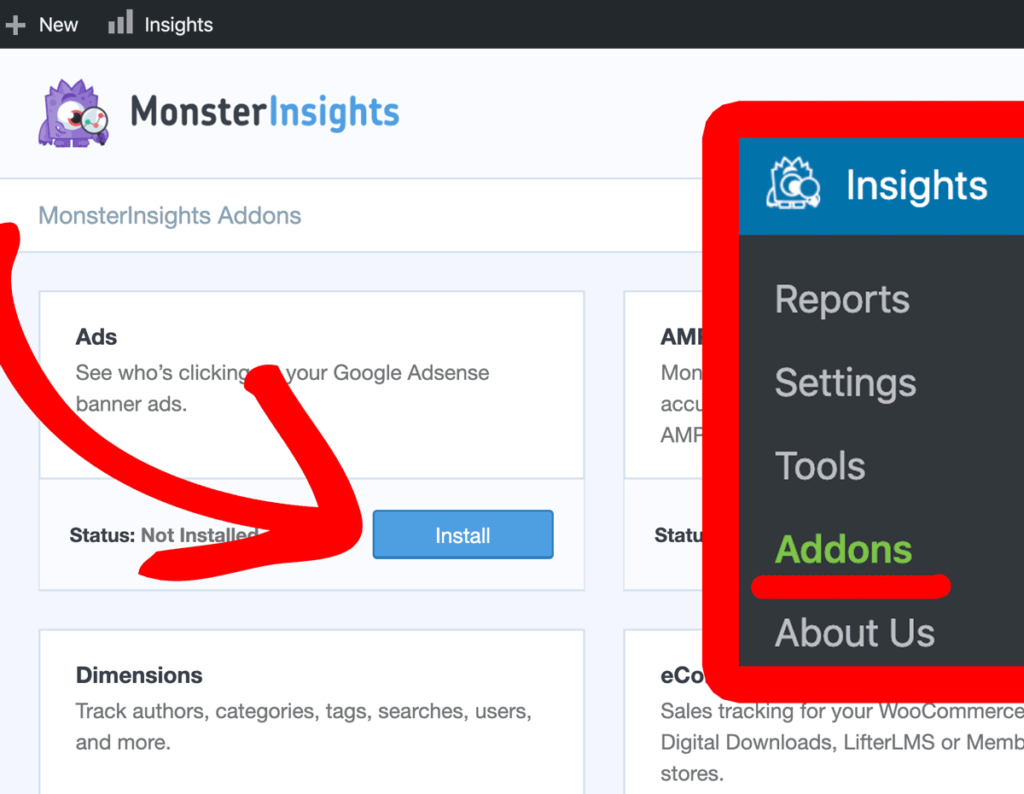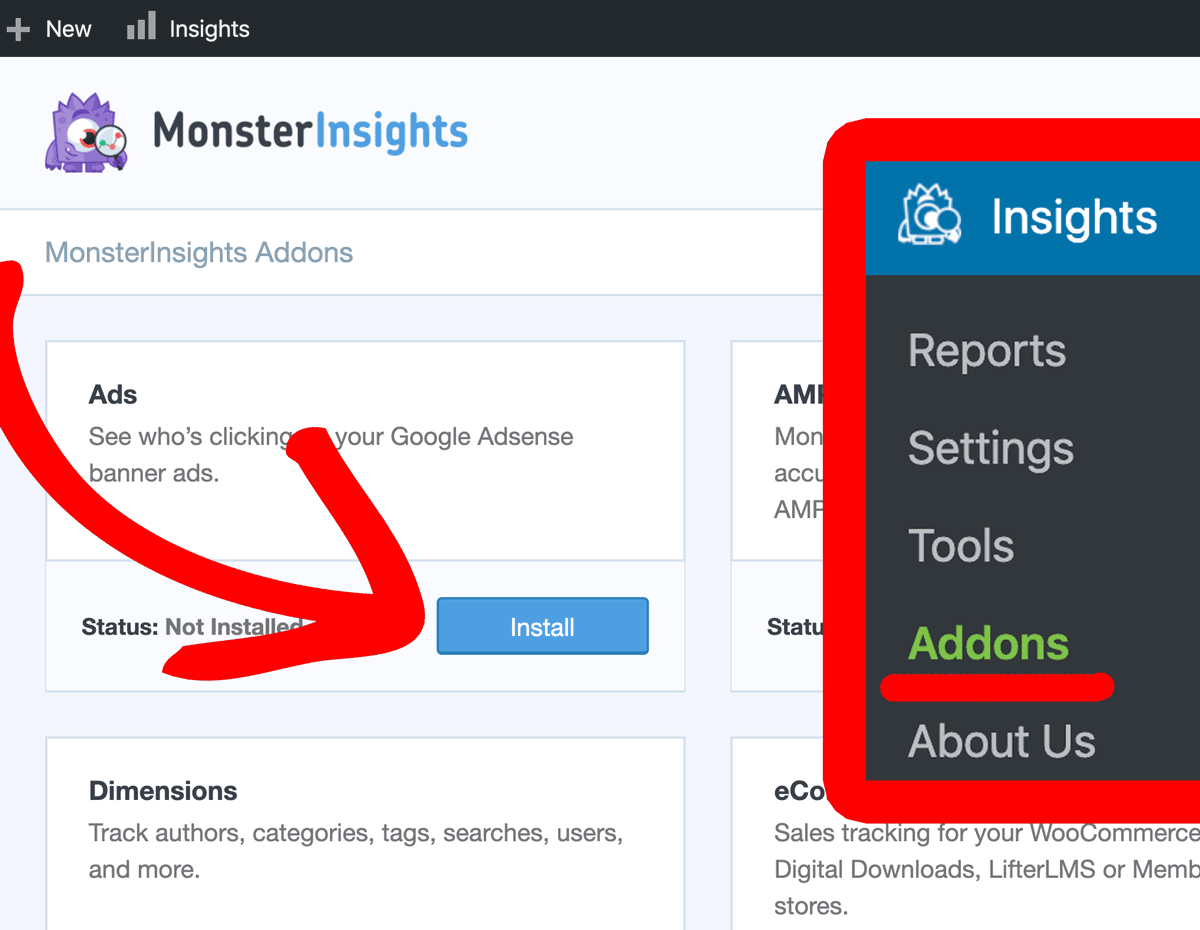 Without any further configuration, you can start tracking your AdSense earnings and performance in Google Analytics.
For a more detailed step-by-step guide on installing the MonsterInsights Ads addon, read how to track AdSense in Google Analytics.
Step 2: Connect AdSense Account in Google Analytics
After that, the next thing you'll need to do is link your AdSense account to Google Analytics.
First, log in to your Analytics account and select the website with which you'd like to link the AdSense account. Make sure to use the same Google ID that you're using for Google AdSense.
Next, go to Admin.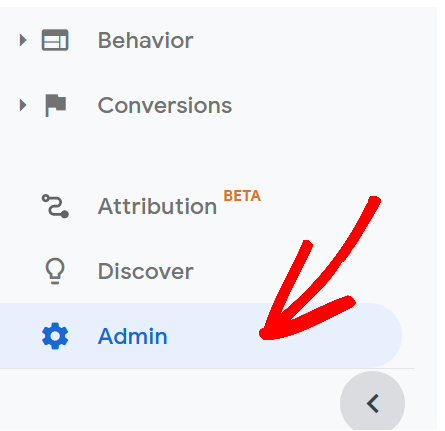 Now click on the AdSense Linking option that you'll find under the Property column.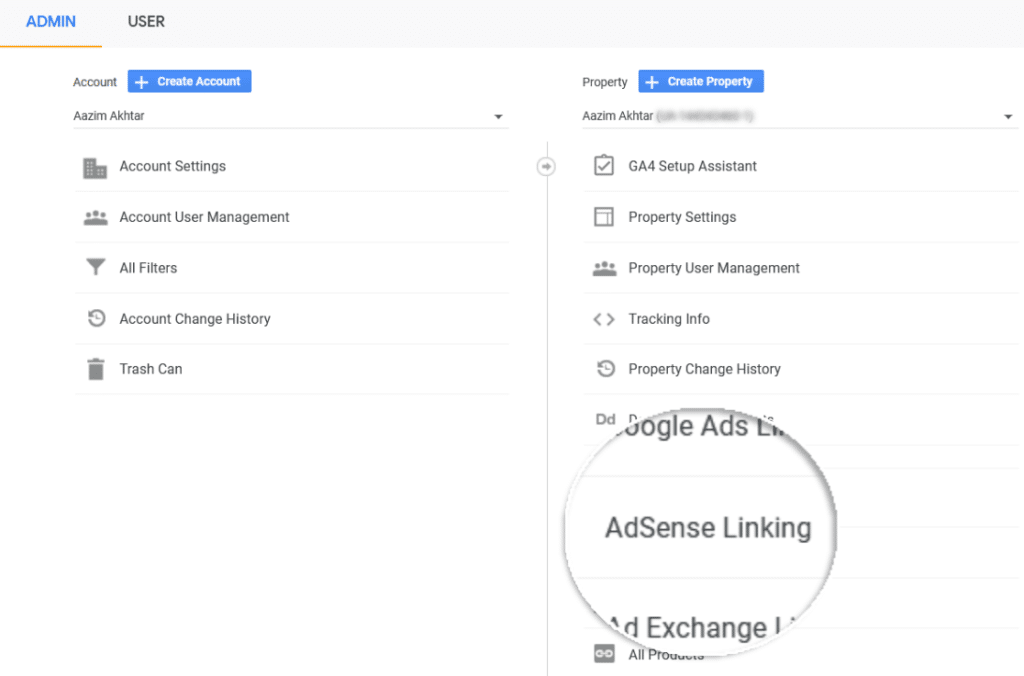 After that, click the + New AdSense Link button.

Now select the AdSense property you'd like to connect with Google Analytics and then click the Continue button.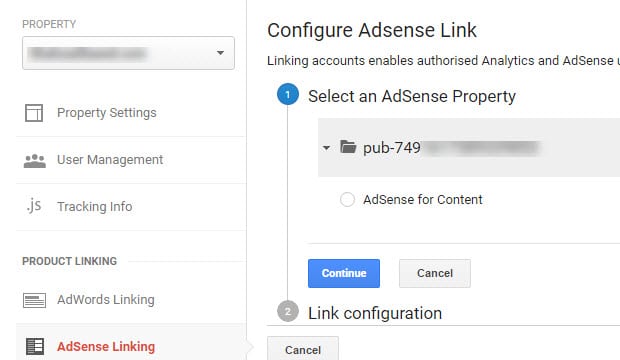 In the next step, Google Analytics will ask which view should your AdSense property link to.
Now select the view where you'd like to see AdSense reports. You can select more than 1 view to view the performance of your ads. Once that's done, click the Enable Link button.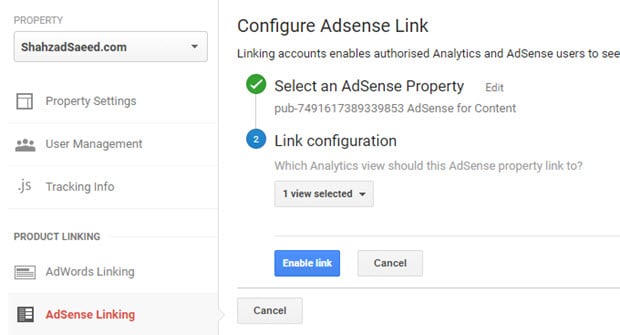 AdSense will take up to 24 hours to display data in Google Analytics. Now click Done after you've linked AdSense with Google Analytics.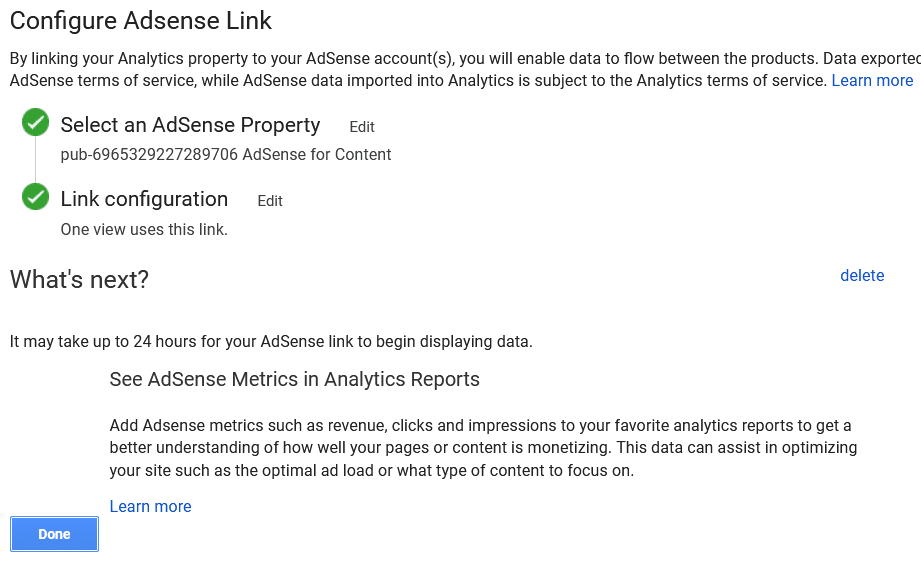 Step 3: Enable Google AdSense Tracking from MonsterInsights
Now that you've linked Google Analytics and Google AdSense, it's time to enable ad tracking in WordPress.
MonsterInsights will automatically integrate Google AdSense on your WordPress site and start tracking its performance without the need for additional configuration.
You can make sure that ads tracking is working by going to Insights » Settings » Publisher and then navigate to Ads Tracking. Click the Enable Google AdSense Tracking switch to start viewing your ads reports in Google Analytics.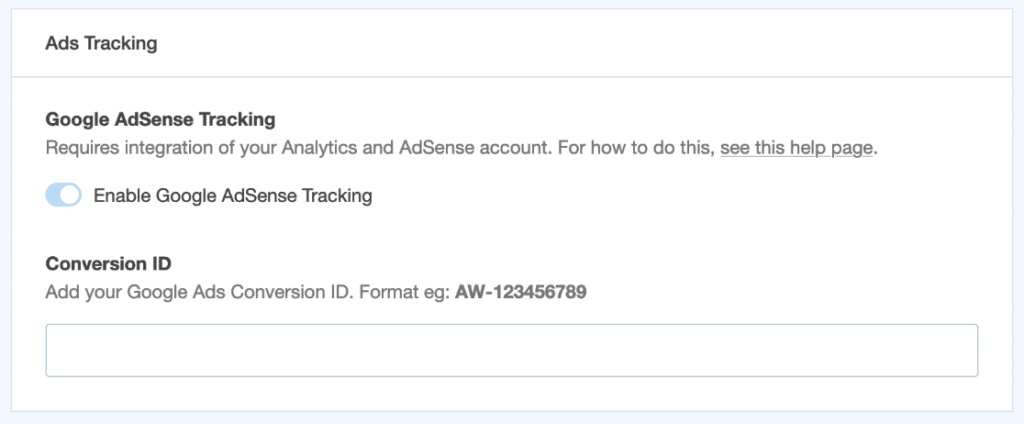 Now, are you ready to see your AdSense reports in Google Analytics?
How to Find AdSense Performance Reports in Google Analytics
After the setup, you can find an overview of your AdSense performance in Google Analytics by navigating to Behavior » Publisher » Overview.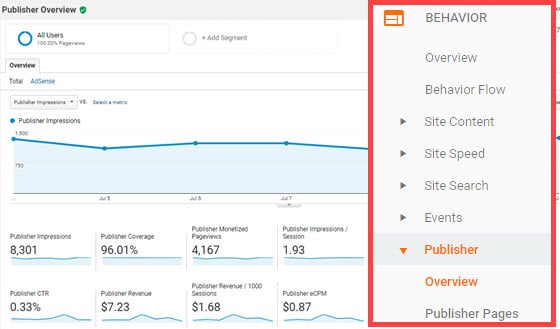 The overview report gives you a high-level summary of key AdSense metrics. You can also find the Publisher Pages and Publisher Referrers report in Google Analytics.
Publisher Pages: The Publisher Pages report tells you which pages contributed most to your AdSense revenue.
Publisher Referrers: The Publisher Referrers report shows you which traffic sources contributed most to your AdSense revenue.
Now you understand how to find Google AdSense performance reports in Google Analytics. You can analyze the reports to optimize your ads for maximizing revenue.
We hope you liked our article on how to view your AdSense reports in Google Analytics. If you found this useful, do check out our post on how to use Google Analytics for Google Ads conversion tracking.
And be sure to sign up for our weekly newsletter and follow us on Twitter and Facebook for more tutorials on Google Analytics.