Are you wondering which is the best analytics tool between Adobe Analytics, Google Analytics, and Monsterinsights?
Each of these tools helps you measure your website's performance, track user behavior, and get insights to grow your business.
But which one should you select?
In this article, we'll compare Adobe Analytics vs. Google Analytics vs. MonsterInsights, so you can easily select the best tool for your website.
Let's dive right in…
1. General Overview
What is Adobe Analytics?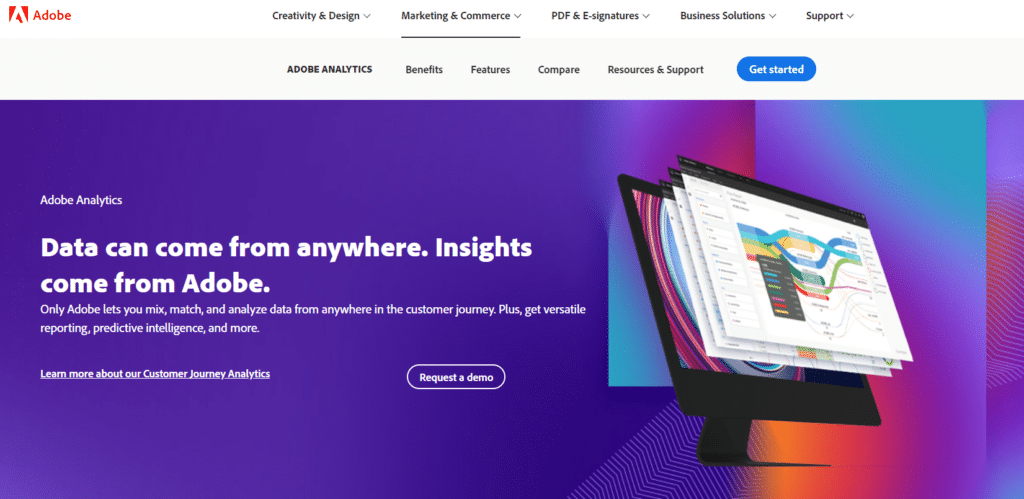 Adobe Analytics is a popular web analytics tool that helps you get real-time data from all your marketing channels. It's considered a great alternative to Google Analytics 360, as it doesn't sample data.
This means the tool can handle a large volume of website traffic, and you always get an accurate picture of your site's performance.
Plus, you can use its drag and drop functionality to pull up any type of data you need without having to go through individual reports.
It also uses artificial intelligence (AI) and machine learning to uncover hidden opportunities and help you get more insights about your visitors. You can segment your data and discover your high-value audience.
What is Google Analytics?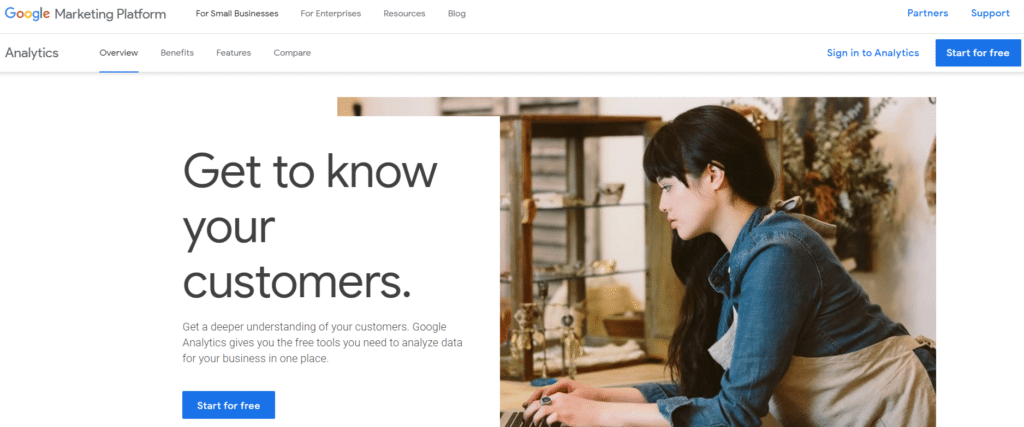 Google Analytics is a free web analytics tool by Google that helps you better understand your visitors and behave on your website.
It's a powerful tool that you can use to track your website traffic, find out which pages people view, what browser or the device they used to view your site, which country they're from, what channel they used, and lots more.
Google Analytics also allows additional tracking features, such as eCommerce tracking. And you can manually set up advanced tracking to track button clicks, file downloads, form conversions, and more.
But Google Analytics can be tricky to use for beginners. That's because the setup process requires writing code. And you'll need several months to get used to its interface and find the right report to view data.
What is MonsterInsights?
On the other hand, MonsterInsights is the best WordPress plugin for Google Analytics. It makes it super easy to use and set up Google Analytics on your website. You won't need a developer or have to hire analytics to get started.
With MonsterInisghts, getting the information you need to make decisions is very simple. The plugin sets up advanced tracking like outbound link clicks, affiliate link tracking, and file downloads right out of the box.
Plus, with its different addons, you can get more insights about how people use your website. For instance, with Forms addon, you can track form conversion in Google Analytics.
That's not all. MonsterInsights offers easy to understand reports inside your WordPress admin area. So, you don't have to spend months learning how to navigate through Google Analytics.
Now, are you ready to learn about the differences between these analytics tools? Let's look at them…
2. Reporting Capabilities
When it comes to reporting, each tool offers detailed reports about how users behave on your site. But each differs in terms of ease of use and how it shows data in different reports.
Adobe Analytics
In Adobe Analytics, you can use pre-build reports to view reports and also build custom reports. Some of the popular ready to use reports include page summary, geo-segmentation, conversion funnel, form abandonment, and more.
But unlike Google Analytics, where you get individual reports for each metric, you get a unified view in Adobe Analytics to see your data. It offers pivot and drag and drop features through Adobe Workspace and Ad Hoc Analysis where you can pull data of any type.
And with its Report Builder plugin for Excel, you can manipulate the data the way you want and add it to the analytics tool.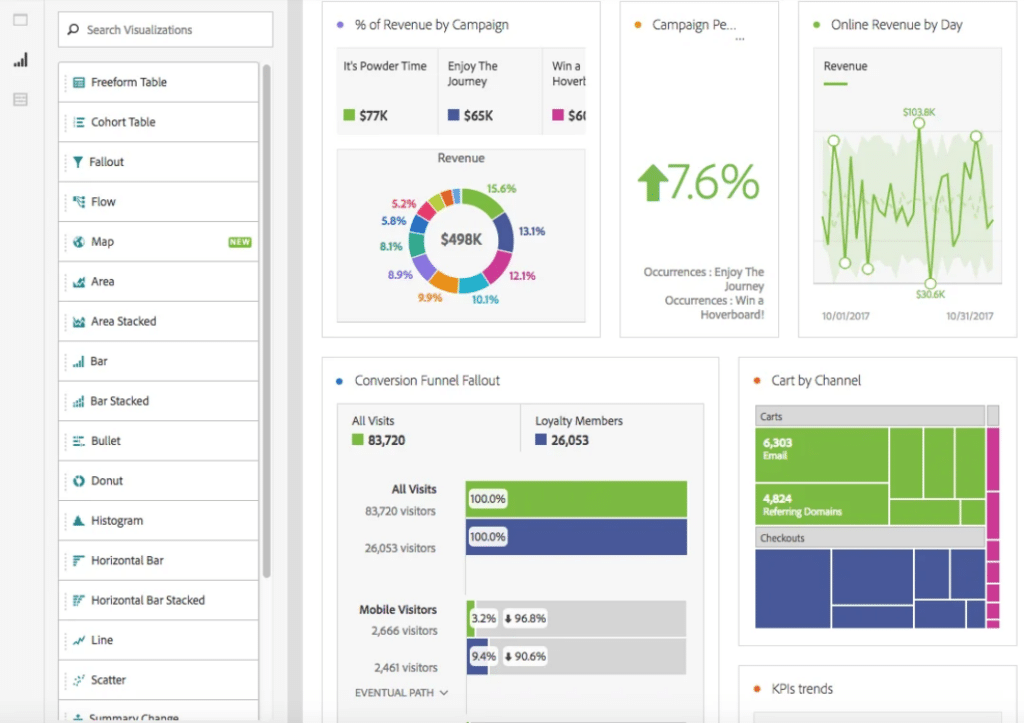 The customizable reporting features in Adobe Analytics provides flexibility, but it is tricky to use and is time-consuming. You'll need to learn how to use the tool to pull the right report and see the data you need.
And if you don't know how Adobe Analytics works, it can be hard to create new metrics for tracking, creating, managing segmentation, and then seeing their reports.
Google Analytics
Google Analytics works differently than Adobe Analytics. It offers detailed reports, but there isn't a unified view.
You can create custom reports if you want, but you'll have to navigate to a specific report for checking traffic sources or how your blog posts are performing.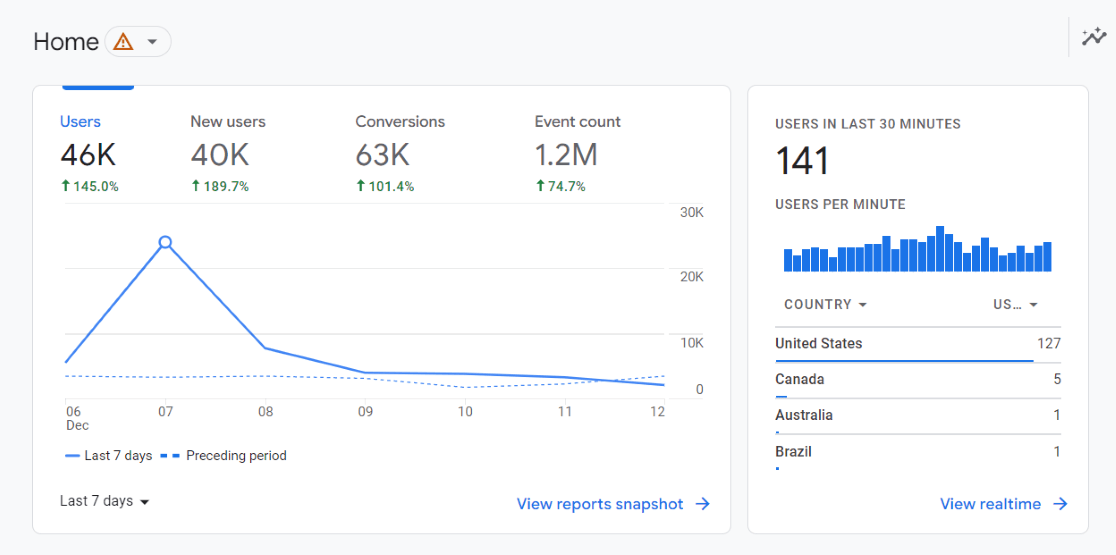 However, finding your way around Google Analytics can be difficult, especially for beginners. It has a high learning curve and you'll need to navigate through each report to find the data you need to make decisions.
This can be time-consuming and you might need an Analytics expert to help you find and understand the data from these reports.
So, is there an easier way?
MonsterInsights
Like we mentioned earlier, MonsterInsights brings important Google Analytics reports inside your WordPress dashboard. It removes the complexity that Adobe Analytics and Google Analytics present when it comes to finding the data for your business.
Each report is carefully designed, so anyone can easily understand it and get insights about their visitors. The very first report you'll see in MonsterInsights is the Overview report. It gives you an overall picture of how your site is performing.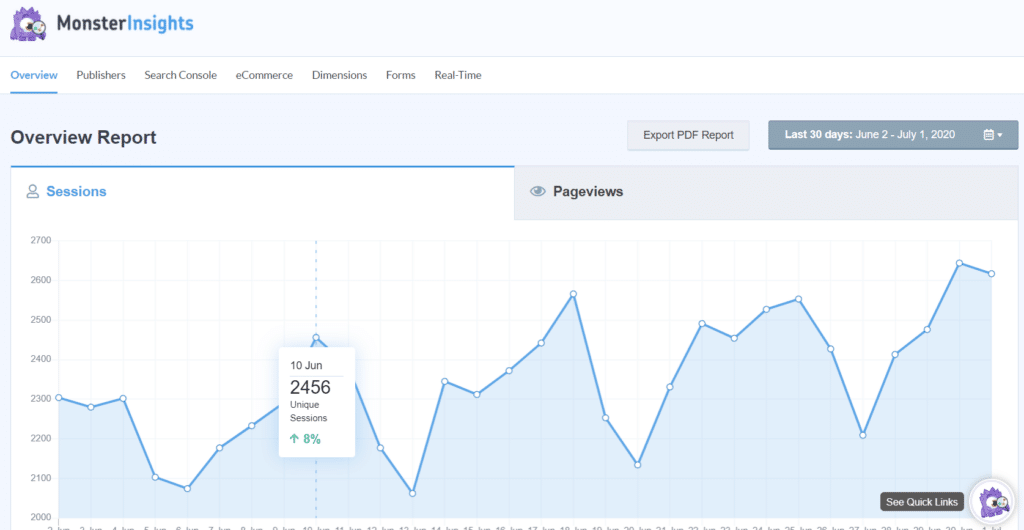 You get to see the number of sessions, pageviews, average session duration, and bounce rate of your site. That's not all.
If you scroll down, more reports show a device breakdown, new vs. returning visitors, top countries where your visitors are from, and top referrals that send traffic to your site.
Besides that, you can unlock other reports by subscribing to MonsterInsights Plus or a higher plan.  For instance, in the Publisher report, you can find out how your content performs by looking at your top landing pages.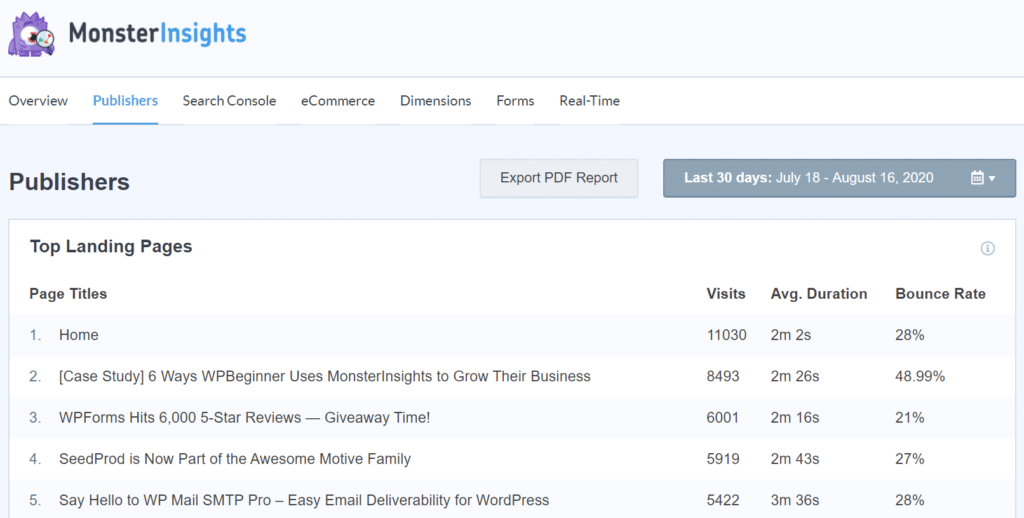 It also shows your top exit pages, top outbound links, top affiliate links, top download links, and average scroll depth.
And if you enable demographics tracking in Google Analytics, you can see your audience's age and gender. Besides, you also get to see the interests of your visitors.
You can even link Google Search Console with Google Analytics and see which keywords drive traffic to your site. MonsterInsights Search Console report shows the top 50 Google search terms along with their clicks, impressions, CTR, and average position.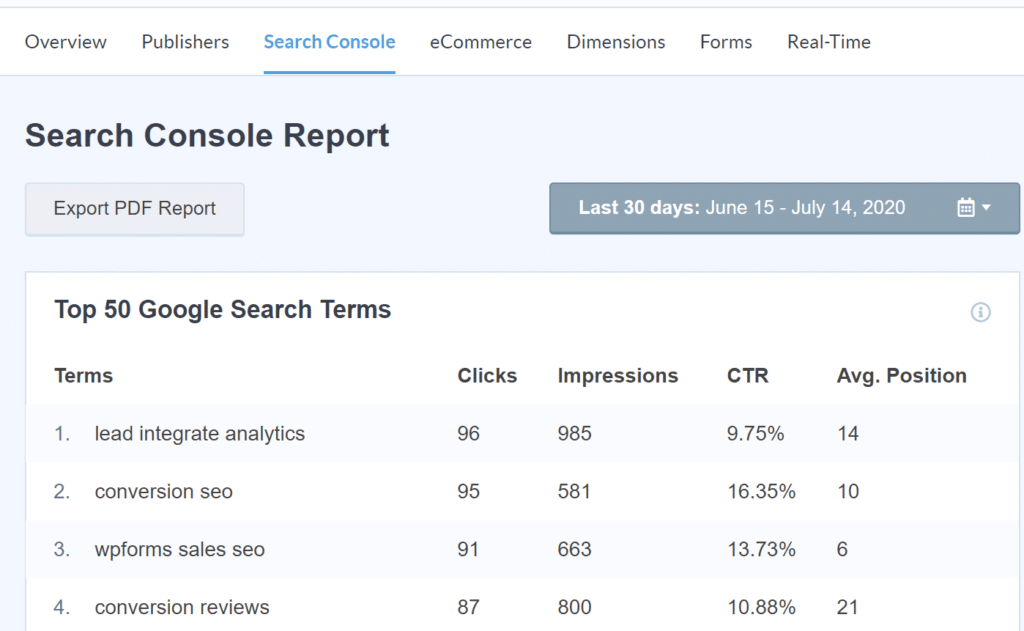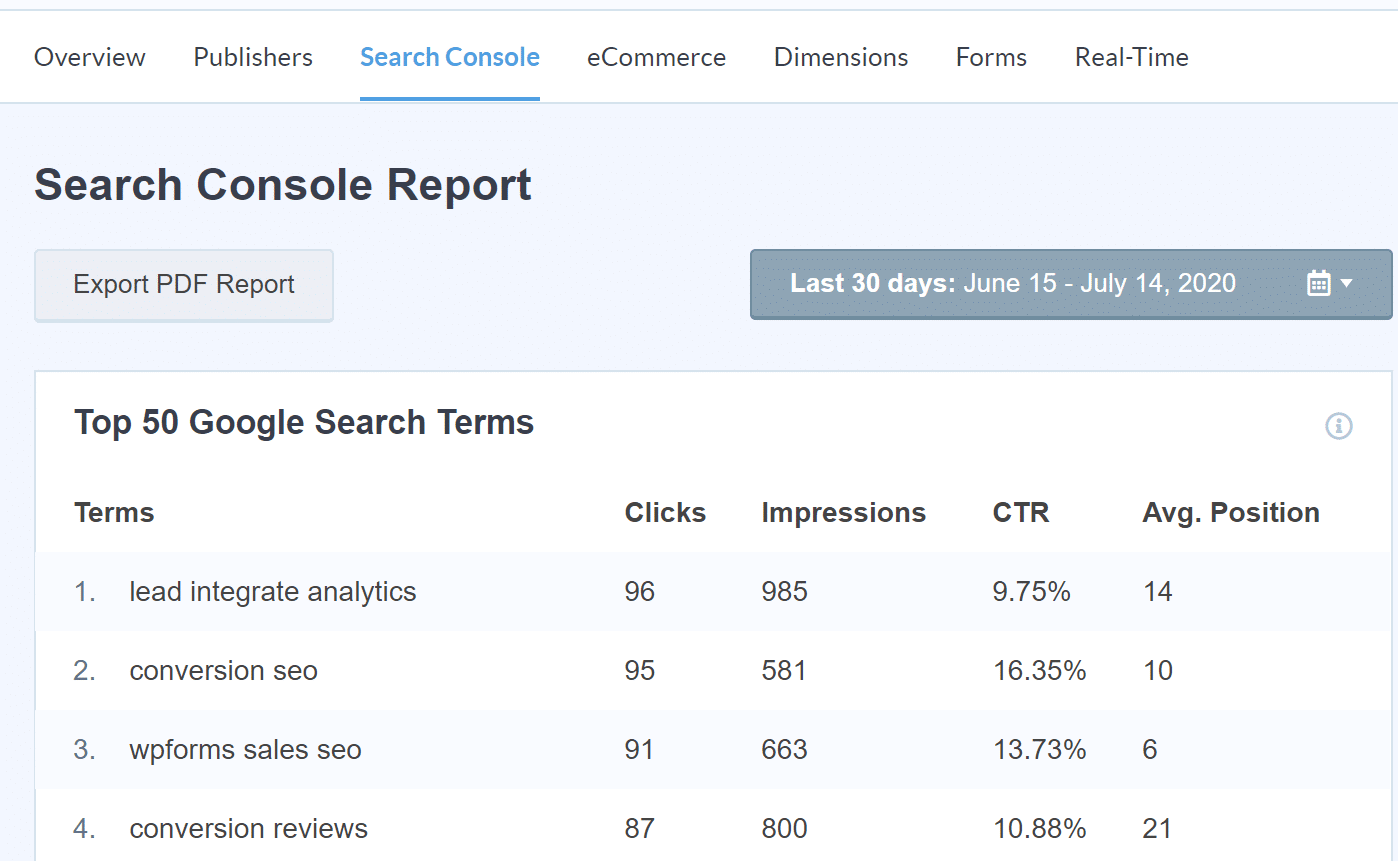 Now, if you have an online store, then using MonsterInsights eCommerce addon, you can track its performance and view the report inside your WordPress dashboard.
The eCommerce report shows an overview of your store's performance and gives you stats about the conversion rate, transactions, revenue, and average order value.

It also shows your top products, top conversion sources, total add to carts, total removed from cart, time to purchase, and sessions to purchase. Using this data, you can grow your eCommerce sales.
Aside from that, MonsterInsights also lets you set up custom dimensions for tracking additional information about your visitors. In the Dimensions report, you can see your popular authors, post type, category, SEO score, and more.

MonsterInsights also lets you track form conversions on your site. With its Forms addon, you can automatically track and see reports in your admin area. The Forms report shows how each form performs and which one is getting the most impressions and clicks.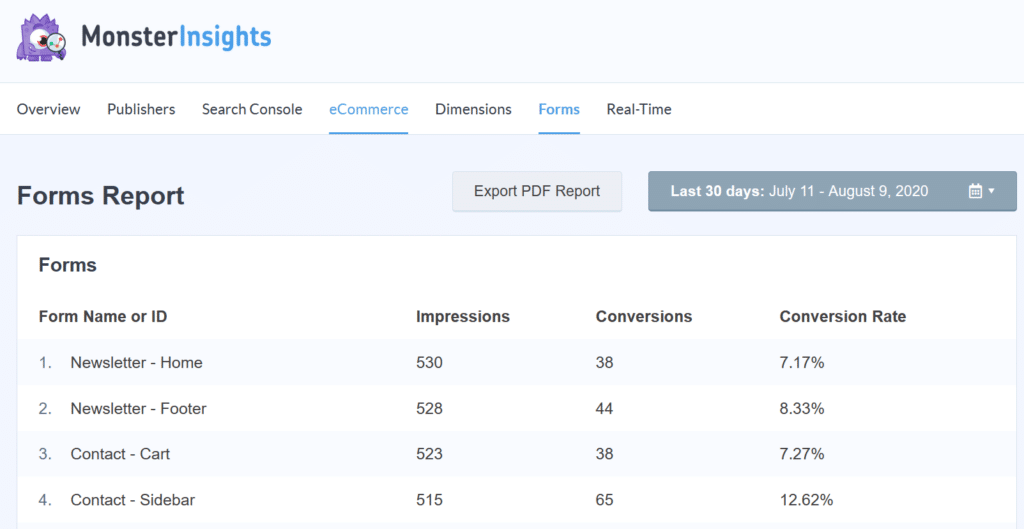 And with its Real-Time report, you can track visitors that are currently active on your site. This helps you track the performance of your campaigns in real-time and see immediate results.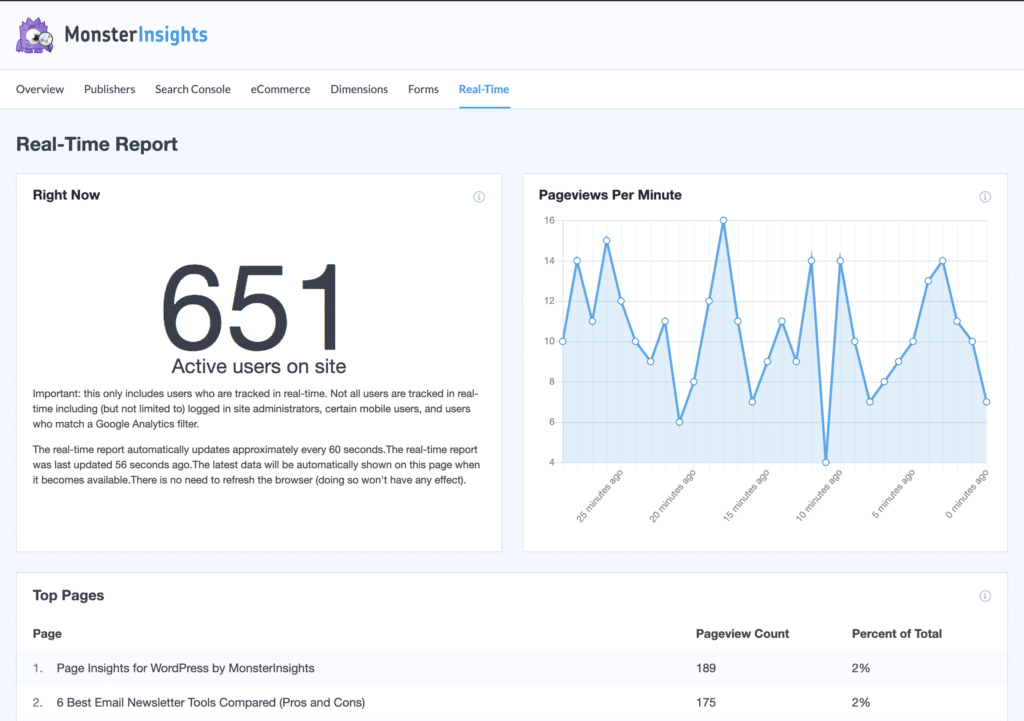 3. Ease of Use & Installation Process
Now that you know each tool's report capabilities, you might be wondering how easy it is to set them up on your website.
The setup process for Adobe Analytics and Google Analytics is not that simple on WordPress. Both require you to edit code on your website, as you'll have to add the tracking code to the header of each webpage you want to track.
This can be difficult if you're not a developer. A small mistake while writing code can mess up your tracking or cause major errors across your website.
But with MonsterInsights, you can set up Google Analytics without touching a single line of code. Its setup wizard will guide you through all the steps and you'll have analytics up and running on your site within minutes.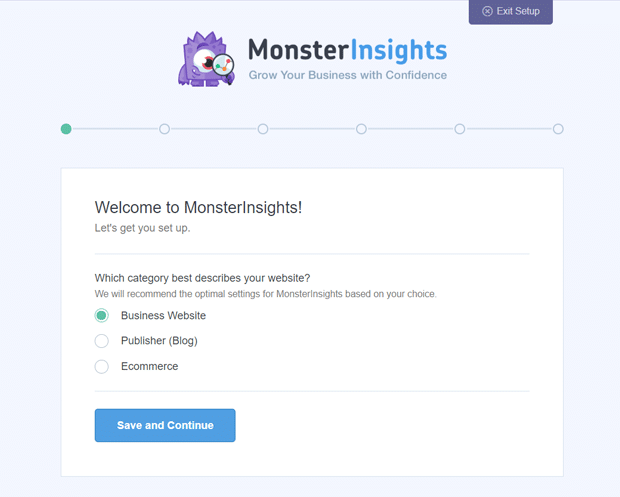 In Adobe Analytics, aside from editing code, you'll also have to add different attributes or characteristics you want to track. The tool offers up to 50 attributes and it can be tricky to implement them.
So, if you're looking for easy analytics implementation, then we recommend setting up Google Analytics using MonsterInsights.
4.  Tracking Features
As for tracking features offered by each analytics platform, you'll notice that Adobe Analytics provides similar features to Google Analytics. But Google Analytics provides more options to track your visitors.
And when you combine Google Analytics with MonsterInsights, you get to set up advanced tracking features in just a few clicks and get data in real-time to make decisions.
For instance, you can track scroll depth automatically by enabling it in MonsterInsights. You also get mailto link clicks, telephone link clicks, focus keyword tracking, enhanced link attribution, and much more.
It also offers powerful addons that will help you get more information about your visitors.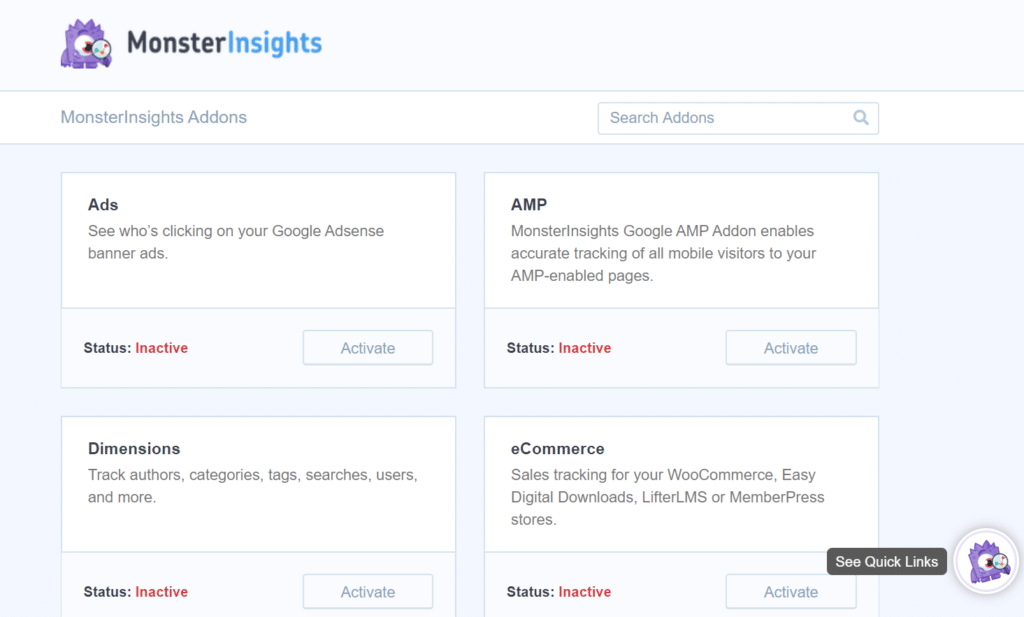 On the other hand, Adobe Analytics lets you create your own metrics by combining mathematical and statistical operations.
And it offers a better flow analysis of your customer's journey, which allows you to see which page or app they visited before converting.
5. Integration with Other Platforms & Tools
When it comes to integrating the analytics tool with other platforms and tools, there's a huge difference between Google Analytics, Adobe Analytics, and MonsterInsights.
For starters, Google Analytics can easily integrate with other Google services such as Google Ads, Google Optimize, Google AdSense, and Google Search Console. Besides that, it seamlessly connects with Salesforce.
That's not all. With MonsterInsights, you can expand your integrations. The plugin easily integrates with WooCommerce store, Easy Digital Downloads, WPForms, MemberPress, LifterLMS, CookieBot, and many more.
Adobe Analytics offers built-in data connectors that allow you to get data from emails, eCommerce, advertising platforms, search engine optimization (SEO), and more. And it easily connects to Adobe's Experience Cloud.
Which Digital Analytics Platform is the Best?
Now that we've gone through all the tools, you might want to know which analytics platform should you use.
Between Google Analytics and Adobe Analytics, we recommend Google Analytics. That's because it's free, offers more tracking features, and you can easily integrate with Google services and other platforms.
And using it with MonsterInsights, you can remove the hurdles that come with using Google Analytics. The plugin helps you set up Google Analytics without editing code, set up advanced tracking, display easy to understand reports and boost integration with other WordPress plugins and tools.
That's it!
We hope you liked our comparison of Adobe Analytics vs. Google Analytics vs. MonsterInsights. If you want, take a look at why your business needs Google Analytics starting right now.
Don't forget to follow us on Twitter and Facebook for more helpful Google Analytics tips.