Are you planning on using Google Ads to grow your website but don't know how to get started?
Google Ads are an effective way of reaching millions of audiences across the globe and expanding your business. It's the most popular platform for running online advertisements.
In this article, we'll show you what are Google Ads and how do they work. We'll also guide you step by step in setting up your first ad campaign.
What is Google Ads?
Google Ads or formerly known as Google AdWords, is an online advertisement platform by Google. It's the most used online advertising network in the world.
Using Google Ads, you can run pnaid search or PPC (pay-per-click) to show ads that appear on search results (at the top and bottom), display network, and on YouTube.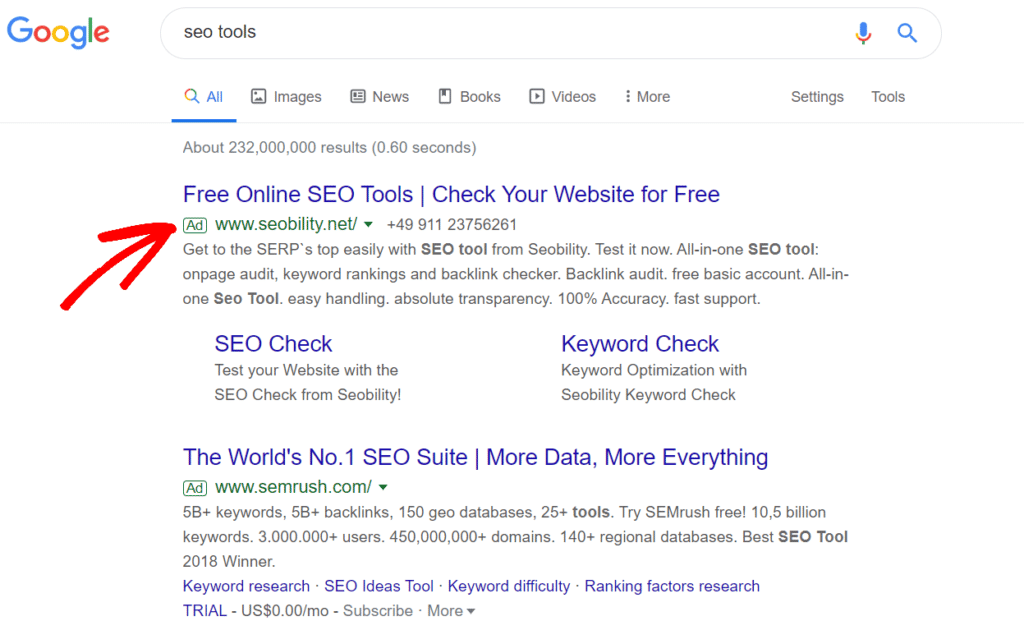 There are many benefits to using Google Ads. For starters, it can give you an instant boost in traffic, help you increase your reach, and promote your products and services to a highly targeted audience.
And unlike SEO (search engine optimization), you get to see faster results in search engine marketing (SEM). Since the race to reach the top spot is fierce on Google, optimizing your content for organic results can take months or even years.
This is where Google Ads can help you grab that top position, even before the organic results on Google SERPs. With that, let's see how it works.
How Does Google Ads Work?
Google Ads work like an auction, but unlike your typical auction where you'll find people standing and shouting their offers, this happens online. And you're bidding to grab that number 1 position in ad placement.
And it's not about spending the most money, there are other factors that Google's algorithm considers when placing ads. These include the quality of your ads and their relevance.
When you (the advertiser) submits a bid for a keyword, it tells Google how much you're willing to spend when a user clicks on your ads.
It then takes your bid amount, the quality score of your ad, and the relevant keyword to show your ad on, and then assigns you an AdRank.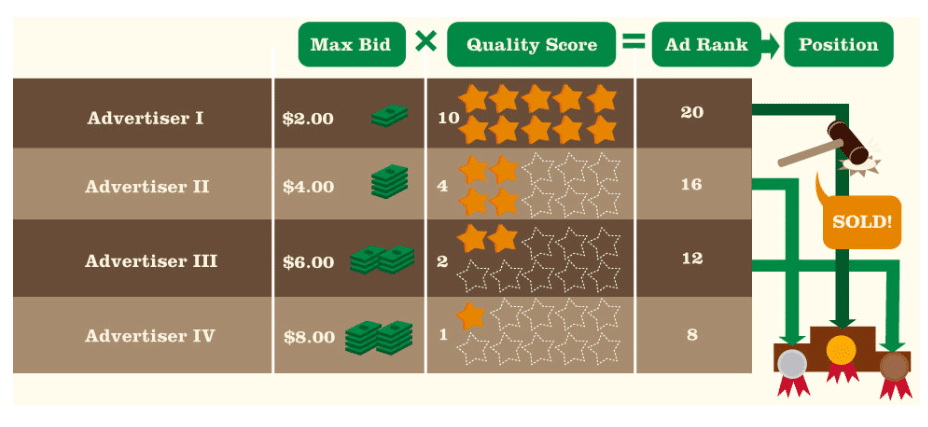 AdRank is a position Google places your ad on the search results and is measured by simply multiplying your maximum bid value by the quality score of your ad.
The higher the rank, the higher your ads are placed. This means you have more chances of people seeing your ad.
As for the quality of your ads, Google will assign you a score based on the relevance of your keywords, your ad copies, click-through-rate (CTR), and the user-experience or quality of your landing pages.
So, it's important to make sure your quality score is high for Google advertising.
Now that we've locked down the basics, are you ready to create an ad campaign and run Google Ads?
How to Advertise on Google
Just follow these steps and you'll be advertising on Google in no time.
Step 1: Create a Google Ads Account
You can start by creating a Google Ads account. Go to Google Ads homepage and click Start now. If you have an existing Google account, you can also use that to running PPC.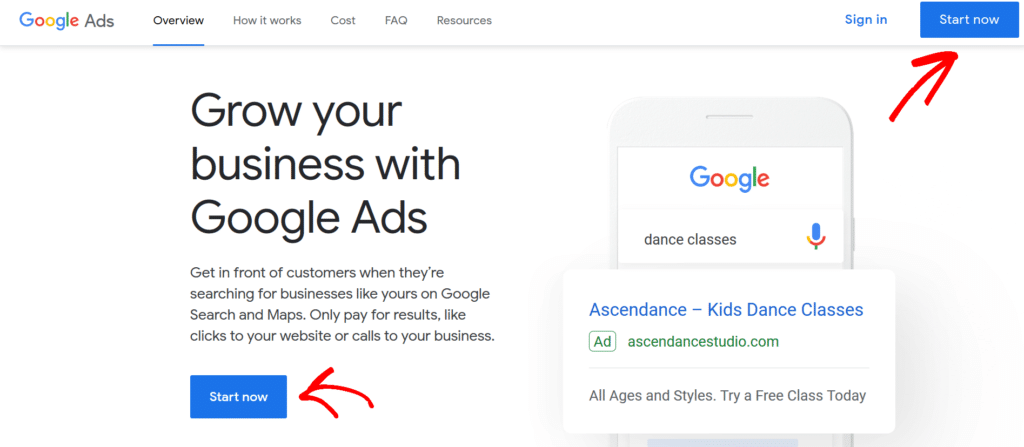 If you're a first-time user, then Google will ask a bunch of questions about your website. You can skip that for now.
Once you're signed in, you'll be taken to your Google Ads Overview page. Now, let's see how to create your first campaign.
Step 2:  Select a Goal for Your Campaign
From your Google Ads dashboard, click on Campaigns, which is located in the options on your left-hand side. Then select the plus sign (+) and click New Campaign from the dropdown menu.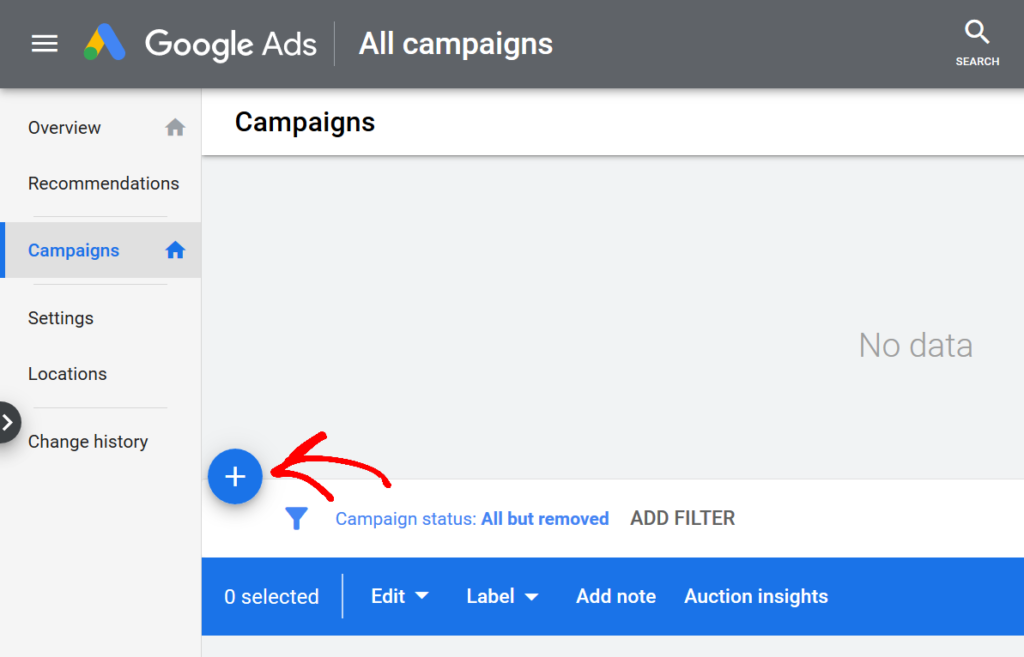 Now you'll have to select a goal for your Google Ads campaign. Here are the options:
Sales – If you want to drive sales to your website through an app, in-store, or phone
Leads – Generate leads and convert visitors by performing an action
Website Traffic – Attract people to visit your site and drive traffic
Product and Brand Consideration – Get visitors to explore your products and services
Brand Awareness and Reach – Increase your reach and brand awareness with new audiences
App Promotion – Boost your app downloads, installs, and interactions
Create a Campaign without a Goal's Recommendation – Use this option if you don't have a goal outlined and want to use any campaign type to get started

Step 3: Choose a Campaign Type
After selecting your goal for the campaign, scroll down and select the Google Ads campaign type.
You can select Search, which will show your ads on Google search results. Display campaign type will show your ads across the web on different websites and platforms.
Shopping options will list your ads as product recommendations on Google. And the last type is Video, which will show your ad on YouTube.

Since you're getting started, we recommend you select Search ads. But can change the campaign type depending on your goal.
Step 4: Configure Campaign Settings
The next step is to change your campaign settings. Start by giving your campaign a name.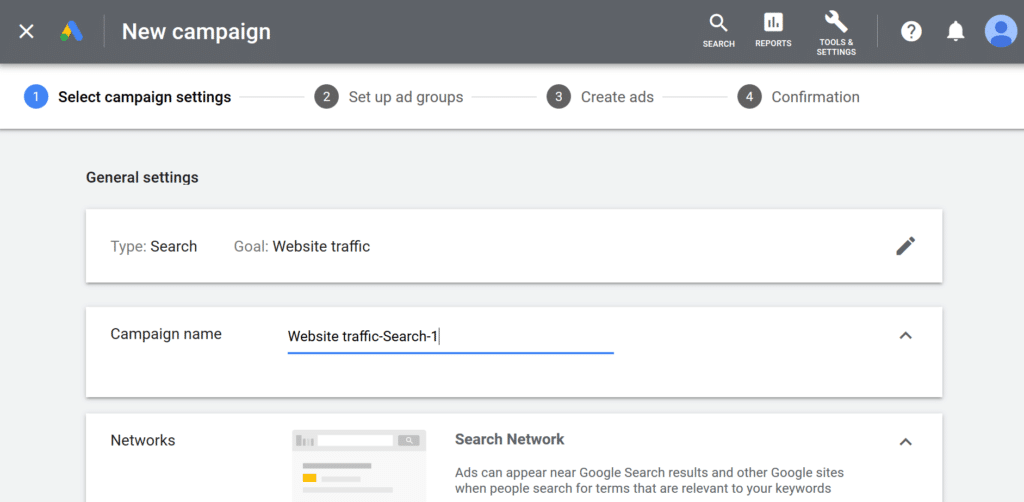 Now scroll down to view more options like Network.
Pro Tip: If you want to save money, then uncheck the box Include Google Display Network. That way, your ads will only appear on Google search results and it will help save your budget.
Under Targeting and audiences, you can select the locations you want your ad to reach. You can choose All countries and states/territories or a specific region.

You can also select the language your audience speaks and then target your ad. For instance, if you want to show your ad to people that speak Spanish, then you can select Spanish as the language.
Once you've targeted your ad to the right audience, it's time to enter the budget and bid amount for your campaign in the Budget and bidding section.
By defining a daily budget, Google Ads will not spend more than the defined amount and it will help you stay within your advertising budget.

A simple way of figuring out your daily budget is by looking at your industry's average conversion rate and how much you're willing to spend for each visitor.
Next, set the bid amount for your Google Ads. By default, Clicks will be selected but you can use the dropdown menu to change the option.


You can also change the bidding strategy for your campaign. There are two broad options, Automated bid strategies and Manual bit strategies.
In Automated strategy, Google will automatically set the bids to target any option you select, like cost-per-acquisition (CPA), return on ad spend (ROAS), maximize clicks, conversions, and more. While in the Manual strategy, you're in control of all the options.
After setting your budget and bids, you can choose additional settings to configure like ad schedule, ad rotation, or use ad extensions to increase their CTR.
Once you're satisfied with your settings, click Save and Continue.
Step 5: Set Up Ad Groups
To set up ad groups, you'll need to enter the keywords for your ads. These are search terms that your audience will be searching on Google to look up your website or products that you're offering.
In Google Ads, you can enter a keyword in Get keyword ideas section, and it will show you a bunch of suggestions. Just click the plus sign to add the search terms in your ad group.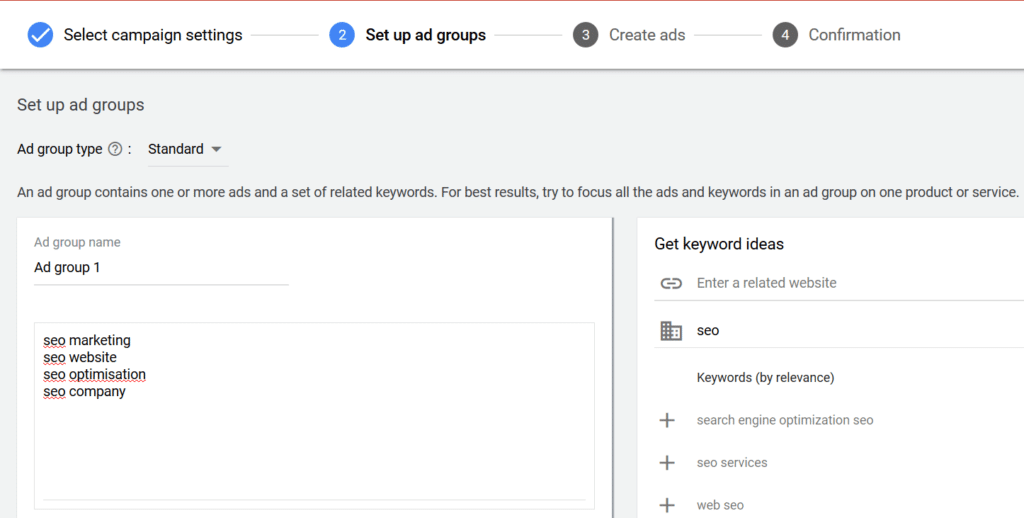 This is where you can use Google Keyword Planner for more adding more keywords to your ad group. It will show you average monthly searches, competition, and bid amounts for each keyword.
Another option is to spy on your competitors and use SEO tools like SEMrush to see the paid keywords of others in the industry.
After creating an ad group, hit Save and Continue.
Step 6: Create an Ad
Now, are you ready to create your text ad? Google Ads gives you a live preview of how your ad will look like.
Enter the final URL of your website and the headlines. Google now lets you add 3 headlines for your ad and each headline has a character limit of 30. You can also specify the display path for your ad.
Pro Tip: If you ever feel that your headlines aren't that enticing, then use the MonsterInsights Headline Analyzer tool. It will rate your copy, give you suggestions for improvement, and also check the character count. To use the tool, you'll need MonsterInsights Plus or a higher plan.

Lastly, add 2 descriptions for your ad (each description has a character limit of 90) and then select Done and Create Text Ad.
Step 7: Confirm Your Ad
The last step in Google advertising is to have a final look and then confirm your settings.
Your ad will now show up in Google Ads overview where you can control all the settings. You can add and remove keywords from ad groups, pause your campaign, change the demographic settings and more.
If you're looking to manage your ads effectively, check out our simple tips to boost ad conversions. With that, your ad is now up and running. But how can you measure its performance?
How to Track Google Ads Performance
When it comes to checking how well your ad campaign is doing, you can link Google Ads with Google Analytics with MonsterInsights, then view the performance of your ads.
By tracking Google Ads conversions in Google Analytics, you can make decisions for optimizing your campaigns. It helps to identify which keywords, ad groups, and ads are generating conversions.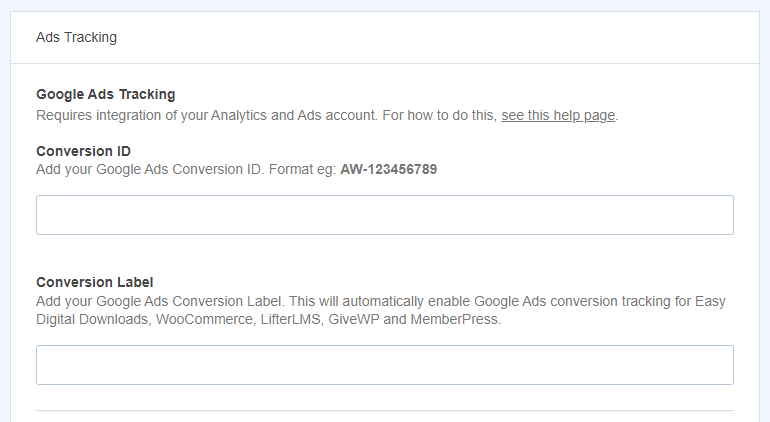 And the most important part, the reports help you track your return on investment (ROI) from the ad campaigns.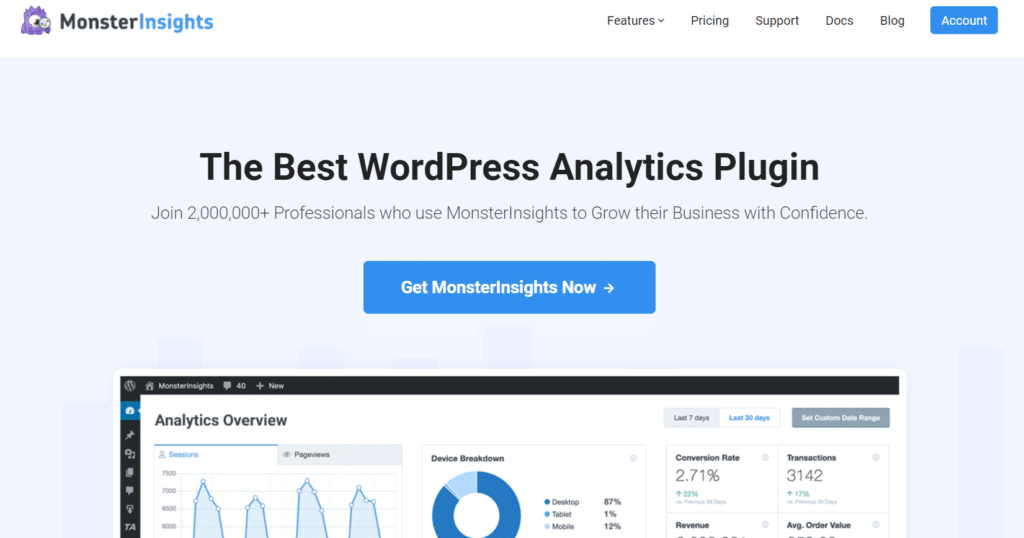 MonsterInsights makes using Google Analytics super-easy, provides detailed reports in your WordPress dashboard, and helps configure advanced features with a few clicks. You can even set up Google Analytics in WordPress using MonsterInsights without any coding.
What else can you do with MonsterInsights? Here's a look at how the Google Analytics WordPress plugin can help in optimizing your Google Ads campaigns:
1. Find Keywords for Ad Groups
MonsterInsights lets you view the Search Console report and see your top-performing keywords that bring in the most traffic to your website.
These keywords are mainly for organic use, but they can give you an idea when doing keyword research for your ad group.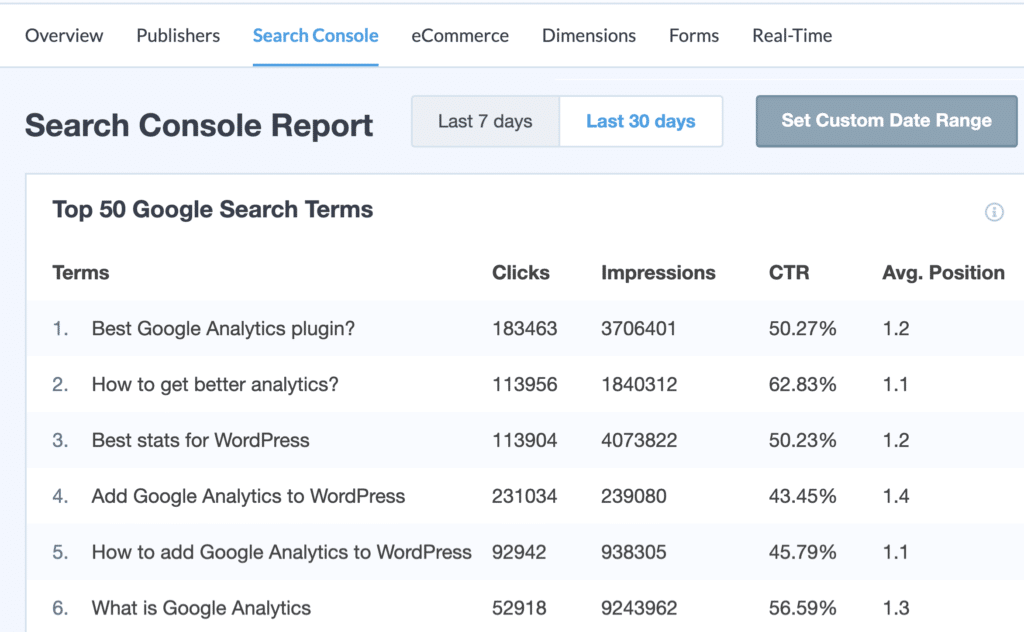 Since these keywords already bring in results, you can use them in ad groups to run display, search, and video ads to maximize your reach and boost conversions.
2. Use eCommerce Addon to Track Conversions
If you have an eCommerce website and are running Google Ads for boosting sales, then MonsterInsights Enhanced eCommerce addon can help you out.
It automatically tracks the performance of your online store and you can see an instant impact of your Google Advertisements on your store with the report.
For instance, if you're running an ad campaign for promoting a product, the eCommerce report will reflect its results by showing your top-performing products.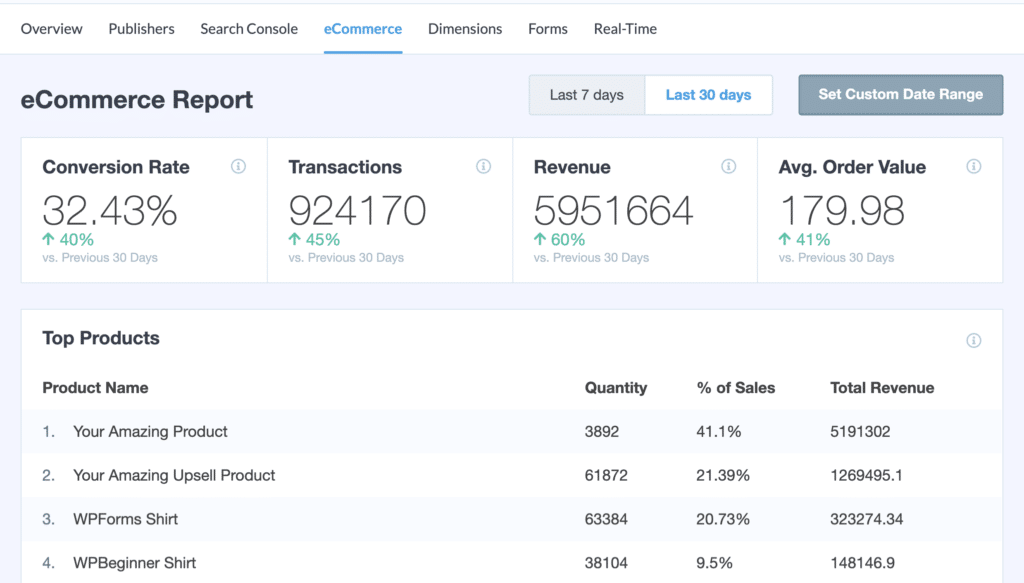 3.  Track Downloads Automatically
For publishers and bloggers who are promoting different downloadable content through Google paid ads can use MonsterInsights to track file downloads and their conversions.
In MonsterInsights Publisher's report, you can view your top downloads. It shows how well your ads are performing and will show with an increase or decrease in downloads.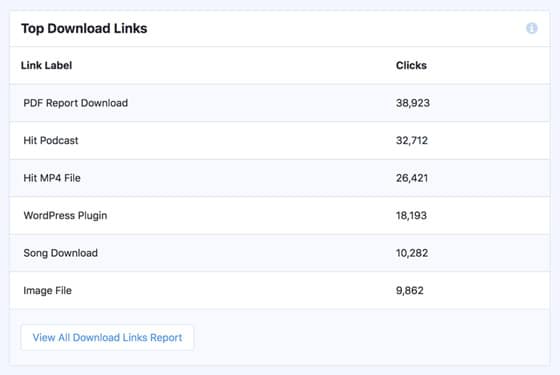 4. Identify Top Referral Sources
If you want to know if your Google Ads are sending in traffic to your website, then you can view the top referral sources in your WordPress dashboard using MonsterInsights.
It shows whether your ad campaigns were successful if your goal was to increase website traffic.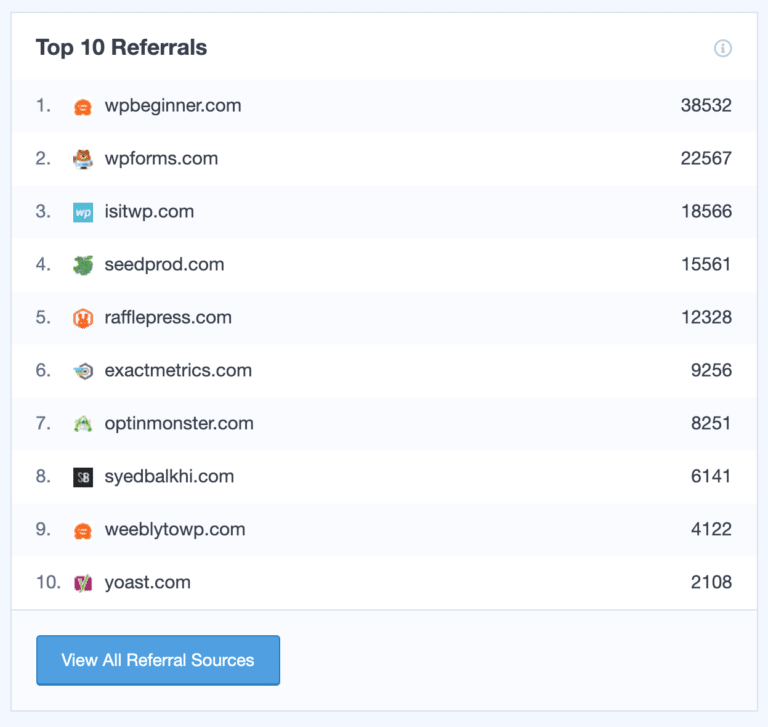 And that's it!
You've made it to the end of the guide. You can now unlock the full potential of Google Ads and start running a paid search with confidence.
We hope you liked our article on Google Ads, what are they and how they work. If you want, you can also check our beginners' guide to custom dimensions in Google Analytics.
Don't forget to follow us on Twitter and Facebook for more helpful Google Analytics tips.