Want to learn how to optimize Google Ads campaigns for better click-through rates?
Getting some basic campaigns up and running is pretty easy. However, if you don't work on optimizing your Google Ads campaigns, your click-through rates could be low, making your entire campaign less effective.
In this article, we'll show you how to optimize your Google Ads campaigns to boost click-through rates.
But first, let's go over one of the most important parts of Google Ads optimization: setting up and measuring conversions on your website.
Make Sure to Measure Conversions!
While click-through rate on your ads is important, those clicks really don't matter much if the people clicking them aren't doing anything once they get to your website. If you really want to know how your ads are performing, you have to make sure you have conversions set up correctly.
So, whether your conversion is a purchase, filling out a form, downloading information, signing up for an event, or any other type of conversion, you'll want to be sure it's working.
If you're a WordPress user, there are a couple really easy ways to set up Google Ads conversion tracking on your site:
Use MonsterInsights, the best Google Analytics plugin for WordPress, to quickly set up conversion tracking in just a couple clicks. Works with WooCommerce, Easy Digital Downloads, LifterLMS, MemberPress, and GiveWP eCommerce websites.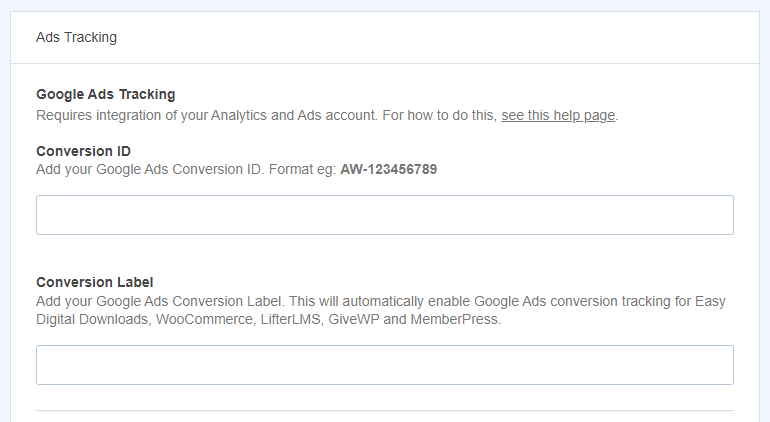 To learn more about setting up Google Ads conversion tracking with MonsterInsights, check out How to Use Google Analytics for Google Ads Conversion Tracking.
Use WPCode to easily insert code snippets onto the pages you need, without worrying about messing with the page code.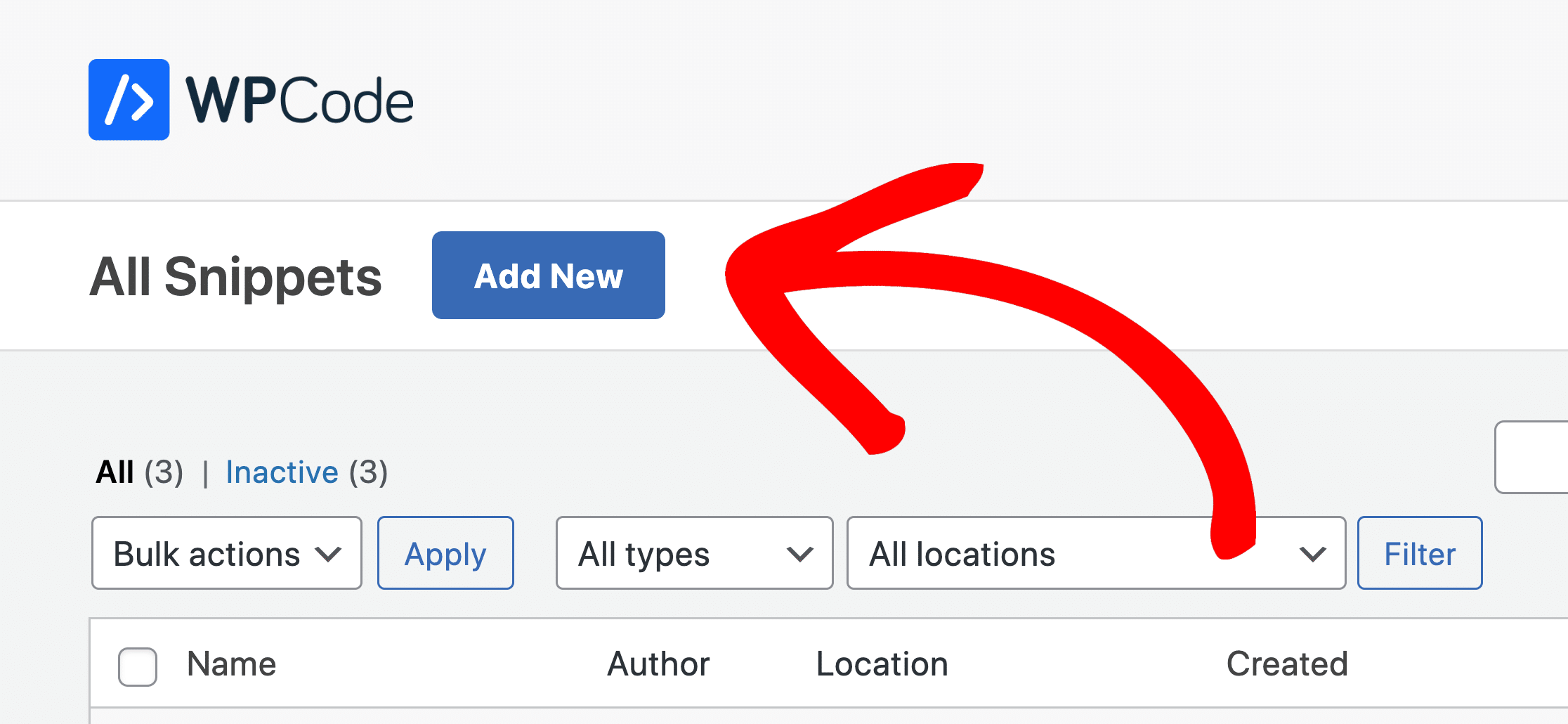 For help setting up Google Ads conversions on WordPress, read How to Set Up eCommerce Google Ads Conversion Tracking.
For other help, check out Set up conversion tracking for your website in the Google Ads help center.
5 Top Strategies to Optimize Google Ads
1. Use Assets
Assets (which used to be called ad extensions) are additional pieces of information you can include in your ads to make them more interesting and clickable. This extra information can help your ads stand out from your competitors'!
Some of the best and most useful assets are:
Call Assets
If you're promoting a service using Google Ads, adding a call extension could significantly increase your click-through rates. People can tap or click a button to call your business directly from your ads without having to visit your landing page.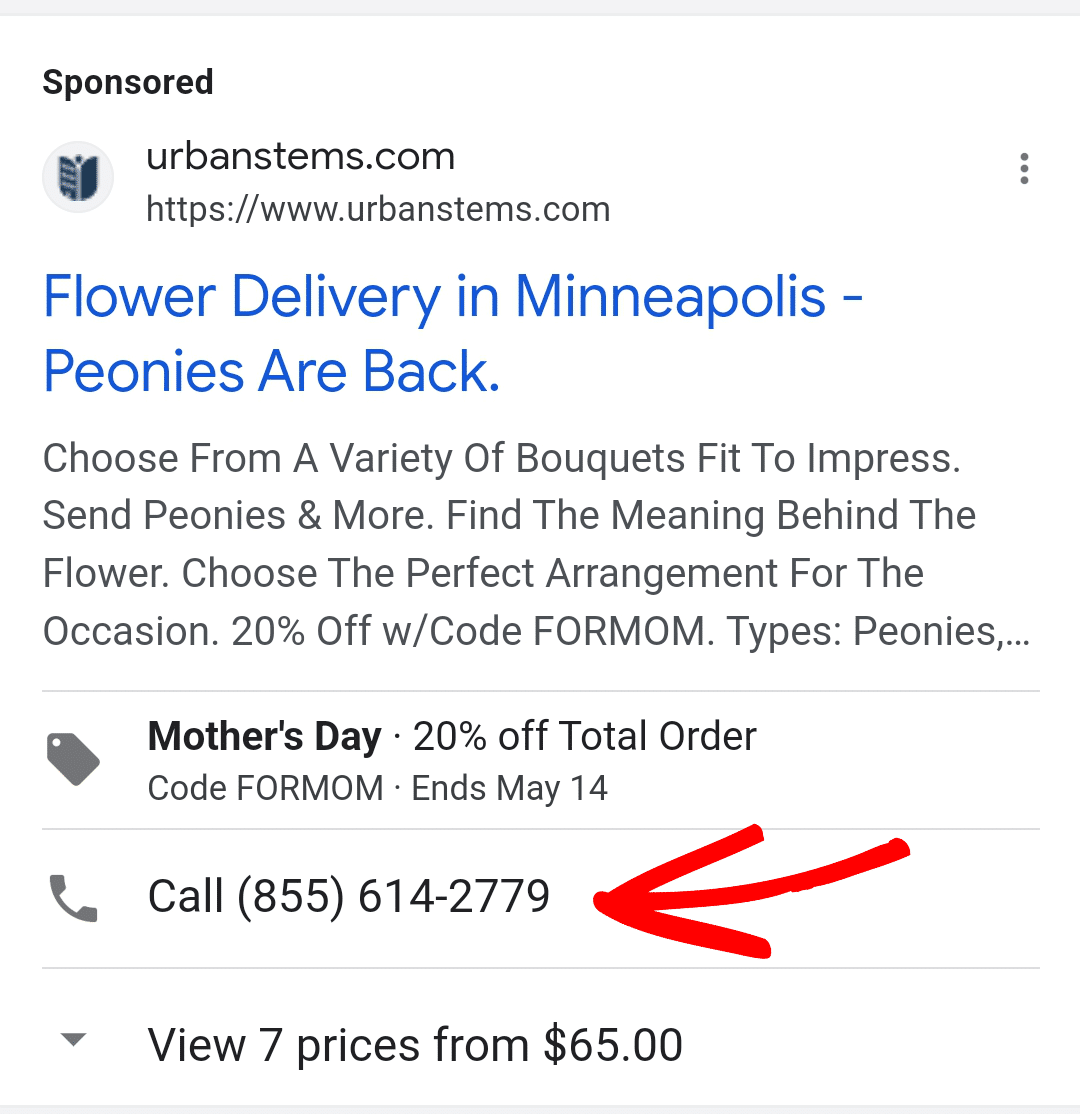 Sitelink Assets
Want a chance to add extra links to your ads? You should definitely use sitelink assets to optimize Google Ads campaigns! It's such a great way to increase your click-through rates.
Use them to link to other top pages on your website that people searching for your keywords might be interested in visiting. For instance, in the example below, the cookie delivery service links to information about their ingredients, a direct link to buy cookies or a gift card, their About Us page, and more.

Callout Assets
Attract new customers to your site by adding extra bits of text called callouts to your ads. Think of these like the perks of your products or services, such as:
Free delivery
Open 24/7
Free shipping
Price matching
Book online

Price Assets
Price assets appear below your text ad, giving you more space to tell more about your products or services that you're offering.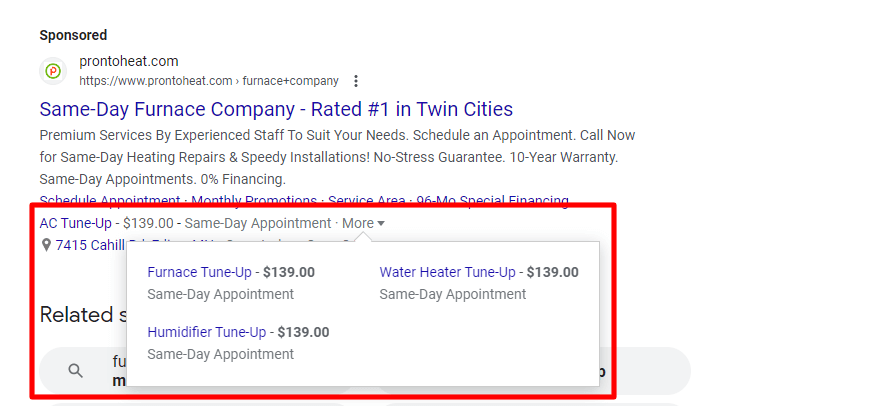 For a whole list of the assets you can add to your ads, check out Show additional information, links, or apps in the Google Ads help center.
2. Use Smart Bidding
Smart bidding is a way to use Google's machine learning technology to get the best performance possible out of your ads. Based on options that you select, Google can change your bidding based on a whole bunch of different factors in order to try to get the most clicks and conversions.
For instance, Google can adjust your bid based on factors like:
Device
Physical location
Day/time of day
Remarketing list
Browser
Operating system
Actual search query
To learn more about using smart bidding to optimize Google Ads, check out About Smart Bidding in their help center.
3. Use Responsive Search Ads
Google Ads has a type of ad called responsive search ads that you can use to better target your audience. With this type of ad, you can create multiple headlines and descriptions, then Google will use machine learning and the searcher's query to determine what's the right combination to show. As it learns what works, it adapts your ads to get the most possible clicks.
With a responsive search ad, you can also use location insertion. This is a super handy feature if you want to target an entire metro area, for instance, with multiple suburbs. Instead of writing a separate ad for each suburb or neighborhood, you can use location insertion to show the same ad with the correct location for the searcher.
For more on using responsive search ads, check out About responsive search ads in Google's help guides.
4. Choose Long-tail and Negative Keywords
Optimizing Google Ads campaigns really begins with the keywords you choose. If you choose all short, competitive, expensive keywords, then the chances you have of getting clicks and conversions is much smaller than if you choose some super-targeted long-tail keywords.
For instance, let's say you sell shoes online. Targeting and bidding on keywords like "online shoe store" is going to be expensive, competitive, and hard to get in on. Instead, try to target specific types of shoes you sell that have less volume, but are also less competitive and less expensive, like "girls shoes" or "kids basketball shoes" or "new balance mens shoes". You can go even more specific too, like "brown dress shoes for men".
Also, using negative keywords can really help optimizing your Google Ads campaigns. Why waste your bid on appearing for searches that aren't even worth it? For example, if you're that same shoe store and you don't sell kids' shoes, you'll want to put in some negative keywords so that you don't appear in searches for kids' shoes.
5. Use a Countdown Timer
Have a sale going on or an event coming up?
Creating a sense of urgency is a great tactic to persuade users to act quickly. Urgency and FOMO work because they cause people to act right away instead of decide to wait. Obviously, no one likes to miss out on a cool offer.
If you want to boost clicks on your ads by creating a sense of urgency, Google Ads allows you to put a countdown timer in your ads to highlight your upcoming events. The countdown time works as just a line of text, but the text changes dynamically as days and hours go by. So depending on when someone sees your ad, it might say "Only 2 days left to save" or "Only 5 hours left to save".
To learn how to set up a countdown timer, check out Highlight upcoming events with countdowns in the Google Ads help center.
If you choose to use countdown timer ads, you can boost conversions on your site by using a countdown timer there, too.
If you're using WordPress, you can use OptinMonster to display a countdown timer as a sticky header known as floating bar to boost sales.

Using a countdown timer is a great strategy for different types of websites to boost conversions and sales. You can use a countdown timer to promote:
Holiday and seasonal campaigns
Upcoming events
Limited-edition products
Flash sales
And more!
We hope this article will help you learn how to properly optimize Google Ads campaigns. You might also like to check out How to Build and Grow Your Email List: 16 Highly Effective Ways.
Not using MonsterInsights yet? What are you waiting for?
And don't forget to follow us on Twitter, Facebook and YouTube for more helpful reviews, tutorials, and Google Analytics tips.