Do you want to share your Google Analytics reports with others? There are many situations where you might need to share analytics data with clients, team members, or other business partners.
However, you likely don't want to grant them access to your entire Analytics account in order to view reports.
Instead, you can choose exactly which reports you'd like to share, and keep the rest of your data private.
In this article, we'll show you how to share your Google Analytics reports with others without providing access to your Analytics account. Trust us: it's super easy!
Why Share Your Google Analytics Data?
Marketing and SEO workers often find it necessary to share website traffic data with external teams and customers. Here are a few scenarios where you may want to share your Google Analytics reports:
Sharing Analytics Reports with Clients – If you manage analytics for clients or customers, you can easily create and share Google Analytics reports to keep them regularly updated.
Communicating With Internal and External Teams – You may need to share analytics data with other team members in your organization, both inside and outside your department.
Partnering With Companies and Websites – If you're planning a partnership or joint venture, your partners may want to check your website metrics. You can limit access to only the specific data they need.
So, how can you safely allow access to analytics data and reports? Let's take a look at a few simple, easy ways to do it.
How to Share Google Analytics Reports
To easily share reports without giving access to your Google Analytics account, try these methods.
1. Share Your Google Analytics Reports by Email
Do you run a business where you want to provide clients with weekly performance reports on their website? Or, perhaps you're so busy that you want to see your own traffic stats without logging into Google or WordPress?
If you use MonsterInsights, the best Google Analytics plugin for WordPress, then the solution is simple.
MonsterInsights Email Summaries let you send a weekly overview of website stats straight to any email address. And there's little or no effort required after the initial setup.
The report is simple to read and understand. It helps you and your clients to have a common reference point when discussing website performance.
To set up automated email reports, go to your WordPress dashboard and then navigate to Insights » Settings » Advanced. Now scroll to Email Summaries.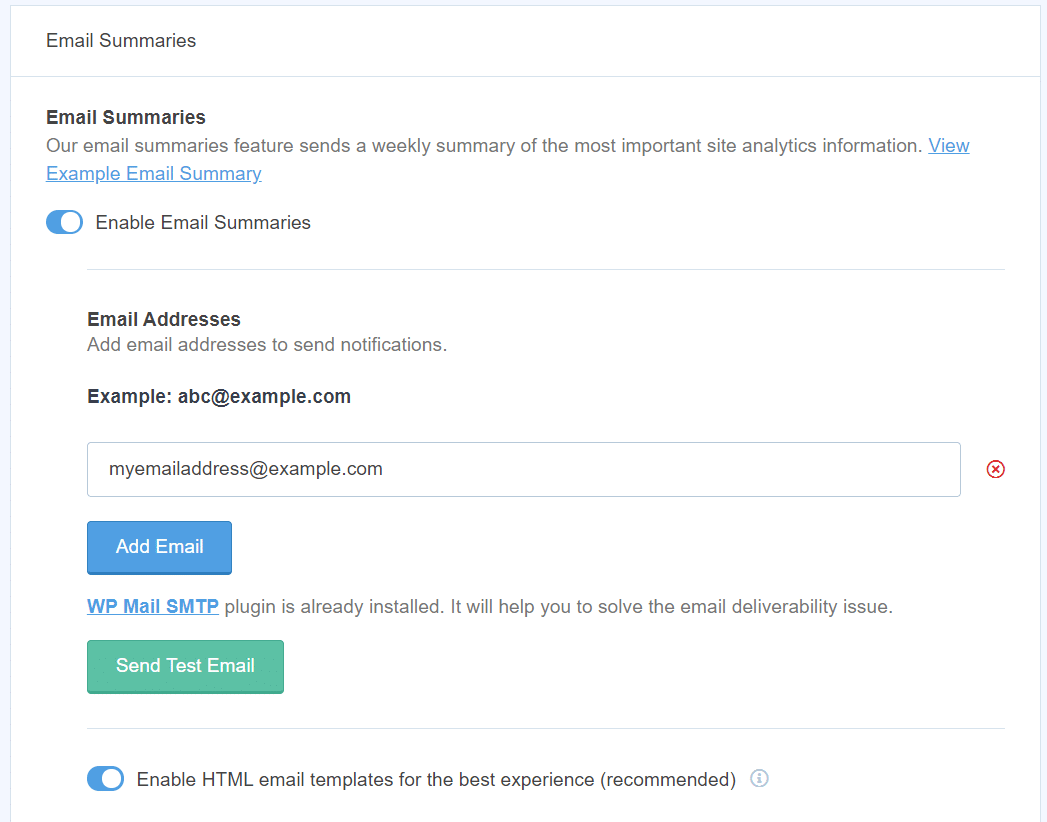 Here you'll add up to 5 email addresses to receive the email summaries. There's also an option to send out a test email.
One additional feature allows you to customize the header to add your own branding and logo to your reports. This is a highly useful, time-saving tool for businesses and agencies that want to automate their client communications.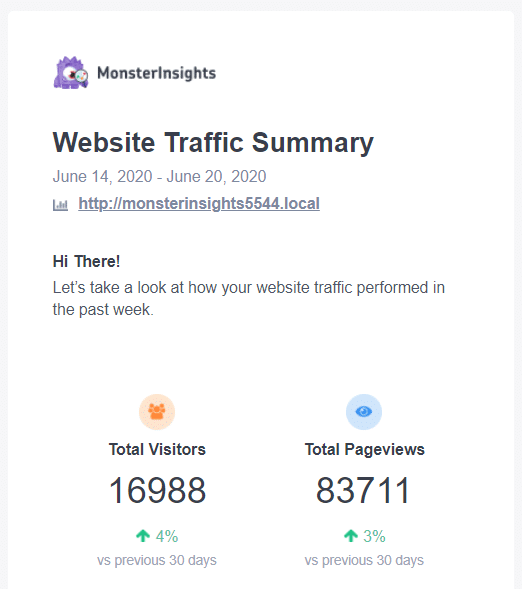 2. Export Your Google Analytics Reports as PDFs
If you're using MonsterInsights on your website, then you can easily download any site analytics report as a PDF file and share it with whoever you want.
You'll find the Export PDF Report option at the top of all your MonsterInsights reports. Simply click on the button to download a report that you can share by email, in a shared storage location, or by other methods.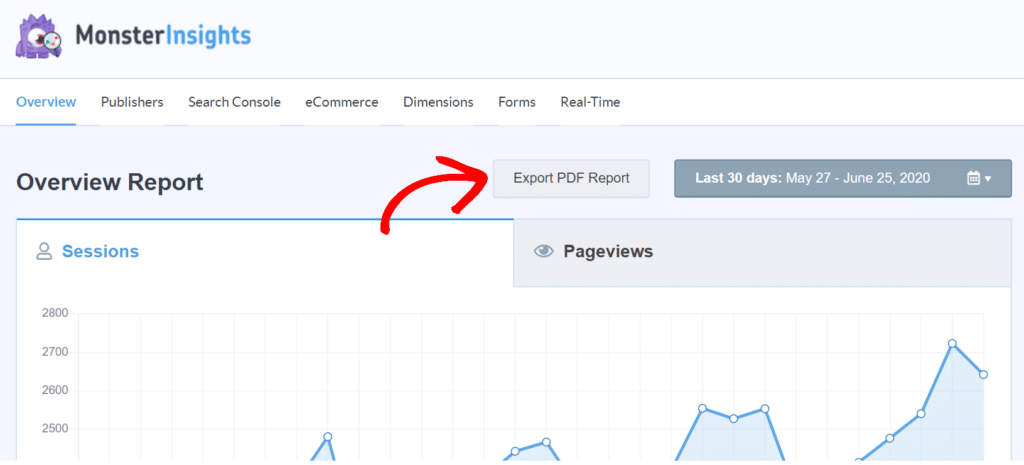 Like the Email Summaries reports described above, you can also add your own custom header image to the PDF report. Just go to Insights » Settings » Advanced in WordPress, then scroll down to the Export PDF Reports settings box.

Click the Use Custom Header Image button to select your own header image. Then, you can insert your branding and logo on your reports for a professional look when sharing with clients.
3. Configure User Permissions to View Analytics Reports
Now, let's look at a way to share your Google Analytics reports through MonsterInsights. This method allows users to see all the analytics data available in the WordPress dashboard, without enabling access to Google Analytics.
MonsterInsights helps you easily manage report viewing, editing, and administrative permissions from your WordPress dashboard. So, you control user roles that define who can see reports, and who can edit and save report settings.
Just go to Insights » Settings » Advanced and then navigate to Permissions. Here you can see which user roles are permitted to view reports and save settings.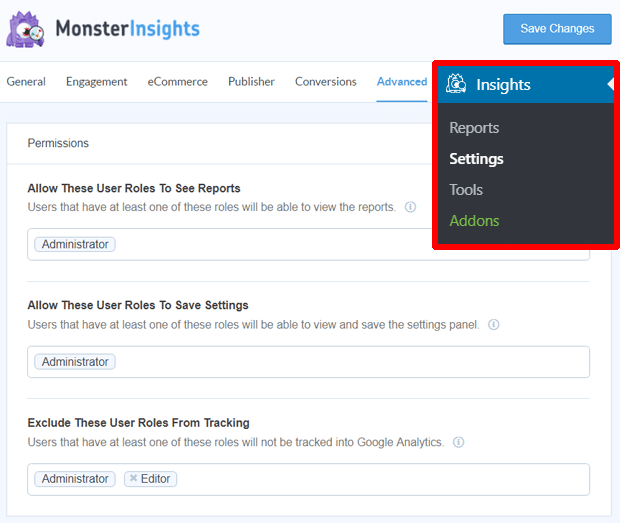 You can also exclude specific user roles from being tracked by analytics in this section. Excluding user roles helps to maintain clean data without traffic stats from your own employees and contractors.
If you want to learn more about user roles and permissions, read our guide on how to share access to your Google Analytics account and reports.
4. Share Google Analytics Reports in Other File Formats
We've already shown you how to download PDF reports in MonsterInsights. But what if you need another format, either to share or to further analyze the data?
To start, log into Google Analytics. Now, navigate to the report you'd like to download and click the Share icon at the top right of the screen.

Then, click the Download File button in the right sidebar. You'll see an option to select either a PDF or CSV file format.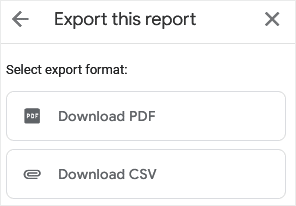 Click your preferred format to immediately download and save the report. Now you can share the file using any of the options we've mentioned.
5. Share Custom Exploration Reports in Google Analytics
Do you need to share custom exploration reports in Google Analytics?
Custom exploration reports are only visible to the person who creates them. So, you'll have to share them if you want other people to see these customized reports.
When you're logged into Google Analytics, click the Explore tab to see the custom reports you've already created. Click the Name of a report to open it, or you can create a new custom exploration report.

Once you're inside the exploration, look to the top right and you'll see a Share icon.

Clicking this will allow you to share the report with every user who has been given access to the property. However, it will be in read-only mode, so they'll have to create a duplicate to make any edits.
But what if you want to share a custom report with only one person or someone who doesn't have access to your Google Analytics account?
Right next to the share icon, you'll see an icon to Export data. Click it to see download options.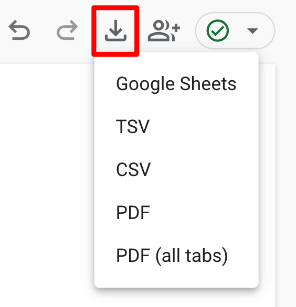 It's important to note that exporting to Google Sheets, TSV, or CSV will include all the available data in your custom exploration, which might be more than what is currently displayed.
You can use the PDF options to only export a copy of what is shown in the visualization.
Just click the format you prefer to download and save your report. Now, you can share your custom exploration report just like you would any other report.
And that's it! As you can see, it's pretty easy to share Google Analytics data in any format you desire. And, you can create and share custom reports that only show the exact data you want to expose.
We hope this article helped you to learn how to share Google Analytics reports with others. You may also want to learn How to Set Up Google Analytics Custom Event Tracking.
Not using MonsterInsights yet? What are you waiting for?
And don't forget to follow us on Twitter, Facebook, and YouTube for all our reviews, tutorials, and Google Analytics tips.