Goals are no longer available to use in Google Analytics 4. If you're used to Universal Analytics (Google Analytics 3), this can be pretty confusing.
So, why are there no goals in Google Analytics 4, and how do you track your goals now?
In this article, we'll go over Google Analytics 4 goals and how you can adapt to the new way of tracking goals and conversions.
Google Analytics 4 Goals: Where'd They Go?
With the release of Google Analytics 4, the Google team tried to really streamline the process of tracking your conversions.
In Universal Analytics, there were both goals and events. If you wanted something to count as a conversion, you set it up as a goal. If you wanted an event to count as a conversion, you set that event up as a goal.
Sounds confusing, doesn't it?
To eliminate some steps for users, Google Analytics 4 doesn't have goals. Instead, it just has events. Events can be marked as conversions, so you still have control over what counts as a conversion for your site, like submitting a form or clicking on a video.
Google also took this a step further by automatically tracking a bunch of things as events on your site, without you needing to add event code manually. Events appear in a list, and you just flip the switch to track them as conversions:

Are Events Easier to Set Up Than Goals Were?
Unfortunately, no. While the toggle to mark an event as a conversion is pretty cool, none of the events that Google Analytics automatically creates for you are going to be very useful to mark as a conversion. You don't want any page view or click to count as a conversion: you still have to set up which clicks and which views should count.
To do that, you'll need to go the Configure » Events tab, click the Create button, and set up your conversion events. For instance, this is how a thank you page event looks: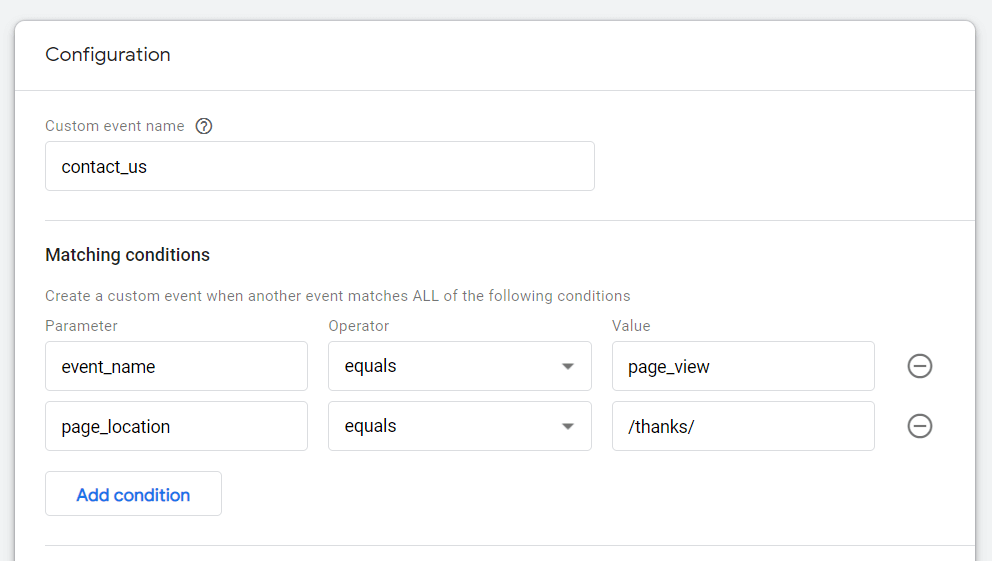 Then, if you want that event to count as a conversion, you have to go to the Configure » Conversions tab, click the New conversion event button, and create a new conversion that matches the name of the event you just created:

WordPress Users: Here's An Easier Way
Setting up your events is hard, especially if you're not a Google Analytics pro. Even seasoned Universal Analytics users have to relearn the whole conversion event creation process in Google Analytics 4!
Thankfully, if you're a WordPress user, there's a plugin that can take care of event tracking for you: MonsterInsights.
MonsterInsights is the best Google Analytics plugin for WordPress. It allows you to easily connect your WordPress site with Google Analytics (both Universal Analytics and GA4), so you can view all the data that matters most right in your WordPress dashboard.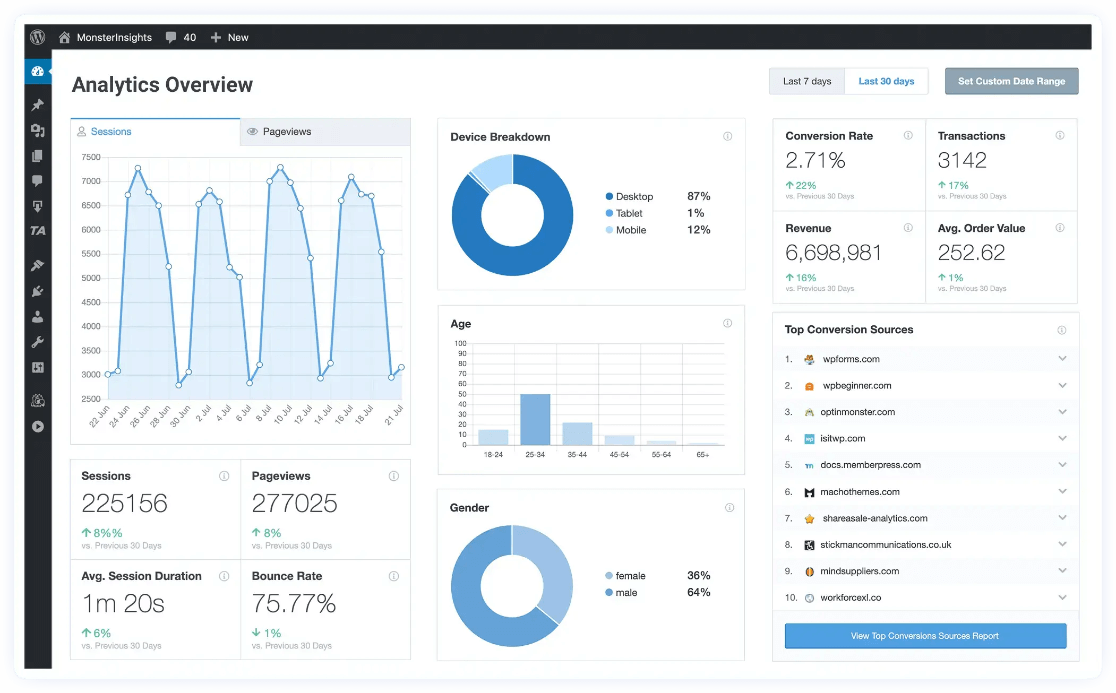 Plus, with the click of a button, you can set up sophisticated tracking features such as event tracking, eCommerce tracking, form tracking, custom dimension tracking, outbound link tracking, and more.
So, without setting up events in Google Analytics, you can get:
Outbound link clicks
Form impressions and submissions
Video clicks
Scroll tracking
eCommerce tracking
Author tracking
If you want an easier way to track your goals and events, get started with MonsterInsights today.
To learn more about connecting WordPress and Google Analytics 4, read How to Add Google Analytics 4 to WordPress (Best Way).
And don't forget to follow us on Twitter, Facebook and YouTube for more helpful Google Analytics tips.