Looking to create a Google Analytics custom dimensions report? Creating custom dimensions reports allows you to analyze custom tracking parameters you set for your site. In this article, we'll show you how to create custom dimensions reports in Google Analytics the easy way.
What Are Custom Dimensions?
Google Analytics gives you several traffic reports to analyze how your visitors interact with your website. In every Google Analytics report, you can find 2 types of data: dimensions and metrics.
For example; gender, region, all pages, traffic sources, etc. are some predefined dimensions. Pageview, bounce rate, and average time on a page are some predefined metrics.
Google Analytics also allows you to set your own dimensions, so you can choose to track custom data that matters to your business and analyze it in your Analytics account. For example, you could choose to track your blog authors, post categories, and more.
Creating Custom Dimensions Reports with MonsterInsights – The EASY Way
Setting up custom dimensions on your website can be a hassle, especially if you're not an Analytics expert.
With MonsterInsights, you can easily set them up without having to touch a single line of code. All you need to do is install the Custom Dimensions Addon and set up custom dimensions on your site as well as in your Analytics account.
The MonsterInsights plugin allows you to track 9 custom dimensions, as shown below:
Logged-in
User Id
Post Type
Author
Category
Published at
Tags
SEO Score
Focus Keyword
Once the setup is done, you can view your custom dimensions reports directly in your WordPress dashboard, without having to navigate away from your site.
Go to Insights » Reports from your WordPress dashboard and click on the Dimensions tab. Then, you can view the reports for the dimensions you're tracking.
For example, here's how the author tracking report looks in the MonsterInsights dashboard reports: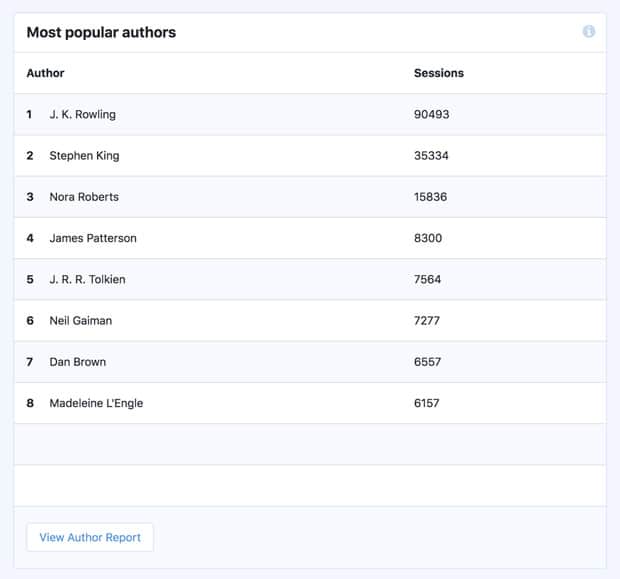 Ways to View Custom Dimensions Reports in Google Analytics
In your Google Analytics profile, you can find custom dimensions reports in 2 ways:
With a standard Google Analytics report: The easiest way to view your custom dimensions data is by adding the dimension you want to view to a standard report.
With a custom report: If you want to view more data and create a customized view, creating a custom report is the best option.
Not sure if you need to create a custom report? Creating a custom report is a great choice for you if…
you want to label your custom dimension as the primary dimension.
you want to add more than 2 dimensions per row. The standard report allows you to use only 2 dimensions, while custom reports can have 5 dimensions.
Let's take a detailed look at how to find custom dimensions, step-by-step.
1. Find Custom Dimensions in a Standard Report
First off, you'll need to log into your Google Analytics account and select the website you'd like to find your Custom Dimensions report for.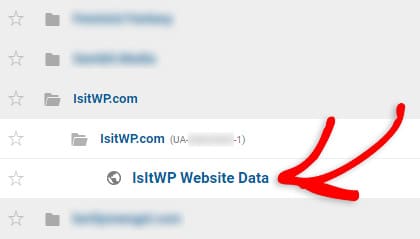 For the sake of this example, let's add a custom dimension as a secondary dimension to your All Pages report.
In the left-hand panel, choose Behavior » Site Content » All Pages. Now you'll see a standard All Pages report in Google Analytics.
You can find a button labeled Secondary dimension just above the table. Click on it and choose your preferred custom dimension by clicking on the Custom Dimensions dropdown menu.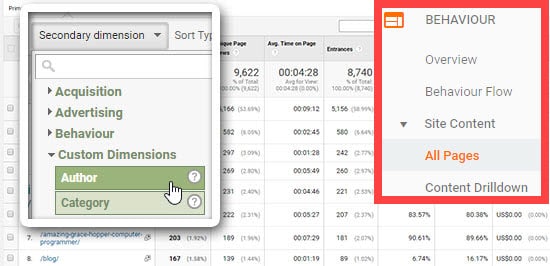 The report will look like this. See the screenshot below.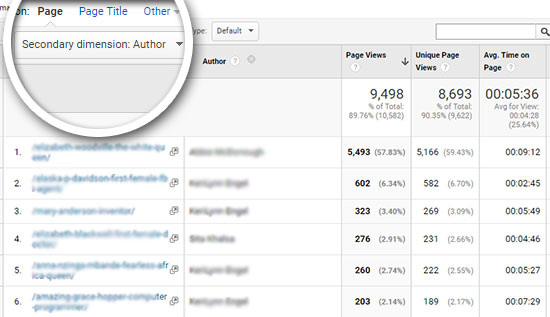 Using this same method, you can add a custom dimension as a secondary dimension to any other standard report.
2. Create a Custom Report for Custom Dimensions
Log into your Google Analytics account and select the website you'd like to find your Custom Dimension reports for.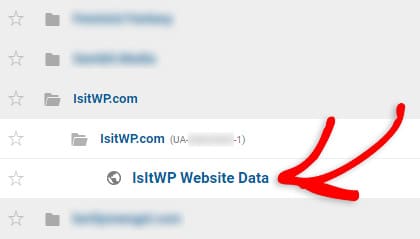 Then, click the Customization / Customisation tab in the left panel.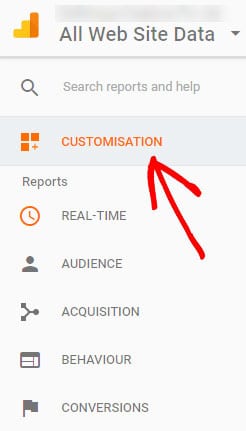 You can now click the + New Custom Report button.

Now you'll need to tell Google Analytics what to include in your report.
In this guide, we'll create a report to show us the number of pageviews for each author. We named our report Pageviews by Author.
Under Metric Groups, click the + add metric button. Type pageviews in the search field. Then click on the Pageviews metric under the Users heading.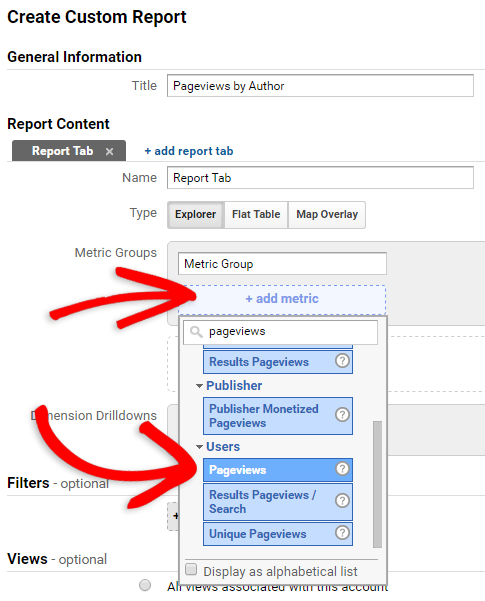 After that, you can click the + add dimension button and then click Custom Dimensions to specify the Custom Dimension you want to report.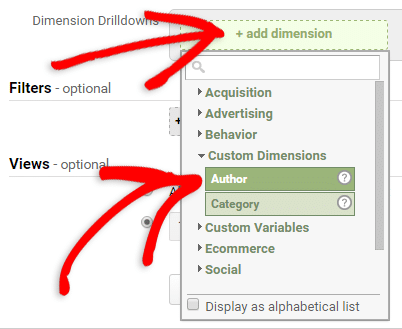 When you're done, click the Save button at the bottom.
That's it! Now you'll be redirected to your new report.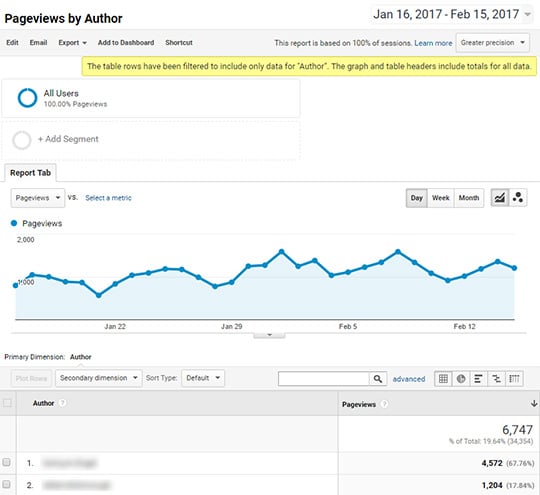 You can access it at any time by navigating to Customization » Custom Reports » Pageviews by Author.
Now you know how to find custom dimensions report in Google Analytics. You can make use of this data to improve the user experience, engagement, conversions, and revenue of your online business.
If you want to know more about custom dimensions, check out the beginner's guide to Google Analytics custom dimensions. And don't forget to follow us on Twitter and Facebook for more Google Analytics tutorials.