Are you thinking about displaying your social media posts on your website? We've written this Smash Balloon review to help you decide if it's the best social feed plugin for WordPress.
Why should you re-post social media content on your site? Sharing social media posts on your website can help you gain more followers, get more engagement, and encourage user-generated content. You'll also focus more awareness on the products, services, and content featured on your social media.
But there are so many WordPress plugins that can help you embed your social posts onto your website. Which social media plugin is the best one for your site?
Today, we're going to take an in-depth look at Smash Balloon. We'll go over pricing, features, and performance to see if it's the best social media plugin for your WordPress site.
Introduction to Smash Balloon
Smash Balloon makes social feed and social wall plugins for WordPress that are used by over 1.75 million people. With all those users, it's the top social media plugin maker for WordPress, with a huge majority giving Smash Balloon 5-star reviews.
Smash Balloon offers 5 different social feed plugins, including one for each of the most popular social networks:
Their 5th plugin, Social Wall, is a bundled package that connects all your social networks and displays them together in one feed.
Each plugin is super customizable, so you can create the feed or wall that you want, and exclude the posts you don't. Each plugin also has options to change how it looks, so you can make it look like it's built right into your site.
Plus, all the Smash Balloon plugins are built for speed, so they won't slow down your website.
Smash Balloon Feature Review
What makes Smash Balloon products the best social media plugins for WordPress? While each of Smash Balloon's social media plugins is slightly different in order to connect with a different network, they share a lot of the same features. Let's take a look at 5 features that are included in each of the plugins.
Easy to Use
You don't have to worry about spending time figuring out how to use Smash Balloon's plugins. The Feed Creation Wizard make feeds super easy to connect to your social networks, set up, customize, and embed on your site.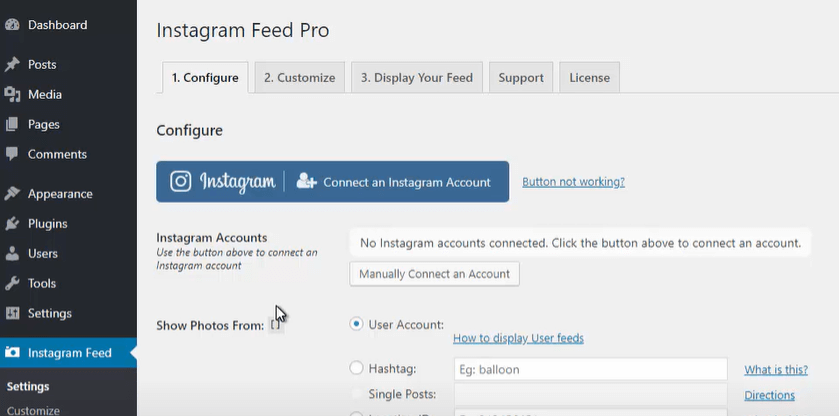 Each step is easy to follow and well documented, so you won't hit any snags during setup.
Mobile Responsive
Worried about how the feed is going to look on your site, depending on which device a person is using to view it? Smash Balloon's social media plugins are all mobile-optimized, so they'll grow or shrink along with the viewer's screen size.
Here's an example of a YouTube feed, shrinking and expanding to fit different sized screens: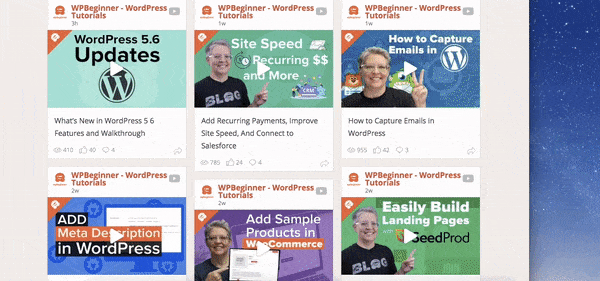 Google may rank your content lower than your competitors if your site isn't fast and mobile-optimized, so using plugins that work on any screen is really important.
Customizable
Each of Smash Balloon's plugins allows you to create a social feed or wall that actually matches your website and looks like it belongs there, not like it was just embedded from another application.
Right out of the box, the plugins inherit the fonts and styles from your active WordPress theme. If you want to make changes, you can go ahead and customize fonts, colors, how many posts appear, and more.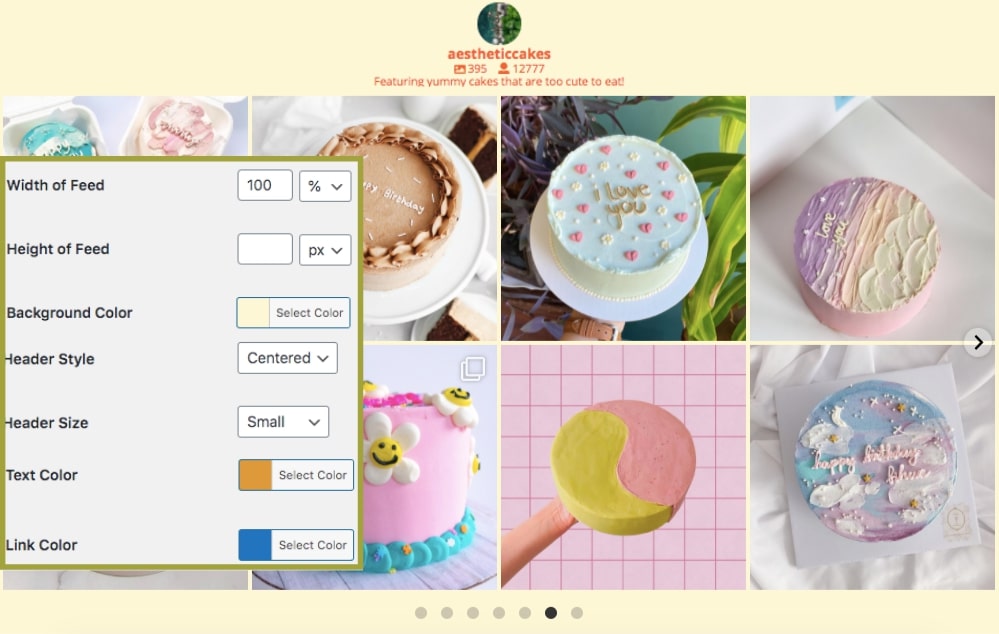 SEO Friendly
SEO is important when considering the best social media plugins for WordPress. Using plugins that aren't SEO-friendly can take down your rankings and your traffic. Smash Balloon inserts photos and captions right onto your website, not inside an iframe that Google can't read.
Site speed is an SEO factor, too. Whichever plugins you use for your WordPress site, you want to make sure they're optimized for speed. Otherwise, they may slow down your website enough to negatively affect your rankings.
Smash Balloon's plugins are all optimized for speed. They use an intelligent caching system. This helps them minimize requests to the social networks' APIs. Those requests are what can slow down your site, so you don't have to worry about that slowness. Smash Balloon's caching also prevents errors in the event your feed's source goes down, so your media feeds never look broken.
Network-Specific Features
It's impossible to sum up all the features here, as each plugin has its own specific features for the network it connects to.
For example, with the Instagram plugin, you can create shoppable feeds by putting a link in the caption of your posts.
With the YouTube plugin, you get customizable actions when a YouTube video completes, like displaying a link to a product page or displaying thumbnails of your other videos.
For more about each plugin's unique features, make sure to check out the Smash Balloon website.
Smash Balloon Pricing
Each Smash Balloon plugin is priced individually, and they're very affordable! There are different sales that happen, but here's a peek at pricing: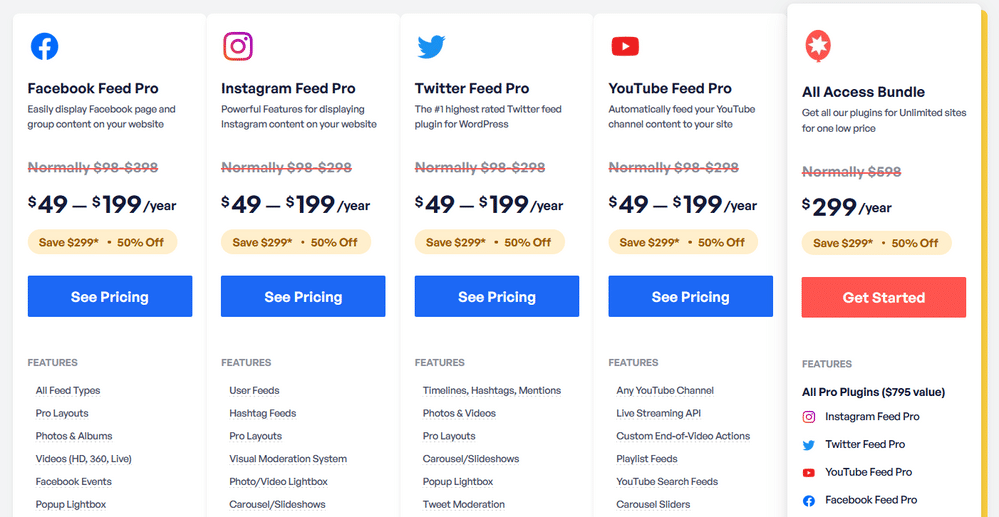 So, you can grab just one or two of the plugins if you don't need all four feeds, or the All Access Bundle if you need all plugins for multiple sites.
Or, if you're looking to combine a couple of feeds into one wall, you'll want to take a look at the Social Wall plugin.
The pricing is really competitive for all the features you get, compared to other leading social media plugins. While you can find free social media feed plugins for WordPress, their features are so limited that they don't really compare to a product like Smash Balloon or other premium plugins.
If you need professional results and appearance for your social media feeds on your website, Smash Balloon is well worth the cost.
Smash Balloon Reviews from Around the Web
Want to know what other Smash Balloon reviews say about the best social media plugins for WordPress? Here's a sample of Smash Balloon user reviews from around the web:
"Smash Balloon is an easy go-to choice for sharing social" – Laura S. via G2
"I was searching for an Instagram feed plugin for WordPress websites and stumbled on Smash Balloon. It's super easy to implement. I was very impressed with the features." – Jay M via G2
"Great Plugin! It works really well and is regularly maintained." – mookasaurus via wordpress.org
"Perfect Plugin. I am so glad to have found this plugin. It makes Instagram integration incredibly easy and with basically zero maintenance." – keycreative via wordpress.org
Verdict: MonsterInsights Recommends Smash Balloon
If you want to add social media feeds to your website, Smash Balloon's plugins are among the best and easiest to use. In comparison to other social feed plugins, Smash Balloon's have more options and opportunities for customization, they're faster, they look the nicest, and their filtering options are unmatched.
So, the team here at MonsterInsights definitely recommends Smash Balloon as the best social media feed plugin for WordPress. We highly recommend taking a deeper look at the specific plugin(s) you need to see all of the features and customization options. We think you'll be impressed!
If you liked our Smash Balloon review, you might want to check out OptinMonster Review: Is It Really the Best for Lead Generation?.
And don't forget to follow us on Twitter, Facebook and YouTube for more helpful Google Analytics tips.