Are you looking for a way to monetize your website and earn money while you sleep? If yes, then affiliate marketing might be the perfect solution for you.
It's a convenient and flexible way of making passive income. And the best part, you don't have to worry about customer support, logistics, or warehousing.
In this article, we'll teach you about affiliate marketing, what it is, and how can you start making money from it. We'll kick things off with a brief look at its definition…
What is Affiliate Marketing?
Affiliate marketing is a process where you (an affiliate) earn a commission for recommending and promoting other company's products.
So, when a visitor comes to your website, clicks on the affiliate link, and makes a purchase of the product you're promoting, you'll receive a piece of the profit.
How Does Affiliate Marketing Work?
Affiliate marketing is a continuous cycle that includes different people in the process. Each of them plays an important role in making affiliate marketing work.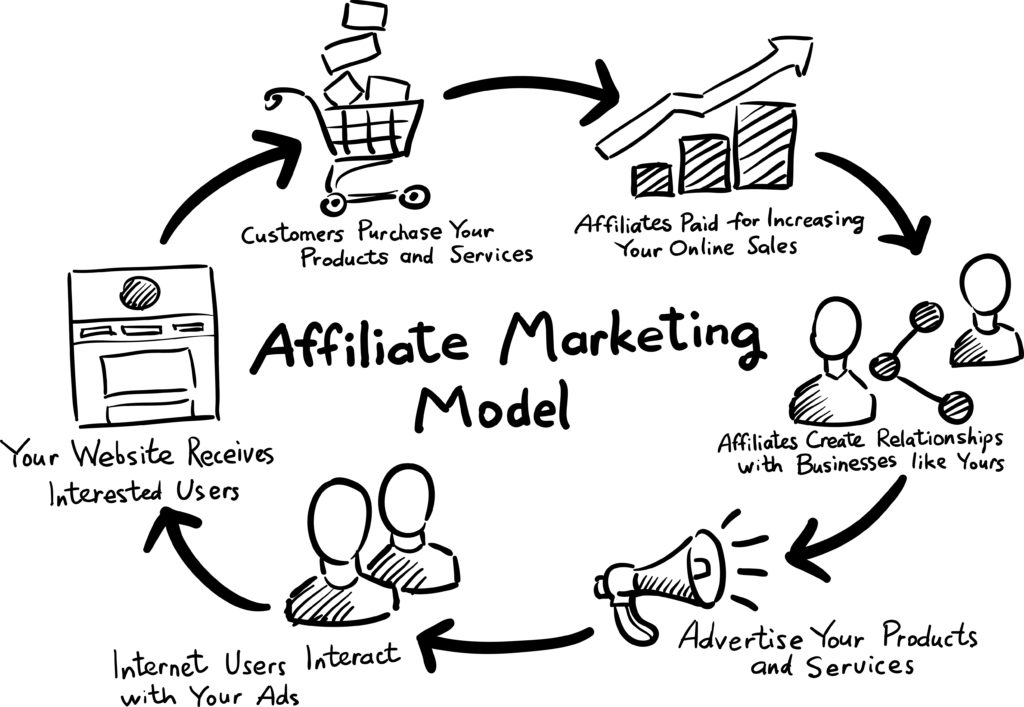 Lets breakdown each of these players involved in the process:
Merchants (also known as Sellers or Retailers) – These are people who create a product or provide a service and then let others promote it on different websites.
Affiliates – People who market products of other companies or merchants are affiliates. They earn commission on the sale of other people's products and services.
Customers – At the end of the day, it's the sales that matter and this is where customers come in. They make the affiliate marketing model go around.
Affiliate Networks – These are websites or platforms that act as a middle-man between merchants and affiliates, where merchants can list their products and affiliates can choose any product they wish to promote.
With that, what type of payment models can affiliate marketers use? Let's find out…
How are Affiliate Marketers Paid?
A standard payment structure is that when a user buys a product using your affiliate link, you get paid. But more complex structures also exist.
For instance, you can get paid for sending traffic to other's websites. The goal here is to send people from your website to the merchant's site.
Another structure is where you get paid when a visitor completes an action on the merchant's website, like signing up for their email list or downloading a PDF.
Now that you know what is affiliate marketing and how it works, are you ready to get started?
How to Start Affiliate Marketing?
Before you jump into affiliate marketing, it's important to plan your journey ahead. For instance, do you need a website or which affiliate programs should you join?
Rushing into these things can leave you overwhelmed. And you'll end up promoting the wrong product to your audience, which will ultimately lead to poor results and low revenue.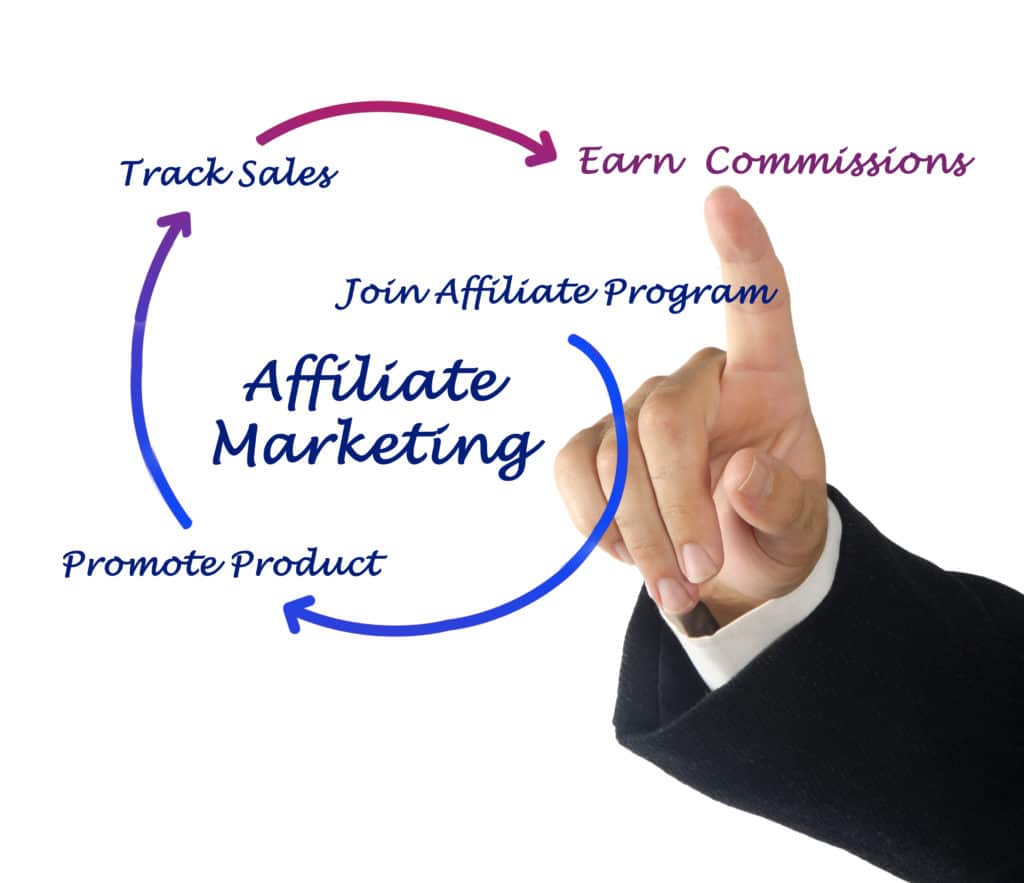 So, just go through these steps to start affiliate marketing.
Step 1: Find the Right Niche
The first step is to find the right niche for your affiliate business. Why is it important to get this right?
For starters, you can figure out your audience, what they like, and which products to sell. Then, you can create content and develop targeted marketing campaigns to drive clicks and sales.
One simple way of finding out the right niche is to follow your passion. We often have more knowledge about things we're passionate about. This makes it easier in coming up with topics to write about and consistently publishing content.
Many affiliate websites don't make it in the long run because they lack consistency or the owner loses interest. That's why it's important to pick a niche that you're interested in.
Once you know what your passion is, pick a category to focus on. For example, if you select food or technology as an industry, you'll have a tough time tackling them because they are so vast. Instead, select specific topics like keto diet or WordPress as a niche.
To validate that the niche you've selected is worth entering and finding more targeted categories, do a little research about the industry.
Here you can use keyword research tools to help you out. If keywords have high volume then it means people want solution for the search terms.

For instance, Ahrefs shows you the search volume for keywords, which tells you how many people are looking for the search term each month. It also provides information about the competition level through keyword difficulty.
You can even use Google Keyword Planner, which is a free tool by Google and gives you a basic idea about the attractiveness of a niche.
Another way of finding your niche is by looking at affiliate network websites. They list different products for various categories. You can work your way backward by exploring categories with many products and then selecting a niche that's right for you.
Step 2: Create a Website
After finding a niche you're interested in, it's time to create a website if you don't have one already. You can start building a website in no time these days.
Here's a tutorial that breaks down everything you'll need to have a site up and running.
A few things that you'll need for your site include web hosting service, a domain name, and a website builder. Then select a theme and add content to your site to get started.
As you're filling your website with content, there are some important pages that you should have on your site to establish trust between your readers. These include:
About Us – Tell a little about yourself and let your audience get to know you
Disclaimer – Since you'll be using affiliates to earn money from your site, it's a good practice to disclose this information to your visitors
Contact Us – Provide your email address or a contact us form where people can get in touch with your business
Privacy Policy – It's important to disclose how you'll be collecting your visitor's information and using it
Terms of Service – Tell people about trademarks and copyrights on your site
Advertise with Us – If you're going to run ads on your website, then show information like monthly visitors, demographics, and ad placement areas for advertisers
Pro Tip: If you're just starting out, then financial resources can be tight. So, it's important that you try to keep the costs as low as possible. You can follow our guide on how much does a website cost to build to work within a budget.
Step 3: Choose Products to Sell
Once your website is ready, you can now select which products you'd like to promote and sell on your affiliate website.
There are a number of ways you can go about it. First, you can join affiliate programs of different companies. By referring their products and services, you can earn commission.
These can be products and services you're already using on your website. For instance, if you're using MonsterInsights, you can join the affiliate program and recommend the plugin to your readers.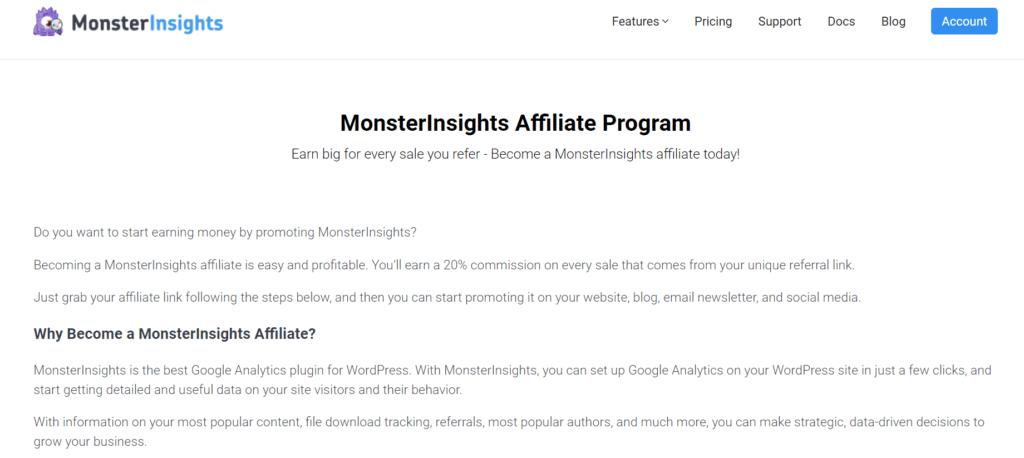 The second way of selling products is by joining affiliate networks.
As we explained earlier, these are intermediaries between merchants and affiliates. When you sign up for an affiliate network, you can pick products from different categories for your niche and start selling.
A great example of affiliate networks is Amazon Associates. You can sell products from Amazon your site and earn money.
When users click on a product link on your website and checkouts from Amazon, you'll earn a commission. It's that simple!
Here's a guide you can follow for setting up an Amazon affiliate store on WordPress.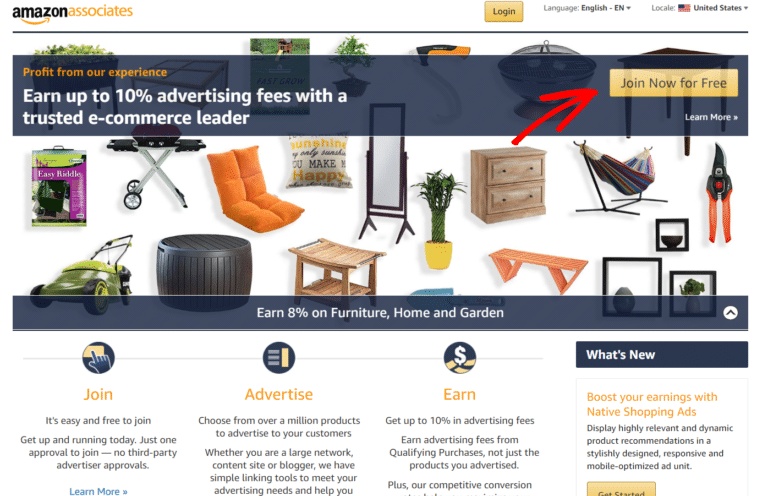 There are other affiliate networks you can select like Affiliate Royal, ClickBank, ShareASale, and more. Now that you've selected the products to sell, let's see how you can create content around them.
Step 4: Produce High-Quality Content
The next step is to get lots of clicks and sales but before you get there, you need to create high-quality content for your users.
Content is what will attract people to your website and when you recommend a solution, you'll have more chances of completing a conversion.
But you shouldn't go about blindly creating articles and posts. It's important to have a content marketing strategy in place. It will help you understand your audience, keywords, and content types to produce.
For example, if you're into technology, you can write product reviews. Or if you're a travel blogger, you can come up with different list posts that are helpful for other travelers and recommend products.
And when it comes to finding content ideas, you can follow these tips:
Competitor Analysis – Go through the content your competitors are publishing and ranking on Google, then create better posts on the same topic
Use Google Alerts – You can set up Google Alerts for topics in your niche and get instant notification whenever someone publishes content on that specific topic
Go Through Your Existing Traffic – If you already have a website that's generating traffic then you can see which posts people like and then find similar or related topics
Perform Keyword Research – By researching keywords in your industry, you can also uncover blog topics
Participate in Forums and Community – Another way of finding helpful topics for your website is by participating in forums and communities where users share problems they're facing
Step 5: Drive Traffic to Your Site
Content creation is just one part of the strategy. The next phase is to drive traffic to your posts. And there are several ways of doing that.
You can optimize your content for search engines and rank higher on search results. SEO (search engine optimization) is a great way of getting consistent visitors to your website, as 51% of traffic is generated by organic search.
And if you can get hold of the top position on Google, you can increase your click-through rate (CTR) by almost 30%.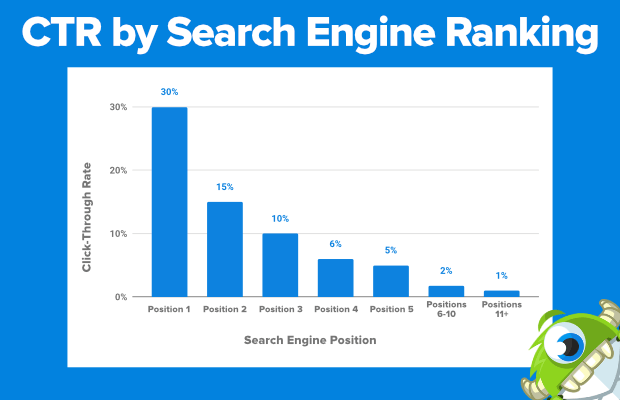 Another way of generating traffic is by running paid ads or pay-per-click (PPC). Using Google Ads, you can run paid campaigns and attract visitors to your site.
You can even build an email list over time and then run a newsletter to inform subscribers about new content or affiliate deals.
Check out these 30+ marketing hacks for growing your traffic.
Step 6: Convert Your Visitors
Once you've got people to visit your affiliate website, the next step is to convert them. And there are many ways you can do that.
For instance, you can add a countdown timer on your website and create urgency. You can test different affiliates in your floating bar countdown timer to see which affiliate performs the best.

Using social proof is another way of getting people to complete a purchase. You can show a recent sales notification popup on your website to provide proof and boost your conversions.
And the best tool to create them is through TrustPulse. It's a lightweight plugin that you can use to create popups without any coding.

Your call to action (CTA) placements throughout the content will also play an important role in converting users. You should add them where your visitors read your content or scroll your pages.
With the help of MonsterInsights scroll depth tracking, you can easily find out how far users scroll a page before they leave. For example, if the average scroll depth is 45%, then you should try to add CTAs before that and convert visitors.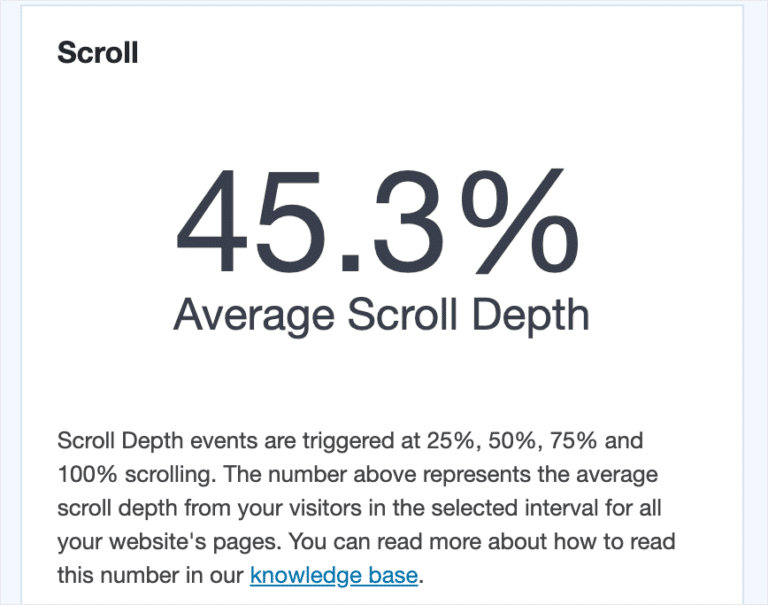 You can go through our guide on 18 ways to make more money from your existing traffic for more ideas.
How to Track Affiliate Links on Your Website?
Now that your affiliate marketing is set up, you should track the performance of your affiliate products. This will help you optimize your website for promoting the most converting affiliates and tailoring your marketing campaigns.
And the best tool to track your affiliate links is through MonsterInsights. It's the best WordPress plugin for Google Analytics and lets you measure how well your affiliate marketing efforts are doing.
Using MonsterInsights, you can track affiliate links with a single click, and you don't have to interfere with Google Analytics code. Here's a detailed guide on how to set up affiliate link tracking in WordPress.
Once you've configured MonsterInsights, you can then view reports of your affiliate performance inside your WordPress dashboard.
Go to Insights » Reports and then select Publishers from the top menu. Now navigate to Top Affiliate Links report.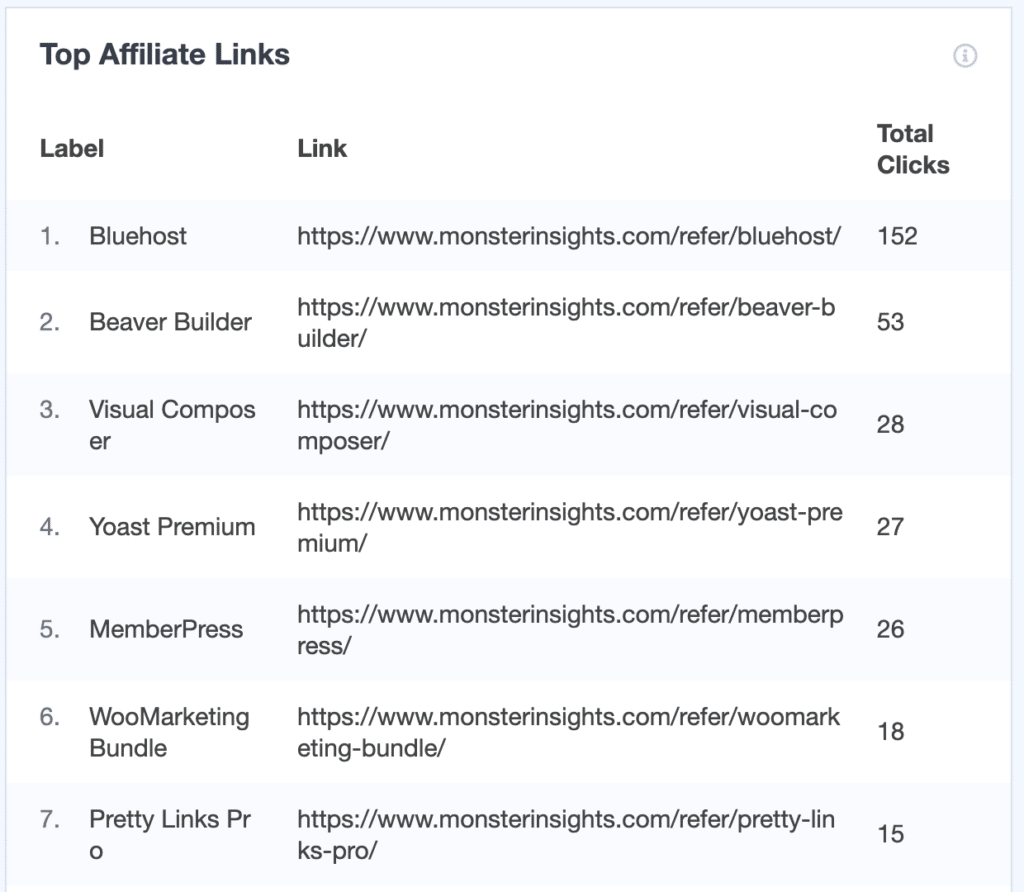 The report shows your best affiliates along with the number of clicks each link generates. You can then use this information to select affiliates that have the best conversion rate and promote them more across your website.
At the same time, you'll also get to know which affiliates don't do so well. So, you can either optimize them on your site for better performance or replace them with other affiliates.
Pro Tip: If you're having difficulty managing affiliate links on your website and want to turn ugly looking links into more user-friendly links, then try PrettyLinks. Using the plugin, you can cloak affiliate links, apply redirections, and don't have to manually replace affiliate links on your website.
In Conclusion
And that's it!
You now know how to generate passive income using affiliate marketing. Using the steps in our post, you can get started in no time.
We hope you liked our article about affiliate marketing, what it is, and how can you start making money from it. You can also go through our guide on how to track user engagement in WordPress using Google Analytics.
And don't forget to follow us on Twitter and Facebook for more guides about affiliate marketing, Google Analytics tutorials and more.