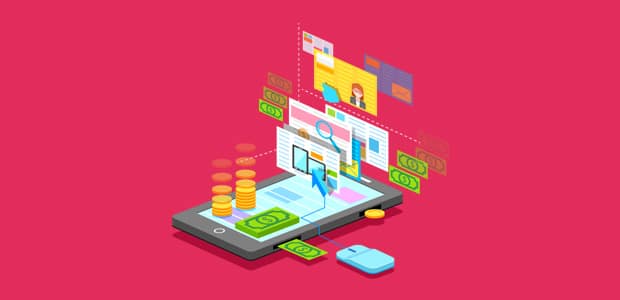 How to Build a Profitable Affiliate Website Using WordPress
Looking to build a profitable affiliate website? Or, do you already have an affiliate website that you want to optimize to boost revenue? Affiliate marketing is one of the best ways to make money online. With the right strategy, you can optimize your website so that it attracts the right traffic, in turn bringing more affiliate revenue to your table.
In this article, we'll show you how to build a profitable affiliate website using WordPress.
What is Affiliate Marketing?
Affiliate marketing is when you choose a product you like, promote it online, and earn commissions when someone purchases it through your referrals. Affiliate marketing is one of the most reliable ways to make money online for publishers.
But, before you can start making a living through affiliate commissions, you need to have a solid online following so that you can promote the products to them. The easiest way to build a follower base and make money by promoting affiliate products is by creating your own affiliate website.
Before we dive right into starting affiliate marketing, let's take a quick look at building an affiliate website using WordPress.
How to Build an Affiliate Website Using WordPress
While there are many free website builders out there that let you kick start a website quickly, it's always better to invest some bucks on setting up your website, especially if you're looking to make a living by affiliate marketing.
For most users, a self-hosted WordPress.org site is the perfect solution because it gives you full control over your website, even if you're not tech savvy. It also comes with tons of designs and addons to choose from so you can build any type of website you could ever imagine.
Now, you don't have to have a big budget to build a WordPress website that generates decent revenue. When you're getting started, you only need to pay for registering a domain name and a WordPress hosting to host your website.
A domain name is your website's address. This is what your users will type in their browsers to reach your site (For example, monsterinsights.com or google.com).
A website hosting is your website's home on the internet. This is where your content and website files will be stored.
A domain name typically costs $14.99/year and hosting costs start from $7.99/month. If you're looking for a perfect WordPress hosting for your site, you may choose Bluehost. Thankfully, Bluehost, has agreed to offer our users a free domain name and over 60% off on web hosting. It is also an official WordPress recommended hosting partner.
For a detailed step-by-step guide, you can read how to make a WordPress website.
How to Start Affiliate Marketing
To get started with affiliate marketing, you need to choose a niche topic for your site, choose products based on the niche and start creating content on your site to promote them.
The easiest way to find a product you want to promote is to join an affiliate program like Amazon Associates, Commission Junction and ShareASale and browse through their site.
After selecting the product, you can get an affiliate link and promote the product through that link on your site.
Affiliate links are typically long, ugly looking URL's, like this:
http://example.com/c/174127/212721/3713
As you grow as an affiliate marketer, you'll likely use the same affiliate link on tons of different blog posts. For that reason, managing and organizing your affiliate links in WordPress is essential. If you use an affiliate link management plugin like ThirstyAffiliates, you can organize all of your affiliate links in a single place, so finding and replacing won't be a hassle.

For instance, if the company that you promote modifies their affiliate link, you don't have to dig deeper into every blog post you publish to find and replace the affiliate links you've added. Instead, you can change it in the ThistyAffiliates panel, and all affiliate links on your site will be automatically updated.
Apart from link management, the plugin also allows you to cloak your affiliate links, so you can turn your ugly affiliate links to pretty links.
How to Earn Affiliate Revenue by Attracting the Right Audience
Just because you built a site and started promoting products on it doesn't mean that you could start earning affiliate commissions right away. To generate affiliate sales on your site, you need to ensure that you're attracting the right audience who would want to read reviews and recommendations on your site before purchasing the product you promote.
How can you understand if your website attracts the right traffic and the intention of your website visitors?
If most of your traffic is from search engines, you can look at keyword intent to understand whether you're attracting the right traffic.
Generally, there are four types of keyword intents.
Navigational, where users search for a particular website.
Informational, where users search for the answer to a question.
Investigational, where users search for information that may eventually lead to transaction.
Transactional, where users are ready to buy.
As an affiliate marketer, you want to rank your website for investigational keywords. Your potential prospects use investigational keywords when they try to compare products and search for reviews and recommendations.
Some of the phrases you'll often see in investigational keywords are:
best
review
comparison
alternative
To find the actual search queries used by your organic visitors, you can go to your queries report in Google Analytics by navigating to Acquisition » Search Console » Queries.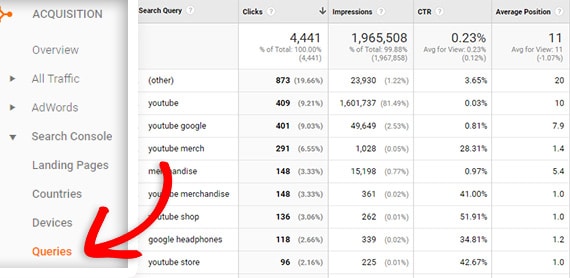 To know more about choosing the right keywords, you can refer to OptinMonster's keyword research guide.
How to Optimize Affiliate Marketing Site for Boosting Commission
Now that you've started attracting the right audience and hopefully, made some affiliate revenue, the next thing you need to focus is to optimize your affiliate site to boost your affiliate earnings.
In order to boost revenue, you need to start tracking your affiliate links in Google Analytics. By tracking affiliate links, you can figure out:
Most profitable traffic sources: Once you understand your most profitable traffic sources, you can focus on promoting your content where it gets you the best ROI.
Top earning pages: Determine the highest converting pages on your site, so you can optimize them to make even more money.
Content opportunities: Come up with new content opportunities to earn more affiliate income.
The easiest way to track affiliate links is to use MonsterInsights on your site. MonsterInsights is the best Google Analytics plugin for WordPress that enables you to take the full advantage of Analytics tracking, including affiliate link tracking, eCommerce tracking, ads tracking and more.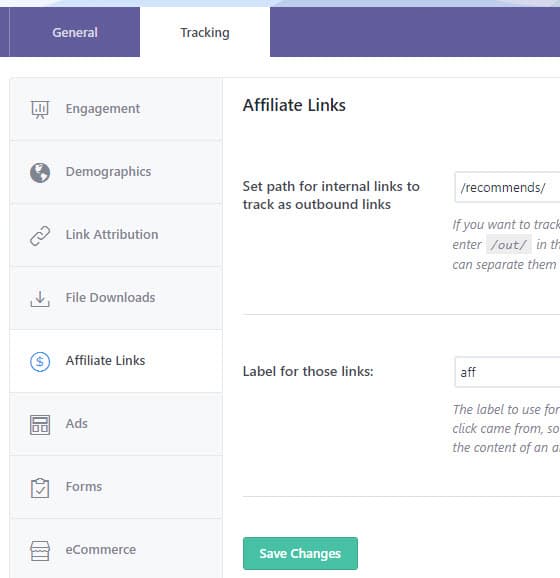 A few benefits of using MonsterInsights for optimizing affiliate sites are:
You can identify which internal links are affiliate links in Google Analytics.
You can easily differentiate your affiliate link clicks with other clicks, so you get a performance report on how your visitors are engaging with your affiliate links in Google Analytics.
Google Analytics can identify from which page the click came from.
For more details, read how to set up affiliate link tracking in Google Analytics.
MonsterInsights lets you track affiliate clicks as events in Google Analytics.
To find an overview of your affiliate link clicks report, you can go to Behavior » Events » Overview.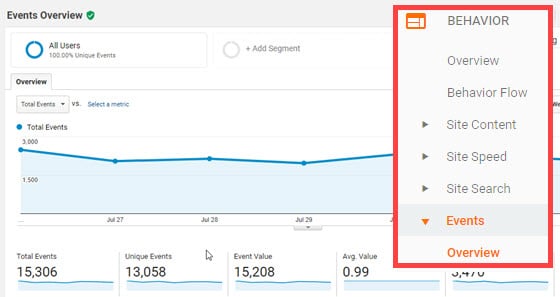 You can also find top events and pages report just below the Events tab.
That's it!
We hope this guide gives you insights on building a profitable affiliate website using WordPress.  If you're also monetizing your blog with AdSense, you can learn how to optimize your ads using Google Analytics.
And don't forget to follow us on Twitter and Facebook for more Google Analytics tutorials.