Are you wondering how to create an affiliate marketing website? You can build a profitable affiliate marketing website with WordPress, even with limited experience!
Affiliate marketing is one of the best ways to make money online. With the right strategy, you can optimize your website so that it attracts the right traffic and brings in affiliate revenue.
In this article, we'll show you how to build a profitable affiliate website using WordPress.
What is Affiliate Marketing?
Affiliate marketing is when you choose a product you like, promote it online, and earn a commission when someone purchases it through your referral link. Affiliate marketing is one of the most reliable ways to make money online for publishers.
However, before you can start making a living through affiliate commissions, you'll need to have a substantial online community where you can promote the products.
One of the easiest ways to build a follower base and make money from promoting affiliate products is by creating your own affiliate website.
How to Build an Affiliate Marketing Website With WordPress
While there are many free website builders out there that let you kick start a website quickly, it's always better to invest some cash into setting up your website, especially if you're looking to make more than a few dollars a month from affiliate marketing.
For most users, a self-hosted WordPress.org site is the perfect solution because it gives you full control over your website, even if you're not tech savvy. It also comes with tons of themes and plugins to choose from so you can build any type of website you want.
Best of all, you don't need to have a huge budget to build a WordPress website that has the ability to generate revenue. When you're getting started, the only absolute necessities you need to pay for are registering a domain name and securing a WordPress hosting plan to host your site.
Step 1: Choose a Domain Name
A domain name is your website's address. This name is what your users will type in their browsers to reach your site (For example, monsterinsights.com or google.com).
We'll show you how to get a domain name for free in the next step along with your hosting plan. If you already have hosting and need a domain name, you can easily choose one from a domain registrar like Domain.com or GoDaddy.
Step 2: Purchase Hosting
Website hosting is your website's home on the internet. This is where your content and website files will be stored and made accessible to the internet.
WordPress hosting prices are dependent on your needs, but most people just starting out can choose an inexpensive hosting plan and upgrade it as needed.
The best choice for hosting that can grow with your affiliate website is Bluehost. In addition to offering quality service for affordable prices, Bluehost is officially recommended by WordPress as one of their preferred hosting providers.
Plus, Bluehost offers our users a free domain name and over 60% off web hosting.
Now, you can get WordPress hosting for just $2.75 per month plus a free domain along with it.
Instead of going super in-depth here on each step of building a website, for a detailed step-by-step guide, you can read how to make a WordPress website.
Let's move on to the affiliate marketing portion of creating your website.
How to Start Affiliate Marketing in WordPress
To get started with affiliate marketing, you'll need to choose a niche topic for your site, choose products based on the niche, and start creating content on your site to promote them.
The easiest way to find products or brands you want to promote is by joining an affiliate program like Amazon Associates, Commission Junction, or ShareASale and browsing through their site. You'll need to go through some approval processes with those affiliate programs, but once you're done, you can get started right away.
The question is, how do you get started? In this section, we'll go over:
How to Promote Affiliate Links in WordPress
How to Earn Affiliate Revenue by Attracting the Right Audience
How to Organize Affiliate Links in WordPress
How to Track Your Affiliate Marketing Website in Google Analytics
Let's dive in.
How to Promote Affiliate Links in WordPress
Now that you've chosen your products or brands to market to your followers, you'll need to decide how you're going to go about that promoting. There are several ways you can do that – let's take a look.
1. Write Great Content
If you're promoting a product, go ahead and write an in-depth guide and review about it. That's always a great product post to start with! Then, do some keyword research around the product. Why might people need it? Address their pain points with your content.
One post type that works incredibly well for affiliate marketers is lists. People are always searching for the best products that they need in their specific situation!
For instance, say you have an Amazon affiliate account and you want to promote several pairs of noise-cancelling headphones. When we do some keyword research with Semrush, we find a lot of potential visitors for:
best over-ear noise-cancelling headphones
best wireless noise-cancelling headphones
best budget noise-cancelling headphones
best noise-cancelling headphones under $100
best noise-cancelling headphones for airplane
These keyword phrases all have a volume of around 1,000 searches per month. However, don't be afraid to scroll down to find more niche list ideas, too. While their volume isn't as high, the competition for those keywords may not be as fierce, helping you rank sooner.
2. Grow Your Email List
A lot of affiliate websites could grow faster if they could capture more email addresses and get more visitors to return. Capturing new visitors by writing the lists above is helpful, but even if they convert by clicking your link and ordering the product, chances are they'll never visit your website again.
To get your visitors to return and keep ordering the products you recommend, you need to collect their email addresses. The best way to do that is with a plugin like OptinMonster.
OptinMonster is the best WordPress plugin for converting and monetizing your website traffic. Use it to create popups, floating bars, gamified wheels, and more.
Once you have a list of people you can contact via email, you can send affiliate links that way, too.
3. Connect Social Media
Odds are, if you've created an affiliate marketing website, you probably have social media profiles, too. Instead of letting them exist completely separate of each other, integrate your social networks with your website to send traffic back and forth.
To start, you can embed your social network feeds on your site using a plugin like Smash Balloon's.
Smash Balloon can help you embed your feeds for Instagram, Facebook, Twitter, and YouTube. This can not only help website visitors find and follow your social media accounts, but it can also increase social media interactions.
Then, to connect your social media accounts to your website, there's one major thing you can do: Use a landing page on your website instead of a "link in bio" type service.
On most social media networks, you get just one spot in your profile to include a link. Instead of sending those clickers to a page on some other website, send them to your site!
With a drag-and-drop landing page builder, it's just as easy (if not easier!) to create your own "link in bio" page. Plus, you get complete control over how it looks, how many links it has on it, and more.
We recommend the SeedProd landing page builder for this. Check out their article on How to Create a Link in Bio Landing Page.
How to Earn Affiliate Revenue by Attracting the Right Audience
We talked about performing keyword research above, but let's take a step further in thinking about how to attract the right audience.
To get the people who are the most likely to convert to visit your site, you need to think about keyword intent.
Keyword intent is all about what searchers are expecting to find when they type in a keyword.
Generally, there are 4 types of keyword intent:
Navigational, where users search for a particular website.
Informational, where users search for the answer to a question.
Investigational, where users search for information that may eventually lead to a transaction.
Transactional, where users are ready to buy.
As an affiliate marketer, you'll want to rank your website primarily for investigational keywords. Your potential prospects use investigational keywords when they try to compare products and search for reviews and recommendations.
Some of the words you'll often see in investigational keyword phrases are:
best
review
comparison
alternative
To find the actual search queries used by your organic visitors, you can go to your queries report in Google Search Console in the Search results tab:

Scroll down to find your Queries: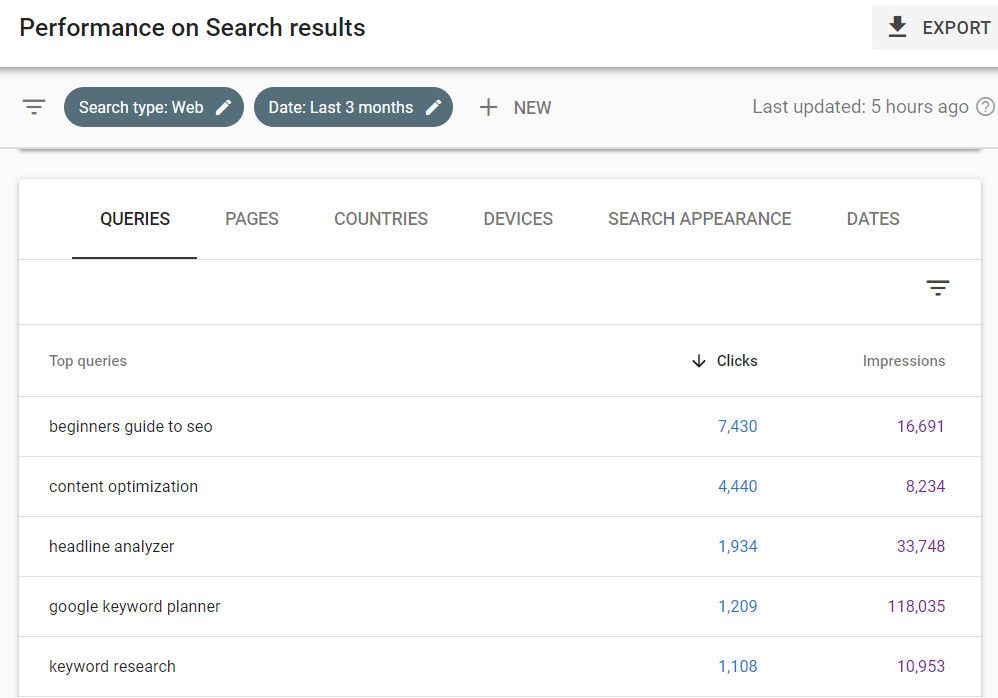 To learn more about choosing the right keywords, you can refer to our keyword research guide.
How to Organize Affiliate Links in WordPress
As you grow as an affiliate marketer, you'll likely use the same affiliate link in tons of different blog posts, social media posts, and emails. For that reason, managing and organizing your affiliate links in WordPress is essential.
If you use an affiliate link management plugin like Pretty Links, you can cloak and organize all of your affiliate links in a single place, so finding and replacing them won't be a hassle.
For instance, if the company that you promote modifies their affiliate link, you won't have to dig deep into every blog post you've published to find and replace the affiliate links you'd added. Instead, you can change it in the Pretty Links panel, and all the affiliate links on your site will be automatically updated.
Apart from link management, the plugin also allows you to cloak your affiliate links so that you can turn your ugly affiliate links to pretty links.
Affiliate links are typically long, ugly-looking URL's, like this:
http://example.com/products/?product_id=123&affiliate_id
ThirstyAffiliates helps you to cloak such affiliate links to make them short and branded URLs, shown below:
http://www.yoursite.com/affiliate/productname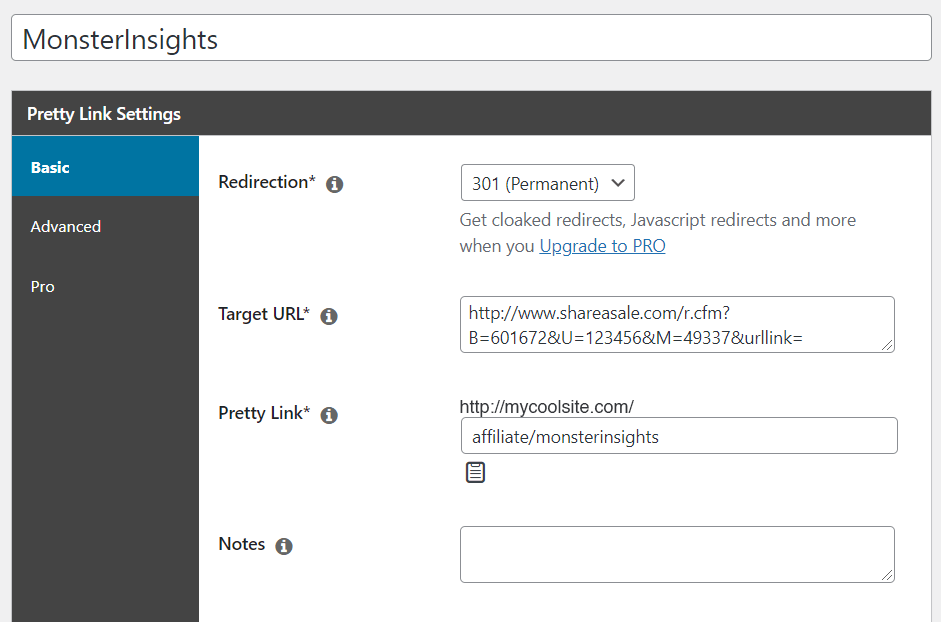 Now you can use the cloaked affiliate URLs anywhere on your site. It's easy to add, organize, and update affiliate links with Pretty Links!
For detailed instructions, read our step-by-step guide on how to add affiliate links in WordPress.
How to Track Your Affiliate Marketing Website in Google Analytics
Before you even make your first affiliate sale, you should make sure Google Analytics is set up properly on your site so that you can collect data on your traffic and future sales.
Not only can you track your traffic and conversions through Google Analytics, but with MonsterInsights, the best Google Analytics plugin for WordPress, you can also track clicks on your affiliate links in a separate report.
By tracking affiliate links, you can figure out:
Most profitable traffic sources: Once you understand your most profitable traffic sources, you can focus on promoting your content where it gets you the best ROI.
Top earning pages: Determine the highest converting pages on your site, so you can optimize them to make even more money.
Content opportunities: Come up with new content opportunities to earn more affiliate income.
The easiest way to track affiliate links is to use MonsterInsights on your site. It's the best Google Analytics plugin for WordPress and enables you to take the full advantage of Analytics tracking, including affiliate link tracking, eCommerce tracking, outbound link tracking, video tracking, forms tracking, and much more.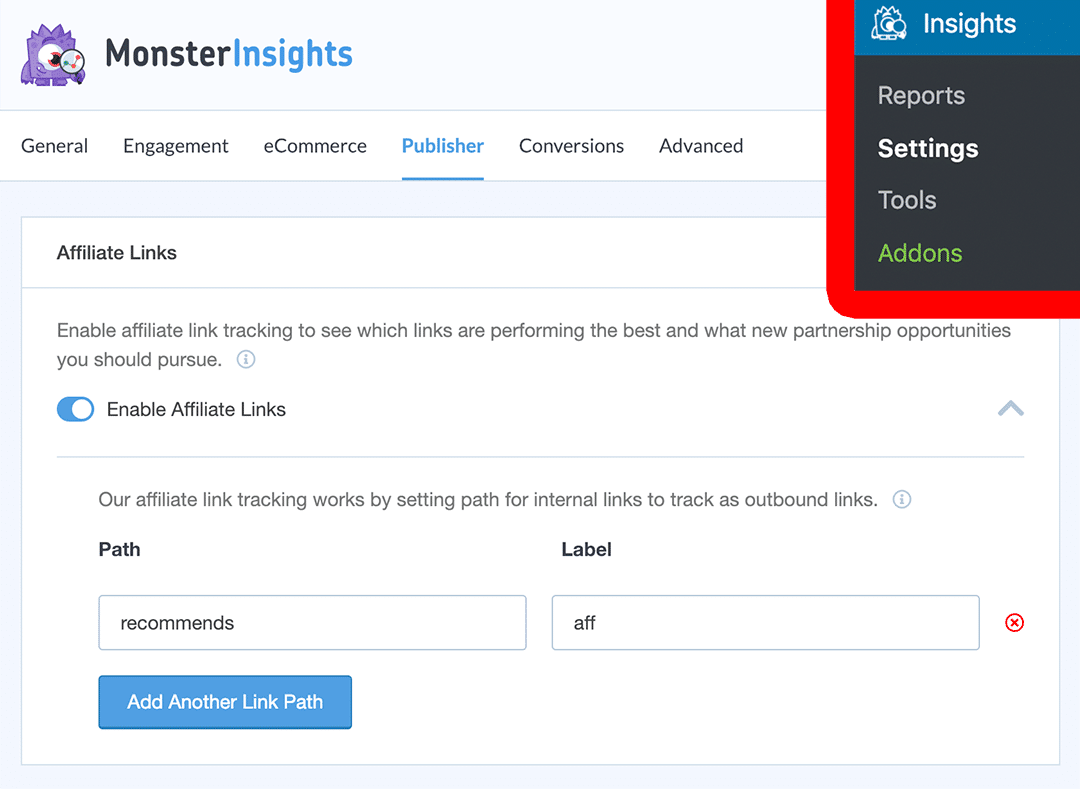 MonsterInsights lets you track affiliate clicks as events in Google Analytics.
For more details, read how to set up affiliate link tracking in Google Analytics.
Once the setup is complete, you can view your affiliate links report by going to Insights » Reports » Publishers from your dashboard.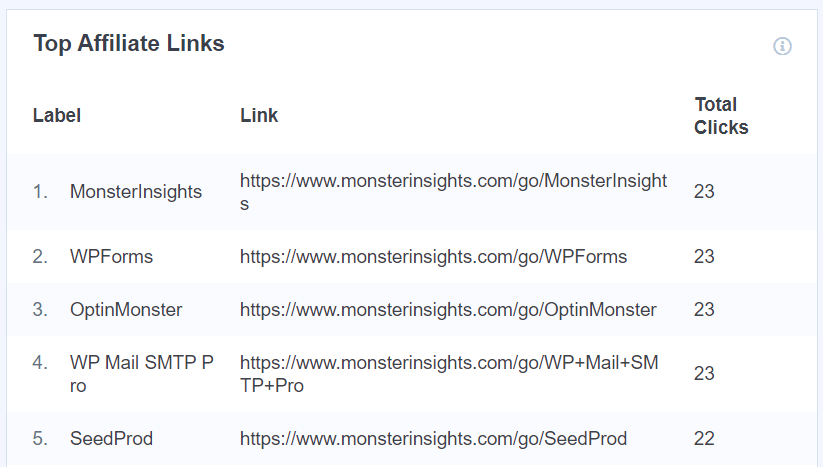 In this report, you'll find your top 10 affiliate links with the total clicks for each link.
Because MonsterInsights sets up an affiliate link click event in Google Analytics, you can find more data about your link clicks by creating a custom report in GA4.
For a step-by-step walkthrough on creating general custom reports, check out How to Create Google Analytics 4 Custom Reports (Step by Step).
To start your affiliate report, head to the Explorations tab and click to create a Blank report:

Import the following Dimensions:
Is Affiliate Link
Link Text
Page Title
Event Name
Import the following Metrics:
Event Count
Event Value
Now, click and drag the Link Text and Page Title dimensions over into the Rows box, and drag the Event Count metric into the Values box.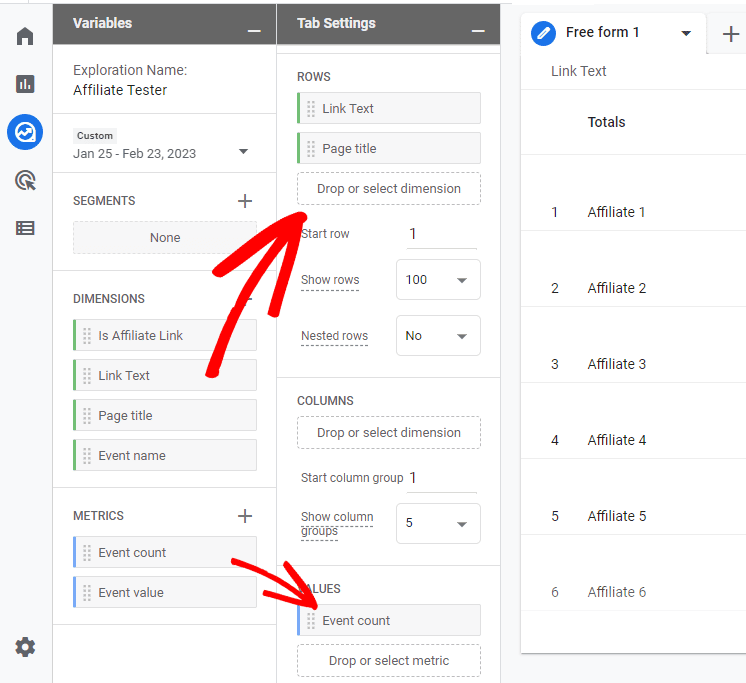 Next, drag the Is Affiliate Link dimension down to the Filters box, and set it to exactly matches and true. Click Apply.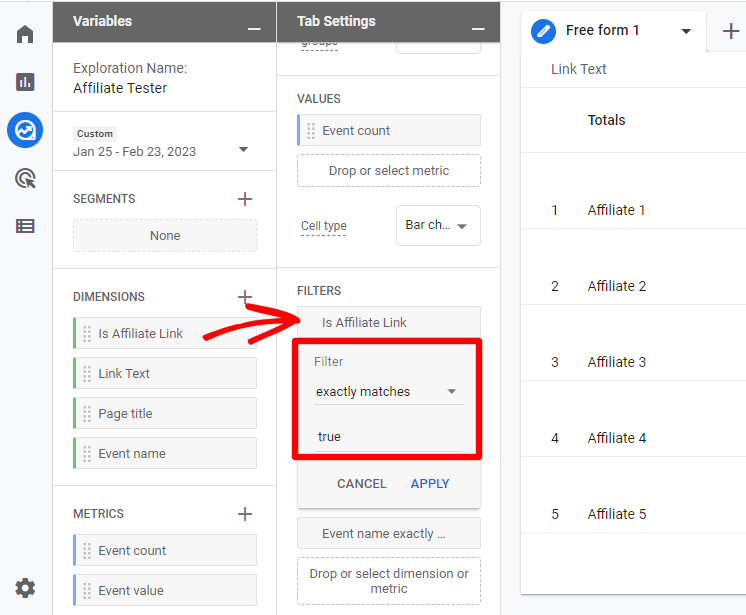 Finally, click and drag the Event name dimension to the filters box. Choose exactly matches and click, then click Apply.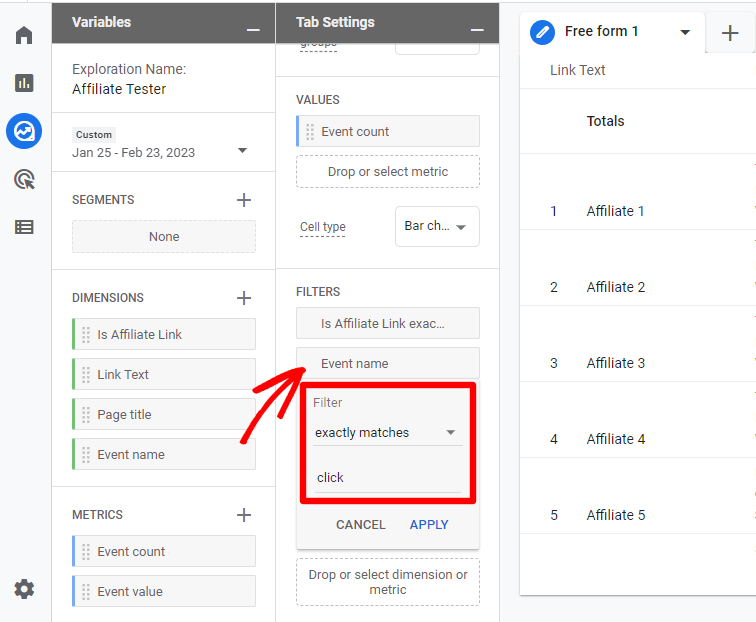 Finally, your Affiliate report is ready! You can now find it any time in your Explorations tab. It shows which affiliate links were clicked, and which pages the links were located on. Feel free to play around with the report by adding other dimensions and metrics!
That's it!
We hope this guide gave you valuable insights on building a profitable affiliate website using WordPress.
Not using MonsterInsights yet? What are you waiting for?
And don't forget to follow us on Twitter, Facebook and YouTube for more helpful reviews, tutorials, and Google Analytics tips.