Do you want to track Amazon affiliate links on your WordPress website? Amazon affiliate program, also known as Amazon Associates, is a great way for website owners and bloggers to make money.
Once you sign up for the program, you get affiliate links to place on your website. When someone clicks on those links and makes a purchase, you get a certain commission.
By tracking these affiliate links, you get to know which pages convert the best, which products get the most clicks, and you can make data-driven decisions.
In this article, we'll show you how to track Amazon affiliate links in WordPress. Let's start.
Use a WordPress Affiliate Link Management Plugin
The first thing you'll need is an affiliate management plugin for WordPress.
That's because as your website grows, you'll find affiliate links on different pages and blog posts. But what if the link changes for any Amazon product? It becomes very difficult to manage and track each affiliate link.
You'll have to manually edit multiple blog posts and pages on your website. And then find and replace the old links with the new ones.
By using an affiliate link plugin for WordPress, you save time and streamlines the process. You can easily organize and manage different Amazon affiliate links on your website.
Manage Amazon Affiliate Links with Pretty Links Pro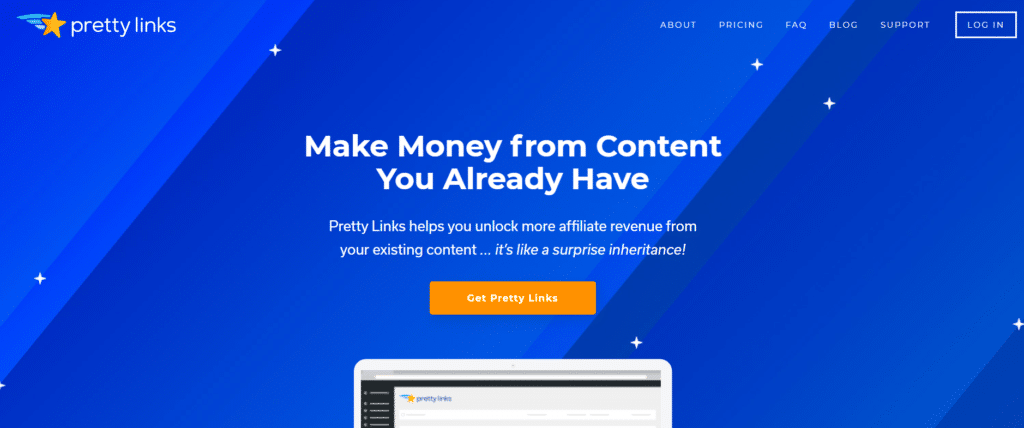 Pretty Links Pro is the best affiliate link management plugin for WordPress you can use today. It brings all your Amazon affiliate links in one place.
Some amazing features of Pretty Links Pro include auto-link keywords, advanced redirects, reports, add header scripts, import and export links, and create categories and tags for affiliate links.
Using the plugin is very easy as well. You can organize links, add redirections (301, 302, 307), and add nofollow tags in an instant.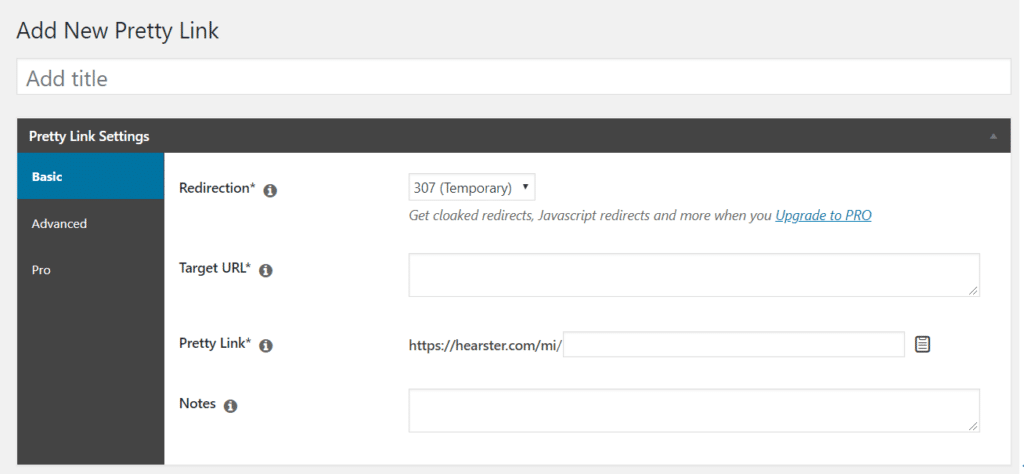 Another benefit of using Pretty Links Pro plugin is that it masks your long and ugly affiliate links into something that's easier on the eye.
But since it's against Amazon's terms of service to cloak their affiliate URL, it's better to keep them as it is.
If you want to learn how to use Pretty Links Pro, then you can check out our tutorial on how to set up an affiliate link in WordPress.
Once you've organized all your links, it's time to track them in WordPress.
Track Amazon Affiliate Links Using MonsterInsights
MonsterInsights is the best WordPress plugin for Google Analytics. It helps you track Amazon affiliate links without the need for any coding.
And you don't have to go through the process of creating Google Analytics custom events for each affiliate link. MonsterInsights takes care of it for you.
To start tracking your Amazon affiliate links, you'll need to install the MonsterInsights plugin.
Once the plugin is installed and active on your WordPress website, go to Insights » Settings » Publisher.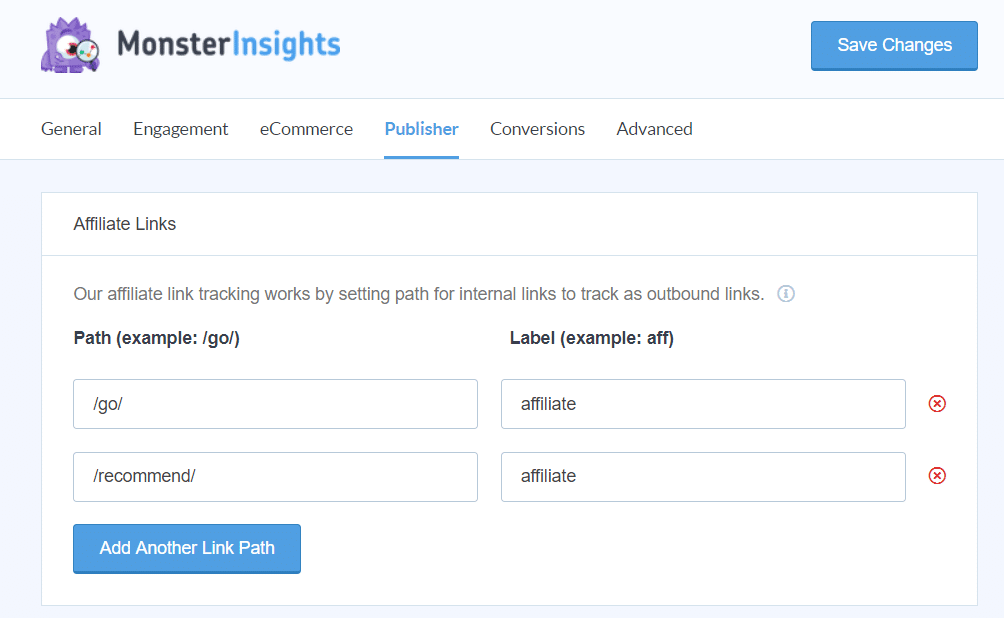 You can set the path (/go/, /refer/, /recommend/) you want, and the plugin will automatically detect affiliate links and start tracking.
With MonsterInsights affiliate tracking, you don't have to hire a developer or go risk any chances of errors in the manual setup process.
And the best thing about the plugin is that it shows you detailed reports about your affiliates in your WordPress dashboard.
To access the report, go to Insights » Reports and then click on Publishers tab from the top. Now scroll down and you'll see top Affiliate links.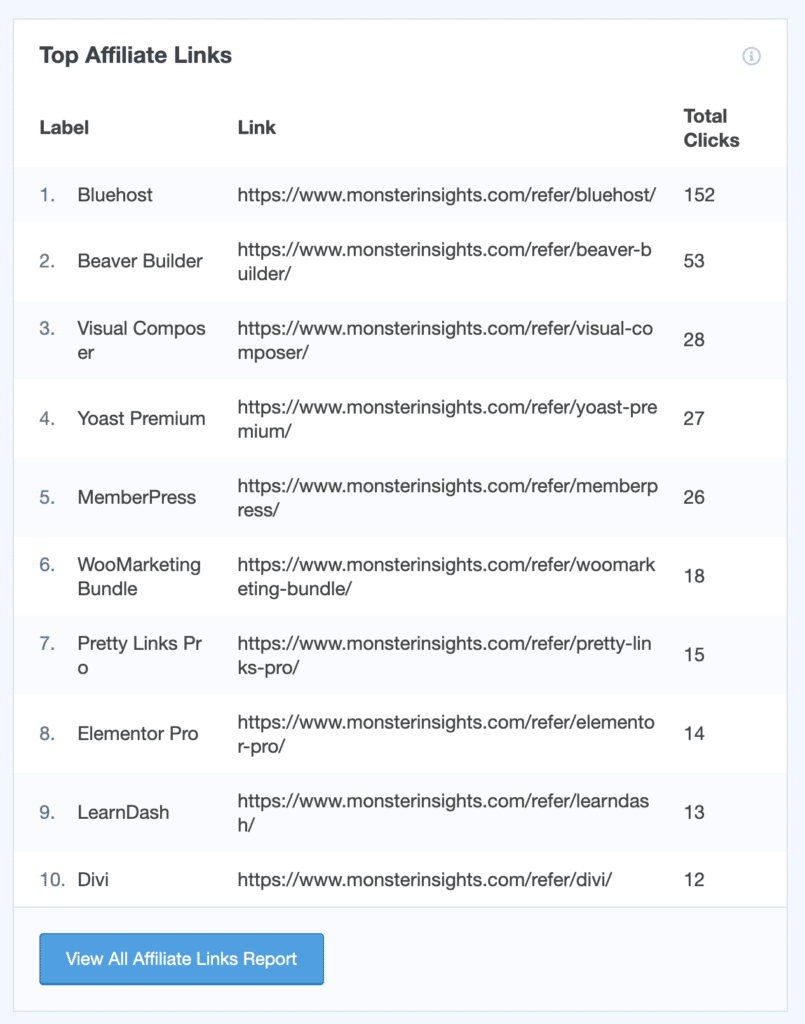 Using the report, you can see which Amazon affiliate links work best on your website. It shows which link generates the most clicks. You can then use this data to optimize your affiliate links to boost conversions.
Identify New Opportunities for Affiliate Links
Another benefit of tracking affiliate links with MonsterInsigths is that you can discover new opportunities to place Amazon affiliate links.
In its Publisher's report, you can find your top outbound links. These are non-affiliate links that show where your visitors are clicking the most.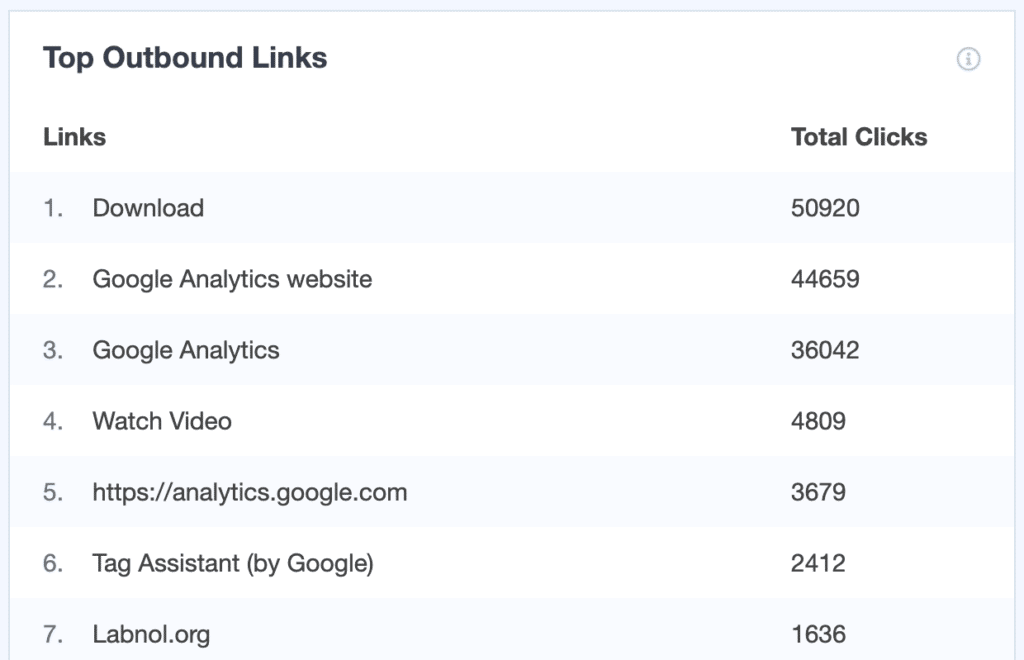 Using the report, you can replace these non-affiliate links with an Amazon affiliate link to boost your revenue.
For instance, you can see that one of your top outbound links is downloads. To generate more revenue, you can replace the outbound download link with one of your Amazon Affiliate links.
That way, you can direct the clicks to a more relevant page and increase your sales.
Why Track Amazon Affiliate Links?
We often get questions from our readers, why should they track their Amazon affiliate links. At the start of the article, we listed some benefits. Now let's break them down in more detail.
See which page or post performs the best – by tracking affiliate links, you can find out which pages and types of content generate the most clicks and sales.
Find new content ideas – you can get new ideas for creating content and place Amazon products that convert.
Identify campaigns that give the best ROI – through affiliate tracking, you can figure out which promotional campaign gave you the best return on investment (ROI) and you can replicate it in the future.
Under user behavior – Amazon affiliate link tracking can also help you understand how users interact with your website, which links they click, which products they prefer, and more.
That's it.
With affiliate link management plugin like Pretty Links Pro, you can organize, find, and replace link across your website in an instant.
And with MonsterInsights plugin, you can easily track all your Amazon affiliate links automatically, without changing any codes or hiring a developer.
We hope you liked our article on how to track Amazon affiliate links in WordPress. You can also check out our guide on how to track user engagement in WordPress.
Don't forget to follow us on Twitter and Facebook for more detailed WordPress and Google Analytics tutorials.