Do you want to track Amazon affiliate link clicks on your WordPress website?
The Amazon affiliate program, Amazon Associates, can be a great way for website owners and bloggers to make money.
However, did you know that Amazon doesn't give you any reports on which of your links are getting clicked? Yep, they only tell you which clicks led to purchases. If you want to see all of your clicks, you'll need to have a different measurement plan in place.
In this article, we'll show you how to track all of your Amazon affiliate link clicks in WordPress. Let's dive in.
Video Tutorial
Watch our video tutorial or keep reading for the entire article and instructions.
Amazon Associates Program and WordPress
If you're an Amazon affiliate, tracking link clicks on your WordPress site will show you which pages convert the best and which products get the most clicks, helping you make data-driven decisions.
Amazon's reporting within your Associates account is great for seeing what products are getting clicked on and purchased, but you won't find all clicks there. In fact, you won't find them anywhere in Amazon or in Google Analytics at all unless you take specific steps to set up link tracking.
Let's take a quick look at an example report from Amazon Associates: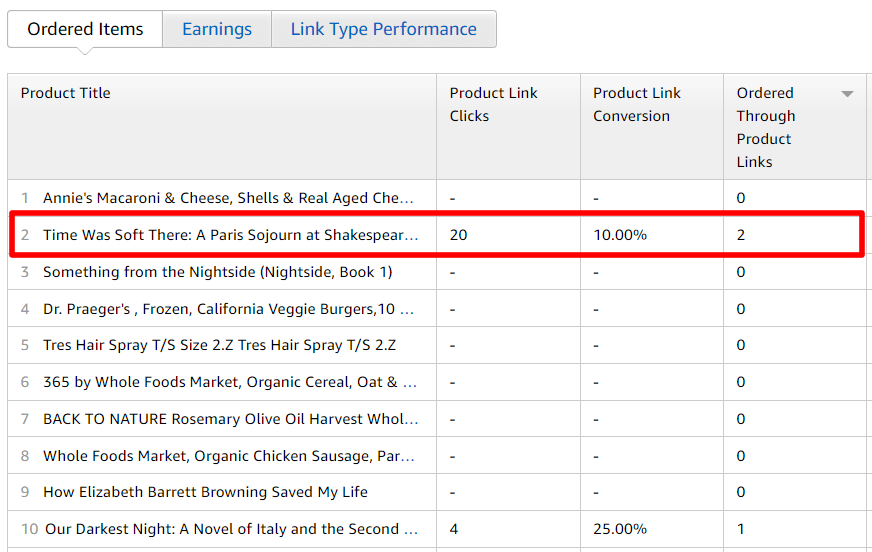 Alright so we see that the book Time Was Soft There is a product (book) this blog is promoting. We can see that 2 copies were ordered, and the site's link to the product was clicked 20 times.
But if there are multiple links to this book from the site, which page was the buyer on when she clicked and made the purchase?
We have no idea.
Now, let's say the book Where the Crawdads Sing is also linked to on Amazon from the site. It's not in the table above, which means nobody bought it. But, how many times was the link clicked?
We have no idea.
Now that you've seen the limitations of Amazon Associates reports, let's find out how to get that missing data.
Use a WordPress Affiliate Link Management Plugin
The first thing you'll want is an affiliate management plugin for WordPress.
As your website grows, you'll find affiliate links on different pages and blog posts. But what if the link changes for an Amazon product, or what if you want to switch it to another product?
It becomes difficult to manage and track each affiliate link as you keep adding more.
By using an affiliate link plugin for WordPress, you'll save time and streamline the process. You can easily organize and manage different Amazon affiliate links with a plugin.
Pretty Links
Pretty Links is the best affiliate link management plugin for WordPress. It brings all your Amazon affiliate links into one place.
Some amazing features of Pretty Links:
Auto-link keywords
Advanced redirects
Reports
Add header scripts
Import and export links
Categories and tags
Using the plugin is easy as well. You can organize links, add redirections (301, 302, 307), and add nofollow tags in an instant.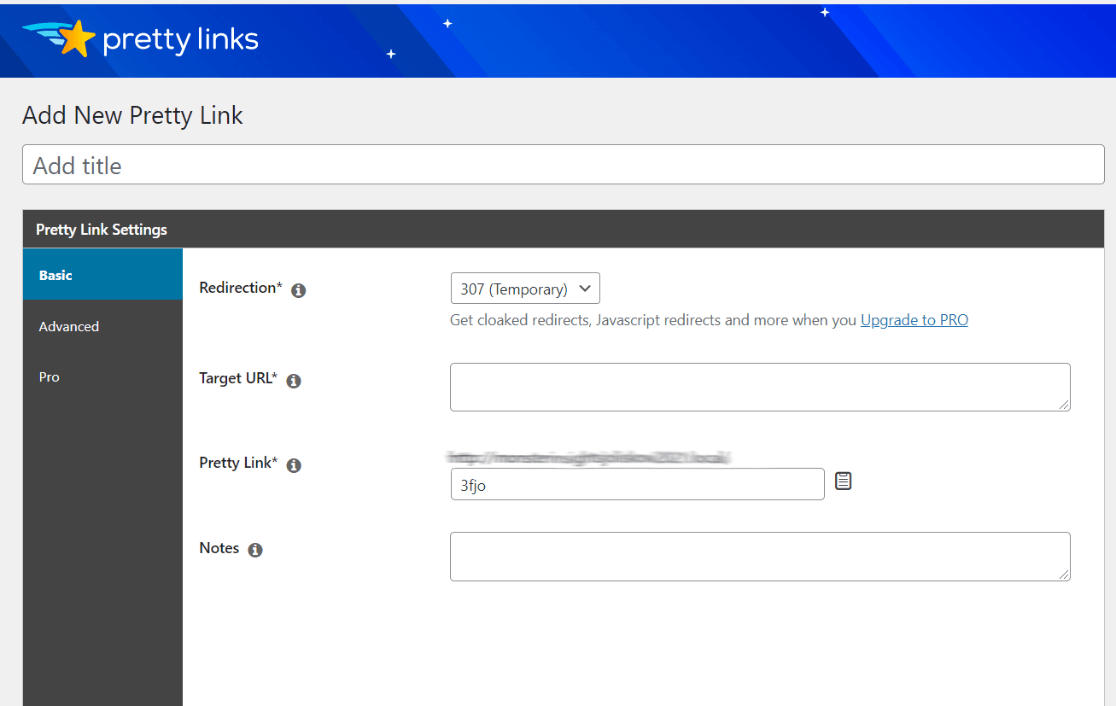 Another benefit of using the Pretty Links plugin is that it cloaks your long and ugly affiliate links into something that's easier on the eye.
However, an important note here is that Amazon does not allow cloaking. They want it to be clear that, if a user clicks on an Amazon link, that user needs to know that they're clicking an Amazon link.
So, you can still use Pretty Links for your Amazon links, but the link needs to clearly say "Amazon" in it.
If you want to learn how to use Pretty Links, then you can check out our tutorial on how to set up an affiliate link in WordPress.
Once you've organized all your links, it's time to track them in WordPress.
Track Amazon Affiliate Links Using MonsterInsights
MonsterInsights is the best WordPress plugin for Google Analytics. It helps you track Amazon affiliate links without the need for any coding.
And you don't have to go through the process of creating Google Analytics custom events for each affiliate link. MonsterInsights takes care of it for you.
Here are the steps to tracking your Amazon affiliate links.
Step 1: Install MonsterInsights
After purchasing MonsterInsights at the Plus level, go to Plugins » Add New » Upload Plugin to upload the file to your WordPress plugins. Click the "Activate Plugin" button activate the plugin.

Next, you'll need to connect MonsterInsights with your Google Analytics account. Make sure to allow the plugin access to Google: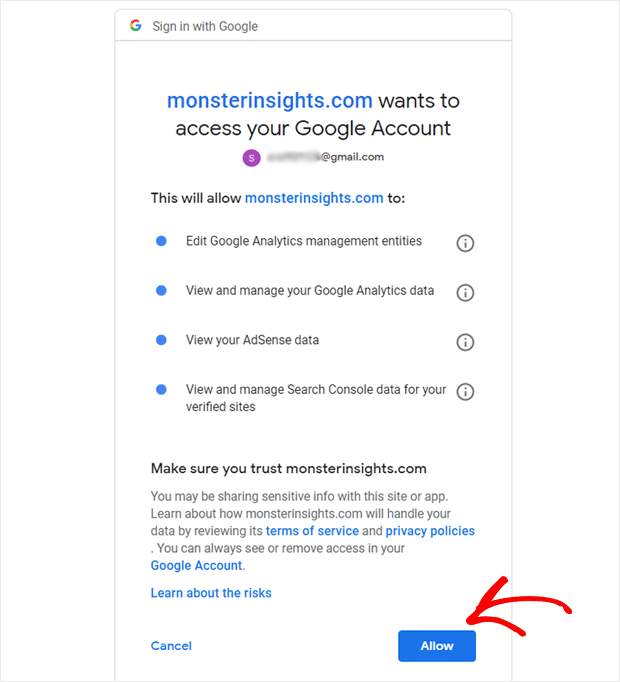 For more details on how to install MonsterInsights, read How to Add Google Analytics to WordPress.
Step 2: Choose Affiliate Link Paths
Once the plugin is installed and active on your WordPress website, go to Insights » Settings » Publisher.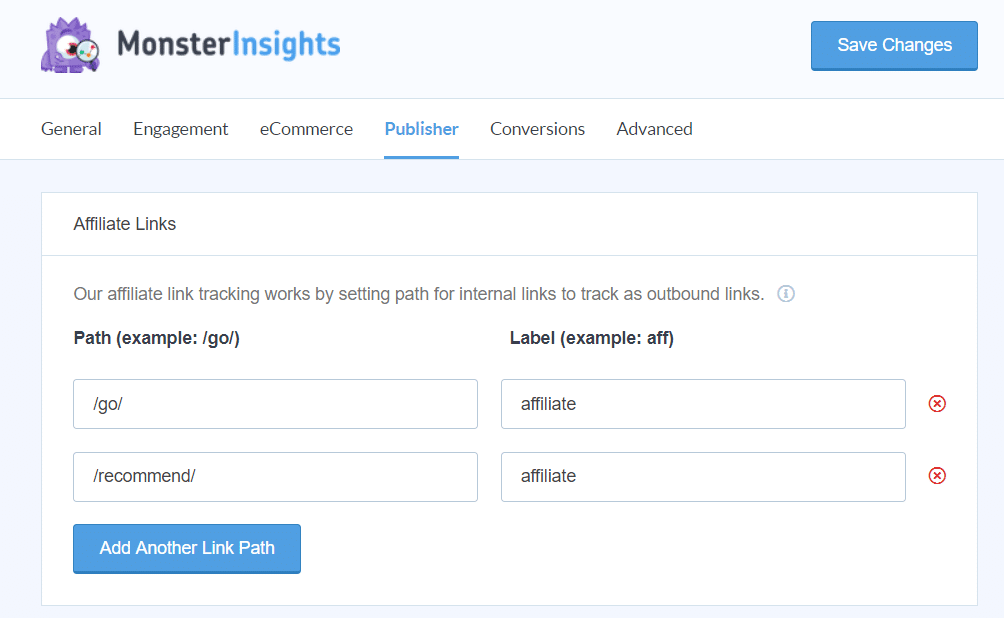 You can set the path you want, and the plugin will automatically detect affiliate links and start tracking.
So, let's go back to Pretty Links for a second.
Let's say we want to create an affiliate link for an Amazon Fire Stick. We go to our Amazon Associates account and grab the link, then go into Pretty Links to create our affiliate link.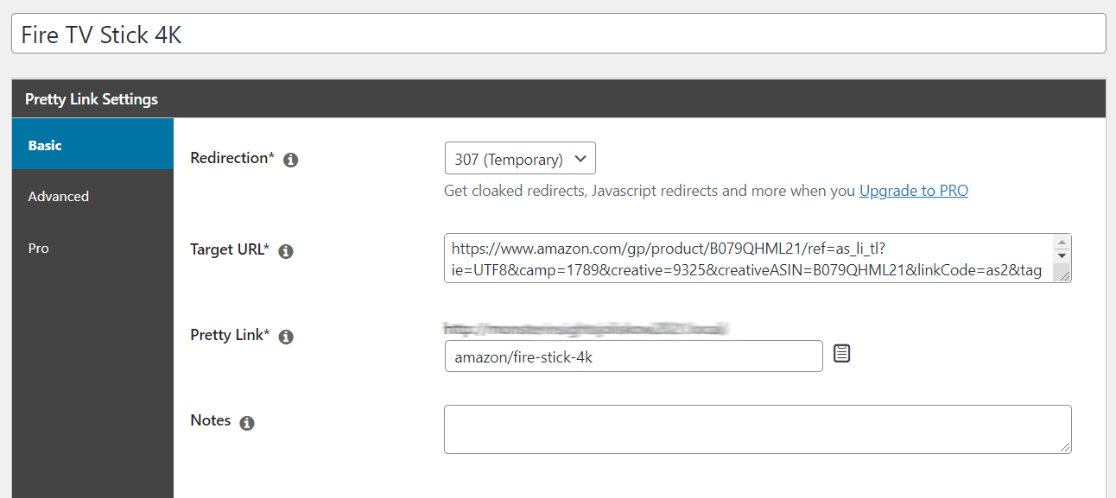 After saving this, we'll now have a link like www.yoursitehere.com/amazon/fire-stick-4k. That link goes to your affiliate link, so you get the credit for it, but it looks much prettier.
If all of your Amazon links are set up to go to www.yoursitehere.com/amazon/producthere, then you'll want to put /amazon/ in your MonsterInsights paths:
Step 3: View Your Reports
Now, MonsterInsights will show you detailed reports about your affiliates in your WordPress dashboard.
To access the report, go to Insights » Reports and then click on the Publishers tab from the top.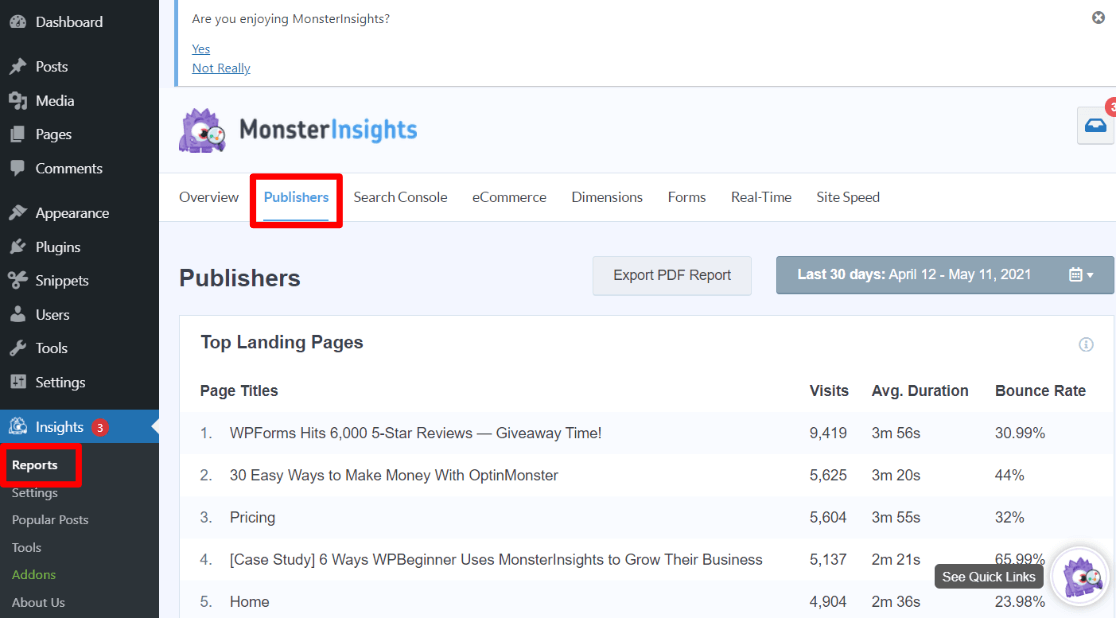 Now, scroll down to find Top Affiliate Links. While we don't see "Amazon" here, it'll be in your report if that's the label you used.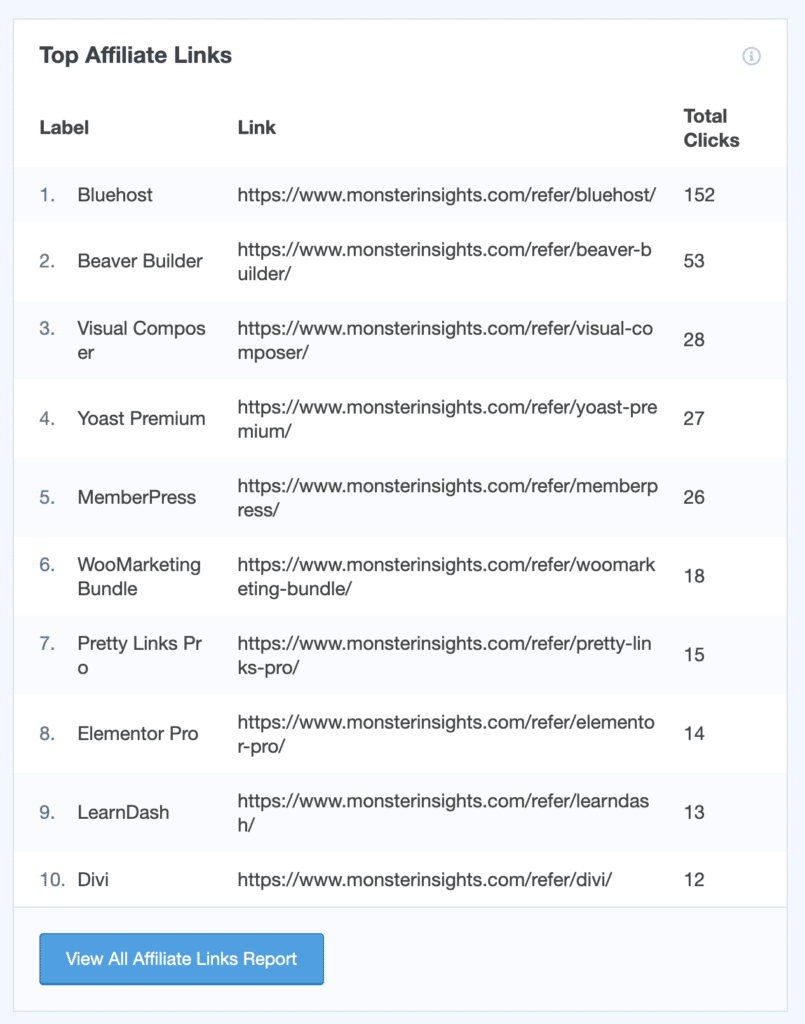 Using the report, you'll now be able to see which Amazon affiliate links are clicked on your website. This report shows you all your clicks, not just the ones that were purchased from (like in your Amazon account).
How to Find Even More Affiliate Click Data
Now, if you want to dig even further to see which of your site pages a user was on when he clicked your affiliate link, click the blue "View All Affiliate Links Report" button at the bottom of the report above.
That button will take you to the Behavior » Events » Top Events report in Google Analytics.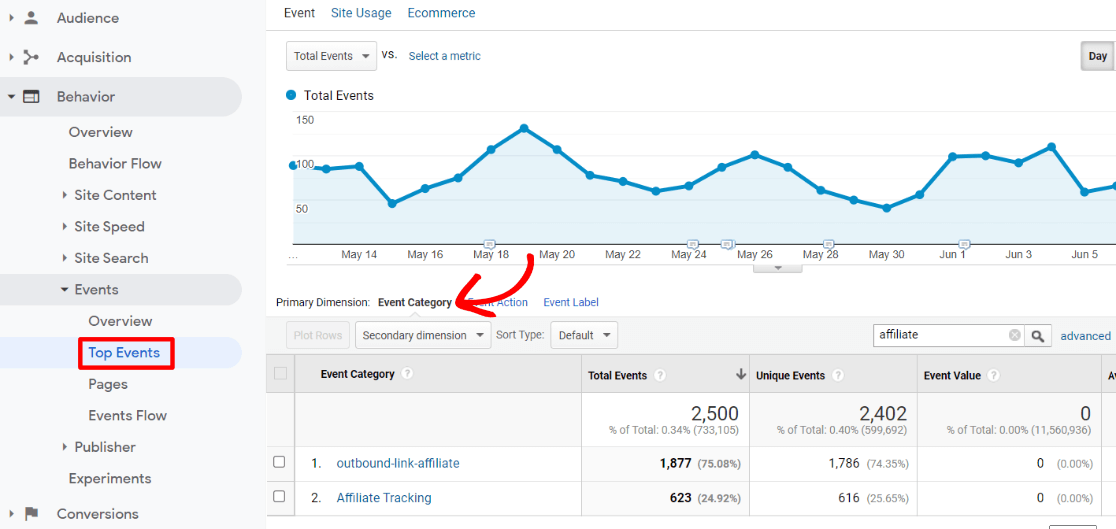 This report defaults to show you your Event Category. Here, you'll see "outbound-link-your-label-here" as a category. In the above example, we used "affiliate" as our label in the MonsterInsights settings, so our category is "outbound-link-affiliate".

Anyway, you're probably wanting to see your link clicks by page, so you can see which of your pages people are on when they're clicking an affiliate link.
To do that, head to the Behavior » Events » Pages report. In the Secondary dimension dropdown, type "action" to find Event Action. Click that to add it to your report.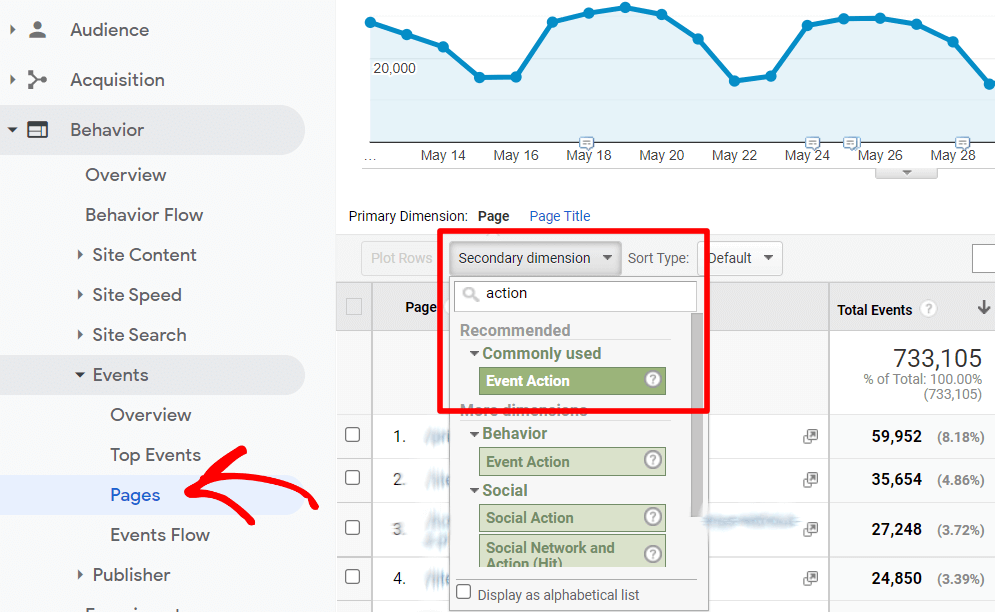 Now, click "advanced" next to the search box:

Now, Event Action will automatically be in the box to filter by, which is what we want, so leave that. In the box, type in whatever word is in the referral URLs you want to check. In our example, our links are set up like "www.oursite.com/refer/affiliatehere" so we're going to search for URLs containing "refer". Fill in your phrase and hit "apply".

That's it! You're now looking at a report of pages on which affiliate links were clicked.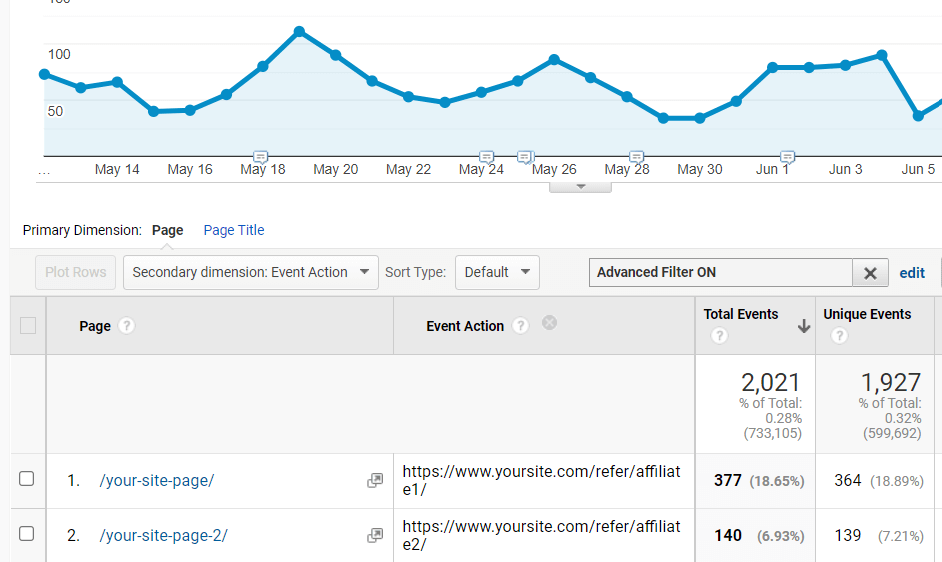 Why Track Amazon Affiliate Links?
We often get questions from our readers, why should they track their Amazon affiliate links. At the start of the article, we listed some benefits. Now let's break them down in more detail.
See which page or post performs the best – by tracking affiliate links, you can find out which pages and types of content generate the most clicks and sales.
Find new content ideas – you can get new ideas for creating content and placing Amazon product links that convert.
Identify campaigns that have the best ROI – through affiliate tracking, you can figure out which promotional campaign gave you the best return on investment (ROI) and replicate it in the future.
Understand user behavior – Amazon affiliate link tracking can also help you understand how users interact with your website, which links they click, which products they prefer, and more.
That's it.
With an affiliate link management plugin like Pretty Links, you can organize, find, and replace any link across your website in an instant.
And with the MonsterInsights plugin, you can easily track all your Amazon affiliate links automatically, without changing any code or hiring a developer.
We hope you liked our article on how to track Amazon affiliate links in WordPress. You can also check out The Definitive Guide to Google Analytics for Publishers.
And don't forget to follow us on Twitter, Facebook and YouTube for more helpful WordPress and Google Analytics tips and tutorials.