Are you wondering which Google Analytics reports you should be looking at often to get the most important insights into how you're doing online?
Google Analytics 4 can be really overwhelming, so you're doing the right thing by diving into some research about which reports are the best to watch for the insights you need to build and grow your business.
In this article, we'll go over the best Google Analytics reports that will give you the insights you need to grow.
We'll also take a look at the best method for WordPress users to use to access your most important Google Analytics reports right inside your WordPress dashboard.
7 Best Google Analytics Reports
Google Analytics 4 includes a lot of helpful reports. Let's take a look at the best ones you can look at often to keep tabs on how your business is doing, and find ideas for how to improve it.
1. Overview (Reports snapshot)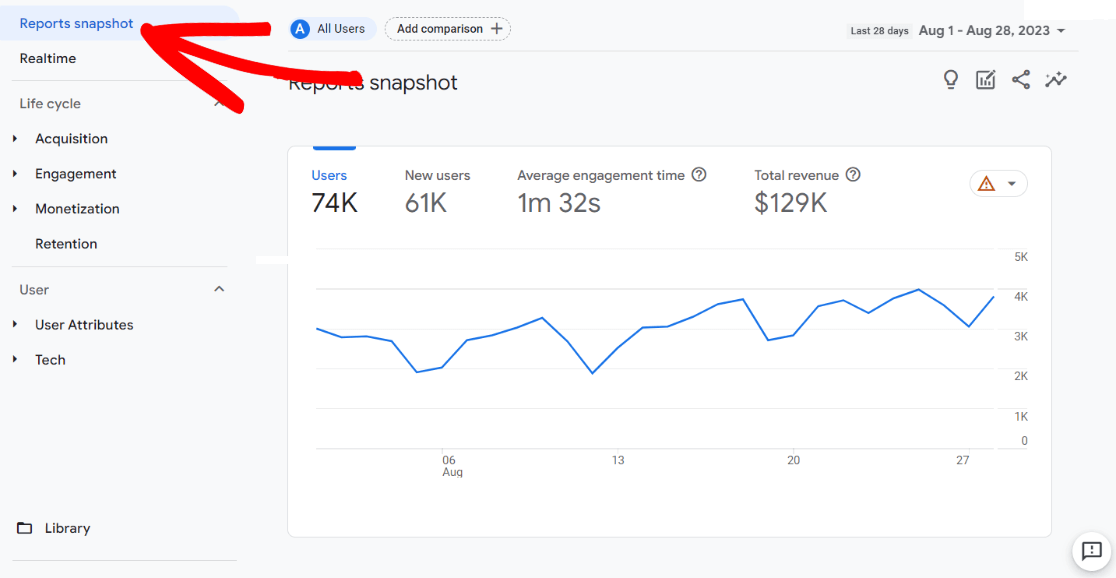 The Reports snapshot report is a great way to get a quick glance at how your traffic is doing. It includes a bunch of "cards" with information on how much traffic you've had, where it came from, how those visitors found your site, and more.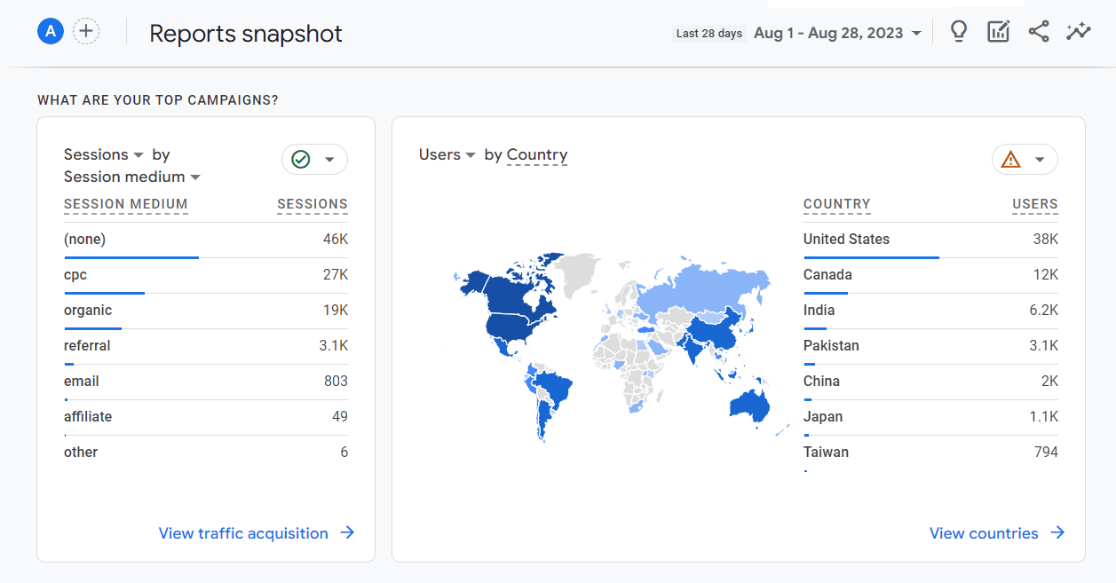 Many of the cards also have links to the full report for easy navigation.
What you can learn from the reports snapshot:
Whether your traffic is trending up or down
How much eCommerce revenue you've made
What your top campaigns were
Which pages got the most views
And more
If your website is on WordPress, you can get an overview report right inside your WordPress dashboard, too!
The Overview report in MonsterInsights is the quickest, easiest way to see at-a-glance how your traffic is doing. It gives you a quick breakdown of some of your most valuable, everyday metrics like sessions, pageviews, devices, referral sources and more.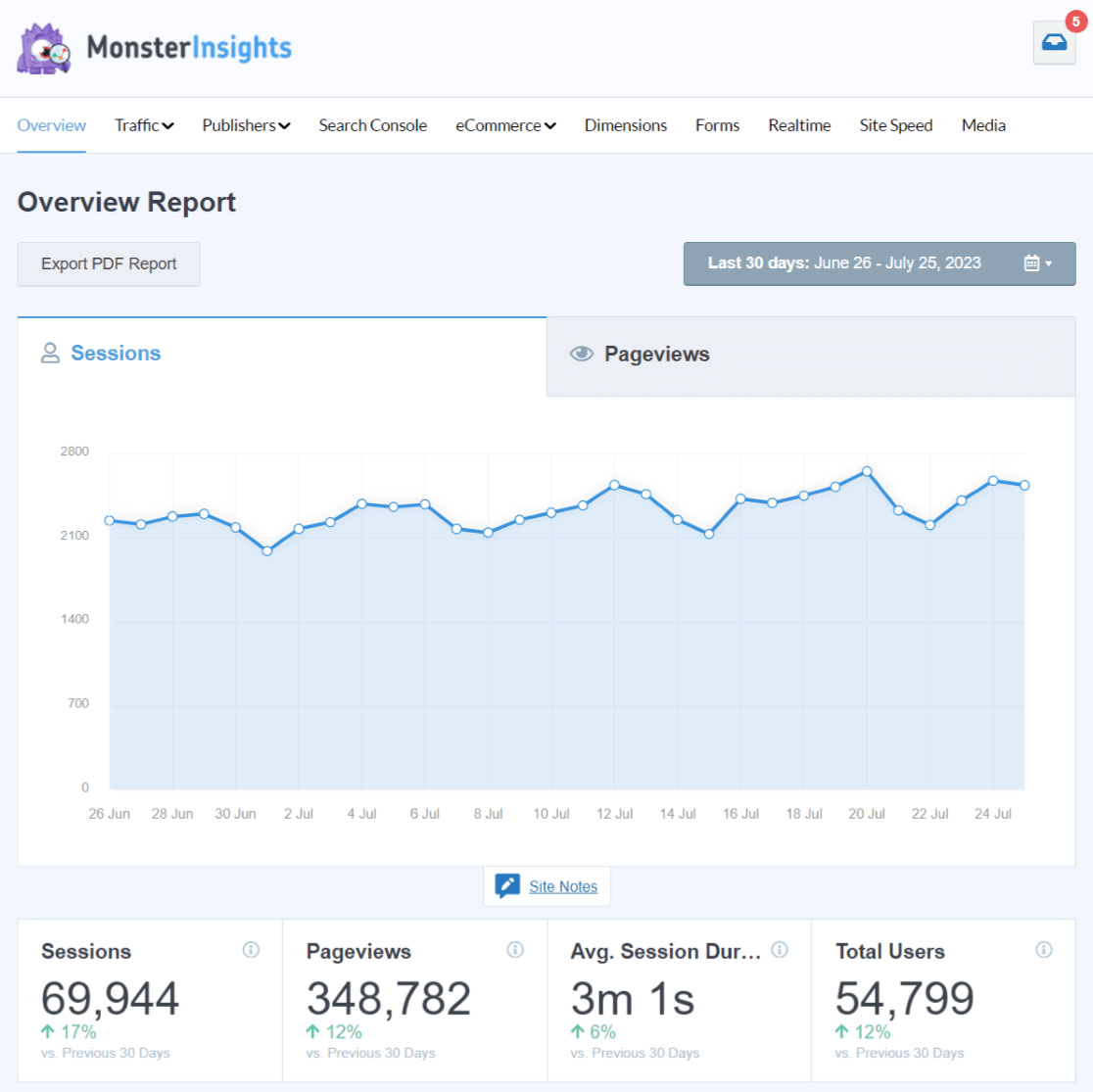 Don't have MonsterInsights yet? It's the best Google Analytics plugin for WordPress! MonsterInsights can not only show you all your most important Analytics data right inside your WordPress dashboard, but it can also set up (with just a couple clicks) more complicated tracking like eCommerce, form tracking, author tracking, and much more.
2. Top Landing Pages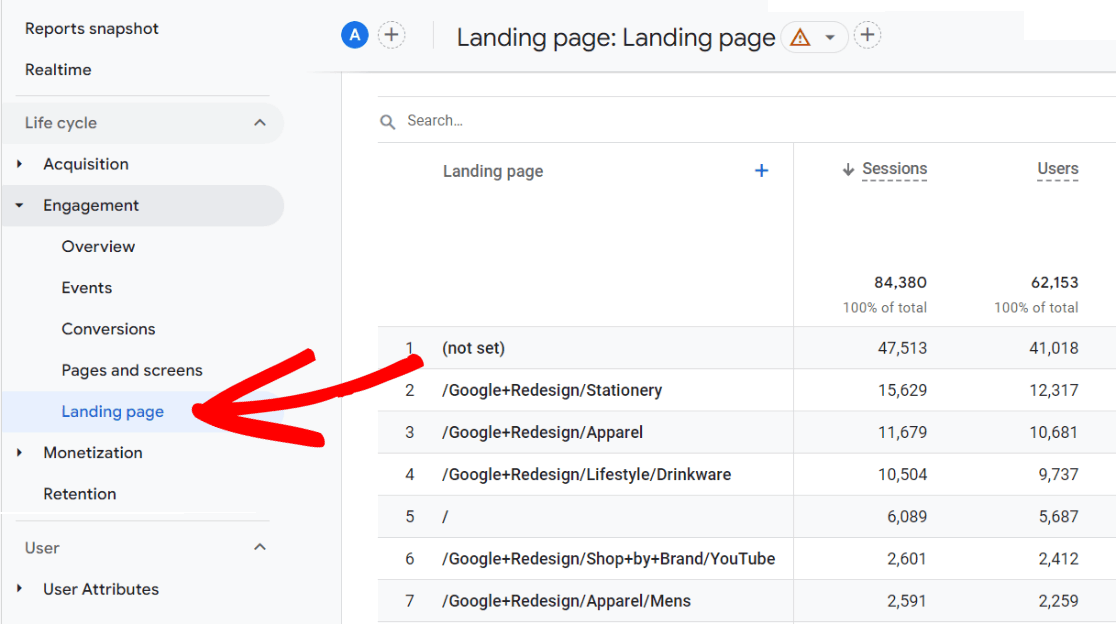 The landing page report is one of the best reports in GA4 because you can quickly see where users are landing on your site, and whether or not they're going on to complete purchases or other conversions from there.
Quickly see what content on your site is the most popular over all of your traffic channels.
Use the report to:
Decide which pages to prioritize for updates
Decide which pages to run email capture campaigns on
Help you figure out what topics resonate the most with your readers
See what pages are driving the most conversions
You can also find a landing pages report right inside MonsterInsights.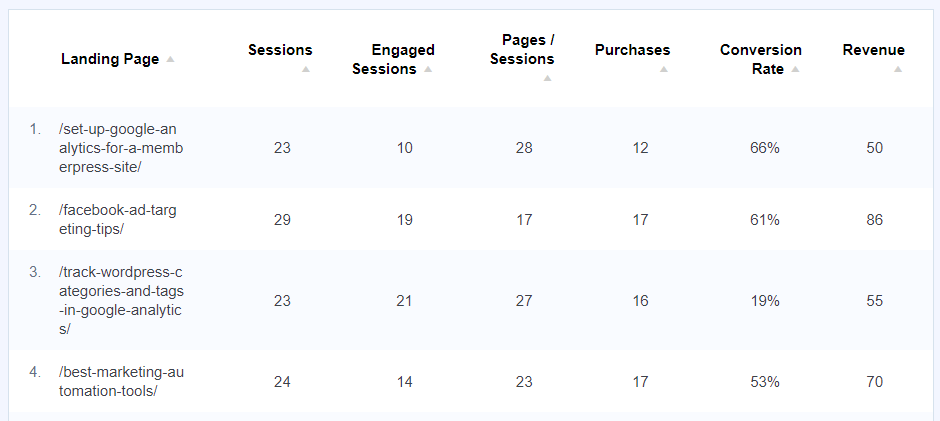 Quickly and easily see which pages are leading to conversions, and which pages aren't performing as well as others.
This report is available when you use MonsterInsights at the Plus level or higher.
3. Channels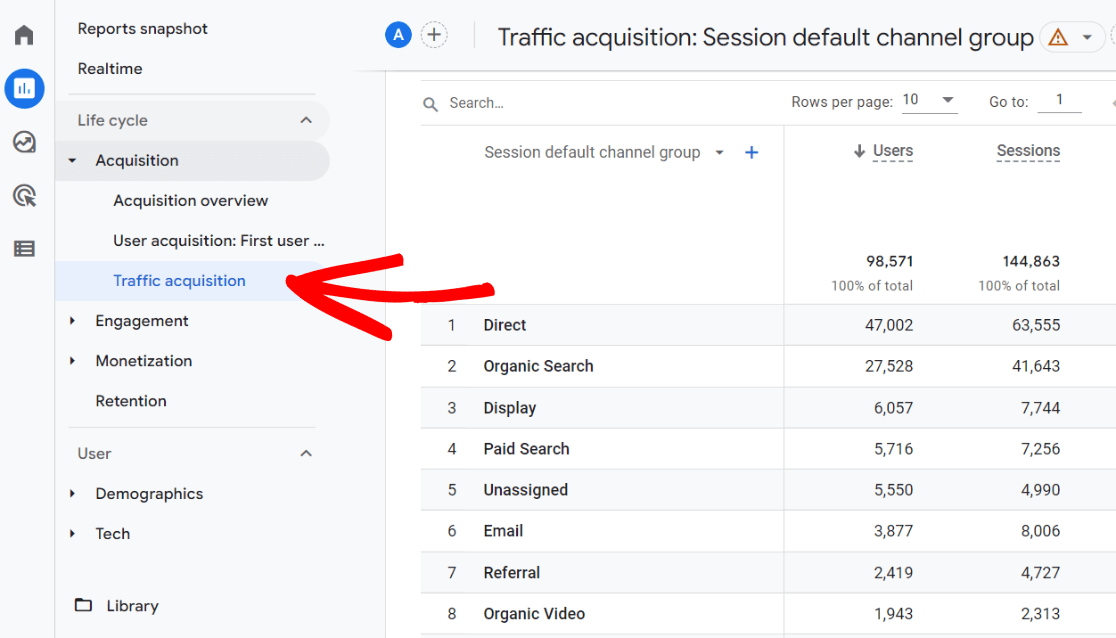 Now we know which pages our audience is landing on, but how did they get there? Did they click a social media post, click a Google search result, or click a link found on another website? You can find out in the Traffic acquisition (Channels) report.
This report is one of the best Google Analytics reports because it gives you such a great look at where your traffic is coming from. Quickly see:
Which channels are leading to conversions
Which channels you need to work on getting more traffic from
Which channels are sending the most engaged traffic
You can also find a Channels report right inside the MonsterInsights reports dashboard: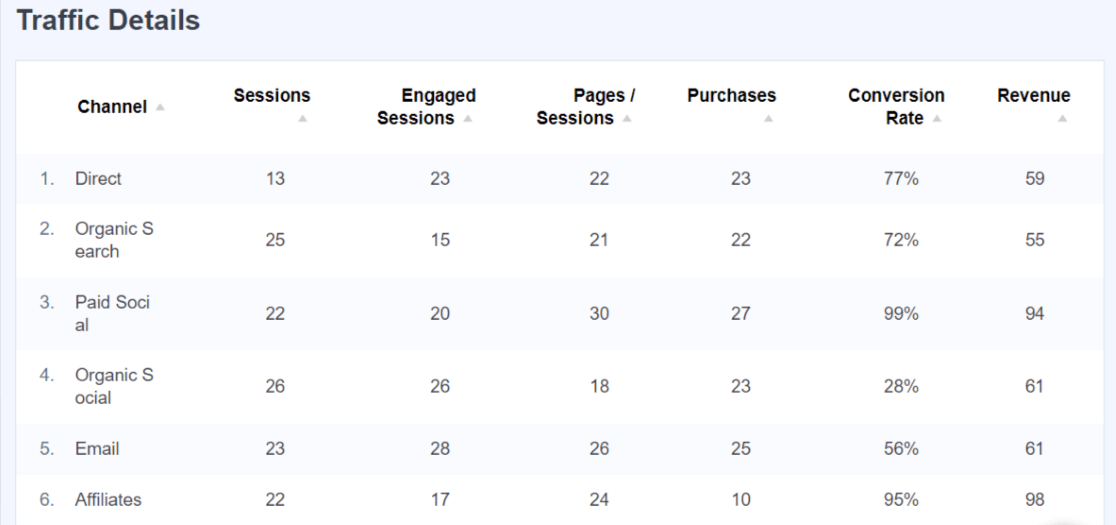 So, you can see all your channels data right inside WordPress.
4. All Pages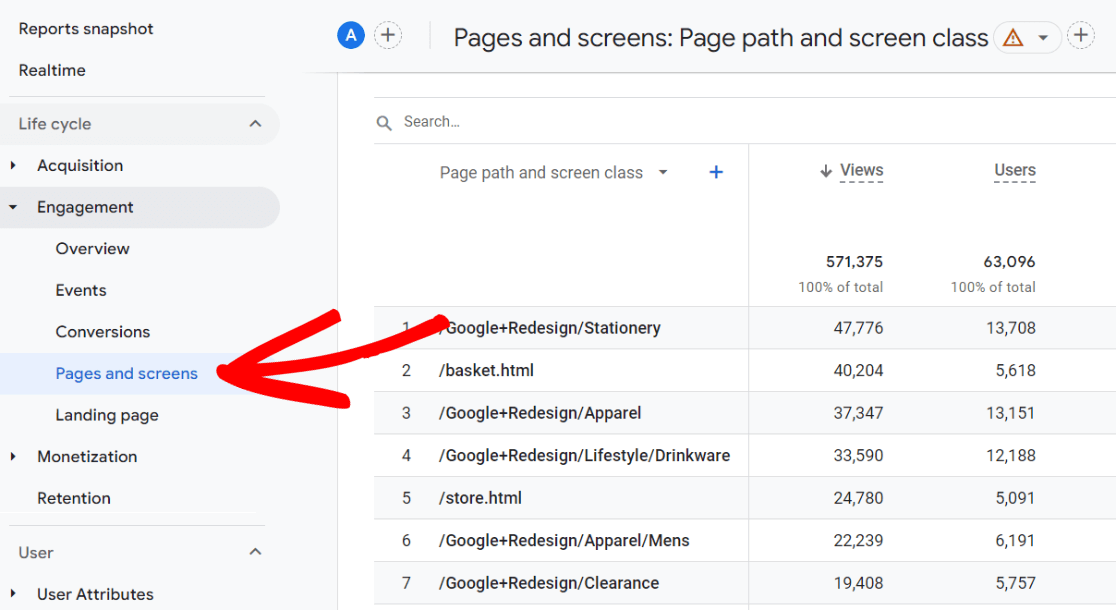 Landing pages are important to track, but so are all pages! In your Google Analytics reports, you'll find the Pages and screens report.
While it's great to see where your traffic is landing, it's also important to be able to see how all of your pages are doing, no matter when they're visited in the user journey.
The Pages and screens report is one of the best Google Analytics reports because you can use it to:
See which content your users are the most interested in
See which pages are the most engaging
See what events, like form submissions, are happening on each page
The Pages report is also available inside MonsterInsights, so you can see your top pages right in WordPress: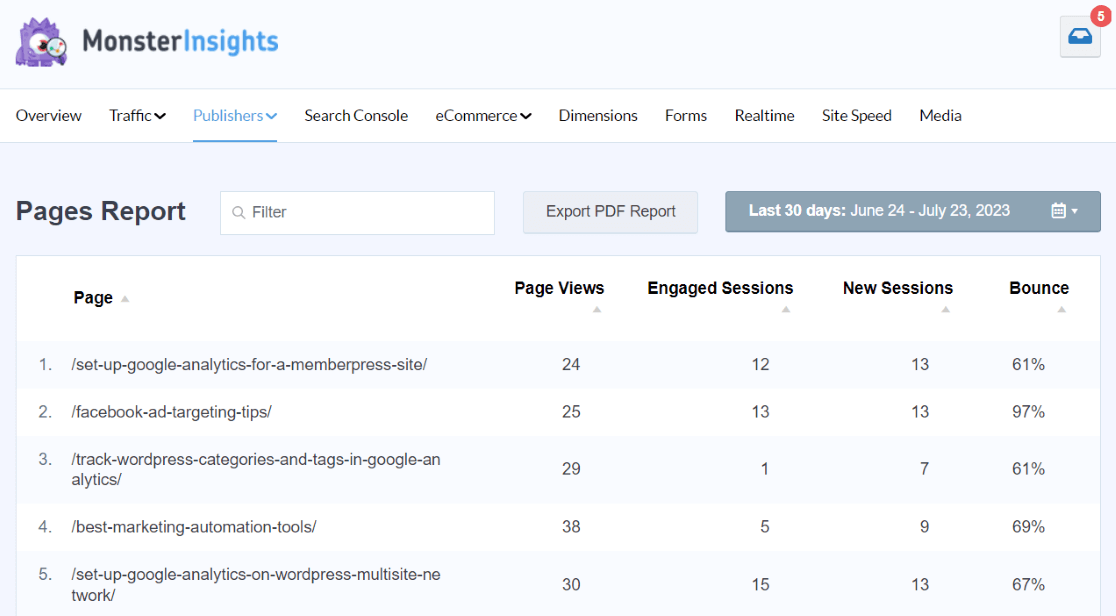 5. Tech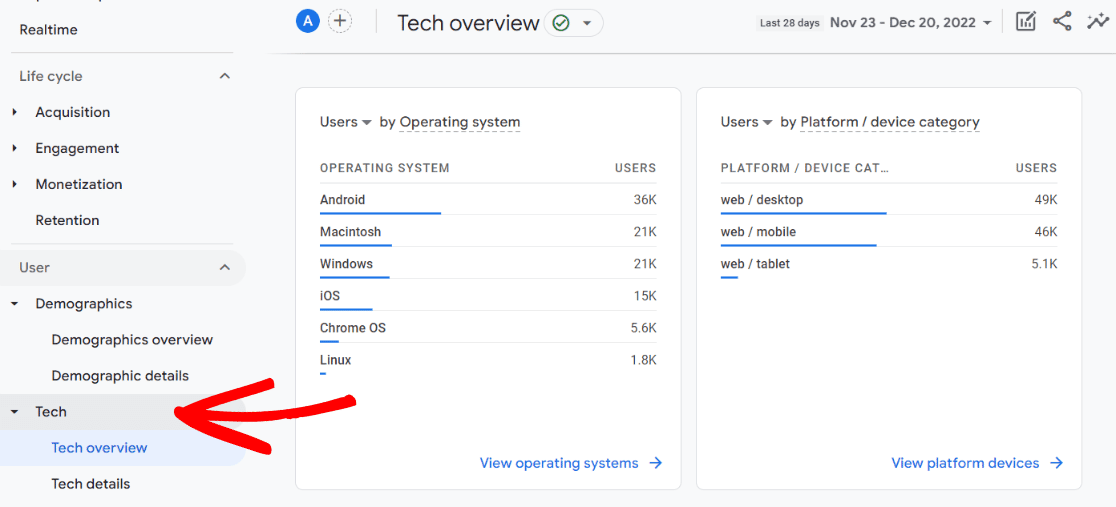 The Tech report is another important Google Analytics report that you can use to find out a few different things about your traffic, like:
If there are big disparities between mobile and desktop visitors
If a certain device type has really low numbers, there might be a problem with how your website works on it
If there are any issues with different screen resolutions performing much worse than others
You can also find a basic Tech overview report inside MonsterInsights: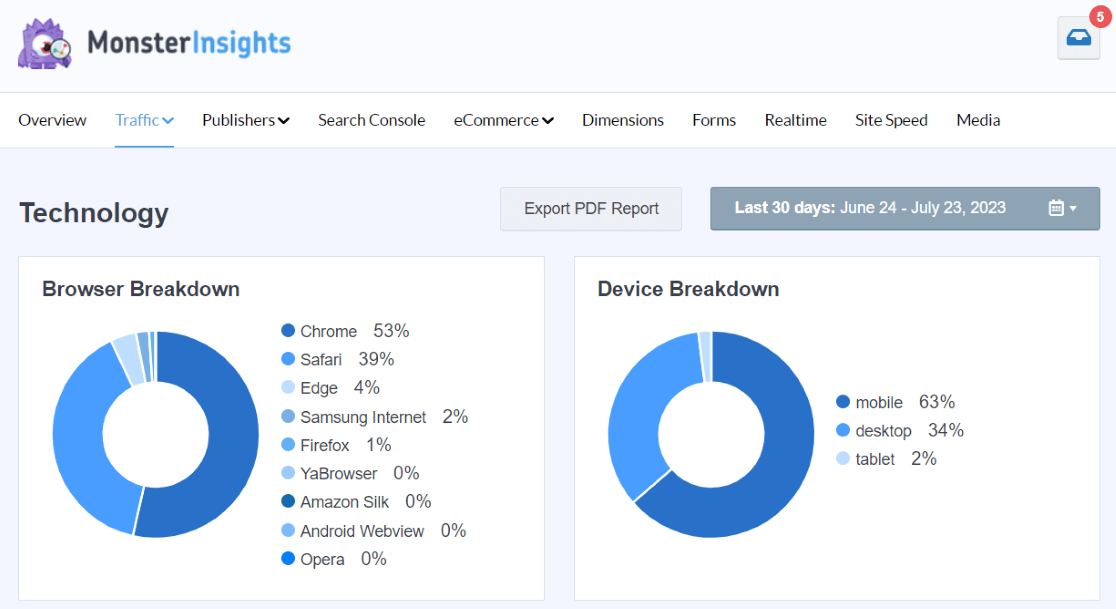 6. eCommerce Purchases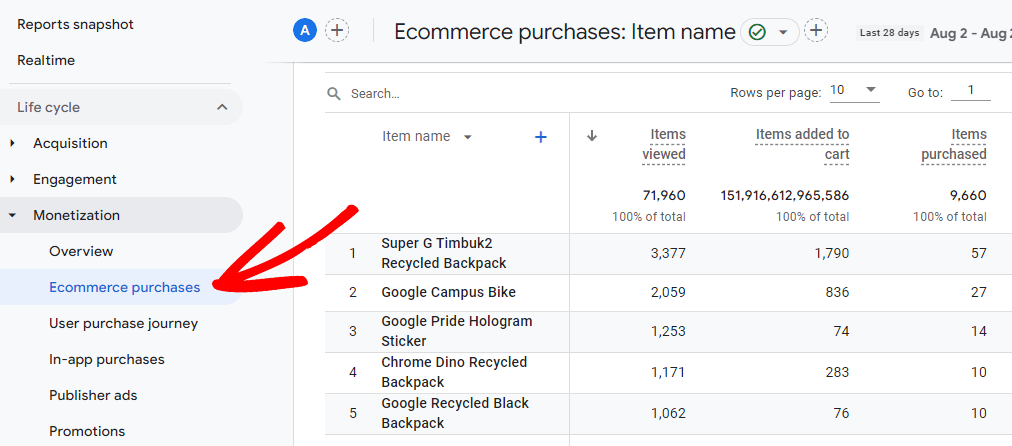 If you have an eCommerce website, the eCommerce Purchases report is an absolutely essential Google Analytics report. It provides you with tons of information like:
A list of your best-selling products, including how much revenue you've made per product
How many times each item was added to a cart
How many of each item was purchased
Want an easier way to not only set up eCommerce tracking, but also see all your most important eCommerce data in one place? Install MonsterInsights Pro on WordPress now.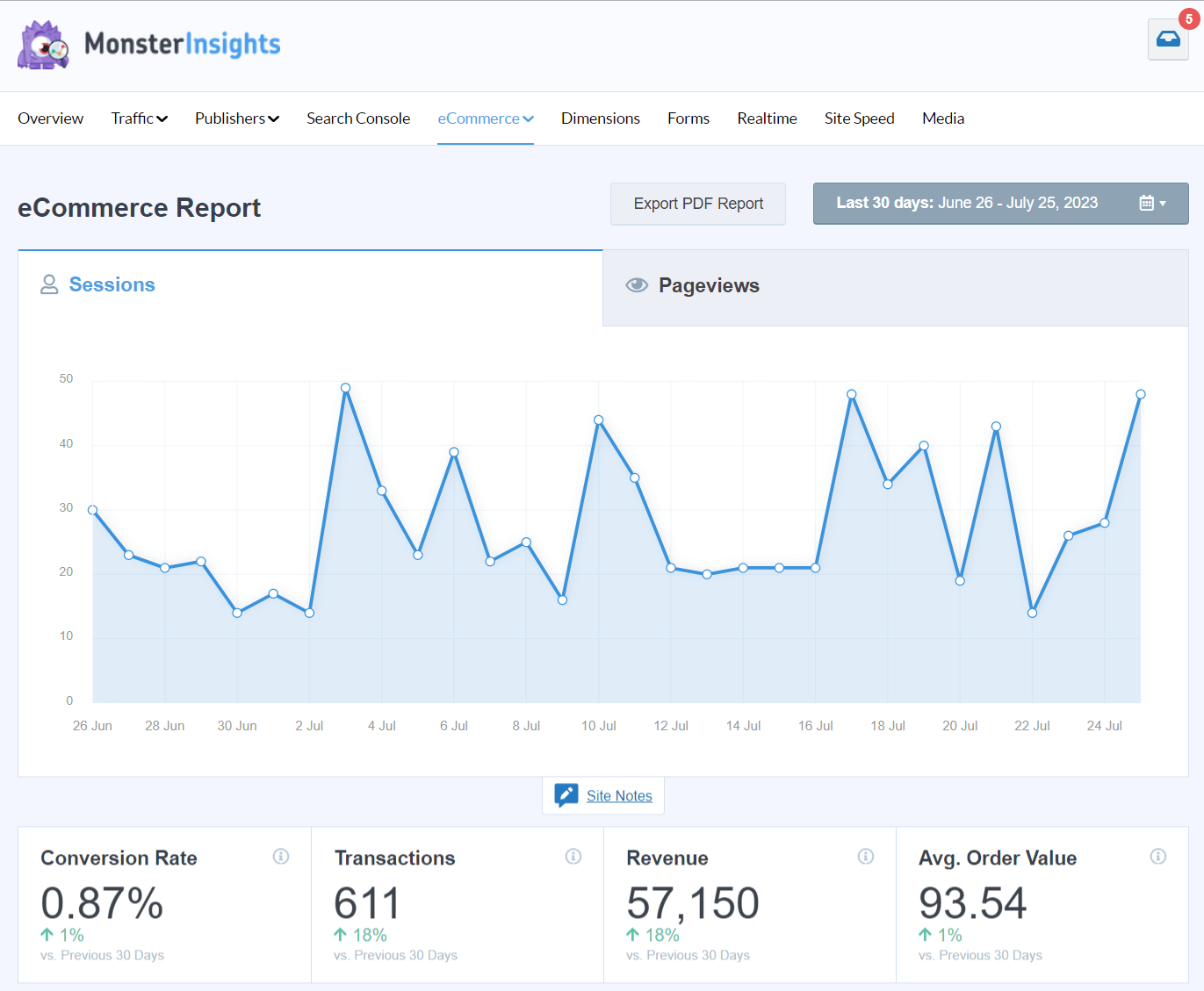 Plus, MonsterInsights has a built-in eCommerce funnel report: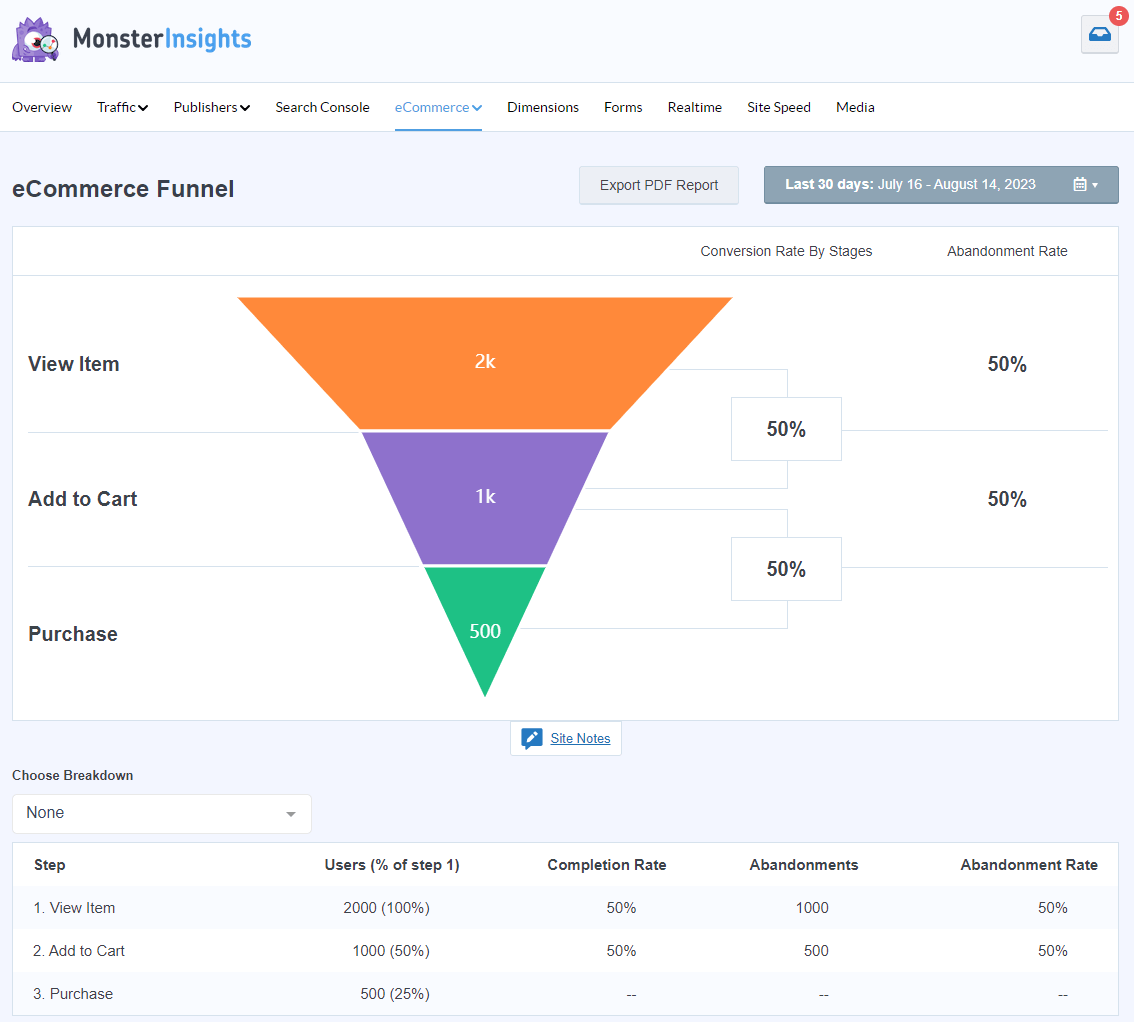 7. Search Terms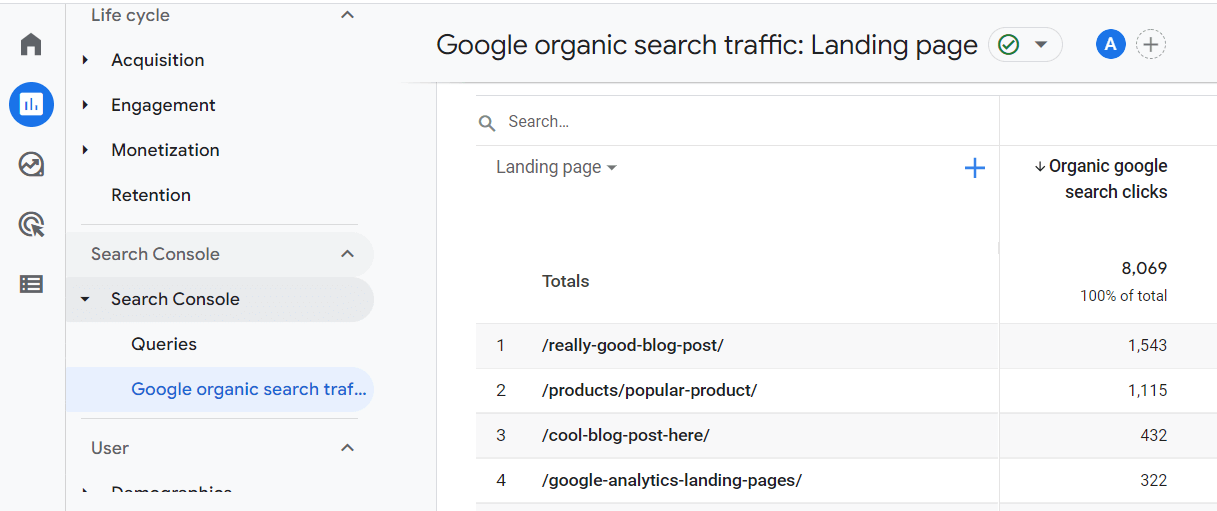 What Google search keywords is your website ranking for? How are users finding your website in search? With the Search Console reports in GA4, you can find out. Just connect Search Console to Google Analytics to get a queries report and an organic landing page report.
Use this report to:
Decide what topics to cover next on your website
See which keywords and content should take priority for keeping updated
See which posts you could optimize to bring them further up in search results
Note that this report isn't in Google Analytics by default, but you can follow our step-by-step instructions to add it!
To get your top 50 search terms report right inside your WordPress dashboard, just install MonsterInsights.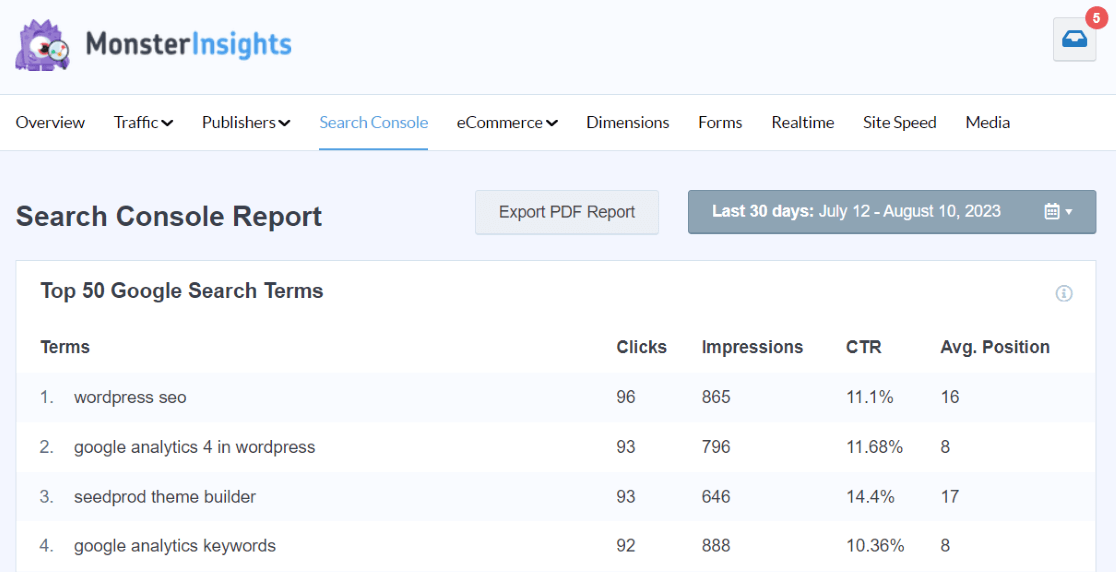 That's our list of the best Google Analytics reports!
Of course, there are more that can give you some fantastic insights – especially the easy-to-read reports inside MonsterInsights. Here are a few bonus reports!
The Forms report: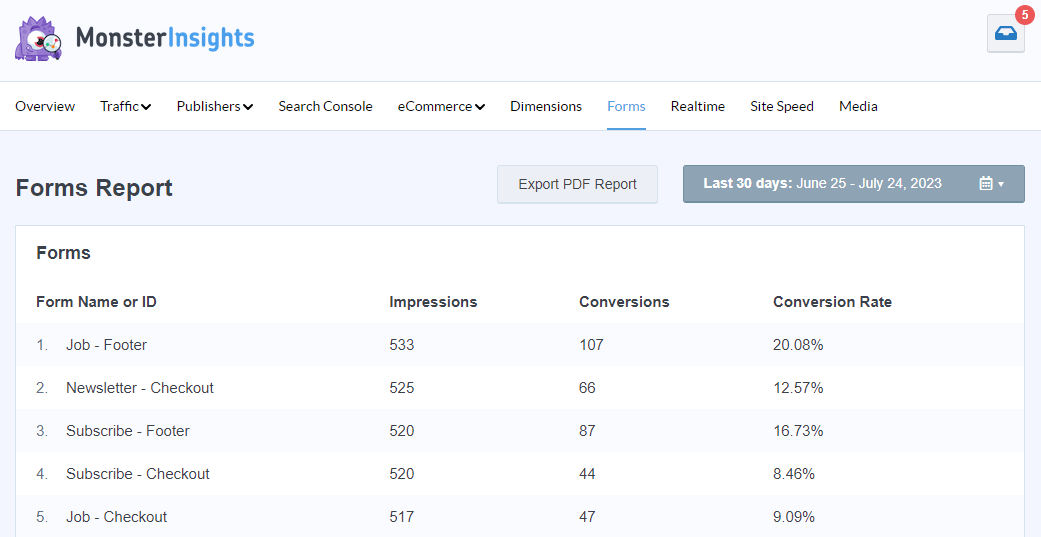 The Coupons report: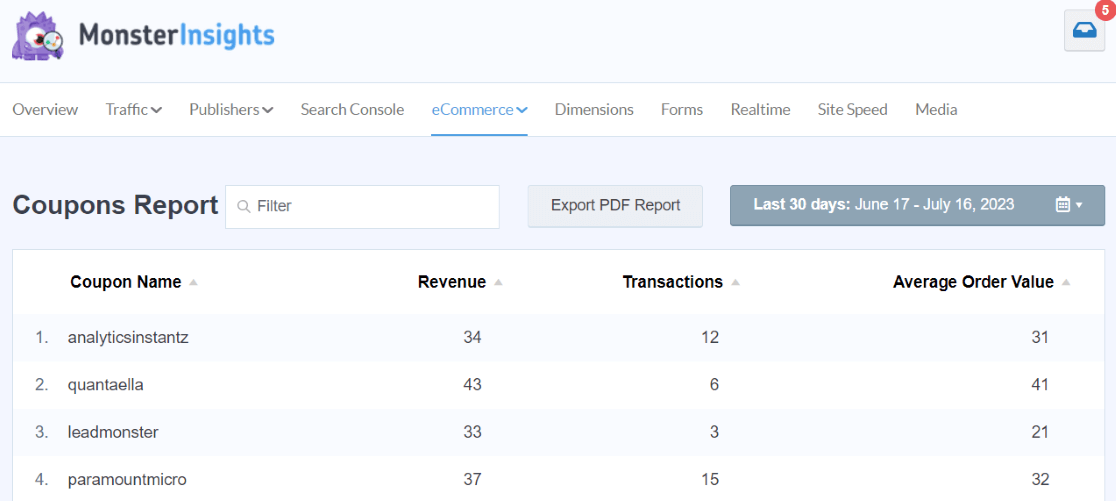 The Site Speed report: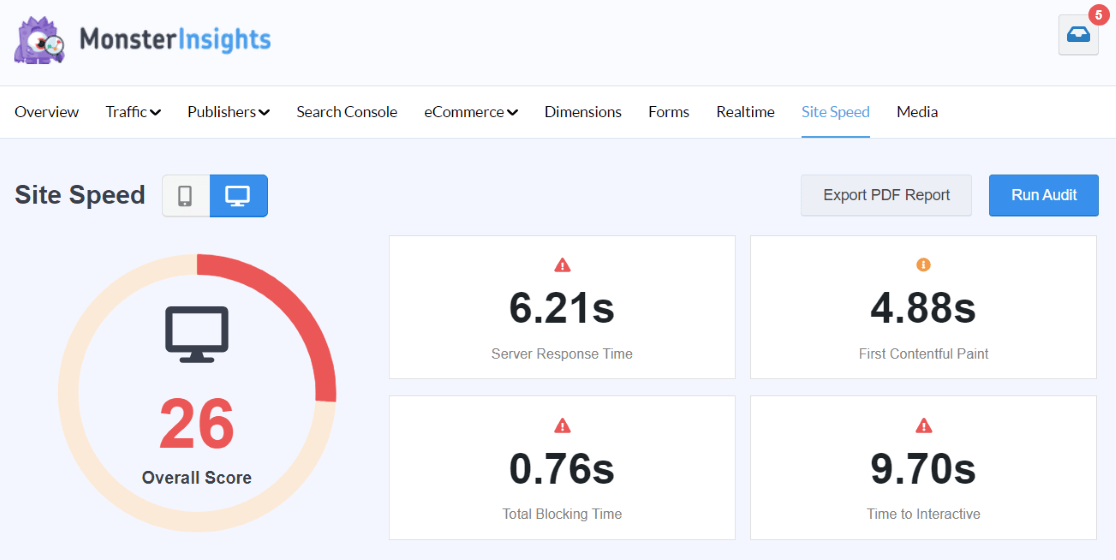 The Media report: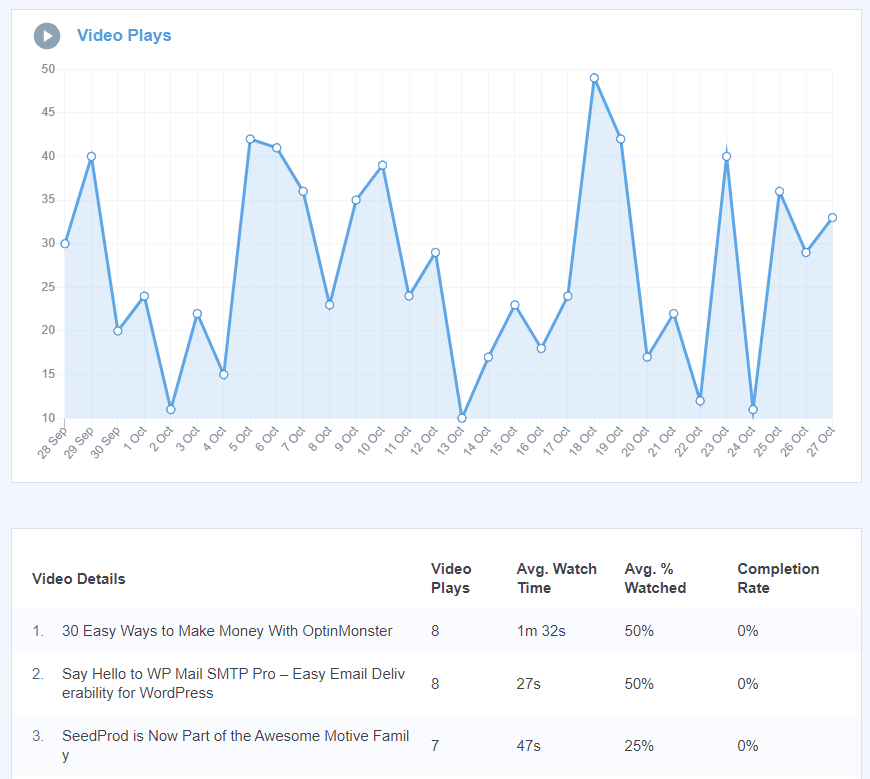 For a full tour of all the MonsterInsights reports, check out Your Ultimate Guide to MonsterInsights Dashboard Reports.
If you liked this article on the best Google Analytics reports, we bet you'd also like to check out:
Top 11 Important Google Analytics Metrics to Track in 2023
Top 5 User Engagement Metrics for Your Website Explained
How to Track Link Clicks in Google Analytics 4 and WordPress
What Are Google Analytics Channels? GA4 Channels Guide
How to Use Google Analytics Annotations in GA4 + WordPress
Not using MonsterInsights yet? What are you waiting for?
And don't forget to follow us on Twitter, Facebook and YouTube for more helpful Google Analytics tips and tutorials.