Have you gotten notices and emails from Google Analytics telling you to go through with a Google Analytics 4 migration? Wondering how to easily complete the migration?
Google Analytics 4 is Google's newest version of their wildly popular website analytics tool. It's quite a bit different from their previous version, Universal Analytics. So, it can be pretty intimidating to think about going through with the upgrade to Google Analytics 4.
At MonsterInsights, we recommend that you do set up a Google Analytics 4 property as soon as possible.
In this article, we'll take a look at:
How to Complete a Google Analytics 4 Migration
If you do have a Universal Analytics property and you'd like to add a GA4 property, follow these simple steps:
You can go through the process of upgrading to a GA4 property pretty easily by following Google's Setup Assistant. To access the assistant, you can either click the
Manage GA4 Migration link in the notification at the top of Google Analytics, or head to the Admin cog then GA4 Setup Assistant in the middle Property column.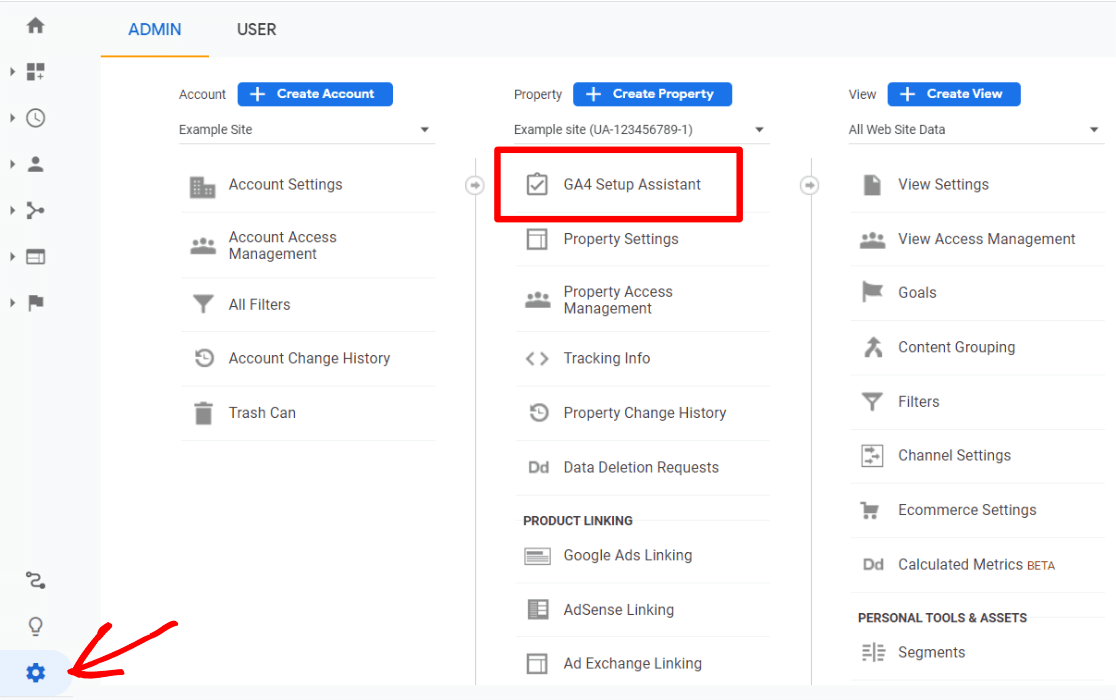 Next, click the blue Get Started button.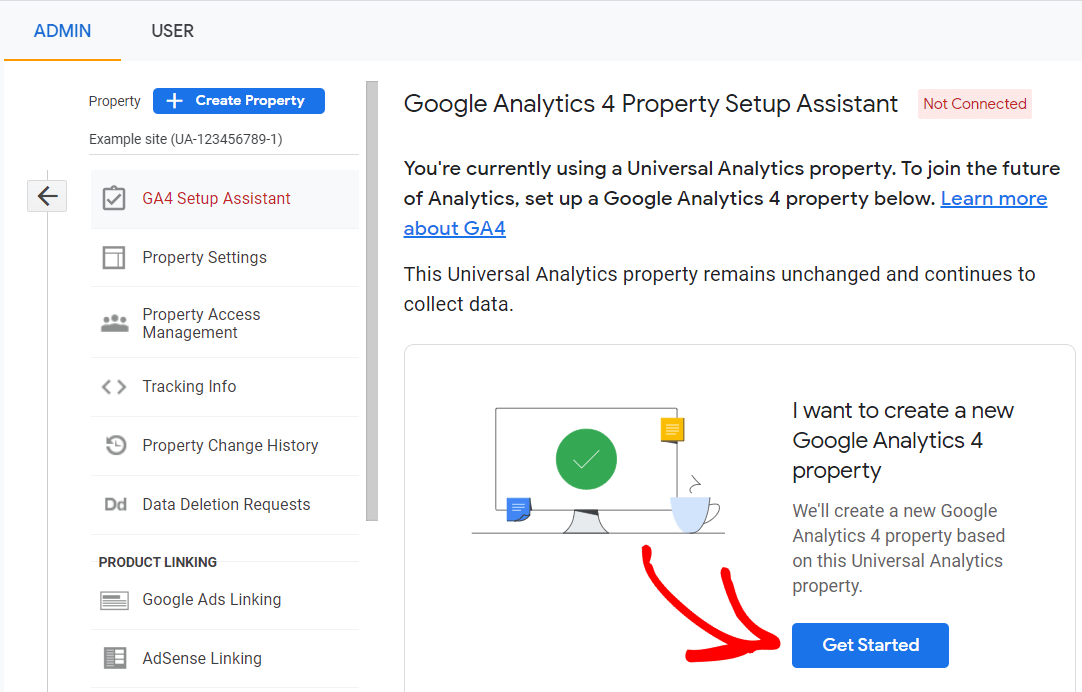 Then, click the Create Property button. The last option will either be checked or not based on which version of the tracking tag you currently have installed.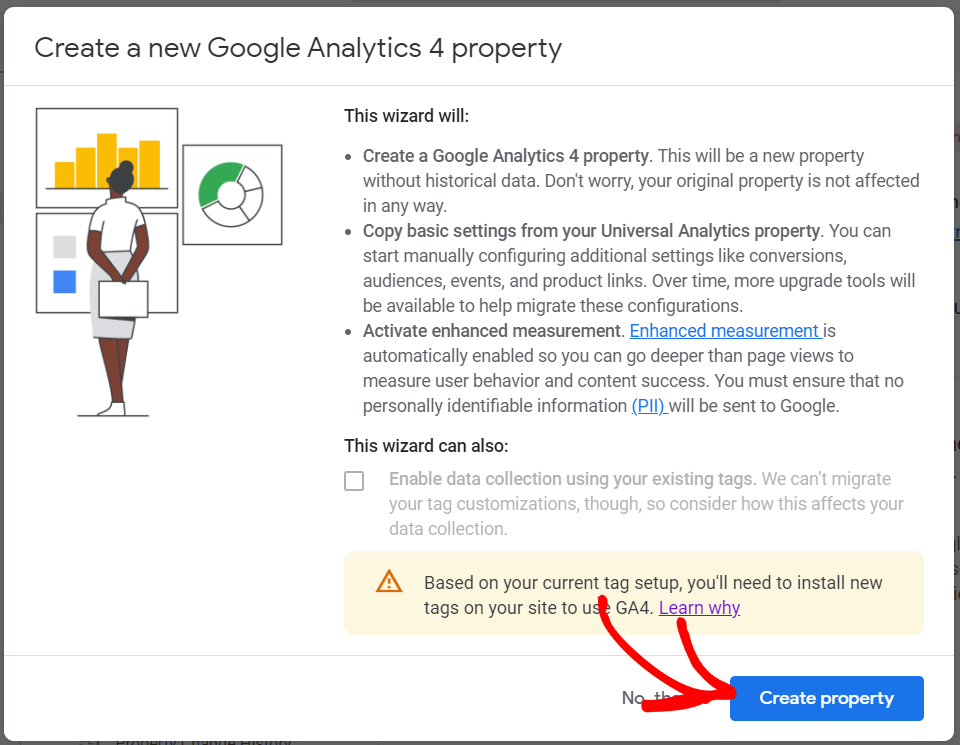 That's it! You now have a Google Analytics 4 property in addition to your Universal Analytics property. Pretty easy, right?
If you don't have a Universal Analytics account at all and you'd like to set up GA4, read How to Add Google Analytics 4 to WordPress (Best Way).
Why You Should Migrate to GA4 Right Now
Google Analytics 4 is the next generation of web analytics, and it's very smart. Google is really working hard to bring automated insights, upgraded event tracking and more to all its users.
Also, Universal Analytics will completely stop tracking your traffic on July 1, 2023. Starting on that day, any traffic you get will only be tracked in Google Analytics 4.
Unfortunately, Google Analytics 4 doesn't have any of your historical data – it's like starting over from scratch with new data. Your Universal Analytics data can't be moved over into your GA4 property. So, it's really important to start tracking in GA4 as soon as possible to build up some data.
Google Analytics 4 does have a bit of a learning curve, so the sooner you can set it up and start trying it out, the better.
GA4 Made Easy for WordPress Users
Are you intimidated by GA4? We get it! It's really different, and it definitely has a learning curve.
Thankfully, if you're using WordPress, there's a way that you can set it up really easily, and access super easily understandable reports.
Just use MonsterInsights!
MonsterInsights is the best Google Analytics plugin for WordPress. It allows you to easily connect your WordPress site with Google Analytics, so you can view all the data that matters most right in your WordPress dashboard.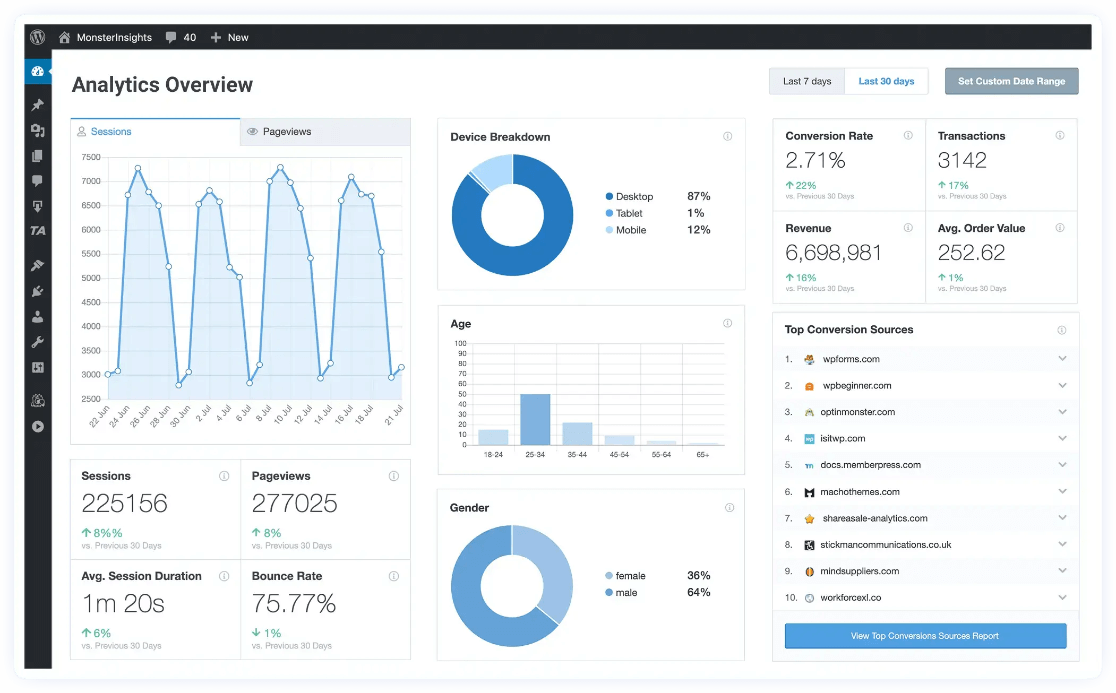 Plus, with the click of a button, you can set up sophisticated tracking features such as event tracking, eCommerce tracking, form tracking, custom dimension tracking, outbound link tracking, and much more.
When you're setting up MonsterInsights, just connect it with your new GA4 property: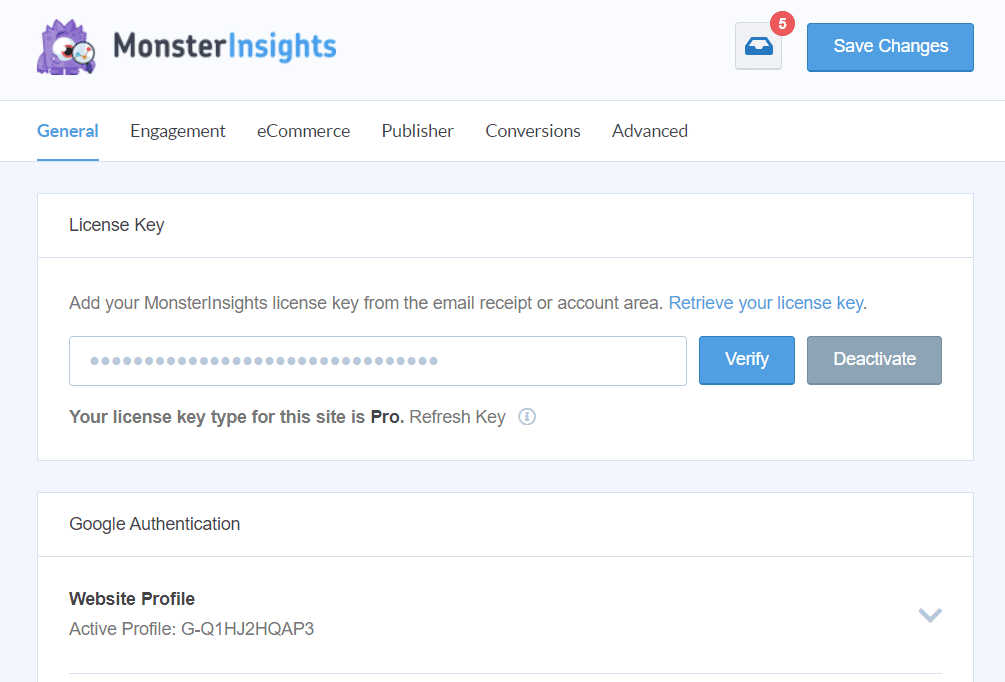 MonsterInsights is the best WordPress analytics plugin for connecting to and setting up Google Analytics 4!
For a full tutorial on getting started with MonsterInsights and dual tracking, read How to Add Google Analytics 4 to WordPress (Best Way).
And don't forget to follow us on Twitter, Facebook and YouTube for more helpful announcements, Google Analytics tips and tutorials, and more.