Are you looking for the best Linktree alternatives to choose from for your link in bio tool?
If you have a social media profile, you've probably seen Linktree around. It's a pretty popular choice for a link in bio tool. However, that doesn't mean it's the only option! There are quite a few awesome Linktree alternatives out there, and some of them are even free.
In this article, we'll go over our list of picks for the best Linktree alternatives. First, though, let's go over a few a few basics.
Why is Linktree Popular?
Linktree is a popular link in bio tool that was founded in 2016, when users began finding it annoying that social media profiles like Instagram offered only one spot for a link in their bios (and no links at all in posts). Linktree became one of the first services that offered a link in bio, social media landing page type of tool. It gained a lot of popularity very quickly.
Today, Linktree is freemium tool (meaning you can start using its basic features for free but will need to upgrade to a paid plan for more features). It's grown from just a list of links you could make on a landing page to a tool with a whole bunch of features and integrations to turn your list into a super customized link in bio landing page.
Popular Linktree features include:
Linktree's more advanced features start at $5 per month.
Features to Look For in Linktree Alternatives
What features should you be looking for in a great Linktree alternative? Here are a few ideas:
Customization: This is the number one feature to look for in a link in bio tool! You're unique, so you want to make sure your link in bio is, too. Make sure you're able to brand it and add everything you need to make it yours.
Integrations: What kinds of things do you want visitors to be able to do on your link in bio landing page? Take a minute to think about what would ideally be there, then look for solutions that integrate with the services you're hoping for, like email marketing services, social media feeds, and shopping/affiliate services.
Cost: Of course, cost will be a big part of which Linktree alternative you choose. You'll want to pick the one that gives you the most bang for your buck. If you're only looking for the basics, find the best free Linktree alternative for you/your brand!
Make a list of the features you really need, then head on to our list of the best Linktree alternatives.
8 Best Linktree Alternatives to Try Now
Linktree is one of the best link in bio landing page tools, but it's definitely not the only one. Let's take a look at some of the best alternatives out there!
If you have a WordPress website or you've been thinking about spinning one up for your business or brand, now's your time. The SeedProd WordPress plugin is the perfect solution for creating your link-in-bio landing page!
Why are we suggesting a WordPress plugin as our favorite Linktree alternative, rather than a more traditional link-in-bio platform? Well, because it's better.
A few reasons why you'd want to use a WordPress plugin over a link-in-bio platform are:
Send that social media click traffic straight to your website, not a 3rd party tool
You own your site and the design, and can therefore make it whatever you want it to be
Pricing is better, depending on which features you want/need
With SeedProd, you can quickly and easily spin up a link in bio page that's branded with your own brand and nobody else's, includes all the links you want it to include, is the exact colors you want, and more. You have a lot more control over how it looks and functions than you do with a link in bio platform!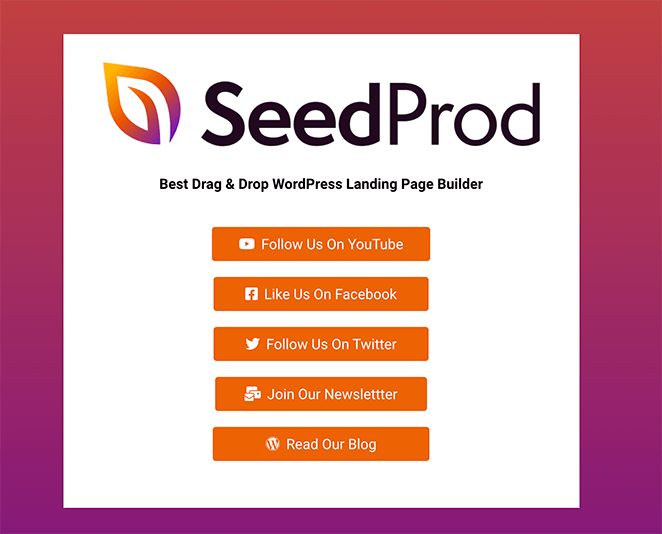 Some of the SeedProd features you'll love are:
Easy drag-and-drop design
50+ PRO templates
90+ PRO blocks to expand the functionality of your landing pages
Subscriber management to collect emails addresses right from your link in bio page
And more!
While SeedProd can be used to design and build an entire WordPress website, its Basic plan for landing pages is all you need to set up your link in bio. Of course, if you want complete control over what your entire website looks like, grab the Elite plan!
Pricing: SeedProd has a free version you can get started with, or upgrade for more features starting at $39.50 per year.
Get started with SeedProd now!
Our next Linktree alternative is Taplink. Taplink is a link in bio tool that actually lets you create more of a mini website or microsite, instead of just a list of links. We like it because it gives you a good amount of control over how your landing page looks and functions.
With Taplink, you're creating a landing page that's easy to design and set up on your smartphone, can include forms and accept payments, and links to messaging apps so that it's easy for people to contact you.
More of Taplink's features include:
The ability to create multiple pages instead of just one landing page
Use pictures and videos wherever you'd like
300 ready-to-use templates
Smart links to social network apps
Connect to any popular payment service
Connect your own domain
Pricing: Taplink starts free, but you'll get more features for $3 per month.
Linkin.bio is a tool that was created by the team at Later, a popular social media posting and scheduling platform. They claim right on their home page to be the best Linktree alternative, so let's take a look at whether they live up to that!
You do seem to get quite a few more features for free with Linkin.bio than you do with Linktree. It also connects with Later (which also has a limited free version), so you can schedule social posts, too.
Our favorite feature of Linkin.bio is the ability to embed your Instagram and TikTok feeds right into the tool to display them on your page.
More of Linkin.bio's features include:
Unlimited media storage
Free premium themes
Link Instagram and TikTok posts, plus Instagram Reels
Free Mailchimp connection
Track link clicks and sales in Google Analytics
Pricing: Start with the free plan or move up starting at $25 per month for more features.
Get started with Linkin.bio now!
Tap.Bio is a card-style link in bio tool for Instagram. It's a Linktree alternative that's pretty straightforward to set up, looks clean, and acts as a mini site for Instagram users.
There are some really cool and unique features in the Tap.Bio interface. You can make different "pages" with cards or feeds that scroll, then users can swipe to the right to visit your other pages that might have other links or content.
The design aspect of Tap.Bio is pretty neat as well, as you can overlay text on a full image background.
It is somewhat limited beyond that, though, as you can't change your font, text color, or size.
Lnk.Bio is another Linktree alternative that provides a link in bio landing page with a list of links. It has some very similar features, including how the list of links looks with a thumbnail image on each and a row of social media logos.
That said, you can also create different layouts with square "cards" or music and video embeds.
More of Lnk.Bio's features include:
Unlimited links
Accept donations
Schedule links
List and grid layouts
Free themes
Custom headings, separators, and other design customizations
Pricing: Use Link.Bio as a free Linktree alternative, or move up to their Mini plan for more features for 99 cents per month.
Get started with Lnk.Bio today!
Feedlink is a Linktree alternative created by the popular user-generated content platform, EmbedSocial. It stands out from the others because it provides you with a custom URL to use for your link in bio landing page.
Feedlink can be used to create more traditional lists of links, plus bring in your Instagram or TikTok feed. It's pretty customizable and comes with over 20 templates to get you started on designing your page.
One of the coolest features of Feedlink is that it can send social media recap newsletters to your subscribers automatically.
More Feedlink features include:
Your own custom .link domain
Custom bio block
Vimeo or YouTube block
Custom backgrounds
CTA button
Custom form embed
Pricing: Feedlink is free to start with, or upgrade for more features starting at $3 per month.
Get started with Feedlink today!
Bio.fm is a free Linktree alternative (with upgrades) that lets you create your own link in bio landing page. While many of its features are similar to the other tools on our list, it does have a lot of blocks that you can add, including Spotify, Medium, Facebook, X (Twitter), Instagram, and YouTube.
More Bio.fm features include:
Share a Facebook group or LinkedIn profile
Create question polls
Collect emails with a subscription form
Integrates with Twitch and Discord
Change themes, backgrounds, colors, and fonts
Pricing: Bio.fm starts free, or you can upgrade for more features starting at $5 per month.
Muse is a drag-and-drop simple website maker that you can use to create your link in bio. Plus, it can be used to create collaborative sites with others, and can be kept private or made public. So, use it for your link in bio landing page, or use it with coworkers, classmates, or friends to showcase projects or anything you can dream up.
One of the coolest features of Muse is that its free version can be used to create any number of sites and pages.
More Muse features include:
You can share your page in Muse's Discover feed for others to discover
Completely drag and drop
Advanced social blocks
Subpages
Pricing: Muse starts free, or you can upgrade to get more features starting at $6 per month per site.
That's our list of the best Linktree alternative link in bio tools. There are many more very similar tools on the market (including Campsite, SuperLink, Shorby, Beacons, Milkshake, and more), but our list includes the best ones at the best price points.
Ultimately, our favorite LInktree alternative is SeedProd because of the flexibility it offers, plus the ownership of your own website. Why send your social traffic to another platform when you can send it to your own site?
If you don't have WordPress, our next favorite Linktree alternative is Taplink.
Not using MonsterInsights yet? What are you waiting for?
And don't forget to follow us on Twitter, Facebook and YouTube for more helpful Google Analytics tips.