Are you collecting donations through your website, but aren't sure how to track them in Google Analytics to gain valuable insights?
Donation tracking in Google Analytics gives you important data that you can use to analyze your audience and your website. We're glad you're here to learn this important skill!
In this article, we'll talk about how to set up Google Analytics to track donations. Then, we'll go over some helpful tips for how to use the data you collect to make improvements to your website and donation campaigns.
Video Tutorial
Watch our video tutorial on setting up donation tracking in Google Analytics, or keep reading below.
How to Set Up Google Analytics to Track Donations
Before we begin, you'll need the MonsterInsights plugin. This analytics plugin will reduce the amount of work you have to do to track your donations. Plus, it'll give you access to form tracking, scroll tracking, a full eCommerce report, and more.
You'll need to get our eCommerce addon for donation tracking.
Even if you're not selling anything, your website is still collecting money, which counts as eCommerce. So, to track your donations, you'll need to enable and set up the eCommerce features in both Google Analytics and the MonsterInsights plugin.
Step 1: Enable eCommerce in Google Analytics
First, head over to your Google Analytics account and click on Admin in the bottom left corner with the gear icon.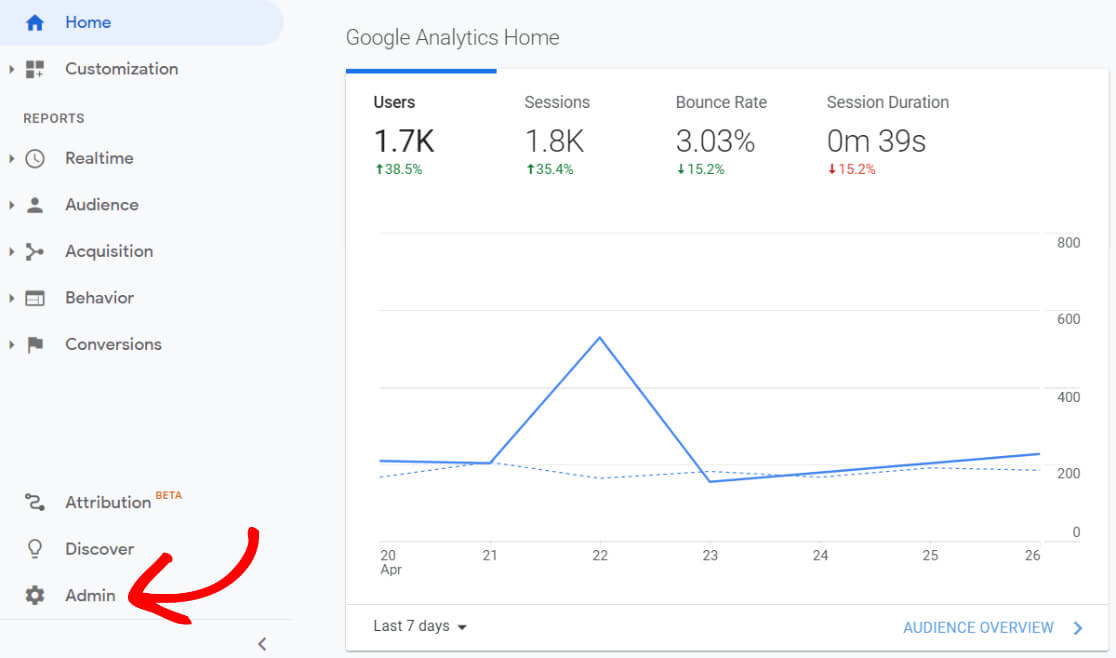 Then, in the View column on the right-hand side, navigate to Ecommerce Settings.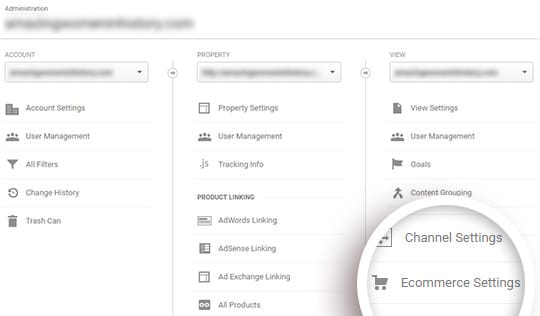 Once there, toggle the Enable Ecommerce switch to ON.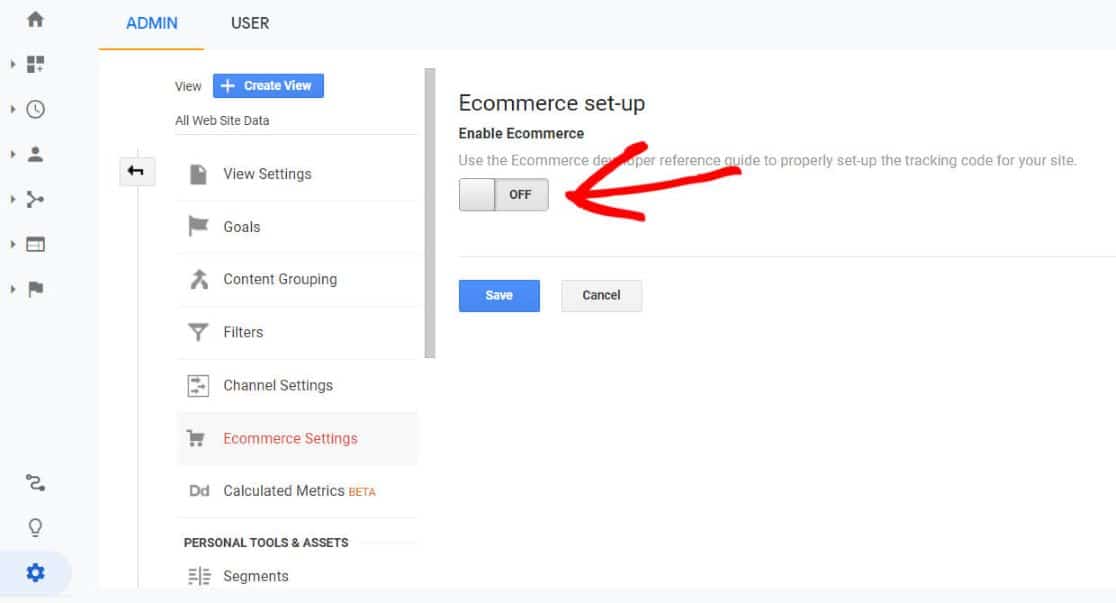 Click Next Step, then click Save.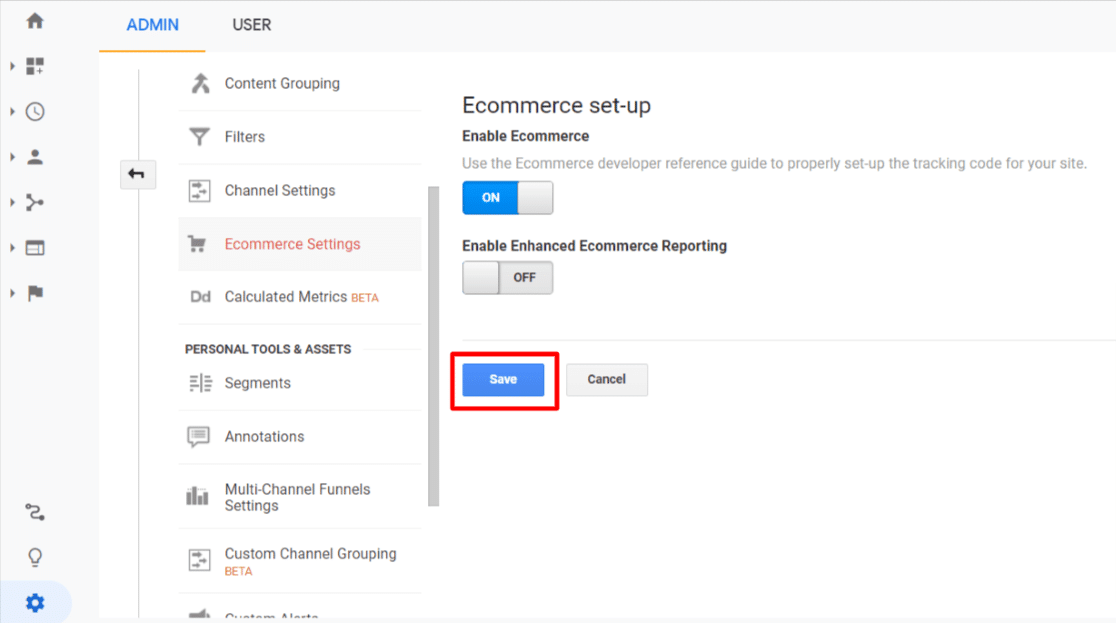 Enhanced Ecommerce is really an awesome set of tools, but we didn't toggle it on because it's not necessary here.
For more details, see our guide on how to enable Enhanced eCommerce in WordPress.
Step 2: Enable eCommerce in MonsterInsights
First of all, you'll need to install the MonsterInsights plugin if you don't have it yet. You'll need to purchase the Pro license to access the eCommerce functionality.
For help getting set up with MonsterInsights and connecting it with Google Analytics, you can read our guide on how to set up Google Analytics and MonsterInsights.
Alright, now to set up eCommerce in MonsterInsights, you'll first need to activate the eCommerce addon. Navigate to the Insights tab in your WordPress dashboard and click Insights » Addons.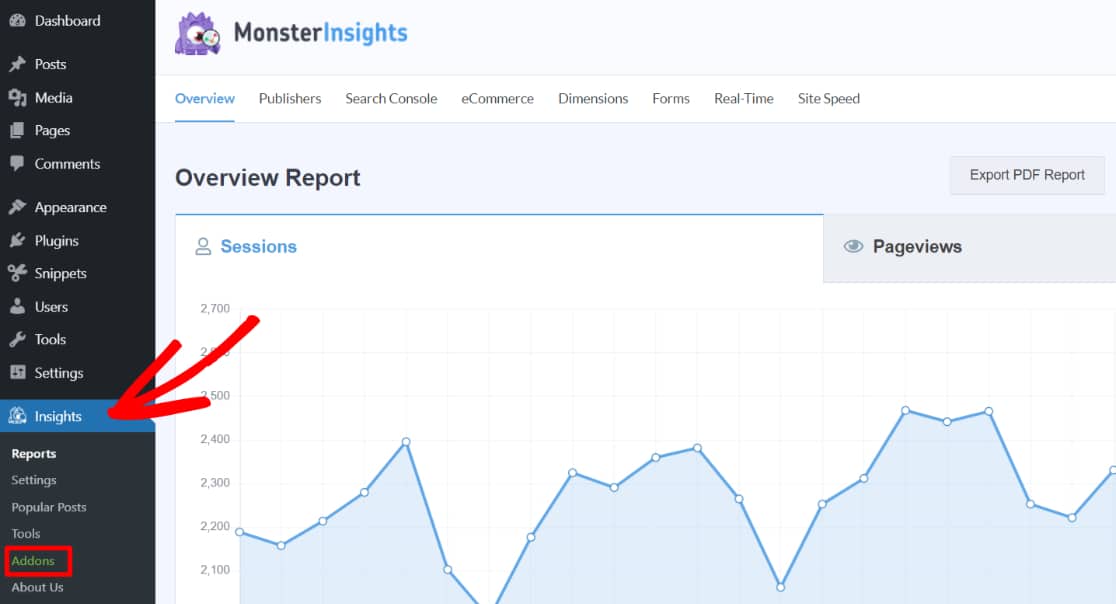 Then, in the eCommerce box, click Activate.

If your Activate button says "Upgrade Now" instead, you'll need to upgrade your MonsterInsights license to the Pro level. Check out our guide for how to upgrade your license.
Next, go to Settings » eCommerce and click to enable Use Enhanced eCommerce. This will turn on your MonsterInsights eCommerce reports, whether you're using Enhanced eCommerce in Google Analytics or not.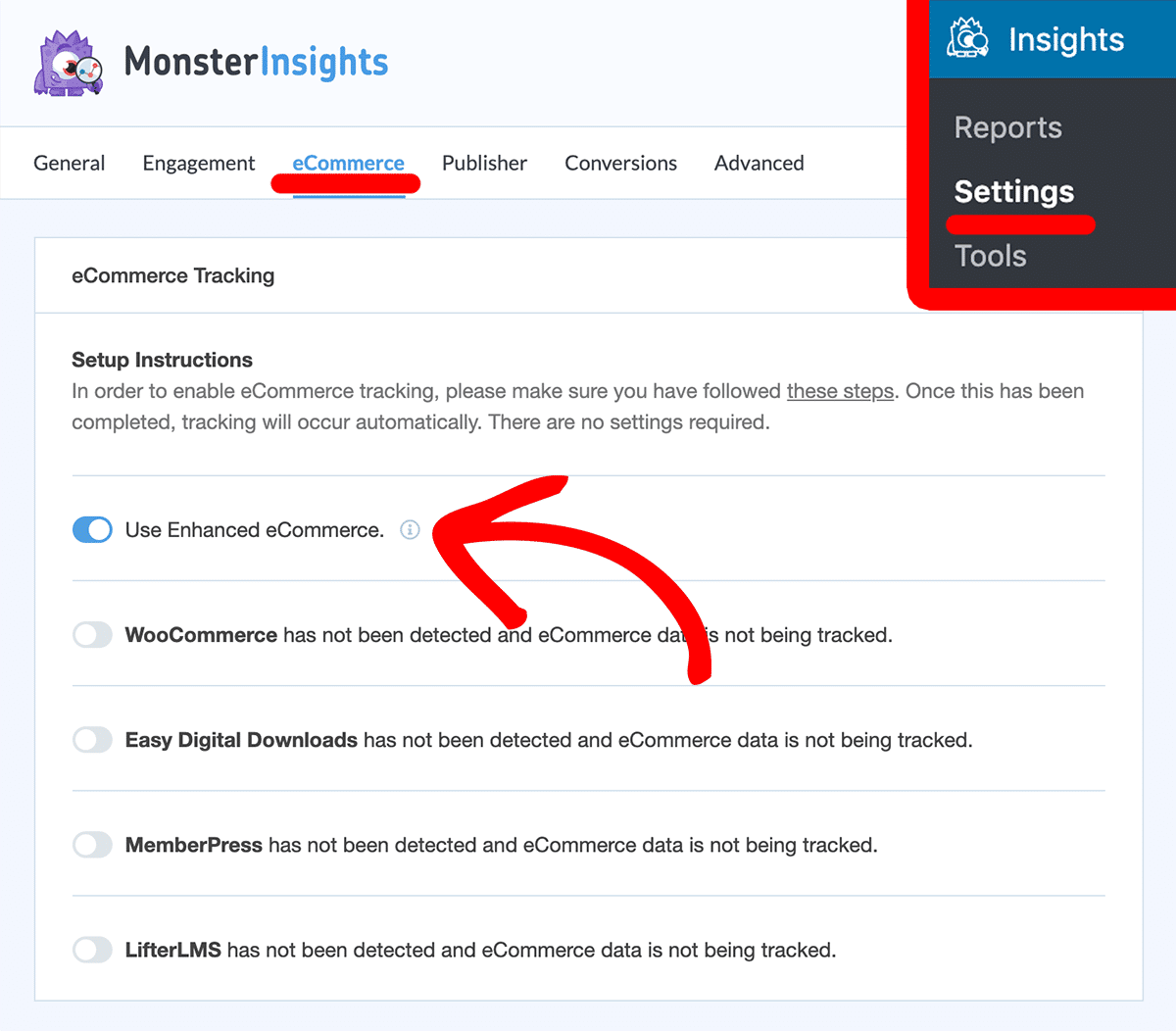 You're all set! You'll now be gathering eCommerce data and be able to view reports on your donations.
A special note for GiveWP users: MonsterInsights integrates directly with GiveWP! The toggle will turn to "on" automatically if you have GiveWP installed: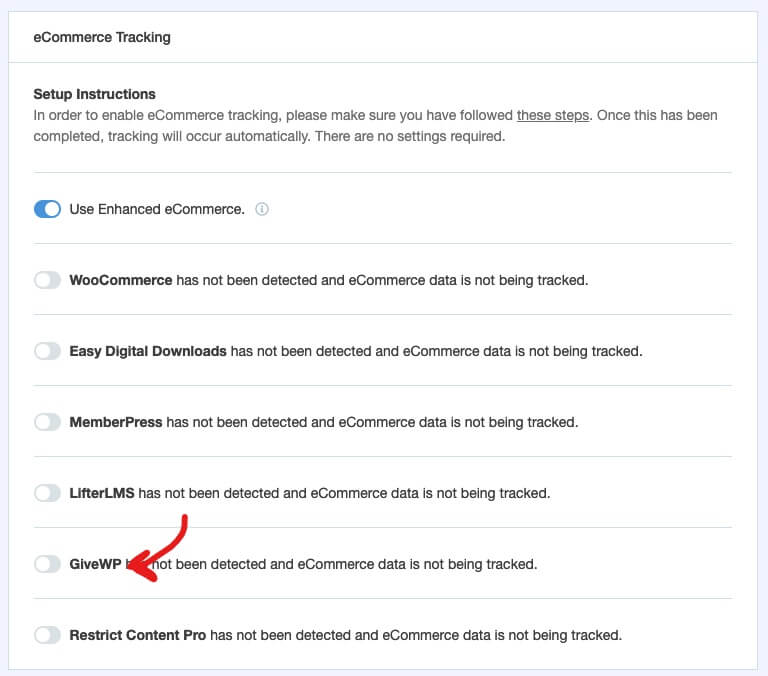 How to Use Data to Increase Your Donations
So, you have data. Now what?
To view your eCommerce stats in MonsterInsights, go to Insights » Reports, then click the eCommerce tab.

Now that you can access your reports, let's go back to the actionable insights we talked about at the beginning of this article. We said that, with MonsterInsights and Google Analytics, you'd be able to use your data to make some helpful conclusions about your traffic and donation campaigns.
Here are a few examples.
See which referral source is bringing in the most donations
Who's making more donations: Users referred to your site from Facebook, or a recent news story? To find out, head to your eCommerce reports tab (screenshot above) and scroll down to the Top Conversion Sources report.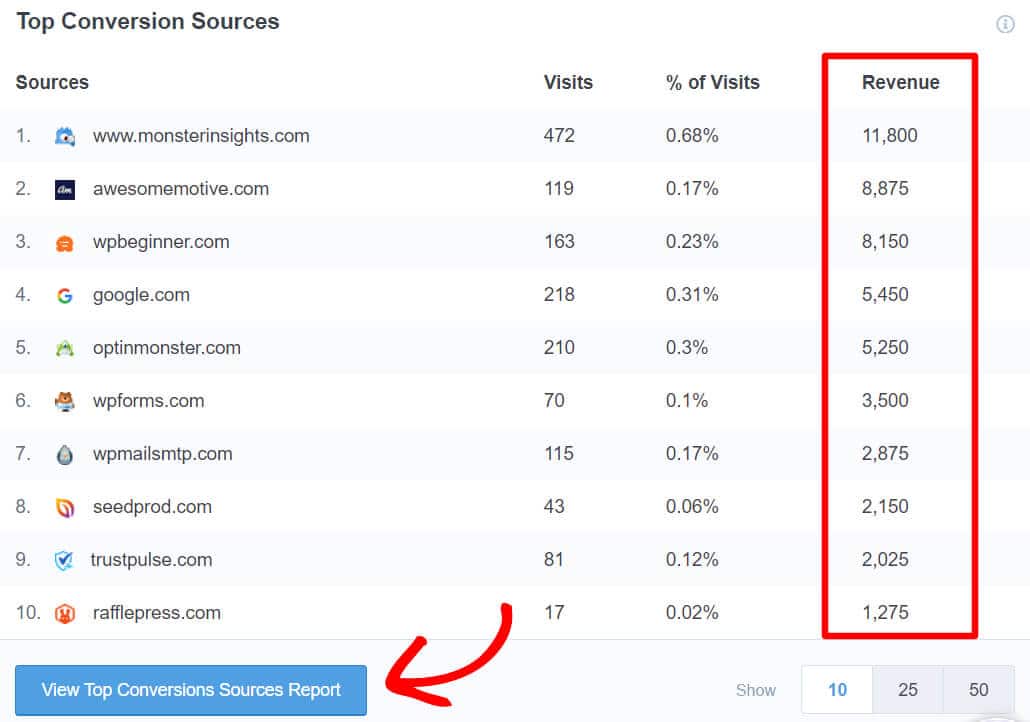 In this report, you'll be able to see which source is bringing in the most revenue, which, for you, means donations.
If you want to go even further in depth, click the "View Top Conversion Sources Report" button to open the full Google Analytics report that this information is pulling from. Once you're in Google Analytics, click on "Acquisition » All Traffic » Source/Medium" in the navigation and select the Ecommerce view under the Explorer tab:
This'll give you a very comprehensive report of exactly which sources are contributing the most revenue. The table will show you data like total transactions, average donation amount (order value), and conversion rate.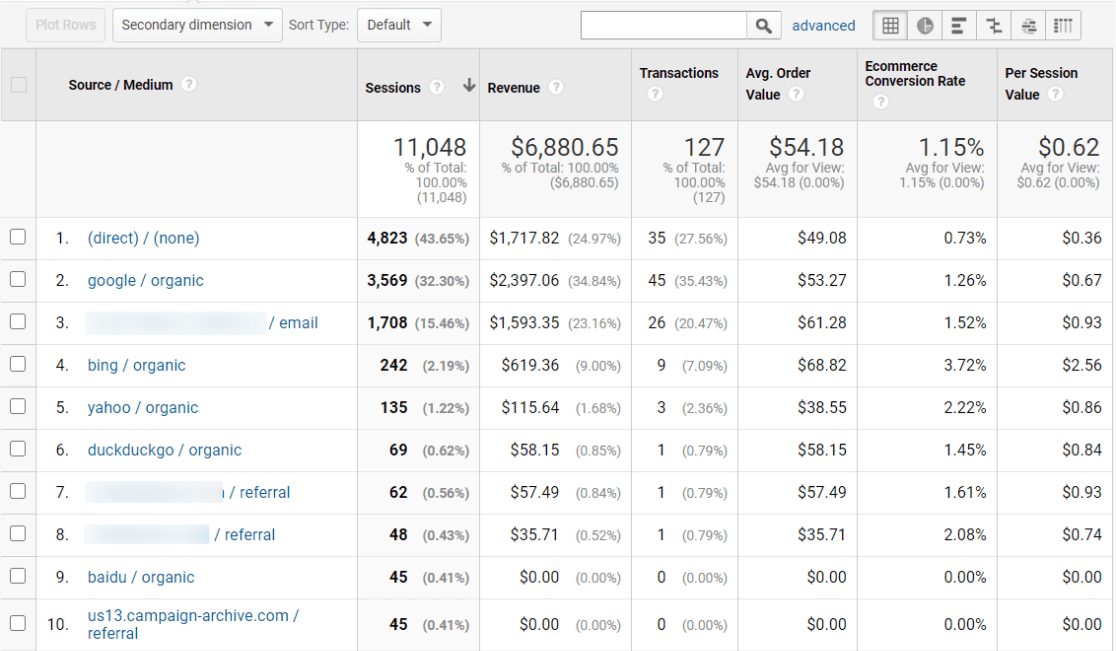 Example conclusions you can make:
Email is driving a lot of conversions, we should send one more per month.
A partner is sending traffic that's donating at a high rate. Let's work more with them.
Organic traffic is converting at a really low rate. How can we optimize the website to help funnel our organic visitors? Are there other goals we can set up for them?
See how many days or sessions it took users to make a donation
How many of your users donated right away? How many needed to return a couple times to decide to donate? Find out in your MonsterInsights eCommerce report. Just stay in the eCommerce tab and scroll down to find the two tables: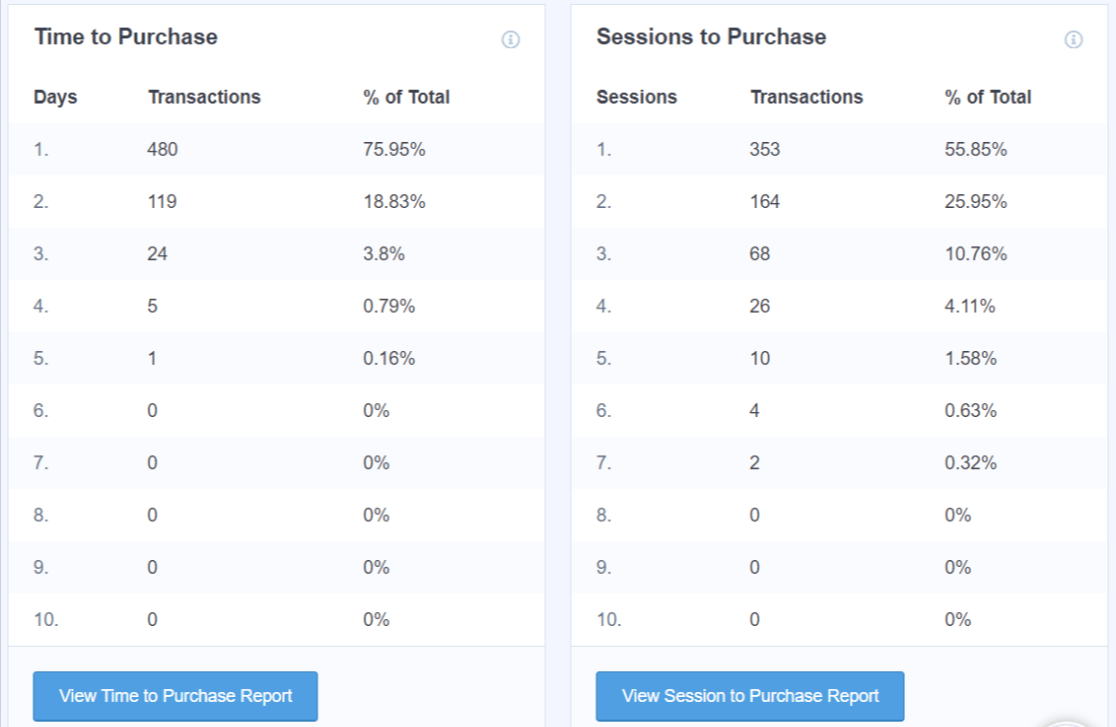 Example conclusions you can make:
How can we help the people who are converting after 3 visits convert sooner?
What is it that's making those second session users return? How can we get more second visit conversions?
See which forms have the highest conversion rates
Did you know that MonsterInsights can easily track your form conversions? Yep, it's pretty magical!
Just navigate to the Addons screen and activate Forms:

That's it! You can now see which of your donation forms has the highest conversion rates. Just navigate to Reports » Forms.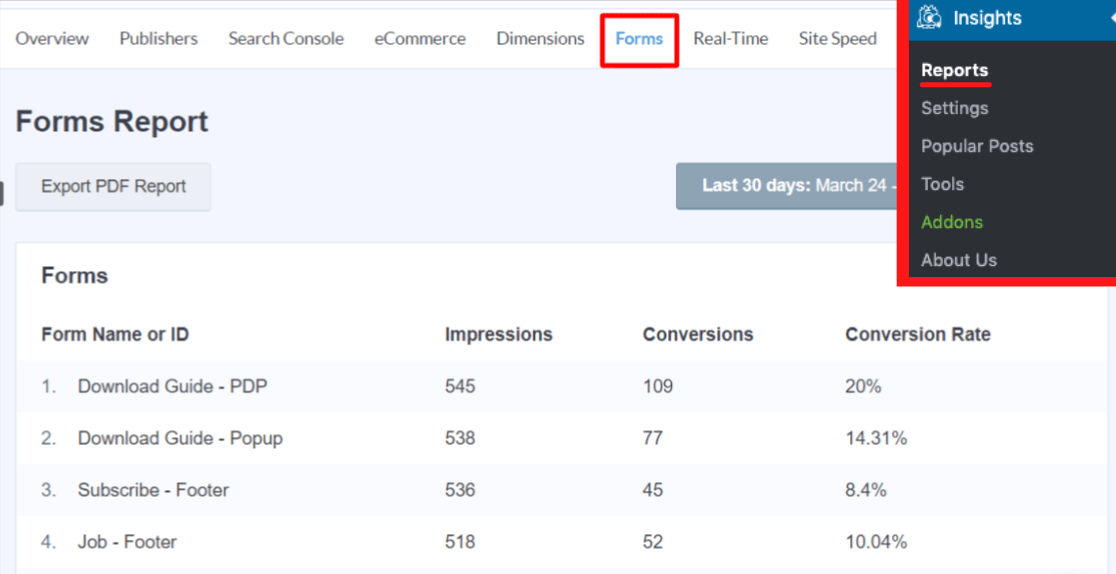 Example conclusions you can make:
The donation form on our home page has a much lower conversion rate than we'd like. How can we improve that?
The donation form in the sidebar is performing well! Let's avoid changing that one for now.
Wondering what else you should be tracking? Check out our guide to the most important metrics every business should track.
For more guides and other helpful Analytics tips, follow MonsterInsights on Facebook, Twitter and YouTube.