Are you planning to add a web analytics tool on your website? If so, then Google Analytics or Matomo may be the tools you're considering as they're among the most popular web analytics tools available. If you can't decide which one to choose, we're here to help you.
In this article, we'll compare Matomo vs. Google Analytics and show you the important differences.
The main points we'll be comparing between Google Analytics and Matomo are:
General Overview
Installation Process – Ease of Use
Tracking Features
Viewing Reports – Ease of Use
Pricing
Support
1. General Overview – Matomo vs. Google Analytics
What's Google Analytics?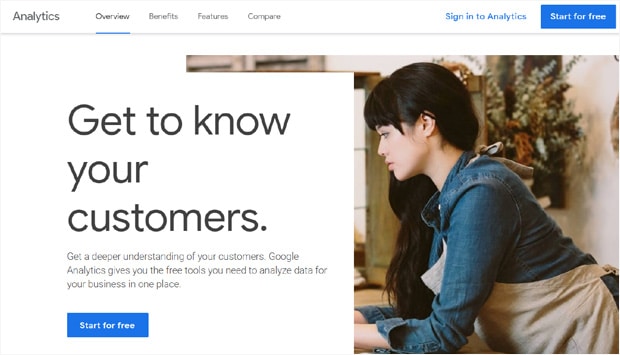 Google Analytics is a free web analytics service offered by Google to help you understand your website visitors and their behavior on your site. It provides you with detailed reports and insights on how your users are interacting with your site. With this information, it enables you to make informed business decisions to improve engagement and boost your sales.
With Google Analytics, you can track useful information about your visitors like where they're from, which device they're using, their interests, age, gender, etc. More importantly, you can see how they're using your site, including which content they're visiting most, what elements they're clicking, which products they're buying, and a lot more.
Google Analytics has been in service since 2005 after Google bought Urchin Software Corporation and rebranded their product, Urchin on Demand, as Google Analytics. Since its release, it's become one of the most popular Google products ever. It's now used by over 50 million websites to analyze their website traffic.
What's Matomo?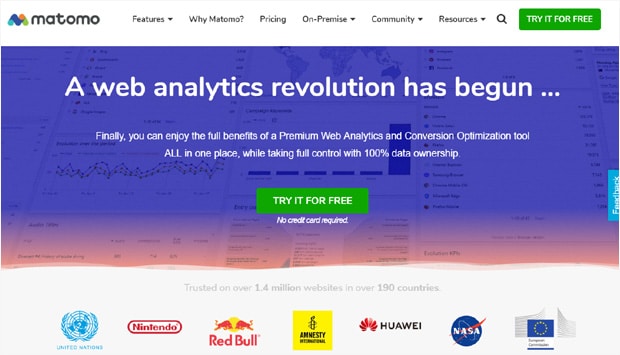 Matomo is an open-source web analytics platform designed to give you complete analytics features along with 100% data ownership at your fingertips. Matomo was first created as an open-source alternative to Google Analytics.
Like Google Analytics, it also provides you with important reports about your website users and their interactions with your website. However, it places the majority of its focus on data ownership, so your data has to be 100% yours and the privacy of your users is protected.
Matomo was originally known as Piwik. Under its original name, Piwik has been around since 2007 as a powerful digital analytics solution. In January 2018, the company rebranded the tool as Matomo on the anniversary of 10 years of service. Matomo is now used by over 1.4 million websites, in more than 190 countries.
Comparison:
Now, let's compare the usage statistics of Google Analytics vs. Matomo. According to W3Techs's traffic analytics tools survey, Google Analytics is the most widely-used traffic analysis tool; however, Matomo is also a top 10 traffic analysis tool, coming in at the 8th highest position. The survey shows that Google Analytics is used by 55.7% of all the world's websites whereas Matomo is used by 1.2% of all the websites online.
2. Installation Process – Ease of Use
One important aspect to consider when choosing a web analytics tool is the user interface they offer for installing their software. Now, let's see how you can install these 2 tools on your WordPress website. We'll start with Google Analytics.
How to Install Google Analytics in WordPress
To get started, you'll need to create a Google Analytics account. You'll need a Google account to create an Analytics account. Plus, you'll need to enter your website URL, industry, and time zone for the setup process. It takes just a few minutes to create an account.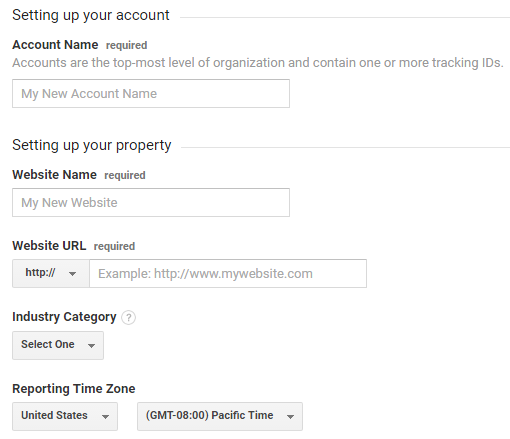 Once you've completed the signup process, it'll give you a JavaScript tracking code that you'll need to add to your website header. If you have basic coding skills, you can easily do that by yourself.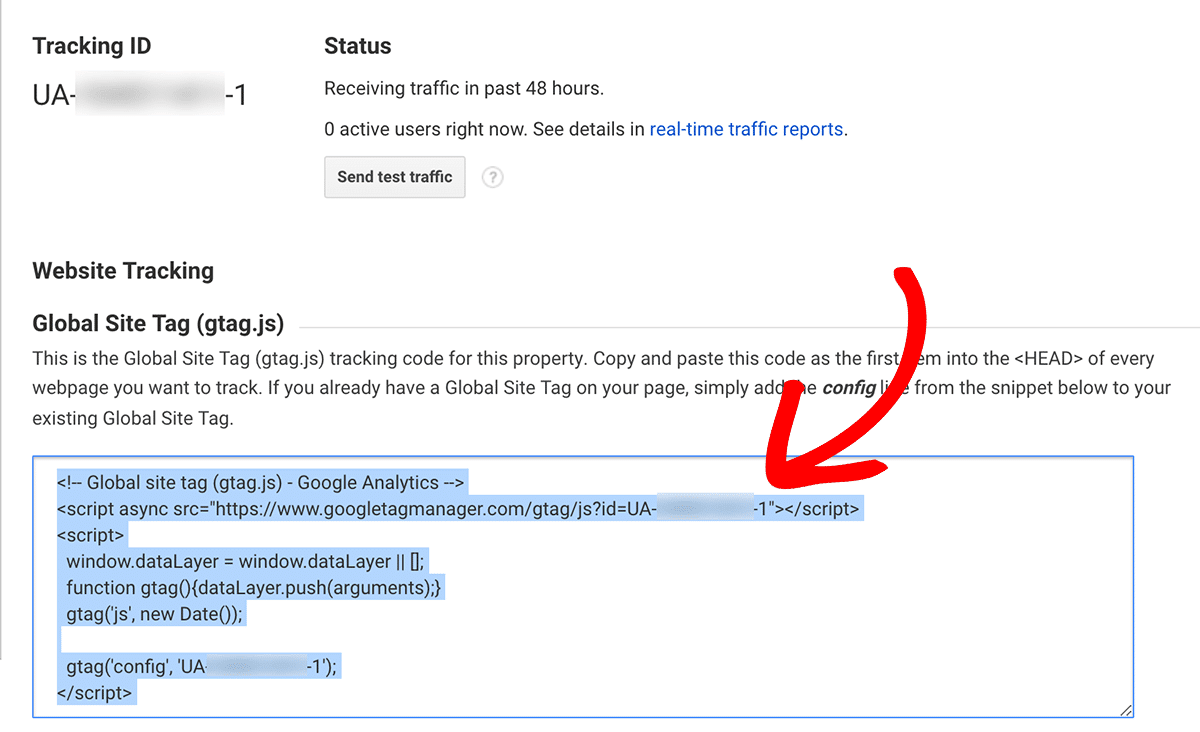 If you're using WordPress as your website platform, you can follow our step-by-step guide on installing Google Analytics in WordPress without a plugin. However, this technique is a bit risky as you may add the code incorrectly or make other changes in your theme file which can break down your site.
Fortunately, there's a user-friendly solution where you don't need to touch any code to install Google Analytics on your site. Yes, the process of installing Google Analytics in WordPress is super-easy with MonsterInsights.
MonsterInsights is a Google Analytics plugin for WordPress that was created to make the entire process of using Google Analytics super easy. With this plugin, you can install Google Analytics on your WordPress site in just a few steps, without having to touch the tracking code.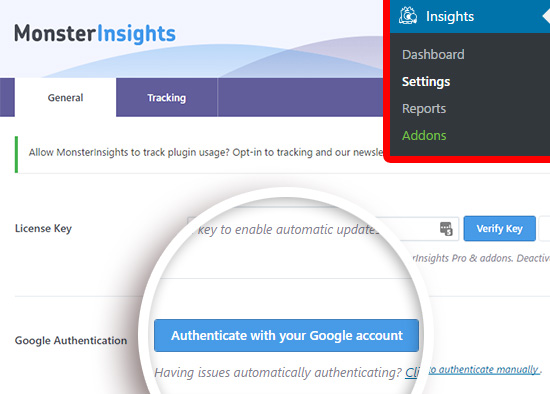 For detailed instructions, follow our step-by-step guide on how to install Google Analytics in WordPress with MonsterInsights.
How to Install Matomo in WordPress
Now, let's see how you can install Matomo in WordPress. Matomo comes in 2 versions:
Matomo Cloud – cloud hosted premium version
Matomo On-Premise – self hosted free open source software
The process of installing Matomo Cloud is similar to the process of installing Google Analytics because both are cloud hosted. However, there's a pricing difference: Google Analytics is always free whereas Matomo Cloud is a paid service.
To use Matomo Cloud in WordPress, you'll need to sign up for a Matomo account first. You'll need to enter your email address, website address, and analytics subdomain to create an account.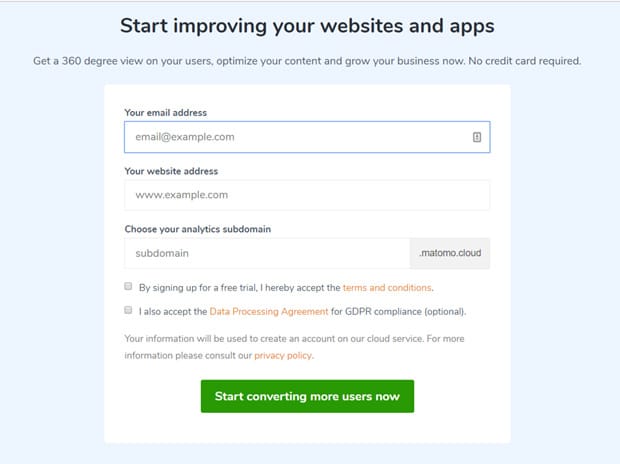 After you've completed the signup process, you'll need to wait for a confirmation and welcome email from Matomo. They'll send you your Matomo login details and Matomo subdomain for your site.

Below that, you'll also find a tracking code.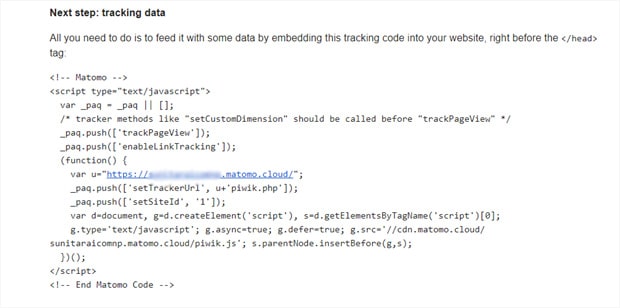 Now, you'll need to add the code to your WordPress theme's header. You can follow the same instructions we provided in the above link how to install Google Analytics without a plugin.
Just like MonsterInsights for Google Analytics, there's a WordPress plugin for Matomo installation as well. However, it isn't as user-friendly as MonsterInsights. It requires you to copy an authentication code in your Analytics account and paste that into your site using the plugin.
Also, the plugin isn't updated on a regular basis which causes integration issues with newer versions of WordPress and Matomo.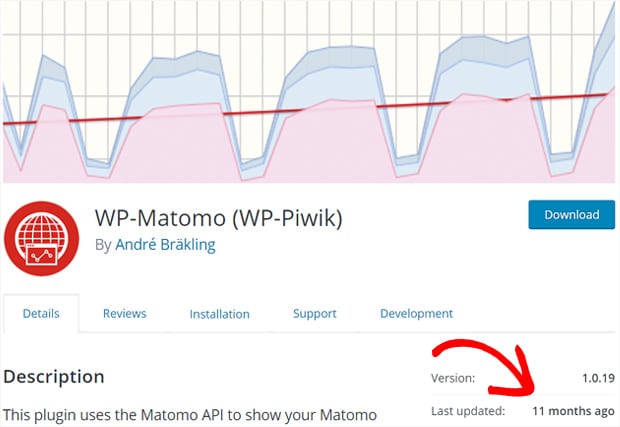 If you want to use Matomo for free, you'll need to install Matomo On-Premise, the open source software. For this method, you'll need to host the Matomo software in your own servers. Hence, you'll need to ensure to have a web server of your own and access to your webs server via shell or FTP.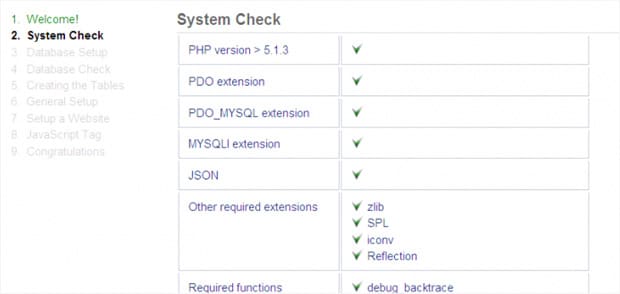 In addition, you'll need to have a good understanding and ability to use web applications. If you're not a web developer, you'll need to hire an expert to install Matomo On-Premise on your site.
After the installation is complete, you'll get a tracking code that you'll need to insert on your site.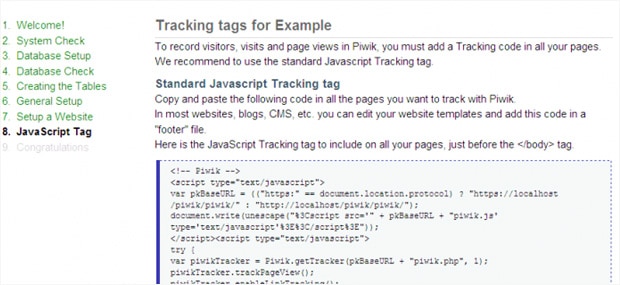 Winner: Google Analytics. Installing Google Analytics in WordPress is super easy with the MonsterInsights plugin. Matomo Cloud can be installed just like Google Analytics; however, it doesn't have a user-friendly plugin like MonsterInsights to make the process effortless. And Matomo On-Premise isn't beginner-friendly at all.
3. Tracking Features
Both Google Analytics and Matomo include basic tracking features, including real-time users, users' locations, device, operating system, top landing pages, top exit pages, traffic referral, etc. Now, let's see how these 2 tools track other advanced metrics.
a)Limited vs. Unbound Tracking Abilities
With Matomo Cloud, you'll have limited tracking abilities as per your Matomo plan. You can add only 5 users, 25 goals, 10 segments, 5 action custom dimensions with the basic Matomo plan, Essential. Only Enterprise users can enjoy unlimited tracking abilities.
Google Analytics, on the other hand, allows you to add unlimited users, unlimited goals, segments, and custom dimensions completely for free. If you want to track advanced metrics using MonsterInsights, you'll need to buy MonsterIsights premium; however, you aren't paying for the tracking features but for the simplicity it offers.
b) Google Ads Tracking
One of the greatest benefits of using Google Analytics is its powerful integration with other Google products. If you've added Google Ads on your website and want to know how your website users are interacting with them, it's easy to set up Ads tracking with Google Analytics.
Matomo doesn't have Google Ads integration yet but they've stated they plan to bring this feature to customers sometime in 2019.
C) Forms Tracking
In order to track the performance of your online forms, you'll need to set up event tracking in Google Analytics whereas Matomo has an automatic forms tracking feature.
However, it's now easy to set up forms tracking in Google Analytics with MonsterInsights' forms addon. It takes just a few clicks to configure forms tracking.
Winner: Tie.
4. Viewing Reports – Ease of Use
Google Analytics and Matomo Cloud both are centrally hosted services, so you'll need to log into your respective account to view reports. However, there's a difference in how you can access your accounts on these 2 platforms.
You can access your Google Analytics account by visiting the official Analytics website whereas you'll need to enter your site's Matomo subdomain to access your Matomo account.
For example; Google Analytics' login page is the same for everyone (i.e. analytics.google.com). But Matomo's login page varies from one site to another. Matomo's login page's format looks like https://yoursitename.matomo.cloud.
After you log into your Google Analytics account, you can view your website reports. First, you'll see a general overview of your traffic stats on the home page.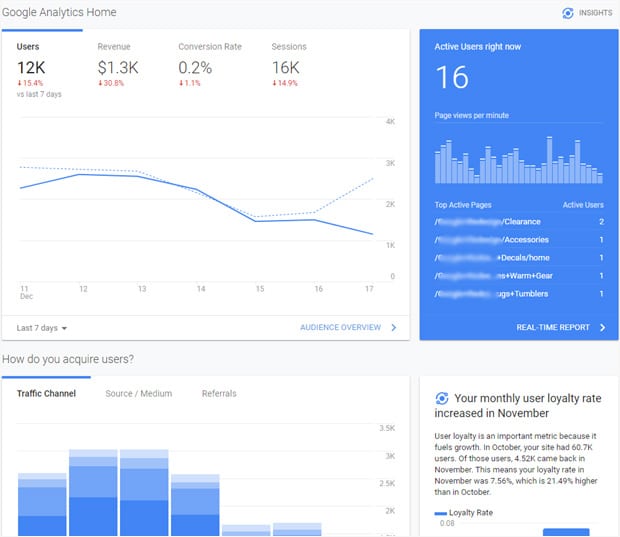 Google Analytics lets you see your website reports in 5 primary areas:
Real-Time – Your site visitors at the current moment
Audience – Includes reports on your visitors' characteristics like demographics, interests, geo-location, device, etc.
Acquisition – Includes reports on traffic sources, search keywords, social traffic status, Google Ads, etc.
Behavior – Includes reports on pageviews, site content, site search, events, etc.
Conversions – Includes reports on your goals, eCommerce, multi-channel funnels, etc.
You can view each of these reports by clicking on each option.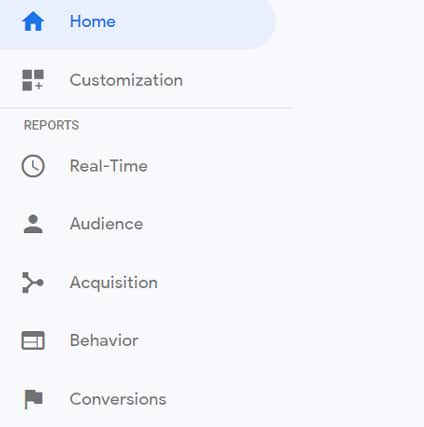 But it can take a lot of time to find your most important reports by going through each option one-by-one inside these sections, so MonsterInsights makes it easy to view your reports in WordPress.
Yes, with MonsterInsights, you can view your most important Google Analytics reports right inside your WordPress dashboard.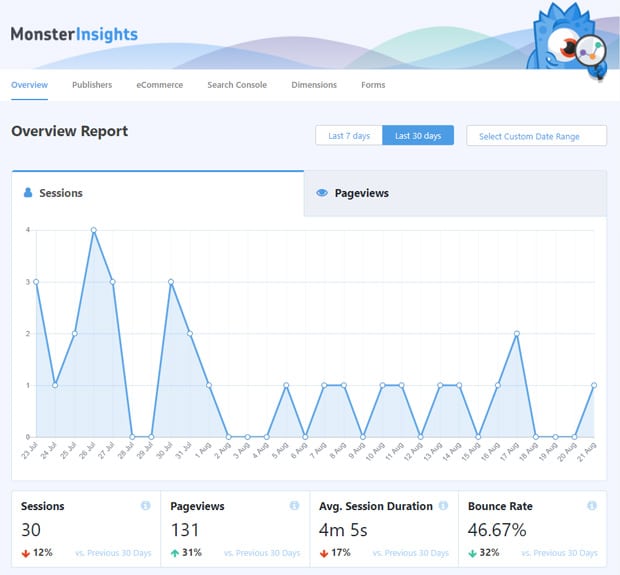 To learn more, here's our complete guide to MonsterInsights dashboard reports.
To view your Matomo reports, you'll need to login to your Matomo account via your site's Matomo subdomain. Then, you'll see your Matomo dashboard, which looks like the screenshot below: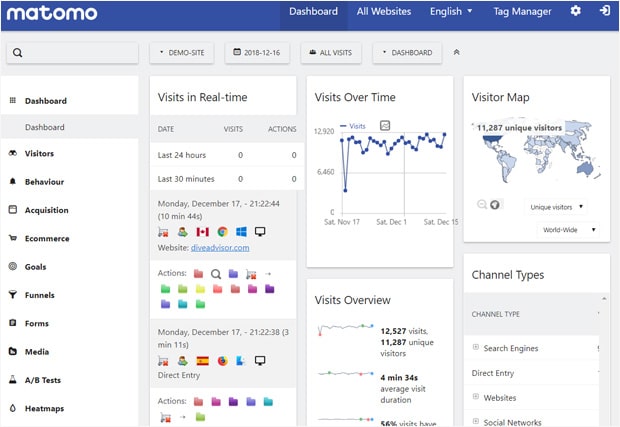 Now, you can click the report menus in the left panel one-by-one and see your site's traffic reports.
Winner: Tie
5. Pricing
Google Analytics is a free service so you can always use it for free. You may need to pay if you hire someone to help you configure advanced tracking options.
However, you won't need to hire anyone because you can use the MonsterInsights plugin to effortlessly gain access to your advanced metrics. MonsterInsights is a freemium plugin, meaning it has both free and premium versions available. If you want basic Google Analytics reports only, you can use MonsterInsights' free plugin.
For advanced tracking features, you'll need to buy one of MonsterInsights' premium plans.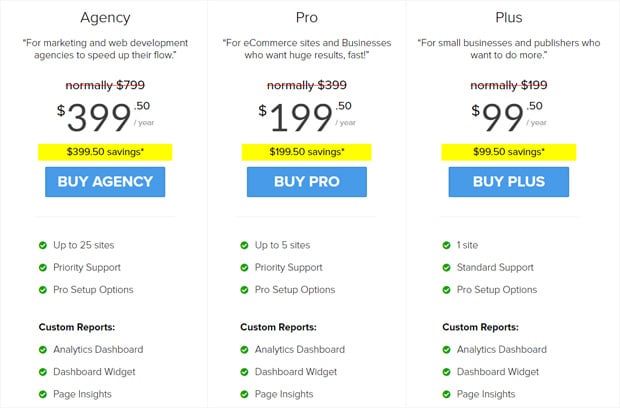 The Plus plan is for small businesses and publishers, and is available for $99 per year. You'll get 1 website license with this plan.
The most popular MonsterInsihts plan is Pro. It includes all the best MonsterInsights features including advanced tracking options. It's available for $199 per year.
Agency is for marketing and web development agencies. It comes with 25 site licenses. You can buy this plan for $399 per year.
Matomo has 2 versions you can choose from. If you choose the self-hosted open source software, it's free to download and use on as many sites as you want. However, you may need to hire a developer for installing and configuring the software.
If you choose Matomo Cloud, you'll need to purchase one of their plans. Just like Google Analytics, it's a hosted solution but it's not free ti use like Google Analytics.
There're 3 pricing plans for Matomo Cloud:
The basic Matomo Cloud plan, Essential, costs $7.5 per month. With this plan, you can use Matomo on 5 websites.
The other plan, Business, costs $25 per month. You can use Matomo on 30 websites with this plan.
Winner: Google Analytics. Because it's free to use on unlimited sites. Plus, the MonsterInsights plugin makes Google Analytics super easy to use at a very reasonable price.
6. Support
Google Analytics is a free service which means that you'll need to depend on free support resources. However, you'll get plenty of resources online that you may not need premium support at all.
If you're using Google Analytics with MonsterInsights, you can post your support queries in the support forum and also contact the support team via email.
Matomo isn't widely-used like Google Analytics, so there're fewer resources online. Most of the time, you'll need to depend on Matomo's documentation for user guides. For technical support, you can post questions in the forum.
Winner: Tie.
Conclusion
Google Analytics is the most popular and powerful analytics tool in existence. You can track almost any type of data using this tool. The abundant free resources online help you to learn how to get the most out of this tool. The MonsterInsights plugin makes Google Analytics even easier.
Matomo is a Google Analytics alternative, a digital analytics platform you can use. It has an automatic process of tracking online forms, downloads, and eCommerce reports which you'd need to manually configure in Google Analytics. Its features are pretty cool; however, it's a paid solution. Even if you choose the free Matomo On-Premise, you'll be investing money in other ways (i.e. paying a developer).
In conclusion, Google Analytics is clearly the better web analytics tool for WordPress when compared to Matomo. Using Google Analytics with MonsterInsights is a really great experience.
We hope this article helped you to choose the right web analytics tool for your WordPress site. You may also want to see our full comparison MonsterInsights vs. Jetpack Stats.
Don't forget to follow us on Twitter and Facebook for more helpful Google Analytics tips.