Want to track the performance of your ads on your WordPress website and optimize them for maximum revenue?
MonsterInsights gives you a clear understanding of your AdSense data at a glance, so you can optimize them to earn more money.
In this article, we'll show you how to track AdSense in Google Analytics.
Note: Before getting started, you'll need to already have Google AdSense set up on your site.
Why Should You Track Your Banner Ads?
Using AdSense is one of the easiest ways to make money online. But there's always room to improve the way you display ads to boost your earnings.
Tracking the performance of your banner ads gives you lots of detailed insights of your ads. With MonsterInsights ads tracking, you can…
Track click-through rates: You can see how many clicks each banner ad is receiving.
Identify the most effective placements: In order to maximize profit, you should place your ads where your visitors pay more attention to. Unless you track your ads' performance, you can't figure out the placements that attract more clicks.
Discover which ads your audiences are ignoring: Removing low performing ads can improve your audience's engagement. In addition, it also helps you to improve the click-through rate of your other ads.
Tracking Your Ads in Google Analytics – a Step by Step Guide
By following these steps, you can easily track AdSense in Google Analytics. We'll start with AdSense and Analytics integration, MonsterInsights ads addon and how you enable ad tracking in WordPress. Let's start…
Step 1: Link Your AdSense Account with Google Analytics
First, sign in to your Google Analytics account and select the website for which you'd like to link Analytics with AdSense.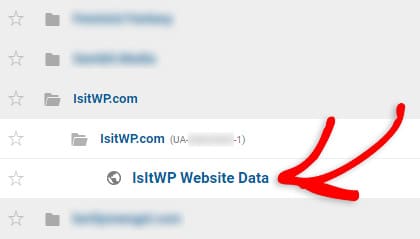 Then click Admin.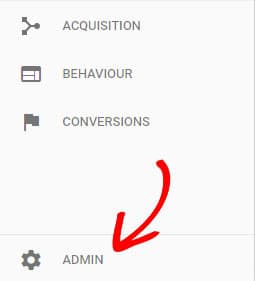 Now click AdSense Linking in the property column.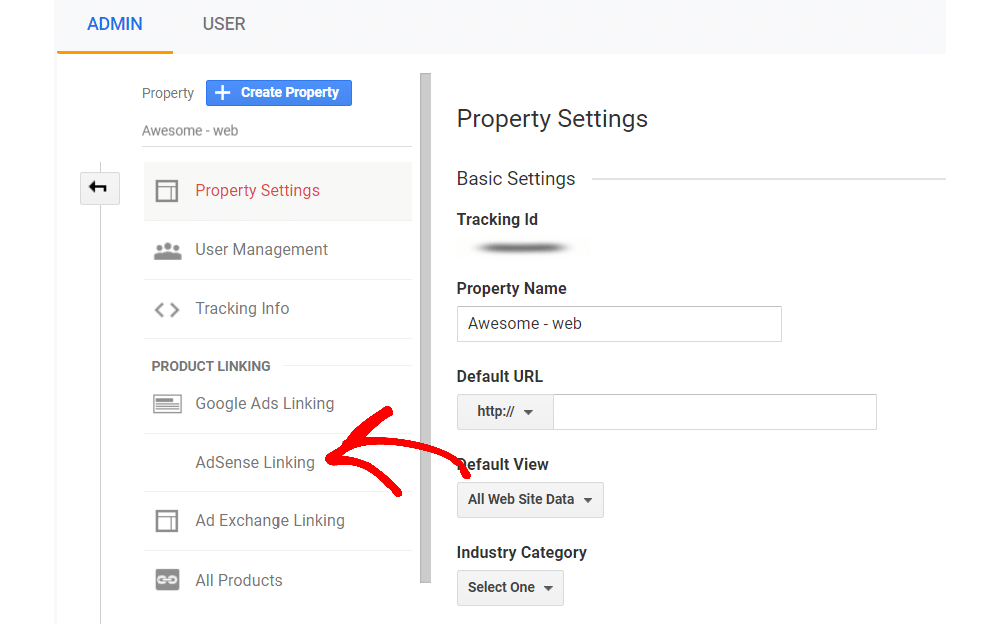 On the AdSense Linking page, click + New AdSense Link.

Select the AdSense property that you want to link with your Analytics property. Then click Continue.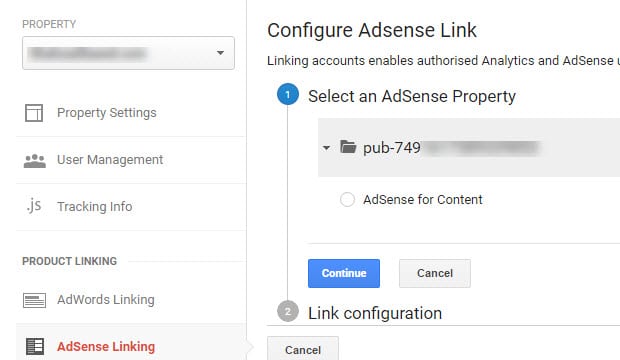 Now select the Analytics views where you want to see your Adsense data. This is where you select the area where you want to Adsense to show the data in Google Analytics. You can select more than one Analytics view. Then click Enable Link and Done.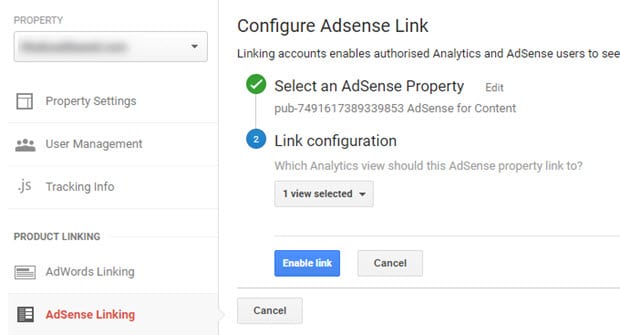 Step 2: Install and Activate the Ads Addon
Once you link your AdSense account with Google Analytics, you can use MonsterInsights to track your Google AdSense ads automatically.
MonsterInsights is the best WordPress plugin for Google Analytics and provides detailed reports right inside your WordPress dashboard. It makes using Google Analytics very easy by simplifying advanced tracking setups down to just a single click.
You can set up Google Analytics in WordPress using MonsterInsights without any coding. And as for tracking ads, you don't need to insert any code or do manual configuration on your website if you're using MonsterInsights plugin.
To track your ads, you'll need MonsterInsights Ads addon. In order to access the addon, you must have the Plus license plan or higher.
Once you purchased the license, go to Insights » Addons and click Install under the MonsterInsights Ads addon.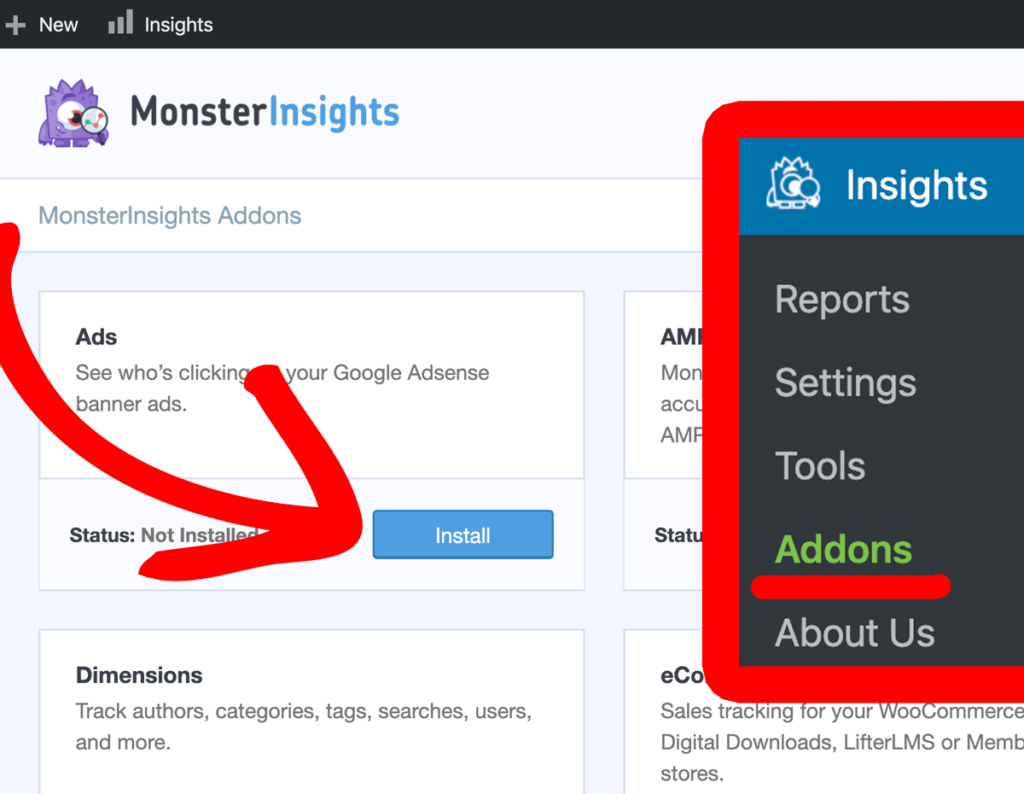 Then you'll have to click the Activate button to make sure the addon is active and ready to use.

Step 3: Enable Google AdSense tracking
After installing the addon, you'll need to integrate Analytics with your AdSense account.
Now you can select the checkbox to enable Google AdSense tracking by navigating to Insights » Settings » Publisher and then scroll down to Ads Tracking.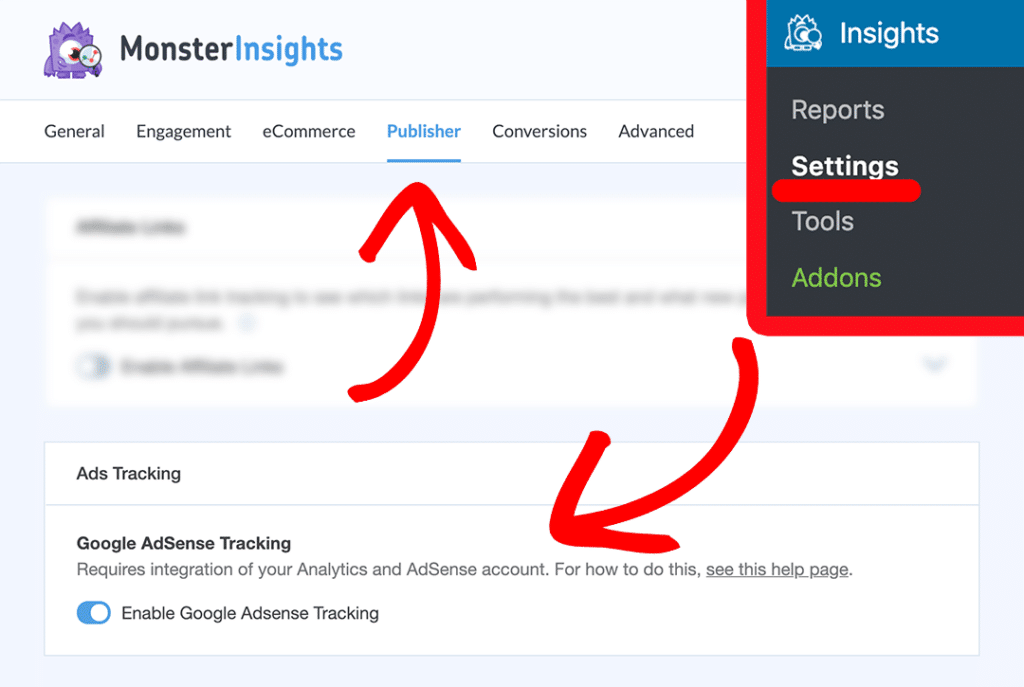 Without any further configuration, you can start tracking your AdSense ads' performance in Google Analytics.
Maximizing Your AdSense Revenue
Once you get enough AdSense tracking data in Google Analytics, you can optimize your ads to boost your AdSense revenue. Below are a few ideas that might help you.
1. Test different ad placements
When testing with different placements, think like a user. Place your ads near the content that your site visitors are interested in. This way, you can boost clicks, in turn increasing your advertising revenue.
2. Try different ad styles
Your ads' style and size can mean the difference between ads your visitors will notice and click, and ads they'll skip right over. When choosing the right ad styles, your goal should be to make them more visible and decrease ad blindness.
3. Choose the right ad size
When it comes to choosing the ad size, the general rule of thumb is that wider ad sizes tend to outperform their taller counterparts because of their reader-friendliness. You can test with different ad sizes on your preferred ad locations, and choose the right size that performs the best.
That's it!
We hope you liked our guide on how to track AdSense in Google Analytics to optimize your revenue.  If you want, you can also check out our guide on MonsterInsights dashboard.
Also, don't forget to follow us on Twitter and Facebook for more Google Analytics tutorials.