Want to learn how to attract customers to your online store to increase your conversions and sales?
Finding ways to drive ecommerce traffic to visit and purchase from your online store can be challenging, especially if you're just starting up. And things don't get any easier if you're competing against well-established retailers.
In this article, we've compiled a list of top-notch ideas to get customers for your online business. So, you can build upon your current success and start competing with the big guys.
In many of the ideas, we'll be using MonsterInsights to make informed decisions with data.
MonsterInsights is the best Google Analytics plugin for WordPress. It allows you to easily connect your WordPress site with Google Analytics, so you can view all the data that matters most right in your WordPress dashboard.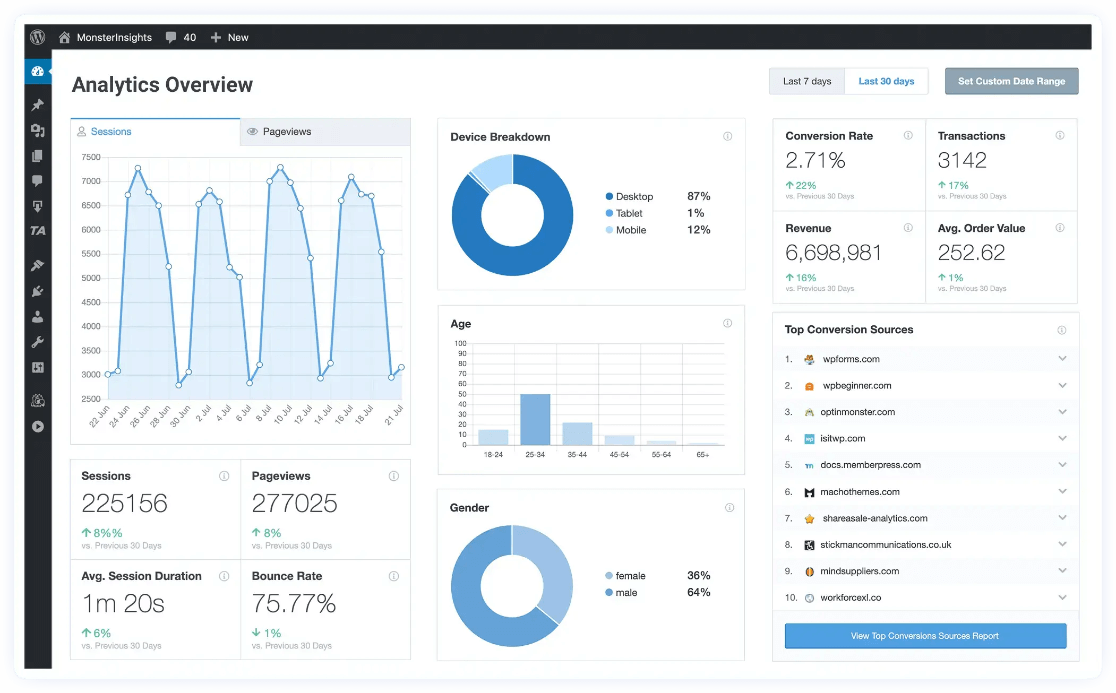 Plus, with the click of a button, you can set up sophisticated tracking features such as event tracking, eCommerce tracking, form tracking, custom dimension tracking, outbound link tracking, and more.
Get started with MonsterInsights today!
Attract Customers to Your Online Store with These Tips
1. Create Blog Posts Around Popular Products
Publishing consistent, valuable, and all-around enjoyable content can drive more traffic to your store. Most consumers are looking for more than just a retail shop to purchase from. They're looking for a brand they can interact with and feel connected to.
Now, if you're wondering which topics you should cover on your website, then take a look at your most popular products. Since these products perform well in your store, you can create blog posts around them.
With the MonsterInsights eCommerce addon, you can easily view detailed reports about your top products inside your WordPress dashboard. For each item, you can view the quantity sold, percentage of sale, and total revenue.

Now using the data from the report, you can publish product reviews, tutorials, news pieces, and other informative articles about these products. This will not only encourage people to visit your site but also help your site's search engine optimization (SEO) efforts.
Go through our guide on how to set up Google Analytics eCommerce tracking to get started.
2. Optimize Your Store for the Right Keywords
Speaking of SEO, if you're going to add content creation into your overall marketing plan to increase eCommerce traffic, it's important you understand the role SEO plays in helping drive traffic to your site.
SEO is a marketing tactic used to help your eCommerce site appear in search engine results for different keywords. So, whenever someone enters a search term in Google, your website will appear in the top results.
That's why it's important that you optimize your online store for different keywords, as it's one of the most important Google ranking factors. And a good place to start with is looking at which search terms your website is already ranking on. You can do that by using MonsterInsights Search Console report.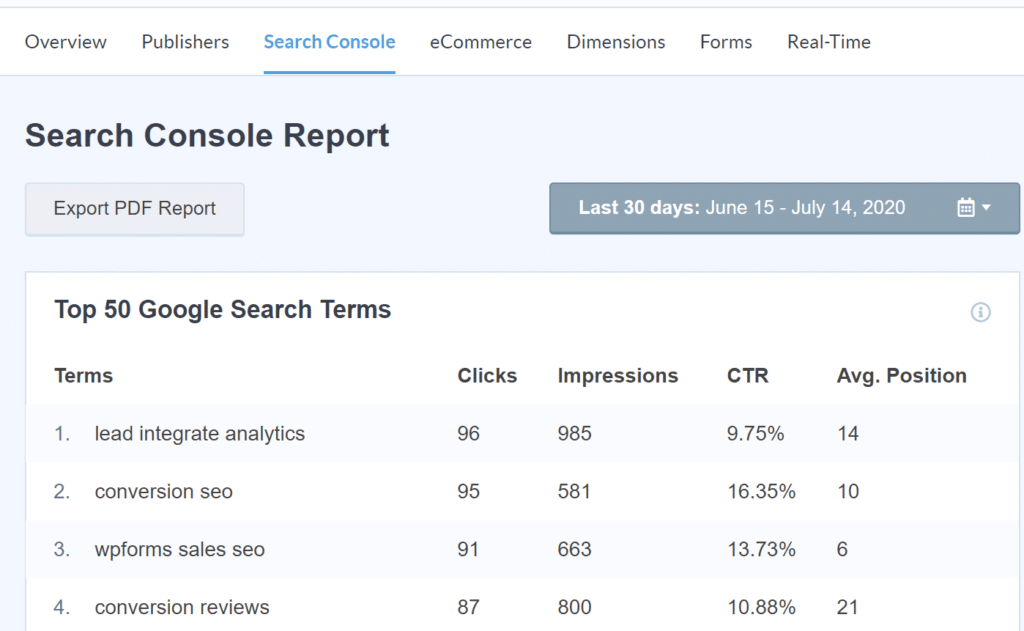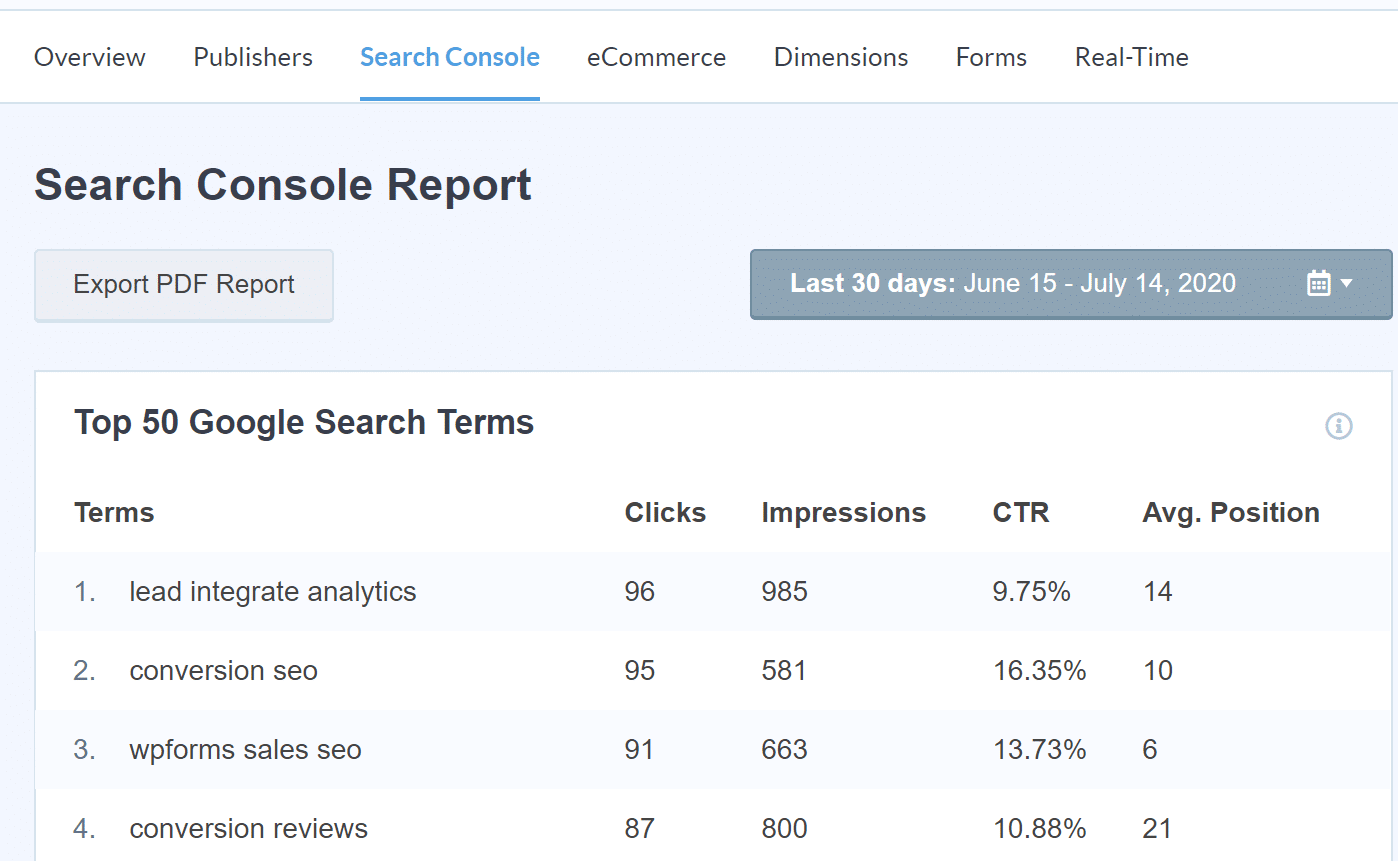 It shows you the top 50 Google Search Terms along with their clicks, impressions, CTR (click-through-rate), and average position.
You can then see where your online store is ranking and which keywords to optimize. For instance, if some of your keywords are on the 2nd page, you can easily boost their ranking to bring on the 1st page, where they'll get a lot of clicks.
Here's a detailed guide on how to connect your WordPress website with Google Search Console.
3. Use Power Words in Headlines to Boost CTR
Now, if you're ranking in the top 10 results on search engines but aren't getting traffic, then that's because users aren't clicking on your link.
Using the MonsterInsights Search Console report, you can see the click-through rate (CTR) for different search terms. If any keyword is on the top 10 and has a low CTR, then try changing the headlines.
You can add power words to make your titles more attractive and trigger an emotional response. For example, here's a headline that uses power words like double, and it uses numbers to entice the visitor to click on the link.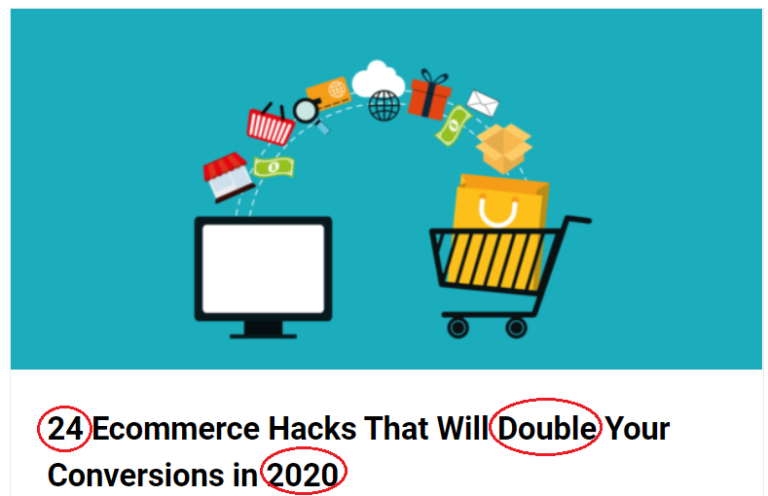 And to make sure your headlines aren't missing power words, you can use the MonsterInsights headline analyzer tool. It gives you instant feedback inside your WordPress editor and suggests improvements.
Just sign up for a MonsterInsights Plus plan or higher to use the headline analyzer tool inside your WordPress editor to get instant feedback.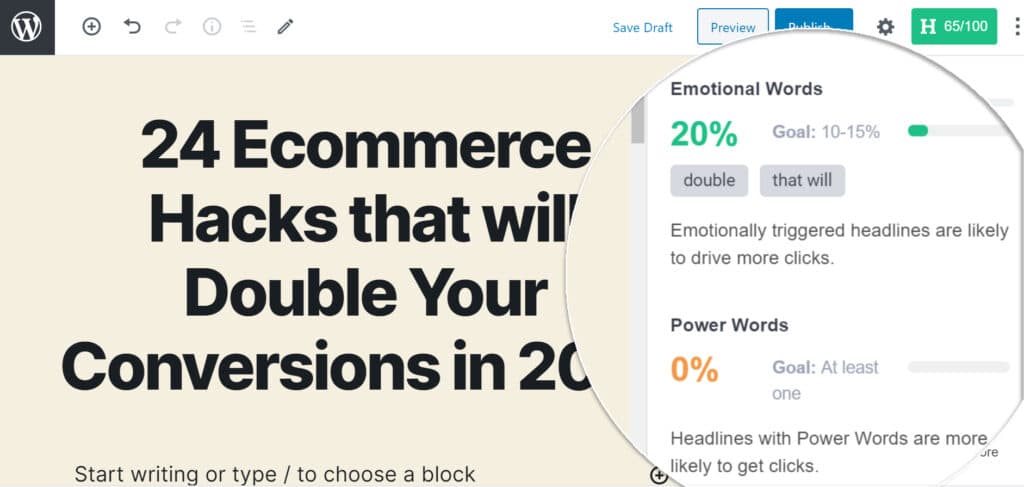 4. Use 80/20 Rule to Focus on Top Conversion Sources
Next up, you can use the 80/20 rule to focus on your top conversion sources and bring in more traffic. And if you're wondering what the 80/20 rule is, then it's where 80% of your results come from 20% of your effort.
So, when it comes to increasing your online store traffic, you can work smartly and find different ways of attracting more visitors by partnering with websites, submit guest posts, or workout deals like exclusive discounts.
To see which are your best traffic sources, you can use MonsterInsights. In its eCommerce report, you can find your Top Conversion Sources report. And for each source, you can view how many visitors it sent, their overall percentage, and the revenue generated.

5. Run a Viral Giveaway
Do you want an instant surge in traffic? If yes, then viral giveaways are a great way of attracting visitors to your site. With Giveaways, you can also boost your social followers, increase brand awareness, gather leads, and grow your email list.
Giveaways provide an incentive for users to visit your store and participate in competitions. And you can offer multiple reward points if they share your post on social media, invites more people to participate, or provide an email address.
Now, are you wondering how to run a giveaway?
RafflePress is the best WordPress giveaway plugin you can use. It's super easy to use and using its drag and drop builder, you can create amazing giveaways for your eCommerce store.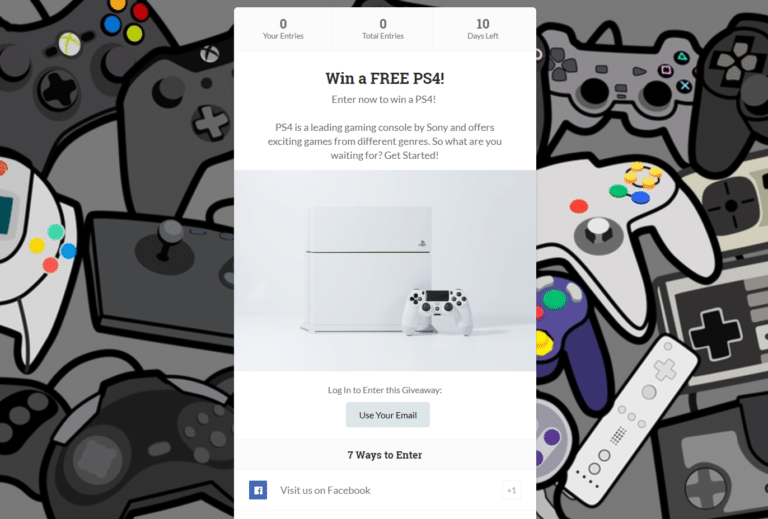 To get started, follow our step by step guide on how to do a giveaway on WordPress.
6. Promote Products Based on Your Audience's Interests
If you're looking for ways to drive traffic to your online store, then you should know what your customers like.
By figuring out their interests, you can add products that they prefer and also create content around those interests to boost your web traffic.
To find out your audience's interest, you can use MonsterInsights. In its Publishers report, you can see which categories your customers like. This way, you can find more products from that niche to list in your store.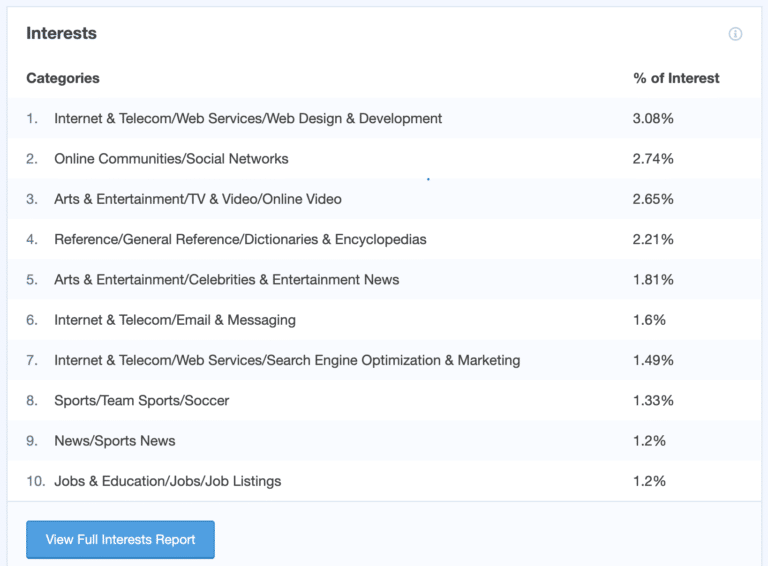 7. Create Region-Specific Campaigns
Another way of boosting web traffic for your eCommerce store is by looking at which countries your visitors come from.
By uncovering your top regions, you can create geo-targeted campaigns, show products for that particular region, and show personalized messages. Not only that, but you can also find new content ideas to cover on your blog.
For instance, let's say you have an eCommerce store that sells travel gear. Now, if the majority of your visitors are from Germany, you can offer products and create blog posts like 10 tips for travelers from Germany.
To find out which country sends the most traffic, you can use MonsterInsights. After installing the plugin, you can view its Overview report and look at the Top 10 Countries. Here you'll see your high traffic regions.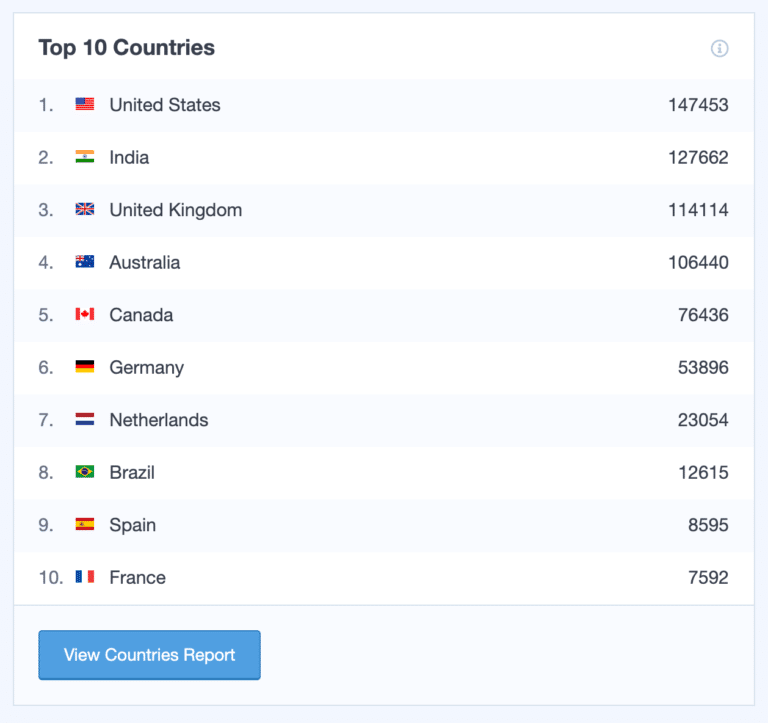 Check out our guide on how to use geomarketing to enhance conversions (4 easy ways).
8. Optimize Your Online Store for Mobile
Now, many website owners only optimize their eCommerce stores for desktop and ignore other devices. This results in poor user experience on mobile devices and your visitors end up leaving.
To get more visitors, you need to ensure your online store is optimized for mobile. In fact, Google has now gone mobile-first, which means it will rank websites that perform well on mobile higher compared to those that don't.
So, if your website isn't mobile-responsive, then consider changing its WordPress theme to one that supports mobile devices. And to make sure that users can easily browse your online store without any hassle, then you can set up Google AMP (accelerated mobile pages) on WordPress.
9. Partner with Top Referrals
While creating killer content on your eCommerce site is necessary for engaging loyal customers and attracting new people to click on your site, do not underestimate the power guest posting has on your site traffic either.
If your guest post is published, you typically receive a link leading people back to your website. In addition, you also get backlinks within your content that once clicked, drive those interested back to your online shop.
Although this might look like a time-consuming method for driving traffic to your online store, you can work smartly by using MonsterInsights. Using its Top Referral Sources report, you can see which websites send the most traffic.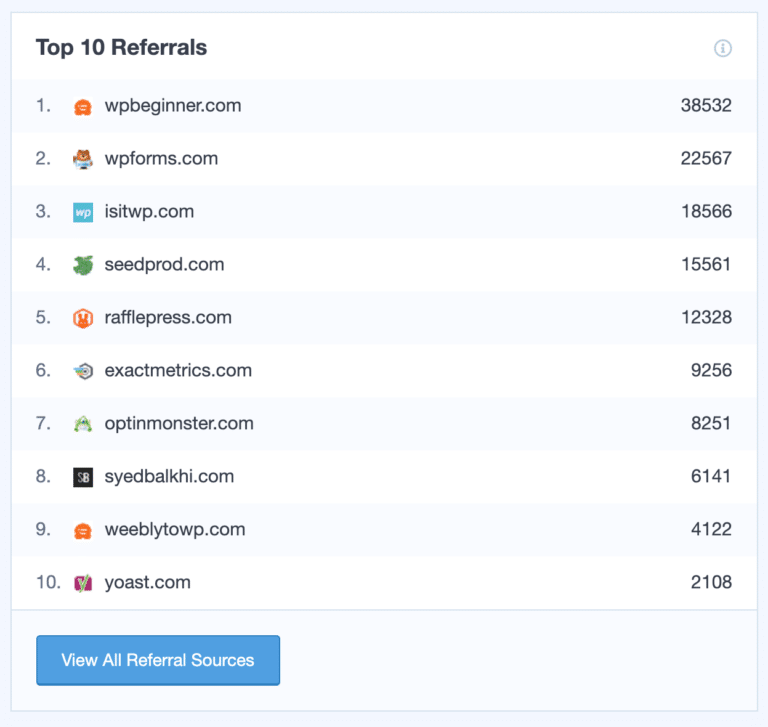 Then using these websites, you can research and see what type of content they like or if they allow guest posts. You can then reach out to them, submit a guest post, or form a partnership.
10. Send Push Notifications to Bring Back Visitors
Another way of getting people to visit your eCommerce store is by sending push notifications. These are clickable messages that appear on the user's desktop or mobile.
You can use it to remind people about a flash sale, send them incentives like discounts, or inform them about a new product. Push notifications have a higher open rate than emails, so you have a higher chance of getting people to return to your online store.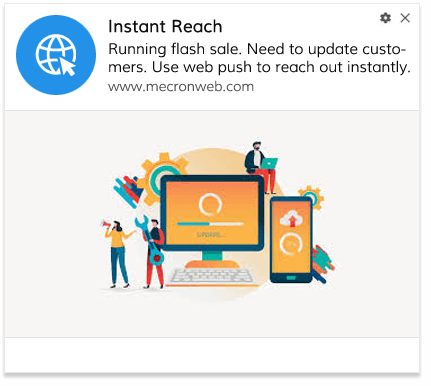 To run push notifications, you can use PushEngage. It's the best WordPress push notification plugin and is easy to use. Plus, it's free to use and offers loads of features, such as cart abandonment notifications.
11. Run Polls and Surveys on Your eCommerce Store
To get more visitors to your online store, you can run polls and surveys. They help to increase engagement, as people love to express their opinion and talk about themselves.
So, you ask your visitors about which products they like, how was their experience, would they recommend them to others, and other similar questions. Or you can get them to rate different product categories in a poll.
And you can offer rewards or additional discounts if they share the poll or survey with their friends. This way you can get more people to visit your store. After you're done with the survey, you can send out a press release and create a blog post to share the results.
For instance, LendEDU (a website that helps manage your finances), conducted a survey from 1,238 respondents and then published the results as a blog post. You can do something similar to your eCommerce store to drive traffic and increase brand awareness.
To create polls and surveys, you can use WPForms. It's the best forms plugin for WordPress and makes it very easy to build all types of forms using its drag and drop builder. Using its pre-built templates, you can create surveys or run polls on your store in just a few minutes.
12. Spy on Your Competitors
Ever wonder how your competitors are driving traffic to their website? You can spy on your competitors and find new ways of attracting visitors to your online store.
For instance, you can look at which keywords they target, what content topics they cover, where do they get their backlinks from, and which channels drive the most traffic.
Now, there are different tools you can use to uncover insights about your competitors, such as Ahrefs and SEMrush. Simply enter the URL and they will show you the detailed information.
In Ahrefs, you can see the number of backlinks, referring domains, organic keywords, traffic, and much more in the overview report.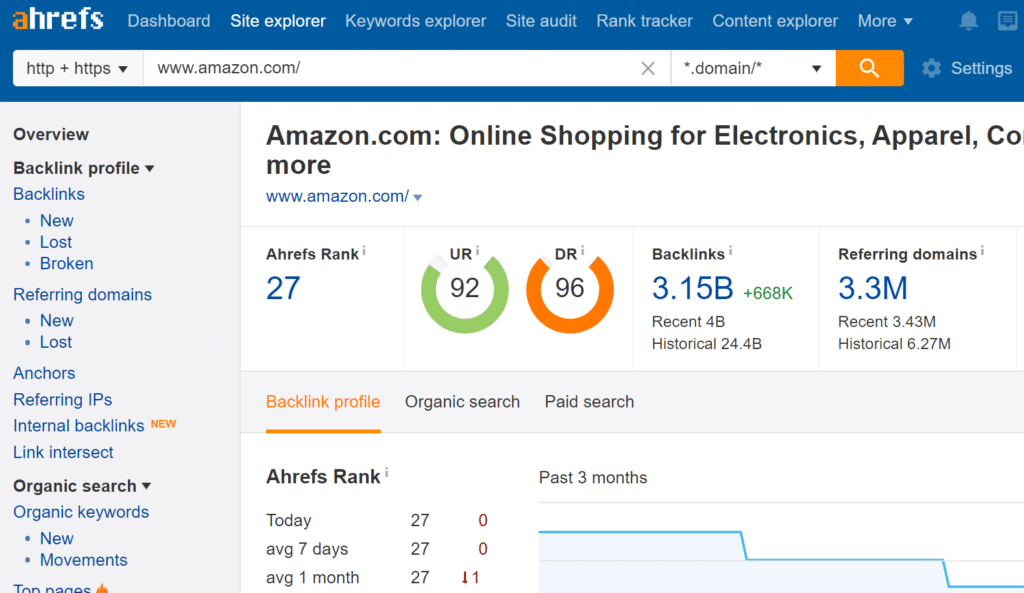 If you want more information, you can click on any of the options. For instance, if you want to know keywords the site is ranking on at the top, simply click Organic Keywords and the tool will display all the search terms for your competitor.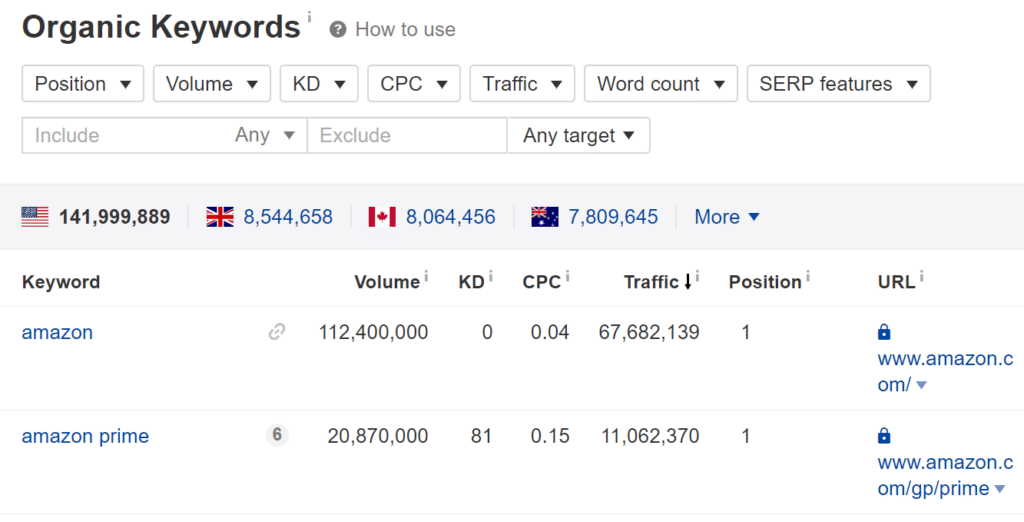 13. Invest in Google Ads
One of the fastest ways to drive traffic to your eCommerce site is to pay for it. Luckily, even those on a limited budget can afford to pay for some advertising using Google Ads.

Google Ads is a pay-per-click advertising method designed to draw more people to your eCommerce site. This means that you only have to pay for your ad when someone clicks on it, views your video or calls your business.
There are several ways to take advantage of this advertising strategy:
Show your eCommerce shop's ads in Google search results
Display text or banner ads in Gmail, on websites, or in apps
Showcase video ads on YouTube and target your audience based on their interests or demographics data including age and location.
Promote your online store's app across Android and iOS devices
It's imperative to properly track the performance of your ad campaigns and optimize them to boost your ROI. In some cases, Google Analytics fails to identify your campaigns, making them less effective. For proper ads tracking, you can add UTM parameters to your landing page URL. Or, if you're using WooCommerce, Easy Digital Downloads, or MemberPress, MonsterInsights can track your conversions with a couple clicks.
Lastly, set your pay-per-click budget before going live so you never go over your allotted budget.
14. Start a Referral Program
Starting a referral program is an easy way to utilize existing customers and drive traffic to your eCommerce site. For instance, Evernote offers users the chance to invite friends to sign up in exchange for free premium services.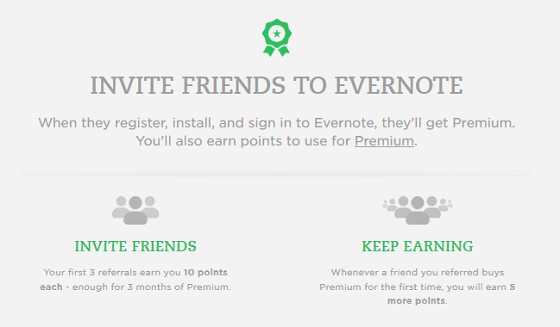 Incentivize your current customers and blog followers to share their favorite products with their friends and family via email and social media. In return give them discounts or free shipping on future purchases, free gifts, or even credit to use on their next shopping spree with you.
15. Run an Email Marketing Campaign
It should come as no surprise that building an engaging email list is one of the most effective methods for driving traffic to your online shop.
One of the biggest mistakes you can make as an online shop owner is to focus so much on attracting new customers that you forget about everyone else.
You can launch email campaigns to target new customers that have never purchased from you before, existing customers that have purchased from you in the past, and even lost customers that abandoned their cart sometime during the purchase process.
Using OptinMonster, you can create a personalized marketing campaign addressing the needs of individual users. For example, you can encourage new visitors to sign up for your list, target existing customers with personalized promotional campaigns, and even target abandoned customers to complete their transactions.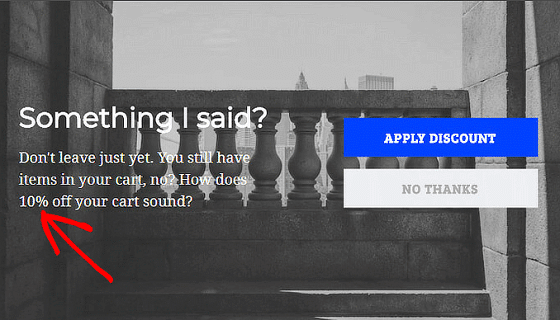 For example, Scott Wyden uses OptinMonster's exclusive Exit-Intent® technology to convince someone about to leave his website to go ahead and make a purchase using the provided 10% discount.
If you are able to convince a customer that is intending to leave your site to finalize a purchase, chances are higher they will leave a good review on your site, share their favorite products on their social media, or even participate in your referral program, all of which help bring additional people to your eCommerce shop.
16. Convert Top Pages into Video Content
Video consumption is on the rise and you can take advantage of it for your eCommerce store. By publishing video content like product reviews, comparison videos, unboxing, or demonstrating a product, you can target and attract a different audience to your online store.
And a simple way to start is by looking at your top pages and posts. You can easily convert your popular posts/pages into video tutorials for different social platforms like Facebook, YouTube, Instagram, and Twitter.
To find your top posts, look at MonsterInsights reports. In its Overview report, you can view the top posts/pages report and see which content you can turn it into a video.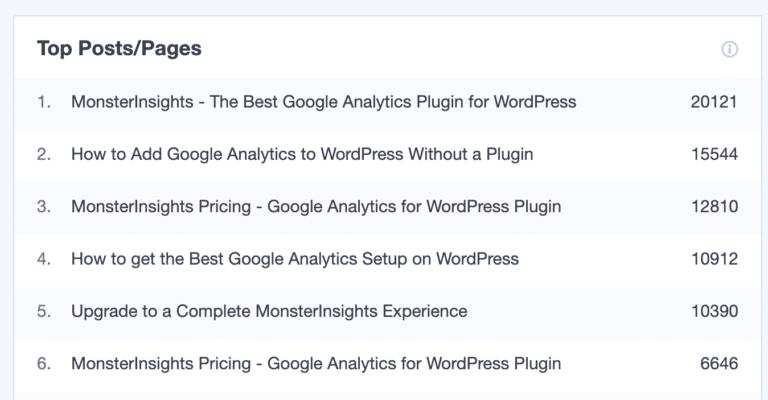 Here you can see one of the top posts is how to add Google Analytics to WordPress. You can then convert this blog post into a video and publish it on your YouTube channel.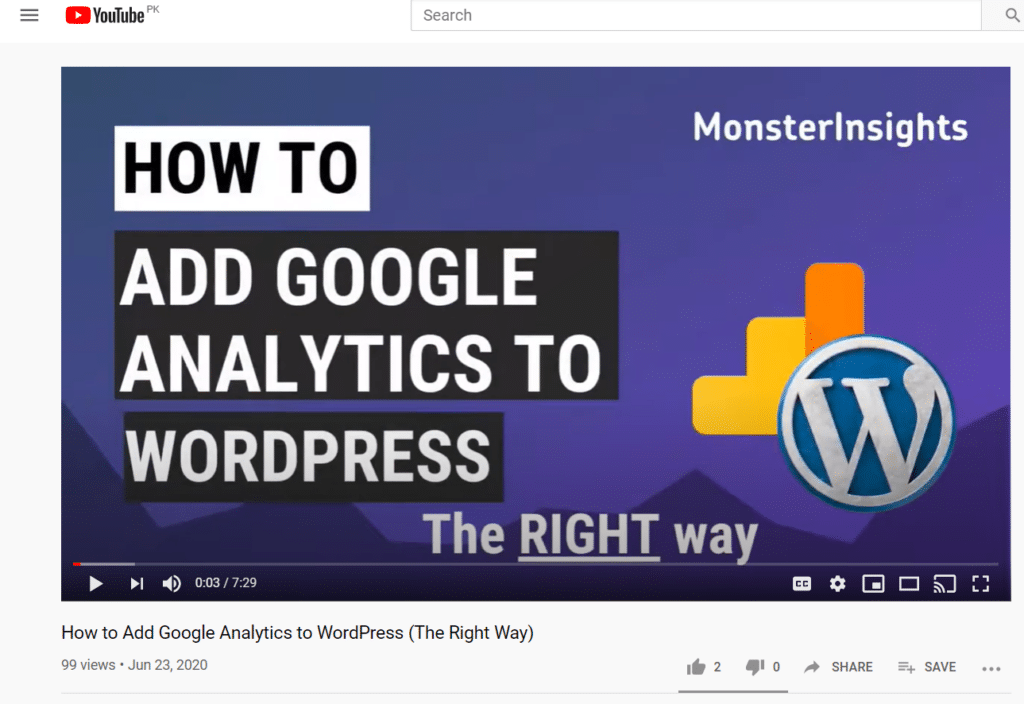 And that's it!
You can easily bring in more visitors using these proven methods to your eCommerce store and ultimately increase your sales.
We hope you liked our article on how to drive traffic to your online store. You can also go through our guide on How to Set Up Google Analytics 4 eCommerce Tracking on WordPress.
And don't forget to follow us on Twitter, Facebook and YouTube for more helpful Google Analytics tips.