Are you interested in tracking internal links with Google Analytics?
This guide will show you 2 different ways to track your internal site links, so you can make sure to optimize your site for your visitors and get them to your most valuable content.
After reading this guide, you'll know how to track internal links with Google Analytics.
Do not use UTM parameters. UTM parameters are intended for usage with external links.
For external links, use our URL builder to add UTM parameters available right in the WordPress dashboard with any of our paid packages.
In this guide, we'll show you two different methods track internal links with MonsterInsights and Google Analytics.
We've arranged them from easiest to implement to the most advanced:
1. Path exploration in Google Analytics.
2. Track your most crucial Call-To-Action with Events Tracking by setting up onClick events.
How to Track Internal Link Clicks with Path Exploration in Google Analytics.
Navigate to: analytics.google.com and go to Explore » Path exploration.
Under the STEP +1 column, select Page title and screen name in the dropdown.
In the STEP +1 column, you'll see which internal pages were visited by their page titles with the number of page views.
You can click on Event name (e.g. session_start) to change the STARTING POINT in the first column to any event that you want to start from. The default starting point is session_start.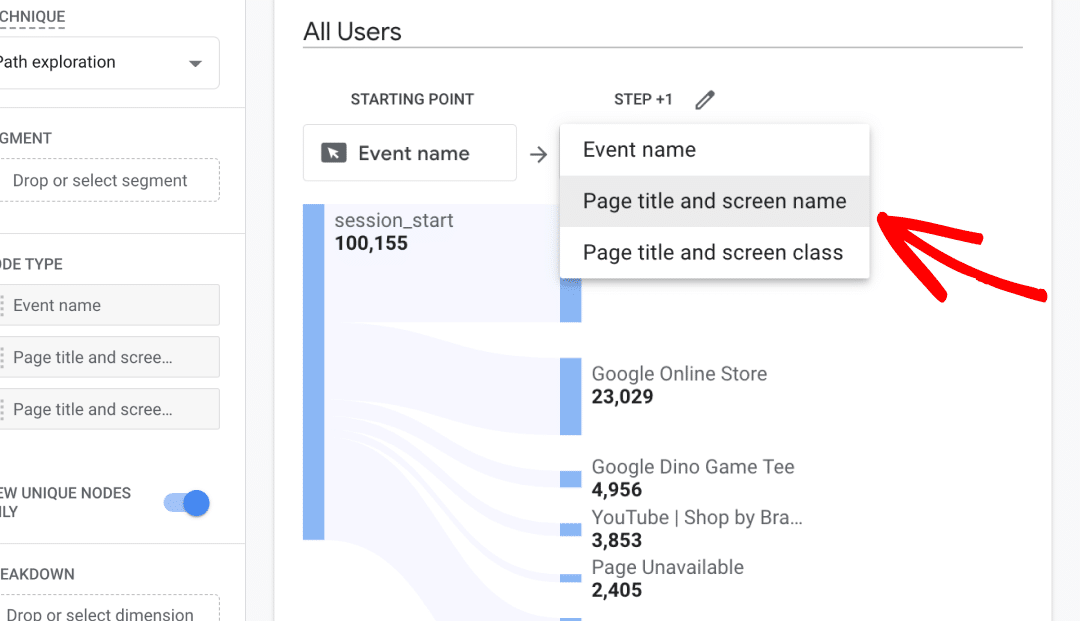 Track Internal Link Clicks With Events Tracking by Adding Custom Link Attribution
To track internal link clicks with events tracking please see our guide on adding custom link attribution: How to Add Custom Link Attribution: Setup Custom Link Categories, Labels, and Actions.
What's Next?
Are you interested in learning how to connect your site to Google Search Console so you can get better stats on how your site is showing up in Google Search?
Then please see our guide: How to Connect Google Search Console to Google Analytics.