Want to learn how to A/B test signup forms in WordPress? Figuring out which signup form leads to more conversions is an effective way to grow your business.
In this article, we'll show you how to split test your WordPress forms and find out which one is converting the most effectively.
A/B Testing with Google Optimize
You might be thinking that investing in complex A/B testing software is out of your budget. But don't worry, we have a solution for you.
Google Optimize is a free A/B testing tool that lets you split test any number of things on your WordPress website for free. This is great for small to medium sized businesses that want to A/B test their signup forms to see which variation converts the most, without spending the extra money to do so.
The thing is, in order to use Google Optimize, you'll need to connect your website to both Google Analytics and Google Optimize.
Not to mention, implementing Google Optimize on your website can be tricky.
Luckily, MonsterInsights lets you easily connect your site to Google Analytics and Google Optimize so you can conduct A/B testing.
To connect your website to Google Optimize, the first thing you'll need to do is install and activate the Google Optimize addon on your WordPress website.
To do this, navigate to Insights » Addons and find Google Optimize Addon. Click Install then Activate.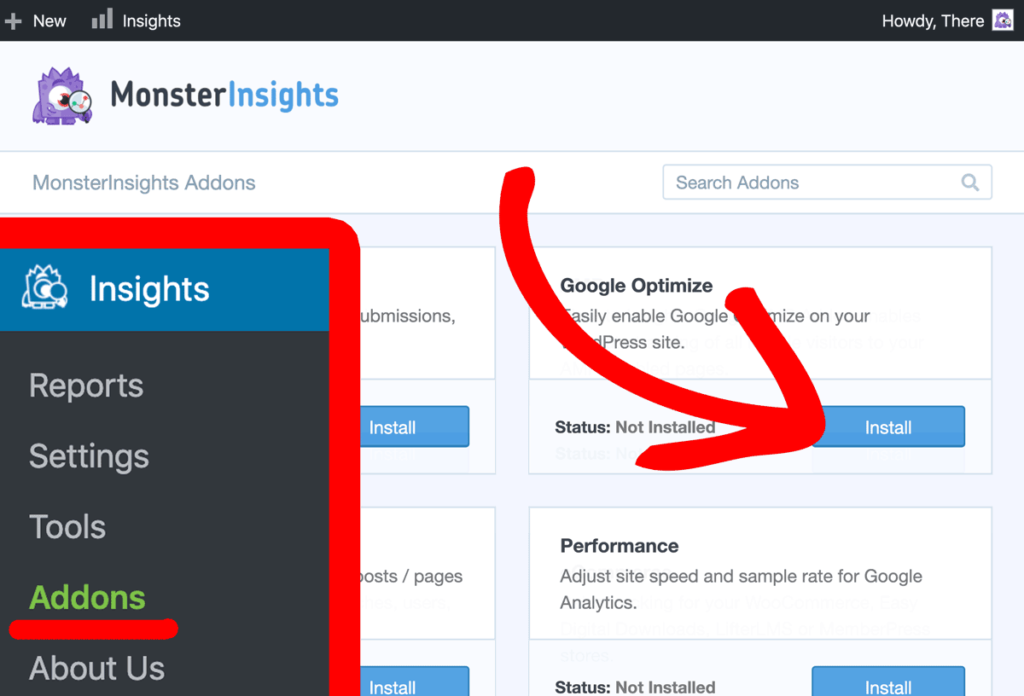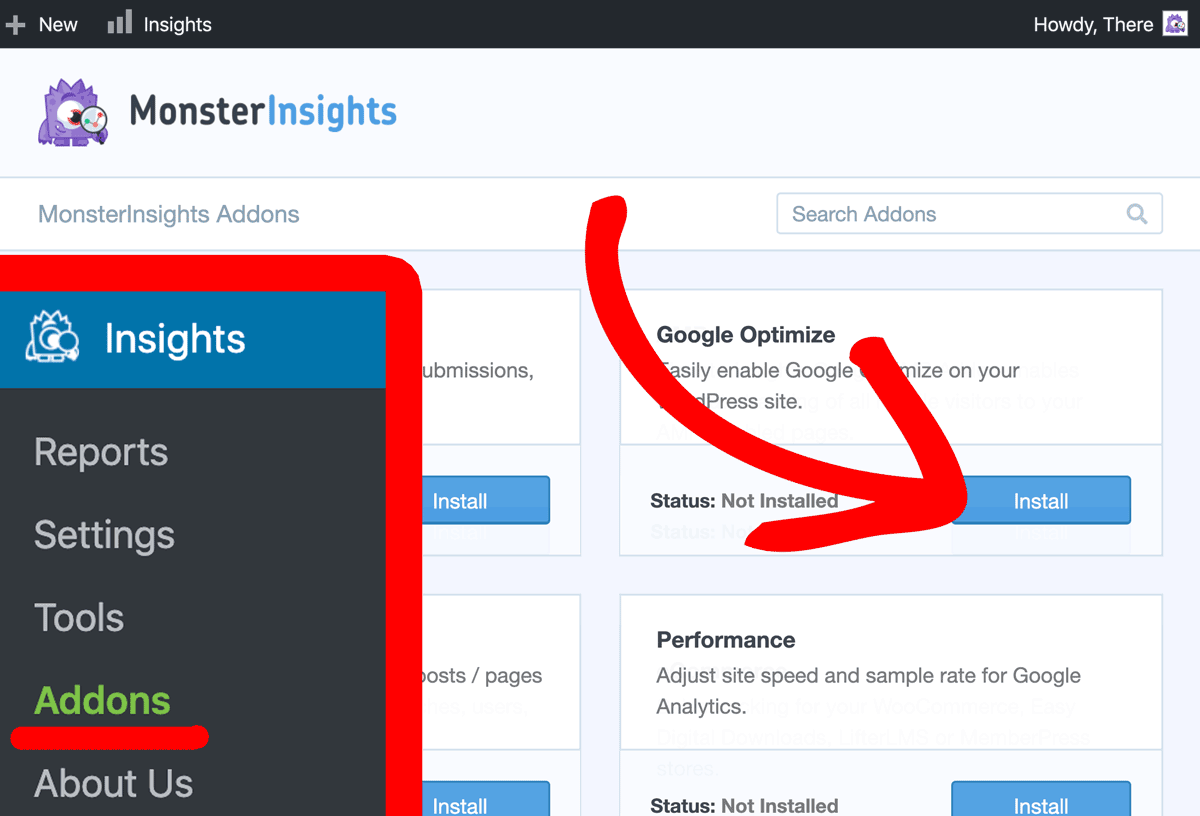 Next, set up a Google Optimize account by going to optimize.google.com.
Click Get Started. Once you've agreed to the terms and conditions, you'll be taken to the main page. In the upper right hand corner, you'll see a section labeled Container Information.
Directly underneath is a dropdown menu labeled Manage accounts and users.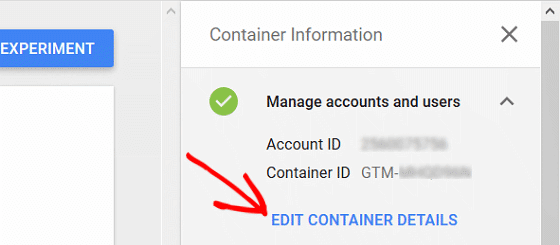 Google automatically creates an Account ID and Container ID for you, though you have the option to change them if you want by clicking on Edit Container Details.
The account section allows you to run your A/B testing experiments and the container is where all of your A/B testing experiments and settings are saved.
Link Google Optimize to Google Analytics
In order for Google Analytics to collect your A/B testing data, you'll need to connect it to your Google Optimize account.
To do this, select the dropdown labeled Link to Google Analytics.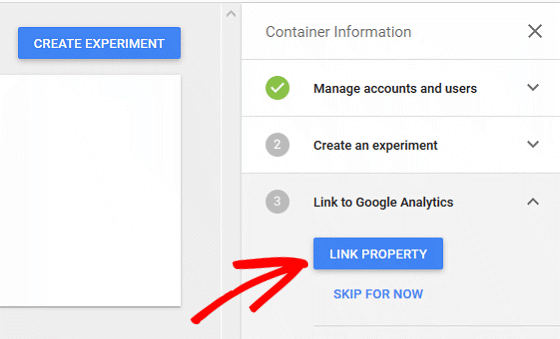 Click Link Property.
Choose the property you want to link to Google Optimize from the dropdown menu. If you don't see the property you want to link to, check out our detailed tutorial on creating additional properties in Google Analytics.
When you select your property, click Link.
Data can now flow between both your Google Optimize and Analytics accounts.
Add Google Optimize to Your Website
Now you'll need to add Google Optimize to your website. This can be very difficult for those not using the MonsterInsights plugin and Google Optimize addon. But, since you are, the process is easy.
Click on the section labeled My Container to see your Optimize Container ID.

Your Google Optimize Container ID will be in the format GTM-XXXXXXX or OPT-XXXXXXX.

Log into your WordPress dashboard and navigate to Insights » Settings » Conversions» Google Optimize.
Enter your Optimize Container ID and click on Save Changes.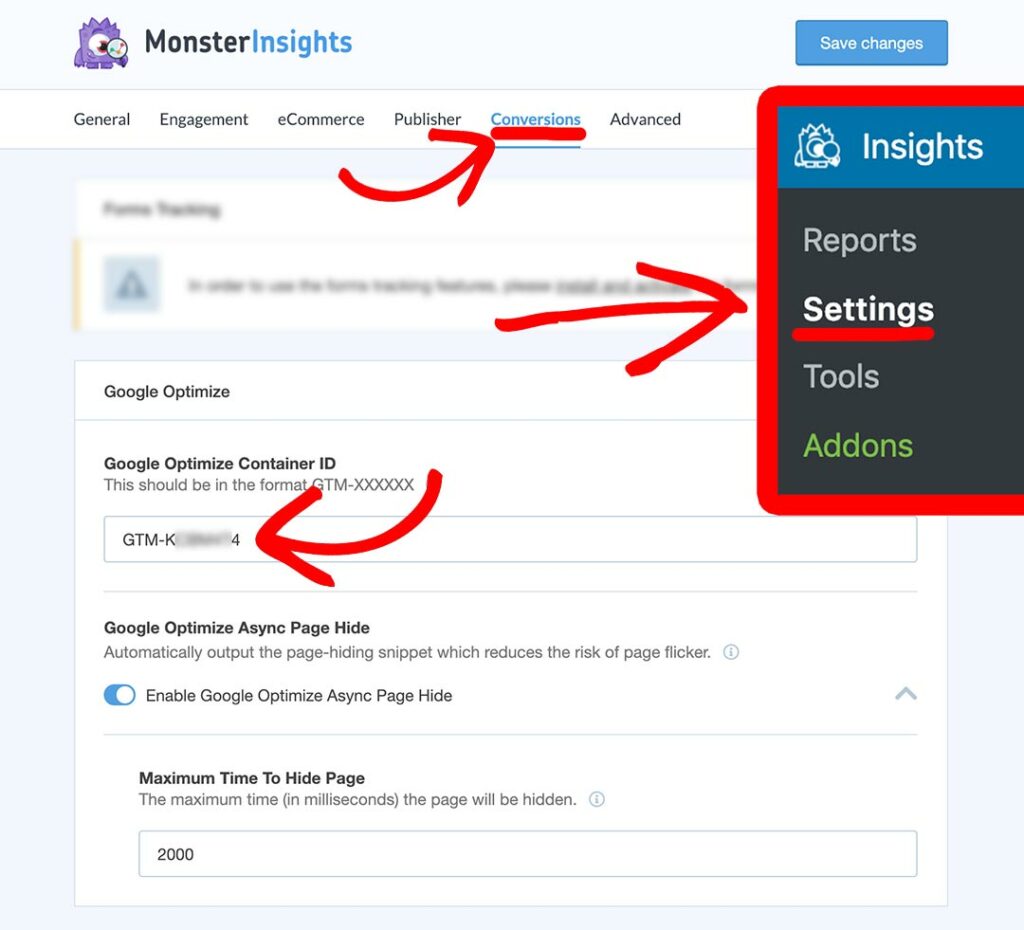 And that's it. You have successfully linked your Google Optimize and Google Analytics accounts and have invited your website to the mix as well.
Now it's time to find out how to A/B test you signup forms.
Create an A/B Test Experiment
In your Google Optimize account, click on the Create Experiment button.

The first thing to do is give your experiment a name. Then, add the URL of the web page your signup form appears on.
Lastly, choose which type of experiment you want to perform:
A/B test. If you want to create a simple test where you change a visual aspect on your signup form, choose A/B test. This experiment requires the use of the Google Optimize extension, which gives you access to the Optimize visual editor for making visual changes to your signup form. For a great example of how to do this, check out our tutorial that involves split testing a landing page.
Multivariate test. Though still in its BETA version, this option lets you split test multiple variables at once.
Redirect Test. Lastly, if you want to create variants of your signup form and have them placed in different parts of your website, choose this option.
For our example, we're going to select A/B test.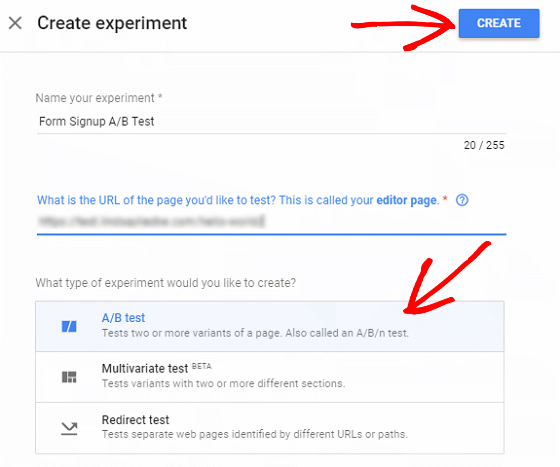 Click Create to continue.
Create an A/B Test Variant
Once you have established that you will be performing an A/B test on your signup form, you will see that your test is in Draft mode and that there are certain steps that must be completed in order to start the test.
The first step you need to complete is creating the variant. In other words, you need to create a different signup form that some of your site visitors will see when they click on your website.
Click on Create Variant to begin making changes. Give your variant a name and then click on the row the variant sits in to make changes using the Optimize visual editor.

When you click on your signup form variant, the Optimize visual editor will open, showing you your signup form. You can then click on any element you like and make changes. These changes will be tested against the original signup form you created on your website.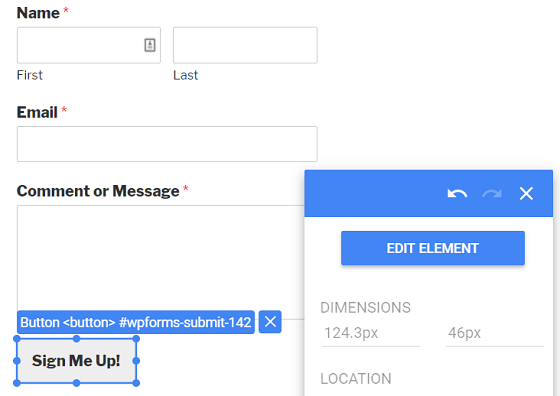 The change we made was to the "Submit" button. Our original form says "Submit", while our new form says "Sign Me Up!"
Configure Your A/B Test Objectives
The next step in setting up your signup form A/B test is to configure your experiment's objectives. These objectives give you an idea as to which signup form variant is the leader.
To do this, first click on Add Experiment Objective. You have the option to choose from a pre-set list of objectives, such as bounces, pageviews, and session durations, or create a custom objective.
We will select Bounces with the assumption that the form with the lowest bounce rate will have the most subscribers. But remember, you never know. That's why we A/B test.
Next, add some text explaining the A/B test and what you expect the outcome to be.

It is important to note that any Google Analytics goals you have set up will also appear in the Optimize Configuration section.
If you don't have any Google Analytics goals created, now is the time to do so. Here is a detailed tutorial on how to create an Analytics goal.
And, if you need more detail, check out our helpful tutorial on how to create a Google Analytics goal to track form conversions.
The last step is specifying how many people will see your original signup form versus the variation. To do this, click on the Targeting tab. Here you can determine which percentage of people see your variation.
We will target 100% of all site visitors and show the original to 50% of them, and the variation to the other 50%.
You can also determine a trigger, such as a page load or some custom event, that will start the experiment.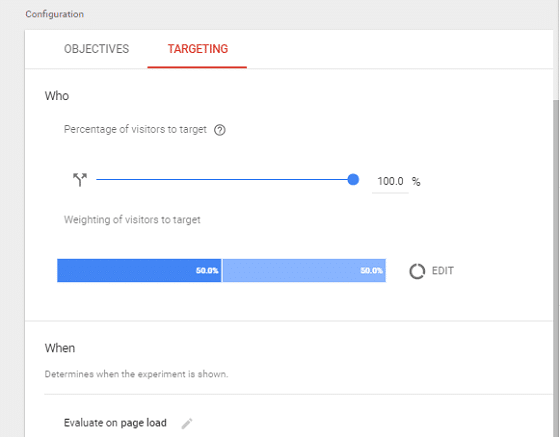 Now all you have to do is save your changes.
Once you click Save you'll notice that your A/B test is still in Draft mode. This is even after you have finished all of the required steps.
All you have to do to to start your A/B test is click Start Experiment.

And there you have it! You've successfully created an A/B test for your website's signup forms.
It is recommended you run your split test for at least 2 weeks before checking the results to make sure you have gathered enough data. Once enough data has been collected, Google will declare a winner.
We hope this guide helped show you how to A/B test signup forms for increasing conversions. If you are looking for additional things to A/B test on your website, check out our extensive list of A/B testing ideas to boost converisons. Also be sure to check out our list of the best contact form plugins for WordPress.
And don't forget to follow us on Twitter and Facebook for more Google Analytics tutorials.