Do you want to see your least performing WordPress pages? If you're serious about your business growth, identifying your least performing pages can help you a lot as you'll know which pages to focus on and optimize. With Google Analytics, you can track the performance of all your WordPress pages and find out both the highest converting and least performing pages.
In this article, we'll show you how to see your least performing WordPress pages. And, we'll also share 3 best tips to improve them.
Why Track Your Least Performing WordPress Pages?
When we always focus our attention on the best, we miss out on the greater opportunities the least performing pages can offer. Sometimes, we can make really good conversions out of the least performing pages with little improvements.
When you know which pages are least performing, you can analyze why those pages aren't able to capture the users' attention and then make changes to optimize them.
Among several Google Analytics factors, bounce rates are important to find out how engaging your pages are. If a page has a higher bounce rate, it means the page is less engaging.
But sometimes bounce rates can be high due to external factors like referrer spam (backlinks from the malicious websites). If your pages have a 100% bounce rate, you can suspect referrer spam. In case you detected spam, you can remove them and avoid any harm it can cause.
Now, let's see how to view your least performing WordPress pages.
Step 1: Set Up Google Analytics in Your WordPress Site
Google Analytics is the most reliable website analytics tool. It helps you to track all the important data about your website visitors and their interactions on your site. With Google Analytics, you can track the overall bounce rate for your entire site as well as for individual pages; however, the setup process is a bit tricky for beginners.
So, we recommend you use the MonsterInsights Google Analytics plugin for WordPress. It helps you set up Google Analytics for WordPress very easily. Also, it simplifies tracking advanced metrics such as form and eCommerce conversions, affiliate links, etc.
First of all, you'll need to install MonsterInsights in WordPress and then set up Google Analytics. Using this plugin, you can set up Google Analytics in WordPress with just a few clicks.
If you want detailed instructions, here's our step-by-step guide to setting up Google Analytics in WordPress.
Step 2: Track Your Site's Bounce Rates
After the setup process is complete, you can view your site's overview report right in your WordPress dashboard with the MonsterInsights dashboard widget.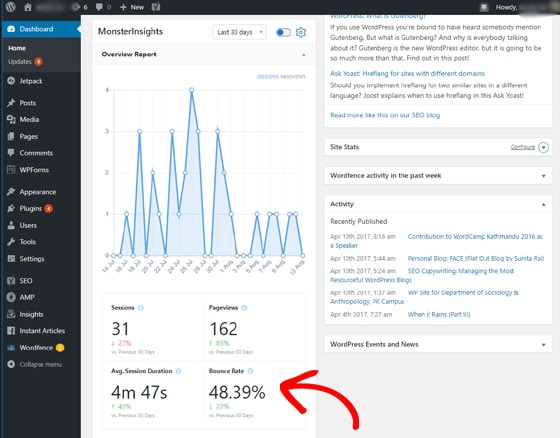 As you can see in the screenshot above, you'll see your site's bounce rate right in the overview report. Bounce rate is one of the key measures to find out your site's engagement.
If you don't know what bounce rate is, it's the percentage of all sessions with only page pageview and a single request. For example, if a user opens a page in your site, and exits without clicking on any buttons or links (or without triggering a request to Analytics server), it's called a bounce.
High bounce rates aren't always bad, but it depends on the type of a site you have. If your site is a single page site with no internal pages or posts, high bounce rate is quite normal.
But if you've got plenty of links in your pages for users to click, high bounce rate means low user engagement for your pages.
Now, let's see how to view bounce rate for your pages.
First, you'll need to navigate to MonsterInsights » Reports from your WordPress admin panel. At first, you'll see the overview report that you've already viewed on the dashboard widget. So, click on the Publishers tab on the top, and then you'll see your top landing pages with their bounce rate.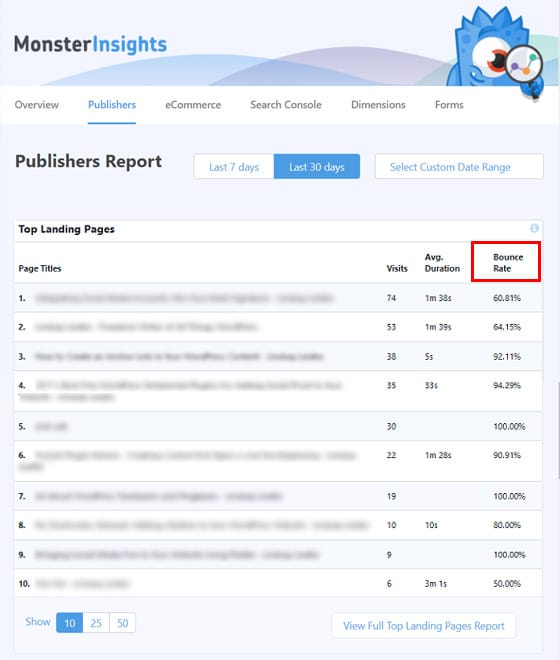 MonsterInsights will show you the top 50 landing pages in your site. If you want to view more than that, you can click View Full Top Landing Pages Report.
This will redirect you to Analytics » Behavior » Site Content » Landing Pages in your Google Analytics account.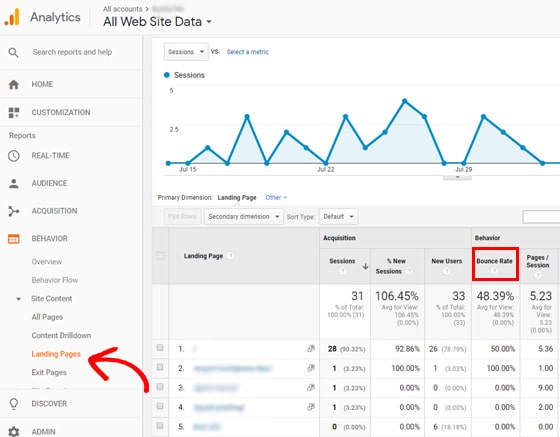 You can view bounce rate for each of your landing pages from there as well.
Step 3: View Your Top Exit Pages
Another report that'll show you the least performing pages in WordPress is the Top Exit Pages. Top exit pages are the pages where most of your users click the exit button. So, we can consider these page as least performing pages.
To view your top exit pages, you'll need open the Publishers report again. Go to Insights » Reports » Publishers from your WordPress admin panel.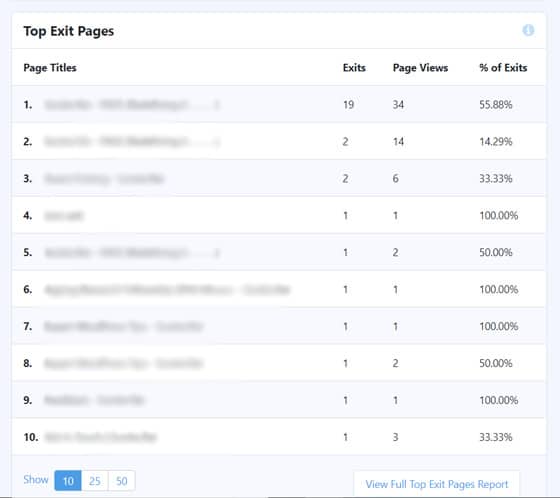 To view detailed reports, you can click View Full Top Exit Pages Report. It'll redirect you to Analytics » Behavior » Site Content » Exit Pages in Google Analytics.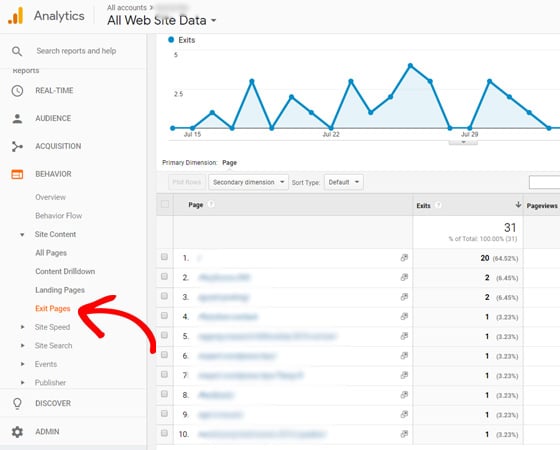 Now, let's go ahead and see how to improve them.
3 Best Tips to Improve Your Least Performing WordPress Pages
Now, that you know your least converting pages, you probably want to know how to improve them. Below are the 3 best tips to improve your least converting pages.
1. Add Optin Forms
If your webpages are failing to grab users' attentions, adding optin forms can help you greatly to improve the conversion rates. You can capture the abandoning visitors into email subscribers and also send them to other important links in your site.
OptinMonster is a great tool for lead generation and conversion optimization. You can use it as a plugin on your WordPress site.
OptinMonster comes with signature Exit-Intent® technology that allows you to convert abandoning visitors into subscribers and customers.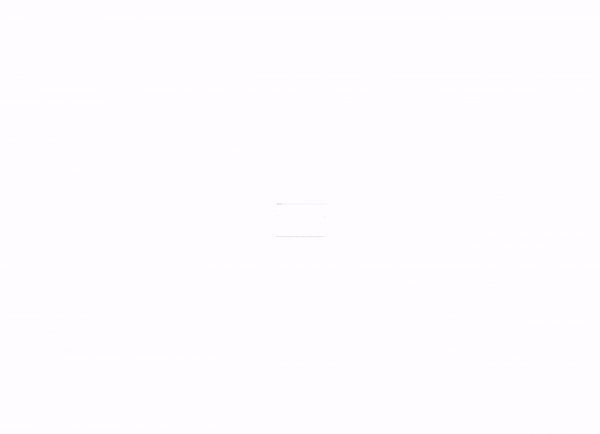 It detects user behavior and prompts them with a targeted campaign at the precise moment they attempt to leave.
2. Add Forms and Live Chat to Facilitate User Interaction
Second, you can make your pages more interactive by adding forms and live chat options.
To add forms, you can use WPForms. It's the most user-friendly WordPress form plugin that lets you add forms of all types including simple contact forms, survey, and feedback forms, order forms, payment forms, etc. using its simple drag and drop interface.
Next, you can make your webpages more interactive by adding live chat. Most of the time, users simply exit your page because they don't find anything to do on your site. Sometimes, they may want to talk with you but with no clue, they may close your site. So, adding a live chat can help to make your site more engaging.
To add live chat in your WordPress site with ease, you can use a live chat software like LiveChat.
3. Optimize Your Content to Make it Visually Impressive
Another very effective tip for improving your site is to make your page visually impressive.
For example, you have published a tutorial article on your site, just like this one. Imagine, there are no paragraphs separated, no headings, no images, no buttons, no sidebars but the text content is the same. Will a user bother to read the content? Probably not. A page like that is super boring!
Now think of that same content, structured well with proper headings, paragraphs separated, images, and call to action buttons. There're high chances the visitor will read your content and take the action you want them to do.
If you want more tips to build an effective landing page in WordPress, here's our complete guide for beginners.
We hope this article helped you to learn how to track links and button clicks in WordPress using Google Analytics.
You might also want to check out our guide on 4 ways to boost your SEO rankings with Google Analytics.
Also, don't forget to follow us on Twitter and Facebook for more Google Analytics tutorials.